We use affiliate links. If you buy something through the links on this page, we may earn a commission at no cost to you. Learn more.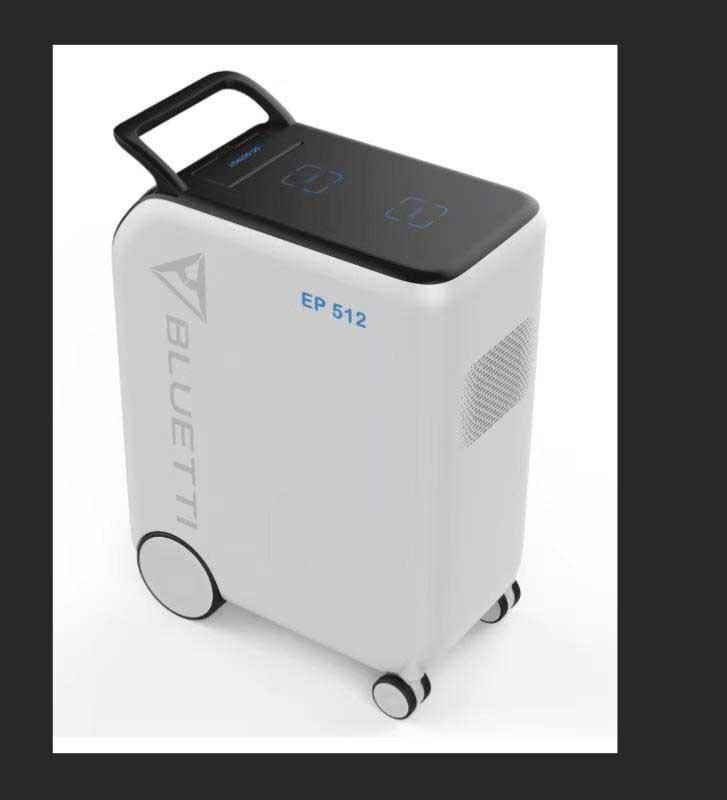 CROWDFUNDING NEWS – When someone says "cut the cord", it probably makes you think about ditching your cable or satellite entertainment provider. When BLUETTI says "cut the cord", they are talking about electricity and the grid. When their soon to be released Bluetti EP500 and EP500 Pro power stations, you'll have the power (see what I did there) to do just that.
The BLUETTI EP500 and EP500 Pro power stations aren't small table-top sized backup batteries for your phone and other gadgets like the Maxoak BLUETTI AC50S Power Bank. The EP500 is a unit about the size of a piece of rolling luggage and features a huge 5100Wh capacity and wheels so that you can easily move it from place to place. The BLUETTI EP500 is designed to be a" no installation needed", plug and play product that can easily be moved to the desired location when needed.
More specs include:
Rated 2000Watt AC output, surge 4800Watt
Battery Cell Type: LiFePO4 (with 6000 charge cycles to 80%)
Ways to Recharge: Wall AC Outlet/ Solar power/ Car cigarette port/ Lead-acid battery/Gas-fired Generator
Solar input: Up to 1200W @ 70-145V With MPPT, fully recharged in as short as 4Hrs
*Support Solar+AC (1800W max.) recharge simultaneously, can be fully recharged in 3Hrs
Support UPS (Uninterruptible Power Supply), can be integrated into your home circuit seamlessly and run your appliances during power outages for DAYS.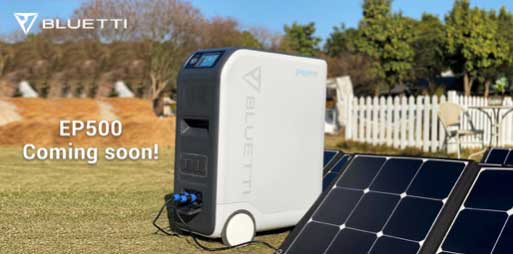 I know how important electricity is due to numerous occasions when our power went out for days at a time during summer months causing us to lose everything in our refrigerator. We invested in a whole home generator 10 years ago that gets fuel from a buried LP gas tank and is hooked into my home's wiring so that it automatically turns on and powers the whole house within seconds of the power going out. This setup was several thousand $'s to buy and install by an electrician. The BLUETTI EP500 power station looks like an easier solution for people who want a more portable and feature-rich power station. I wish my generator could use solar power like the EP500. I think that feature sounds awesome.
How long can a person power their devices with this unit and what is their after-sales service like?
According to official information released, the EP500 is shipped with BLUETTI's exclusive customized, long life LiFePO4 battery cells. The self-developed battery management system including the battery pack has a maximum 6000+ charge cycles. According to the average household electricity consumption of 3kWh per day, the BLUETTI EP500 can achieve up to 40 years of theoretical service life without using any grid energy! In addition, BLUETTI also provides a 5-year warranty and lifetime technical support for this unit.
Now for some bad news, the BLUETTI EP500 power station isn't available for purchase yet. But, if you are interested, you'll be able to pre-order one starting at 6:00 AM PDT, March 15th on Kickstarter. You'll need to start saving your pennies and nickels though because it is estimated that the price for the super early bird perks for this product will be less than $3000. If you want to get the link to the crowdfunding campaign as soon as possible, head over to their EP500 product info page.