We use affiliate links. If you buy something through the links on this page, we may earn a commission at no cost to you. Learn more.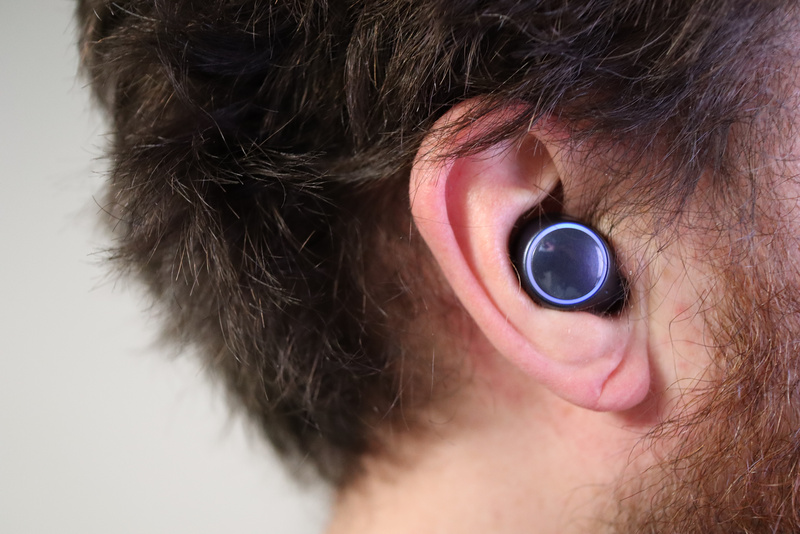 REVIEW – There are more wireless earbuds than you can shake a stick at these days, so I wasn't expecting much from the Creative Outlier Air V2 In-ear headphones when they sent me a pair to review.  Who would have thought that they'd be the best-sounding wireless earbuds I've tried yet?  In this review I'll cover the sound quality, fit and comfort, battery life, and portability.  I also split my review time between using these with my mobile phone, general media consumption, and PC gaming.
What is it?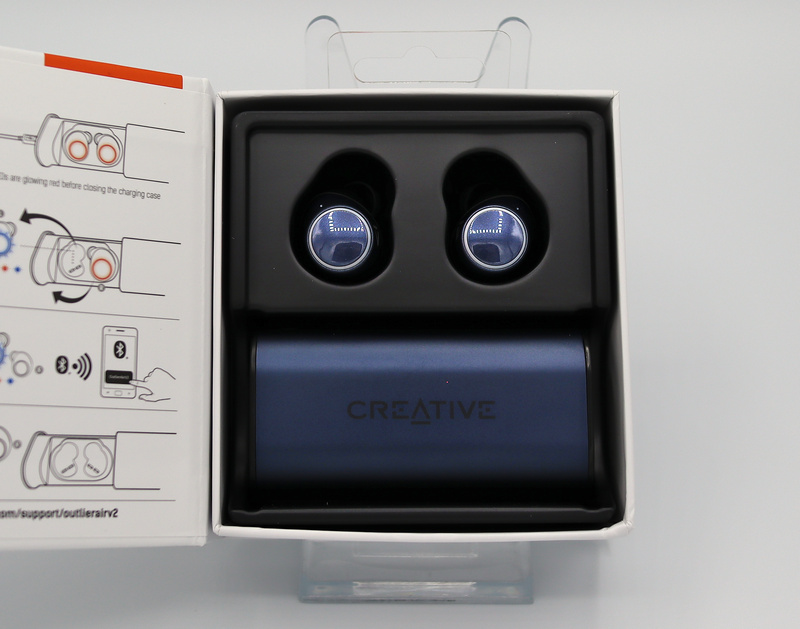 The Creative Outlier Air V2 In-ear headphones are a set of bluetooth earbuds optimized for sound quality and battery life.  This boasts high quality bluetooth audio codecs like AAC and aptX, but also the new Super X-Fi standard by Creative.  This V2 version adds 4 extra hours of battery life, upgrades to touch controls on the earbuds, is now sweatproof, and has software Super X-Fi compatibility.
What's in the box?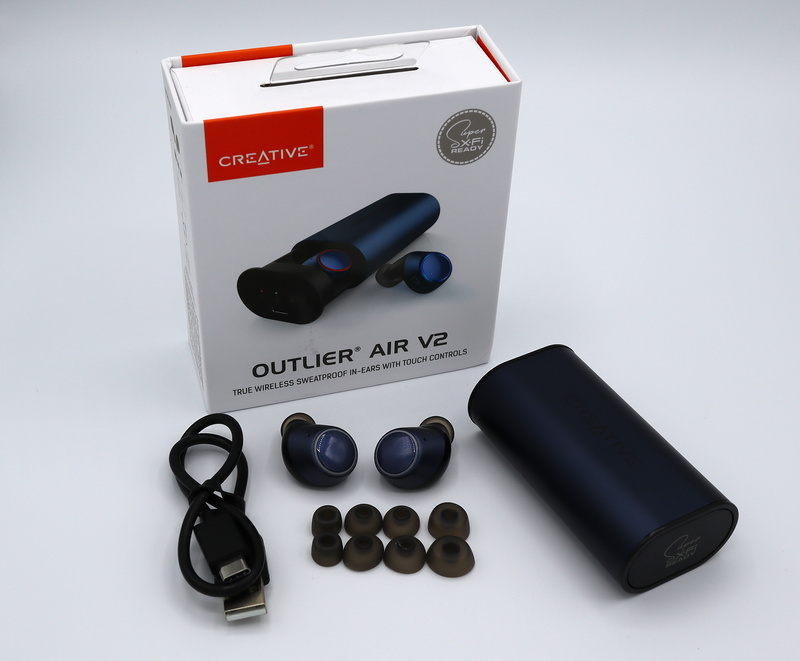 Included in the box is the Creative Outlier Air V2 In-ear headphones, 4 additional ear tips of various sizes, the charging/storage case, and a USB-A to USB-C charging cable.
Hardware specs
Total battery life: up to 34 hours
Playtime per charge: up to 12 hours
Frequency response: 20 – 20,000 Hz
Microphone response: 100-10,000 Hz, sensitivity -42 dBV / Pa, omni-directional (one on each earbud)
Microphone: Single Qualcomm® cVc™ 8.0 Technology
Controls: Touch control (on both ears)
Voice Assistants: Google Assistant/Siri
Water resistance: IPX5 (rain/sweat resistant, not immersion)
Audio Codecs: aptX, AAC, SBC, Super X-FI
Charging: USB-C
Charging time: 1-2 hours
Battery: 450 mAh Lithium Polymer battery in case, 80 mAh Lithium-ion Polymer battery in each earbud
Bluetooth version: 5.0
Bluetooth profiles: HFP (hands-free profile), A2DP (wireless stereo bluetooth), AVRCP (Bluetooth remote control)
Weight: Charging case 60g, Earbuds 6g (each)
Driver: 5.6 mm Graphene-coated Driver Diaphragm
Design and features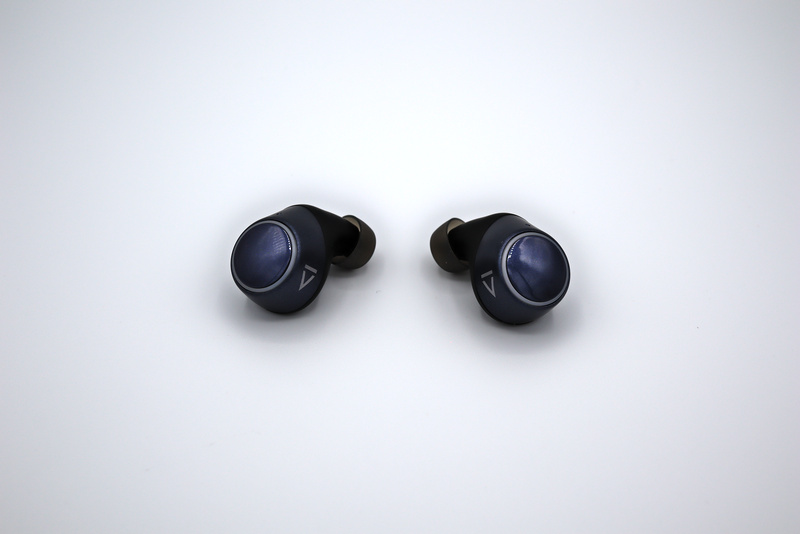 The Creative Outlier Air V2 In-ear headphones are a pretty standard design with eartips that insert into your ear canal while the bulk of the earbud rests against your ear.  I found them to fit extremely well with one of the many included tips.  There are multiple sizes, as well as shallow versus deep versions of the medium size.  The outside of the earbuds has large touch-control surfaces with ring-LED lights around them.  These lights do change colors to indicate things like connection, power, and pairing.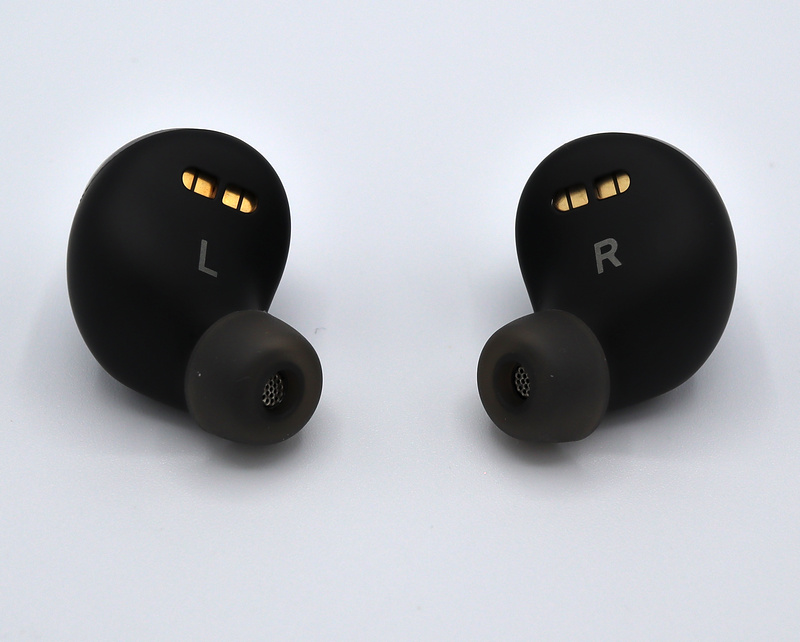 After experimenting I was able to get a perfect seal/fit which was comfortable for all-day wear, didn't move around with exercise, and resulted in excellent noise isolation.  These earbuds are not active noise cancelling, but I found that they blocked out more ambient noise than some of the more expensive active-noise-cancelling earbuds I've tried.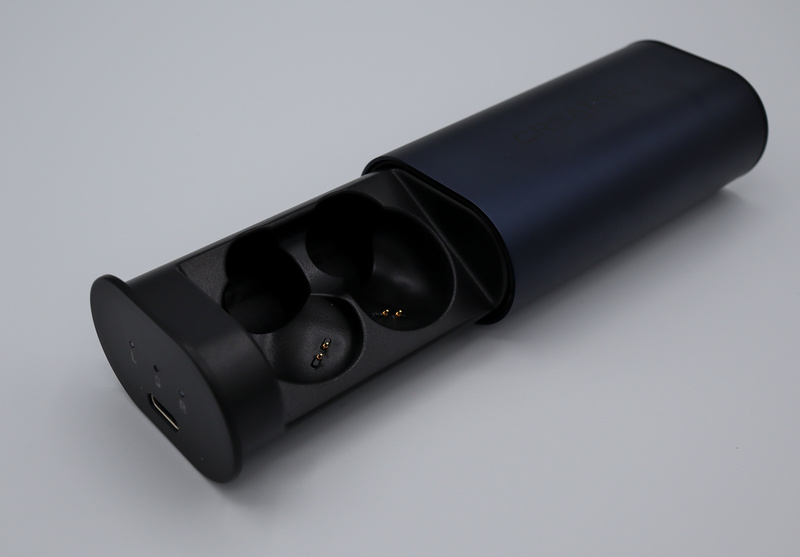 The carrying case has a premium feel to it, and appears to be machined out of aluminum.  The innards slide out to expose the storage/charging cradles for each earbud.  This sliding mechanism was easy to use and very smooth.  The earbuds snap into place via magnets when dropped in, and don't fall out if you open the case upside down (something I manage to constantly do with other pairs of earbuds).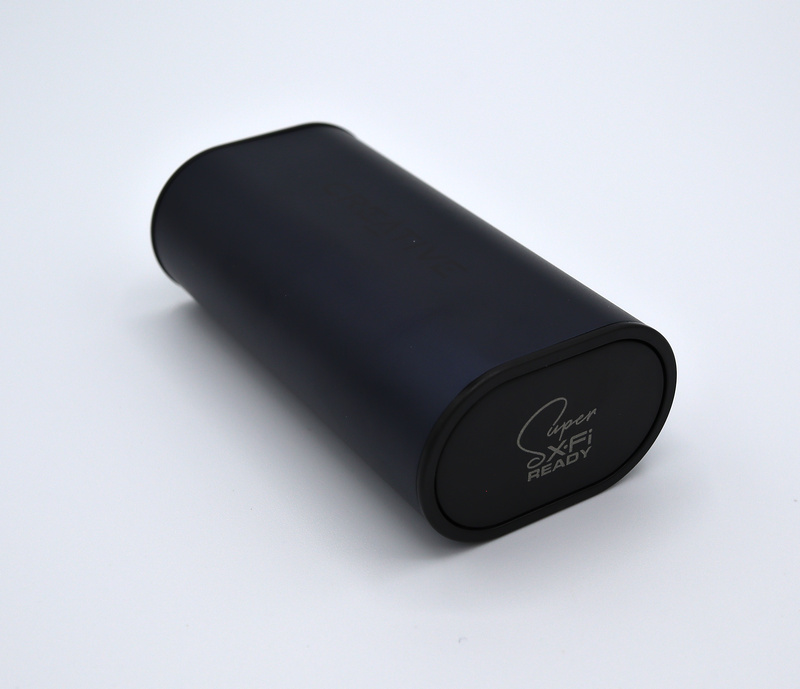 The dark blue and black case looks quite nice.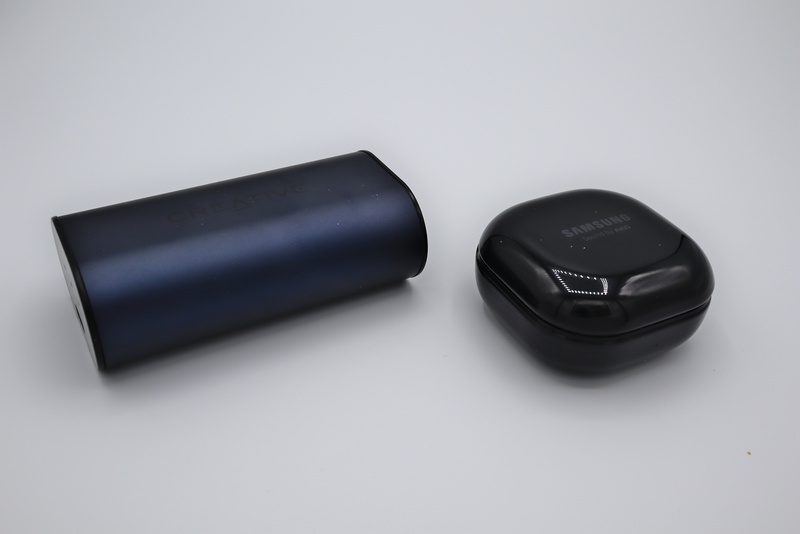 The case is roughly 30% larger in volume than my daily driver (Samsung Galaxy Buds Live which are roughly the same size as Apple Airpods/Airpods pro cases), so this set is a bit less convenient to carry in your pocket.  However, the extra battery life has to be stored somewhere, and the shape and dimensions are still fairly easy to carry in a pocket.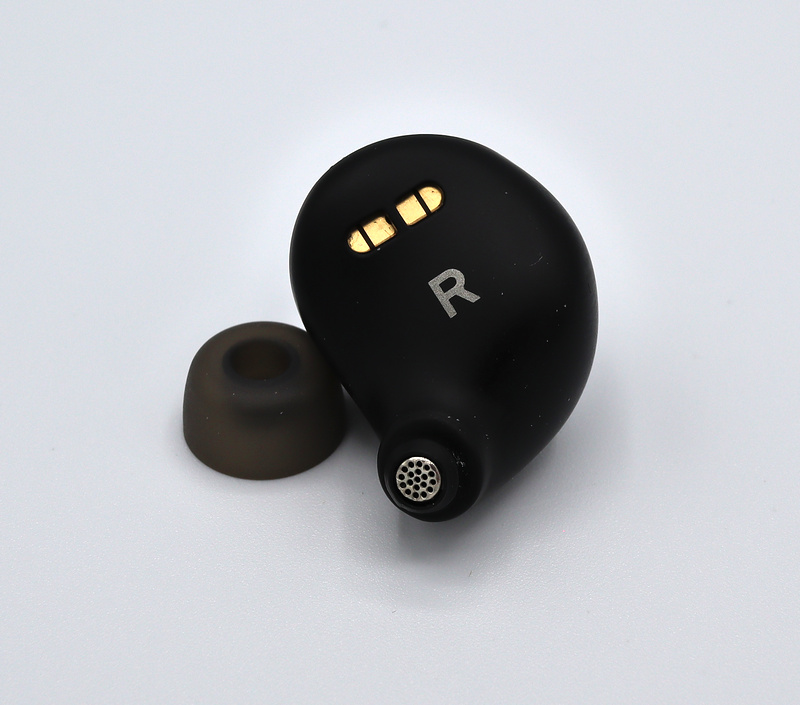 With the eartip removed you can see the metal cover over the graphene-coated driver.  Luckily I took pictures before extensive use so you don't have to see the ear wax buildup that invariably happens with any in-ear buds and my ear canals.  The ear tips are easy to change and remove to find the best fit for you.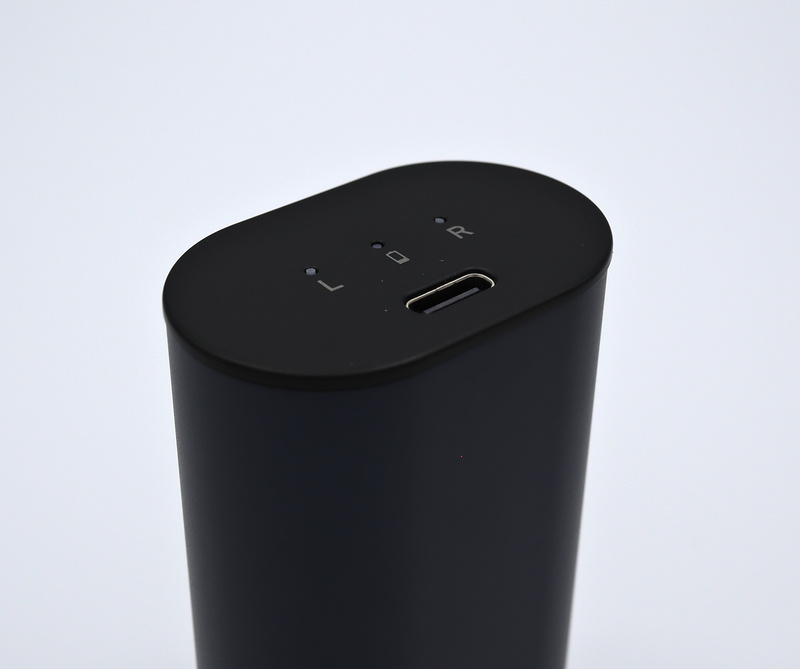 Here's the charging port (USB-C). Handy LED lights indicate charge levels on each earbud and the case itself.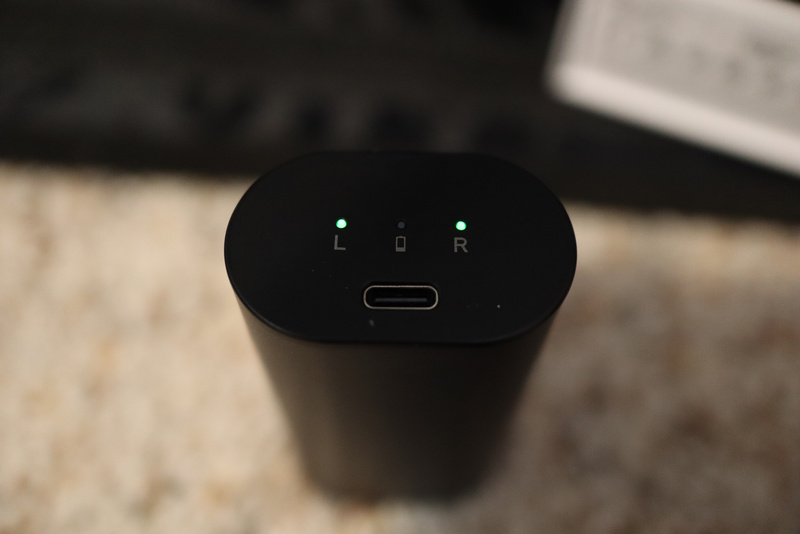 Here's a shot of the charge LED indicators after the initial charge, these light up each time you open and close the case and show red/yellow/green to indicate charge levels.
Installation and setup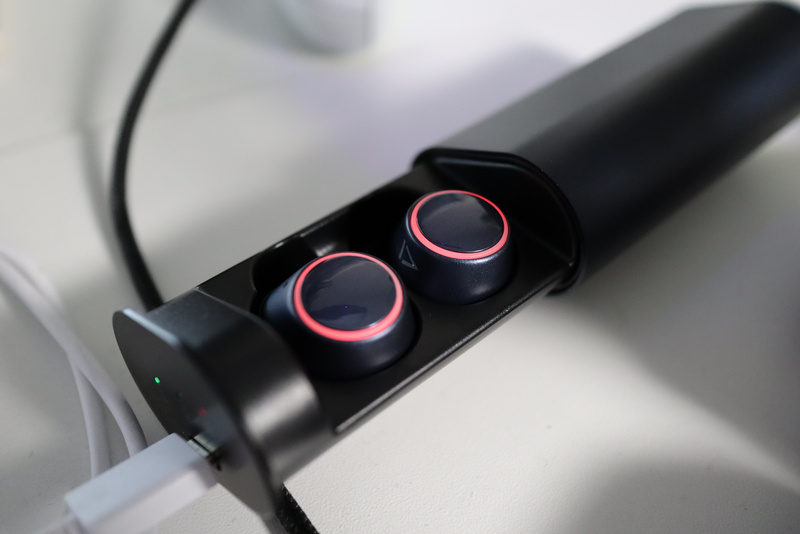 After charging the Creative Outlier Air V2 In-ear headphones up, I followed the handy quick-start instructions on the packaging which has you remove just the left earbud for initial connection, then once connected via Bluetooth you can remove the other and they will automatically pair.  This worked perfectly on both an Android phone and a Windows gaming laptop.  Once paired, you can use one earbud or both together (some earbud sets only work with one of the two earbuds in solo).
The first thing I did on my Android phone was to go through Samsung's Adapt Sound tool (a sound-customization feature in Samsung Android phones that tailors sound to your level of hearing loss).  I have mild hearing loss from too many 1990's punk rock concerts, so I was curious to see how these would compare to my Samsung Galaxy Buds Live (Samsung's premium Airpods competitor).  I was shocked to be hearing many of the frequencies that were low on my previous earbuds – with the Creative Outlier Air V2 In-ear headphones I was getting about-average to above-average scores across the spectrum.
The sound quality was amazing for wireless earbuds, and rivaled some of the best headphones I've tested so far.  I'm no audiophile and can't tell a difference between high-end consumer and $500+ audiophile headphones, but these earbuds were definitely in the high-end consumer pack.  They were noticeably better than most of the headphones I have (various $100-$200 range sets).  One of the things that sets mediocre headsets apart from better-performing ones for me is when I'm in a game or listening to music and think I hear something near me in real life.  This happened frequently during this review, meaning that sounds were reproduced and positional audio worked so well that they tricked my ears into thinking something nearby was producing that sound in my room.
In music tracks, I was easily able to hear hands rustling across guitar strings between notes or pick out individual instruments in an orchestral piece.  In games, footsteps and crucial audio cues like gunshots were crystal clear.  This was one of those audio devices that made me feel like I played better (I didn't record enough data to be sure, but it definitely felt like it)!  The balance was good, there's definitely bass but it's not overpowering the mids and highs.  The sound stage felt wider than many earbuds/headphones, but not in a strange artificial way, individual voices/sounds could just be picked out more clearly.
I could go on about the audio quality, but I would be remiss to not address other elements important to prospective headphones/earbuds shoppers.
The touch controls were solid and easy to use.  I didn't have to press hard enough to hurt my ears like some physical button earbuds, and single/double/triple presses were registered correctly each time.  I also didn't get any accidental pauses or issues like that.  I like that Creative includes a volume up and volume down touch interaction (long hold on L/R while media is playing), this was useful and is often missing on in-ear buds.
The battery life was outstanding, I used these with constant music and calls for 10+ hour days multiple times before I needed to recharge.
Lastly, sadly I couldn't tell any difference at all with the new Super X-Fi audio standard from Creative.  This audio codec standard only works with certain downloaded music, and I tried out their sample tracks that appeared in the mobile app (available on iOS and Android).  I think that because the audio quality is already so good, any increased quality is lost on me, I truly couldn't tell any difference at all.
What I like
Excellent sound quality
Comfortable fit and variety of eartips for good fit
Battery life
Price for the performance
Bluetooth 5.0 and future-proof audio codecs
What I'd change
Smaller case
Wireless charging
Final thoughts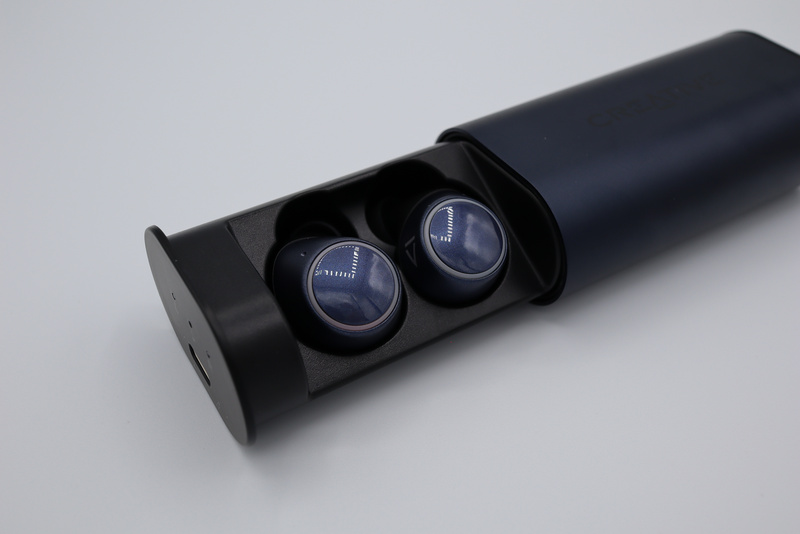 The Creative Outlier Air V2 In-ear headphones were a delight to test out, and will be my primary headphones for my gaming laptop going forward.  Excellent sound quality and battery life combined with a very comfortable fit make them pretty much perfect for me.  The case is a tad larger than I'd like for an everyday carry set of earbuds, I'll take the lower-quality-but-smaller set I'm currently using for that, but if audio quality and battery life is more important then the slight size increase may be worth it for you.  Overall, 9 out of 10 thumbs up from me.
Update 6/5/21
The Creative Outlier Air headphones are still my daily drivers on my gaming laptop. They are comfortable for my ears, have great sound, have more than enough battery life for even marathon gaming sessions, and I haven't had any issues with bad connections or dropped connections. My only gripe would be that the "communications mode" that they switch to if you use them as a microphone results in much lower sound quality for everything (this is a limitation of Bluetooth protocols, I believe), so if I join a Discord voice channel mid-game I notice a huge drop in game audio quality. I fixed this by disabling the "headset" device in Windows sound settings and use a USB microphone instead. After this fix, everything has been phenomenal.
Price: $79.99
Where to buy: Creative and Amazon
Source: The sample for this review was provided by Creative