We use affiliate links. If you buy something through the links on this page, we may earn a commission at no cost to you. Learn more.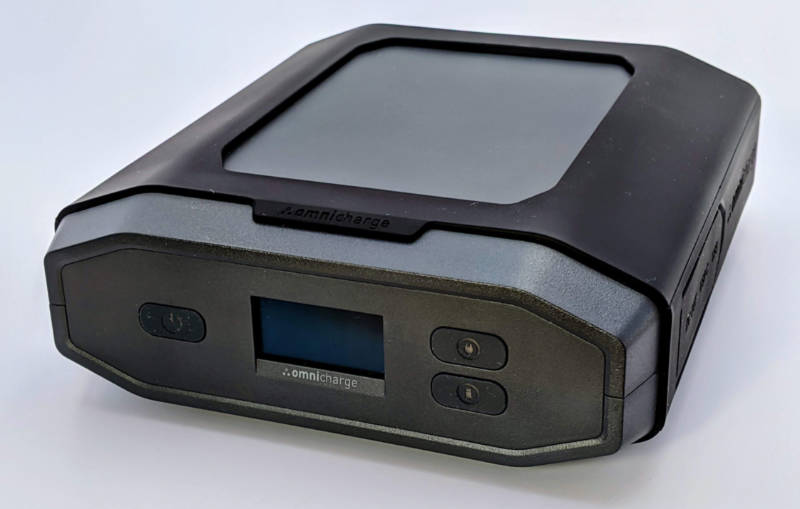 REVIEW–  I'm a bit intimidated by anything that can kill me.  The Omni Ultimate by Omnicharge is the highest capacity portable power supply I have used in my short yet productive life. But given the suggested retail price, the variety of ports, and especially its 120V grounded 'wall plug' style outlet, I anticipated this would be a high quality device. Various uses came to mind whether I'd be in the office, around the house, or out mobile. 
One commenter at the Omnicharge website said, "…It can charge everything you've got…It's heavy, but if you want to carry a generator, this is it."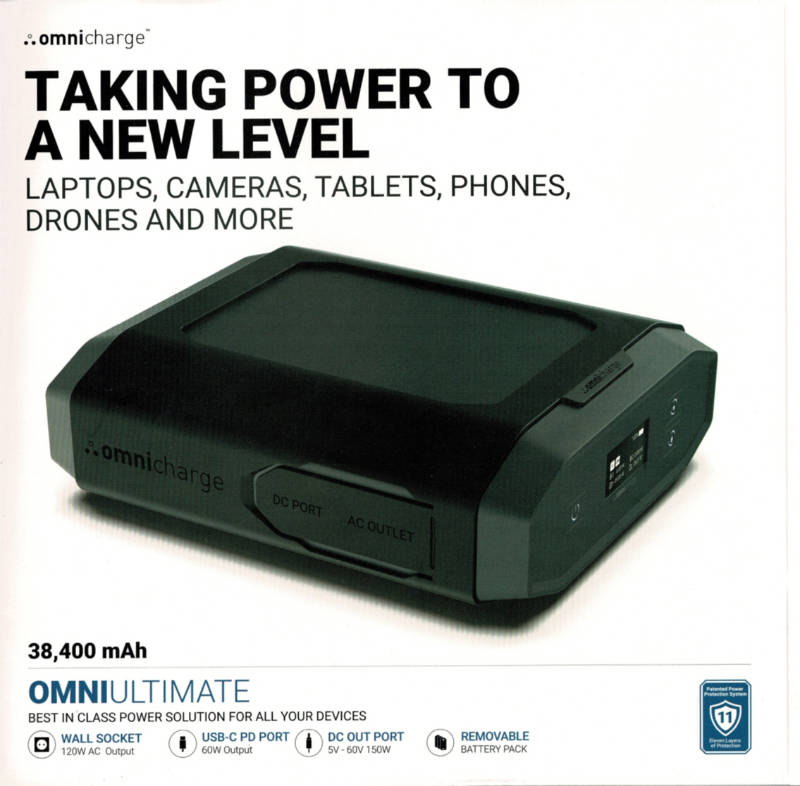 What is it
The Omnicharge OmniUltimate is a professional quality, high capacity power supply with multiple inputs and outputs. The unit has a 38,400 mAh, 142watt hour battery inside.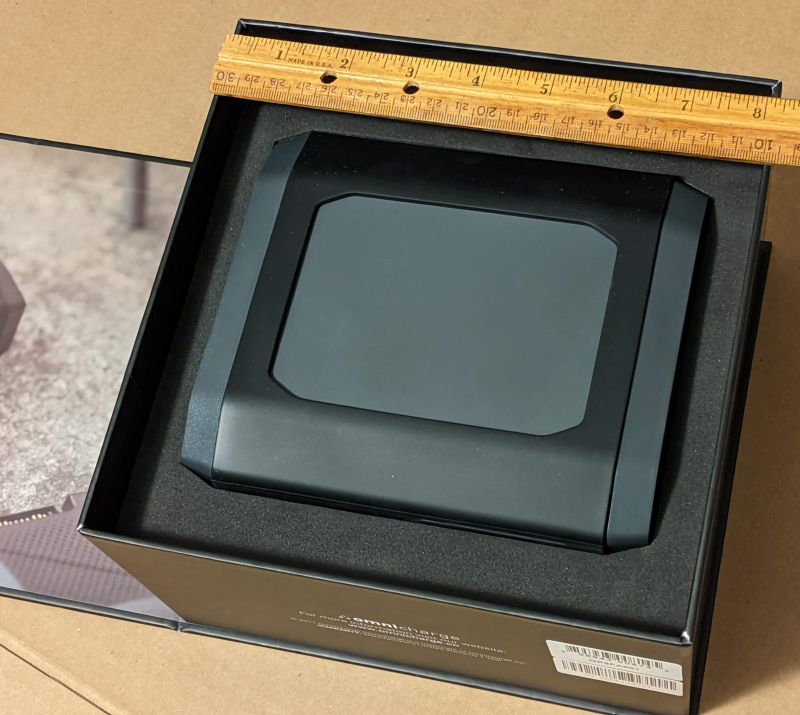 What's in the box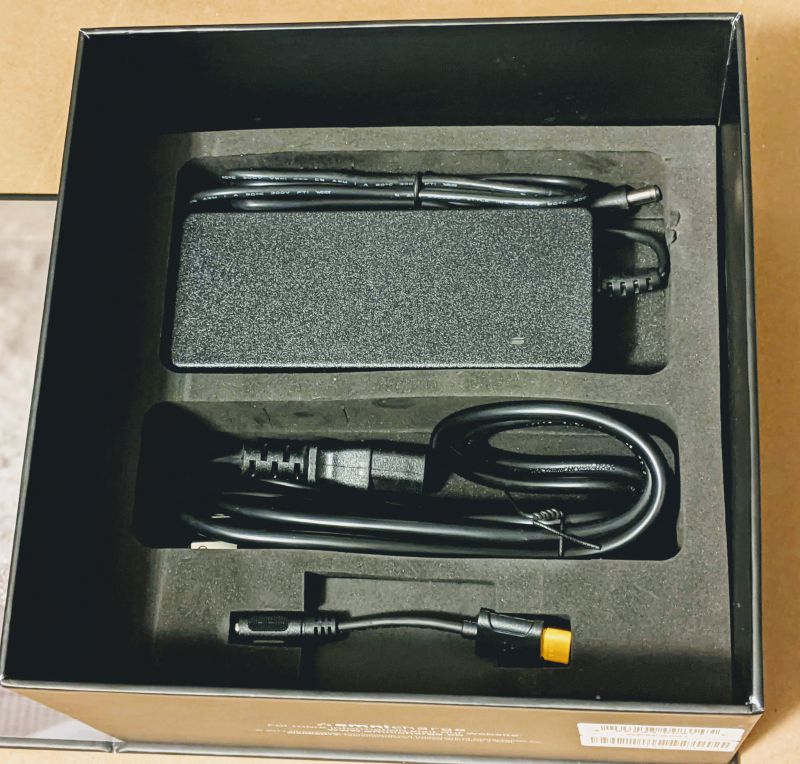 Omni Ultimate power supply
Charger (for charging the Omni Ultimate)
Charger AC cord
Barrel type 5.5 x 2.1mm adapter cable for high power DC output
Quick-start manual
Hardware specs
AC/HVDC Outlet

Output: 120W (120V/60Hz US model, 230V/50Hz EU model)
USB-C Port

Input: USB-PD, 5V~20V, up to 3A, 60W max
Output: USB-PD,5V/3A,9V/3A,12V/3A,15V/3A,20V/3A, up to 3A, 60W max
USB-A Output

Port 1 and Port 2: QC 3.0,5V/3A,9V/2A,12V/1.5A
5.5 x 2.5mm Barrel Port

Input: 5~25V, up to 4.5A, 90W max
Output: Adjustable 5V – 60V with 0.1 Accuracy, up to 8A (150W max)
Battery

Cell Type: 18650 Li-ion battery
Capacity: 38,400mAh, 142Wh ± 5%
Weight: 3.08 lbs (1.4 kg)
Dimension: 6.6″ x 5.7″ x 2.1″ (167.5 x 145 x 54 mm)
Warranty: One Year
Operating temp: Temperature 0°C-40°C,Humidity 30-70%,Altitude ≤2000m
Design and features
The OmniUltimate is one of the few portable power supplies I've seen with a removable battery. The advantage is that you can have multiple batteries ($150 MSRP) charged and ready, and switch them as needed.  To swap out the battery pack the rubber cover must be pulled slightly down at the back of the unit and 2 small screws must be removed to then pull up on the battery pack.  My unit came with one battery so I left the screws as they were installed.
There are only 3 push buttons on the Omni Ultimate. All menu scrolling and selections are to be made with those buttons in certain combinations.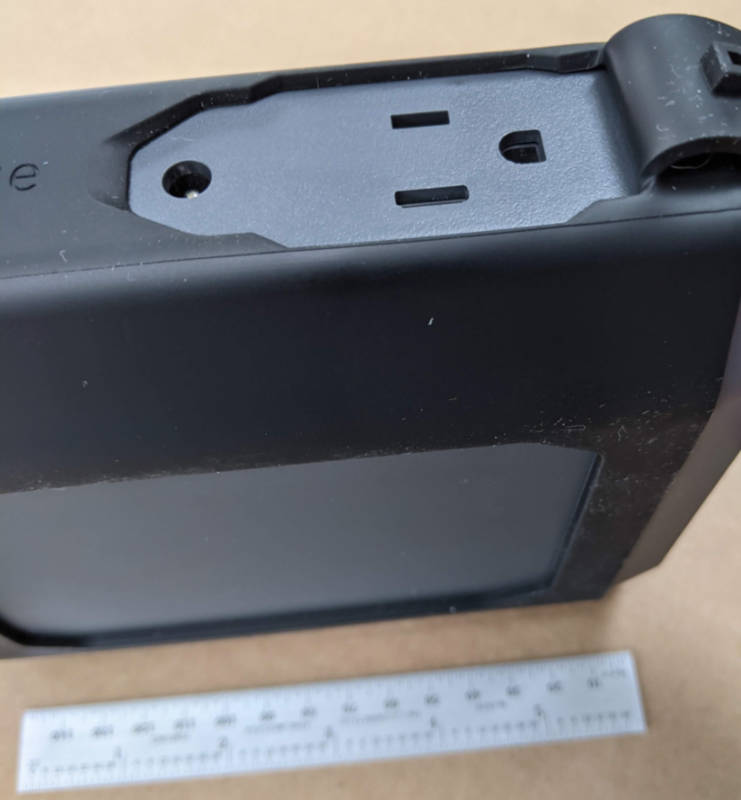 If you plugged something into the Omni Ultimate's 120V outlet that needed to draw more than 120 watts, neither device would be harmed. The manufacturer states, "Omnicharge devices have 11 layers of protection. If Omnicharge senses more power draw than it can output, an internal sensor will trigger an overpower protection feature and turn off the port to protect itself and the device connected to it." I wasn't going to plug a hairdryer or vacuum cleaner into the Omnicharge to test its protective features. Sometimes we just trust.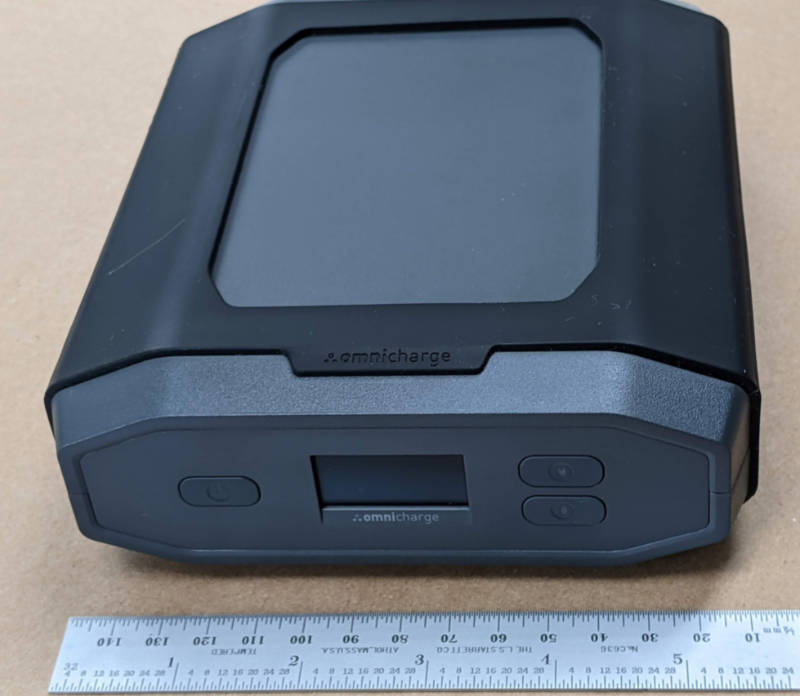 There are 3 push buttons on the front panel of the Omni Ultimate. To the left is power on / off. Top right is AC output on / off. Bottom right is selectable DC output on / off. If the unit is powered on it delivers current to the USB-A and USB-C ports.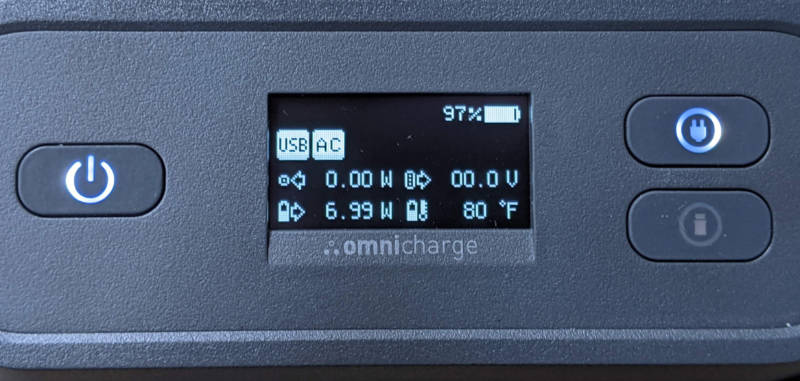 The control buttons are easy to press and the front panel screen is understandable once the symbols and readout positions are identified. The photo above shows what I'll call the 'normal operating screen'. Top row, left, is the charging input wattage. (I only used the supplied 90W charging system.) Top right is the DC output voltage via a special port (cord included). Lower left is the wattage being delivered via the USB-A port(s) and/or the USB-C port. Lower right is the internal battery temperature.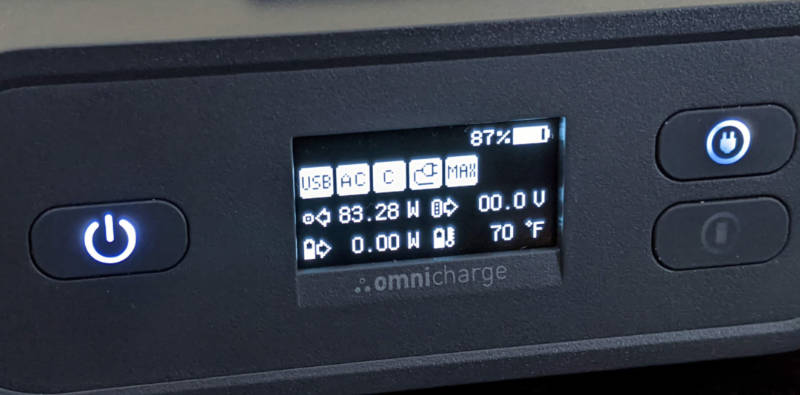 At the top right corner of the screen is the battery capacity indicator. Above the input and output indicators just described, small icons appear indicating functions in use, such as 'USB' for USB-A, 'C' for USB-C, 'AC' for alternating current, 'DC' if the special DC output port is in use, 'Max' if the supplied charger is delivering ~90V input, and a plug symbol indicating the Omni Ultimate is receiving a charge.
When the 90V charger is charging the Omni Ultimate, the USB output values go to zero watt readout, although the devices plugged into any of the USB outputs are still receiving proper current. The Omni Ultimate can charge or power devices while it itself is being charged.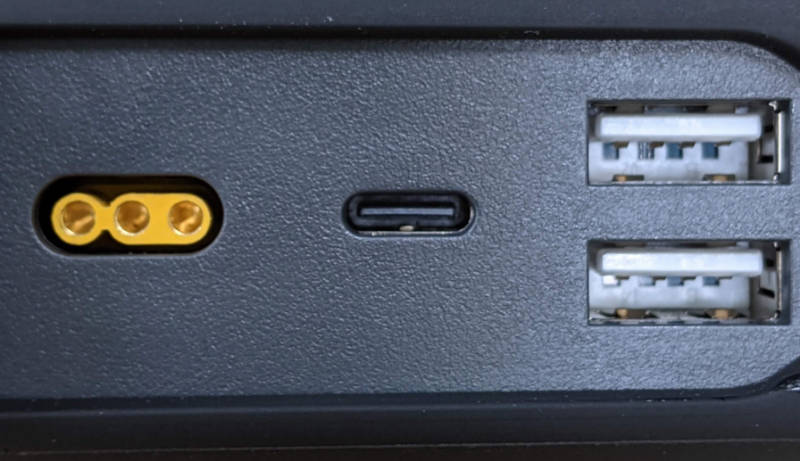 In the photo above, the MR30 DC output is shown (yellow) as are the USB-C input/output and the two USB-A outs. Again, the USB-C port is input and output. If you have a powerful charger (e.g. for a laptop) that charges via USB-C and wish to charge the Omni Ultimate with it, that may save you from having to carry the Omni Utimate charger which is the size and weight of common PC laptop chargers.
The Omni Ultimate can be set to stay on when turned on or to turn off automatically at 2 time points.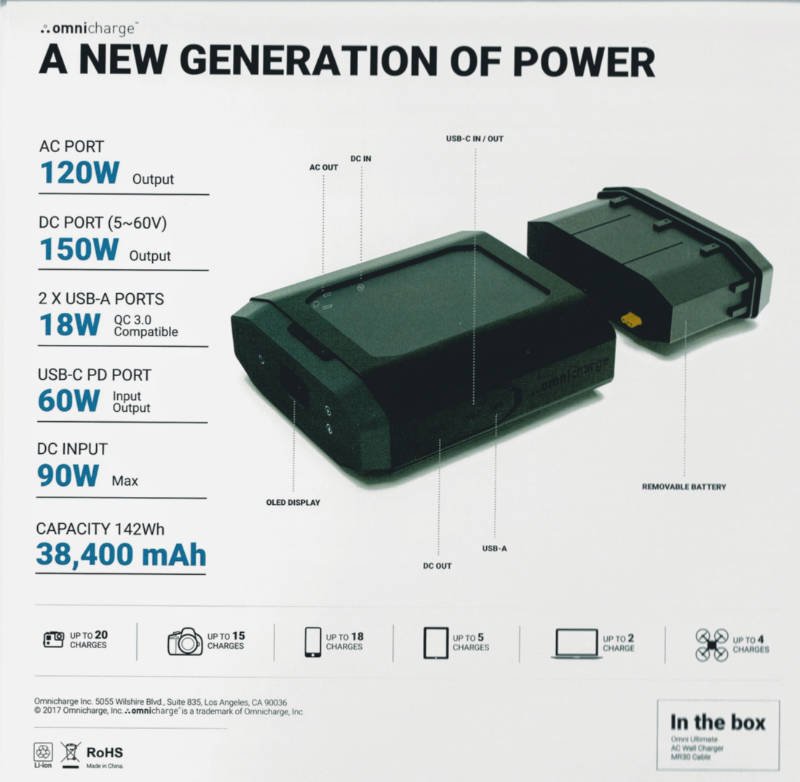 Installation and Setup
The review unit arrived at 22% power level. Directions said to calibrate the system by draining the battery to 0% and fully recharge it. It took about 2 hours 20 minutes to achieve full charge from zero battery reading.
I recommend reading the full manual available at the omnicharge.co site. Only a quick-start manual ships in the package.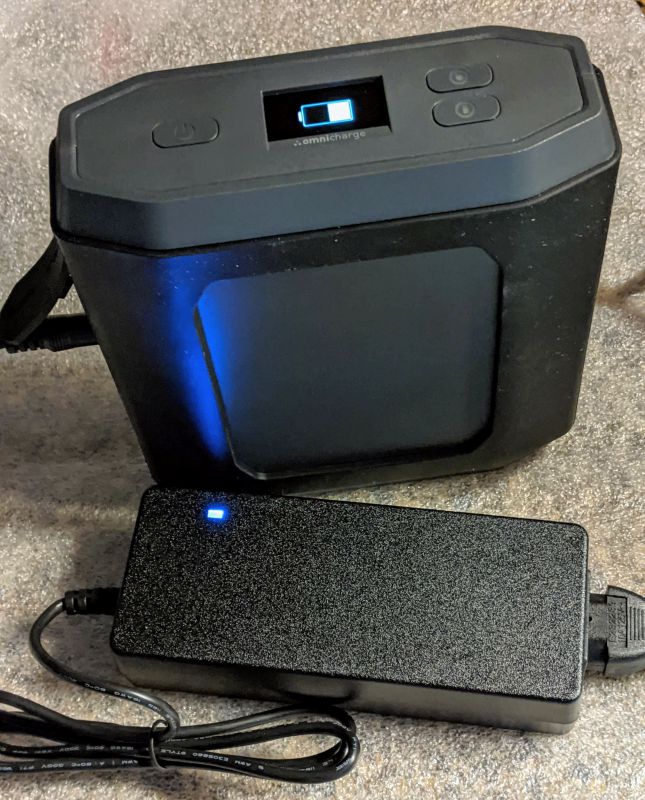 Testing and observations
The math behind how many charges a portable power supply can deliver is pretty straightforward. The capacity of the charging device you have, divided by the capacity of the battery you need to charge, assuming you would charge the target device when it got to zero battery power.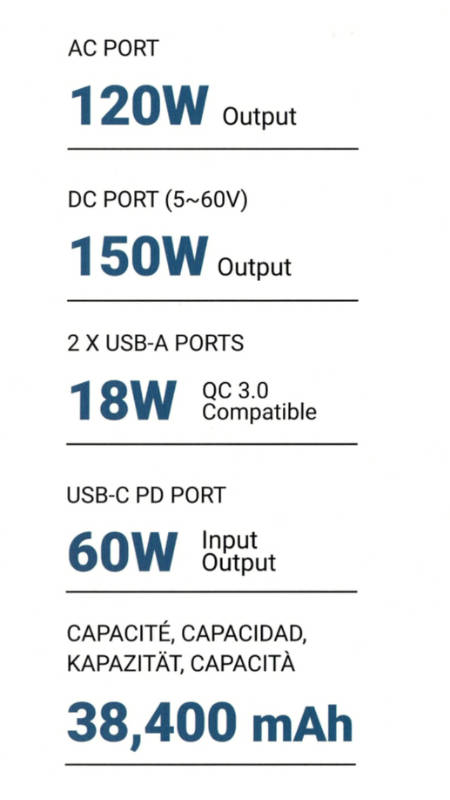 I kept the Omni Ultimate near me for nearly a month and used it to charge everything I have that has a rechargeable battery in it. I occasionally plugged a three bulb AC floor lamp into it just because I could. The lamp operated at normal brightness.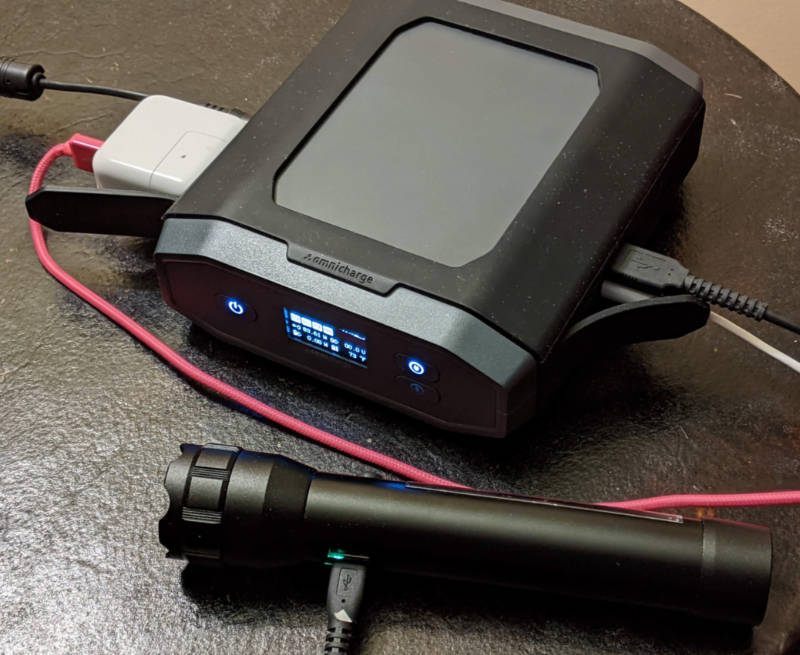 I often had several devices charging at once. This photo shows every port in use except the variable DC out.
I detected no flaws in the Omni Ultimate's performance other than a menu snag described in the 'Final thoughts' below.
There was a notable user error to report. At one point I connected two phones to charge but later noticed the device had gone dark. I dug around in the settings and discovered I had turned on a shutdown timer as I was playing around with settings. Now it is set for no shutdown.
What I like
This power supply is very well made. The number of outputs and input options for charging makes this a very versatile power source. The one year warranty is good to see. The rubberized cover and overall construction of the device gives confidence about its durability. There is no 'shake, rattle or roll' with the Omni Ultimate. Build quality is excellent. It is a useful convenience that it can charge devices as it is being charged.
What I'd change
A more detailed manual is available at the Omnicharge website. That manual should be in the box. The one that ships is just a quick-start booklet with only 3 pages of useful content. The controls are almost intuitive, but not quite.
While exploring settings I somehow changed the language to Mandarin for all menu displays except the main operating screen. That 'feature' is not mentioned in the manual nor was Google any help. I emailed Omnicharge support. They answered my inquiry promptly (Sunday question, Monday morning answer) but the solution was a convoluted button push combination which, again, should be described in a full manual, in the box. (I hope I'm not under emphasizing.)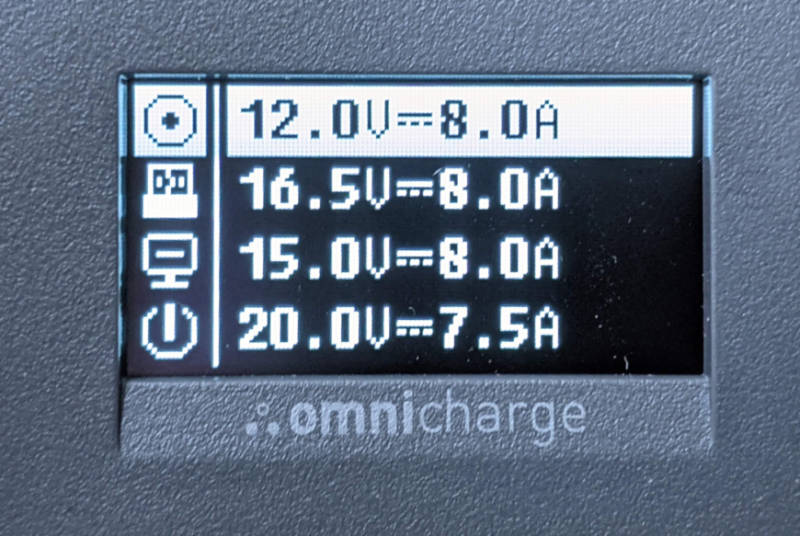 This photo shows voltage and amperage choices for the yellow MR30 DC output port.  This port is a puzzle to me. Two friends who work in IT have never seen this style of port.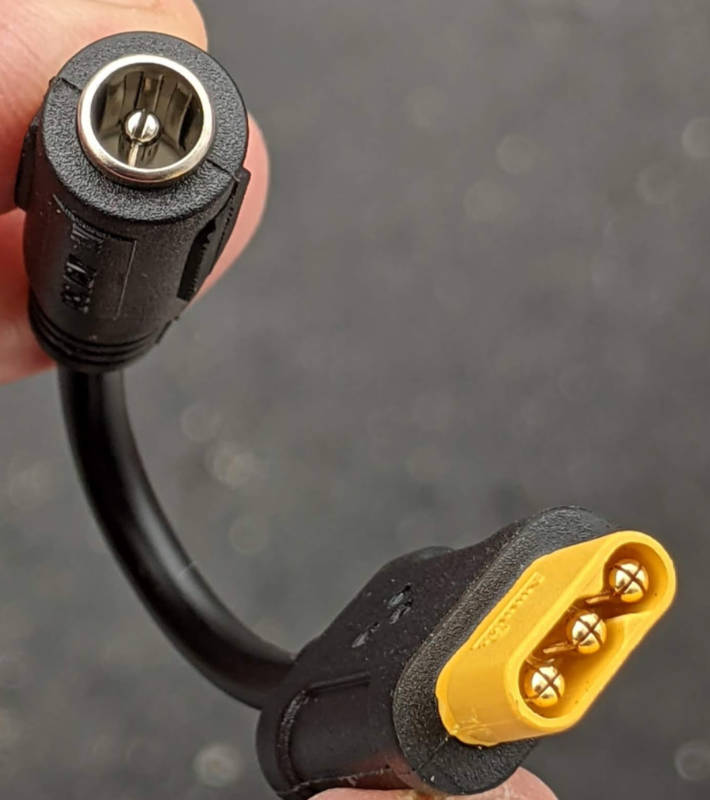 A short cord with a barrel-type jack ships with the Omni Ultimate and supposedly facilitates this selectable, high power charging outlet.  The company portrayed the port as useful for laptop charging as an example.  But you'd need to have a charging cord that terminates in a specific barrel-type plug to fit this jack. Most PC laptops I've seen, admittedly not a big number, either have USB-C or proprietary charging plugs and ports, and their supplied cords don't connect to their charger's power bricks with barrel plugs. But maybe you would find this feature useful if other devices charge with barrel plugs of this size or those that can be ordered at the Omnicharge site.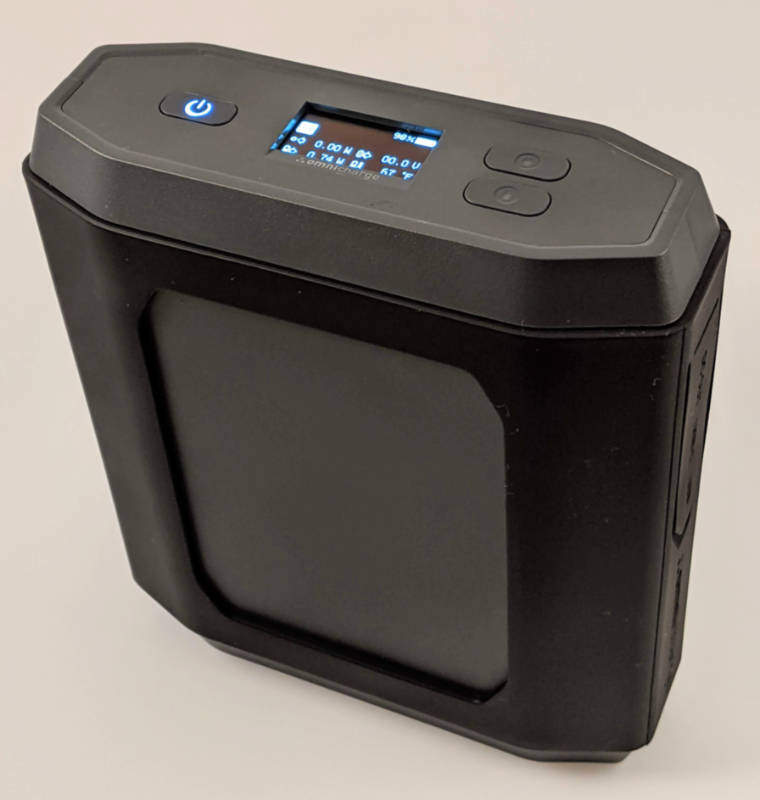 Final thoughts
The Omnicharge website lists this device as 'Max capacity for air travel'. Gadgeteer reviewer Garry Kolb quoted FAA guidance in a recent review of the RAVPower PD Pioneer 30000mAh 2-port power bank.
"Size limits: Lithium metal (non-rechargeable) batteries are limited to 2 grams of lithium per battery. Lithium-ion (rechargeable) batteries are limited to a rating of 100 Wh per battery. These limits allow for nearly all types of lithium batteries used by the average person in their electronic devices. With airline approval, passengers may also carry up to two spare larger lithium-ion batteries (101-160 Wh) or Lithium metal batteries (2-8 grams). This size covers the larger after-market extended-life laptop computer batteries and some larger batteries used in professional audio/visual equipment."
The Omni Ultimate has a battery of a size that may have you pleading with an airline or TSA agent who may refuse its passage. Flyers beware. A 'no' from the airline or TSA  could be a costly loss.
This durable, well engineered device can power many types of devices within the parameters of its voltage and wattage capabilities. Whether for home use, photographers, drone pilots, camping, outdoor sporting activities, or for road warriors, the Omni Ultimate is three pounds of energy that can keep your devices running far longer than the rabbit in the commercials.
Price: $399 MSRP
Where to buy: omnicharge.co and Amazon
Source: The sample for this review was provided by Omnicharge.