We use affiliate links. If you buy something through the links on this page, we may earn a commission at no cost to you. Learn more.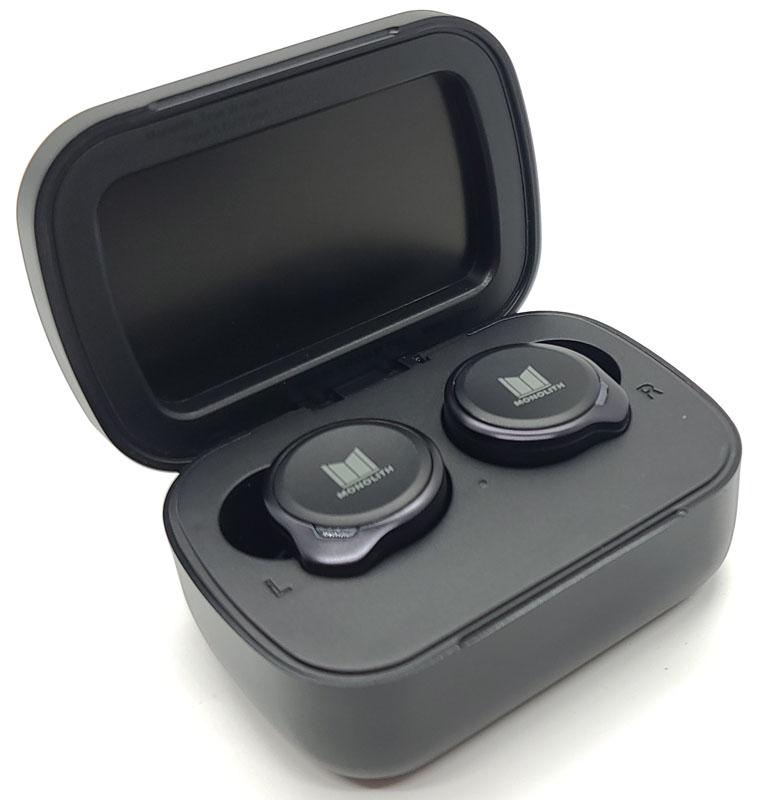 REVIEW – I have been searching for the perfect TWS earbuds.  It has to sound good, not look too dorky, be comfortable to wear, offer noise cancelation, sound good on phone calls, and have easy-to-use controls.  Not too difficult, right?  Well, in my tests, so far I haven't found an answer.  I have a pair of noise-canceling earbuds that I really like from a comfort, sound, and noise-canceling standpoint, but they are connected with a wire, so every time I turn my head, it snags on my collar.  These Monolith earbuds from Monoprice looked like they might be the true wireless answer to my ever-continuing search.  Let's see if my search has finally ended. Spoiler alert: it didn't…
What is it?
The Monolith M-TWE earbuds from Monolith are true wireless Bluetooth earbuds featuring active noise cancelation and IPx4 sweat protection.
What's in the box?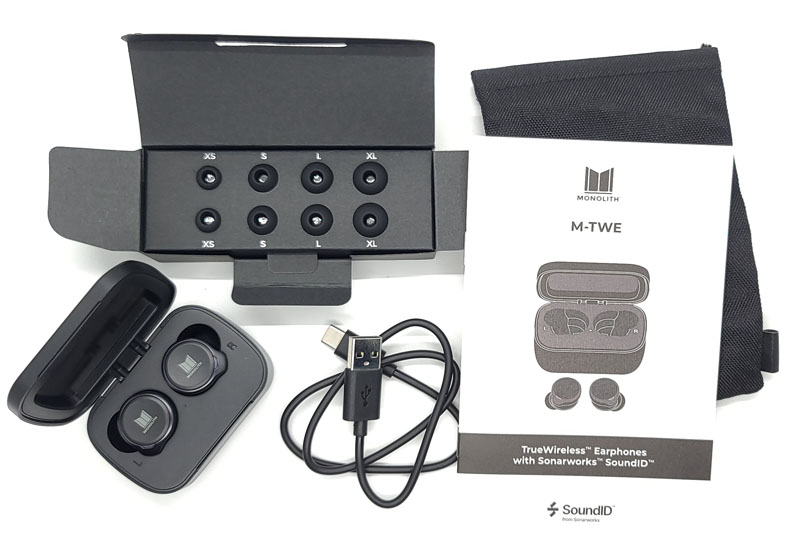 Left and right earbuds with medium ear tips installed
Charging/storage case
Extra-small, small, large, and extra-large ear tips
USB-A to USB-C charging cable
Carry pouch
User manual
Hardware specs
Model: 41500
Drivers: 10mm neodymium dynamic drivers
Connectivity: Bluetooth 5
Weight: 6.6g/0.23oz per earbud; 76.6g/2.7oz for both earbuds plus the charging case
Water resistance: IPx4 – protected against water splashes from any direction
Frequency response: 20Hz – 20kHz
Noise cancelation:

Speakers: hybrid, three-mode – full cancelation, ambient noise pass-through, off
Microphone: Qualcomm cVc 8.0 echo canceling and noise suppression

Playtime: 30 hours – 10 hours plus 20 hours reserve with the recharging case

5-minute recharge = 1-hour playtime, full charge in 2 hours

Controls: touch activated
Ear tips: five included – Extra-small, small, medium (installed), large, extra-large
Customization software: SoundID for iOS and Android
Design and features
The earbuds are nice-enough looking.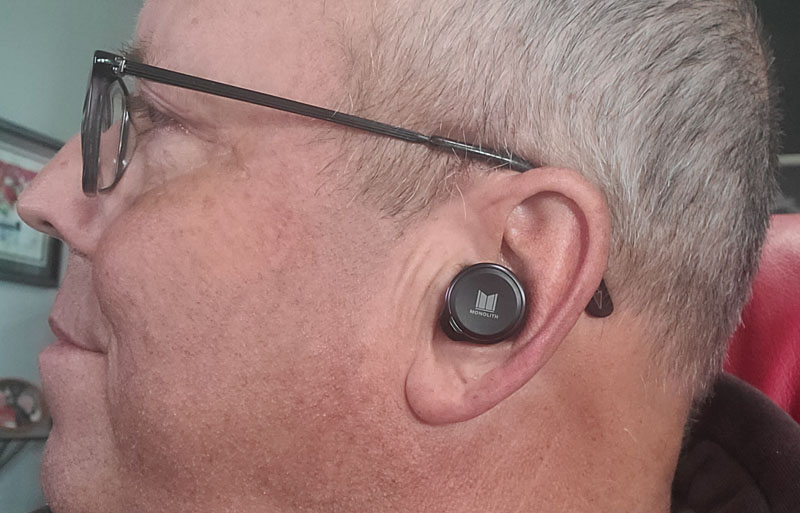 They don't call too much attention to your ears and are pretty unobtrusive.  I like that.  No flashing lights, no bling – just down to business. These would look perfectly in-place on an executive-level Zoom call.
The storage and charging case is similarly business-like.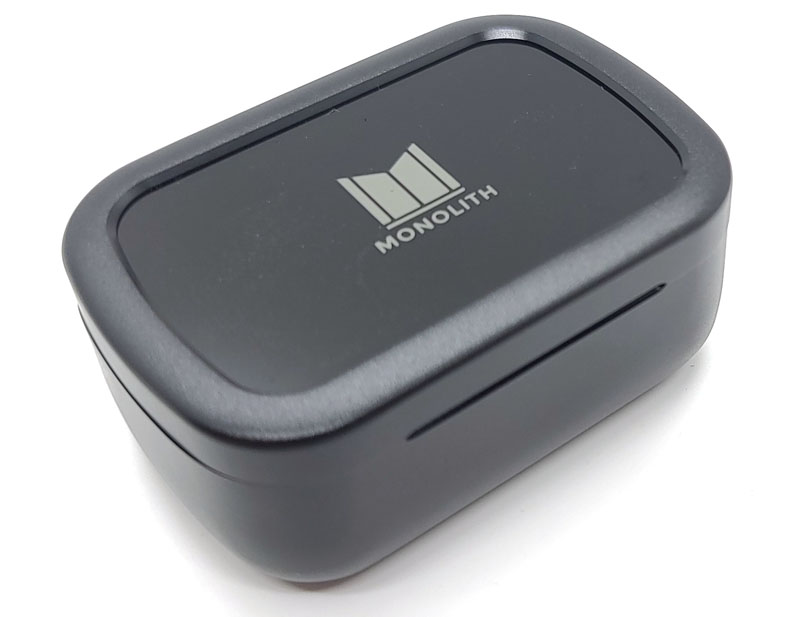 At about 2..5″w x 1.5″d x 1″h, it will fit into a backpack or briefcase easily.  The 20-hour charge reserve that it packs means you won't need to plug it in very often, even with use.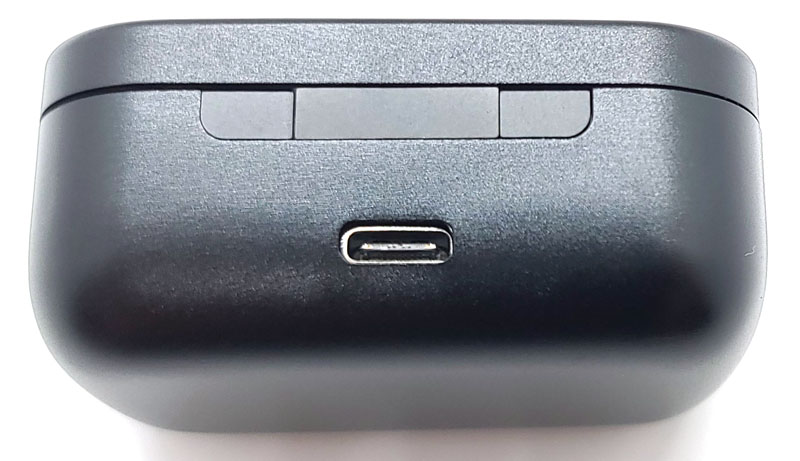 On the back of the case, we see the lid hinge and the USB-C charging port.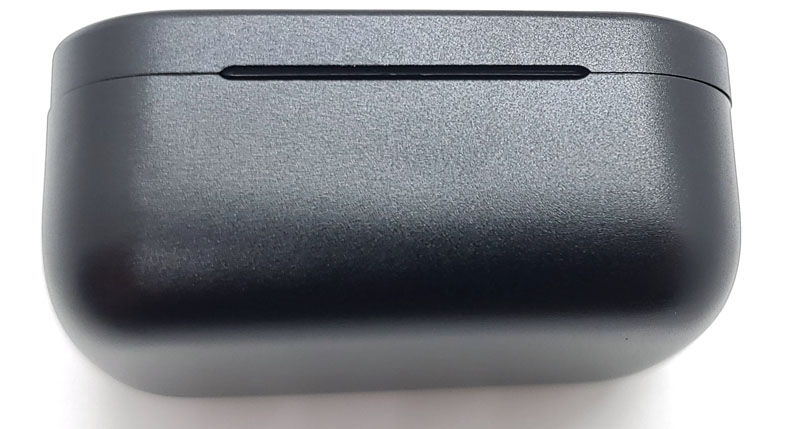 On the front, there is a small gap to slide a fingertip into to open the lid.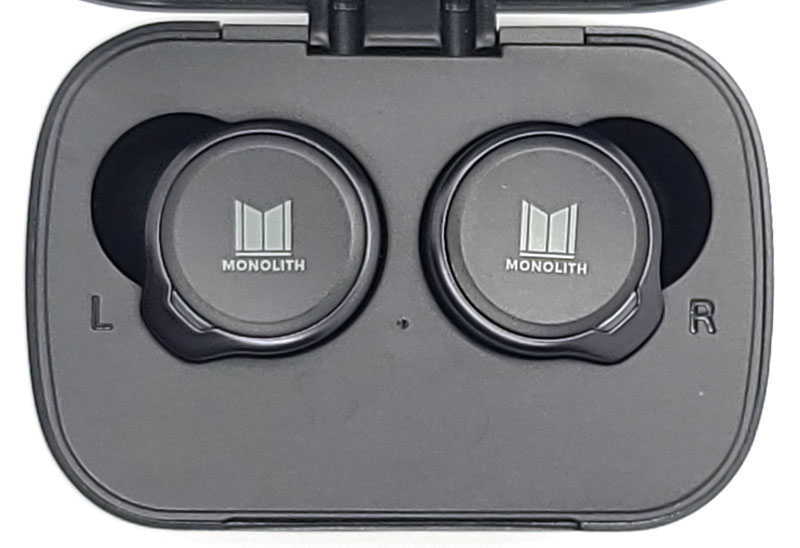 The earbuds magnetically snap into place into their fitted left and right charging pods.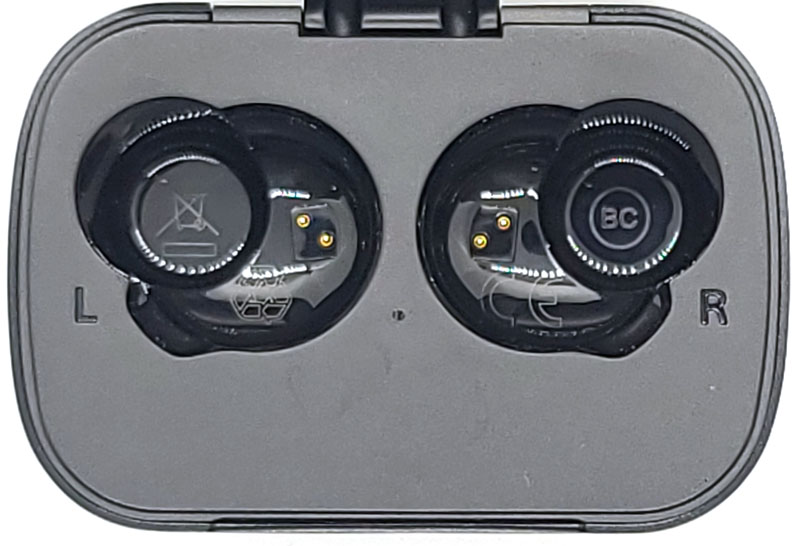 At the bottom of the pods, we see the two charging pin contacts.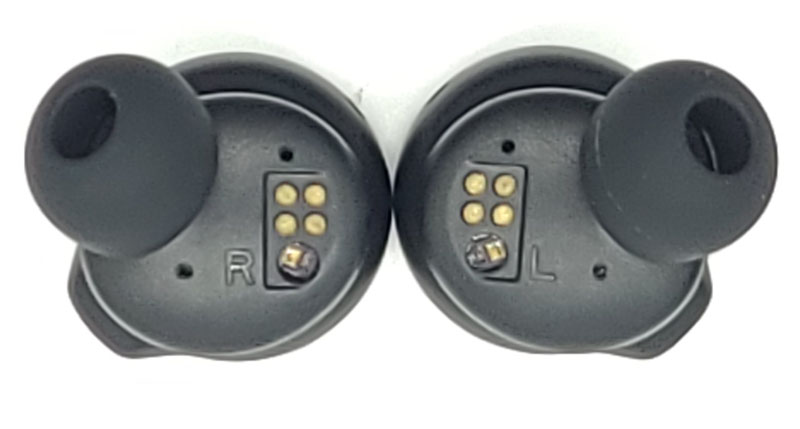 Looking at the earbuds themselves, we see the charging contacts on the back.  Just below the charging contacts, there is a small window containing an optical sensor that detects whether the bud is in your ear or not. The ear tops slide onto a small post.  It was quite easy to swap out ear tips.
Setup
To start setup, you pair the earbuds with the device you want to use.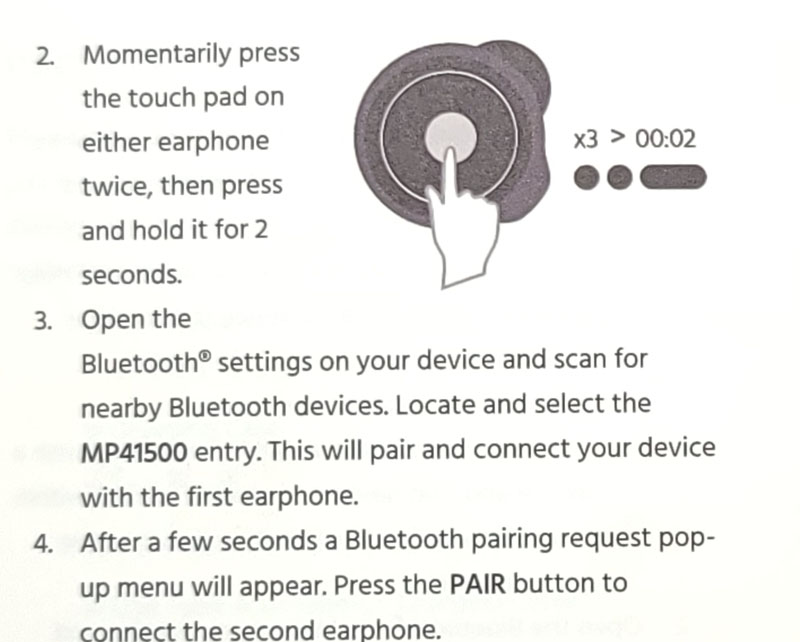 I successfully paired the earbuds with my phone and my TV. Interestingly, two connections appeared for the earbuds.  There was one for each earbud.  I tried each and it didn't matter which one I paired with. The earbuds work that out between themselves.  You can use either earbud independently, but when you take them both out of the case, they pair together.
Each earbud has an LED indicator on it.  The case also has a single LED indicator.  I'll talk about those in the next section.
To fully set up the earbuds and customize them to your personal listening preferences, you need to download and install SoundID to your iOS or Android device.  I did and set up an account.
You start by telling the app what earbuds you are using.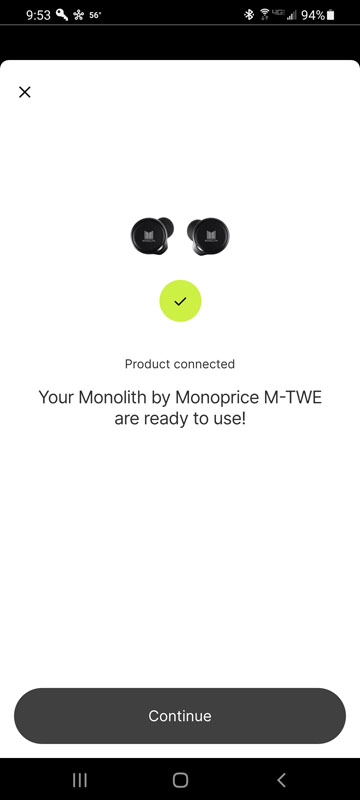 It then connects to the earbuds and gets them ready for customization.  You have to go through two different sets of tests.  The first plays one of several available repetitive tracks and asks you to flip between two different sound profiles.  Think eye exam – A or B – A or B…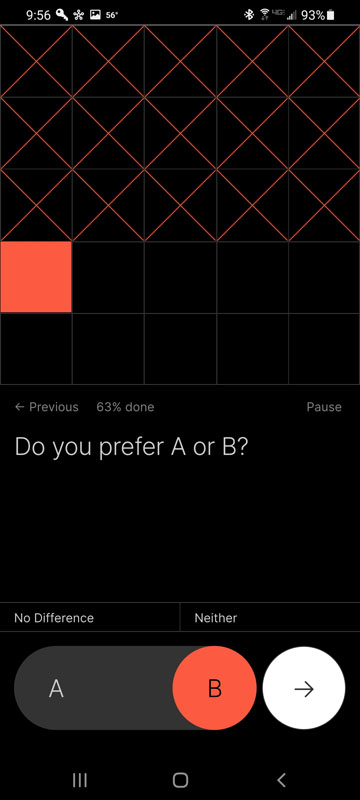 You can also indicate that you don't hear a different or don't like either version. You go through multiple different pairings, choosing A/B/No Difference/Neither for each pair.
After you finish that test, the app then steps you through a hearing test of sorts where it plays a series of tones on either the left or right side.  You then use a button to raise or lower the volume just until you can't hear the tone anymore.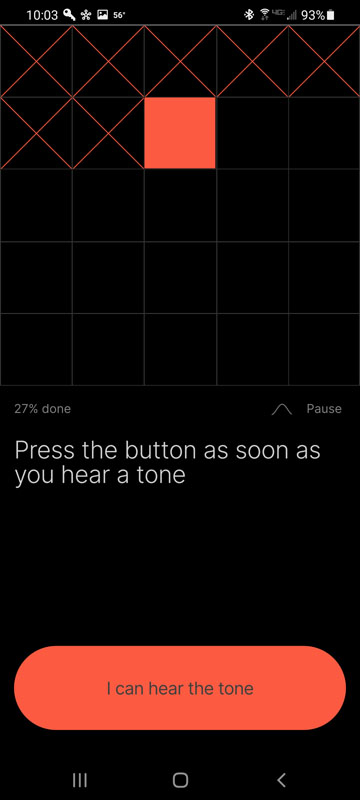 These two tests allow SoundID to tailor the sound to both your preferences and the particular variances that are specific to your ears.
All this SoundID stuff is totally optional as the earbuds work fine without it.  The app does give you a before/after listening experience, and I thought it did sound better after customization.
After you get through all that, you're ready to listen.
Performance
Sound
Let's start with how they sound. I'm no audiophile. My 61-year-old ears ring on their own. But, I can hear bass and treble and know what I like.  As far as sound goes, I like these earbuds.  The bass is strong without being thumpy.  The highs are crisp and clear.  The vocals sound natural.  I like how these sound.
Cycling through noise cancelation modes I found a distinct difference in sound.  For me, full noise cancelation provided the best sound by far.  The noise cancelation worked reasonably well.  I'm spoiled as I've used Bose headphones and buds for years and they're tough to beat for nice canceling.  I liked the ambient sound pass-through that lets some ambient noise enter. This would be great if you're in a situation where you want to listen to music but need to keep aware of what's happening around you. Consider walking or running on a road.  Being able to hear road noise can be critical to your safety.  Turning the cancelation off completely sounded a little flat to me.  Perhaps it was just the room noise spoiling the sound because I was spoiled from listening with the noise cancelation on.
Visual indicators
Let's move on to controls and indicators.  Remember that I mentioned the LEDs on the buds and the case?  Here they are: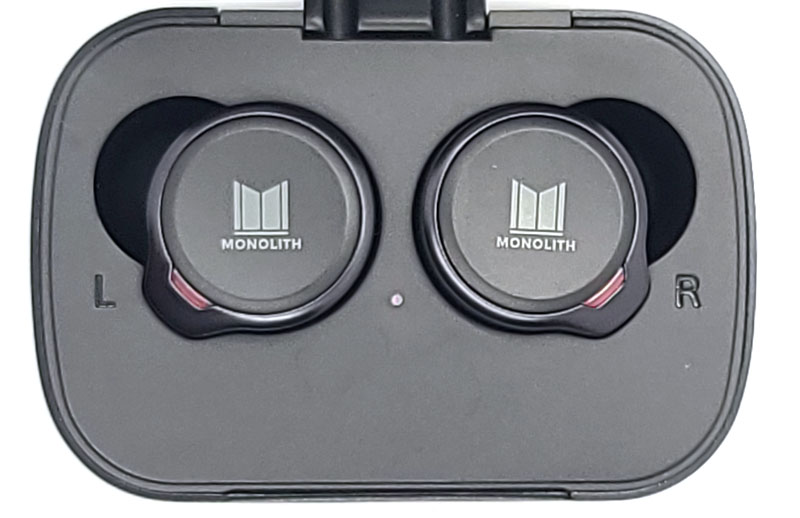 You can see the single while dod in the middle of the case and the red lights on the tabs of the earbuds.  Here's what the earbud indications mean: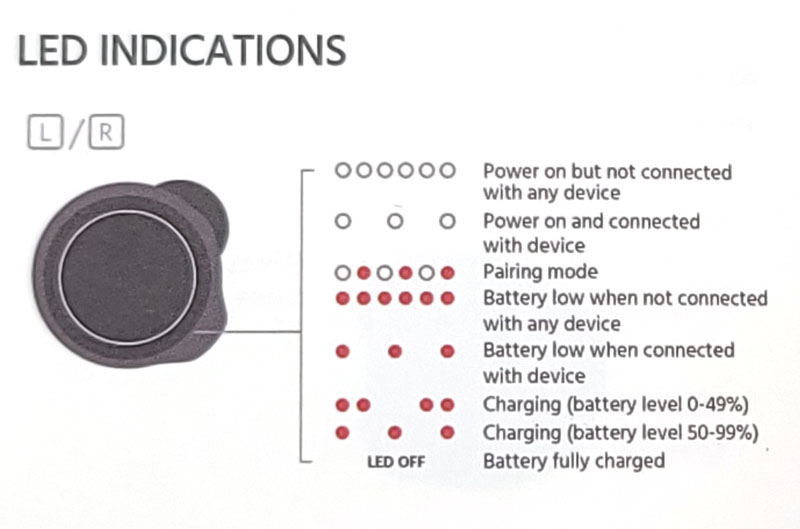 Yup – eight separate blink and flash patterns with two different colors.  I can tell you that I will never remember what they all mean.  What about charging?  How do I tell how much charge the case has left?  Glad you asked! Here you go: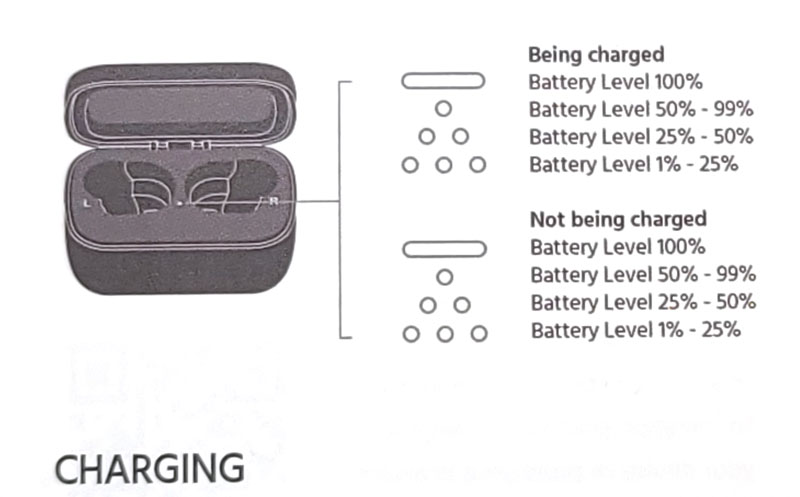 So, four more patterns – well, eight, but both sets of four are identical, so…four. There are a lot of different LED patterns to remember.  A nice thing is that the LEDs turn off when the buds are in your ears.
Controls
Controlling the music or calls involves several tap or swipe actions. Each action can be performed on either earbud. Let's start with noise cancelation.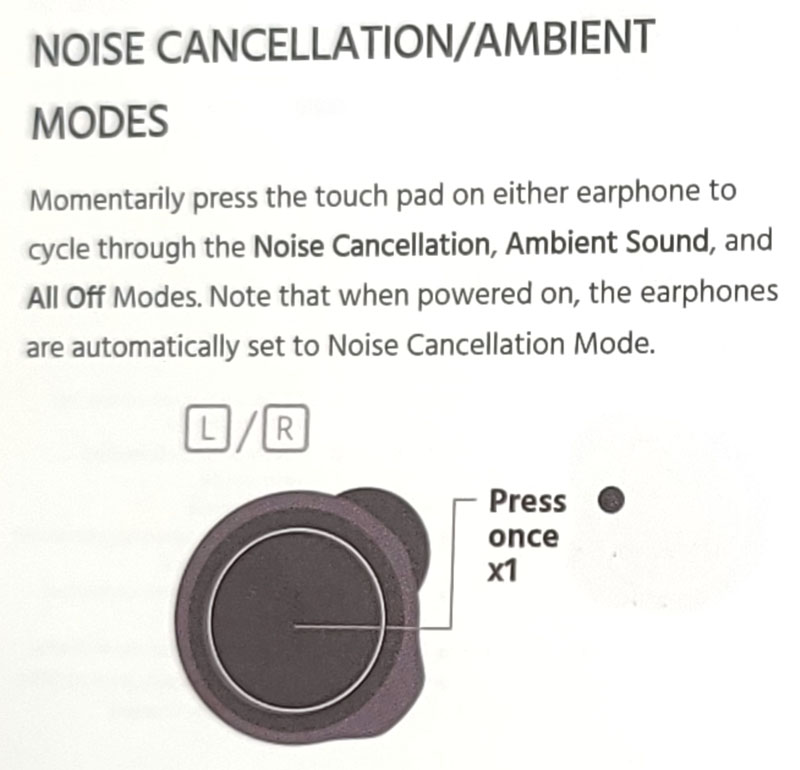 Tapping either bud cycles through the three noise cancelation modes: noise cancelation –> ambient noise pass-through –> cancelation off.  The tapped earbud also provides verbal confirmation for each mode. The issue with this is that it is really easy to tap the bud when you mean to do something else.  When I tried to change volume, I regularly also switched cancelation modes by accident.
Speaking of volume, here is how you control volume.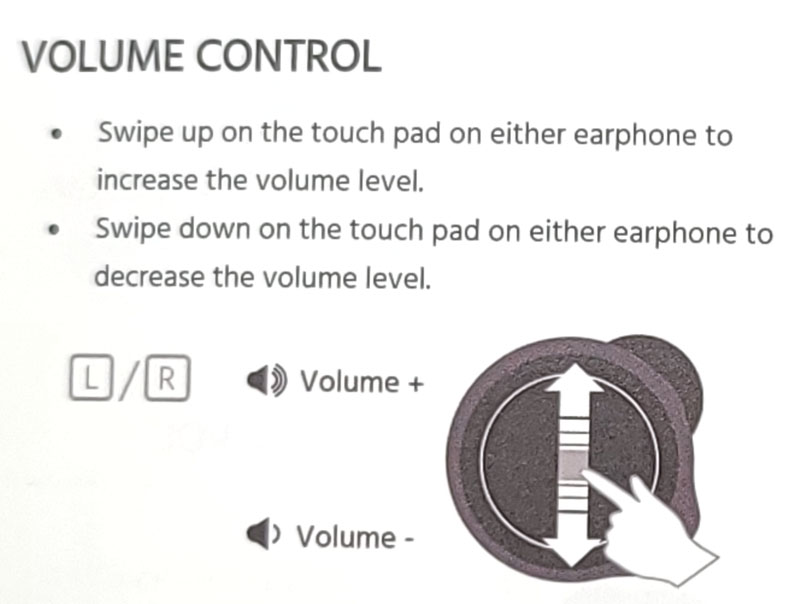 This process worked just OK.  Sometimes, it just seemed to ignore my swipe.  Sometimes, it changed noise cancelation modes.  Sometimes it changed the volume. Perhaps with time, I will get better at it, but I think that the touch sensor needs some fine-tuning.
You also have control over playback and phone answer/hang-up as well as triggering your default voice assistant.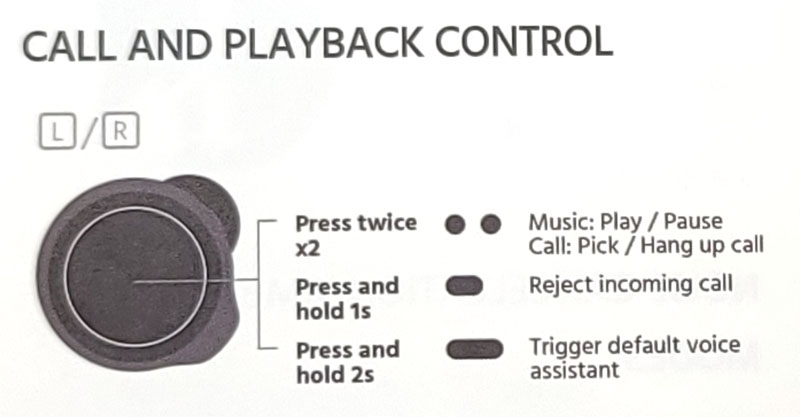 This was again hit or miss as a slightly off-center double-tap gets picked up as a single-tap and switches noise cancelation modes.
There is no option to skip a track or go back to a track.  That surprised me.
Pressing and holding for two seconds brought up my default voice assistant (Alexa).  That touch control proved to be the most reliable for me.
I called my lovely and patient wife to test call quality.  She reported that I sounded like I was just using the phone.  She had absolutely no indication I was on earbuds.  She reported the call sound quality was excellent.  As for my side, she also sounded crystal-clear.  I stepped outside and she reported that the sound was still excellent.  When I stepped into the wind, however, she reported a definite wind-rush sound on the call but noted that she would expect to hear the same if I was just on a phone.  I'd rate the call sound as excellent.  But then…I went into a different room and turned on the TV.  She reported that she could clearly hear the TV both when I was talking and when I was quiet.  I turned on a sink and she reported that the water was quite loud.  So, while sound quality on a call is excellent, it is only excellent when there is no background noise.  These earbuds claim to have noise suppression for the microphone, but it sure didn't work well.
Comfort
This is a tough area for me as I have very sensitive ears.  I have a hard time finding earbuds that I can wear for a long period of time.  Unfortunately, for me, these are not comfortable.  They put an undue amount of pressure on my ears and my ears start to ache.  This isn't necessarily a design defect as I have this issue with lots of earbuds that others happily wear all day long.  I tried several different sizes of ear tips.  If they were too small, they wouldn't seal up so the noise cancelation didn't work.  Too big and they were really painful.  I settled on medium for my left ear and large for my right for a good seal.  Both ears were sore after an hour of wear. It's not that the earbuds put undue pressure on my ears.  It's the combination of something in my ears along with the shape of the bud touching the outside of my ear that causes me discomfort.  That's the fault of my goofy anatomy, not the earbud's fault
What I like
Good battery life
Good music sound quality and it can be customized per your preference with SoundID
Terrific call sound quality on both ends of the conversation, as long as you're in a quiet place
Nice looking design
What I'd change
Outgoing call noise suppression doesn't work well
A large number of LED light patterns can be confusing
Touch controls are finicky
No option to skip a track
For me, the design is not comfortable, but I struggle with a lot of earbuds
Final thoughts
I so wanted this to be the end of my earbud search. Unfortunately, my goofy ear anatomy reared its ugly head again and has ruled these out for me as a primary earbud.  Couple that with the finicky (at least for me) touch controls and confusing LED indications and I'm not too disappointed.  Factor in the terrific sound quality for music and I could live with the control issues if it wasn't for the pain in my ears. But then, the poor noise suppression on calls lowers the value for me. If most earbuds are comfortable for you, then these could be a great choice for you, as long as when you make calls, you do so in a noise-free environment. My stupid ears and I will continue our search for the perfect wireless, noise-canceling earbud.
Price: $129.99
Where to buy: Monoprice and Amazon
Source: The sample of this product was provided by Monoprice.