We use affiliate links. If you buy something through the links on this page, we may earn a commission at no cost to you. Learn more.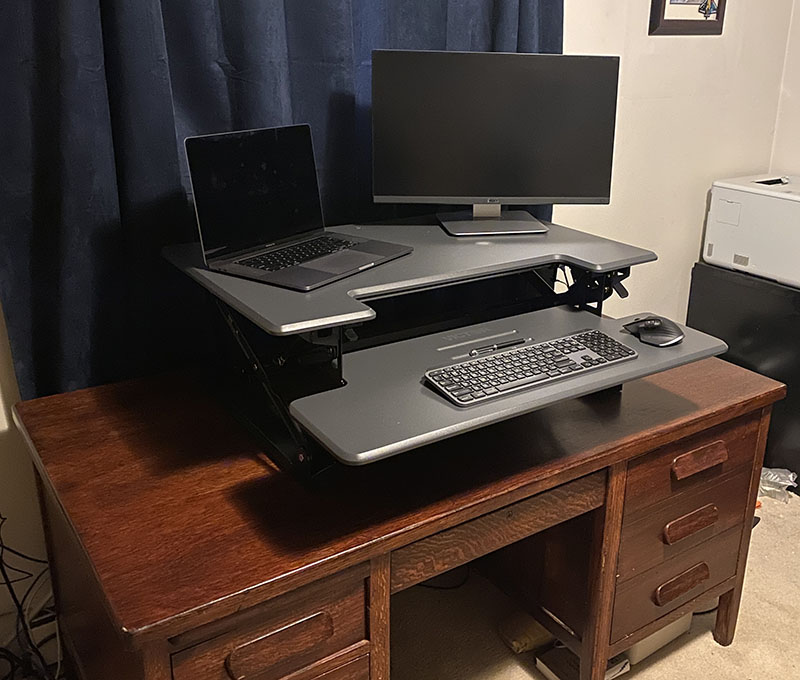 REVIEW – Like it or not, many of us are working from home these days with companies big and small contemplating making that a permanent change for a bunch of reasons. This 2020/21 reality has forced some folks to transform their WFH space from an occasional, get-by kind of environment to a real-deal office space where productivity and ergonomics are a must. This includes additional/bigger monitors, smart hubs, better accessories, comfier chairs, and the ability to stand while working to name a few. Well, VictorTech offered up one of their sit/stand conversion desks engineered to transform a classic sit-down desk into an adjustable workspace meant to add the ability to stand while working without replacing your existing desk or the need for cinderblocks. Let's check it out…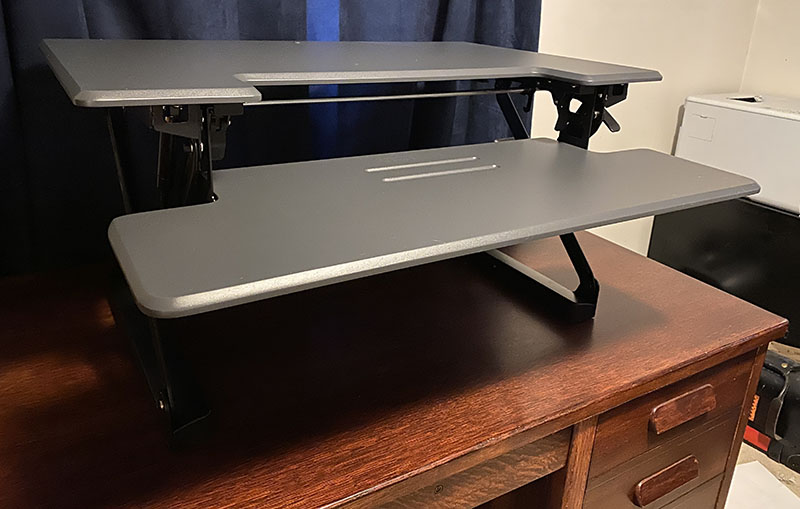 What is it?
The VictorTech DCX760 is a well made height adjustable sit-stand desk converter with built-in keyboard tray engineered to transform a standard sitting desk into a fully adjustable sit-stand workspace.
What's in the box?
DCX760G Height Adjustable Standing Desk Converter
Keyboard tray
(Optional) monitor mount
Hardware specs
| | |
| --- | --- |
| Size (in.) – Work Surface at Maximum Height | 23D x 36W x 20H |
| Size (in.) – Keyboard Tray at Maximum Height | 14D x 35W x 14.5H |
| Size (in.) – Frame | 22.6D x 27.6W |
| Weight (lbs.) | 49 |
| Color | Charcoal Gray and Black |
| Material | Wood and Steel |
| Coating | High Pressure Laminate |
| Repositionable | Yes |
| Attachable Keyboard Tray | Yes |
| Can Lower to Sitting Position | Yes |
| Monitor Mount | Available as Additional Purchase |
| Grommet Hole for Monitor Mount | Yes |
| Amount of Assembly | Light |
| Warranty | 3 Year Limited |

Design and features
As I stated above, the VictorTech DCX760 Height Adjustable Standing Desk Converter is designed to be placed on a standard, static desktop to create a workspace that can be used while either sitting or standing.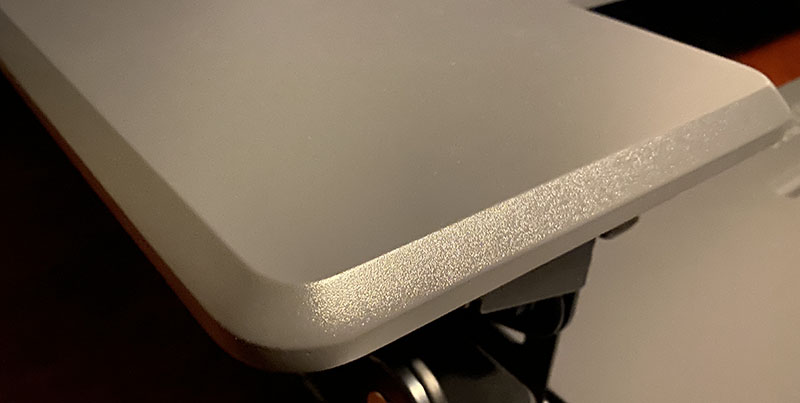 The material and build quality of this desk is excellent. The DCX760 horizontal surfaces are made from wood with a thick, durable high pressure laminate coating in charcoal gray. The material has a nice texture with a semigloss sheen to it.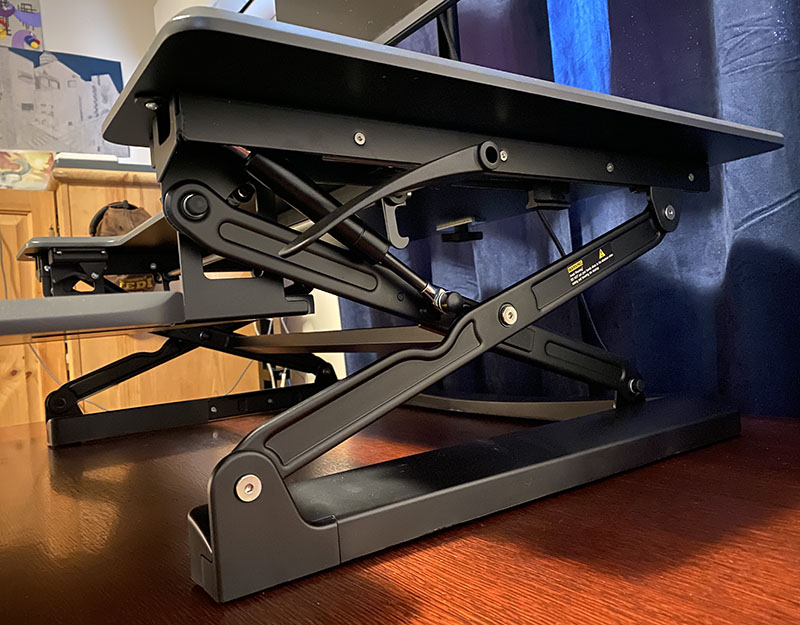 The desktop and keyboard tray are supported by a very solid steel base. The whole setup is quite heavy, weighing in at approximately 50 pounds making for a very sturdy base designed to not tip or move around. The dark gray surfaces and matte black metal frame give the DCX760 a clean professional appearance.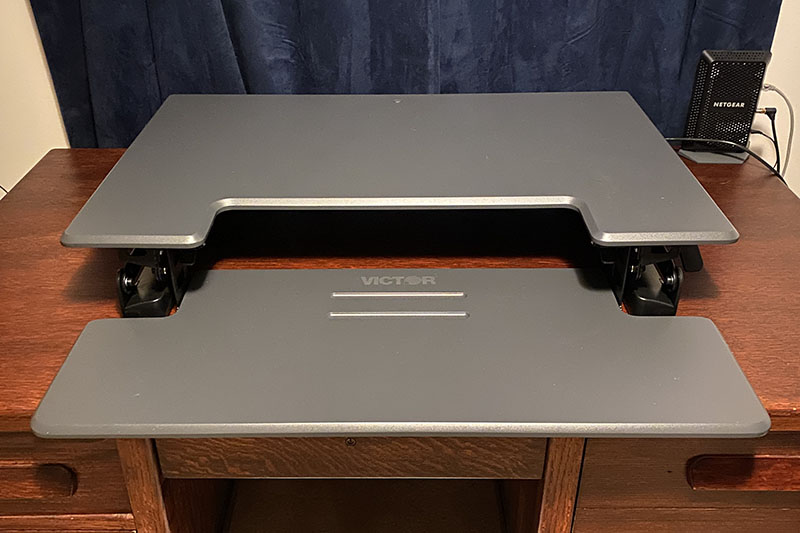 The main surface area measures 36" wide x 23" deep, enough workspace for a monitor and/or laptop. The keyboard tray is 35" wide x 14" deep with 2 tray slots for holding mobile devices, writing instruments, paperclips, etc.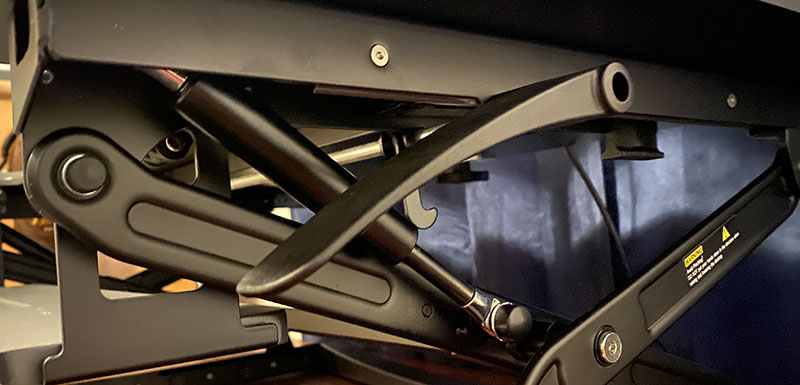 You can raise and lower the workstation by simply squeezing the lever located on the right side of the frame. Adjusting the height is assisted by several gas struts making for a smooth, effortless controlled motion. The DCX760 is adjustable to one of the 12 height levels. The work surface raises up to 20" and the keyboard tray raises up to 14.5″, providing an ergonomic working position for most heights.
Setup
There is almost zero setup with the VictorTech DCX760. Simply place the desk stand frame assembly on your work surface then slide the keyboard tray into its dedicated slots then lock it into place. The entire process takes less than a minute. 
Performance
Over the past month, both my wife and I have used the VictorTech height adjustable standing desk converter in various configurations. She is 5'6″ and I am 6'1″ and both of us have found comfortable heights for standing while working. As I mentioned above, adjusting the DCX760 truly is effortless with an extremely smooth movement that does not rattle your tech gear at all as you change heights.
My home office desk is very well made from solid wood and old world craftsmanship. When I was in my 20's I looked far and wide for this desk, it needed a bit of TLC but that's what makes it mine. I repaired and refinished it and over the past 30 years it has served me very well. The DCX760's ability to transform my desk to a sit-stand workspace without damaging or permanently modifying my 80 year old desk is the perfect way to give new life to an old friend. Being able to stand while working from home definitely helps me make it thru my day. 
What I like
Excellent material and build quality
Transforms a classic sitting desk into a fully adjustable workspace
Smooth, effortless height adjustment
Simple, easy assembly 
What needs to be improved
Not available in larger sizes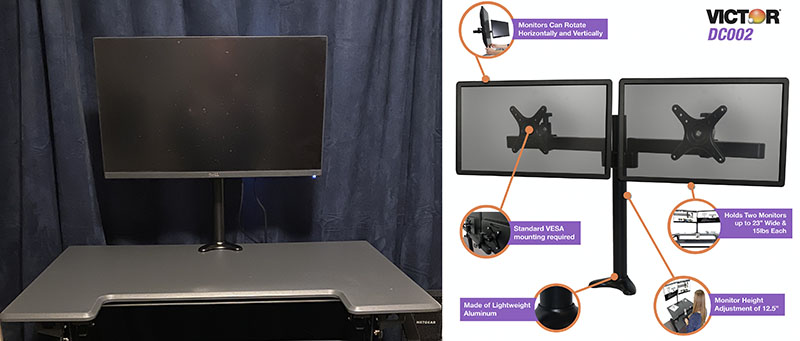 If you have multiple monitors and/or want more space on your the DCX760 desktop, VictorTech has created their DC002, a fully adjustable monitor mount that can be configured for single or dual use. The Monitor Mount can attach to any desk of 1-inch thickness or less by through-hole (grommet) or clamp attachment components. The DC002 is solid and well constructed, made from aluminum and can support one monitor of any size up to 15 lbs or two monitors up to 23" wide and up to 15 lbs each.
Final thoughts
I really like the VictorTech DCX760, its build quality and ability to transform a classic sit-down desk into a height adjustable standing desk is a definite plus in our current WFH world many of us are living in. Its piston assisted, smooth motion and 12 position adjustment make it simple and easy to find the perfect height for either sitting or standing. I only wish it came in larger sizes to more fully use the space on my desk…somewhere in the 48″-54″ would be ideal for me. But at 36″ wide and 23″ deep space easily holds a laptop and monitor with the dedicated keyboard tray to (obviously) hold your keyboard and mouse. 
Price: $299.99
Where to buy: The High Rise is available on Amazon or directly from VictorTech.
Source: The sample of this product was provided by VictorTech.