We use affiliate links. If you buy something through the links on this page, we may earn a commission at no cost to you. Learn more.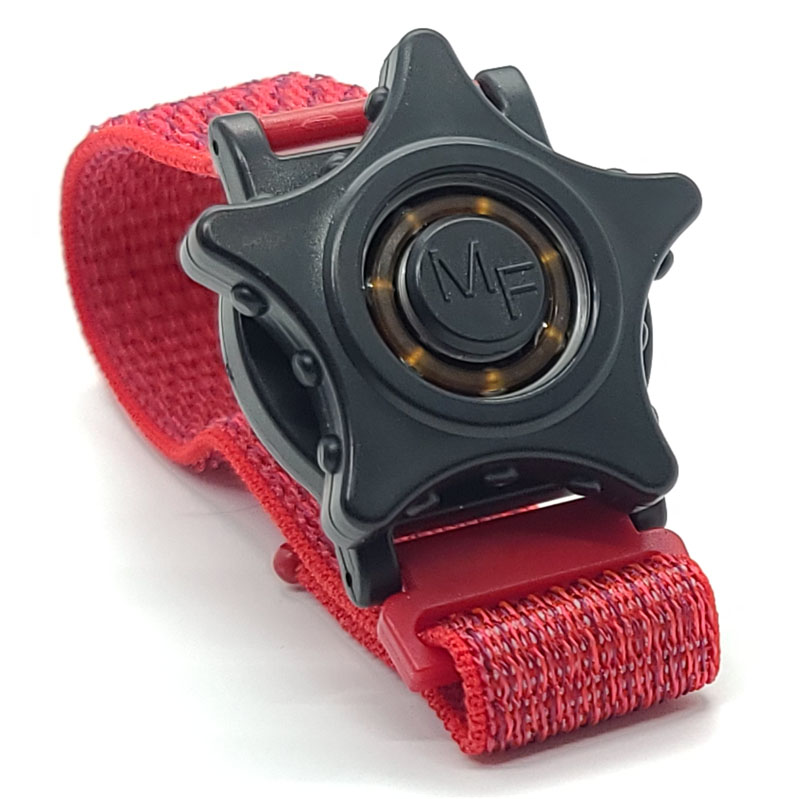 REVIEW – Are you one of those people that always have your hands occupied?  Rubbing a stone, spinning a pencil, fiddling with a paperclip – it is an issue that affects more people than some might realize. The need to constantly have some sort of active stimulation brought about the rise of fidget spinners – those spinning devices in all sorts of shapes and sizes that folks carried into meetings to keep their hands occupied and their minds engaged. Mindful Fidgets changed the model by creating a family of wearable fidget spinners so you always have a fidget spinner on your wrist.  Let's see how it fares as a means to keep your fidgety fingers occupied.
What is it?
The Mindful Fidgets star-series is a family of band-mounted fidget spinners designed to be work on the wrist.  The star-shaped spinner rotates with a flick. Its edges feature a series of tactile bumps designed to stimulate the fingers. It is meant to be always accessible, unlike other spinners that can get lost in a pocket, purse, or backpack.  The company describes it as: Put it on in the morning. Wear it all day. Fidget when you need it.
What's in the box?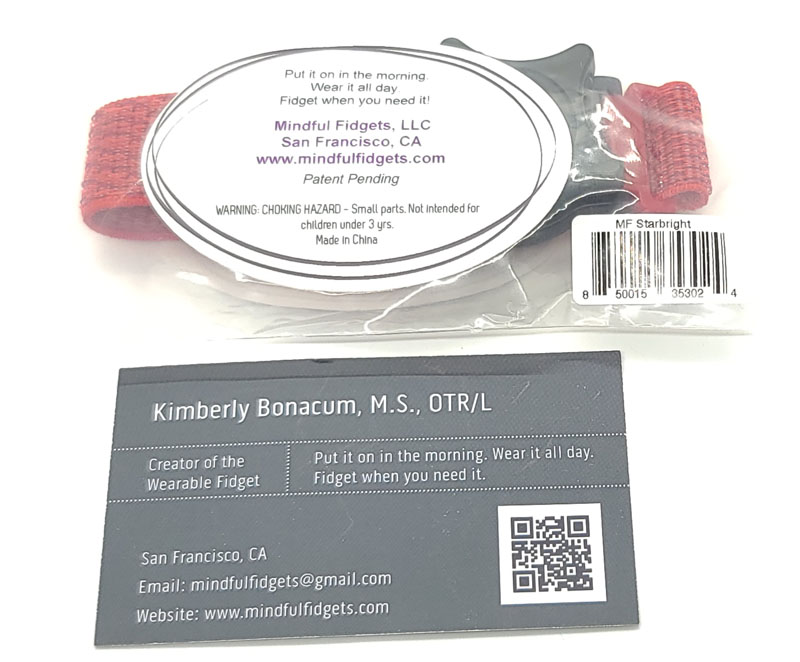 The fidget spinner with an attached wrist strap all in a labeled zip bag
Contact card
Hardware specs
Weight; 0.8 oz
Strap size: 20mm wide; fits approximately 5.75″ to 8.5″ wrist diameters
Strap style: nylon, hook & loop closure, quick-release
Spinner: plastic five-point star design with tactile bumps along the edges
Spinner width: approximately 1.6″
Spinner colors: White, black, blue, purple
Strap colors: Black, red, rainbow, olive, white/gray
Design and features
The Mindful Fidgets wrist strap fidget spinner is a spinning device that you can wear on your wrist. The five-point spinner is made from lightweight plastic and spins almost silently. I was sent the Starbright model with a black spinner and red band. They sell the fidget spinner in the following configurations:
Stardust: purple spinner with a black band
Seastar: blue spinner with a black band
Blackstar: black spinner with a black band
Starbright: black spinner with a red band – what I tested
Starlight: white spinner with a black band
Starburst: white spinner with a rainbow band
Additional bands are available in red, olive, rainbow, white/gray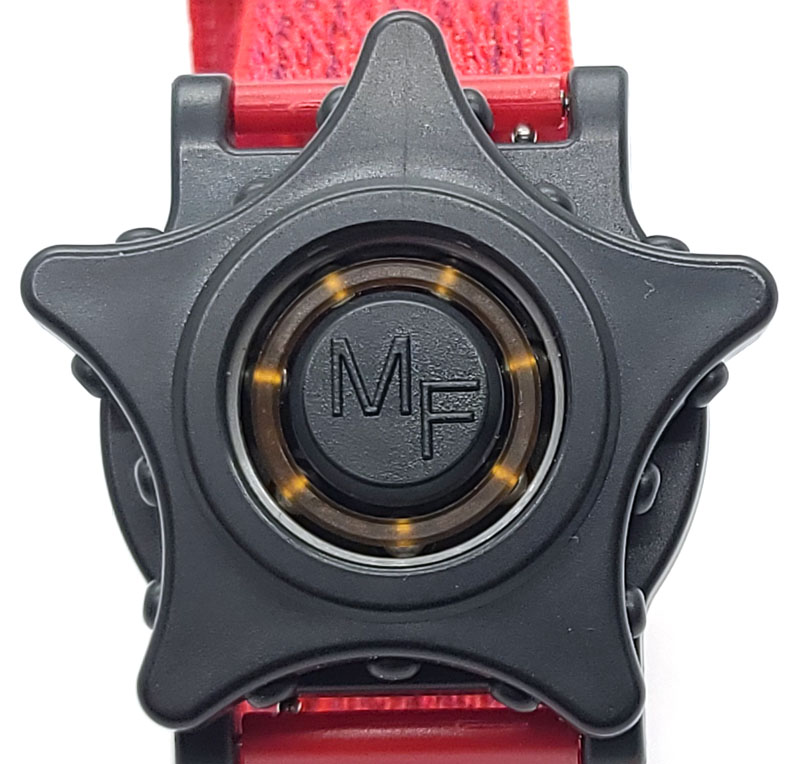 The design is decidedly wristwatch-like.  To me, this is a missed opportunity. I think that if they included a simple digital watch in the center, it would greatly improve overall usability.  But, this isn't a watch, it's a fidget spinner, so let's move on.
The five-point design means that there is always a point near your finger, so flicking it is pretty simple without having to look at it.
If you're more of a rubbing fidgeter, there are raised bumps all around the edge of the spinner.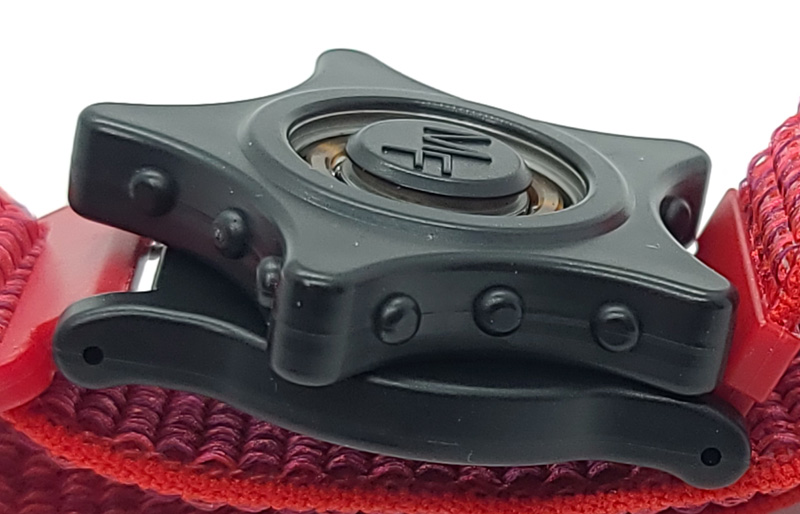 For many, rubbing fingers over something tactile like hard bumps can be calming.
The strap is made of soft cloth with a semi-fuzzy texture.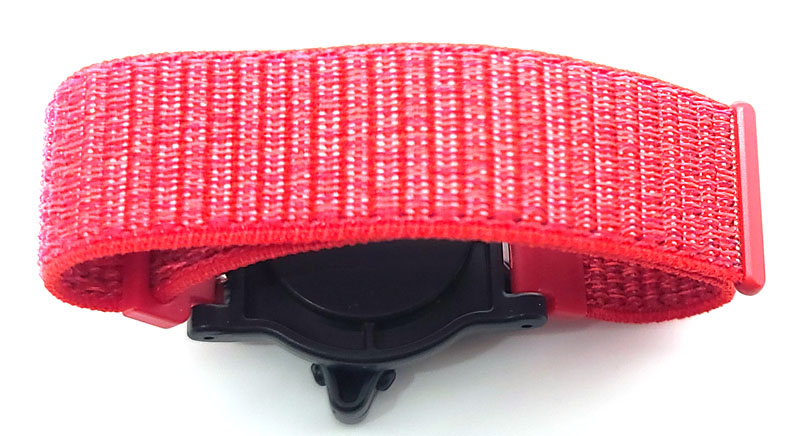 The end of the strap has a hard plastic end that is too large to fit through the other strap's loop, so it stays attached without having to constantly push it through the loop.  I like that.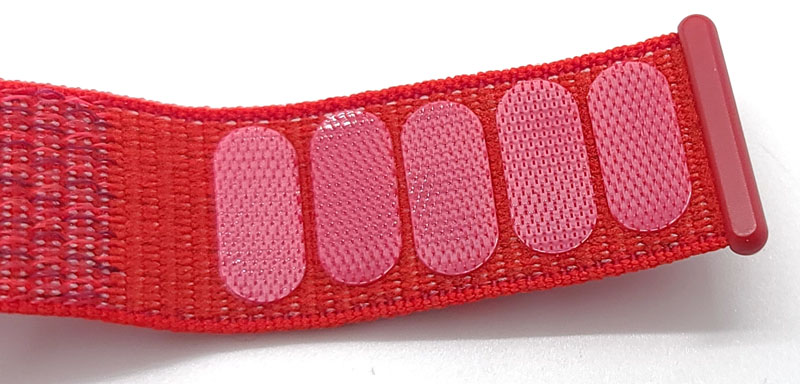 You can see that plastic end in the photo above.  You can also see the clever hook pads that adhere to the strap, acting as the closure.  They are smooth to the touch, unlike most scratchy hook-and-loop closures.  When I felt them, I expected them to not really hold well, but I was mistaken.  They work great.  The strap is quite comfortable to wear.
The strap attaches to the spinner body with quick-release pins – a nice touch.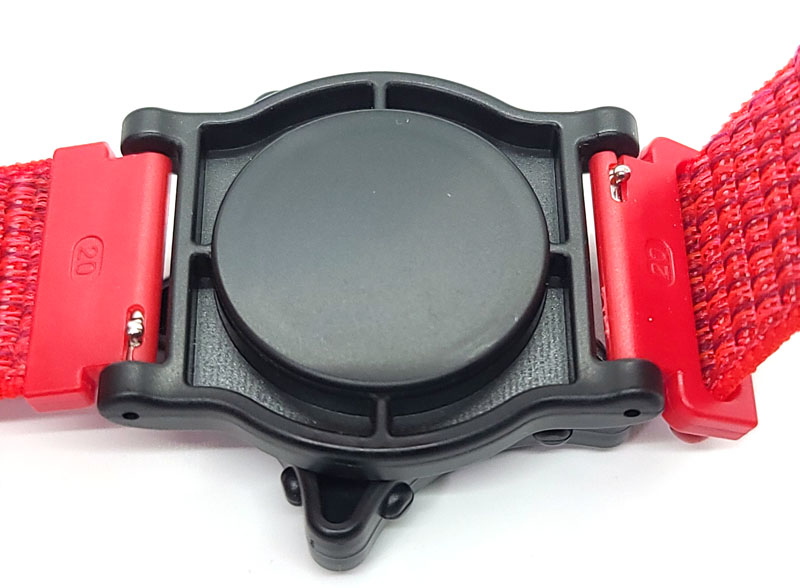 Performance
The spinner does what it says – spin.  It is nearly silent while spinning, so it should work in a business meeting, occupying the wearer without disturbing others.
At less than an ounce, it was barely noticeable on my wrist. It will work equally well on either wrist, so if you fidget left or right, you're in luck.
I found it to be pretty easy to cross my wrists and sit and quietly spin the spinner. It is also easy to occupy your fingers with the bumps on the side of the star.  The Mindful Fidgets logo in the center of the star is raised, and I found it quite satisfying to rub that with my thumb. So, there are at least three ways to occupy your hands with the spinner, keeping you happily engaged.
Many fidget spinners spin for a long time.  While the Mindful Fidget spinner seems to have good quality bearings, it is very lightweight so there just isn't enough mass to spin for very long.  You can see that in the video above.
One thing to note is that unlike traditional fidget spinners, there isn't a good practical way to use the spinner with one hand.  This could be an issue for fidgeters that need to write notes with one hand while mindfully fidgeting with the other. I suppose you could take it off your wrist and put your fingers through it while spinning it with your thumb.  I didn't find this to work well for me. But, you could put it over your fingers and rub the raised logo with your thumb, so there's that.
Another minor annoyance for me was that I could feel the spinner hitting the hair on my arm. My arms aren't particularly hairy.  I expect this could be an issue for those with very hairy arms.  Sleeves will also interfere with the spinner.
What I like
Lightweight and comfortable
Reasonably stylish with multiple colors to choose from
Nearly silent
Multiple fidget methods
What I'd change
Catches arm hair (for those with arm hair)
The lightweight spinner doesn't spin very long
Limited usefulness for one-handed fidgeting
Including a timepiece in the center would greatly improve the usefulness
Final thoughts
By including both spinning and rubbing fidgets in one wearable device, Mindful Fidgets has created a distinctly new style of fidget spinner. I've never been much of a fidgeter, but I know plenty of folks that are.  Having something that keeps their hands engaged is an absolute necessity to help keep their minds focused on their task-at-hand.  Having an accessible fidget device always on their wrist could be the thing that helps them out.
Price: $14.95; additional straps $7.95
Where to buy: Mindful Fidgets
Two models are also available on Amazon: Blackstar, Starbright
Source: The sample of this product was provided by Mindful Fidgets.