We use affiliate links. If you buy something through the links on this page, we may earn a commission at no cost to you. Learn more.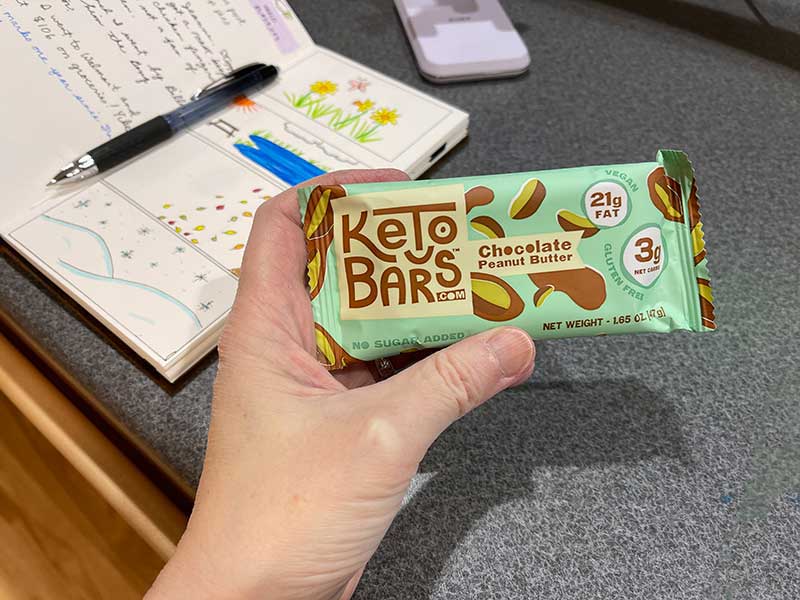 REVIEW – I've been on a health kick for the last few months after finding out that my A1C had gone up .2 from 5.7 in 2019 to 5.9 in 2020. Luckily, I'm still pre-diabetic as I've been for the past 16yrs and since I don't want to become a full diabetic, I've been focusing on cutting sugar out of my diet again. An easy way for me to do this is to switch out my regular high-carb breakfast bars and sugar ladened snacks with Keto friendly bars and snacks. The latest products that I've had the opportunity to taste test are from Keto Bars.com. Let's check them out.
What is it?
Keto Bars.com offers four flavors of protein bars and two flavors of hot drink mixes that have no added sugar, are vegan, gluten-free, and very low carbs.
Keto Bars protein bars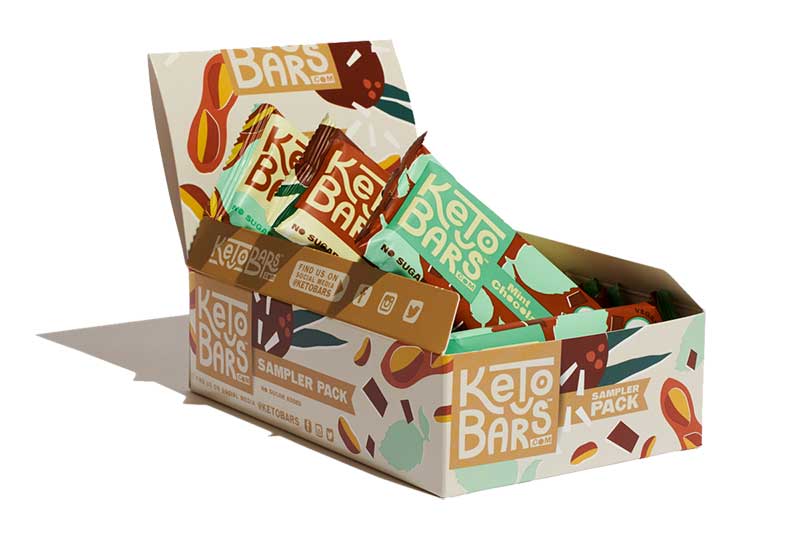 The four flavors of Keto Bars protein bars include Chocolate Peanut Butter, Chocolate Covered Strawberry, Dark Chocolate Coconut Almond, and Mint Chocolate.
Each flavor has slightly different ingredients, but here is the nutritional info for the Mint Chocolate bar shown below:
Ingredients: Chocolate, Almonds, Coconut, NON GMO Erythritol, Cocoa processed with Alkali, Water, Salt, Stevia, Peppermint Oil.
Nutrition Facts: Serving Size 1.65oz (47g), Calories 220, Calories From Fat 170, Total Fat 19g (29% DV), Saturated Fat 11g (55% DV), Trans Fat 0g, Cholesterol 0mg, Sodium 200mg (8% DV), Total Carbohydrate 15g (5% DV), Dietary Fiber 7g (28% DV), Erythritol 5g, Sugars <1g, Protein 6g (12% DV). Total Net Carbs = 3g.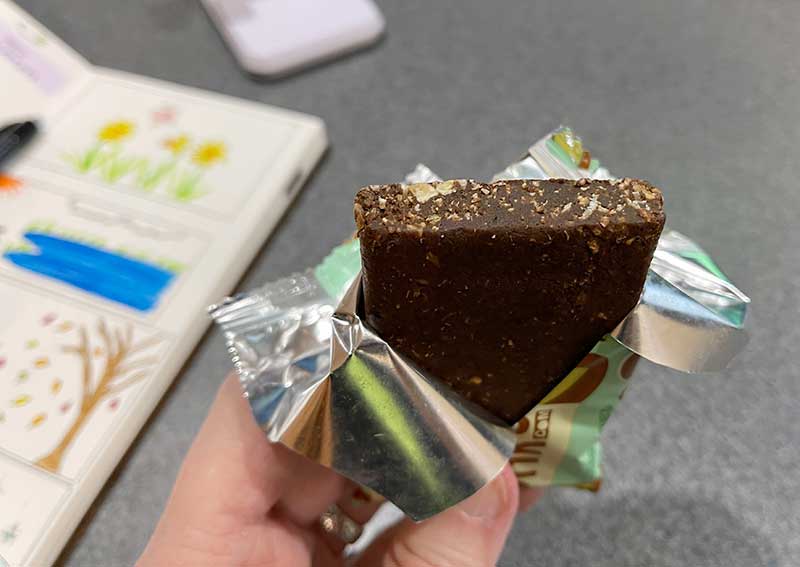 These Keto-friendly bars are individually wrapped and all have the same basic look and texture as you see above. The bars have some chew like a dense piece of fudge, but they don't stick to my teeth. They all have what I would describe as a sugar/crystal crunch to them. I think it's the sweetener that's used – Erythritol. At first, I found it to be a little strange and maybe even a little offputting, but that only lasted for the first bar because, after eating one, I was hooked. These bars are in a word – delicious. But that's the opinion of my tastebud, which might not line up with everyone else out there.
If you like dark chocolate and the slight bitterness that it can have, then I think you'll enjoy these bars. I liked all the flavors but if I had to choose some stand-out faves, it would be the Chocolate Strawberry with the tiny bits of chewy dried berries, and the Chocolate Peanut Butter.
The Keto Bars are great for a breakfast meal replacement bar. They keep me satiated until lunch without spiking my blood glucose which I test using my Freestyle Libre 14-day glucose sensor.
Warm Ups hot drink mixes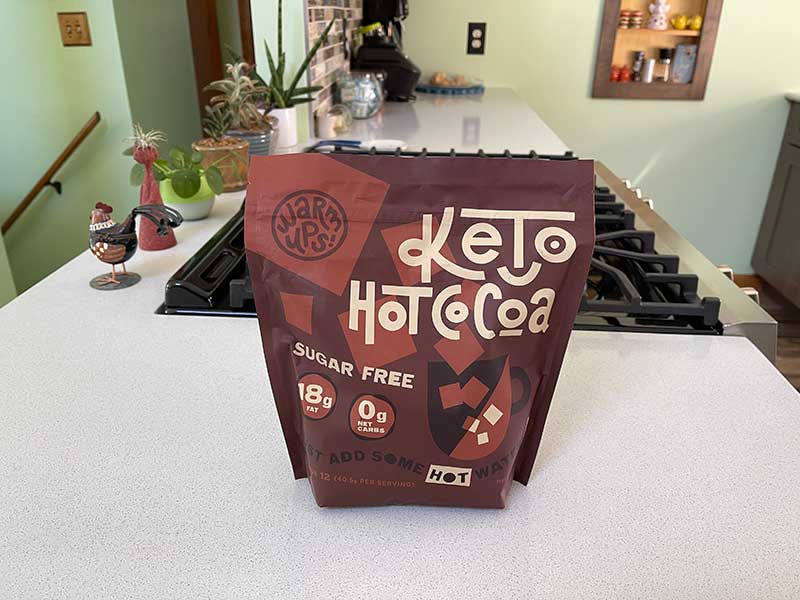 In addition to protein bars, Keto Bars also sells drink mixes in two flavors. Hot Cocoa and Vanilla Spice. They sent me the Hot Cocoa drink mix to try.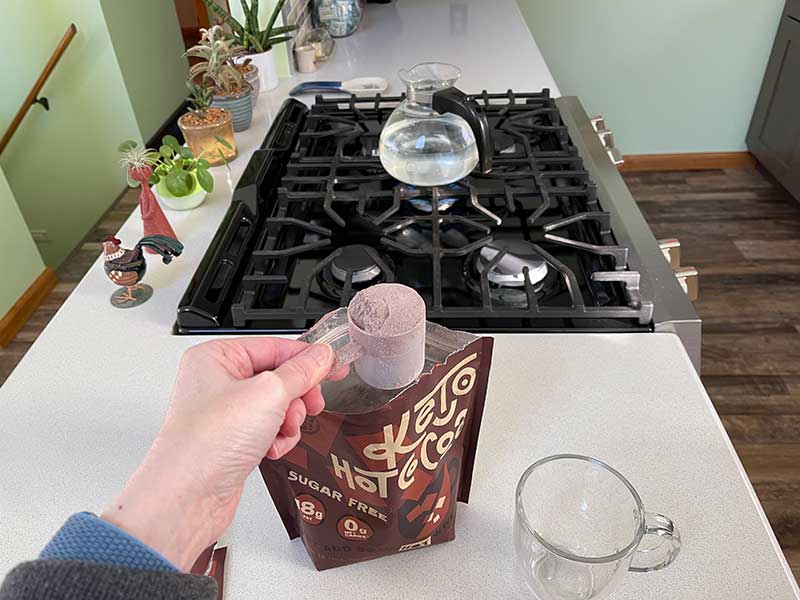 The pouches are resealable and each has 12 servings. All you do is add one scoop (which is included in the pouch) to 8 oz. of hot water, stir, and enjoy.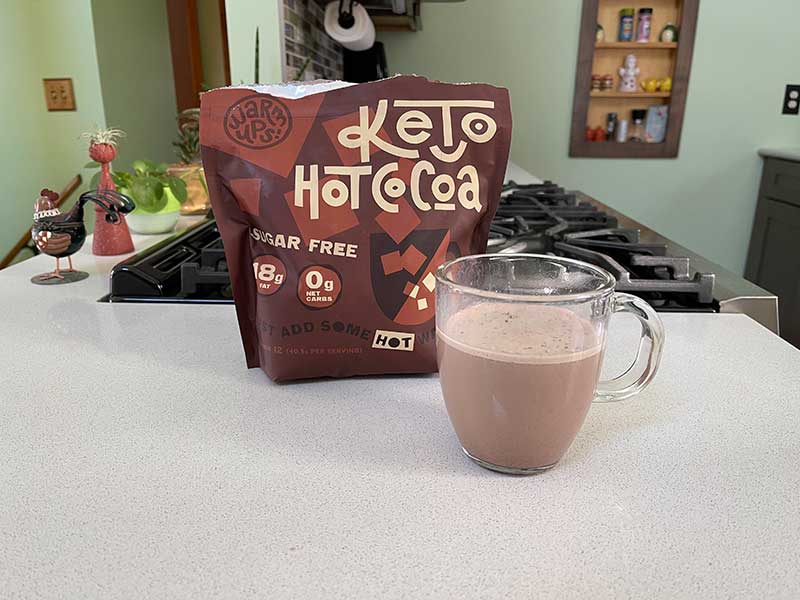 It's been a long time since I've had a steaming hot mug of cocoa and I have to say that it was a welcome treat! The hot cocoa flavor is very chocolatey and creamy. Perfect. Now I just need to find some low carb marshmallows to add to it (this time I used some Reddi Whip instead)!
What I like
Delicious
Quality ingredients
No artificial sweeteners, or soy
Low carb
What I'd change
Final thoughts
As it stands right now, Keto Bars protein bars are my favorite low carb bars. I was really sad when I ate the last one earlier this week and as soon as I finish eating the samples from two other brands of bars that I'm testing (yes, more Keto-friendly bar reviews are coming very soon), I'll be ordering more of them. When it comes to the taste, ingredients, and price, Keto Bar.com bars and their drink mixes get an enthusiastic two thumbs up from me.
Price: $24.95 for a box of 10 bars or a pouch of a Warm Ups drink mix/$22.46 if you subscribe,
Where to buy: Ketobars.com and Amazon
Source: The sample for this review was provided by KetoBars.com.