We use affiliate links. If you buy something through the links on this page, we may earn a commission at no cost to you. Learn more.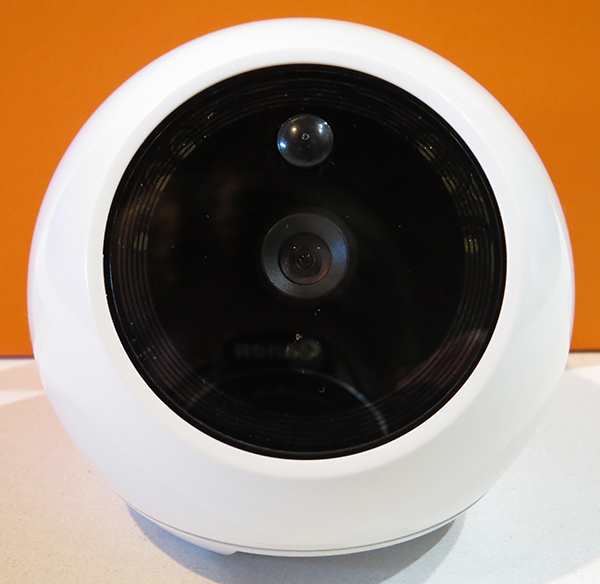 REVIEW – For years I have used different Wifi cameras to monitor my home when I am gone. Usually, it's to watch the cats and make sure they have food and water, but there's peace of mind in seeing your place is safe and secure. The cameras I have are a few years old now, and it was time to try out something new, so in comes the Amaryllo Apollo indoor security camera. Not only does it allow me to monitor through the app, but there are added features that I never had in my previous cameras.

What is it?
The Amaryllo Apollo indoor security camera for monitoring your home for both intruders and fire.
Hardware specs
Frame Rate: 1920 x 1080 / 30 FPS
Resolution: 1080p, 720p, 480p, 360p
FoV: 85 degrees
MicroSD card compatible
Pan & Tilt
Ceiling or wall mount compatible
Two way microphone
Motion detection
WiFi connectivity
What's in the box?
Power Adapter
Mounting Bracket
Screws
Anchors
Quick-setup guide

Design and features
Keeping track of my house while I am away is important to me, but I do not mount cameras indoors because I do not own the place I live in. The Apollo camera can be mounted on the wall or ceiling, which I thought was pretty nifty. I chose to set it on a low shelf and the spherical aesthetic looked nice in my living room.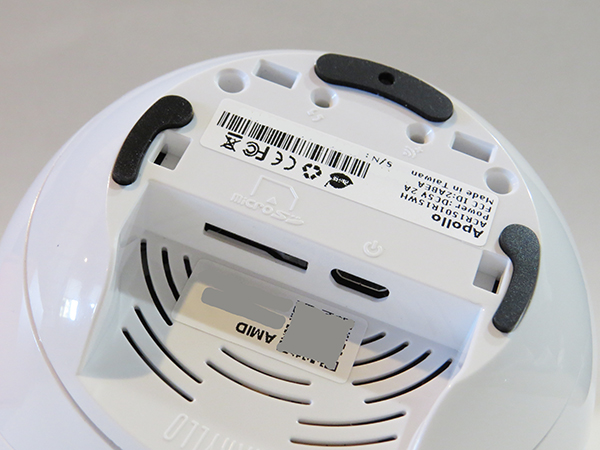 Setup was actually pretty easy. My last cameras required me to plug in to the network, but since the Apollo uses the app to set up the camera, it connected it to the network that I had the phone connected to. It also has a QR code to scan to easily set the camera up, but the location of it and the power cord clashed and I could not scan it with my phone. It was still simple enough to set up, however.
I set up my google account and took advantage of the 24/7 monitoring service, just in case something happened such as a fire or break-in while I was gone. Nothing happened, but it was kinda nice having that peace of mind. The first month is free to try out. Will I continue and pay for the security service? Probably not. I just don't need it.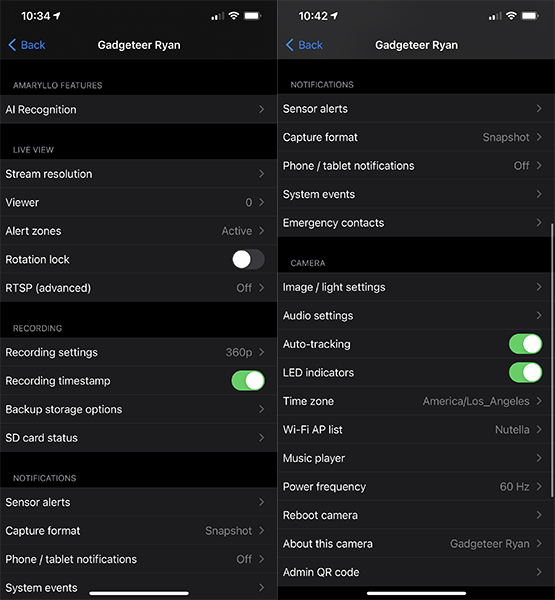 Why? Because through the app I get notifications each time the Apollo senses movement. It will even let me know if it is a human walking around. I do not like to pay for extra services, and am happy with notifications and pictures stored on the MicroSD card in the camera. If I had kept the service, I would have continued to get 10 second videos along with the pictures. I'll miss the videos, but the pictures will do since the quality is quite good even in night vision mode.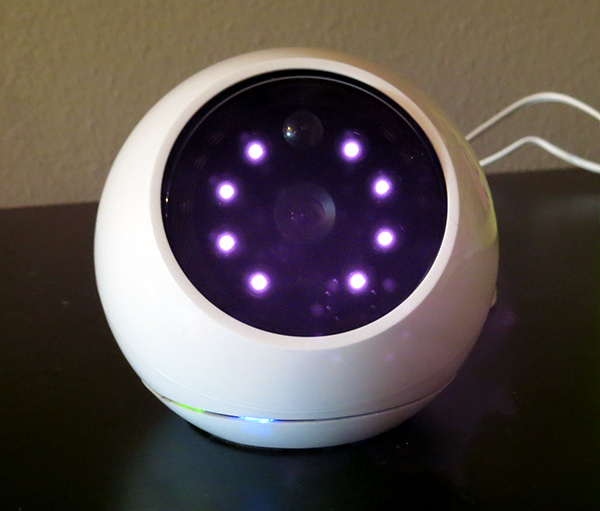 When I first set up the camera, it would shine a bright light at me every time it noticed me walk by it. This was on purpose, to make sure to light up the area and also to let the person know the camera was there. For where I had it, it was just too bright to have on each time I passed by. After the first week, I disabled it. In a bigger room, I feel that it would not be nearly as blinding as it was to me.
I actually really liked the ability to have a privacy mode. If you wake up and stumble to the shower in your bathrobe, you can set up a schedule to have the camera turn away and off during a set time frame each day.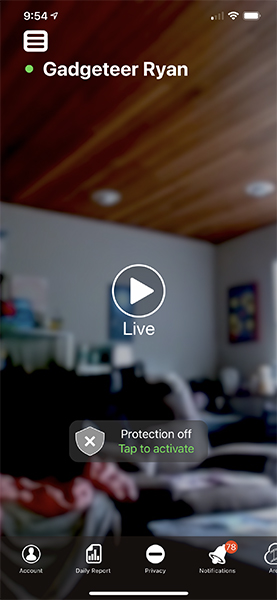 Via the app, you are also able to view the camera and take snapshots of what is going on. You can also have the camera patrol around the room if you have a large area, set a 'home' position, and turn the auto tracking on.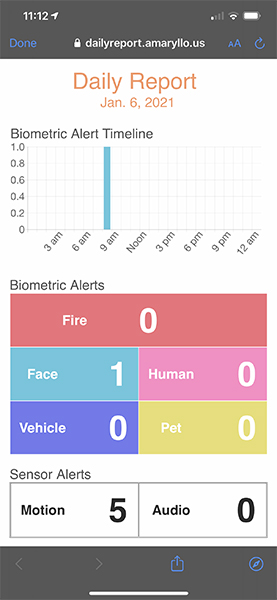 On the app, you can click on a section that gives you a daily report of events on the camera. I never saw it recognize the pets, but it did recognize when it saw my face. You can set up the app to recognize your face as well, though I never knew if it saw it like me or not.
One thing I noticed with the motion sensing / person sensing is that the further away a person was, or if they were half behind an object, it would not sense it as a person. I'd get a notification, just without the text saying it was a person there. When I walked down the hallway, it would notice me as a person since I was fully visible.
Speaking of the hallway; I have a roommate that goes to his office every morning on the opposite side of the basement. I was able to block the hallway off from notifications since it is a high traffic area. I loved this feature!
Here's a brief video of a notification in action. As you can see, it followed me around the room as I went and got a drink. I definitely like this security aspect. If multiple people are in the room, it will move back and forth between where it senses movement, even if it is not recording. My sister got a kick out of it moving around. I never once noticed it trying to follow the cats, even when they run around on the couches.
What I like
Easy to set up
Able to block high traffic areas
App easy to navigate
Can use with or without a subscription
What needs to be improved
Can't pan down far enough
The QR code for setting up is behind the power cable
Final thoughts
Overall, I will continue using the Amaryllo over my old cameras. Even though I cannot see the floor too well, I love the pan and tilt features and the fact that it will take and store pictures on the device for free. The quality of the footage was a significant improvement. The price is a little steep, but all and all, it's a good camera if you will use all the features it has to offer.
Price: $199.99
Where to buy: Amaryllo Website and Amazon
Source: The sample of this product was provided by Amaryllo.