We use affiliate links. If you buy something through the links on this page, we may earn a commission at no cost to you. Learn more.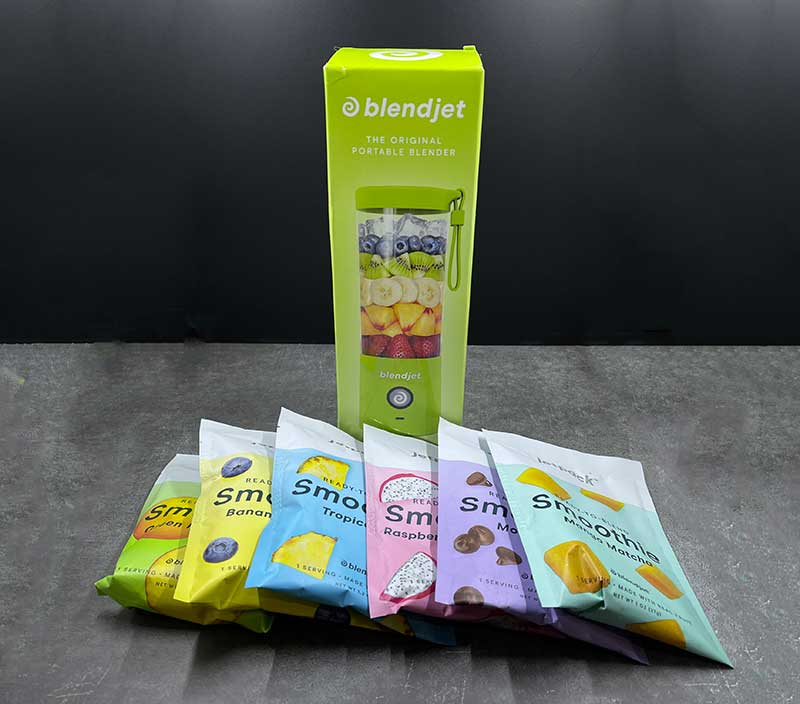 REVIEW – I often like to drink a protein shake after I workout and getting my full-sized Ninja blender out of the cabinet each day is a little overkill to prepare one smoothie/shake. Being the minimalist that I am, I like appliances that are easy to use, easy to clean, and don't take a lot of space on the counter. Sure, I could use a shaker bottle, but I prefer something with a little more oomph to mix my protein powders and smoothie mixes. That's why I was excited to try the BlendJet 2 portable cordless blender when it was offered. Let's take a look.
What is it?
The BlendJet 2 is a battery-powered rechargeable blender that's cordless and portable for maximum convenience.
What's in the box?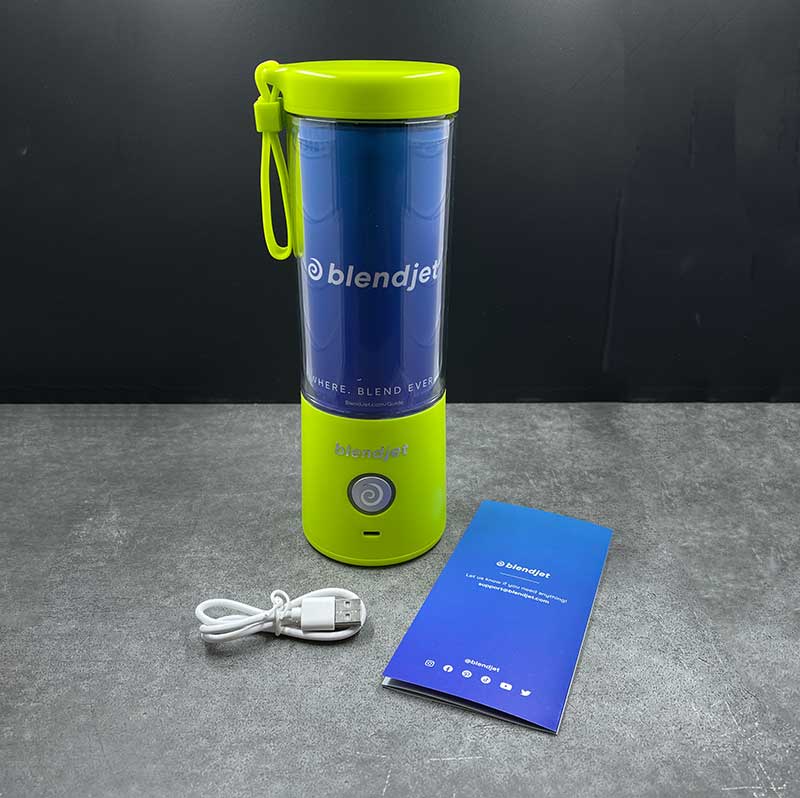 Blendjet blender
USB-C charging cable
User guide
Design and features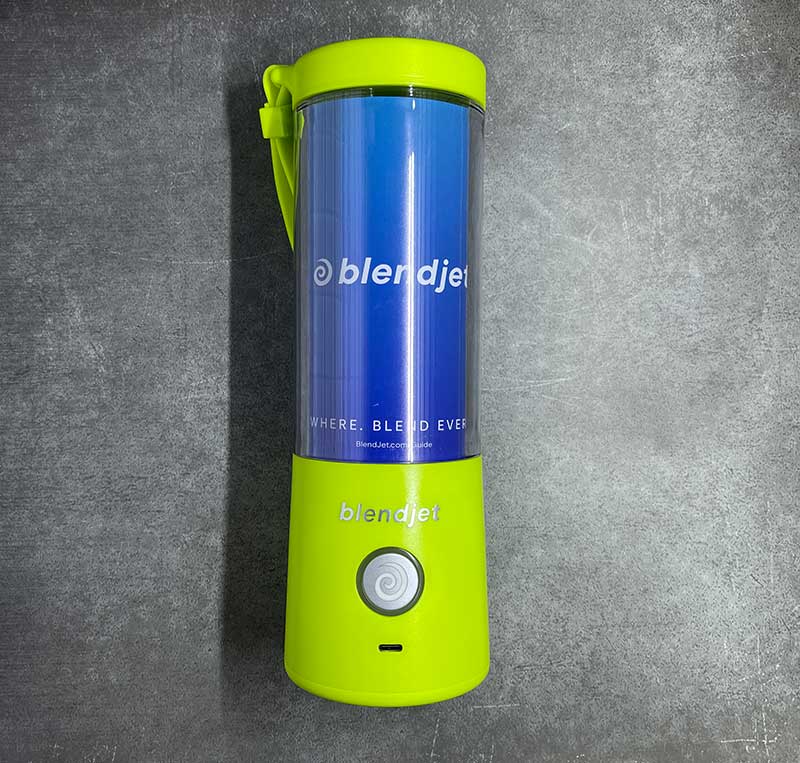 The BlendJet is available in a variety of colors. I was sent a green one. Here are the specs:
Compact Size: 9" x 3" (230mm x 76mm)
Product Weight: 1.34 lb (.61 kg)
Jar w/ Measurement Markings: 16 oz (475 mL)
15+ Blends Per 1 Hour Charge
Water-resistant USB-C Port
4000 mAh Rechargeable Battery
7.4V Electric Motor Spins 275 Times Per Second
6-Point Stainless Steel Blade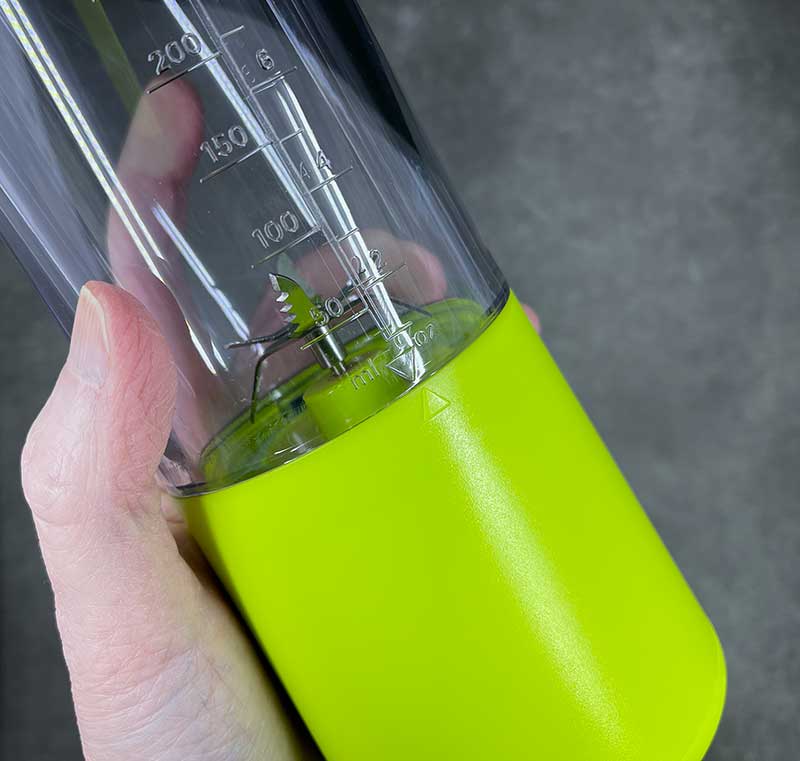 Both the base and bottle are made of plastic. Given that I'm a breast cancer survivor, I'd be happier if the Blendjet bottle was made of glass instead of plastic but the Blendjet website does say that the bottle is BPA free.
The 16 0unce / 450 ml capacity bottle unscrews from the base of the blender for easy cleaning by hand. Note that you should NOT put any part of this product in the dishwasher.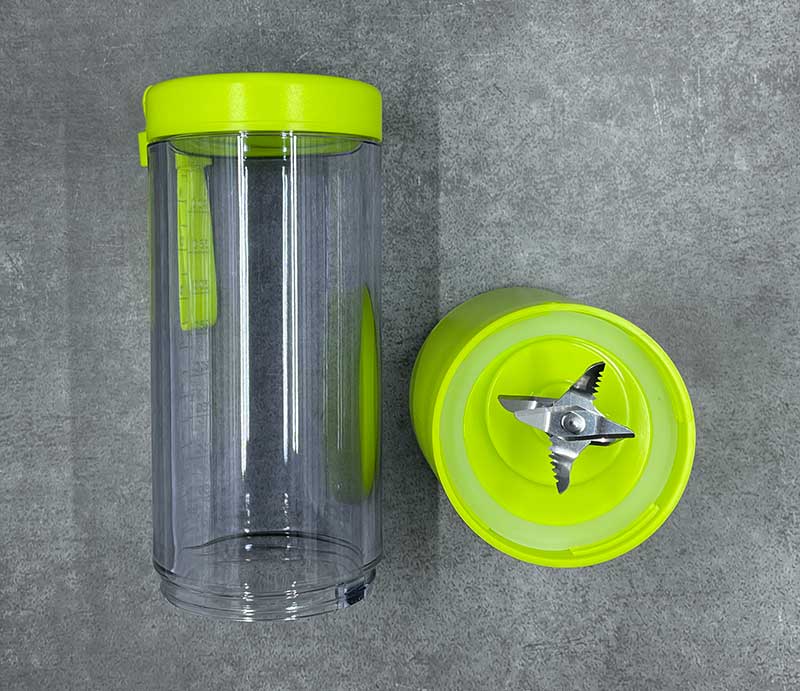 The base houses the 6 bladed blender and also has a silicone gasket to keep your shake or smoothie inside the bottle instead of all over the counter.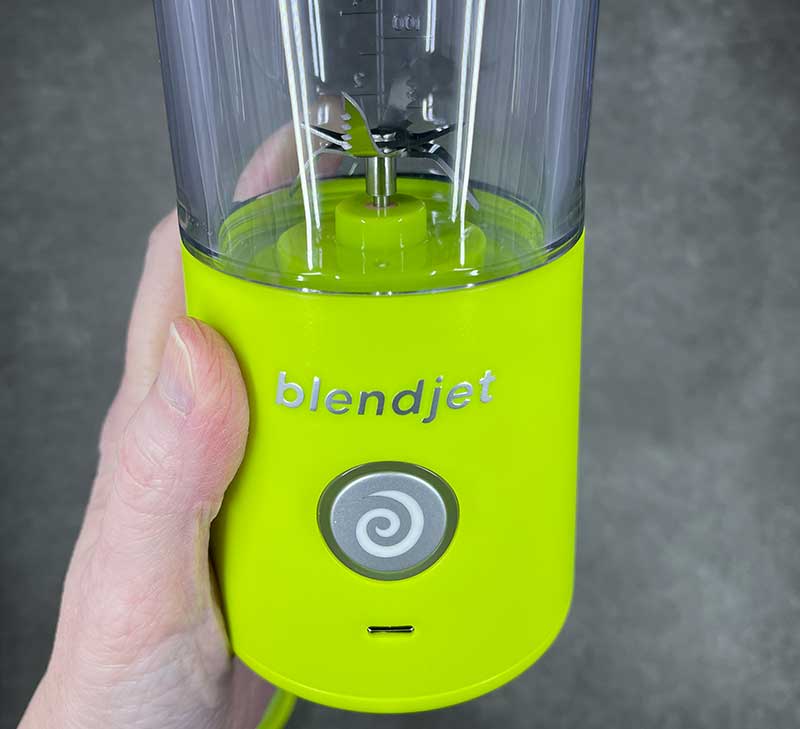 To use the Blendjet, make sure the bottle, blades, and cap are clean. Then charge the blender with the included USB-C cable.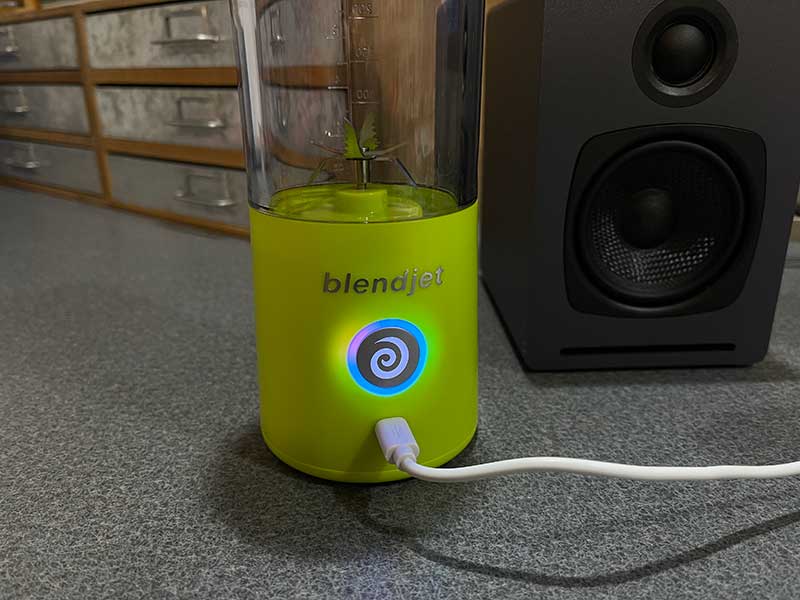 LEDs around the power button indicate charging status. In the image above, charging is about 90% completed. The pink/purple section is the uncharged portion and the blue is the charged portion. When the Blendjet is fully charged, the ring will be all blue. A full charge takes about 1.5 hours and you should be able to blend 15 times before needing to recharge.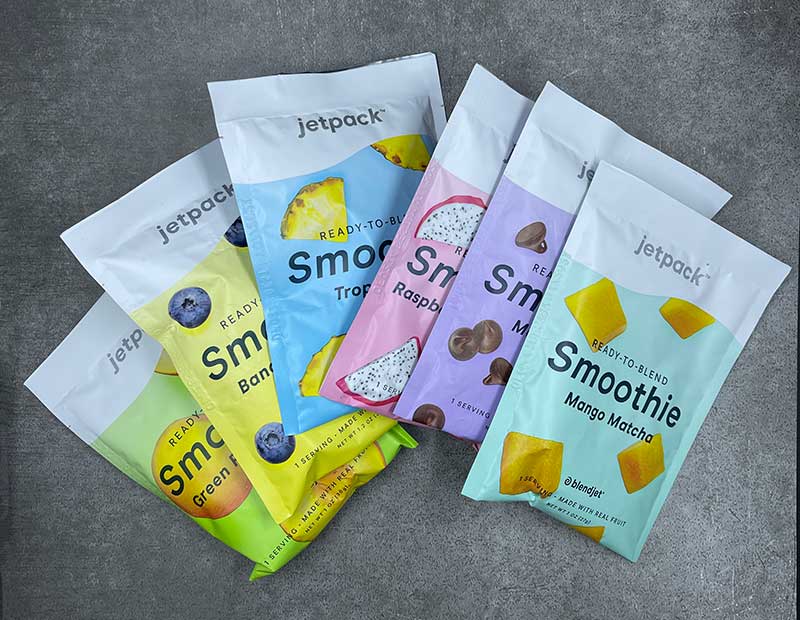 Blendjet sells its own brand of smoothie mixes in a variety of flavors. They sent me a sampler but I didn't try any of them because I'm currently on a low carb diet due to my pre-diabetes.
For my smoothie test, I poured some cold almond milk into the bottom of the Blendjet, a teaspoon of chia seed, then a scoop of Perfect Keto collagen powder mix (my review of Perfect Keto products is coming soon!), followed up with some more almond milk and a few ice cubes. Then the cap goes on top and it's ready to blend.
The Blendjet has two modes: blend and pulse. To blend, you just hold down the power button for a couple of seconds and it will blend for 20 seconds before it shuts off automatically or you press the button to manually stop it. To pulse, you double press the power button and then press and hold the power button repeatedly. There's also a lock feature for those times when you're traveling and do not want to accidentally activate the power button.
See it in action
A quick note about the video above: The Blendjet 2 works great but it didn't fully blend all of the seeds from the raspberries or strawberries or all of the chia seeds. This really doesn't surprise me. Even my Ninja blender can't blend those tiny seeds very well. The Blendjet did blend all of the fruit though. There were no chunks, it was smooth and delicious.
Cleaning after use
As mentioned before, you should NOT put the cap or bottle in the dishwasher. To clean it after use, just add a drop of dish soap, fill the bottle with water and blend like you would a smoothie. Then dump out the dirty water, fill with clean, blend again, dump, and let dry.
What I like
Easy to use and clean
Easy to read capacity markings on bottle
Cordless
Rechargeable
What I'd change
A glass bottle option would be great
Final thoughts
I like products that actually do what they say they are supposed to do, and the Blendjet 2 portable cordless blender is one of those products. It's well made, easy to use, easy to clean, and it can blend whole frozen fruits like strawberries, raspberries, and it can also blend ice cubes. My Ninja blender is going back in the cabinet.
Price: $49.95
Where to buy:BlendJet
Source: The sample for this review was provided by BlendJet.