We use affiliate links. If you buy something through the links on this page, we may earn a commission at no cost to you. Learn more.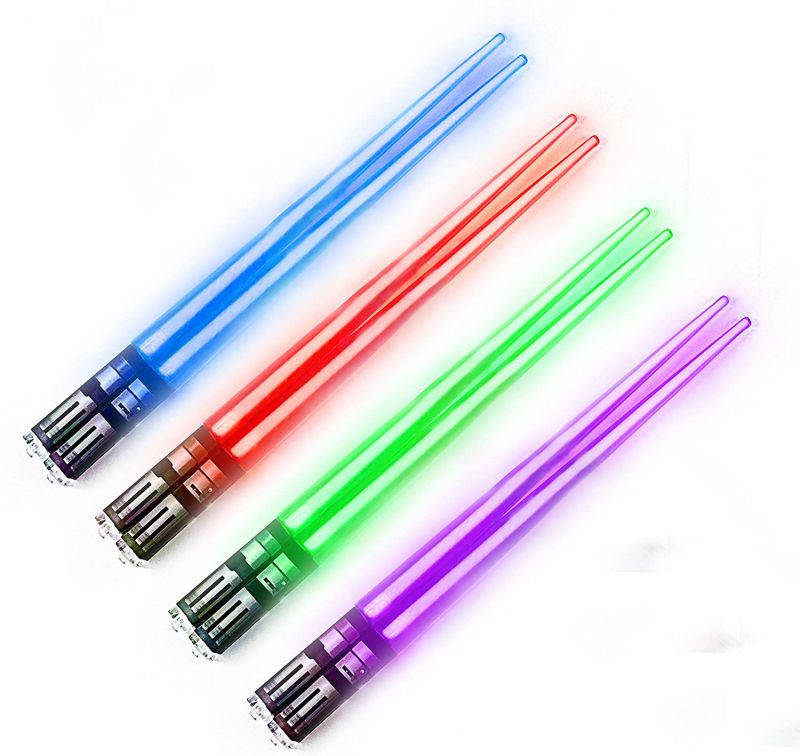 ARTICLE – My family of four toasted New Years in our own special way this year: With sushi from our favorite restaurant and glowing lightsaber chopsticks by Chomp Sabers.
As a parent, it's hard to find bright spots in this dark winter, as our kids are missing their friends and extended family (I am, too!). So when I can find something small to cheer us up, I'm all over it.
If you have Star Wars or sushi fans in the house, consider this fun, glowing utensil. Heck, we may even start using them for tater tots and nuggets just because we can.
They're BPA free and have LED lights. After you pull out the little tab to use them the first time, you simply click them on and off with the button at the back. The chopstick LEDs are plenty bright so you can dine in the dark, though I like to light a candle or two for added ambiance. Slightly thicker than your regular chopsticks, these are still easy to use.
For four pairs (one set of each red, blue, green, and purple), they run for $19.97 on Amazon.
These fancy chopsticks currently have a 4.5 out of 5-star rating with more than 2,800 ratings.