We use affiliate links. If you buy something through the links on this page, we may earn a commission at no cost to you. Learn more.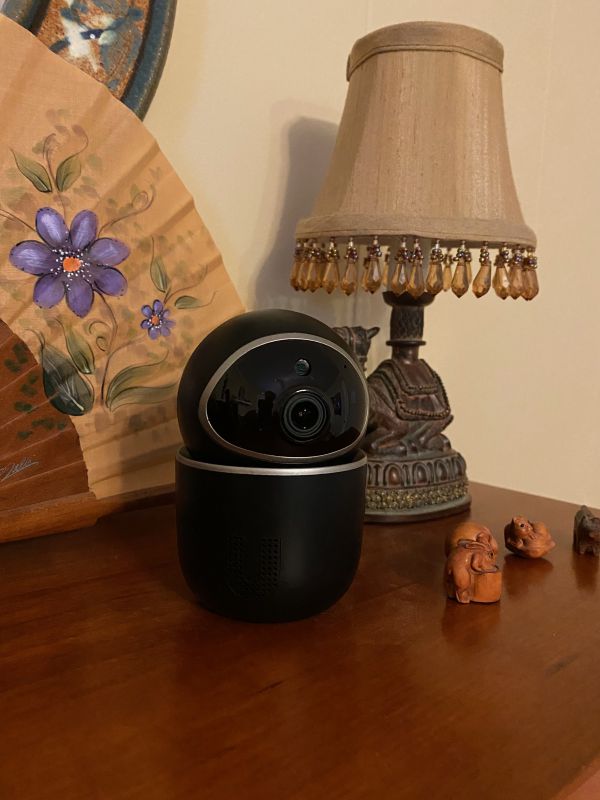 REVIEW – As data breaches become more common, there is a growing desire for secure online storage of data, particularly from in-home security cameras. No one wants to feel they are being spied on, and with unknown security practices in the data storage area of large companies (despite statements from wealthy CEOs to the contrary), who knows who is monitoring your cameras' footage. Ucam has entered the market with quite a twist: blockchain-encrypted storage.
What is it?
A high-definition, motion-activated network-enabled camera which stores video and still images in 256-bit block-chain secured storage.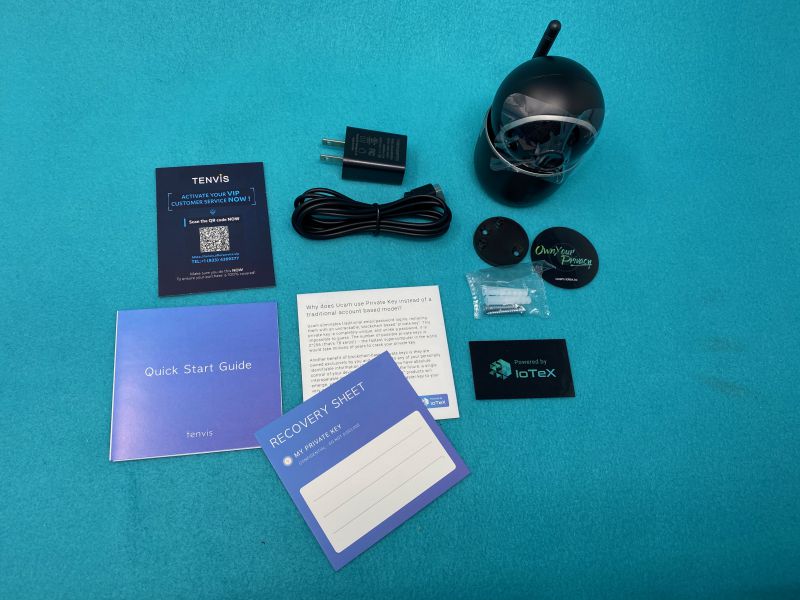 What's in the box?
Camera unit
36" USB-A to microUSB cable
5V 1Amp USB charger
Mounting bracket with screws
paperwork and sticker

Hardware specs
1080p HD Video
Full 360º coverage
Motion detection
Night Vision
Two-way audio

Design and features
The Ucam looks like R2D2, according to my Lovely Bride. Once you see that similarity, it's hard to unsee. It stands just over 4" high, and is just over 2.5" in diameter. There's an adjustable antenna on the back for fine-tuning your WiFi signal. An RJ-45 connection is also available. (I did not test this, but note that there are LEDs on the jack which may call attention to itself.) A mounting plate snaps into the bottom with two molded plastic clips. The mounting plate has inset screw holes for flush mounting. (It is clipped onto the unit in the photo above.)
The top half of the unit is the camera, which swivels to cover 360º, using a wide-angle lens and almost complete rotation. The bottom base is where the microUSB cable attaches for power. Ethernet and WiFi are both supported.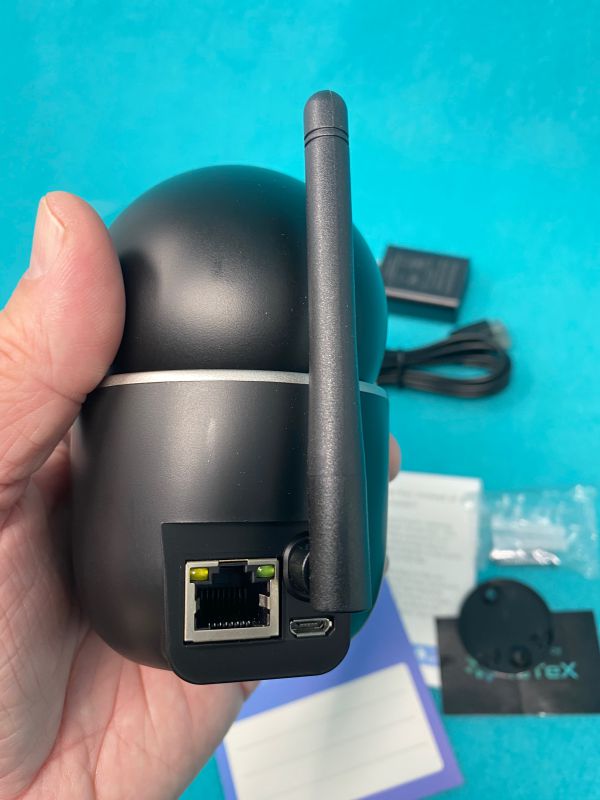 Setup
Setup is quick and painless, using QR codes for Google Play or the iOS App Store to get the app. There's a QR code on the bottom of the camera that enters the serial number. Scanning that from within the app guides you through creating an account and setting up a blockchain encryption for the account. Video can only be viewed with their app, after it has been authenticated with the 256-bit private key, which is generated only during the setup process.
With other cameras I have used, you can mask out motion zones (like a fan or a window that has shadows) which may give false readings. Also, I've used plans where you can add your family members' phones and they arm when everyone leaves, and disarm when anyone returns. This does permit a break-in or other activity while you're asleep but prevents the dog from setting off the alarm in the middle of the night. The Ucam, by contrast, has a simple time-of-day schedule: on during these hours, off during these. You can set up as many schedules as you care to, or leave it on at all times, and the camera will obediently snap the footage, which may capture your midnight fringe raid.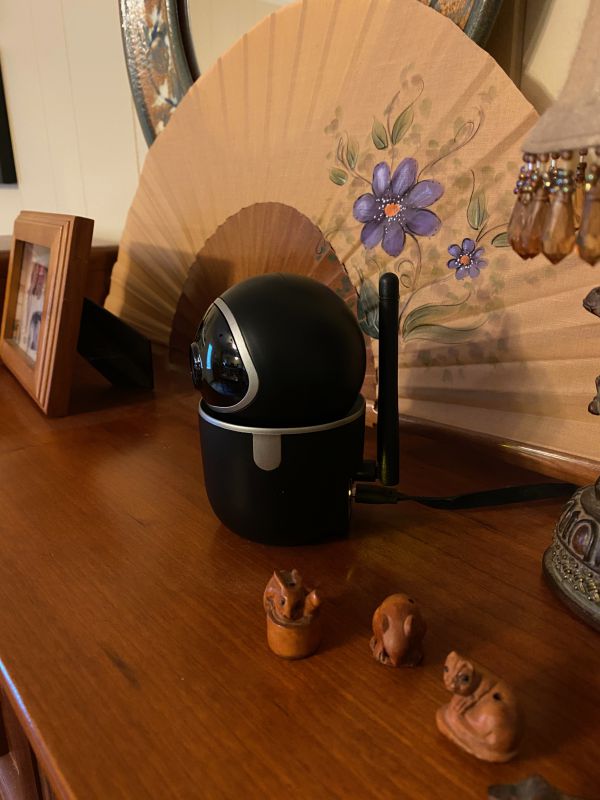 Performance
The motion activation is very clean and quiet. You can set up schedules of when you want data recorded, or you can manually view the camera and take stills or video, and talk to the unit remotely. There is a free plan that gives you 3 hour's storage of 10-second clips. Longer storage is available for $2 a month, which stores 7 days worth of 20-second clips. Here's a sample picture. There's very little fisheye effect on the edges, and it's very responsive. Your photos are saved to your device storage if you are viewing live.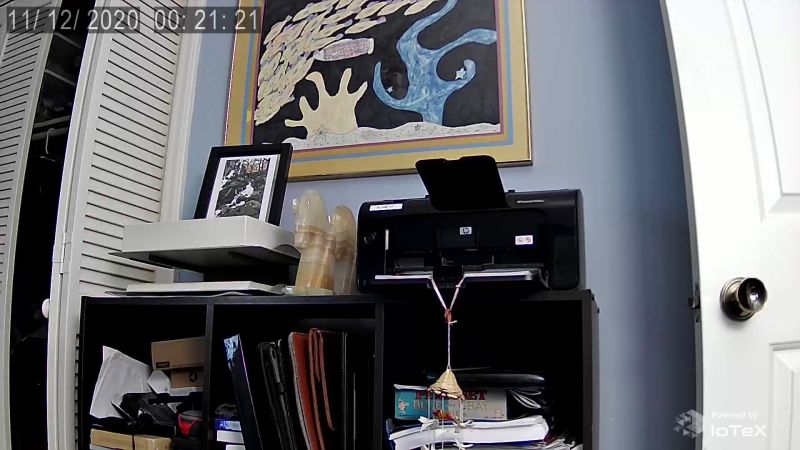 What I like
Very easy setup
Nearly silent operation
Great picture quality
Secure access to encrypted data
What I'd change
I am so tired of microUSB cables!
No masking available.
I'd like more options for arming, other than setting a simple schedule or manually switching it on.
Final thoughts
We had a break-in several years ago. Since then, we've had security cameras from Canary with storage on some server somewhere, "secured" by my password. The battery of one of the cameras would take it offline daily, and the other one would at times spend days blinking while trying to find the network. Tech support was worthless. We have started using this little camera with the free plan, and it's so seamless and consistently operational, I am thinking of buying the longer term plan, as well as another camera for another part of the house. Even with the irritating lack of masking or geofencing, I at least feel better protected when we are not home. At $60 a pop, plus $2 a month, it's pretty cheap coverage.
Price: $49.99
Where to buy: WebStore and Amazon
Source: The sample of this product was provided by Ucam.