We use affiliate links. If you buy something through the links on this page, we may earn a commission at no cost to you. Learn more.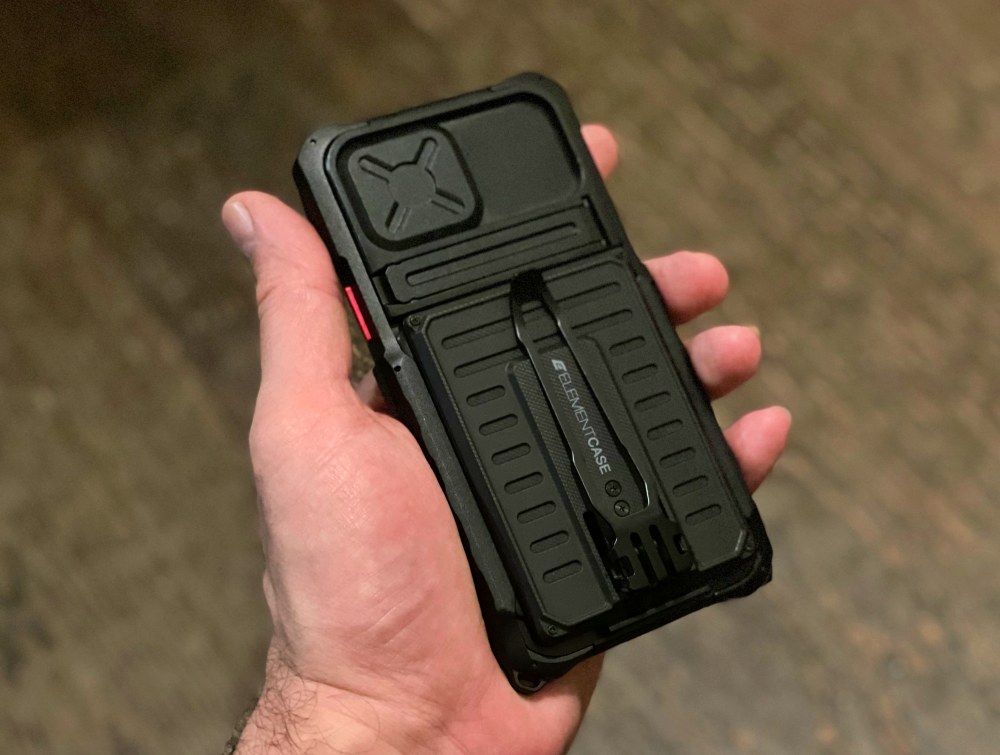 REVIEW – The Black Ops case from Element Case has been on my want list from their first version which I believe was for iPhone 5. It's always been expensive and has frequently used exotic materials or had unique accessories. Needless to say when the opportunity presented itself, I jumped at the chance to review their newest iteration Black Ops X3 for iPhone 12 and iPhone 12 Pro. Can this one live up to the years of built up expectations from iPhone 5 to iPhone 12 Pro?
What is it?
The Black Ops X3 Case for iPhone 12 and iPhone 12 Pro is a seriously rugged case built from aluminum and polycarbonate, has some unique features like a built in stand and camera cover in addition to a modular wallet.
What's in the box?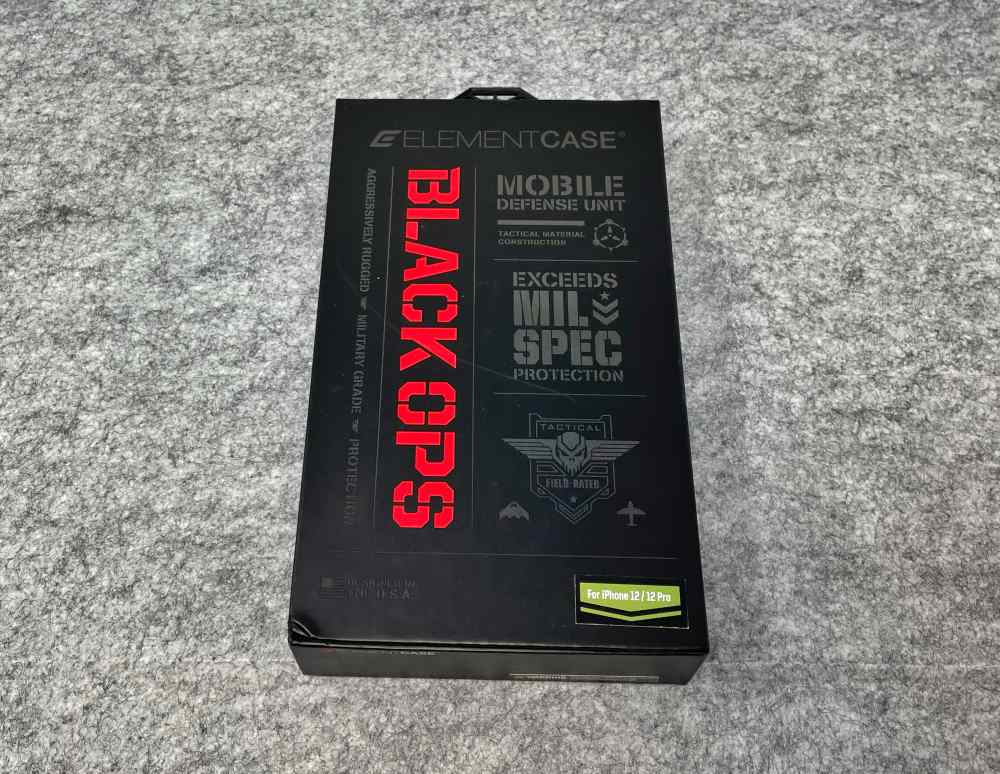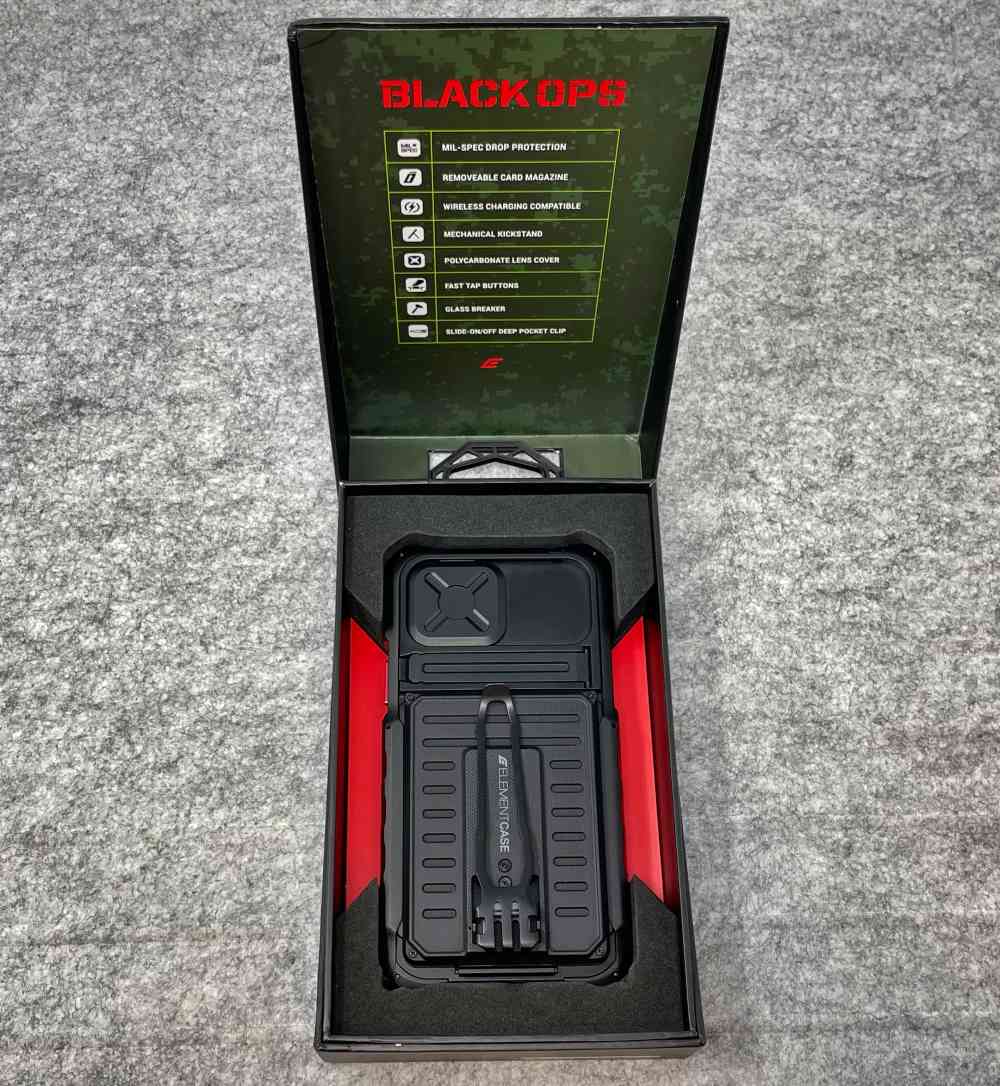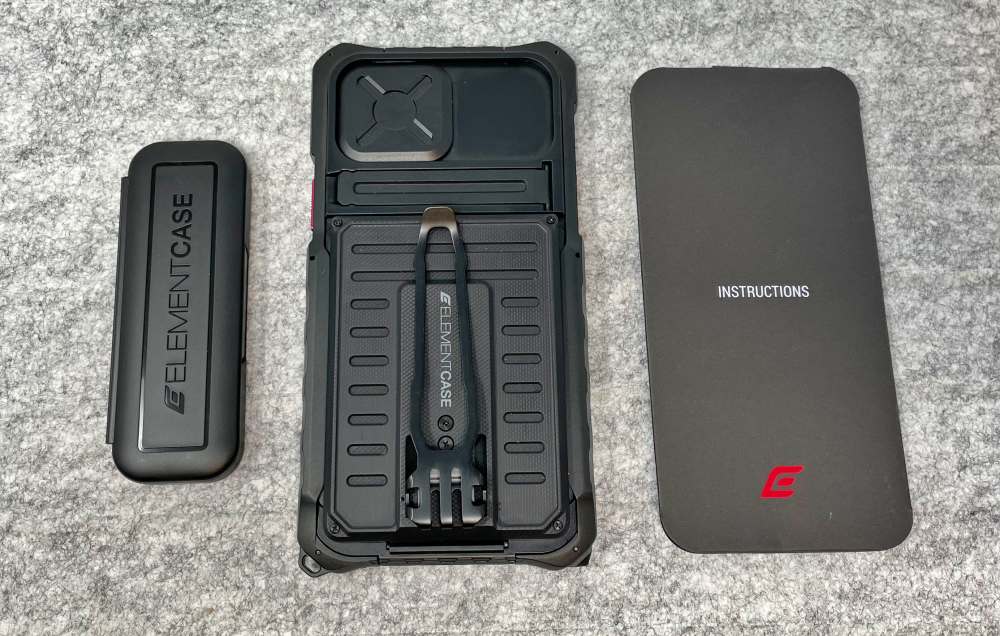 Black Ops case for iPhone 12 and iPhone 12 Pro
Detachable Black Ops Wallet
Tool kit with screwdriver and spare screws
Instruction card
Hardware specs
Header: Specification
Design and features
First impression is protection, protection, protection. Everything is covered and feels like it could survive anything outside a direct screen hit. Raised perimeter keeps the screen safer with room for a screen protector if you choose to run one. The bottom two corners feature a lanyard tether and a glass-breaker point.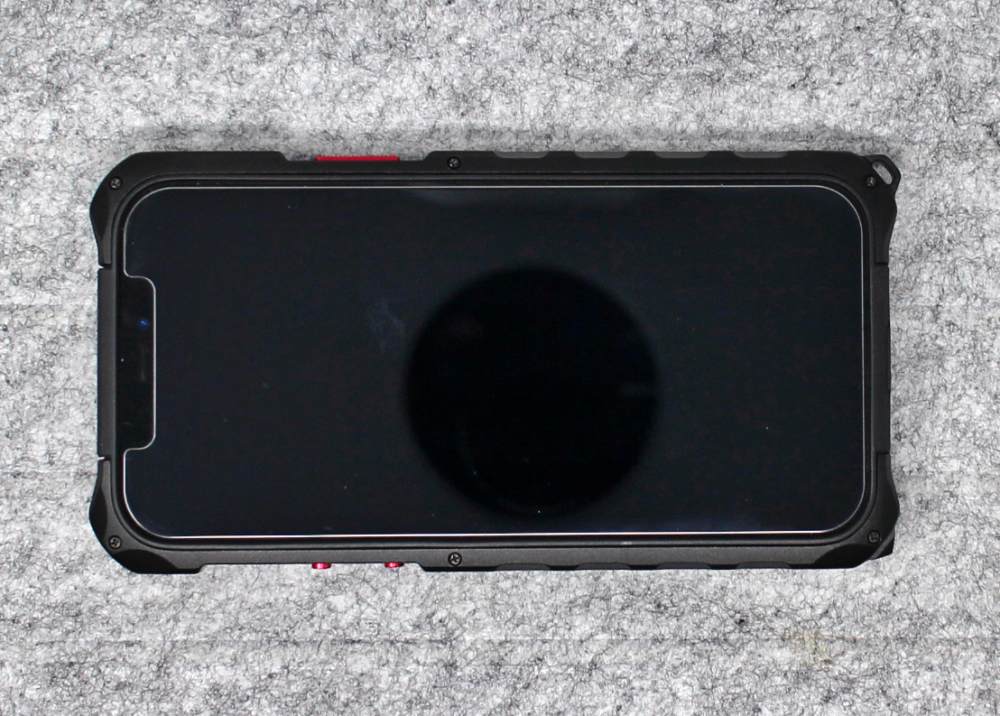 The removable wallet keeps 3 or so cards close at hand while the built in pocket clip works for the wallet alone or the whole unit when the wallet is attached.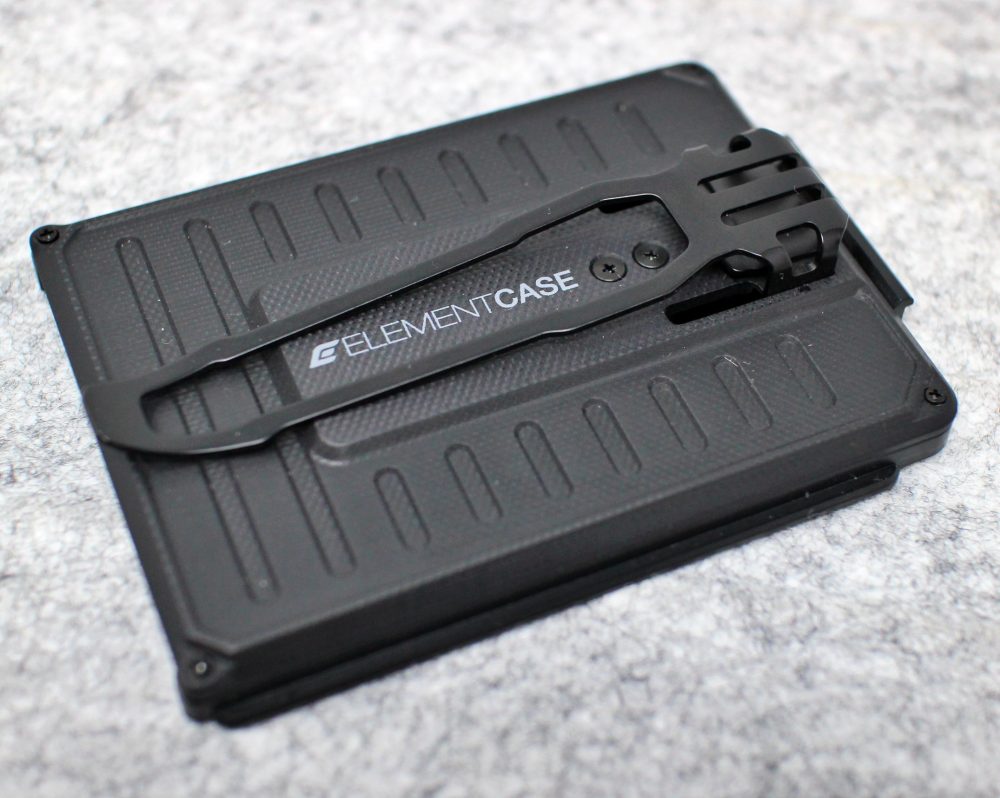 The built in camera cover protects your camera lenses from pocket lint and fingerprints and easily slides out of the way when it's time for a photo.

A built-in kickstand works great for landscape media consumption, with the two machined volume buttons facing up for easy access.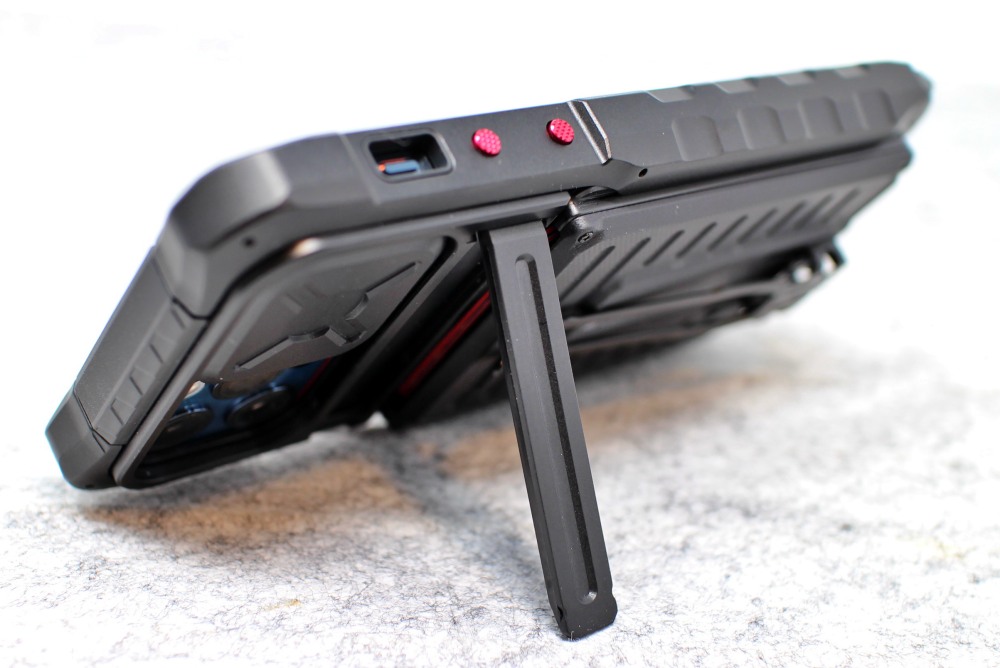 Setup
Installing the Black Ops case is much more involved that most cases and it's part of the experience for sure. Even getting to the instructions involves sliding open the camera case cover and pushing the iPhone-sized instruction envelope out. Here's how the install works.
First, flip the case face down to remove the wallet. Pull up on the tab, then slide the wallet off towards the case bottom.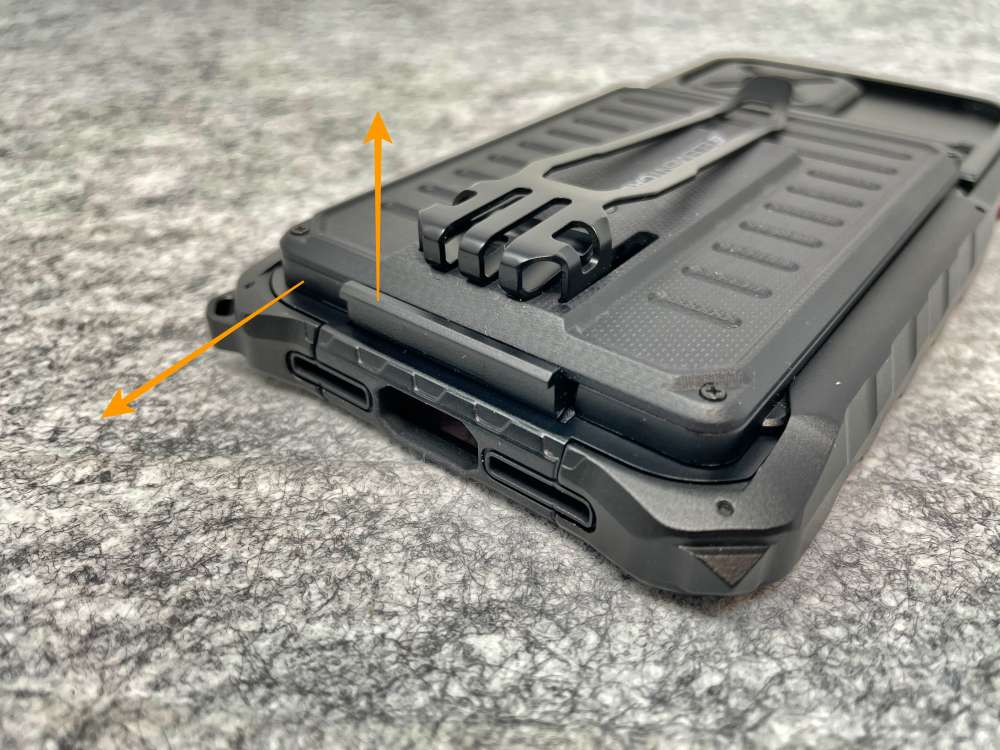 Open up the toolkit and grab the screwdriver. Note the extra screws should you lose any (or strip them).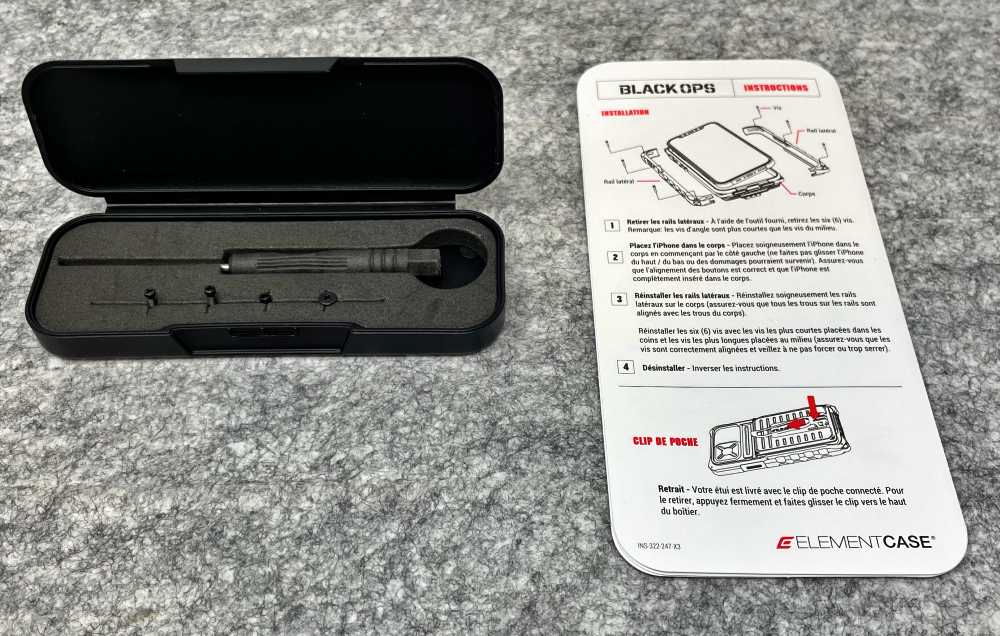 You'll need to loosen and remove these six screws. Once fully loose, you may need to flip the case over and tap, or even grab the screw heads and pull. You may also want to use a good screwdriver as these screws are tiny.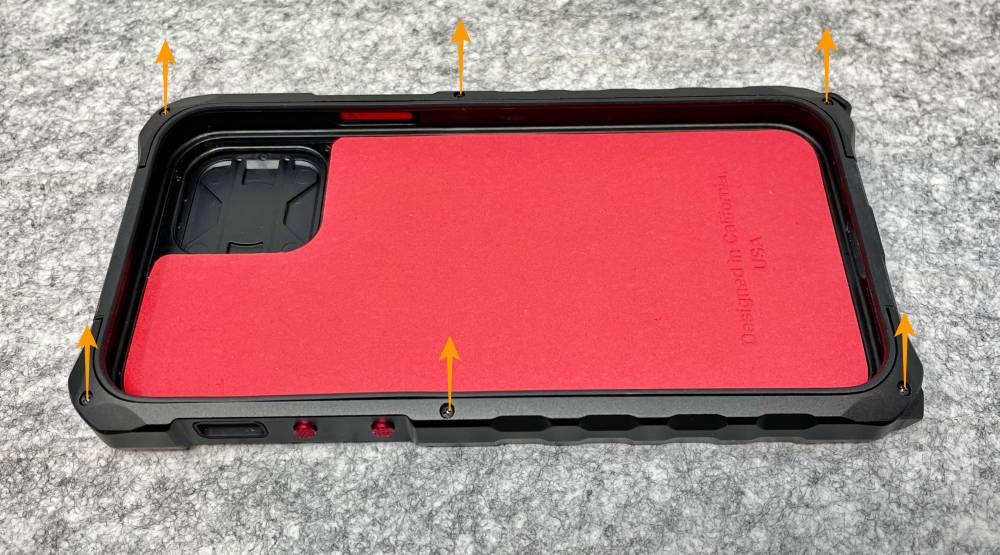 Both aluminum side-arms will be easily removable when the screws are out.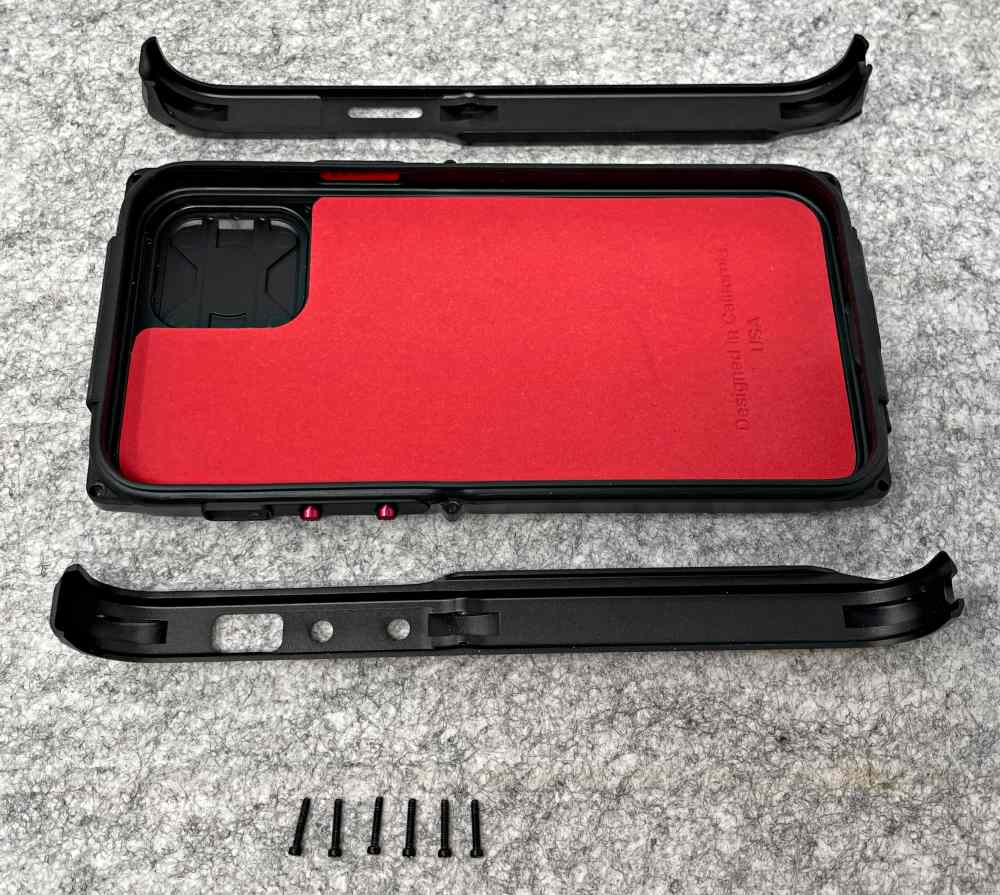 You can now press your iPhone into place. It's a very tight fit and feels appropriately secure when snapped in.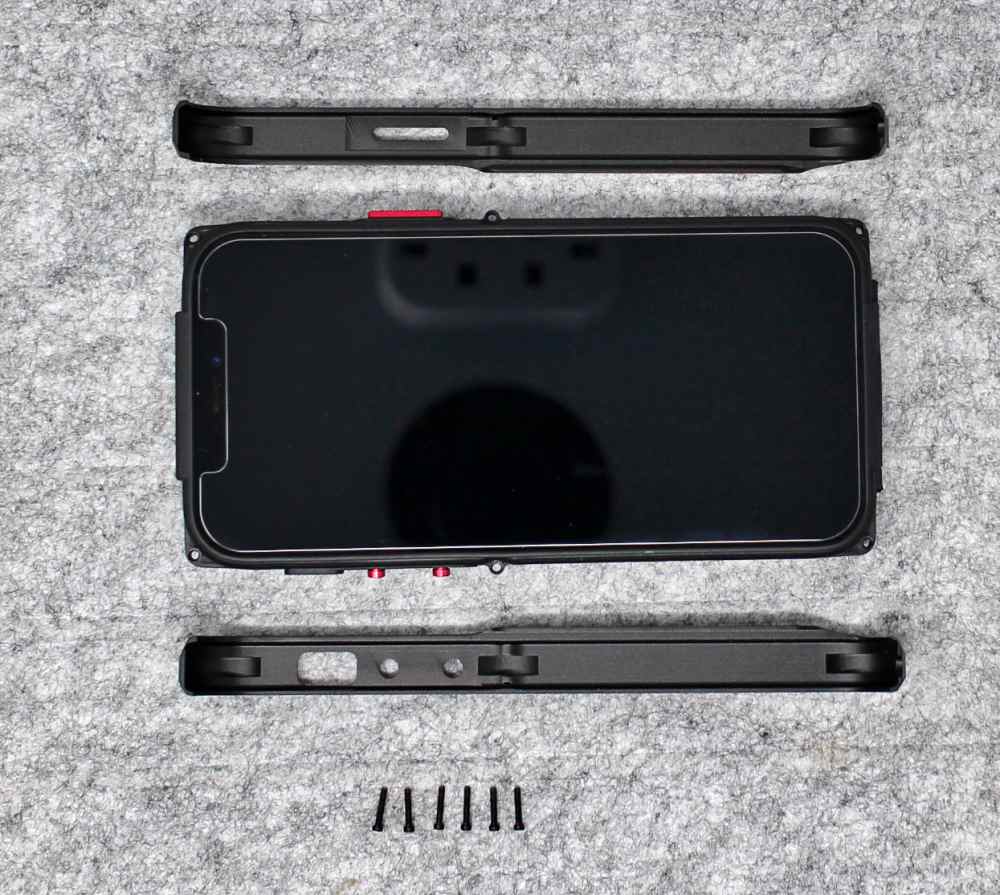 Now you can replace each side-arm and reinstall the three screws per side.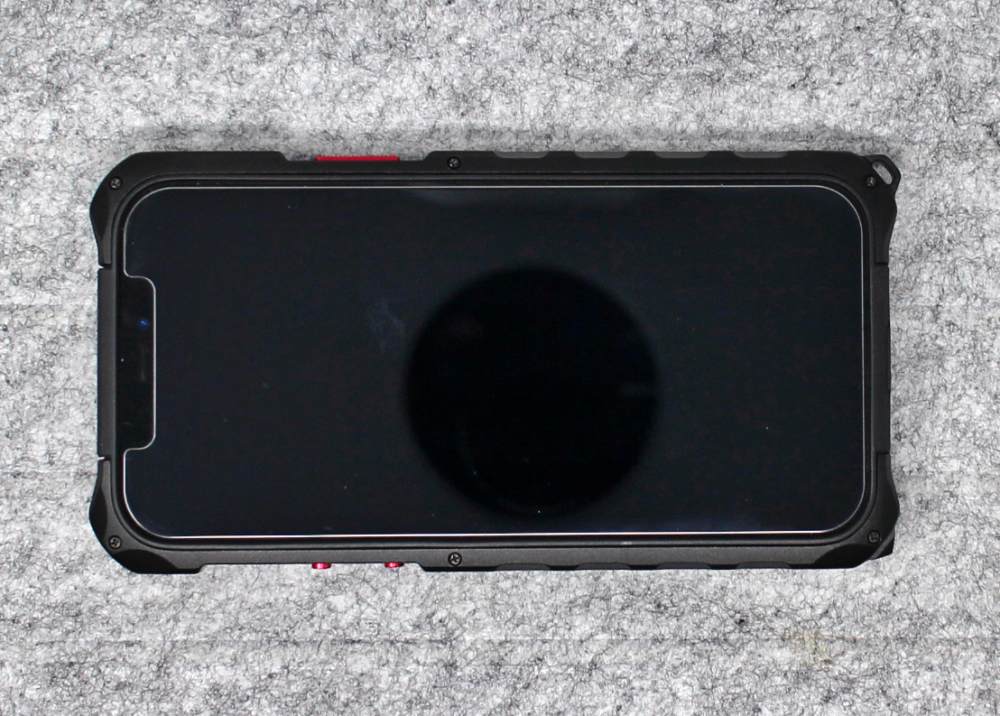 To slide the wallet on, you need to align the rails into the grooves on each side and slide up until you feel it click into place.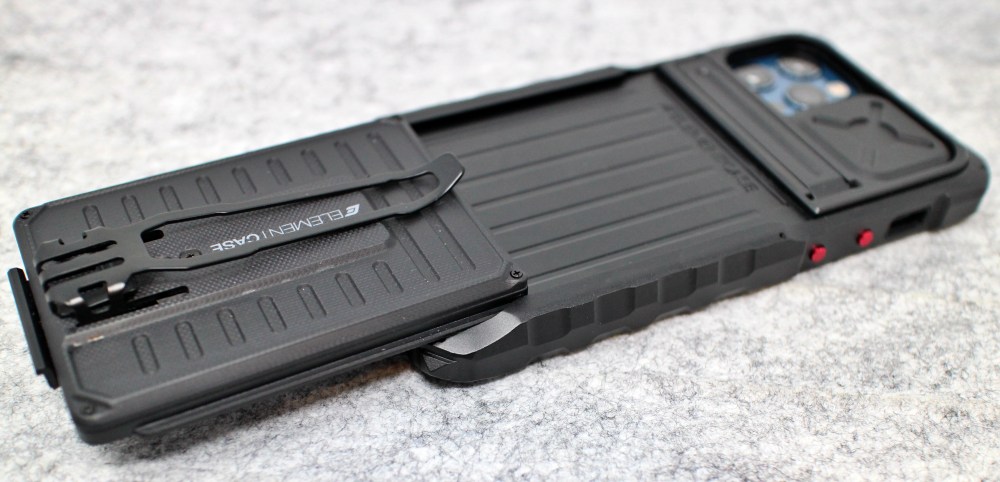 Performance
The Black Ops case is an impressive piece of kit that appeals to a pretty specific user both in its aesthetic and it's functionality. Like the Black Ops Case for AirPods Pro I reviewed earlier this year, the styling is aggressive and futuristic military. The combination of aluminum and polycarbonate creates a seriously burly feel.
As for the standard case requirements, they're all covered and then some. It fits the specified phone very well. All the buttons feel great and the mute switch cavity, while deep is still pretty accessible. The screen is recessed for protection and the audio pass throughs work well.
Let's take a look at each of the features, one by one…
The kickstand is quick and easy. It's rigid, pops out with a strong fingernail and props the phone in a great landscape position with the volume buttons facing up.  Stow it away when you're done with a very positive push to snap into place.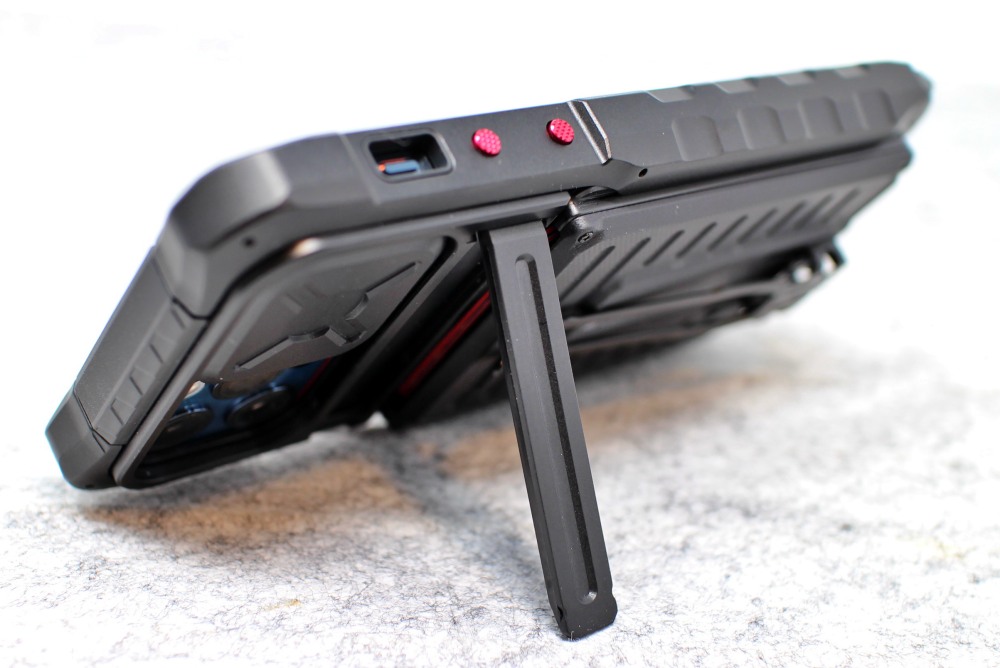 The wallet is a 3-4 card solution that seems to be the unclaimed goal for on-your-phone wallets these days. An internal spring clip keeps them under tension until you slide them out using your thumb on the inside window.

The rail solution here is novel and sliding on and off can be fun, however the rails allow a little too much play. The latch is a little too easy to trigger so it's possible to have the wallet slide loose when you don't want it to. It happened a couple times while I was trying to slightly pry open the pocket clip for use and once while hanging out in my back pocket. Not great, but it didn't result in dropping the phone.
Another quick thing on the wallet is that the cards can slide forward when attached to the phone. Would most likely happen in a top-down drop, and 2 cards would exacerbate the issue. While the cool pocket clip is removable from the wallet with a slick slide motion, there's no option to move it to the phone case if you don't want to run the wallet.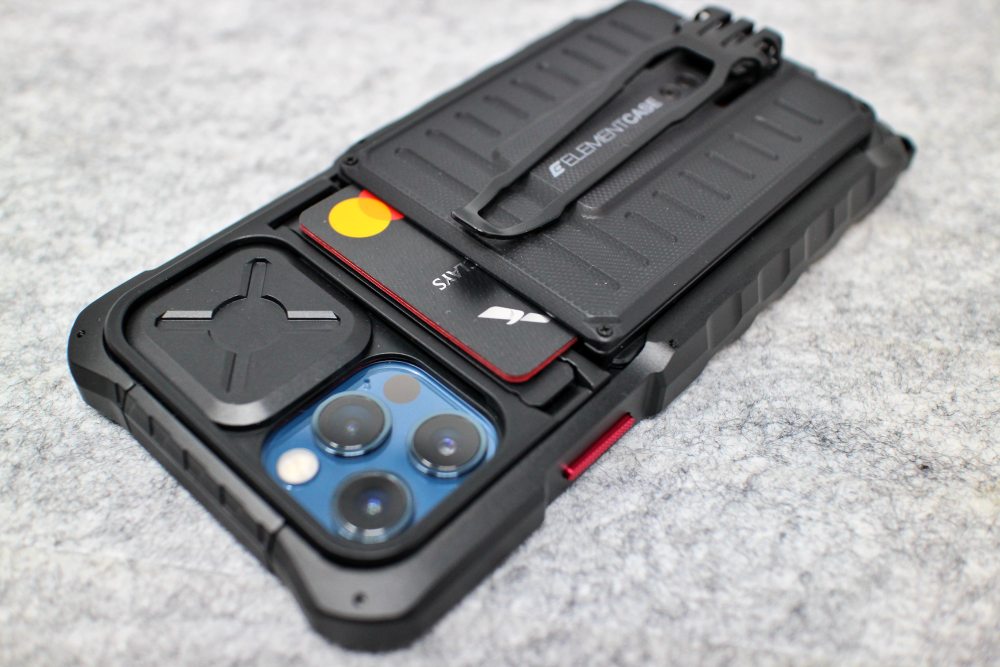 Speaking of the wallet, you'll need to slide it off if you want to charge wirelessly, which makes sense. Element Case says it's both Qi and MagSafe compatible. I'd say Qi charging is 50/50 and it will depend on your charger. With the wallet removed there's an air gap of a couple millimeters due to the wallet rails and unless your charger is narrower than width of the wallet it'll have to overcome that distance. I was able to get it to charge on a Nomad Base Station, but only by turning it sideways across both charging coils. I could not get it to charge on a Pitaka Air Quad at all. As for MagSafe… if you place your phone face down and put the MagSafe puck all the way at the top of the wallet recess, partially on top of the kickstand you can get it to charge, but you won't be able to see your screen to confirm. There is no magnetism at all which I would argue is a requirement to claim compatibility. Your best bet is sticking with the old lightning cable which is still the fastest way to charge anyway.
The camera cover is a great idea. It's annoying to need to clean your camera prior to using it, or worse missing a great photo because you didn't. This cover slides back and forth easily with a positive position detent at each end.

This is definitely a feature I would use if it didn't rattle like a bag of lego pieces. If you think I'm exaggerating, take a look at this quick video.
This is a deal-breaker for me. For the retail price on this case, everything should be perfect. Instead, it sounds like something broke off and is rattling around inside your phone. Those tolerance misses are found throughout the parts as even both side-arms shift a little when installed and fully tightened. It's totally solvable with tooling and manufacturing modifications so I hope it's something Element Case can address. Regarding the camera cover, I did find that I was able to pop it out of the case by sliding it to the closed position and pushing through the camera hole when my phone was not installed. Now it's almost completely silent save for the buttons which also have a slight rattle. Mass production tolerances are tough.
Last thing to mention is weight. As you might guess the Black Ops Case is not playing in the featherweight group. It hits the scales at 115g. The iPhone 12 Pro is 197g without a case so that's a significant weight increase.
What I like
Materials and protection level
Unique features: kickstand, wallet, camera cover
What I'd change
Improve tolerance control overall
The rattling camera cover – A major miss
Security of the wallet connection
Ability to move the pocket clip to the phone if you choose not to run the wallet
Final thoughts
I really want to like this case, but sadly the tolerance misses are just too many to ignore. The feature innovations like the detachable wallet and camera cover are great in theory, but the execution is just not there. Add on that wireless compatibility is questionable at best and well, you get the picture. Had I bought this myself, I would have returned it for a refund. I hope that Element Case can make some running changes to get this up to the par their retail price suggests.
Price: $249.95
Where to buy: Element Case
Source: The sample of this product was provided by Element Case