We use affiliate links. If you buy something through the links on this page, we may earn a commission at no cost to you. Learn more.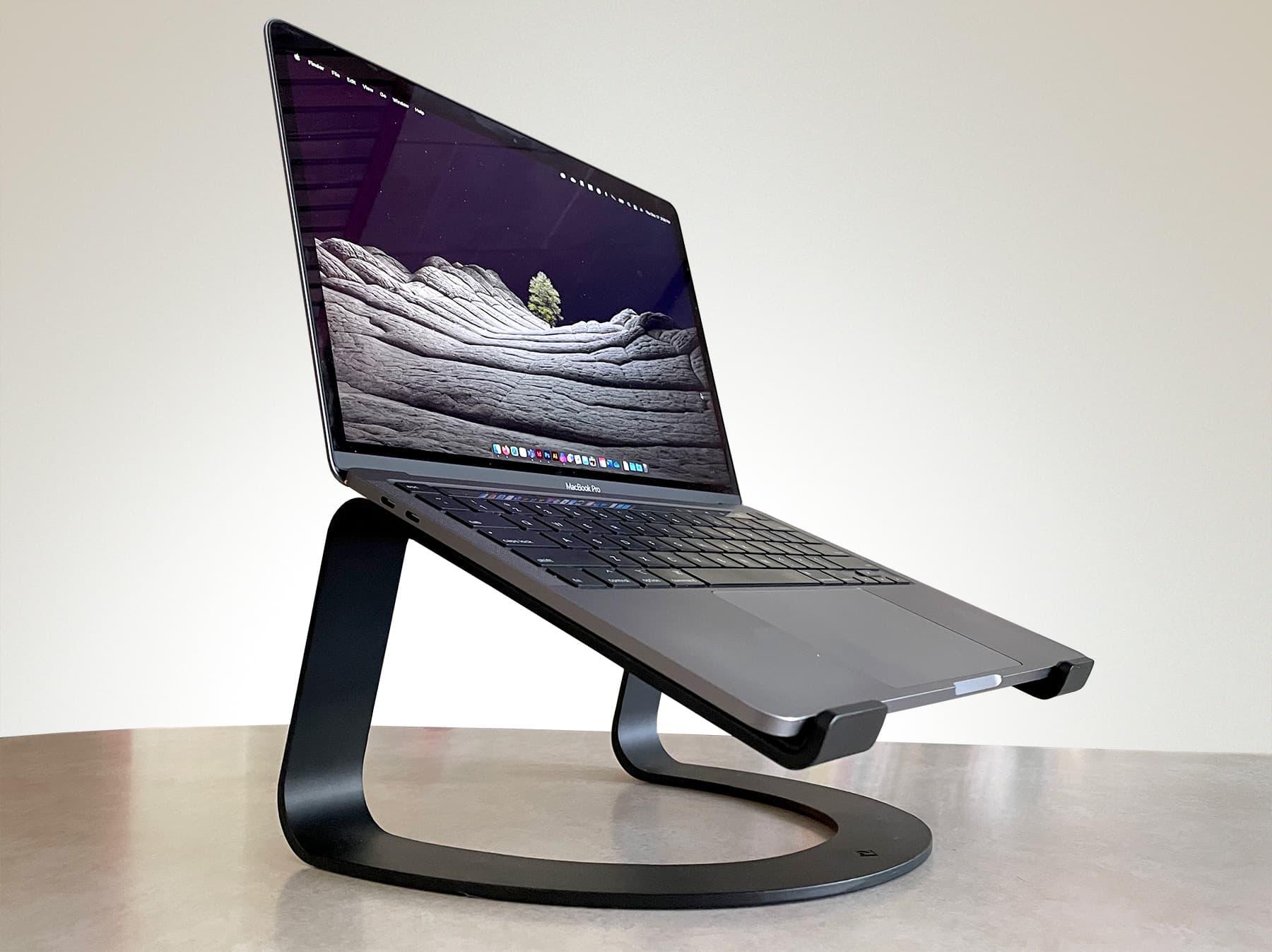 REVIEW – For anyone using a laptop as a daily driver, it can be a literal pain looking down at a screen for hours. Give your neck a break with Twelve South's Curve Laptop Stand.
What is it?
The Curve is a stylish laptop stand made specifically for Apple's MacBook line. It is also compatible with all laptops at least 10.2 inches wide and up to 7 pounds.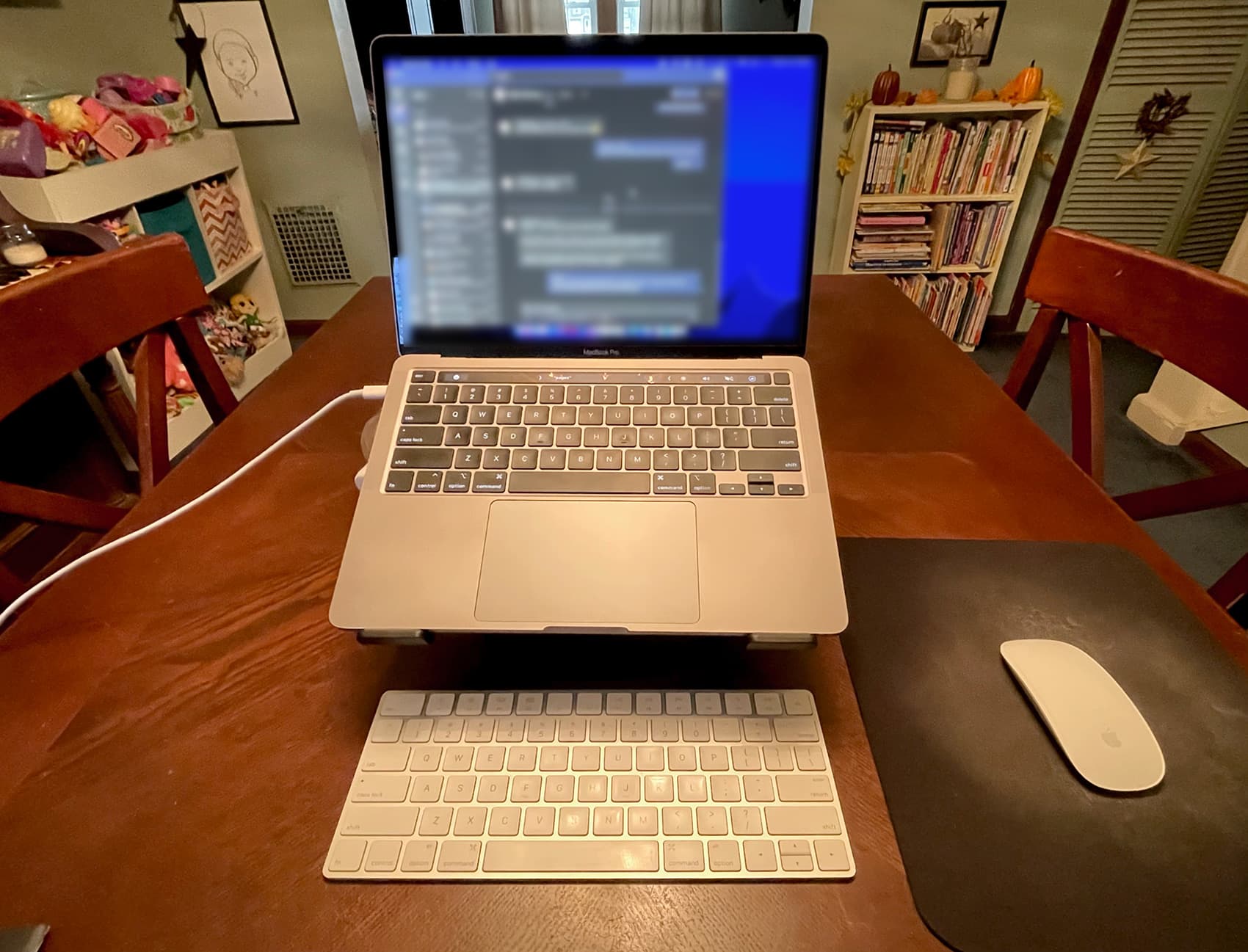 Hardware specs
Height: 5.8 inches (14.9 cm) Width: 10.3 inches (26.3 cm) Depth: 8.7 inches (22.2 cm) Weight: 1.43 pounds (.65 kg)
Design and features
I don't often get to use a computer accessory that can be completely summed up from one picture, but the Curve stand from Twelve South is exactly what it looks like. It's a beautifully designed combination of metal and grippy rubber coating that allows your laptop to rest 5 inches above your desk or table.
And that's it!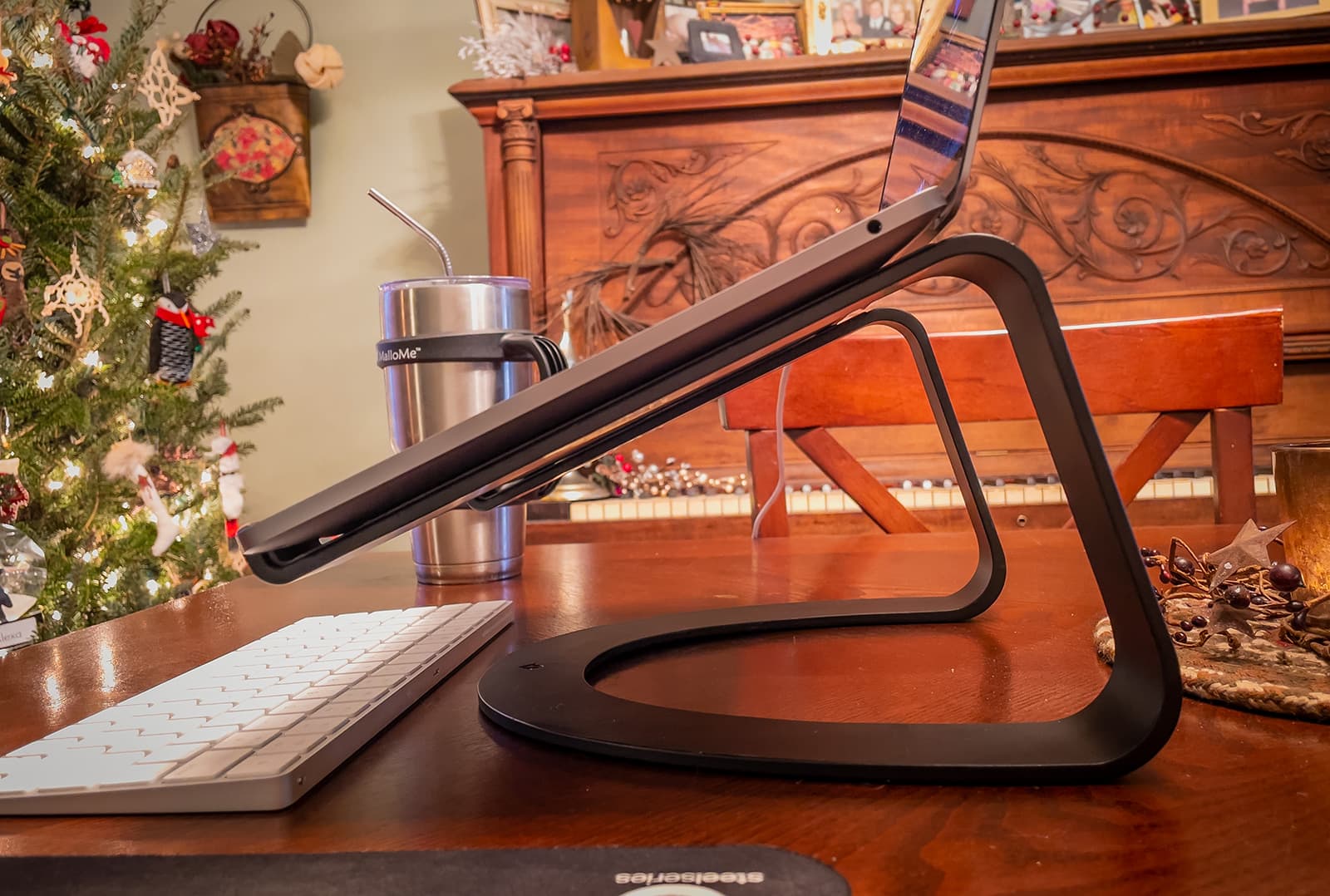 The Curve's primary function is to raise your laptop's screen to a more ergonomic and comfortable height while angling the keyboard and trackpad (and Touch Bar on your MacBook, should you have one) toward you for easy access.
Setup is easy, as one would expect. Simply place your laptop on the Curve's hooked arms and open the screen to a comfortable position. Then, attach your keyboard, mouse, charging cable and perhaps an external monitor. And that's all there is to it.
I've been sitting at my dining room table to work since March of this year, and in all that time it never occurred to me how unnatural it was to look down at a laptop screen for hours on end. It only took a few days of using the Curve to realize that even a few inches in height made a world of difference to my neck. I wasn't in pain before, exactly, but keeping that screen closer to eye level feels a lot more natural.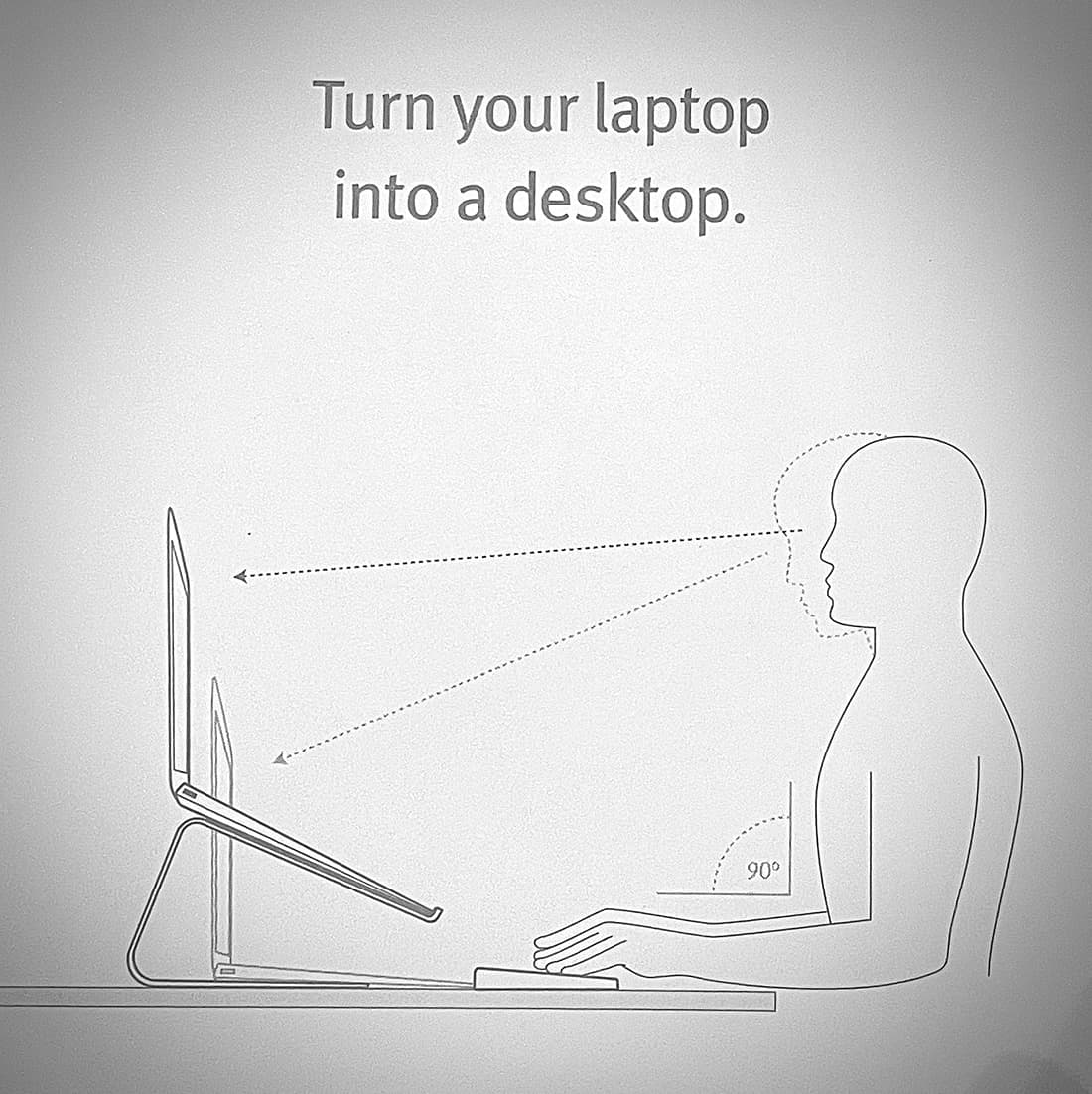 I'm not going to lie, I felt sort of silly typing on a keyboard that was literally 4 inches away from another perfectly good keyboard. Not only that, but the MacBook's keyboard is one of my favorites. Apple's Magic Keyboard is a close second, though. It took me a few days to instinctually reach for the MacBook's keyboard and use the smaller keyboard below it, but once I was used to it, it's almost like my brain forgot there was a whole laptop there and only saw the screen.
At least I was already used to using a mouse, as design work is tedious without one.
I didn't have an extra monitor handy to try out with the Curve/laptop setup, but I'm sure that would work out really well.
I appreciate the angled arms on the Curve that tilt the keyboard and trackpad toward the user. There are a lot of useful MacOS trackpad gestures I use like pinch to zoom. Plus, the MacBook's Touch Bar is also easy to see and access at that angle.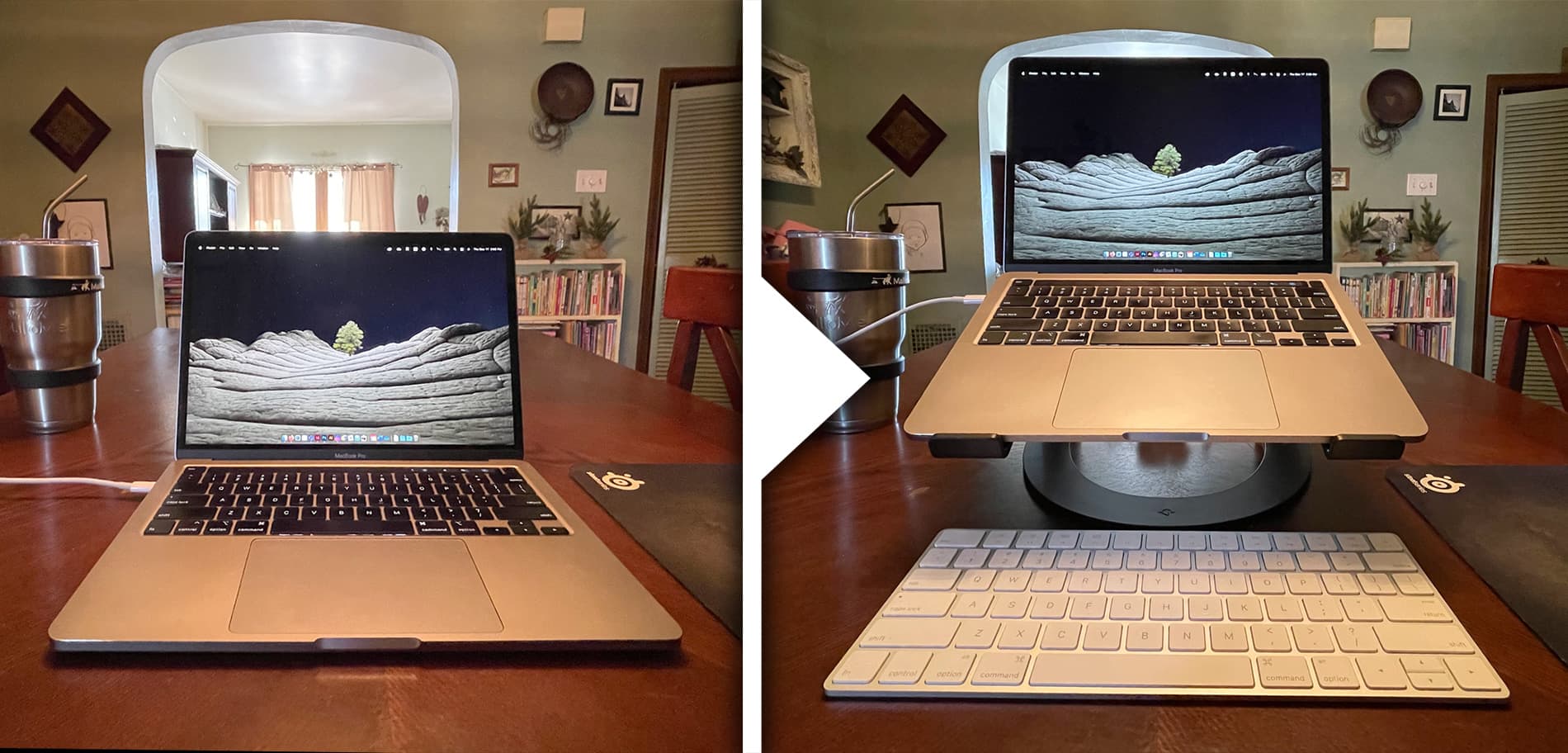 So by now, you're probably thinking, "Couldn't I just put my laptop on top of a few books and have it do the same thing?" Sure. You can also use a cardboard box for an end table or duct tape for a wallet. The Curve is an elegant solution that matches the industrial design of modern laptops, particularly the MacBook line. And all joking aside, the Curve's sleek design and the sloped angle really are more practical than shoving a stack of books under your computer.
At $60, there are less expensive options out there, but all my past Twelve South purchases have been solid. The Curve is no exception.
What I like
Elevates the display for ergonomic viewing
Perfectly matches the Apple aesthetic
Simple use of external monitors or non-laptop keyboards
What needs to be improved
Takes time to get used to using a separate keyboard
Pricey for what it does
Final thoughts
Although the Curve laptop stand does nothing but raise your laptop several inches off the table, it beautifully complements the MacBook's design while keeping the laptop's Touch Bar and trackpad accessible. After using the Curve stand for a couple of weeks, I really noticed how much easier it is on my neck compared to looking down at the screen resting on the table.
Once you used to typing on a keyboard directly below another keyboard, the Curve is an eye-pleasing companion to your laptop.
Price: $59.99
Where to buy: Amazon or directly from Twelve South.
Source: The sample of this product was provided by Twelve South.