We use affiliate links. If you buy something through the links on this page, we may earn a commission at no cost to you. Learn more.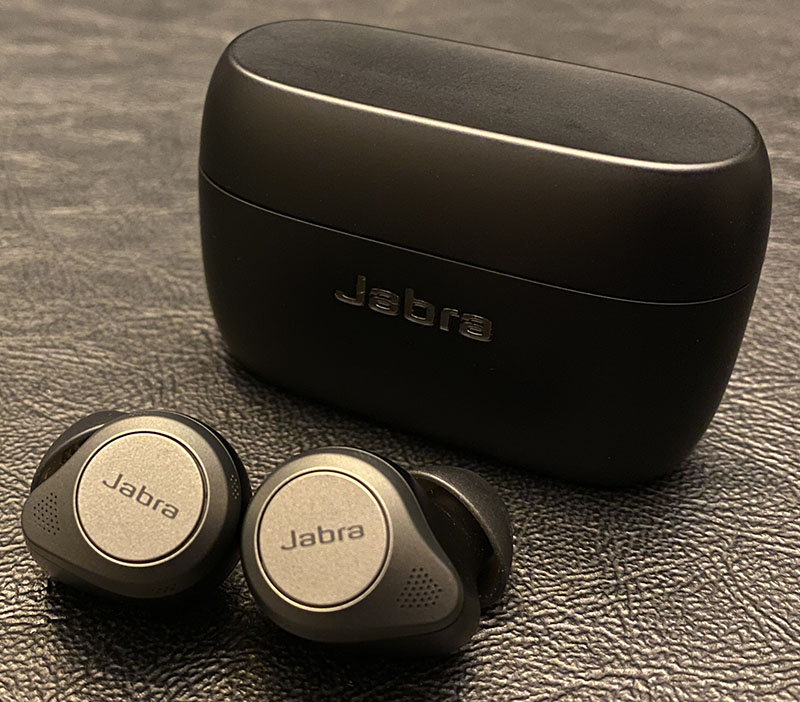 REVIEW – The Jabra Elite series of wireless earbuds have been my go to choice in earbuds for years.  Their secure fit, great sound, compact design, and rugged engineering just continues to evolve and improve. I have my Elite Active 75t's with me nearly everywhere I go.  Like many of you, during 2020 I have been on more conference and video calls than I can count and these earbuds have been in my ears A LOT…never letting me down. So, when Jabra announced their new Elite 85t earbuds with ANC (Active Noise Cancelling) I was very interested to see how well Jabra has integrated this new tech into their latest flagship headphones. Let's check them out. 
What is it?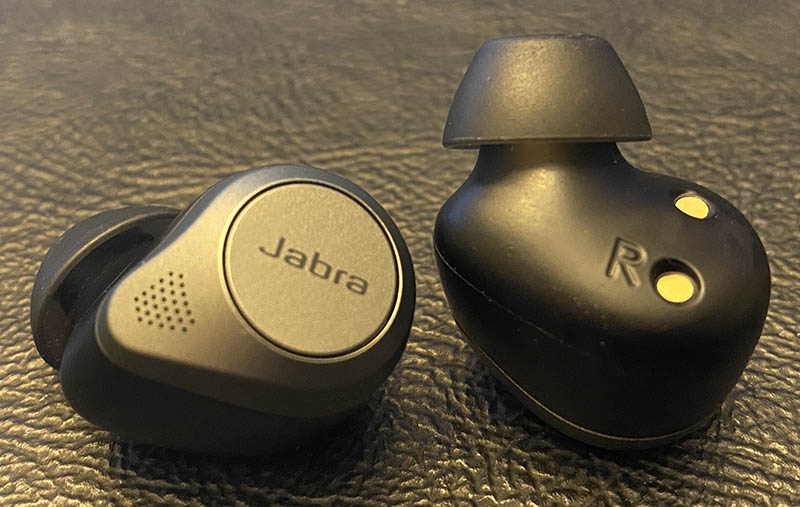 The Elite 85t true wireless earbuds are Jabra's latest and greatest in-ear headphones. The 85t's are Jabra's fourth (or 5th depending on how you do the math) generation of truly wireless earbuds with a new, slightly larger and tweaked form factor, improved sound quality, bigger 12mm drivers, better ambient noise suppression, and Active Noise Cancelling (ANC). Like all their predecessors before them, the 85t's are not only comfortable with a secure fit but engineered/optimized for listening to music, videos, and participating in calls.

What's in the box?
Earbuds
charging case
USB-C cable
3 sets of oval silicon EarGels
Hardware specs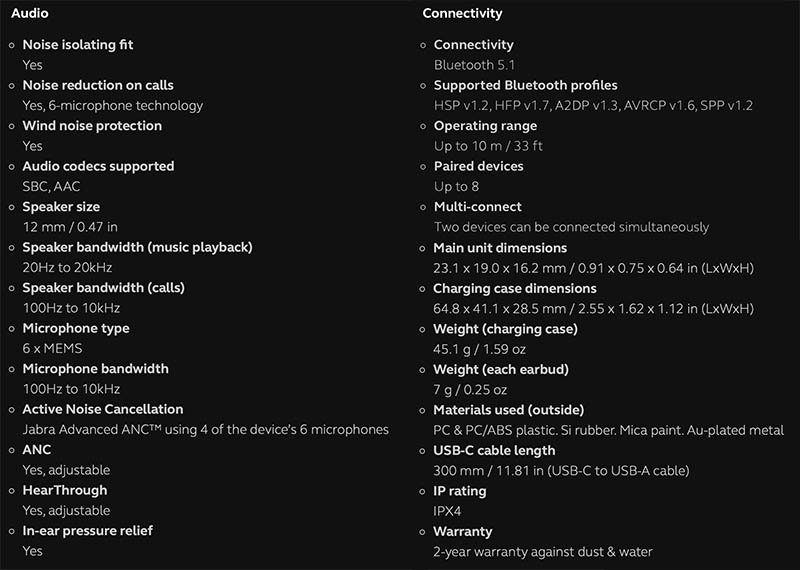 Design and features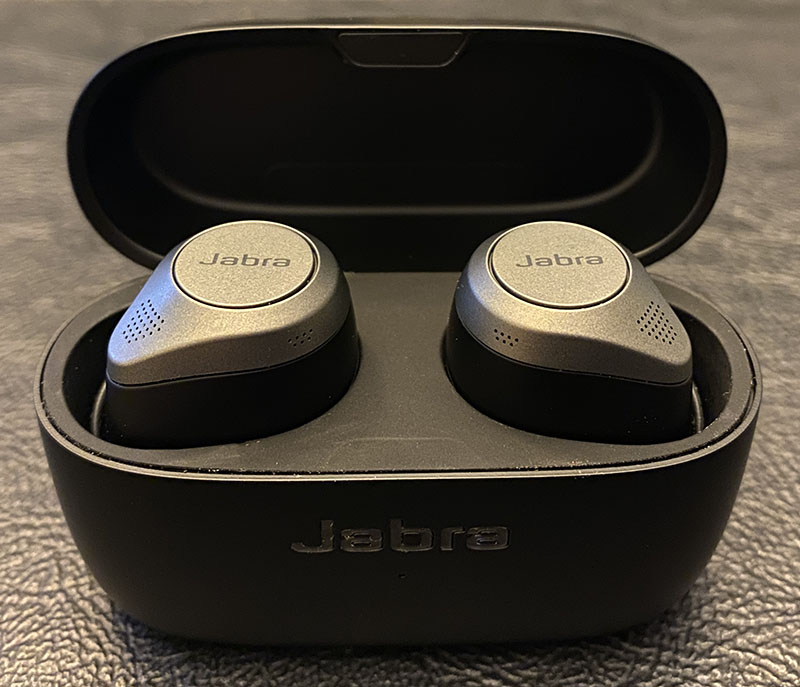 The Elite 85t's design are very similar in form to the 75t's, though slightly larger in all respects as compared to its predecessor. Both the buds and case are approximately 10% bigger…my guess is to accommodate the added features and technologies. Like the past few generation of Elite earbuds, the 85t's unique shape is all that is needed to securely hold the earbuds in place. Inserting them into your ears is a simple quarter turn process.
The most significant addition to Jabra's top-tier headphones is obviously the Advanced ANC; followed by the improved, larger 12mm drivers. Each earbud has six microphones for better ambient noise and wind reduction, making for crisp clear calls on both sides of the conversation (but more about that later…). Jabra Advanced ANC technology uses four of the six microphones while enabled. Jabra has packed an impressive amount of engineering into these relatively tiny earbuds.  
The Elite series of earbuds continues to use a Hero / Sidekick design for wireless connectivity…in this case, the right earbud connects to your smart device and the left earbud connects to the right. This means you can use just the right or both just not the left by itself. I typically use both buds at once and thus not that big of a deal for me but others consider this an issue/weakness. I have noticed the right earbud's battery drains a little faster than the left's, my guess is due to this design. The Elite 85t's use Bluetooth 5.1, can be paired with up to 8 devices, and connected to two devices at once (Multi-Connect). Multi-Connect makes swapping between devices easy enabling you to go from watching a video on your tablet to taking a call on your phone and back again seamless. 

The Elite 85t's have two relatively large, easy to find & press physical control buttons, one on the outside of each earbud. On the right earbud, the button answers or ends calls with a single press and pressing twice will reject an incoming call. On the same earbud when listening to music or other audio/video, pressing once will pause or resume whatever you're listening to. A double press will activate your voice assistant of choice (Alexa, Google Assistant or Siri), and a press and hold will turn the volume up. On the left earbud, a single press will activate the HearThrough transparency mode on/off and a press and hold will turn the volume down. A double press skips forward while pressing three times goes back. When you're on a call, a single press on the left button will mute or unmute the mics.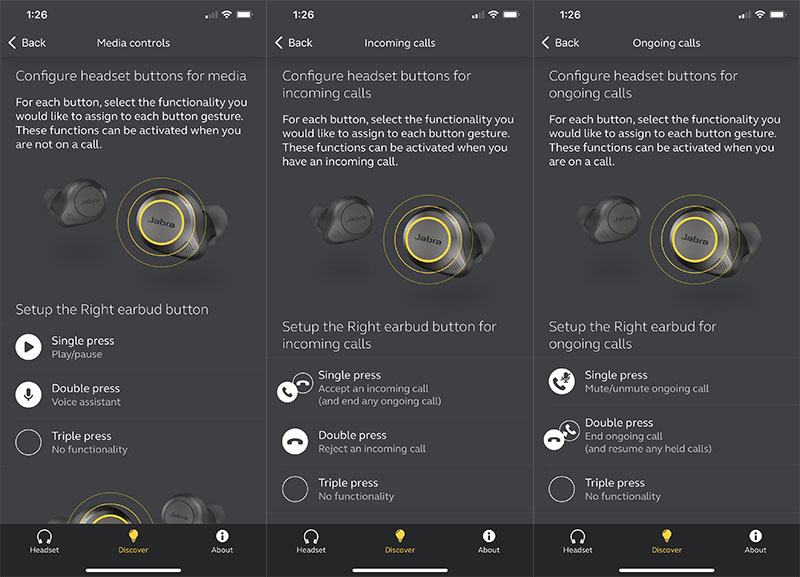 If that setup isn't to your liking, the Sound+ app enables you to customize the 85t's control buttons functionality however you want. 
Build quality and style:

The exterior of the 85t earbuds is made of a hardened plastic with Jabra stamped in the center of both multifunction buttons. Their material and build quality are very good, as you would expect from a $200+ set of headphones. The 85t's do not have any sort of rubberized coating on them. Their slick plastic exterior and small size do make them a bit drop prone.
As for style, I continue to prefer the Elite's smaller design engineered to have a majority of the bud in your ear. The AirPods, AirPod Pros, Sonys, Bose, etc. are either too big, stick out of your ears too far, or sadly both. As I mentioned above, the 85t's have gotten a wee bit bigger and stick out of your ears a little further, as compared to the 75t's, but overall remain one of the best sized, shaped, designed earbuds on the market today. 
Charging & Storage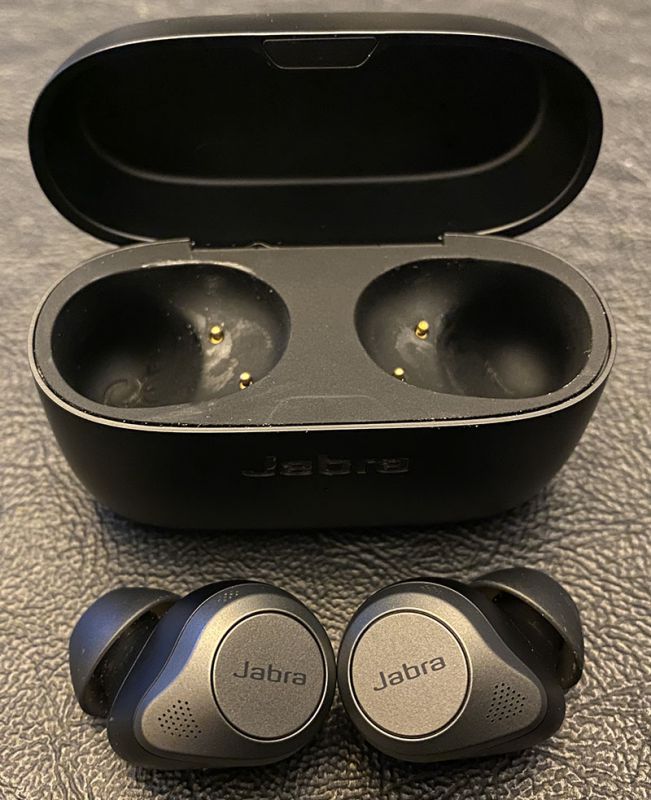 Other than being a slightly larger, the charging case is nearly identical to its predecessor. The top third of the case opens to reveal two form-fitting spaces for the earbuds, with each of the earbuds having an LED that lets you know if the headphones are fully charged and ready to go. The lid has a tight, magnetic seal that stays securely shut but opens easily when needed. The earbuds magnetically click into place for a solid connection with the charging points.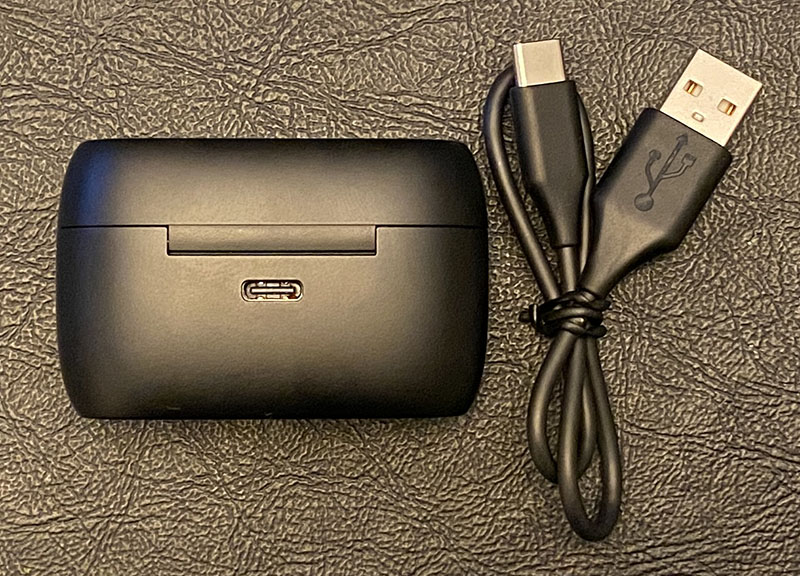 The case is meant to not only charge the Elite earbuds but store, transport, and protect them as well. There is a USB-C charging port on the back of the case. Jabra includes a USB-A to USB-C charging cable.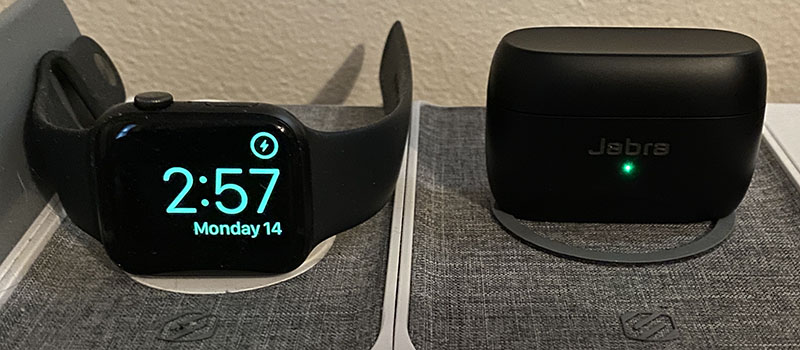 The 85t's case can wirelessly charge as well. Here you can see them charging on the Scosche BaseLynx modular qi-enabled charging station I reviewed earlier this year. The case has a status LED on its front face meant to let you know when the case needs to be recharged, is charging, or fully powered up. Jabra promises 5.5 hours of earbud use with ANC and 7.0 without before needing to recharge. The storage case has an internal battery with approximately three additional charges before the earbuds + case needs to be recharged…for a total of approximately 25hrs of ANC playback (31hrs with ANC off). If your earbuds run out of power and you want to use them on the fly, a quick 15 minute charge gives an hour of use.
Fit and Comfort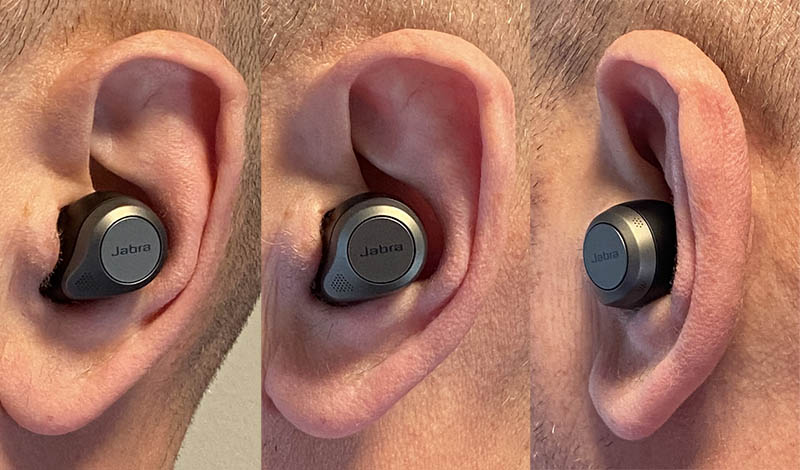 First off the Elite 85t's fit very well and are without a doubt comfortable but they definitely feel different than the 65t's and 75t's I've come to know and love. Previous generations of Elite earbuds fit more like a pair of earplugs. The industry calls this a "closed design" where they blockout the outside world and ambient noise with this 'passive noise cancellation' that feels more snug and secure. Whereas the 85t's have a "semi-open design" that allows more sound and airflow thru the 'pressure relief vents to ensure all day comfort'. And while the 85t's feel a bit less secure they have yet to fall out with many hours of use. Though initially I did find myself constantly adjusting them, thinking they weren't fitting correctly but I was just getting used to their new engineering & design. Honestly they're so comfortable with zero back pressure I hardly know I have them in anymore. 

The Elite 85t's silicone EarGel tips come in the classic sizing: small, medium, and large. And I have to say, with the 85t's new design I cycled thru all three sizes to figure out the best fit and seal…ultimately landing on the mediums. They're now oval in shape to accommodate the larger 12mm drivers. 
Performance

The Elite 85t's sound is impressive, noticeably better than past generations. Now don't get me wrong, the Elite 75t's and their Active sibling sound great. But the 85t's new 12 millimeter speaker/driver, ANC, and pressure-relief system all combine for a wonderful, full-bodied listening experience. The sound quality is rich, clear, and distinctive from top to bottom with little to no muddling that I could hear. The bass is strong but not overpowering and can be tweaked with the Jabra+'s five channel equalizer.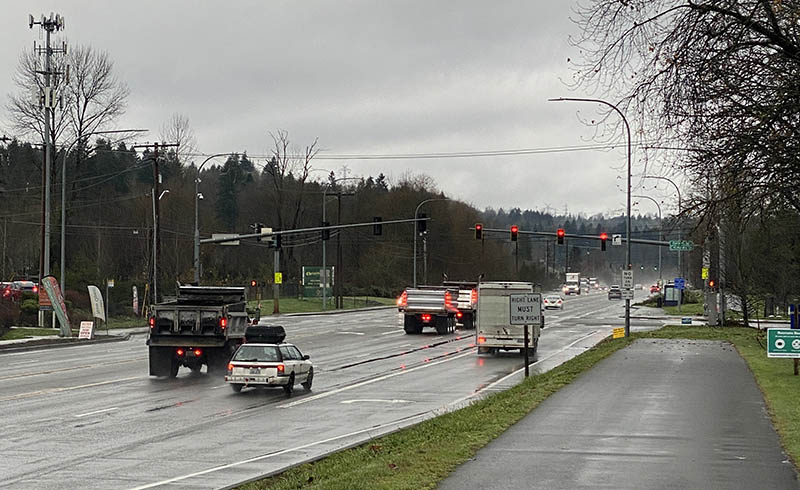 The Elite 85t's ANC and HearThrough are both fully adjustable via the Sound+ app. As most of you probably know, being earbuds they do not eliminate as much noise as over-the-ear headphones with ANC. Though their ANC does a good job of cancelling out a lot of noise and I'm looking forward of trying them out on an airplane someday. Jabra's hear-through and ambient noise reduction technologies work well too. Each bud has three "powerful professional-grade" microphones. I've taken calls on them while out and a bout in windy conditions or near loud roadways and they have done stellar with zero complaints. 
The Elite 85t's did take a step backwards in ruggedness…they're only rated to IPX4, where the Elite 75t's and Active 75t's are IP55 and IP 57 respectively. Meaning the 85t's are less water resistant with little tolerance for dust. So I have not used them working out, in wet weather, or puttering around getting work done around our place. That said, Jabra backs all of their Elite earbuds with a 2-year warranty against water and dust.
Setup
The Sound+ app makes setting up the Elite 85t truly wireless earbuds simple and easy. Really no different than any other Bluetooth earbuds currently on the market. Once they are removed from their case, they are immediately ready to pair with your smart device.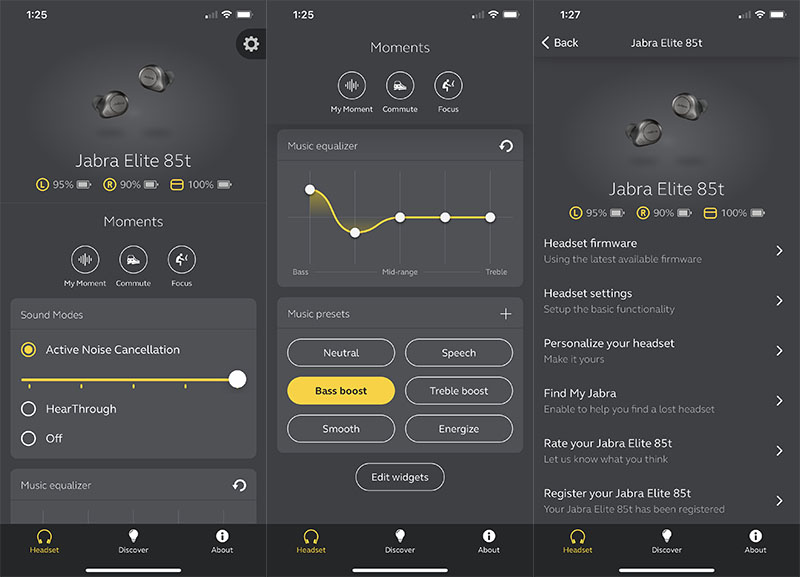 Sound+ app enables you to tweak the user experience quite a bit based on your listening tastes, how much ANC/HearThrough you prefer, and where you are in your day. You are able to adjust the EQ of the earbuds to your preference several ways. I found the app easy to navigate, the various presets well done, and overall simple to change/adjust whenever you like.
What I like
Small compact design
Excellent listening experience
Solid active noise cancelling
Wireless & USB-C charging
Magnetic charging case
Good battery life: 5.5 hours of ANC use between charges
Well done app with ability to customize listening/user experience
2-year warranty against dust and moisture
What needs to be improved
Only IPX4 rated
Still uses hero/sidekick engineering
Expensive
Currently the Elite 85t wireless earbuds are only available in Titanium Black. Though my guess is Jabra will be releasing more colors in the future.
Final thoughts
Jabra has done an excellent job upping their game to keep up in a very competitive and saturated market. The addition of fully adjustable Active Noise Cancelling, larger 12mm drivers, and better HearThrough/noise reduction/mic array while keeping the Elite's compact form factor and design is impressive. The Elite 85t's are excellent in terms of the listening experience, comfort, secure fit, size, battery life, looks, portability, etc. I've tried many earbuds and headphones over the years and the Jabra's Elite series continue to be my goto wireless earbuds of choice.
Price: $229.99
Where to buy: Amazon or directly from Jabra.
Source: The sample of this product was provided by Jabra.