We use affiliate links. If you buy something through the links on this page, we may earn a commission at no cost to you. Learn more.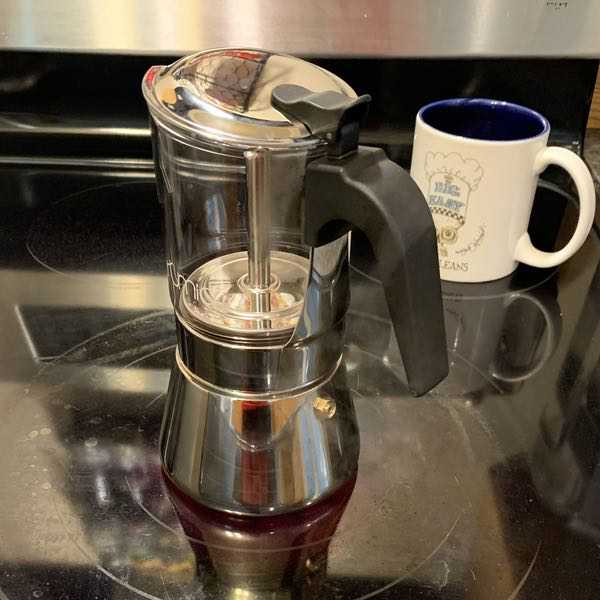 REVIEW – I love coffee in all of it's glorious forms. For this review we're checking out the Rumia Stovetop Espresso Maker, which is essentially an upgraded version of the classic Moka Pot. It's shiny. It's pretty. But how does it do the brew? To the review!
What is it?
It's a Moka pot style stovetop coffee maker.
Design and features
The Rumia Stovetop Espresso Maker is an upscale version of the classic Moka Pot design. Sleek stainless steel and glass are the primary materials, designed to be both dishwasher safe and rust proof.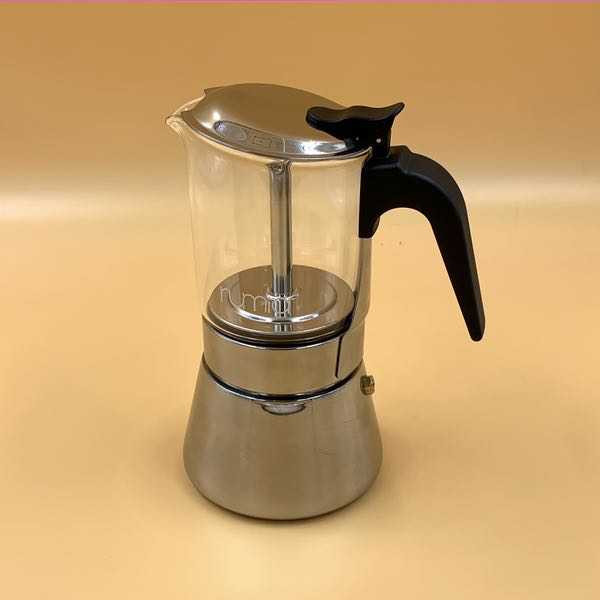 It's also got a heat resistant plastic handle, which is a nice feature for keeping you from burning your delicate digits whilst handling the hot liquids.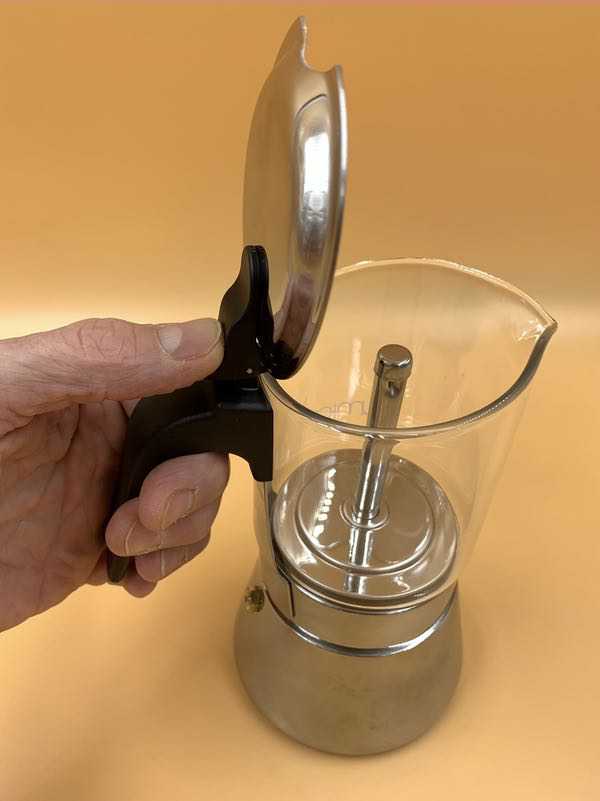 The three part assembly (base, carafe, coffee basket) is identical to any Moka Pot you've worked with before. The stainless steel and glass build makes the whole unit feel substantial and solid.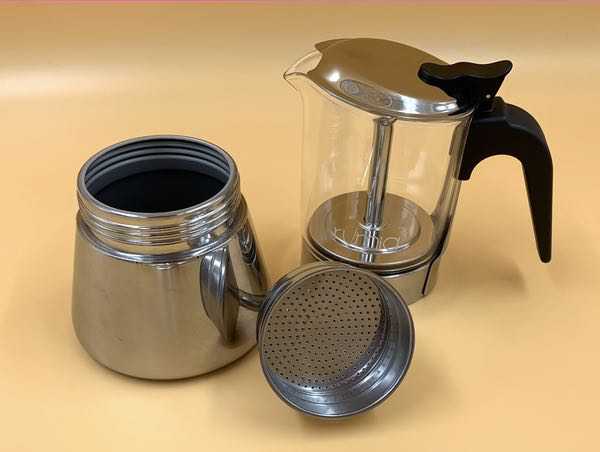 Never miss one of our posts again. Sent MON, WED, and FRI with the latest gadget reviews and news!
And if you haven't done a Moka Pot before, no worries! Let's step through the process and put the Rumia to the test.
Setup
Moka Pots deliver a concentrated cup of espresso-style coffee. Remember those old percolator machines? The concept is similar, but designed for your stovetop.
Here we have the coffee-making lineup ready for action. You'll want a fine-ground coffee (I'm using a Cuban-style here), something to boil water with, a coffee scoop, the Rumia, and a mug.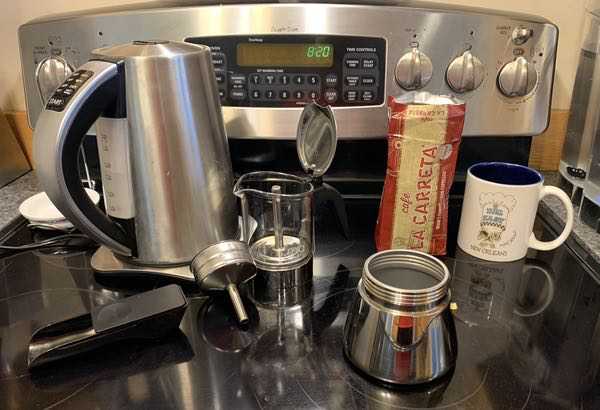 You'll start by boiling some water. If you look closely at the picture below, you can see that little release valve on the inside wall of the base? That's the pressure escape valve. You'll fill the water to just below that valve.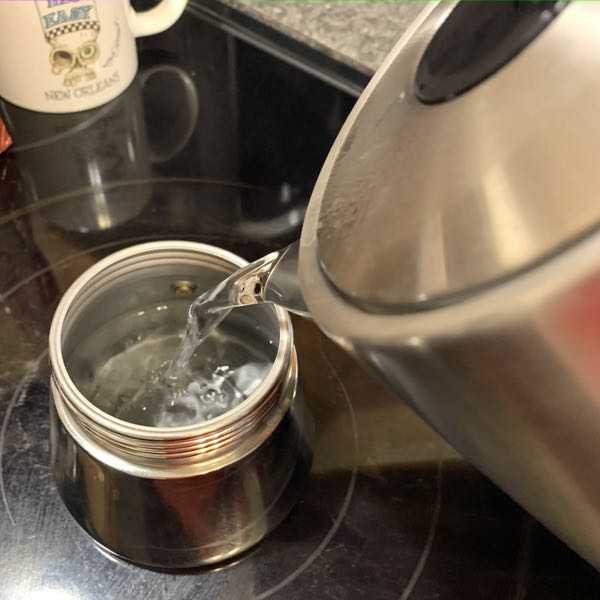 Next, you'll insert & fill the coffee basket. I found that I needed between 3 and 4 tablespoons of coffee to fill it. Some methods suggest packing the coffee, but not too tightly or the water won't pass through.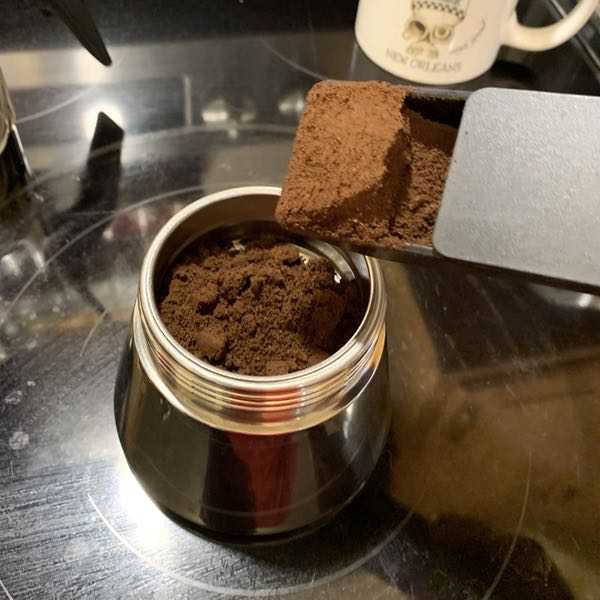 After that you'll screw to carafe onto the base, turn the stovetop temp to medium high, and wait for the magic to happen.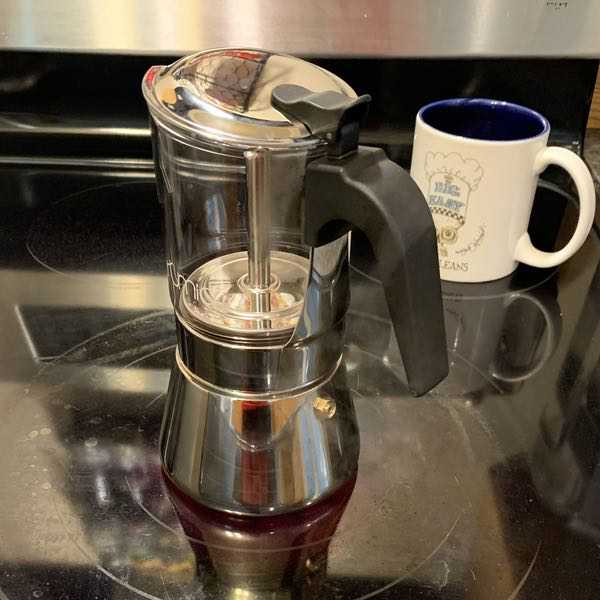 I had one issue with the setup: that stainless steel gets hot quickly! This isn't a bad thing for brewing, but you'll want something to protect your hands when filling the base with boiling water and attaching the carafe.
You'll also need something grippy. A classic Moka Pot has an octagonal shaped base, so you can get a grip on it with a kitchen towel. This is all smooth stainless steel, so that won't work. I ended up using my oven gloves that have rubberized gripping points to get the job done.
Performance
If things go according to plan, the pressure will build up in the chamber once you apply the stovetop heat. That pressure will force the water through the coffee and up through that center spout, producing a not-quite-espresso strength brew. It should take about 6-8 minutes.
And here's where I started seeing problems.
It took me multiple rounds of experimenting to produce any coffee in the device. I tried different grind settings and different temperature levels, but still couldn't produce a drop of coffee. I was getting a lot of steam blowing out the release valve, however. Usually that's an indicator of a grind that is too fine or too tightly packed. The pressure is building, but the water can't get up through the grinds.
After several attempts I finally managed to produce some coffee. It was a combination of higher stovetop temperature and higher (more coarse) grind setting that did the trick.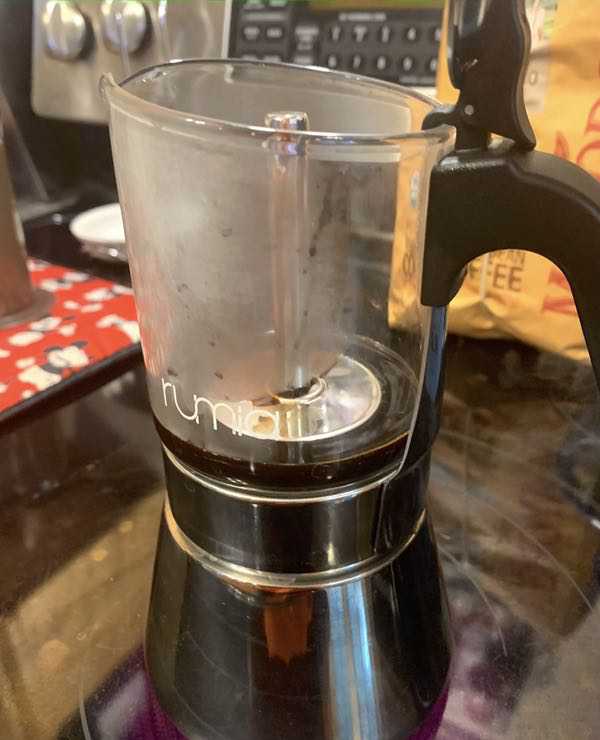 But then I ran into another problem. This was all the coffee I was able to produce after 15 minutes of work on the stovetop.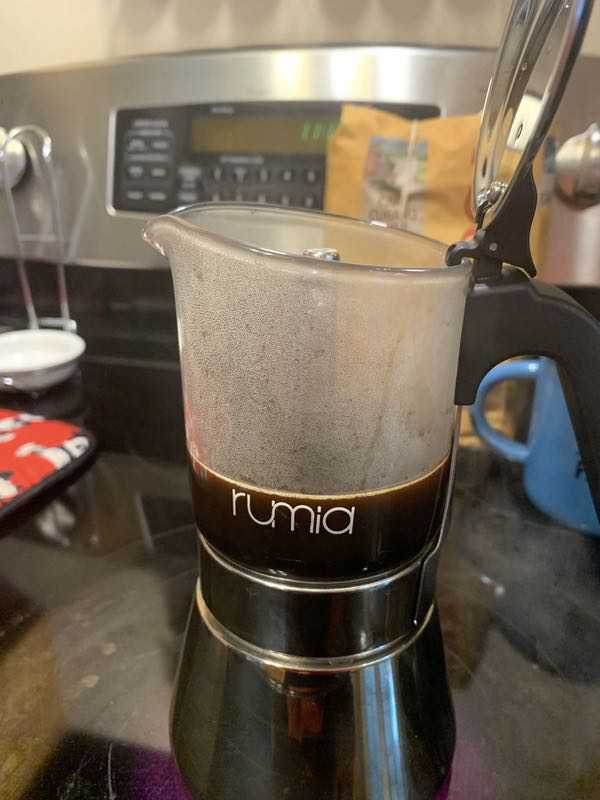 It did produce a delicious cup of coffee. Here's the finished product, which I usually mix with hot water to get an Americano. The flavor was great and the coffee was relatively clean.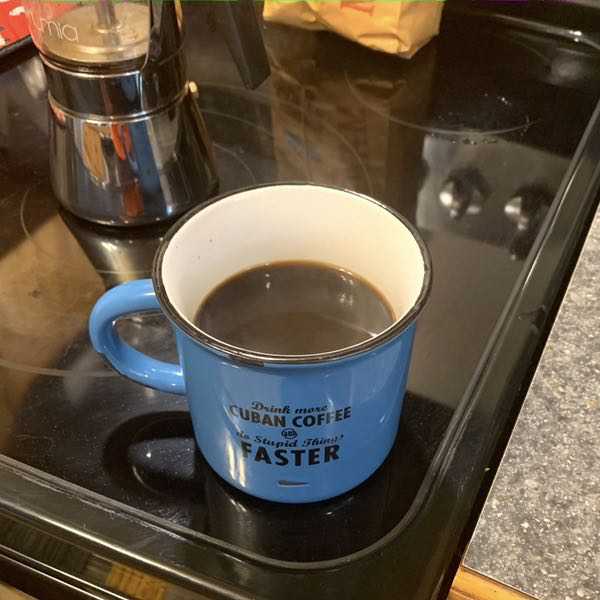 But I left a lot of water in the base, as you can see here. It just never made it up to the finished product.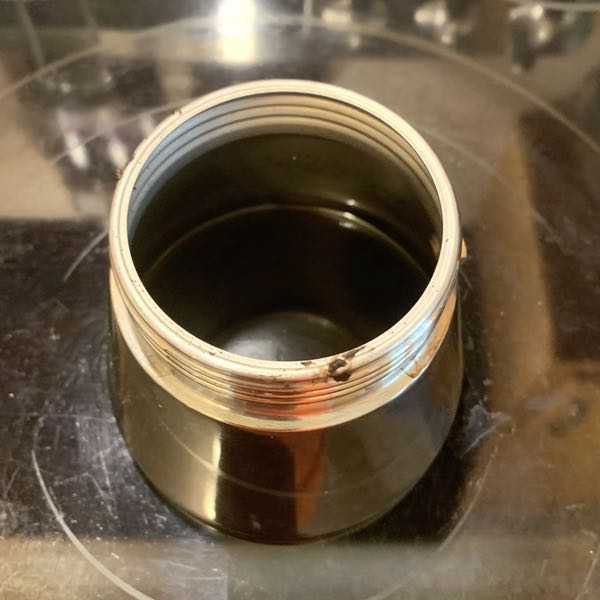 To make sure I wasn't doing something wrong, I tried to reproduce the results in my tried-and-true old school Moka Pot. Same grind, and temp levels, same water quantity.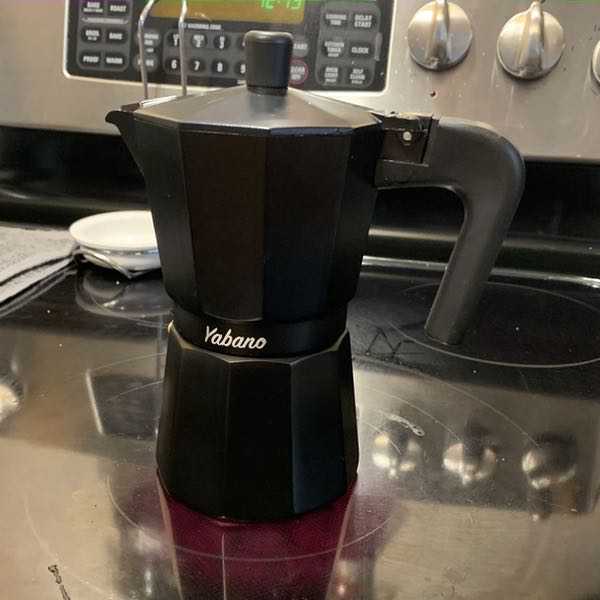 See the action in the picture below? That stream and foaming action is what you're looking for. Within minutes I was getting a steady stream of coffee filling the carafe.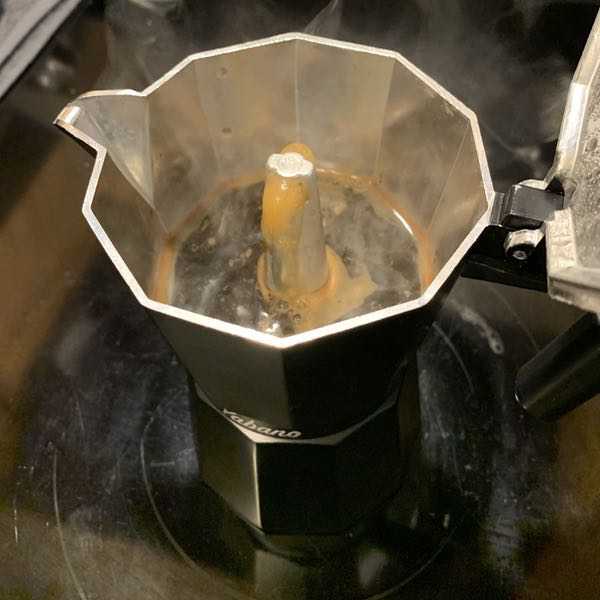 At the 6-7 minute mark I had produced a full pot of coffee, with virtually no liquid left over in the base chamber.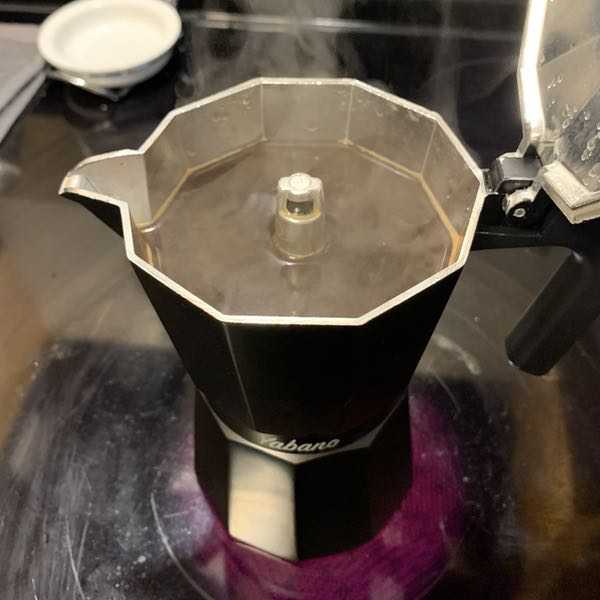 I'm a little perplexed about why I was not able to get the same performance out of the Rumia. I'm thinking that the unit may have a faulty release valve that is not enabling the pot to build up enough pressure. I'm not seeing any reports of such from other reviews, but the reviews are pretty light at this point.
Update 1/21/21
Given the issue that I experienced with the test model, Rumia was generous enough to send me a second unit to test. The good news was that this second unit performed MUCH better. Following the same process I used the first time, I was able to produce lovely output and a full pot of delicious coffee.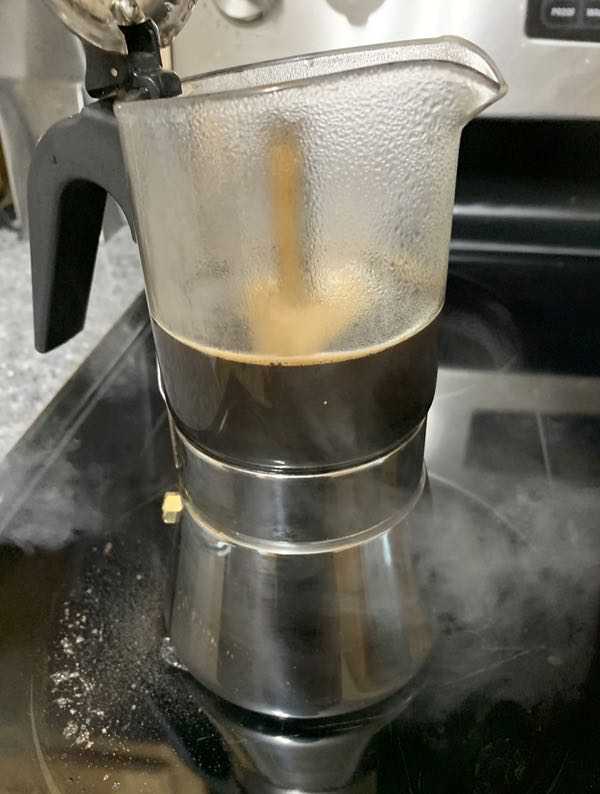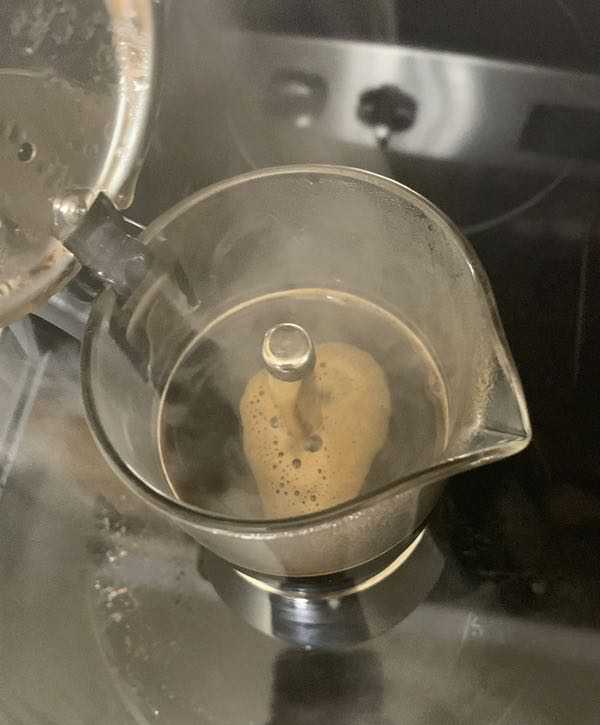 But there's bad news too. This unit worked flawlessly for a few pots. Then I noticed a trail of coffee running down the side. You can see it in the pic below on the left hand side of the pic.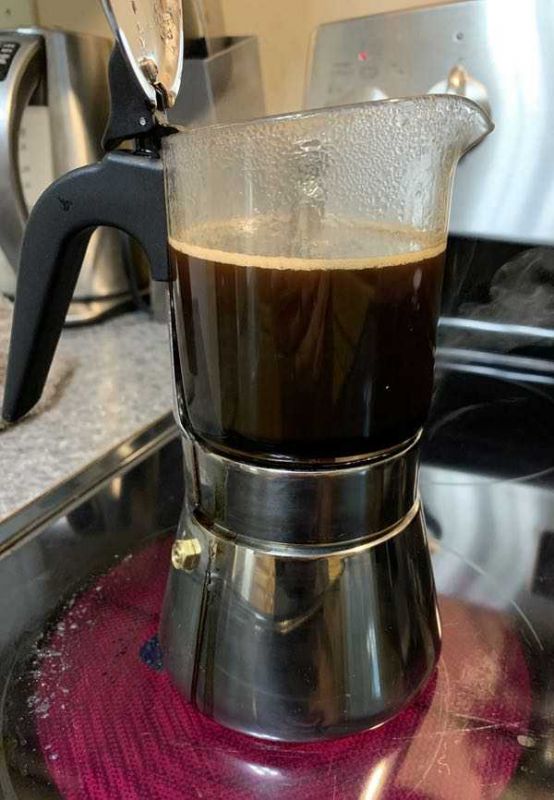 I happened to pour a half cup one morning, leaving the rest of the coffee in the pot for a second cup for later. I discovered that the carafe has a slow leak from the weld point at the base of the handle. I've since tested this by filling it cold water and letting it sit in a bowl. The leak persists, even after thoroughly cleaning the unit and checking the gaskets.
What I like
Beautiful design
Solid stainless steel build
What needs to be improved
Was not able to produce a full pot of coffee
Smooth round base requires some extra tool support (something grippy and heat resistant) to use without burning your hands
Replacement unit produced a full (and delicious) cup of coffee, but leaked from the handle area
Final thoughts
I love the design and construction of the Rumia Stovetop Espresso Maker and had high hopes for it's performance. Sadly, while usable, it fell short of my expectations. The coffee is good but, per my update on 1/21, I've now had 2 different units that presented different problems.
Price: $44.99
Where to buy: Amazon
Source: The sample of this product was provided by Rumia.