We use affiliate links. If you buy something through the links on this page, we may earn a commission at no cost to you. Learn more.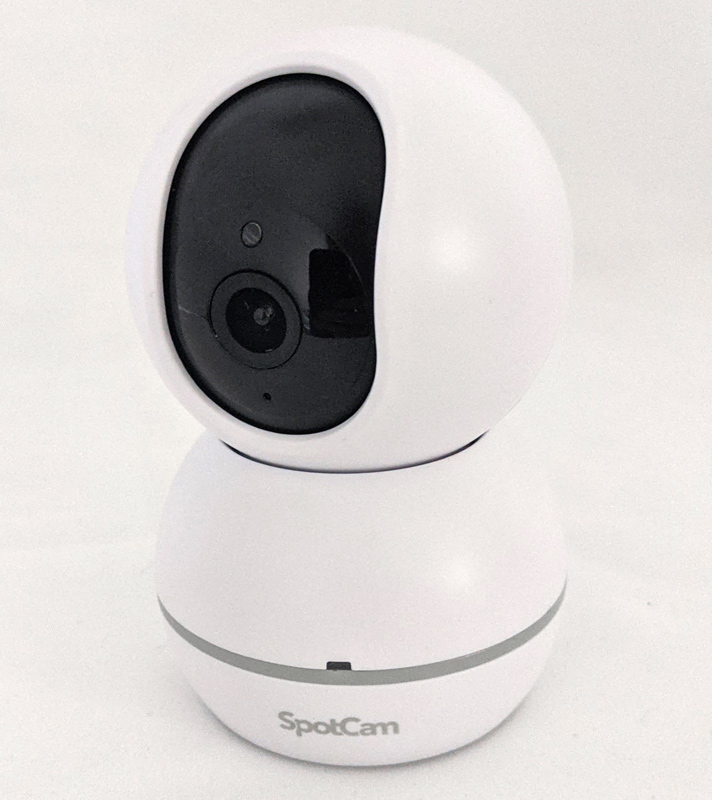 REVIEW – Like many of you, I have used security webcams around my house for several years.  I love the peace of mind it gives me, and the automatic notifications and cloud recording are wonderful to keep track of what's going on in and around your home. We have a camera on our front door, another that covers our main floor living area and kitchen, and another for the upstairs living area. Many times we have needed to check in on what's happening at the front door or inside the house to figure out what was going on with the kids, or the pets, or the delivery person. I have used the SpotCam Eva security camera for about 4 years and have loved it.  So when the updated SpotCam Eva 2 came out, I had to try it.  Let's find out what has improved, and what hasn't.
What is it?
A 1080p HD security camera with 24-hr cloud recording that has a human tracking feature, night vision, two-way audio, a siren alarm, and many other features.
What's in the box?
SpotCam Eva 2 camera
3ft 4in cord and power supply
Wall mounting kit
Quick start guide
And here are the specifications:
1080p HD camera that captures at 30 fps
Viewing Angle:  130 degrees
Camera with Pan 345 degrees/ Tilt: 90 degrees
Siren alarm for motion and audio detection
Human tracking feature
24-hr full-time continuous recording stored in the cloud
Weight: 1.12 lbs
Google Assistant/Alexa/IFTTT integration
Features and performance
I will refer throughout the review to the Eva (first generation I reviewed 4 years ago) and the Eva 2, so that I can compare and contrast them.  First things first, the Eva 2 has a smaller footprint and overall design. The Eva 2 is shorter and smaller all the way around, and they even changed the overall look.  The Eva 2 now looks, interestingly enough, like the Pillsbury doughboy, or maybe a little snowman. (see the picture above) The Eva 2 is white in color, so it looks like 2 snowballs stacked on top of each other.  That would also be one of my (small) complaints, as it was with the first Eva.  I wish it didn't stand out so much, so I wish I could get another color like maybe black depending on what my needs are.  It is puzzling to me that webcam companies are still making these webcams that look like they belong in a space ship or sci-fi movie. Why not make them look more like a home furnishing because that is where the vast majority of us are going to place them… around our house? Ok, enough of that.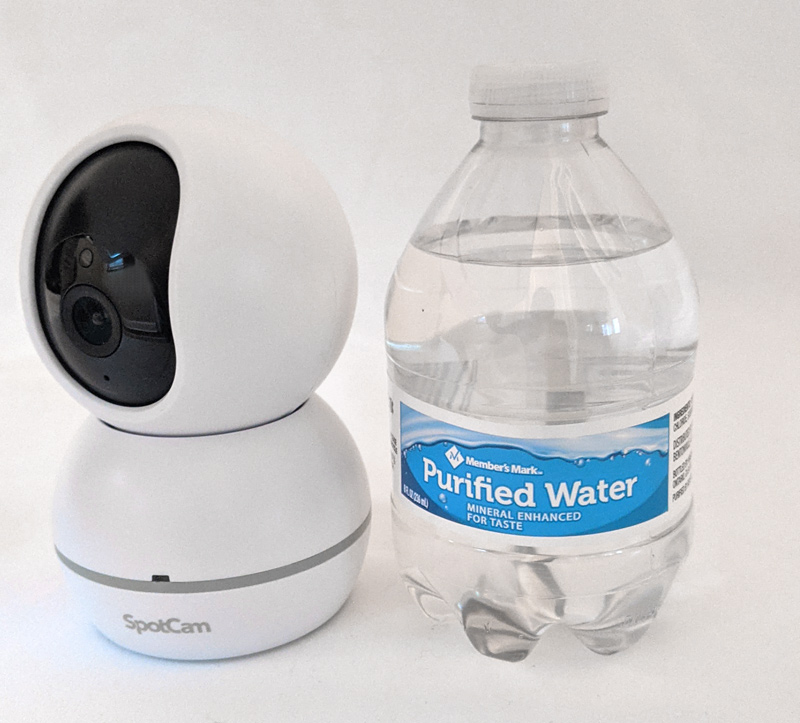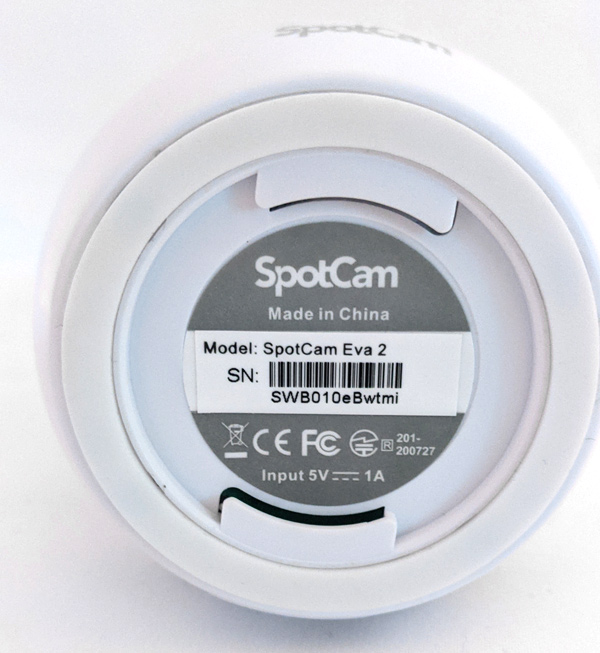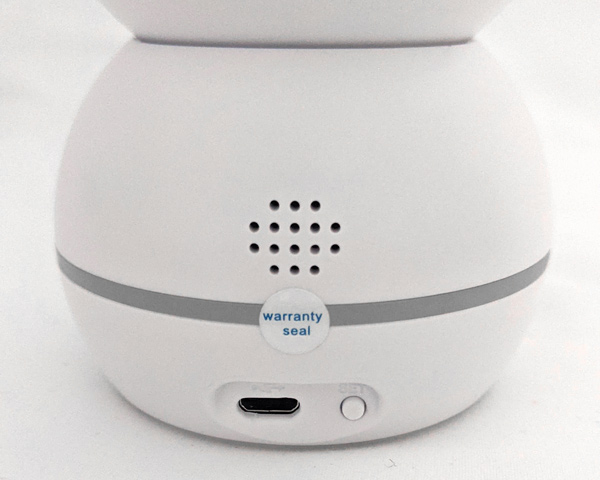 The size of the Eva 2 is best seen in the picture above, which shows that it is now shorter than a half-sized, 8 oz bottle of water.  So it is pretty small.  On the bottom, you will see the notches where you can connect it to the wall-mounting bracket if you decide to use that. On the front is the LED light which can give you an idea of the camera is off or lost its wifi connection. You can also turn it off, which I do, so that it doesn't draw attention to itself and blends in more with its surroundings.  On the back is the Micro-USB power port, and a button labeled as 'set', which you use during the setup process.  The camera on the Eva was a 720p resolution and the Eva 2 steps it up with 1080p. The place where you'll notice the difference here is when you zoom in on the LIVE image. It is a little clearer when you zoom in with the Eva 2. And videos that you may download from your recordings are going to be better quality.
Setup for the Eva 2 was easier this time than last time. I didn't have to flip switches on the camera, I just had to simply follow the steps in the SpotCam app to add the camera to my SpotCam account.  It was done in about 3 minutes.  This is also the time to voice my second complaint which is a bigger deal to me.  The Eva came with a power cord that was about 8 ft long. It was a piece of cake to put the camera pretty much anywhere I wanted because the 8 ft cord was able to reach the power outlet.  The Eva 2 came with a cord that is 3 ft 4 in long.  Seriously?  Ridiculous.  I had to use an extension cord to get to the power outlet. If anyone at SpotCam reads this, please change this. There, I feel better.
Can you spot the Eva 2?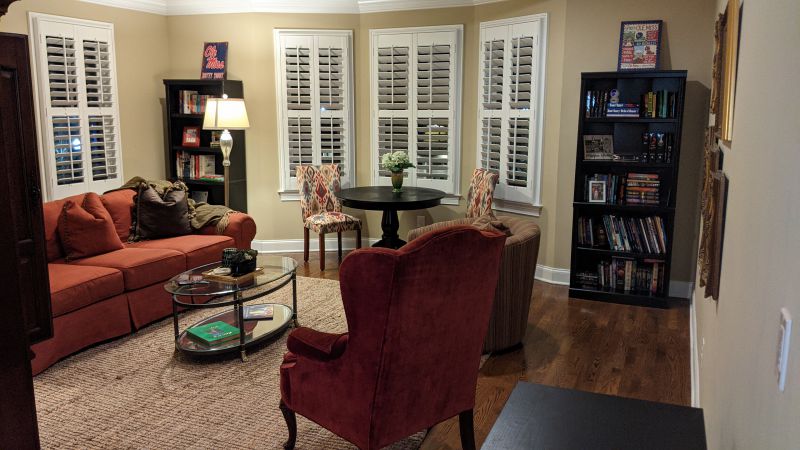 The pan/tilt capabilities of the Eva 2 are great. The viewing angle improves from 110 degrees on the original Eva to 130 degrees on the Eva 2. The pan allows you a 345-degree viewing capability and the tilt gives you 90 degrees of viewing capability, which is improved from 70 degrees on the original Eva.  Those were more than sufficient for me. The app is a particular standout here.  All your cameras are listed in the app and all the settings for each camera can be changed there. You can also go to the MySpotCam website to do this as well, but the app works well enough that I found I never go to the website myself.  Here are some screenshots of the website interface and the app interface…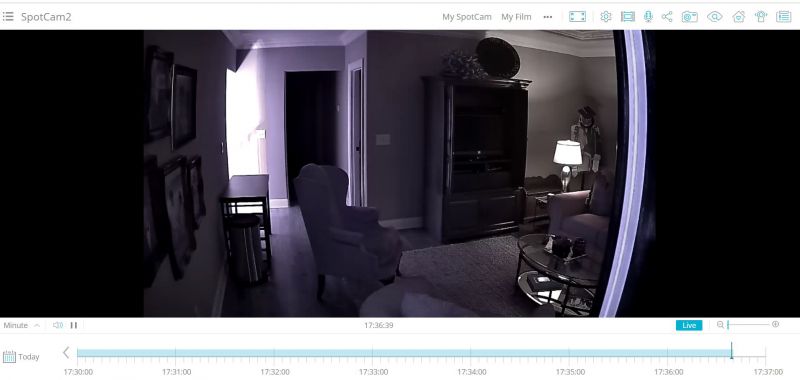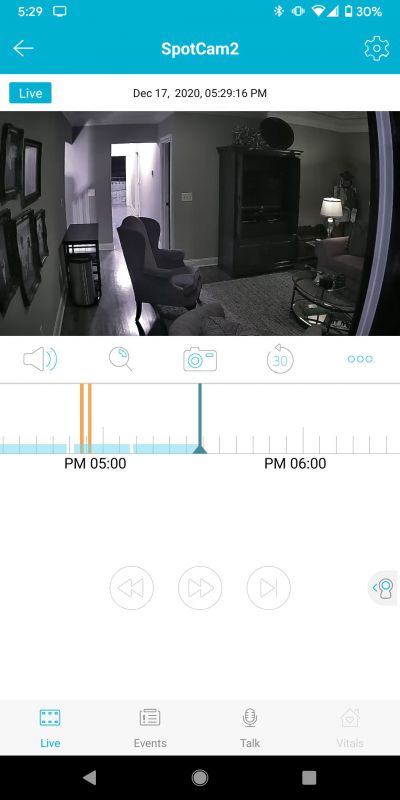 A wonderful feature that comes with the Eva 2 is the free 24-hr continuous recording stored in the cloud. This is wonderful because you can go back to any time in the past 24 hrs to see what happened in front of the camera. The app interface shows a ruler-type timeline below the camera image that you drag left and right with your finger to move back and forth through the past 24 hrs of recording. (see screenshot above)  It also puts colored markers on the timeline which are indicators that something happened… a loud noise, movement in front of the camera, etc, so you can scroll directly to the event without having to hunt and peck for it.  Very nice!  And if 24 hrs of recording aren't enough, you can pay a monthly fee to get more, from $4 a month for 3 days of recording to $20 a month for 30 days of recording.
Let me now just rattle off a quick list of some features of note.  It comes with Alexa/Google Assistant integration, so I added it to my Google Home app and was able to view the webcam feed on other devices in the house, like our Google Home in the kitchen. When looking at the LIVE feed of the camera you can press a button to talk through the camera to the people in the room, and of course, you can also listen in on what is going on in front of the camera. You can take snapshots of what you are looking at, and you also can download short video clips of an event that was captured by the camera so that you can share it with whoever needs to see it, like law enforcement. You can set up specific spots in the room that you want the camera to face and save those locations as a preset for 1 touch access.  For example, set a spot for 'front door' or 'kitchen' or 'couch'.  You can pan and tilt the camera simply by swiping your finger back and forth on the LIVE feed, as well as use 2 fingers to zoom into the image.
The Eva 2 has much more responsive and precise controls when you pan, tilt, and zoom.  This is another big improvement from the Eva to the Eva 2 because it is much more effortless and smooth.  You can set the camera to only record on a certain schedule if you want, and set it to go to sleep/wakeup on a specific schedule as well. You can also set it up so that if the camera detects movement, sounds, or human tracking that you get alerts and/or an audio siren alarm in the room.  I tested the siren, and it's loud. I also had to back off on the sensitivity of the detection because even shadows moving on the wall can set the detection off!  And of course, just like the Eva, the Eva 2 has night vision capabilities up to a distance of around 30 ft so you even see the image when the room is pitch black. Here is a screenshot of night vision in a dark room…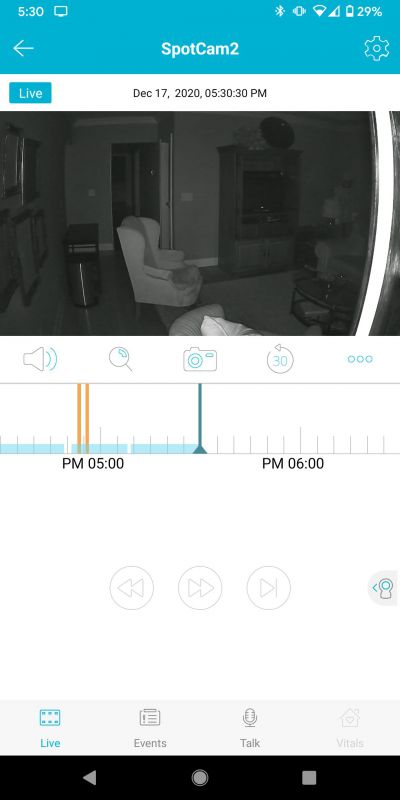 I'll mention a neat feature that the old Eva camera didn't have, and that is the ability to track a human moving around in the room so that the camera follows them where they go. You can turn this on or off, and in my testing, it worked pretty well. I walked all over the room and it followed me everywhere.  But to stress test this feature I ran across the room really fast several times, and the camera never moved.  So I suppose it has its limits.
Finally, I'll mention additional features that you can purchase for a monthly subscription fee, between $4 and $10 a month.  I did not purchase any of these, but it appears that lots of folks might be willing to pay for these features if there was a specific need, and I imagine this is where SpotCam is going to make some money.  You can set the Eva 2 to detect things like… faces, babies crying, pets, vehicles, people falling (like Sr citizens), and even missing objects. For example, if you specify a specific item like a TV, computer, vase, whatever, then the Eva 2 will watch it and if it is moved then you'll get notified.  Pretty cool.  There is even an option they call a "Virtual Fence" where you can draw an area on the image with your finger and if anything moves inside that area, you'll get notified.
What I like
Easy setup
Great app
Loads of customizable features
24-hr free cloud storage for life
What I would change
Pitiful short power cord
White color makes it stand out like a sore thumb
Final thoughts
With the Alexa/Google Assistant integration, the 24 hr free cloud storage for HD video, pan and tilt capabilities, the human tracking feature, great smartphone app, and ease of installation at a price that is very affordable, I don't see why you wouldn't want the SpotCam Eva 2.  Especially if you are already in the SpotCam family. This webcam is a solid choice for your home. Just make sure you get an extension cord. 🙂
Price: $49.99
Where to buy: Buy here on Amazon or their website here.
Source: The sample of this product was provided by SpotCam.