We use affiliate links. If you buy something through the links on this page, we may earn a commission at no cost to you. Learn more.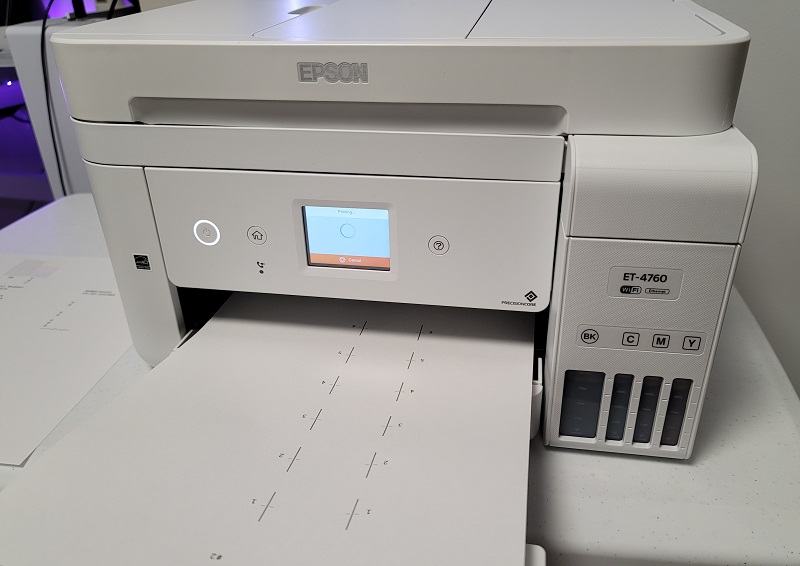 REVIEW – A lot of things have changed this year, not least of all being a huge portion of the workforce going remote (myself and spouse included).  Many of us previously had access to $1000+ office printers but are now using cheap ones at home which may not be up to commercial office standards. The Epson EcoTank ET-4760 All-in-One Cartridge-Free Supertank printer could be the answer for many of us searching for a printer upgrade this year if it can offer more than just massive ink bottles and storage.  I put the printer through hundreds of prints and scans and it held up well for the most part.
What is it?
The Epson EcoTank ET-4760 All-in-One Cartridge-Free Supertank printer is an intriguing entry as a commercial quality all-in-one printer/scanner/fax with marathon ink capabilities (and very low ink prices compared to competitors and even Epson's previous printer models).
What's in the box?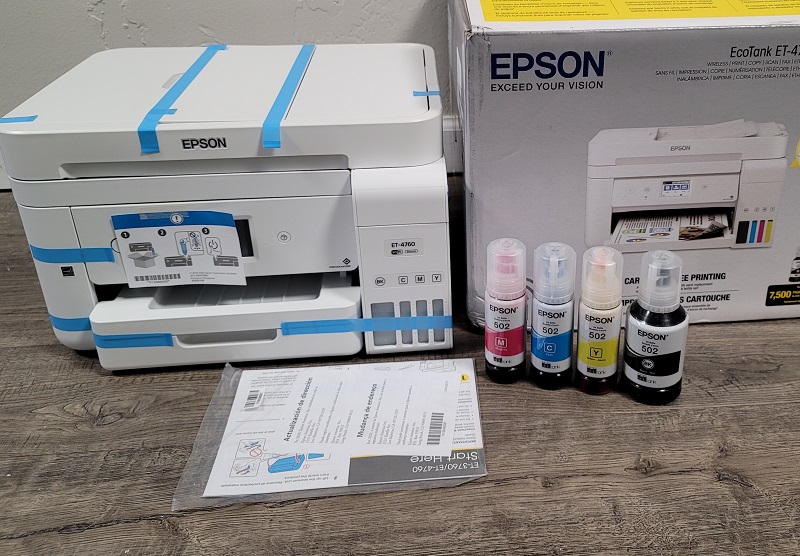 Included in the box is the Epson EcoTank ET-4760 All-in-One Cartridge-Free Supertank printer, a "2 year supply" of ink (your mileage will obviously vary depending on how much you print).
Hardware specs
Printing Technology: 4-color (CMYK), drop-on demand MicroPiezo® inkjet technology/PrecisionCore 1S printhead
Print Resolution: up to 4800 x 1200 dpi
Print speed: 15 ISO ppm (black), 8 ISO ppm (color)
2-sided print speed: 6.5 ISO ppm (black), 4.5 ISO ppm (color)
Minimum ink droplet size: as small as 3.3 picoliters
Ink yields (included and replacements): 7,500 Black, 6,000 Cyan/Magenta/Yellow
Operating Systems Supported: Windows® 10, Windows 8, 8.1 (32-bit, 64-bit), Windows 7 (32-bit, 64-bit), Mac® OS X® 10.6 – macOS® 10.13.x, Windows Server® 2003 – Windows Server 2016
Sound Level: 52 dB(A)
Dimensions Extended (trays out): 16.4″ x 19.8″ x 10″
Dimensions Storage: 14.8″ x 13.7″ x 9.1″
Weight: 15.0 lb
Warranty: 2 year limited warranty (2nd year requires product registration)
Design and features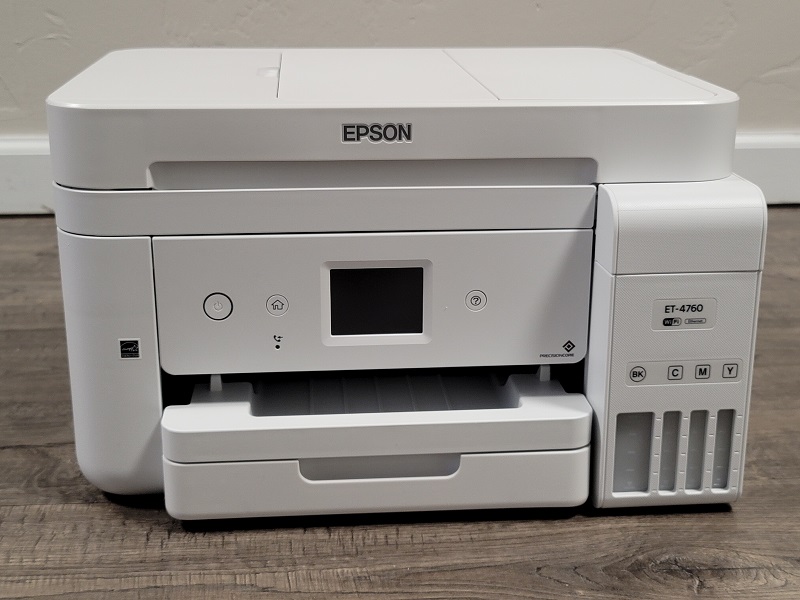 The design and layout of the Epson EcoTank ET-4760 All-in-One Cartridge-Free Supertank printer is familiar to anyone who has used a home or office all-in-one printer/scanner/fax machine in the last few decades.  There are a few features that set it apart from most, but overall it's what you'd expect.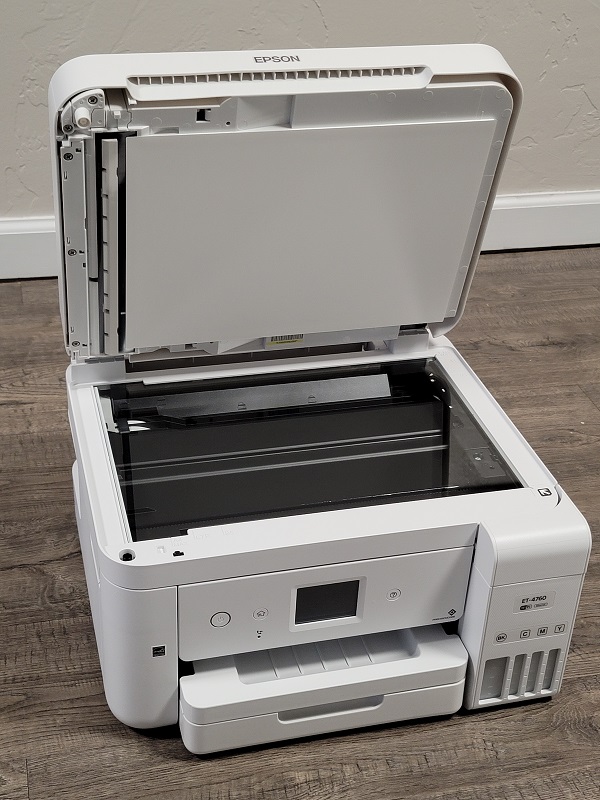 Lifting up the top we have the large flatbed scanner, which offers high-quality scanning capabilities for anything that fits on the bed.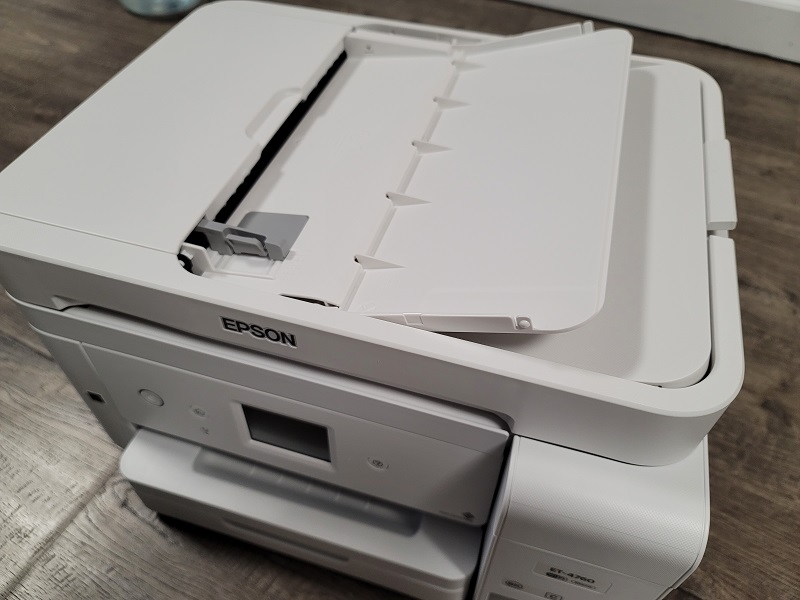 And above that is a flip-out automatic document feeder.  This allows you to set a stack of papers to be scanned in a batch.  In my testing, it did well with flat crisp papers, but often double-fed papers that had been creased (like bills with multiple pages creased from mailing), which results in some pages not being scanned.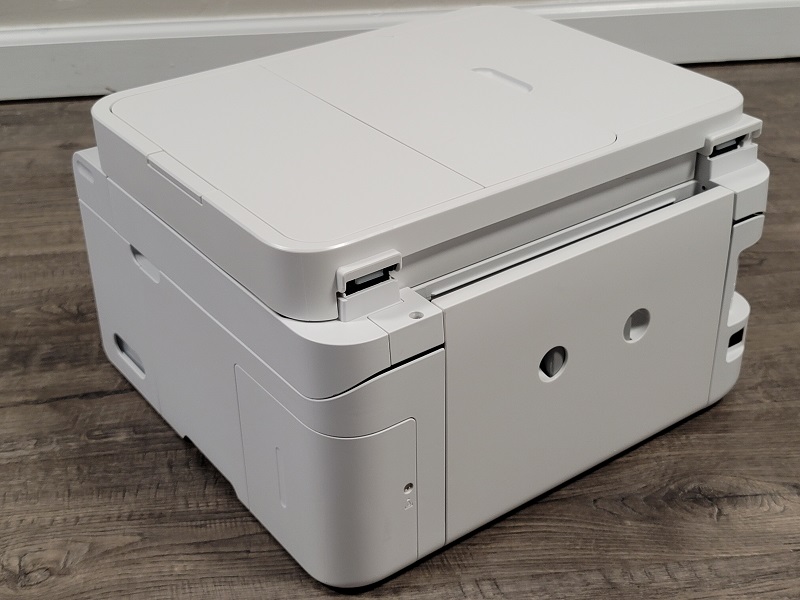 The backside is fairly empty besides a large easy-open access compartment for paper jams, which I did have to use several times in my testing.  It is very easy to remove and jammed papers are easily accessed and removed.  However, I did have more jams using standard printer paper than I would have expected (3 out of ~200 prints).  I can't remember the last time my previous printer jammed with the same paper, I don't think it's happened more than once or twice previously.  Although the paper jams were easy to resolve, it can be annoying to have to reprint and unjam.  All of the paper jams occurred with double-sided printing.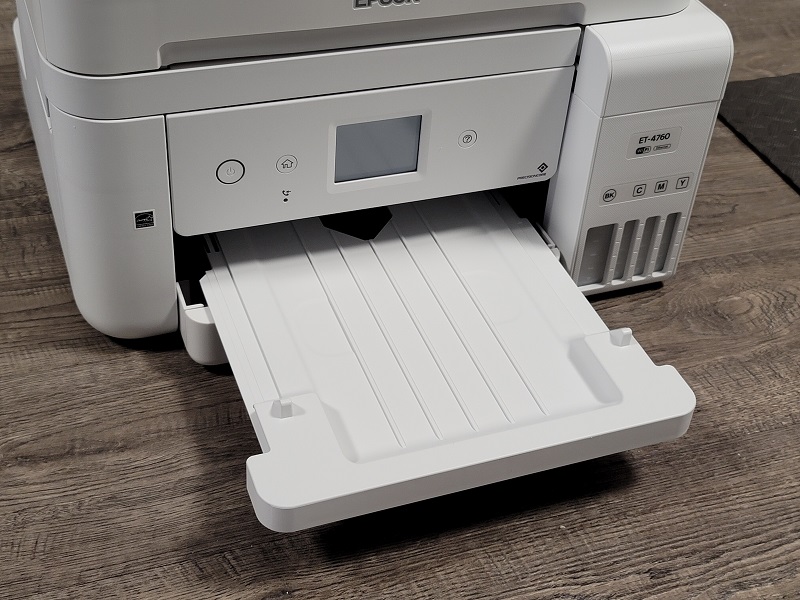 The output tray pulls out and grabs printed documents.  If you forget this, they spill out onto the floor/counter.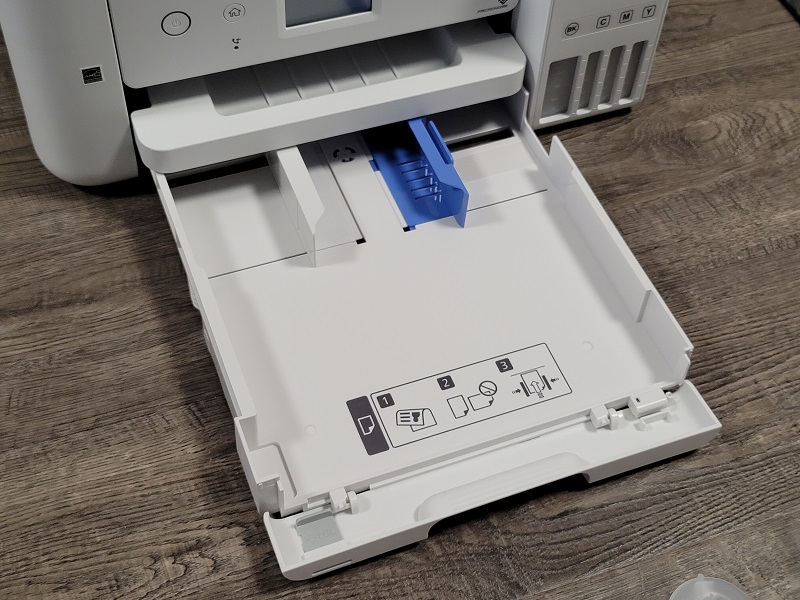 The paper tray is a single tray affair, but easily adjustable for a wide variety of sizes.  I tested mostly letter size 8.5 x 11 (printer paper and cardstock) and 4 x 6 photo prints.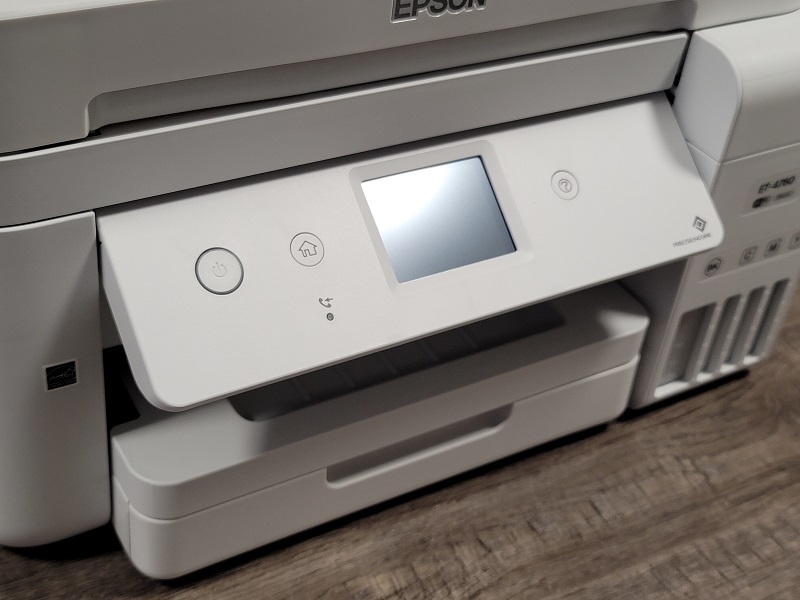 The screen's angle can be adjusted or kept flat against the printer.  I appreciated this, bright lights in my office make for a nice glare on many electronics.
Installation and setup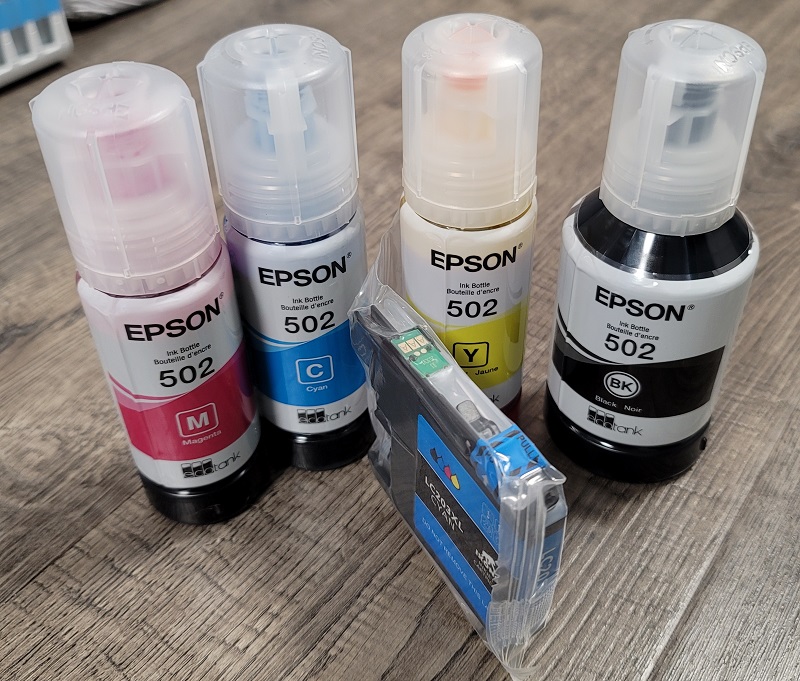 The Quick Start guide and labels on the printer itself are easy to follow for loading the ink.  These included bottles are huge compared to my previous printer's cartridges.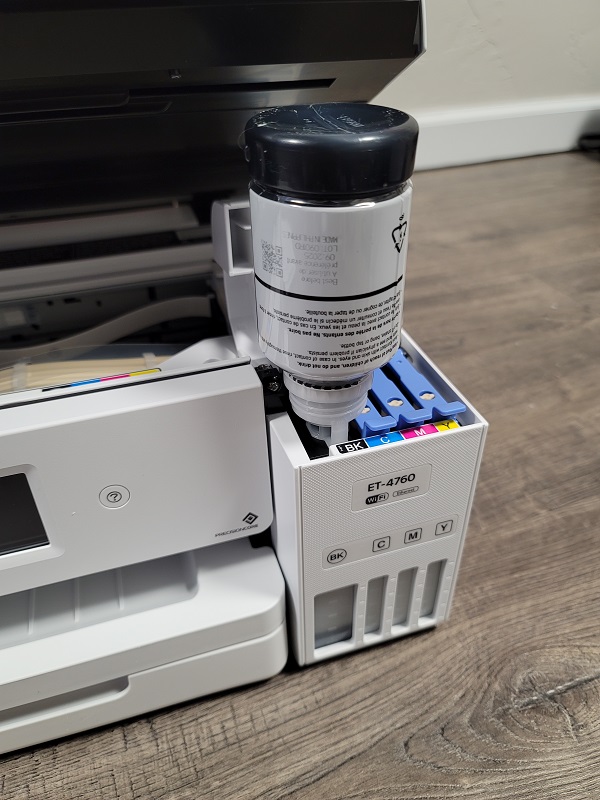 I had to lift the top of the printer, open the ink compartment cover, and then simply insert the ink bottle.  A few minutes later the entire contents of the bottle have drained into the printer's tank (levels are visible on the front of the printer).  Each bottle fully filled the tanks, with no leftovers.  If you did refill before they are empty, the bottles can be removed and sealed for storage (clever valves prevent spills between fillings).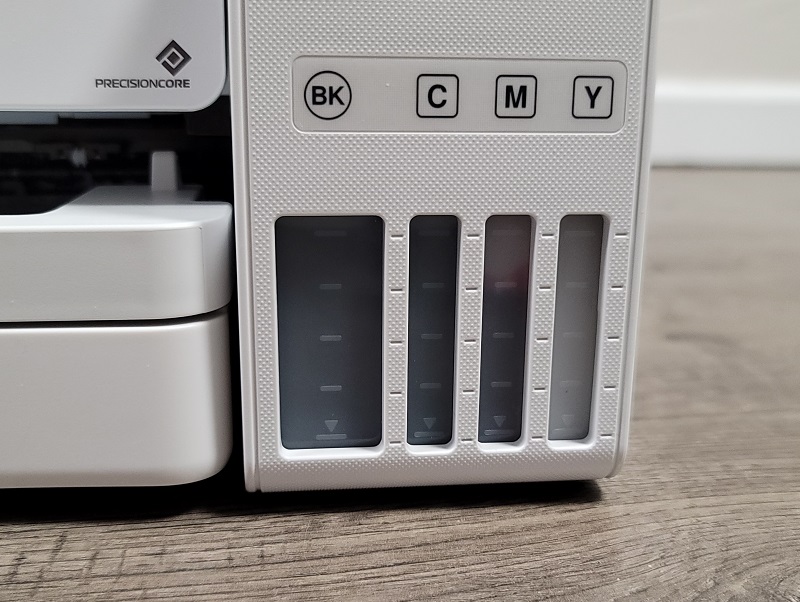 A better view of the ink levels mid-filling.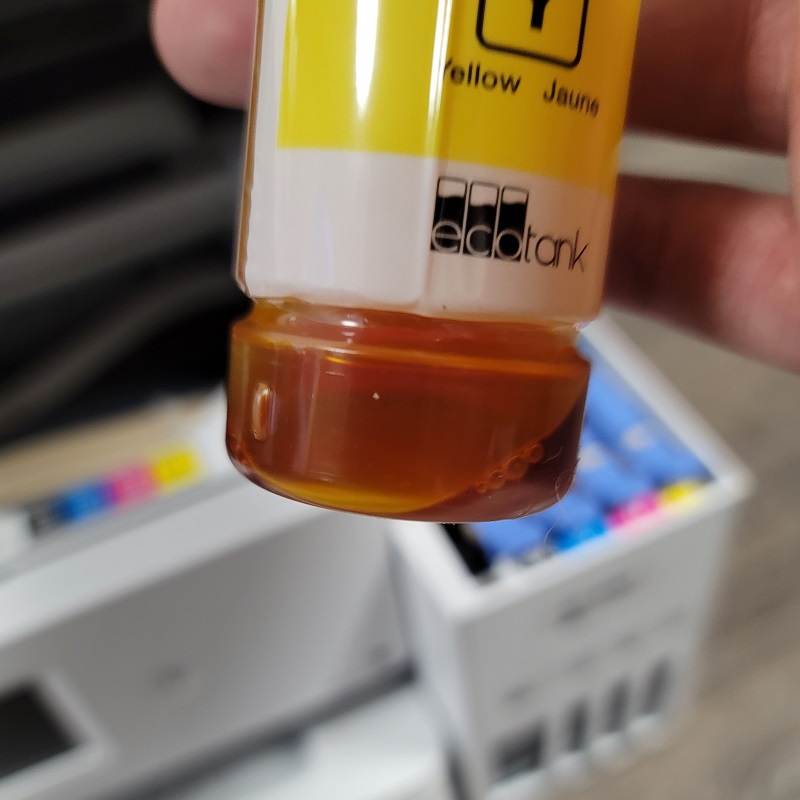 The bottles were each empty after filling, and the printer tanks full.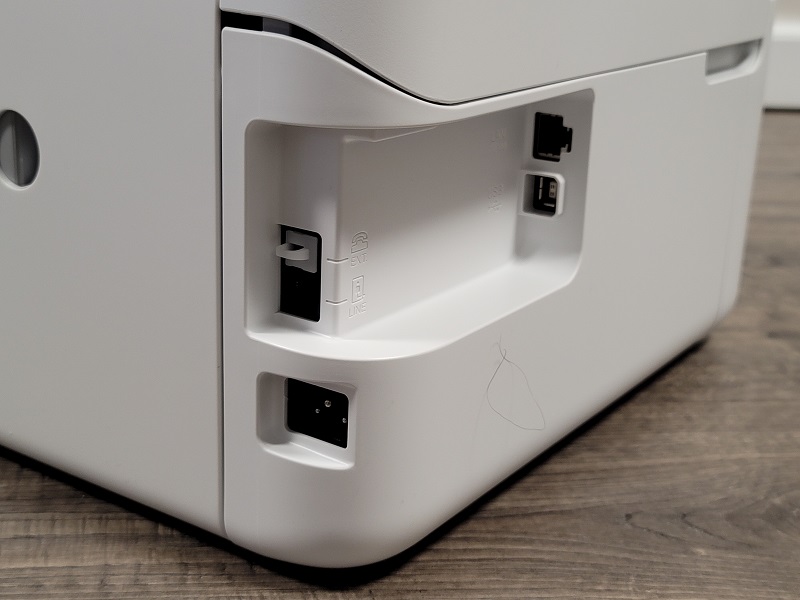 After ink filling, I installed the various cables (in my case ethernet and power, I used WiFi for connectivity and didn't use the fax function at all (no phone/fax line at my house).  It has wireless/wired network connectivity as well as a direct USB connection.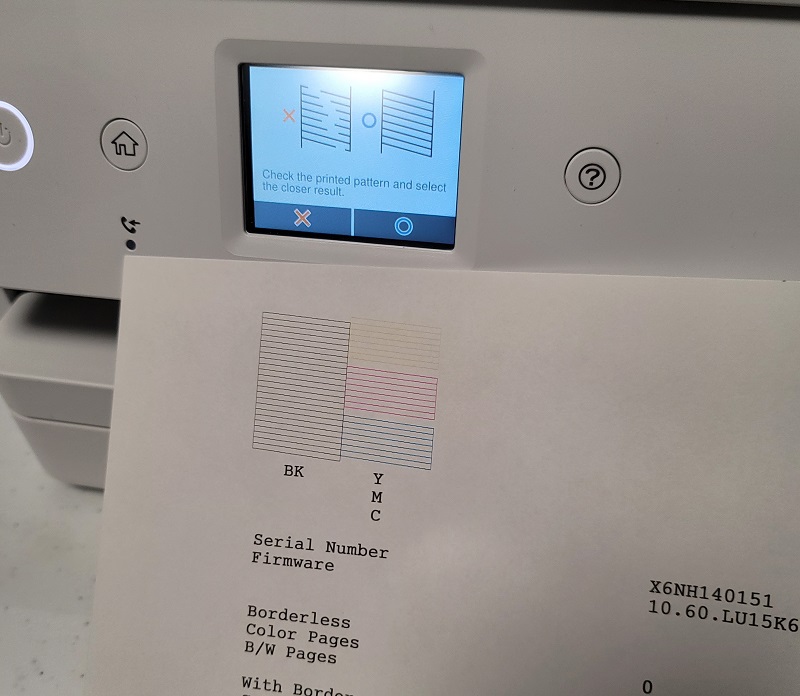 Upon powering up the first time, the printer walked me through steps to initialize and then print out calibration pages.  These were easy to follow and only took about 10 minutes total.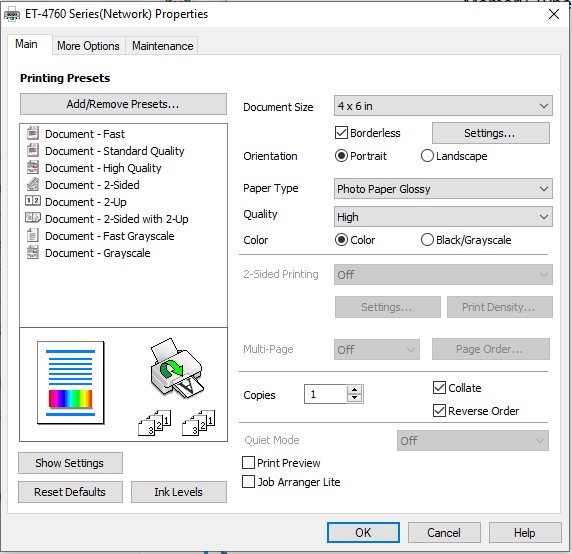 Setup was easy on Windows, and the software is full-featured on both Windows and Macintosh.  I was able to find every setting I would want for various print/scan options without fuss.  The printer/scanner was a breeze to use even for someone who sometimes struggles with user interfaces.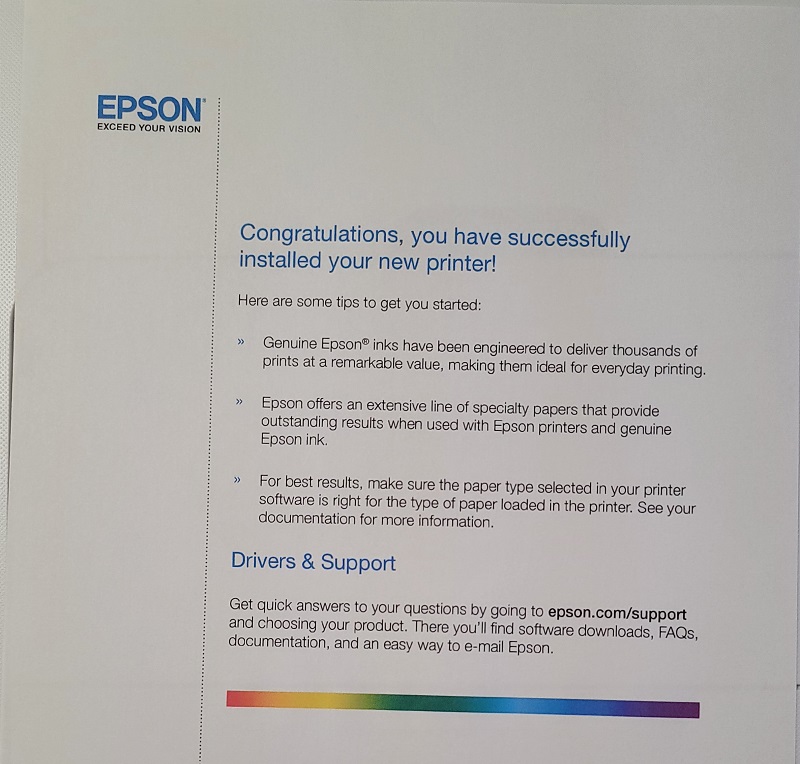 Print quality was excellent in both black and white and color.  I printed out several hundred pages over the test cycle to verify print speeds, quality, and various settings, and the ink levels didn't budge at all.  It seems like the included ink will definitely last years at my usual usage levels, and you can select higher quality settings for some of the best prints I've seen from a printer outside an office or commercial print center.  Photos looked like they were from a photo service.  Scans were very crisp and clear (but I haven't had issues with scanner quality since around Y2k).  Finally, the speed of printing is extremely fast if you select the fast-print-lower-quality settings.  I could see this being our home's main printer for 10+ years, which I love.
What I like
Print quality and speed
Ink value
Decent software
Focus on longevity instead of disposability
What I'd change
Final thoughts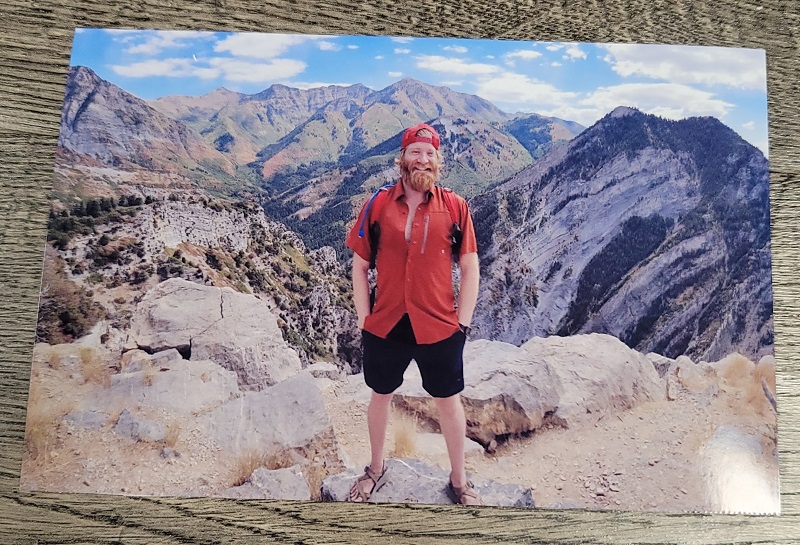 If you're looking for a printer that truly does it all, then look no further.  It's not the cheapest option out there, but if you factor in ink cost it may be a huge step above many other printers that cost less upfront. I was overall quite pleased with my review period, Epson seems to have put out a quality product that finally bucks the industry trend of disposability and waste.
Price: $499.99
Where to buy: Epson and Amazon
Source: The sample for this review was provided by Epson