We use affiliate links. If you buy something through the links on this page, we may earn a commission at no cost to you. Learn more.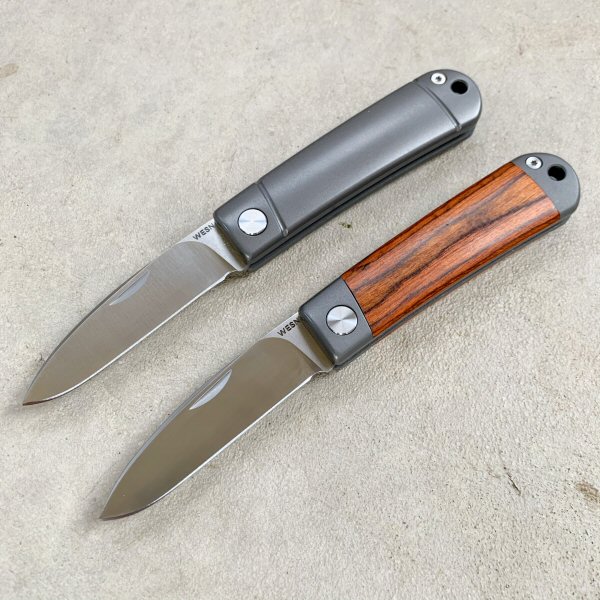 REVIEW – We've covered several knives from WESN here at The Gadgeteer, and I've been impressed with the ones I've reviewed.  Because of that, I was excited to review the WESN Henry, a modern take on a classic folding-blade pocketknife.  Let's take a look.
What is it?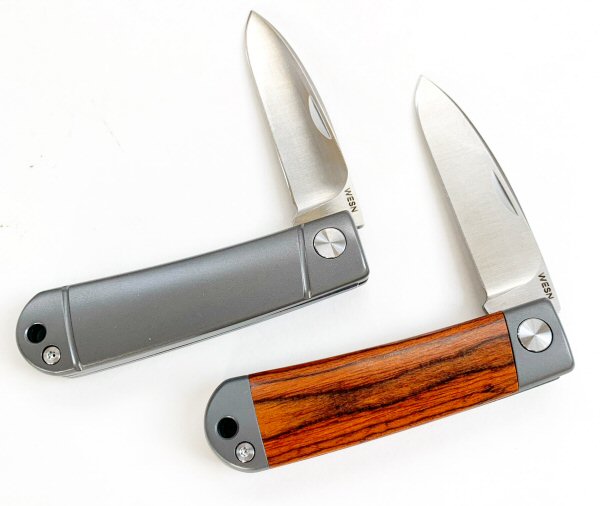 The WESN Henry is a classic style, folding-blade knife with a slipjoint opening mechanism, high-quality with a steel blade, a Titanium body, two handle material options, and a lanyard hole.
Hardware specs
Handle material options =

Grade 5 all-Titanium version
Grade 5 Titanium scales with Cherrywood inlays

Blade material = Sandvik 14c28n Swedish steel
Blade shape = Spear point
Blade mechanics = Slipjoint
Keychain/lanyard hole
Weight = 1.6 oz
Length closed = 3in (7.6 cm)
Overall length open = 5.35 in (13.6 cm)
Blade length =2.35 in (6 cm)
Width = 0.875 in (2.2 cm)
Thickness = 0.375 in (1 cm)
Warranty = Lifetime
Location of manufacture = China
What's in the box?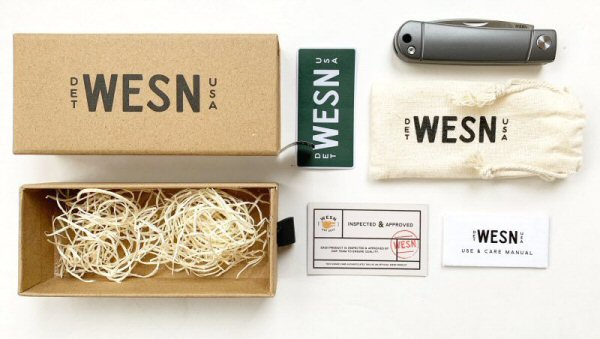 Henry's packaging is a WESN-branded cardboard box with top and bottom halves and some type of shredded twine or rope as its packing material.  You could either use the box to store the knife or simply recycle the box.
Inside the box were the items shown above and listed below:
WESN Henry knife
Cloth drawstring storage pouch
Use & Care Manual
WESN sticker
Inspection card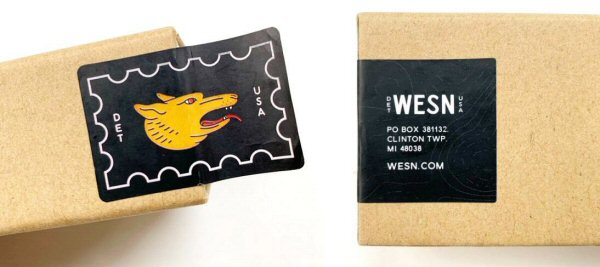 A note with regard to the location of manufacture of WESN's products.  After posting my last WESN knife review, one of our readers inquired as to where WESN's knives are made.  I asked WESN this question and they responded that, while their knives are designed in Detroit, MI, USA, they are manufactured in China, which is not indicated on their products.
Design and features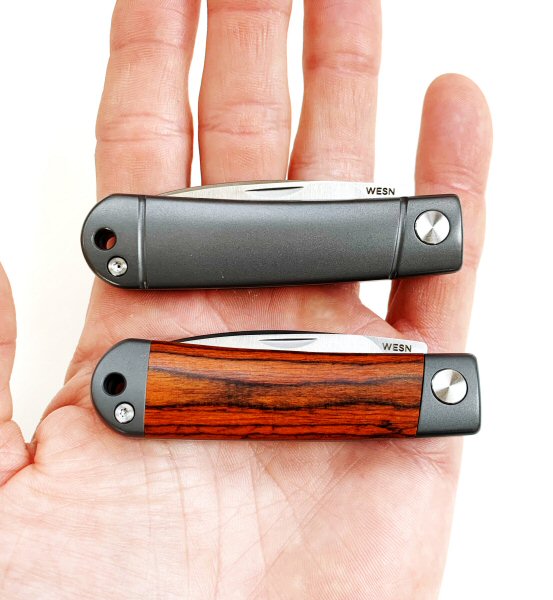 Because I had been quite impressed with both the WESN Allman knife and the WESN Microblade 2.0 knife, I had similar expectations for the WESN Henry, and once again my first impressions did not disappoint.  Both the solid Grade 5 all-Titanium and the Cherry Wood inlay version have a solid heft for their size at 1.6 ounces, and the uniform gray coating of their Titanium parts are pleasant to both see and touch, and also virtually eliminate fingerprints.  I'd note that Grade 5 Titanium, Ti 6Al-4V is known as the "workhorse" of Ti alloys.  It the most commonly used Ti alloy, accounting for over 50% of total Ti usage worldwide for its high strength, light weight, useful formability, and high corrosion resistance [see supralloys.com for reference].  Additionally, the Cherry Wood used in the inlays is smooth and looks rich and elegant, like a timeless classic knife style.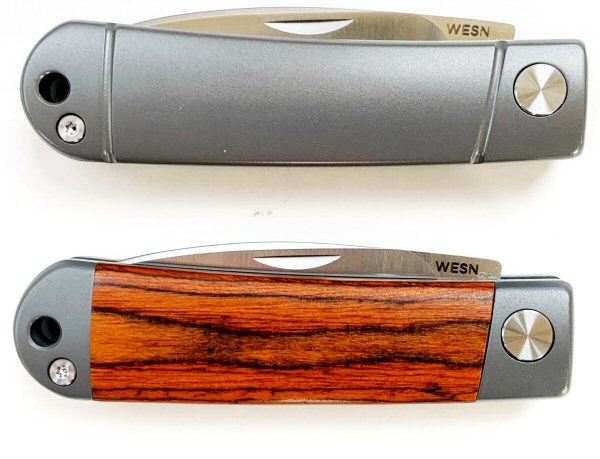 While the all-Titanium version has a more modern, minimalist style, the Cherry Wood inlay version has a very classic, timeless, traditional look and feel.  The Cherry Wood is rich in color and has been sanded smooth with just a light matte finish.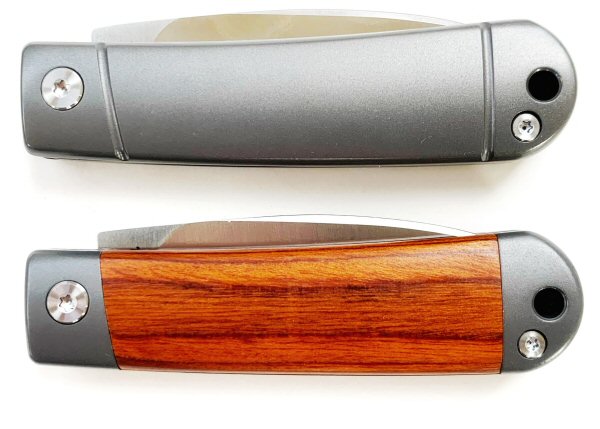 Henry has a closed length of 3 inches (7.6 cm), with its width being 0.875 in (2.2 cm).  I think this is a good size for those of us who either don't prefer to carry a larger knife in their EDC kit, or can't for reasons of practicality.  Yet Henry is still large enough to not feel too small when using it.  This aligns well with my personal EDC needs.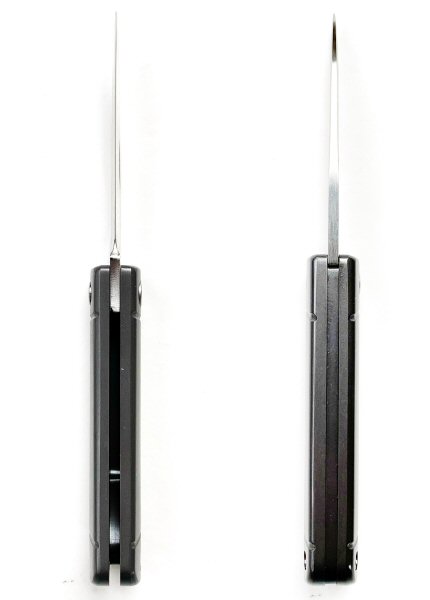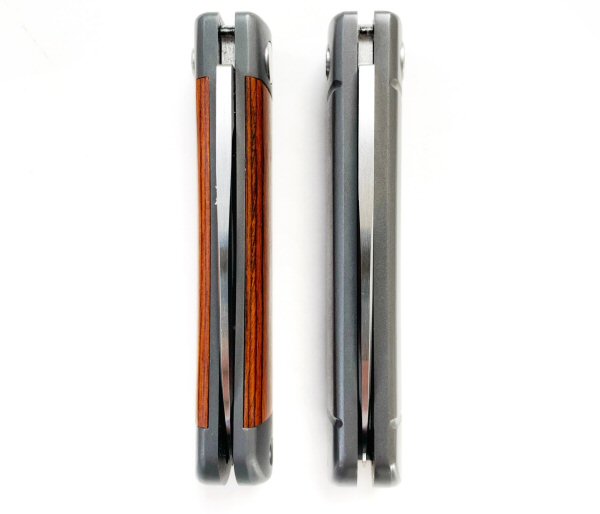 Henry is only 0.375 inches (1 cm) thick, which when combined with its rounded corners and edges helps make it a great size and shape for pocket carry.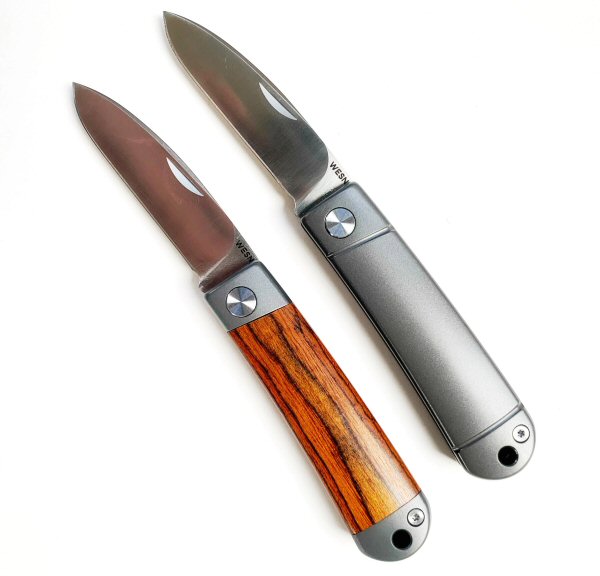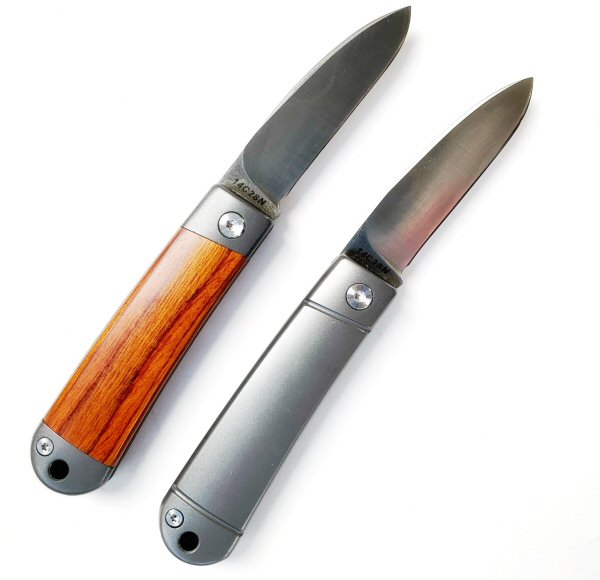 Henry is has a blade length of 2.35 inches (6 cm), with an overall open length of 5.35 inches (13.6 cm), which again lends itself to being a practical and effective overall size as a compact EDC knife.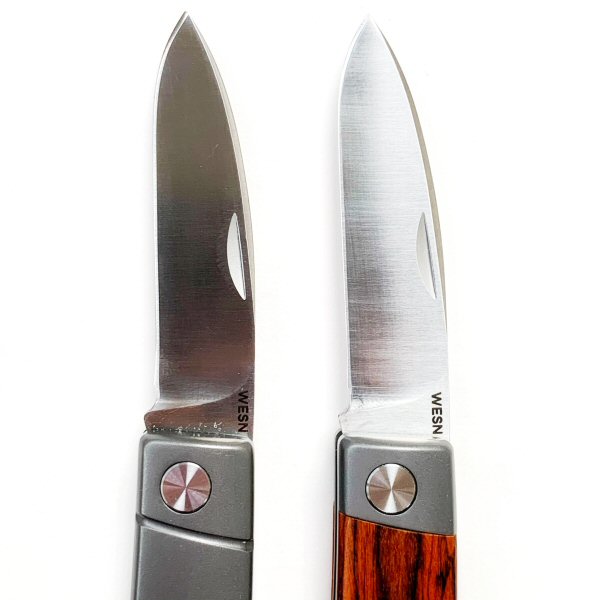 Henry's blade is made from Sandvik 14C28N, the latest development in knife steels produced by Swedish maker Sandvik, which is designed to have excellent edge performance, high hardness, and good corrosion resistance.  Also, Henry's blade shape is a spear point design, which gives a relatively good, sharp tip that can be useful in situations that may require a bit of precision, with a good balance between piercing and slicing.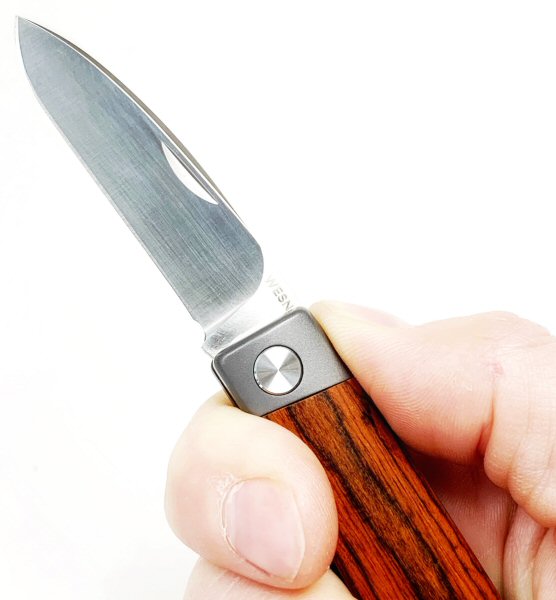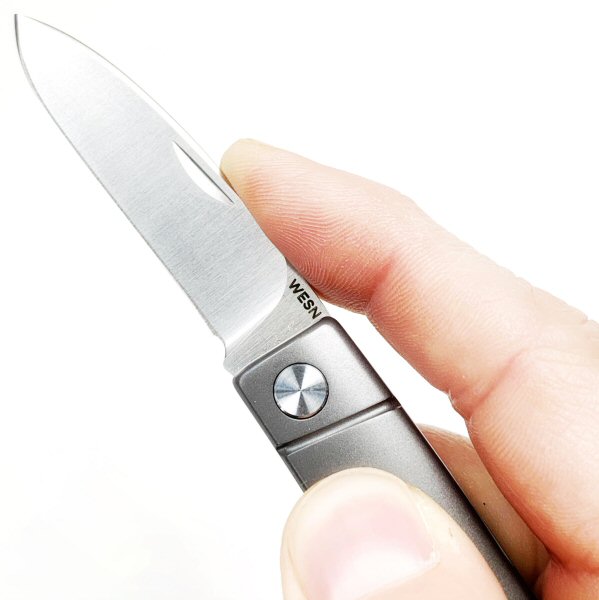 Henry is unique to any of the other knives I've yet reviewed here at The Gadgeteer in that it does not utilize a "flipper" style or any type of rapid-opening mechanism. In fact, Henry's was designed to be a modern take on the traditional, classic, slipjoint manual blade opening.  The blade is held in place via a strong "backspring" which biases the blade toward the fully opened and fully closed positions.  Simply place a thumbnail into the small slit in the blade edge, pull to pivot the blade open, and it is held in place once fully extended.
This simple slipjoint opening and overall style, especially of the Cherry Wood inlay version, evoked nostalgia in me, as Henry reminds me of the small pocketknife that my grandfather carried in his pocket for many years while I was growing up, well before any of today's many clever yet somewhat gimmicky opening mechanisms were even conceptualized.  Even its name, "Henry," evokes a sense of a mature elder gentleman, wise in the ways of the world and in practical preparedness.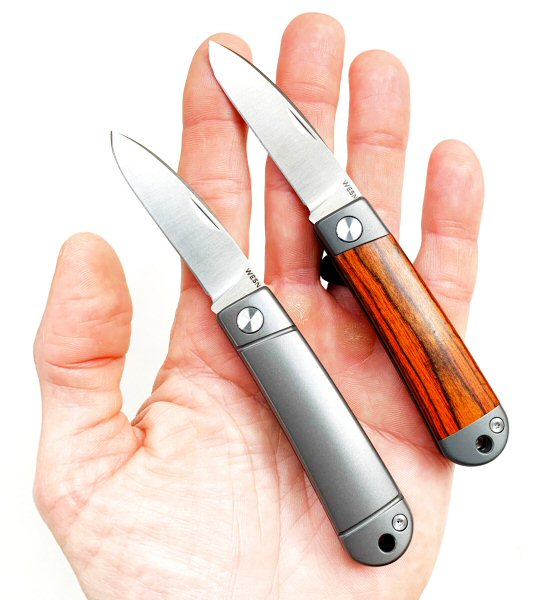 Henry's handle has a very slight contour from top to bottom that gives it a very subtle advantage while gripping it in your palm, especially helpful considering that it is a smaller knife.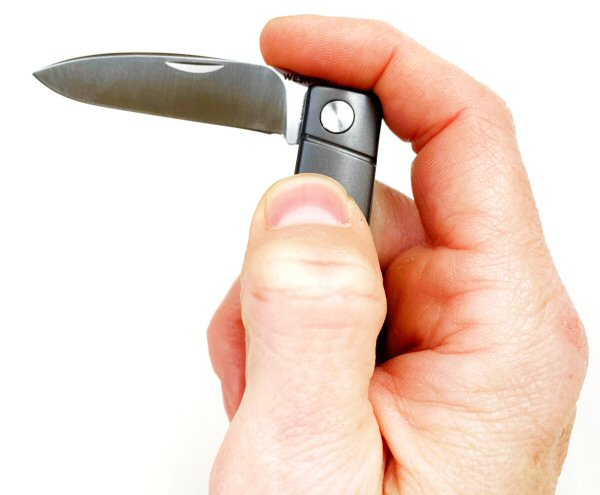 Henry's blade is closed by simply pressing on the back of the blade to begin pivoting it.  The slipjoint mechanism has a "neutral" point at about ninety degrees in which it partially locks in place, and additional force is required to completely close the blade.  This midpoint semi-lock can feel a bit tricky at first as if you're going to chop your finger with it, but it doesn't take long to get the feel of it.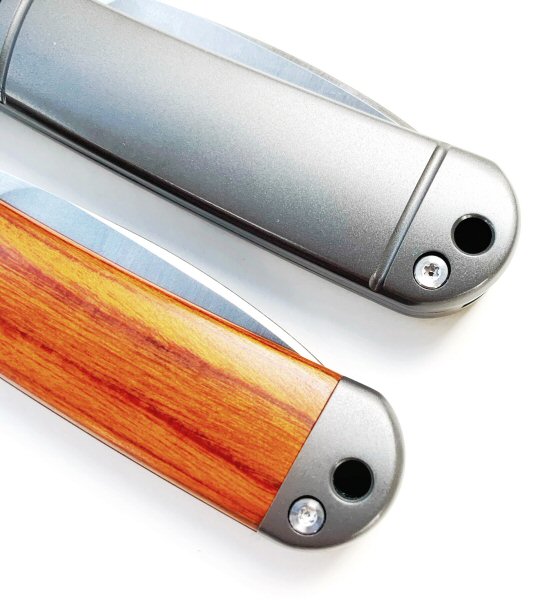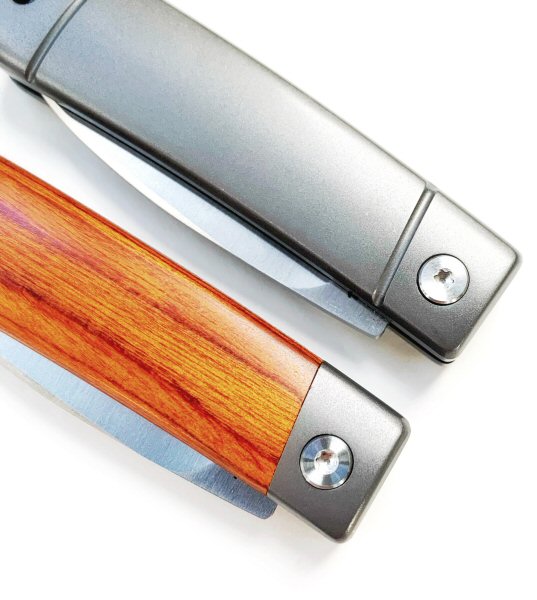 Henry utilizes tiny stainless steel Torx (also called Star) head screws to secure its frame together.  While Torx drivers are not particularly easy to find, they are available, and if you had to disassemble Henry, it could probably be done relatively easily with the correct driver tip.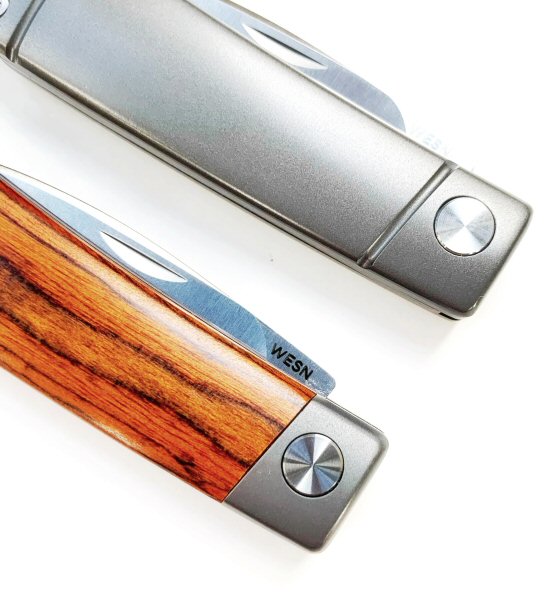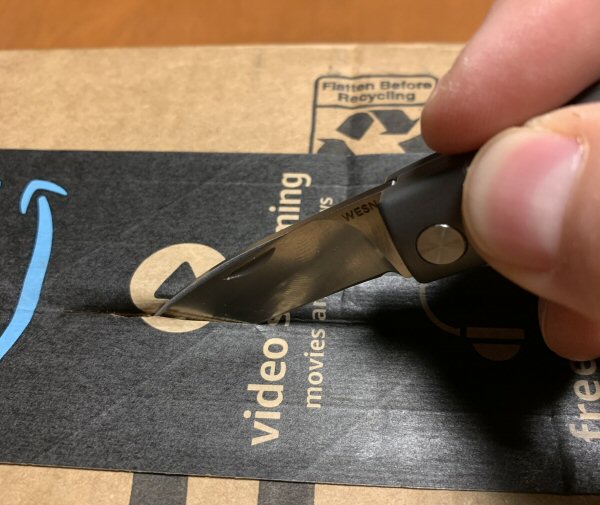 Henry's blade was quite sharp right out of the package.  For relatively easy tasks, like cutting into a box, which is quite typical of my EDC tasks, Henry was handy and quick to use.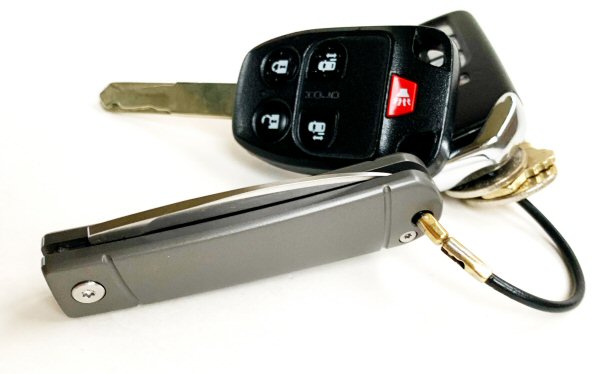 One of the features built into WESN Henry is a hole that can be used for a lanyard or keychain, as shown above.  I carried Henry on my keychain for a while, but I actually preferred simply drop it into my pocket.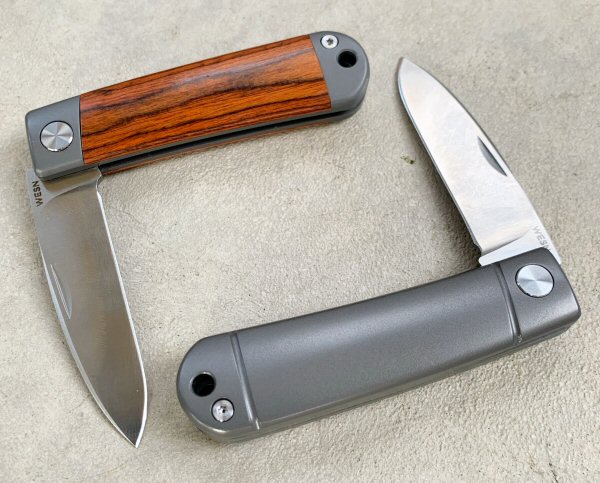 What I like
High-quality materials and construction in a classic style
Larger knife functionality in a small, compact size
Practical size for those who can't EDC a larger knife
Classic style slipjoint opening mechanism is simple yet solid
What needs to be improved
Final thoughts
As with the WESN knives that I previously reviewed, I really like Henry.  It has a very solid look and feel, due to its thoughtful design, high-quality materials, like Titanium and Cherry Wood, and careful construction. Its Sandvik 14C28 steel blade is sharp and durable, and its classically-styled slipjoint opening mechanism operates simply and feels very smooth and solid when locked open.  Because of its compactness and smooth-edge shape, it is a great size for EDC fans like me who can't practically carry a larger knife in their daily kit.  For its price, the WESN Henry is worth a look for anyone looking for a small, traditionally-styled, high-quality folding knife for minimalist EDC needs.
Price: Cherry Wood version $115, All-Titanium version $135
Where to buy:  WESN.com
Source: The sample of this product was provided by WESN.com.