We use affiliate links. If you buy something through the links on this page, we may earn a commission at no cost to you. Learn more.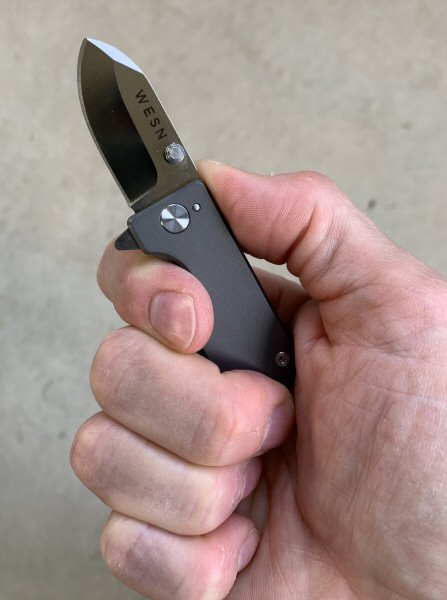 REVIEW – Everyone has their own EDC kit needs, and while it's nearly unanimously agreed that every EDC kit needs a knife (or at least something with a blade), a large knife isn't always necessary or feasible for everyone's daily needs.  For those folks, the WESN Microblade 2.0 might fit the bill.  This tiny-but-mighty folding knife is small enough for pocket or keychain carry but has features typically found on full-sized knives.  Let's take a look.
What is it?
The WESN Microblade 2.0 is a reissued version of the original Microblade mini knife with updated steel blade material.  It includes a flipper blade, frame lock, pocket clip, and keychain hole.
Hardware specs
Options =

Black
Titanium
Blacked Out
OD Green

Blade = D2 tool grade steel
Ceramic roller bearing pivot
Flipper for fast deployment
Frame lock
Pocket clip
Ergonomically-contoured grip with finger notch
Keychain/lanyard hole
Weight = 1 oz
Length closed = 2.25 in (57 mm)
Overall length open = 3.75 in (95 mm)
Blade length =1.5 in (38 mm)
Width = 0.82 in (20.6 mm)
Location of manufacture = China
What's in the box?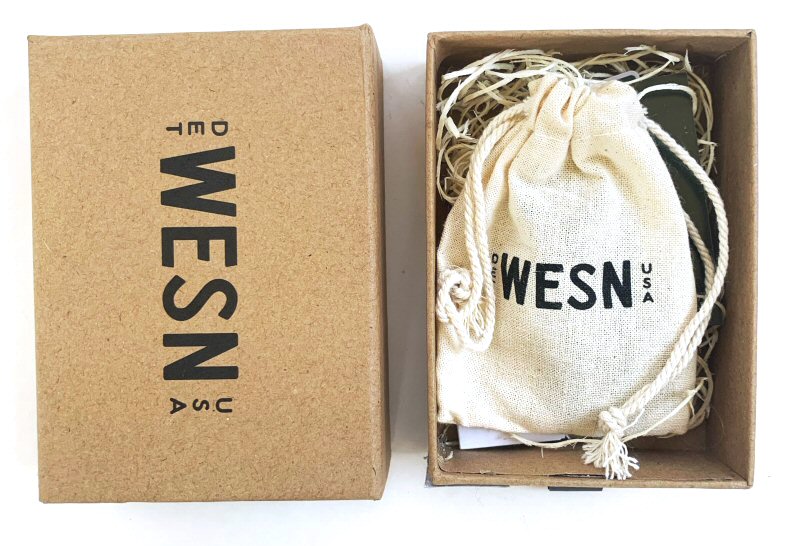 The packaging is a WESN-branded cardboard box with top and bottom halves and some type of shredded twine or rope as its packing material.  You could either use the box to store the knife or simply recycle the box.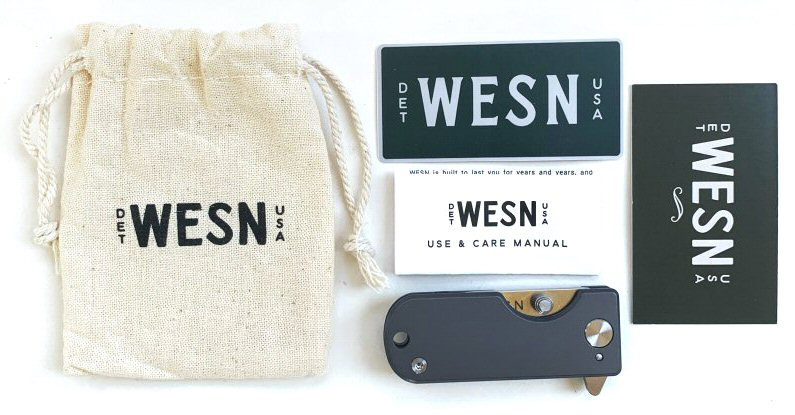 Inside the box were the items shown above and listed below:
WESN Microblade 2.0 knife
Cloth drawstring storage pouch
Use & Care Manual
WESN sticker
Inspection card
Design and features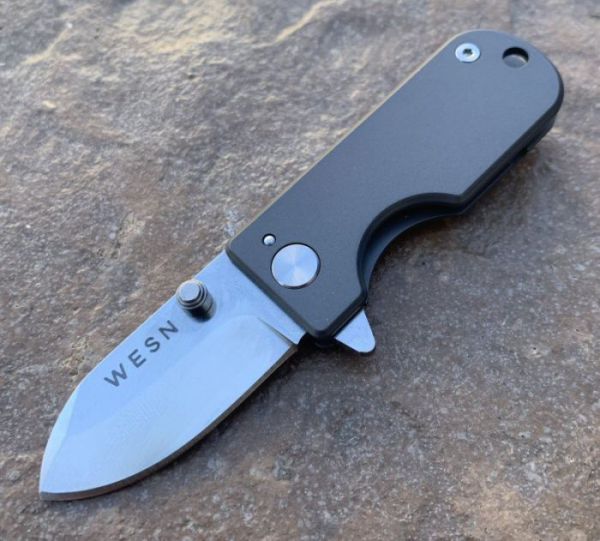 Because I had been quite impressed with the WESN Allman knife, I had similar expectations for the WESN Microblade 2.0, and my first impressions of it did not disappoint.  In fact, their overall shape and styling are similar enough that the Allman could almost be the Microblade 2.0's larger sibling.  The Microblade 2.o's titanium-coated stainless steel frame and pocket clip give the knife a high-quality look and feel.  Of course, I immediately felt the need to play around with it a bit.  The Microblade 2.0's flipper-action blade deployed smoothly, and its frame lock felt solid but was fairly easy to unlock.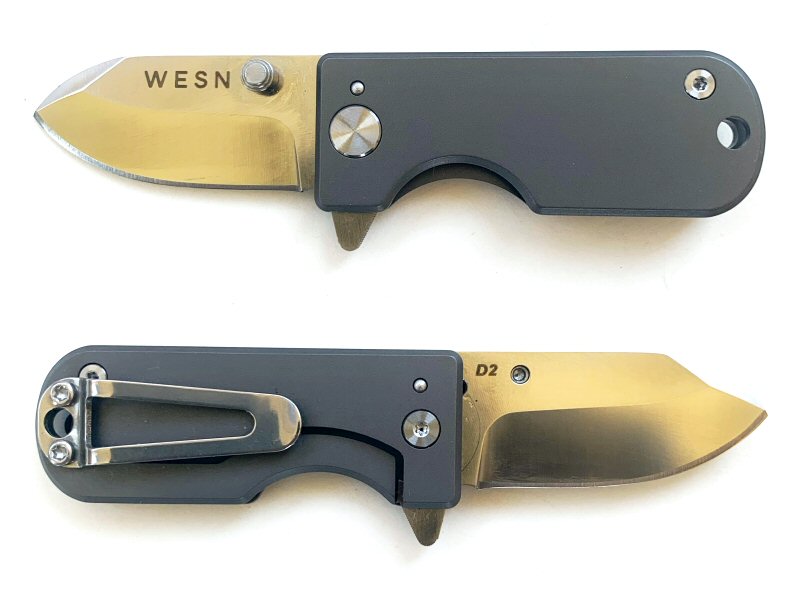 The version of the WESN Microblade 2.0 reviewed here has a titanium-coated frame which is grey in color with a matte finish, which gives it an appealing look and feel and also helps hide fingerprints.  It also features a polished, silver-color pocket clip that appears to be made from stainless steel (which does not hide fingerprints well).  More on the pocket clip below.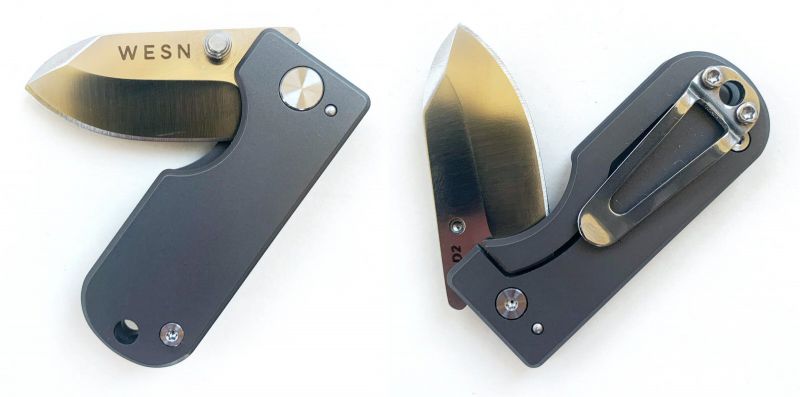 The Microblade 2.0 is has a relatively short, wide shape overall, in both its handle as well as its blade, both of which I'll explore in more detail below.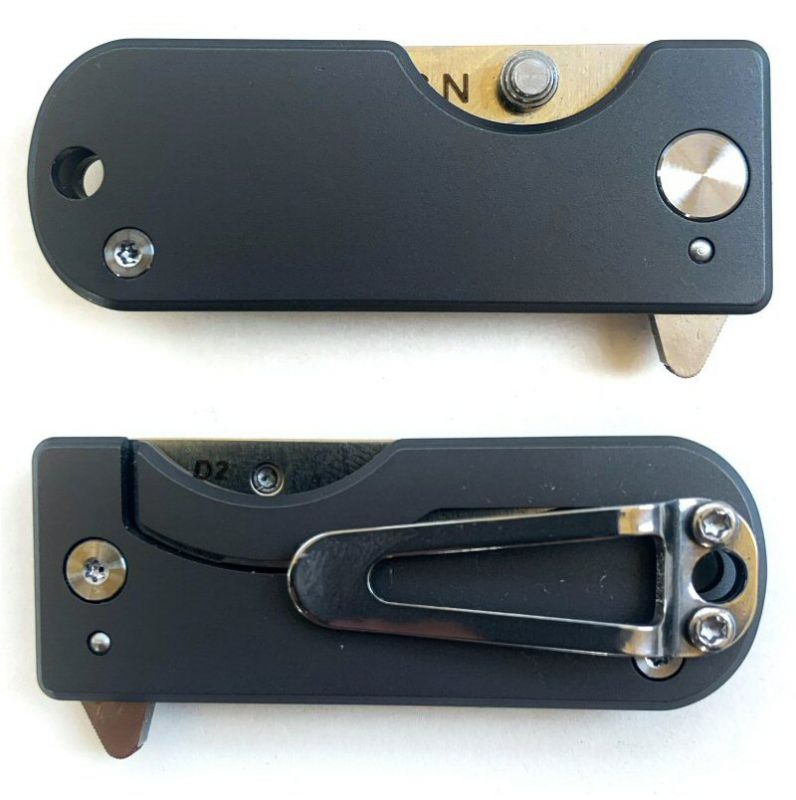 The Microblade 2.0 utilizes tiny stainless steel Torx head screws to secure its frame together, well as to secure the pocket clip to the frame.  While Torx drivers are not particularly easy to find, they are available, and if you had to disassemble the Microblade 2.0, it could probably be done relatively easily with the correct driver tip.  Additionally, Microblade 2.0 includes a small hole through both its frame and pocket clip for attachment.  More on this below.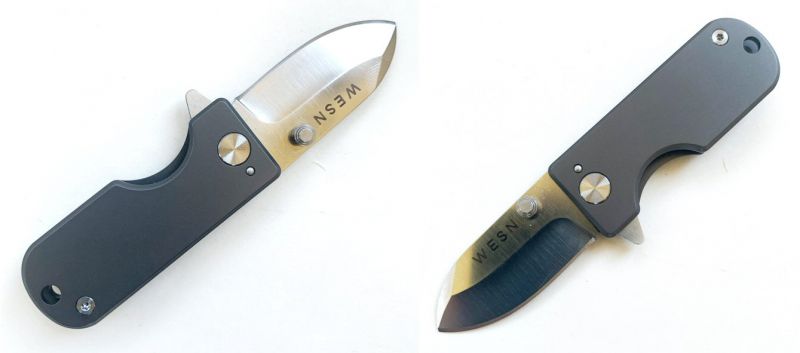 Above and below, I'm including several images of the Microblade 2.0 from various angles and positions to showcase its styling, but the images don't really do it justice.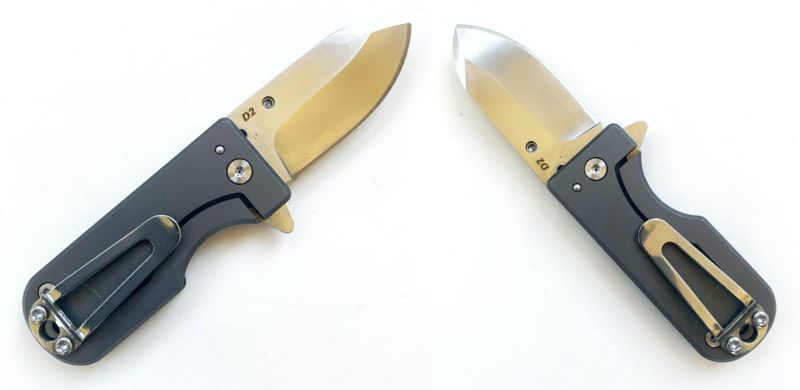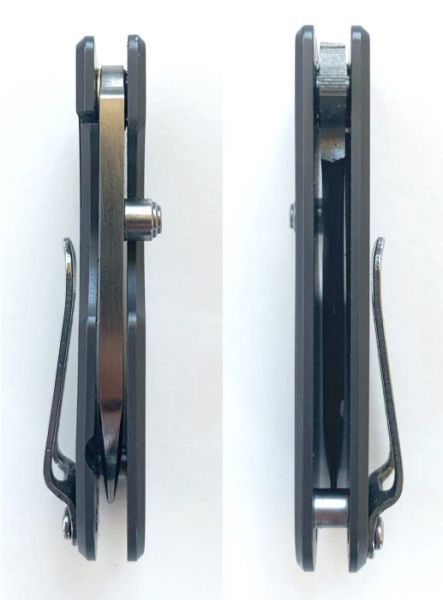 The frame of the Microblade 2.0 is narrow, which contributes to its thin overall width of only 0.82 in (20.6 mm).  I'll describe its frame lock feature in more detail below.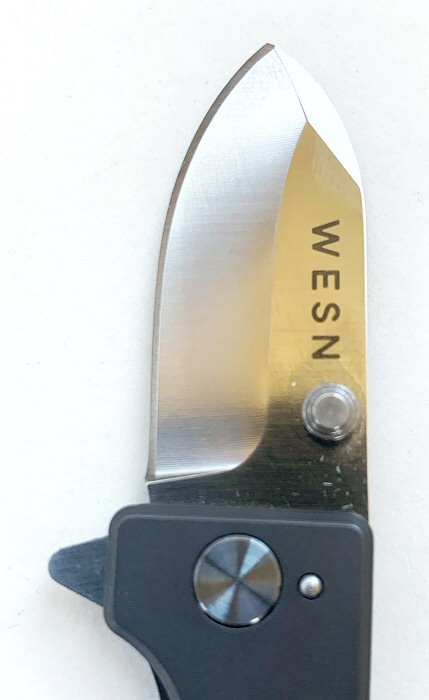 As mentioned above, the Microblade 2.0's blade is basically quite short and fat.  Its tip is fairly shallow without a particularly sharp tip, though it does have one.  It is made from D2 tool grade steel, which is an upgraded material from the original Microblade.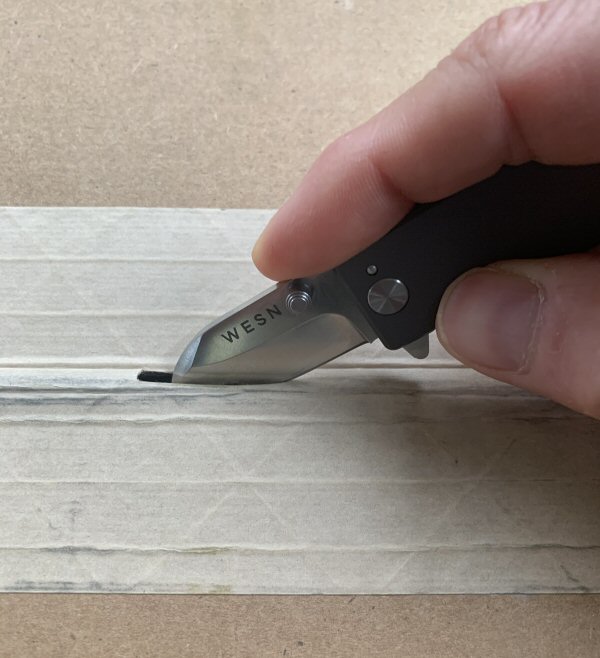 The Microblade 2.0's blade was quite sharp right out of the package.  For relatively easy tasks, like cutting into a box, the Microblade 2.0 was handy and quick to use.

Next, let's talk about the flipper-style deployment mechanism of the Microblade 2.0.  As with many state-of-the-art folding knives today, the Microblade 2.0 features a one-handed, rapid deployment feature, which in this case is called a "flipper."  This mechanism utilizes a small nub attached to the backside of the blade that protrudes through the frame when the blade is closed.  The user places their finger, typically the index finger, on this nub and rapidly flicks the nub downward into the frame, which flips the blade open rapidly.  That's it—no spring, no assist.  It is a manual and generally much safer deployment operation than other knives.  Also, its ceramic ball bearing pivot helps make the flip deployment action very smooth.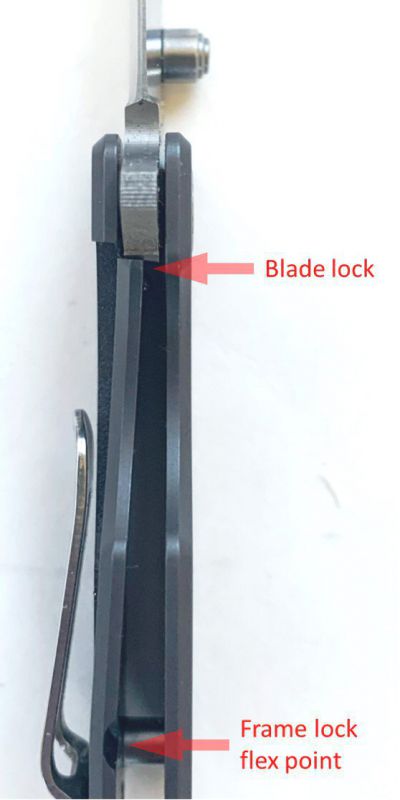 As mentioned above, the Microblade 2.0 includes a frame lock mechanism.  In case you aren't familiar with frame lock folding knives, here's an explanation of how they work.  The frame lock consists of two parts, the blade lock, which secures the blade once the blade is in the fully extended, open position, and frame lock flex point, which allows a portion of the handle to bend so that the blade lock can "lock out" the blade into a fixed, safe position.  To release, the blade lock must then be pressed outward, away from the center of the knife, to unlock the blade and allow it to be closed.  The flex point is able to flex due to a notch cutout in the frame which allows the frame to flex in that location, acting like a hinge.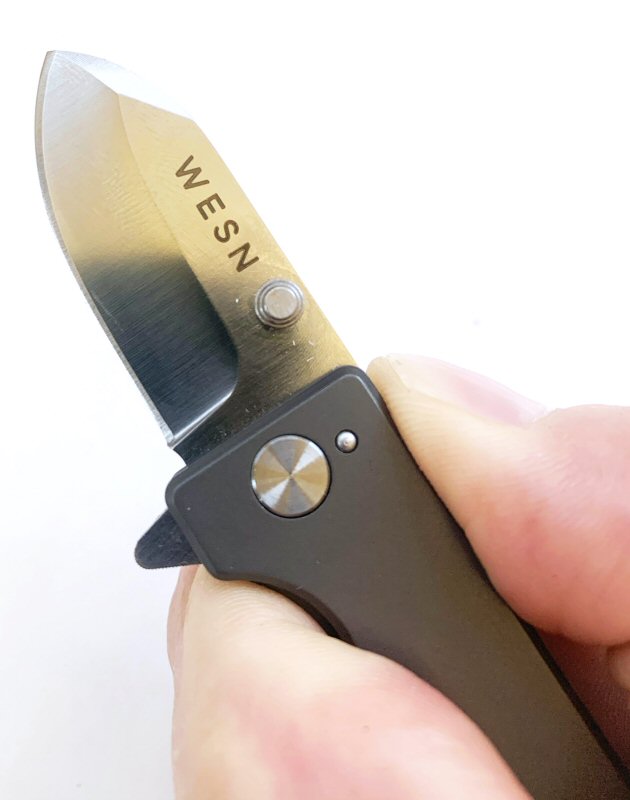 The Microblade 2.0's frame has a choil, or semi-circular notch, that is perfectly positioned for your index finger and gives it some added stability when the knife is being used.  Additionally, the nub that is used for the flipper deployment is positioned such that  it assists in stabilizing your grip and also acts as a guard to keep help keep your finger from slipping while using the knife.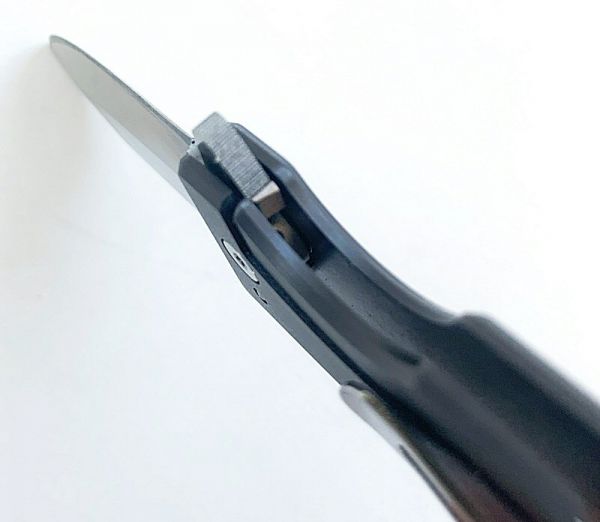 The underside of the flipper nub has a bit of knurling that helps grip your index finger just a bit better and give it just a bit more stability during use.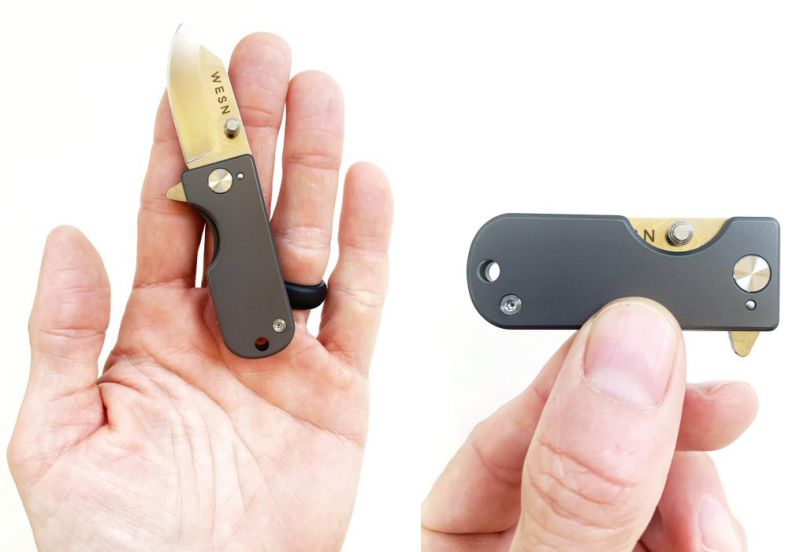 The WESN Microblade 2.0 is quite small, with a footprint of roughly the size of a house key.  This allows it to be carried just about anywhere, like a pocket, bag, or purse, with ease.

The Microblade 2.0 is only about 2.25 inches (57mm) long when closed, and about 3.75 inches (95mm) when open. This is largely well-suited to my personal EDC needs because, although I like to have a knife handy, I don't often need a large or even mid-sized knife.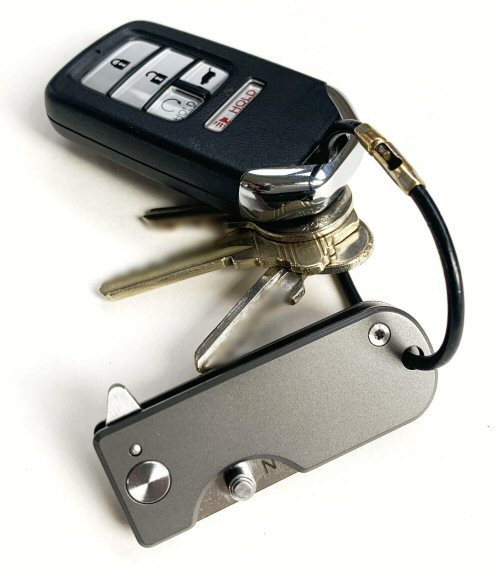 One of the features built into the WESN Microblade 2.0 is a hole that can be used for a lanyard or keychain, as shown above.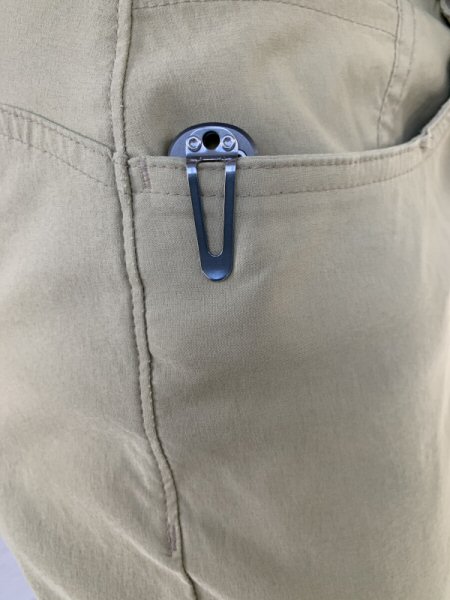 While the Microblade 2.0's small size allows it to be tossed into your pocket either on a set of keys or by itself, its pocket clip give is another carry option.  The clip retains the knife well and allows it to ride in a fairly "deep carry," low-profile position that makes it less visible while keeping it handy.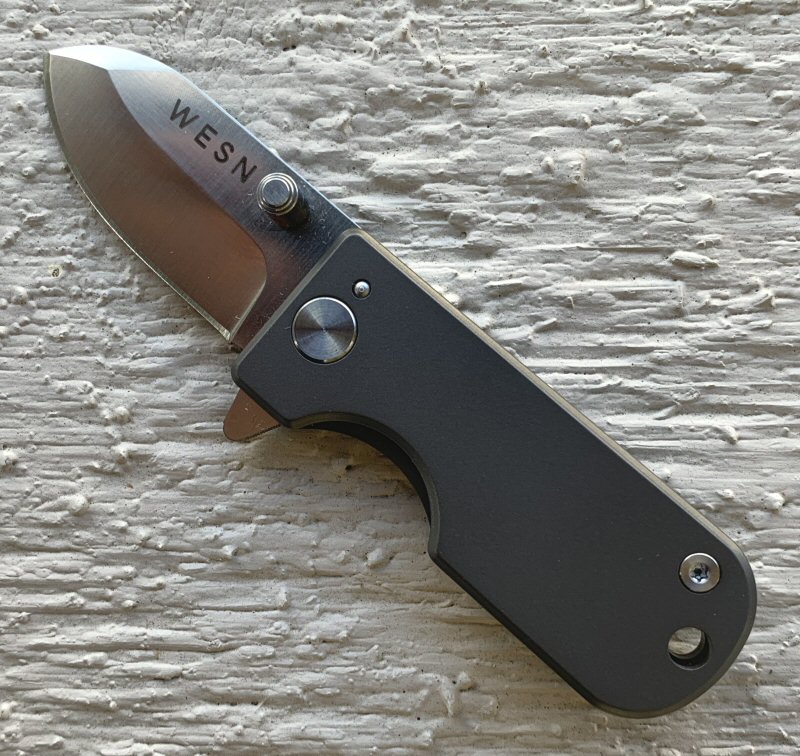 What I like
High-quality materials and construction
Many features of full-sized knives packed into a very small size
Practical size for those who can't EDC a larger knife
Flip deployment feels smooth and frame lock feels solid.
What needs to be improved
Final thoughts
As with the WESN Allman knife that I previously reviewed, I really like the WESN Microblade 2.0.  It has a very solid look and feel due to its thoughtful design, high-quality materials, and careful construction.  Its flipper-style deployment action feels very smooth and controllable, and its frame lock mechanism solidly locks out the blade without being overly difficult to disengage.  Because of its compactness, it is a great size for EDC fans like me who can't practically carry a larger knife in their daily kit, and its deep-carry pocket clip is a bonus.  For its price, the WESN Microblade 2.0.is worth a look for anyone looking for a small but high-quality and feature-rich folding knife that they may want to carry on a keychain or carabiner into their bag.
Price: $60.00
Where to buy:  WESN.com
Source: The sample of this product was provided by WESN.com.