We use affiliate links. If you buy something through the links on this page, we may earn a commission at no cost to you. Learn more.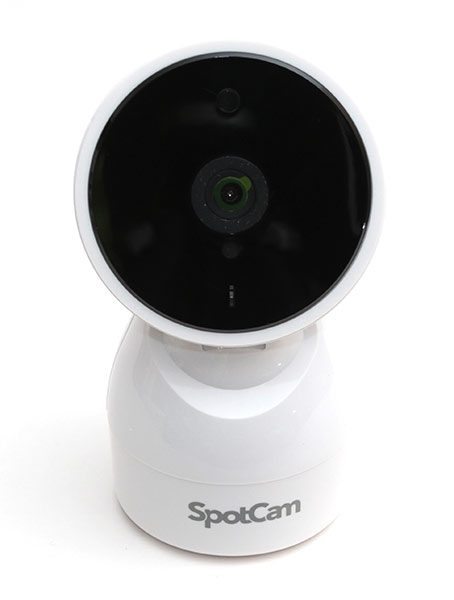 I have been looking for a reliable home security camera and my wants are pretty simple.  I want to be able to connect via my smartphone to watch the camera if I want, I would like to be notified if something moves in the house, and I want it to be affordable.  The $139.99 Spotcam HD Eva from all initial appearances fit the bill, so I decided to try it.  There are some things I love about the camera and some things that I am disappointed about.  Let's find out what they are.
In the box you'll find the camera, a power cord, some setup instructions, and a mounting bracket to allow you to mount the camera to the wall, or ceiling, or wherever you want it.  I set mine on the top of my entertainment center, so I didn't need the mounting bracket.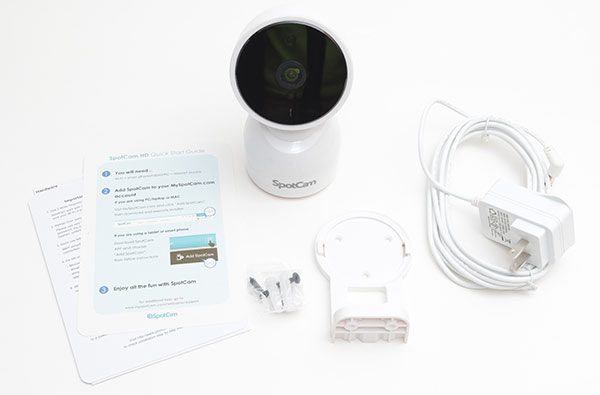 But first things first, let's look at the specs from the manufacturer:
Resolution: 1280 x 720 (720p)
Maximum frame rate: 30fps
Built-in microphone
Built-in speaker
Diagonal field of view: 110°
Pan range: 360°
Tilt range: 70° (50 up, 20 down)
Video format: H.264 (FLV container when downloaded)
Night Vision: 18 High-power IR LEDs
Interface: Wi-Fi (only works on 2.4 GHz range)
Height: 5.5 inches
Width: 3.15 inches
Weight: 11 oz
Mounting type: Stand or wall or ceiling mount
Weather Proof: for indoor usage only
The first thing you will notice when opening the box is that you can't really hide this thing because of its size and shape.  Imagine 2 tennis balls stacked on top of each other.  I don't care if the camera is hidden so I put mine on top of the entertainment center in the living room and most folks haven't noticed it, so it is pretty easy to 'spot' (see what I did there??).   The power cable is plenty long too, so it reaches all the way to the floor behind the entertainment center just fine.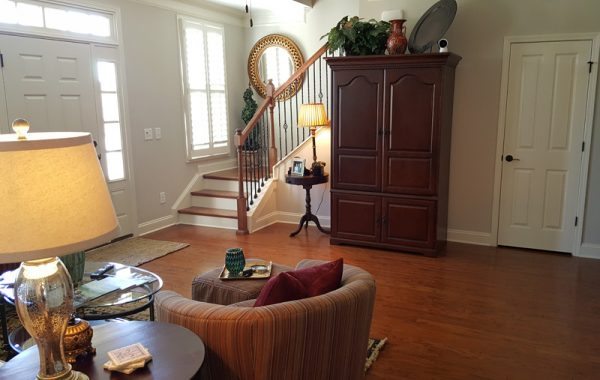 Setup
I won't say that setup is difficult, it is just a little clunky in my opinion.  You can set it up using your smartphone and the SpotCam app, or using your computer browser on the mySpotCam.com website.  Basically, you set a switch on the back to 'AP' (access point) mode and then you connect your smartphone/computer via wifi directly to the SpotCam.  After you connect directly to the SpotCam  you follow the on-screen instructions to set up your home wifi network connection, then you switch back to your wifi network and then go back to the app to finish connecting the SpotCam  to your wifi network. After that, you flip the switch on the back to 'Client' and let it connect to your wifi network.  If it sounds complicated, it is.  But as long as you follow the instructions during the install process you should be fine. I tried both ways, using the smartphone app and my laptop browser and both ways worked just fine.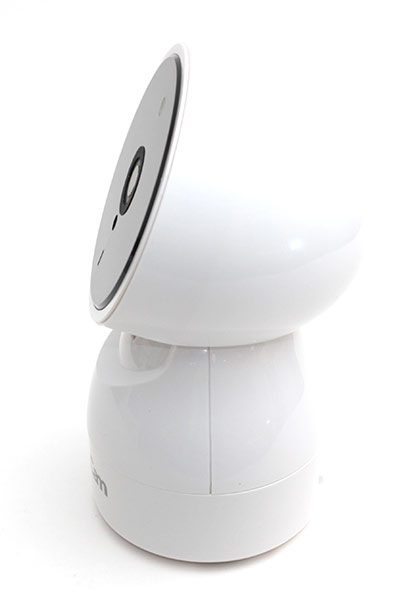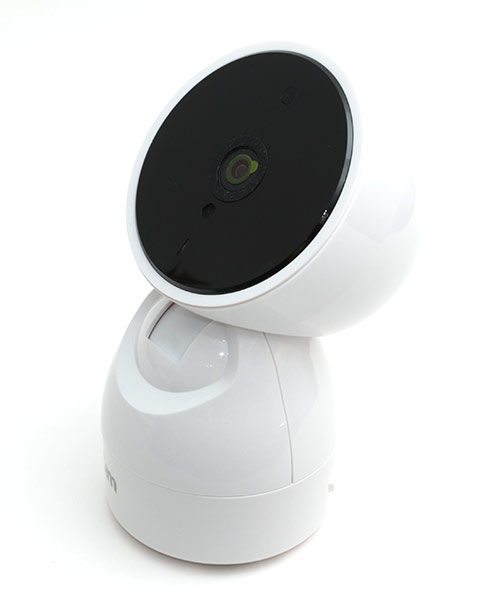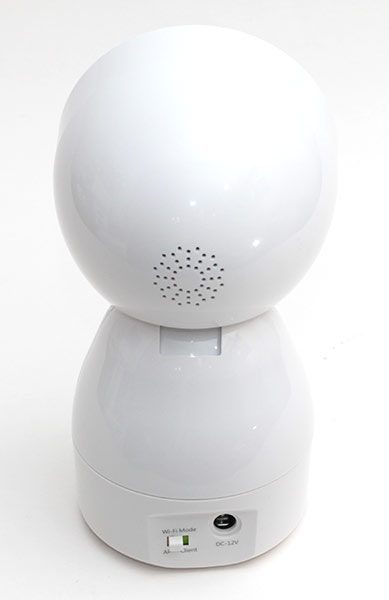 Features and Performance
The first thing I should mention is that when I first installed the SpotCam HD Eva, it did not perform well at all.  The app would spin and spin any time I tried to do anything, and it would often freeze when trying to replay some of the recorded video.  When trying to control the camera it often simply wouldn't respond, and the notifications didn't work at all.  I was so frustrated that I was considering packing it up and sending it back.  But then SpotCam  notified me that they had implemented an Amazon Cloud server in the US so that the SpotCams in the US didn't have to connect to their servers in Asia.  I believe that was the problem with my camera.  It was trying to connect halfway across the world and was struggling to do so.  After reinstalling the camera and allowing it to connect to the cloud server here in the US, almost all of the problems went away, and I no longer wanted to throw it through the window.
Since there are many things that the SpotCam can do, I thought I would go through each one and give you my experience with how each featured performed.
Pan/tilt/zoom
You can use the smartphone app or your computer browser to tilt the camera up 50 degrees, down 20 degrees, and pan around 360 degrees.  You can also pinch to zoom in on part of the video you want to see.  I should note that you do not have optical zoom, just digital zoom. So it can get pixelated if you zoom too close.  I should also mention that when you are using the app to control the camera, you have to drag your finger (up, down, left, right) on the video image to control where it goes.  And using your finger is imprecise, at best.  So instead I set up some of the 4 preset positions in the app below the video where I can press on whichever preset I want and the camera moves to that position.  I also will sometimes press the buttons below the video that allow movement between all the presets, full 360 degree panning, etc.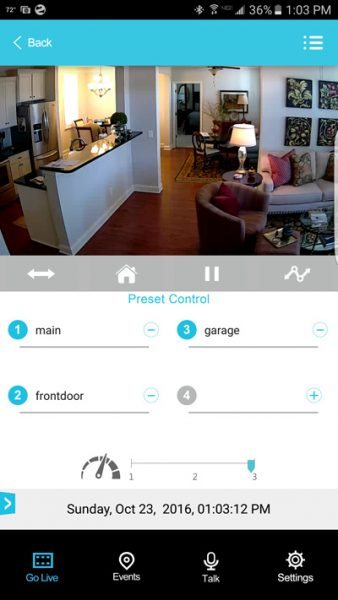 24-hr free cloud storage and playback
There is a timeline (looks kinda like a ruler to me) in both the app and the website browser that allows you to scroll left and right to navigate through the last 24 hours of recordings.  If you want to pay for more than 24 hrs of storage you can do that, but I don't find that I need more than that.  You can also see colored bars on the timeline that indicate either an audio event or motion event, so you can go directly to those events on the timeline. (you toggle back and forth between the timeline view and the presets view by pressing the little blue arrow button) When you let go of the scrolling timeline the app will spin for a few seconds while it downloads that part of the recording so you can watch it.  It works good.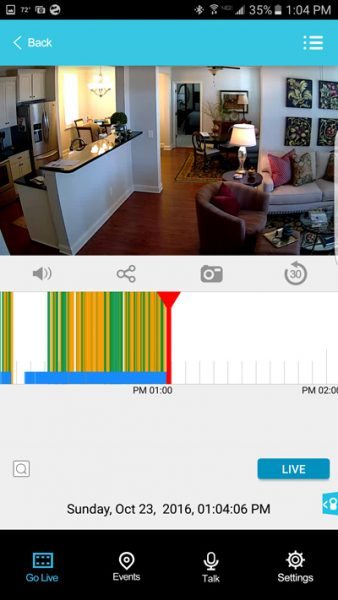 IFTTT integration
If you have any other home automation gadgets in your house, like the Amazon Alexa or the Nest Thermostat, you can set up automated tasks with IFTTT.  For example, you could ask Alexa to turn on/off your SpotCam, or set it up so that when your SmartThings keychain is detected on your home wifi then it turns off the SpotCam, etc.  I did not use IFTTT with SpotCam so I can't speak to this feature.
Smartphone/tablet app
I have a Samsung Galaxy S6 Edge+ and the app works really well.  I also have a Nexus 7 tablet and the SpotCam  app for Android tablets isn't very good.  I would guess that more than half of the features are missing in the tablet app, so I hope SpotCam updates the app soon.  I don't even use it because of that.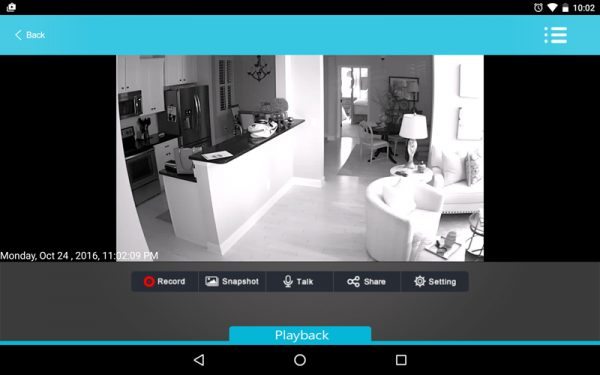 Website use
You can use www.mySpotCam.com to fully control and use your SpotCam  when you are away from home.  This is useful for example if you sit at a desk at work all day and you don't want to use your smartphone data to watch the camera all day.  All the functionality of the smartphone app is available in the browser.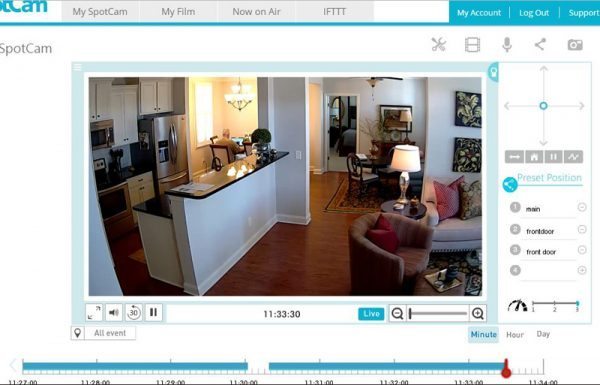 HD video
The HD video is really good.  You can see in some screenshots that I added to this review that the resolution is excellent.  You only get some pixelation when you zoom in the video because it isn't optical zoom, just digital zoom.
Night vision
I was impressed with the night vision.  The infrared LEDs work great and the quality of the video is great as well.  It looks kinda spooky actually.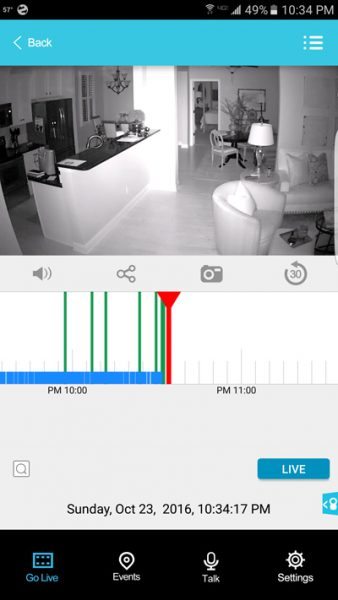 2-way audio
A surprising feature that I didn't expect is being able to use the app to speak through the camera so that anyone within earshot of the camera can hear you.  You can also listen to what is going on in the room.  I suppose the purpose of this is so that you can yell at the intruder who just broke into your house.  I haven't had the occasion to do that (thank goodness) but I did scare the fire out of my wife one time!
Motion and audio alerts and notifications
You can set alerts to notify you when the camera detects audio and/or motion.  You can set the sensitivity between 3 settings, and you can specify to get notifications in the app and/or by email.  I had some interesting things happen when I started using the SpotCam  that are worth mentioning.  I discovered that my dog barks all day long when we are gone to work.  So when I had the audio notification set, my phone buzzed all day with notifications every time he barked.  So I quit using that feature.  I also discovered one night that we had a moth in the house and it was buzzing all over the camera as it was attracted to the red infrared LEDs.  That 'bugged' me.  🙂
I also discovered that the motion detection was much better at detecting motion that is closer to the camera.  It struggles to detect motion across the room in our house.  For example, my wife was sitting at a table across the room that was about 20 ft away from the camera.  She was working on her computer, moving her hand to the mouse, and flipping through pages in a book. The camera never notified me of the movement even though I had the sensitivity set to HIGH.  But when she got up to walk across the room, I got notified of the movement.  So I found the motion detection was a little finicky. One day at work I kept getting motion detection notifications.  I watched the camera and it was picking up the movement of shadows on the wall caused by the brightness of the sun coming in the living room windows as clouds were moving in the sky.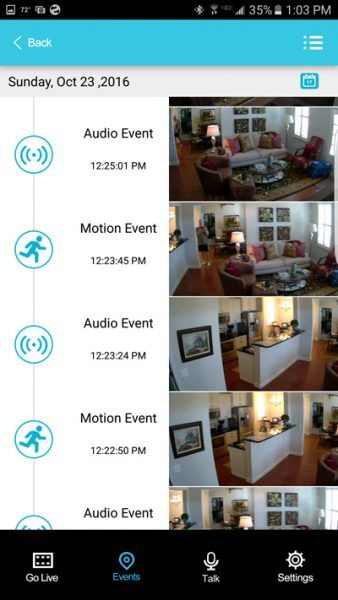 Scheduling
You can use the scheduling feature of the app to set specific days/times that you want the camera to be on/off.  For example, you could schedule the camera to come on when you leave for work and turn off at night when you go to bed.  Our schedule is so erratic every day, the scheduling feature wasn't that useful to me, so I don't use it anymore. But it is available.
Final thoughts
After my initial frustration with the lagging app and non-existent alert notifications, I was about to give up on this camera.  But after SpotCam  implemented a US-based Amazon cloud server while I was in the middle of the review, the lagging issue basically went away.  I am still not 100% happy with the notification alerts because the sensitivity setting seems temperamental, but it has improved a great deal from my initial experience.  The price is right. You will be able to connect to it no matter where you are and watch/listen to what is going on.   The HD video is really good.  The night vision works great.  I can swing the camera around 360 degrees or set up preset locations.  It stores 24 hours of video so I can go back and see what happened.  And I can control it from my smartphone.
So I would say that if you don't need a camera that is hidden, this camera will work great.  And for the price you pay for this camera, it is a great value despite some of the quirky notification issues.
Source: The sample for this review was provided by SpotCam. Please visit their site for more info and Amazon to order.