We use affiliate links. If you buy something through the links on this page, we may earn a commission at no cost to you. Learn more.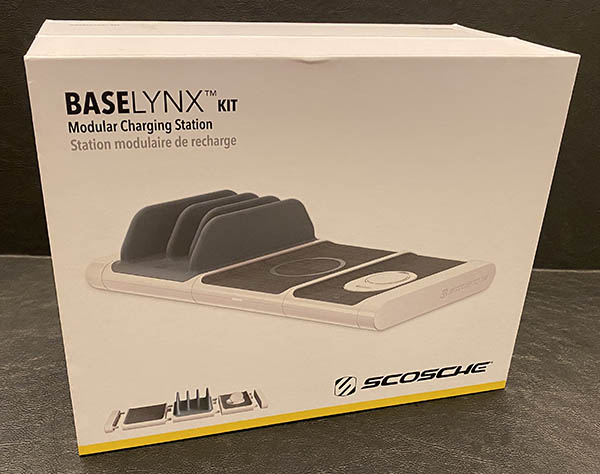 REVIEW – With an ever increasing number of manufacturers embracing the Qi-enabled world of cord-free power, wireless charging is without a doubt here to stay. Scosche has taken Qi a step further by creating the BaseLynx, a modular, plug-n-play charging station engineered to be extremely customizable…enabling you to design a charging solution that meets your individual needs and (hopefully) increase your overall tech-zen. The BasLynx not only provides a unified charging platform but gives each smart devices a place of its own in your world.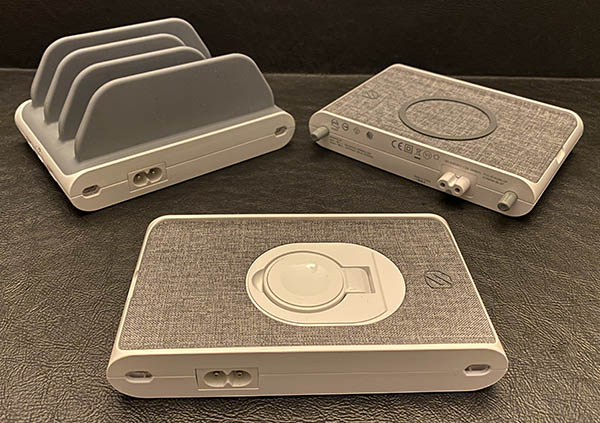 What is it?
The Scosche BaseLynx is a modular, customizable, charging system designed to organize, display, and store your power hungry electronic devices. This well engineered charging solution can accommodate a multitude of smart devices at once, providing power from a single source/plug.

What's in the box?
Wireless Charging Pad
Watch Charger For Apple Watch
Vertical Charging Station
Power cord/plug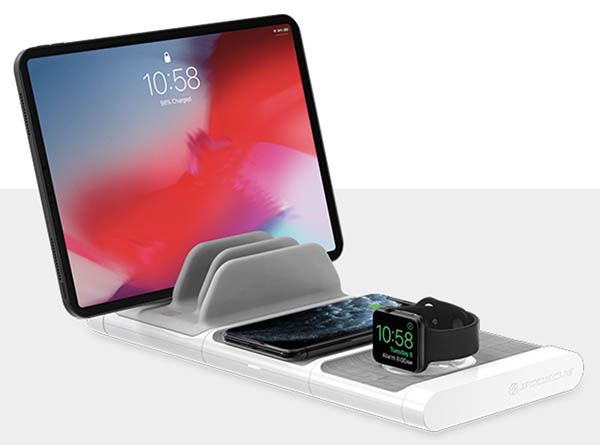 The BaseLynx "modules" can be purchased separately or in various preconfigured kits. Scosche sent me their largest kit in white: "BaseLynx White is an Apple exclusive. Find your BaseLynx White Modules and Kits at select Apple Stores or online at Apple.com".

Hardware specs
Scosche has given each BaseLynx module a point/power value, i.e. Apple Watch = 1 point; Wireless Charging Pad = 2 points; Powered EndCap = 3 points; and Vert Charging Station = 5 points. You are able to use one power cable/power source per 15 points. So as long as your connected modules total 15 points or less, you're good to go.
The BaseLynx modules are made from a hard plastic with each of the device locations covered in a scratch resistant material to not scuff your tech-toys.
Design and features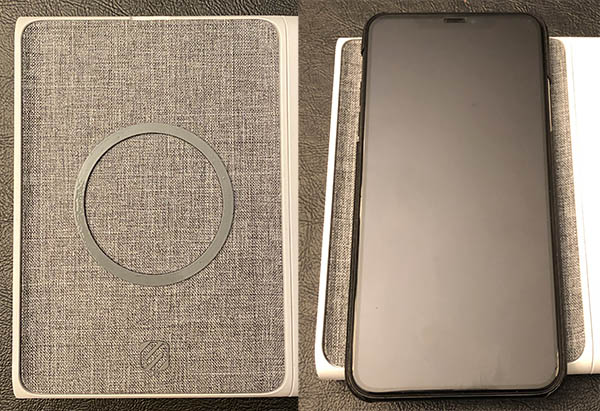 Wireless Charging Pad
The Scosche Wireless Charging Pad is a Qi-enabled power station engineered to quickly and safely charge your smartphone. It charges at up to 10W but is safe to use with lower power devices including iPhones (7.5W), Galaxy (9W), and even the Apple AirPods and AirPod Pros.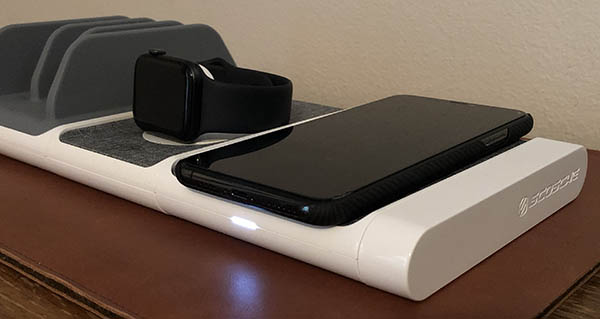 In addition to your smartphone letting you know it is recharging, the Wireless Charging Pad has a LED on its front edge that glows white when your device is properly situated and is receiving power.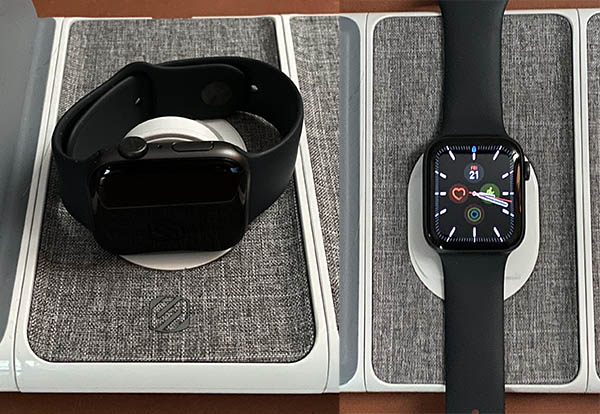 Watch Charger For Apple Watch
The Watch Charger is designed exclusively for Apple Watches and features a built-in genuine MFi-certified Apple Magnetic Charger that works with all Apple Watch models. The charger can be used horizontally (aka watch down with the band open). Or vertically by simply flipping up the charging element; your Watch sits on its side where it will charge and display the time in Nightstand Mode (my preferred orientation).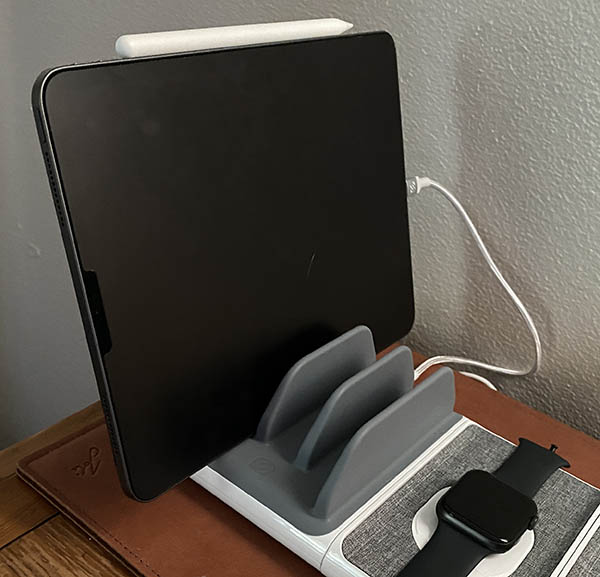 Vert Charging Station
While not Qi-enabled, the Vert(ical) Charging Station is designed to organize and charge up to three devices (via hardwire/power cable) at once. This includes nearly any power hungry device…smartphones, tablets, earbuds, headphones, portable gaming systems, etc.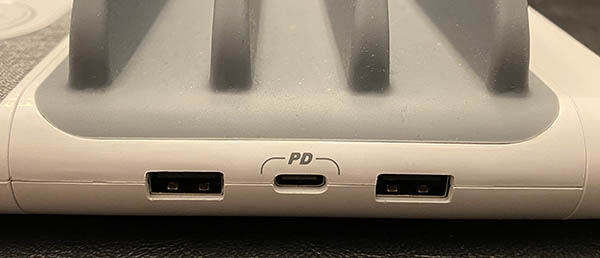 The Vert Charging Station has three charging ports: one 18W USB-C Power Delivery (PD) and two 12W USB-A.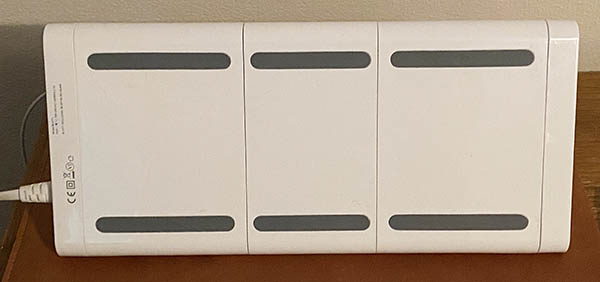 The base of each module has rubber pads to keep the BaseLynx from slipping around.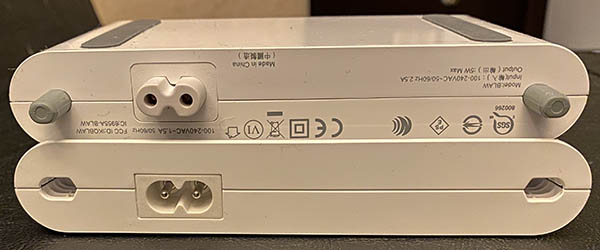 Setup
Setting up the Scosche BaseLynx is as easy as clicking together a handful of Lego blocks and plugging the ensemble into a power outlet. Simply push the modules together, attach the power cord, and you're good to go.
Performance
The performance is as you would expect. The BaseLynx charges all of my devices efficiently and effectively. The BaseLynx provides variable charging, providing the maximum power that your iPhone/Galaxy/smart watch/earbuds/etc…can safely take.
What I like
Well built
Easy to assemble
Great way to recharge and organize your devices
Safe, smart charging
What needs to be improved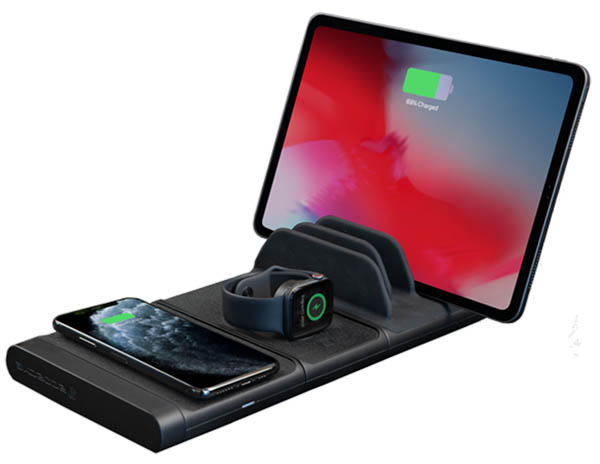 In addition to the Apple exclusive White, the BaseLynx is also available in black as well. Scosche backs the BaseLynx with a 60-day no hassle return policy and three year warranty.
Final thoughts
Scosche has done a great job engineering a charging platform that meets nearly anyone's needs. Its modular design enables you to create a wireless Qi and wired charging station based on your array of electronic devices. The BaseLynx not only charges your devices and reduces cable clutter but gives them each a (hopefully) safe place to live. I'm definitely keeping the BaseLynx on my nightstand while I sleep to charge all my tech gear, act as a nightlight, and (silly as it sounds) bedside clock.
Price: $149.95 (as reviewed)
Where to buy: BaseLynx is available from Scosche or Apple.
Source: The sample of this product was provided by Scosche.