We use affiliate links. If you buy something through the links on this page, we may earn a commission at no cost to you. Learn more.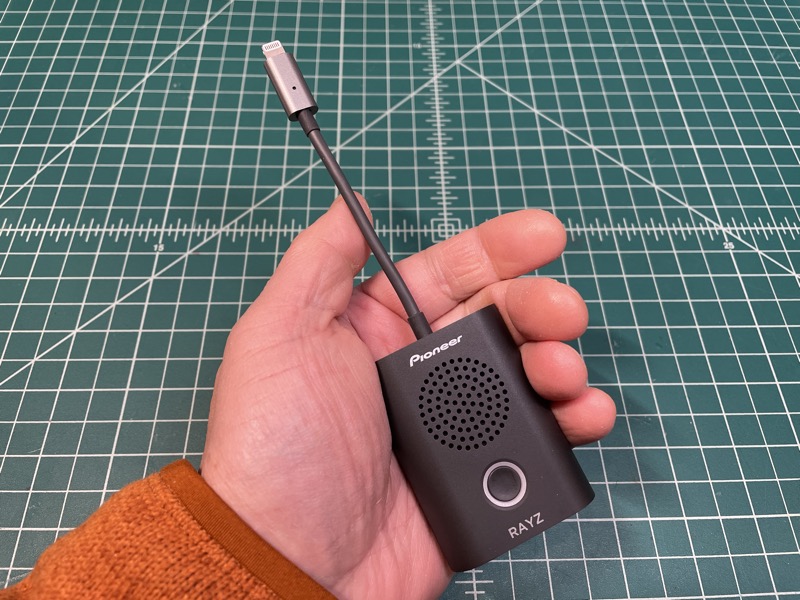 REVIEW – Do you use your iPhone's built-in speakerphone frequently? Ever want a little extra "oomph"? I got to try out a little plug-in device designed to do just that.
What is it?
The Pioneer Rayz Rally is a plug and play mobile conference speaker that connects with just one Lightning connection to your iOS device. No batteries required.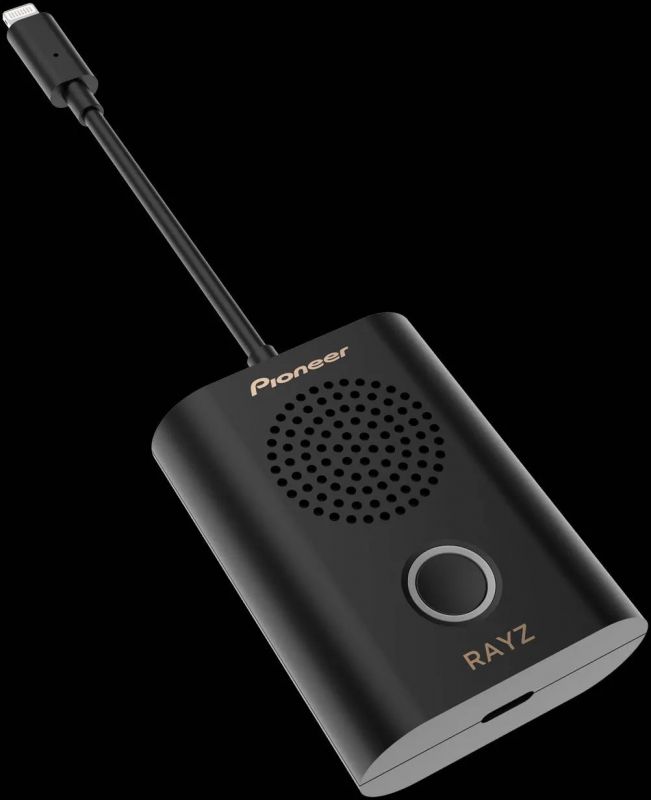 What's in the box?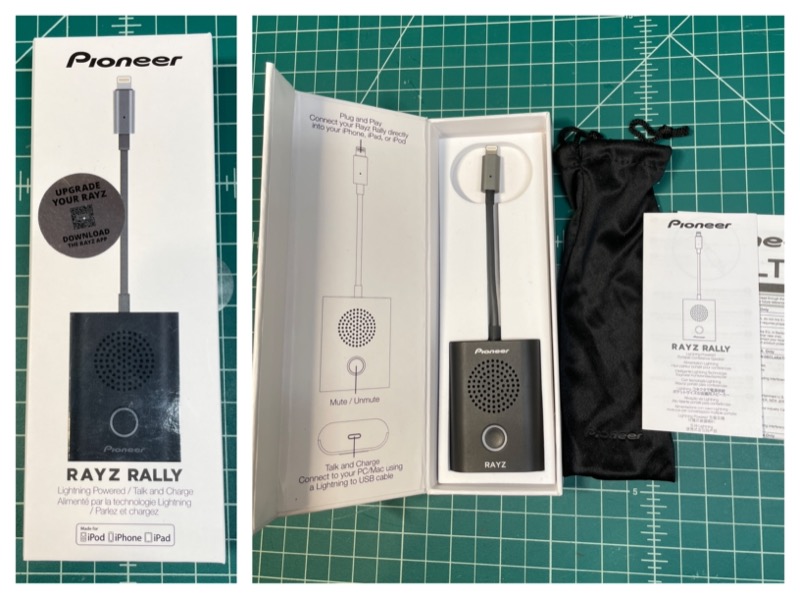 Rayz Rally speaker
Drawstring bag
Instructions
Hardware specs
Drivers: 30 mm
Digital Audio: Active Speaker with Microphone
Sensitivity (1 kHz): 1 W (RMS Power Output)
Frequency range: 10 – 22,000Hz
Material: Plastic
Weight: 70g
Cable: 60mm
Connection: Lightning
Design and features
On one end is the Lightning connector. Note the small hole- that's the microphone. On the end of the speaker body is a Lightning port.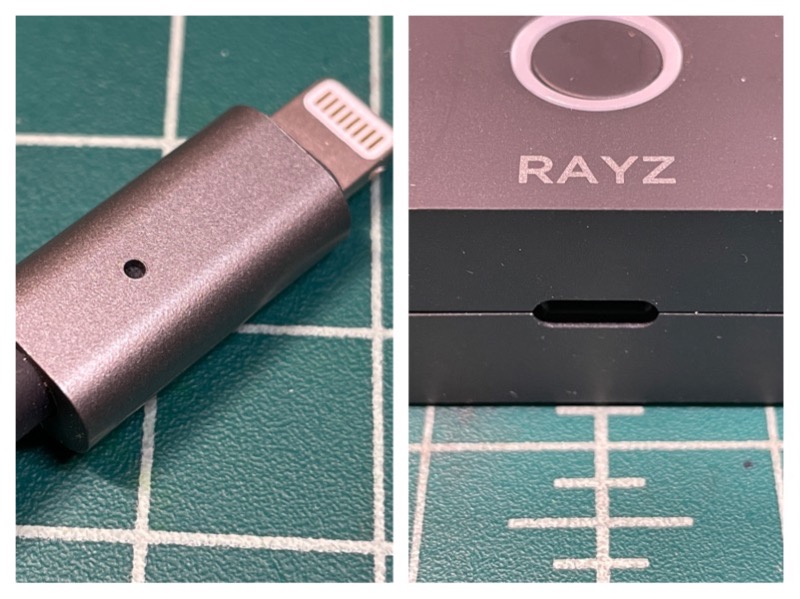 The Lightning port serves two purposes: You can either charge your phone through that port, or connect the Rayz Rally directly to your PC or Mac as a standalone speaker/mic (without your iPhone).  You'll need a Lightning to USB cable, obviously.
There is only one physical control: The round button. With it, you can activate Siri, mute the microphone (the LED ring turns green to red), end calls, or play/pause music.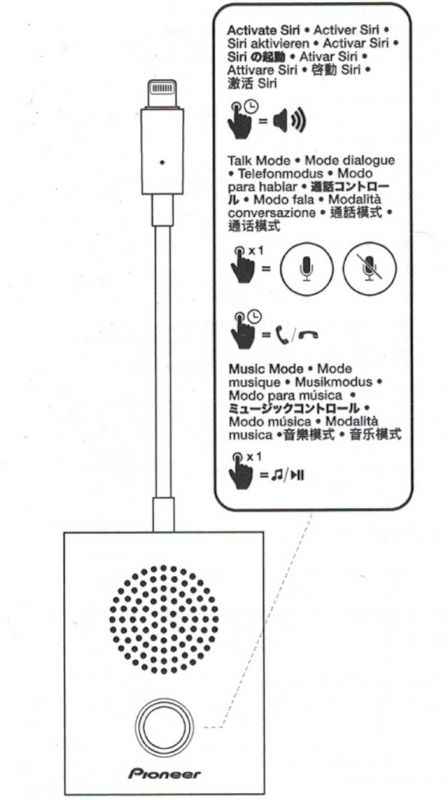 This is Pioneer's overview of the speaker:
Setup
There is a companion app (free) for the speaker. It features four presets designed to either reduce echoes ("Conference") or noise ("On the Go"). There are no user-adjustable settings in "Settings". Just software version info. In my experimentation, I did not notice much of a difference with the presets.
I tested the Rayz Rally on an iPhone without the app, and it works as well. It seems to be optional, but you lose the presets.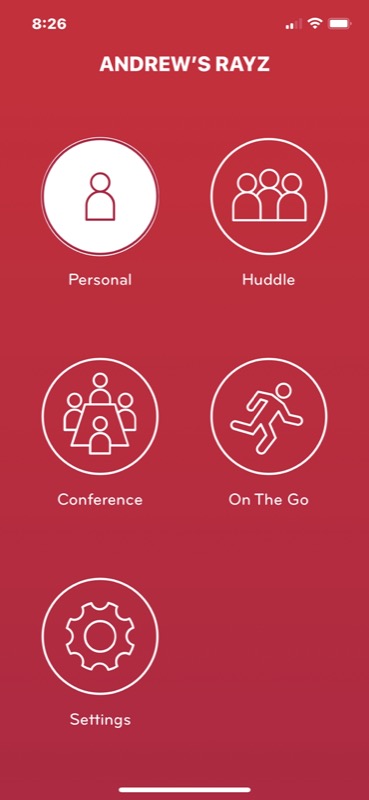 Setup is simply plug and play. Not much more to it!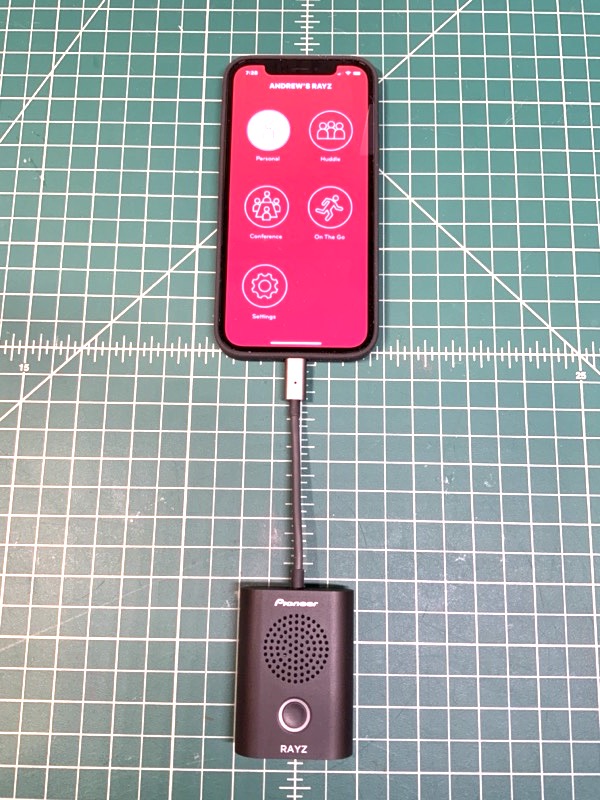 Since the speaker takes up your charging port, you can charge your iPhone with your own Lightning cable. Note the green LED ring. It turns red when the microphone is muted.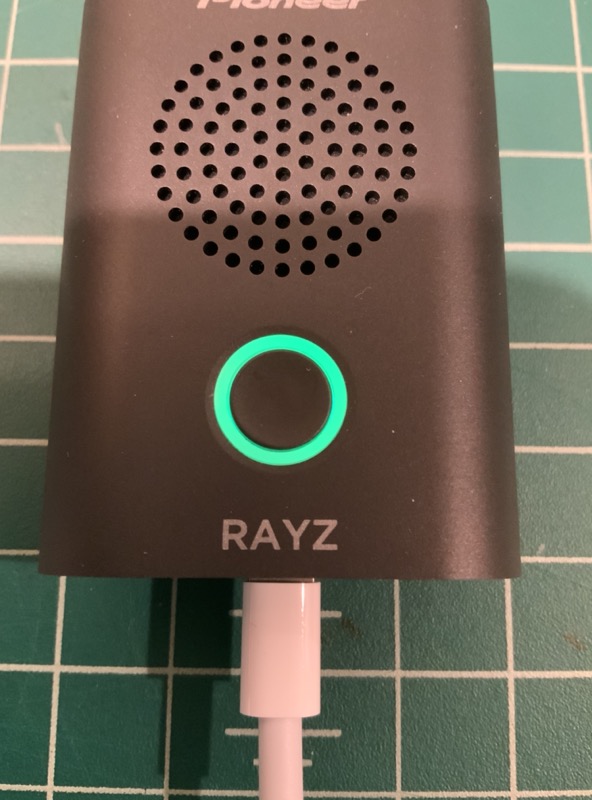 Performance
I normally test gadgets like this by using the iOS voice recorder app. Yes, the Rayz Rally works with the voice recorder but at a much lower volume vs. just using the iPhone itself.
Then I had my son help me make some test calls. The Rayz Rally microphone performed just as it should. I did not notice much in terms of magical noise reduction, but the power from the little speaker itself is a bit better than the built-in ones on the iPhone.
I really appreciated the LED ring: Green for mic on, red for mute. Very simple with just the touch of a button!
I also noticed you could play music over the speaker, but obviously not in stereo, and not as powerful as say, a wireless Bluetooth speaker. Unlike a Bluetooth speaker, the Rayz Rally doesn't require a battery charge.
What I like
Simple, effective
LED ring
What I'd change
Audio profiles on the speaker itself (a button)? vs. an app.
The difference in audio profiles wasn't very obvious
Final thoughts
While this isn't going to replace an expensive conferencing setup, the Pioneer Rayz Rally is something lightweight and small you can toss in your go bag. It's a really easy way to upgrade your next Zoom call or simple phone call.
Price: $69.95
Where to buy: Amazon
Source: The sample of this product was provided by Pioneer Rayz.