The Gadgeteer is supported by readers like you! If you buy something through links on our site, we may earn an affiliate commission at no cost to you. Thank you! Learn more.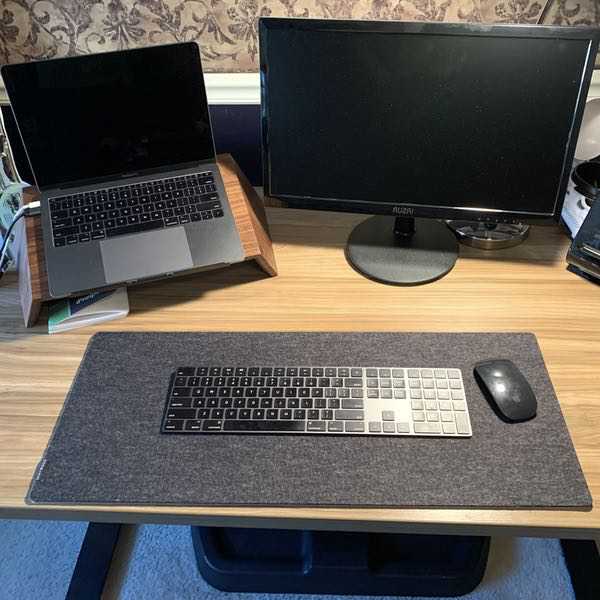 REVIEW – Looks like we're gonna working from home for a while, folks, so it's time to spruce up that home office! I'm checking out a couple of handcrafted desk accessories from Oakywood that promise to add both function and style. Too the review!
What is it?
Oakywood makes all sorts of desk accessories from natural wood and environmentally friendly materials. I've got the Felt Cork & Desk Pad, which provides a soft & classy surface for your keyboard, mouse, and/or laptop. I've also got the Wooden Laptop Stand. It lifts your laptop to a more ergonomic viewing angle while providing extra storage space underneath for accessories.
Hardware specs
The Felt & Cork Desk Pad is the medium size in the Anthracite color, and the Wooden Laptop Stand is made from the Walnut wood. Other options are available. Specs for each below.
Desk Pad:
11.8″ by 27.6″
100 OEKO-TEX® Merino Wool Felt
Portuguese natural cork
Both are biodegradable and eco-friendly
Laptop Stand:
Handcrafted from solid walnut
Length x Width: 19″ x 9.5″
3″ Front Height, 6″ Rear Height
Laptop surface 14″ x 9″
Natural oil finish
Cork foot pads to prevent desk scratching
Design and features
Simple, functional, and classy are the buzzwords I'm thinking of when describing the Oakywood gear. Both pieces are made from natural and/or eco-friendly materials, handmade with a simple yet modern aesthetic. They look amazing, and the quality is apparent from the moment you crack the shipping box.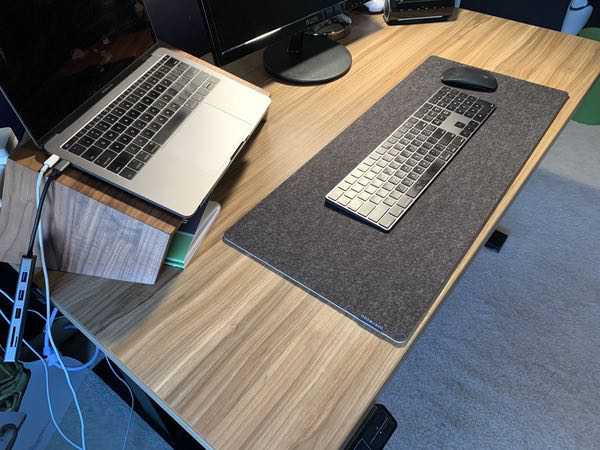 The medium desk pad is the perfect size for my Magic Mouse and Apple Keyboard. There's plenty of room to spread out, even if you need space for your notebook.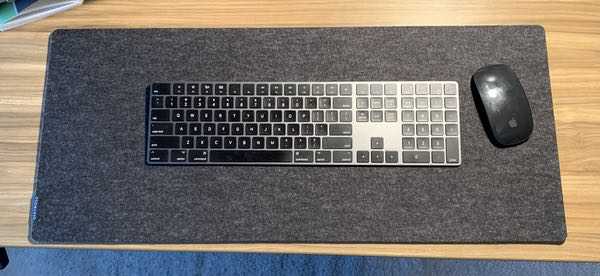 The Merino wool surface is thick and lovely. I've seen this material in bags and laptop sleeves before. It works great as a protective surface, but also absorbs impacts nicely. It has a comfortable tactile feel when you rest our palms on the surface as you're typing and clicking away at the work things all day.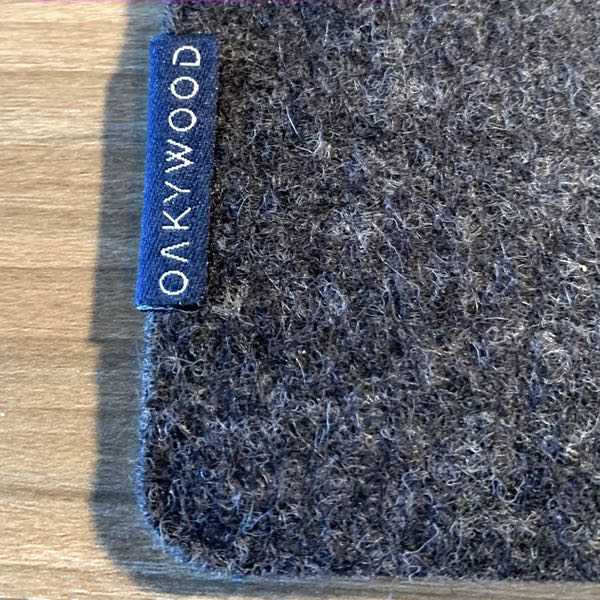 Finishing is excellent for a simple piece like this. The backing is a thick cork base that prevents the pad from sliding around and adds to the comfort factor.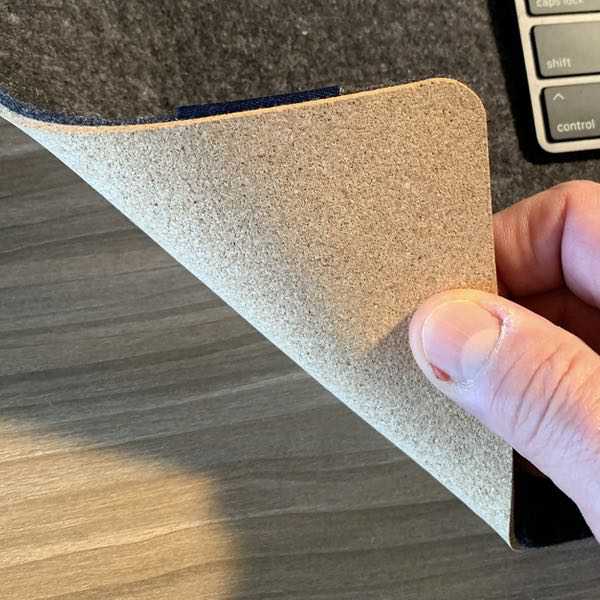 The Laptop Stand is a different animal entirely. This piece is handmade from walnut, cut with some stylish geometry that makes the stand a highlight on your desk. The finishing is flawless, polished up with natural oils that brings out the best in the wood grain.  Check out the prettiness.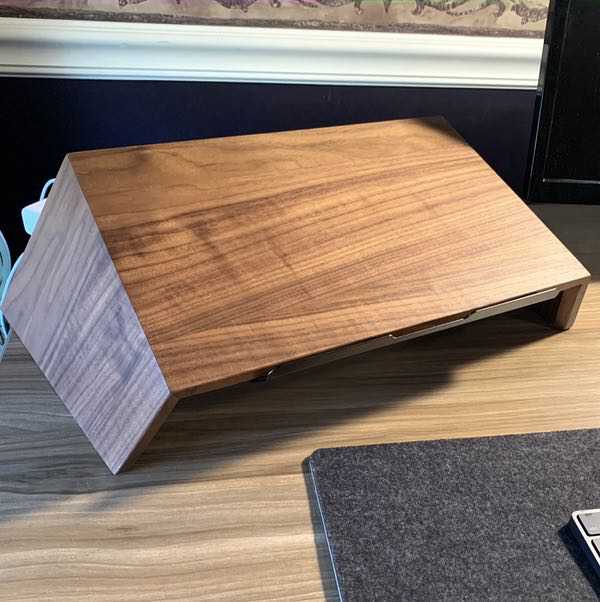 The stand is designed to raise the eye level of your laptop screen, while the downward slope puts your keyboard in a more comfortable position for typing. You'll find a bit of a metal lip on the leading edge of the stand that keeps your laptop from sliding off, rounded and finished to avoid any potential sharp edges.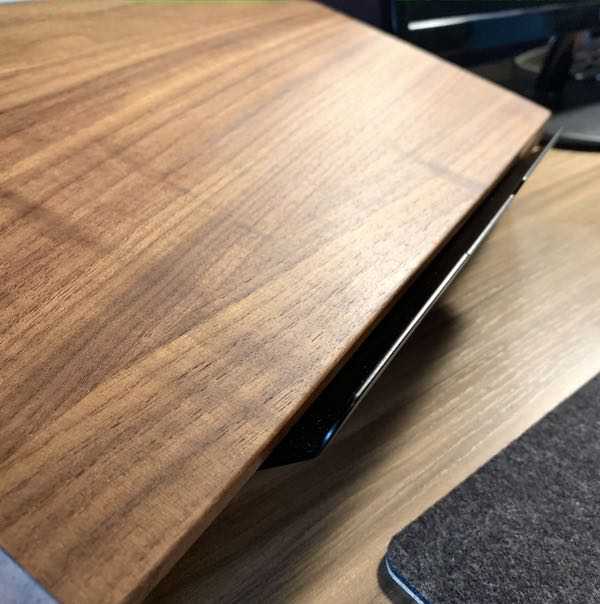 Here's what it looks like with my 13″ MacBook Pro in position. You could put a 15″ laptop on there as well. It kinda looks like they're made for each other doesn't it?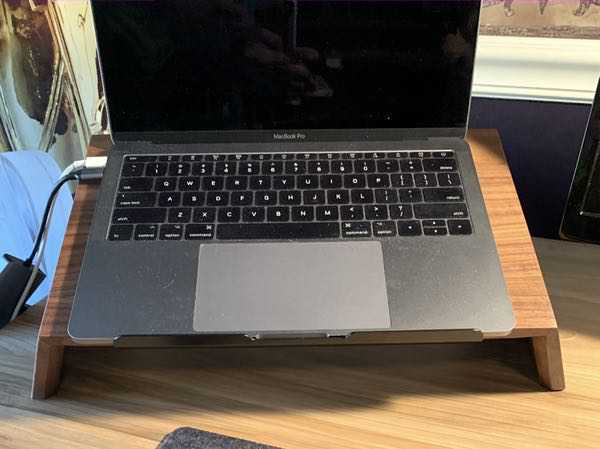 Here's a shot from the back side of the stand to show the construction. No bolts or rivets to be seen, and every seam is tight.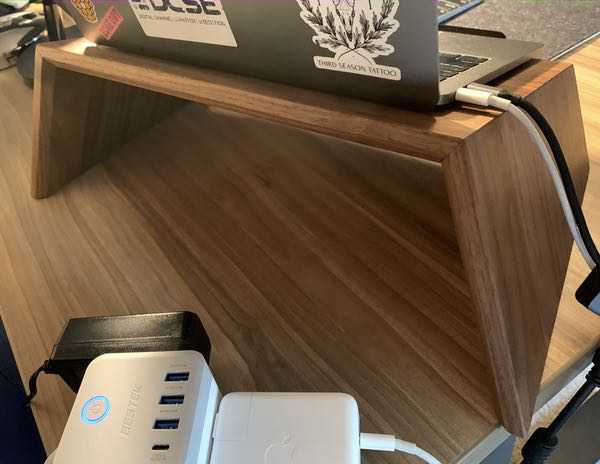 The second benefit of this raised stand is storage space. I find myself stashing notebooks under there in addition to USB cables that I plug into my charging station. It makes for a neat, tidy work surface.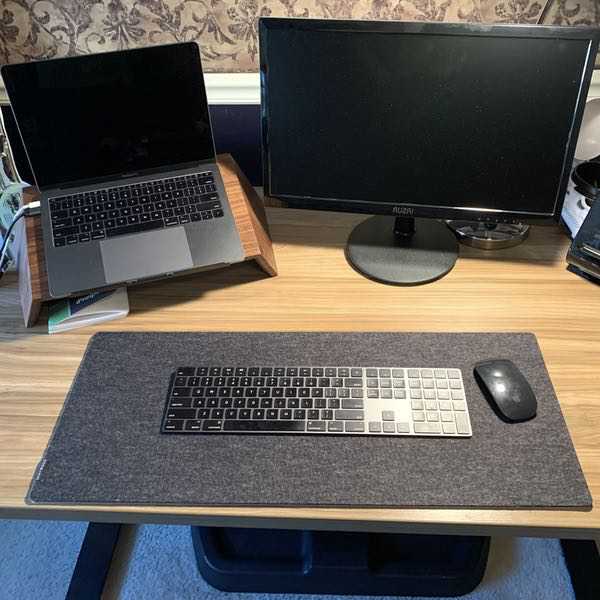 These are just two items from Oakywood's catalog, but there's much more to explore! They make phone stands, pen holders, trays, charging stands, and even pots & planters that share the same design aesthetic and use of natural materials. Check out the link below to see their whole catalog
What I like
Hand crafted quality awesomeness
Simple, elegant design aesthetic
Very functional in addition to being eco-friendly
What needs to be improved
Nothing that I have found so far.
Final thoughts
I love the way the Oakywood accessories have seamlessly upgraded my home office setup. Not only do they look great, but they add nice functionality that I have come to appreciate after using them for a month. Simple, elegant and purpose-built… what else can you ask for? Other than more accessories (I may need to do some shopping).
Price: The medium felt & cork desk pad reviewed here costs $59, while the wooden laptop stand is $149. Keep an eye out on their web site, however, because they are running holiday sales.
Where to buy: Visit the Oakywood web site for purchasing. Some items can also be found on Amazon
Source: The sample of this product was provided by Oakywood.