We use affiliate links. If you buy something through the links on this page, we may earn a commission at no cost to you. Learn more.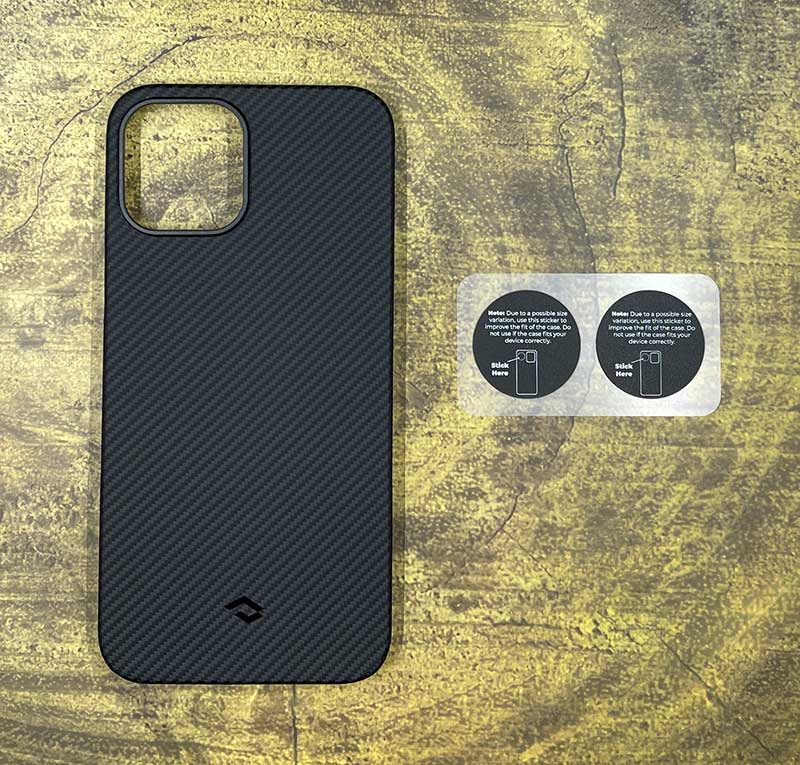 REVIEW – Apple has gotten a LOT of my money this year. In May I decided to switch from my Hauwei P30 Pro to an iPhone 11 Pro Max and then just a week ago I received a shiny new iPhone 12 Pro Max. Despite their new frosted glass backs, iPhones are notoriously slippery. I don't know about you, but after spending a grand on a phone, I definitely feel the need to protect it. The thing is, I don't want to wrap it in a bulky case since the Pro Max is already a large phone. That's why I like thin cases and the Air or MagEZ cases from Pitaka have always been a favorite of mine. Today I'm going to talk to you about the Pitaka Air case, the Pitaka MagEZ case, and the MagEZ Card Sleeve.
What is it?
Pitaka's Air and MagEZ cases are ultra-thin iPhone cases made from Aramid fiber. If you're not familiar with Aramid fiber, Wikipedia says:
Aramid fibers are a class of heat-resistant and strong synthetic fibers. They are used in aerospace and military applications, for ballistic-rated body armor fabric and ballistic composites, in marine cordage, marine hull reinforcement, and as an asbestos substitute.
What's in the box?
Pitaka Air and Pitaka MagEZ case boxes each have:
Case
2 stickers to customize case fit (if needed)
Pitaka MagEZ Card Sleeve has:
Design and features
Pitaka Air Case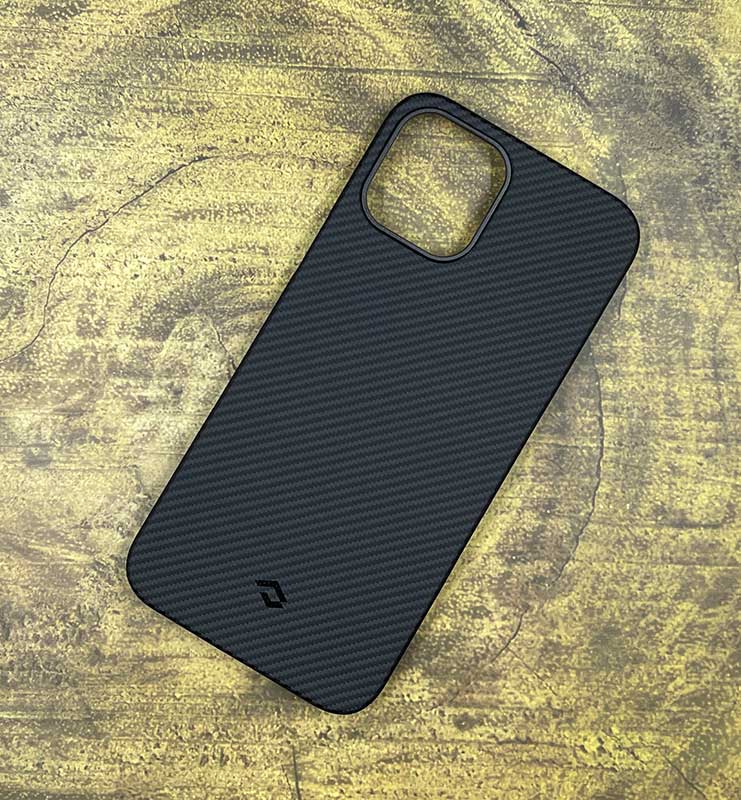 The Pitaka Air case is only available in the color that you see above which is black with dark grey stripes.
There's a large cutout for the camera and a small Pitaka logo at the bottom.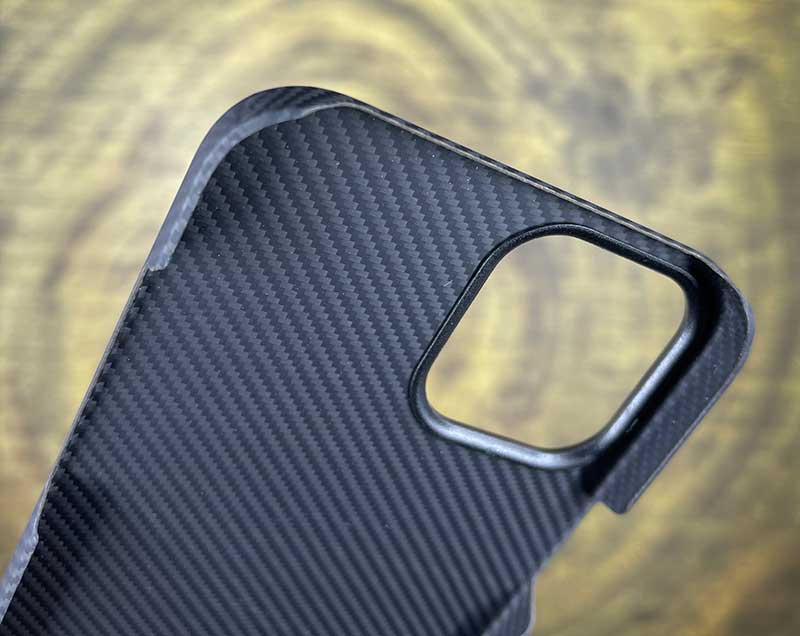 Never miss one of our posts again. Sent MON, WED, and FRI with the latest gadget reviews and news!
This case is only 0.65mm thin and lightweight at only 10g. Although it is Aramid fiber, it has a look to it that looks very much like carbon fiber.
The case has a matte finish that doesn't pick up greases or fingerprints like other cases that I've tried. It also has a slight texture that provides a lot of extra grip.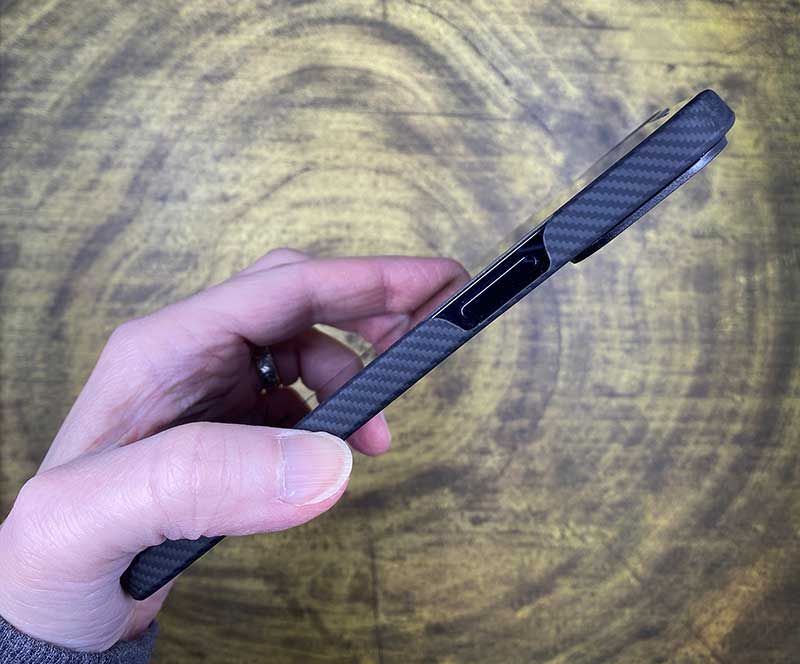 There's a cutout for the power button on the right side.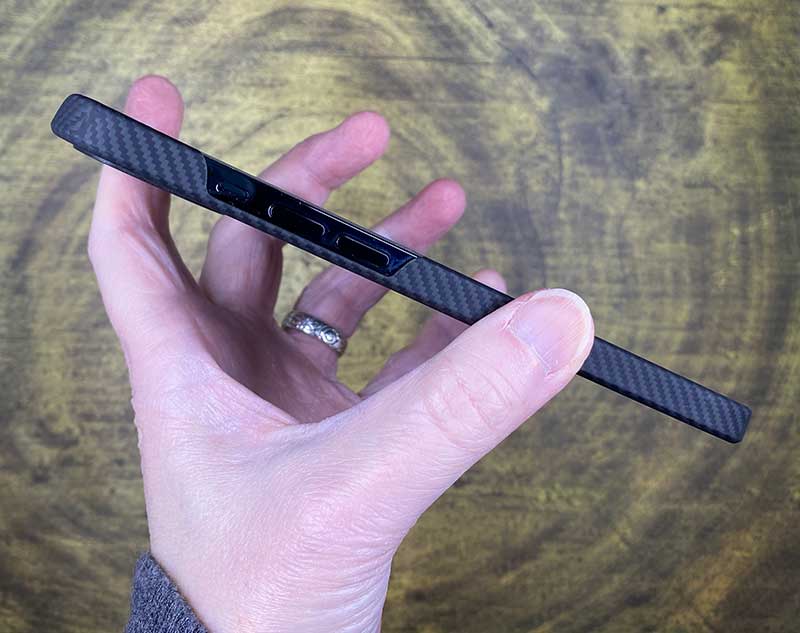 And there's a large cutout for the mute switch and volume buttons on the opposite side of the case. Now I don't know about you, but I prefer button cutouts over having plastic buttons molded into the sides of the case. Let me know what your thoughts are on that.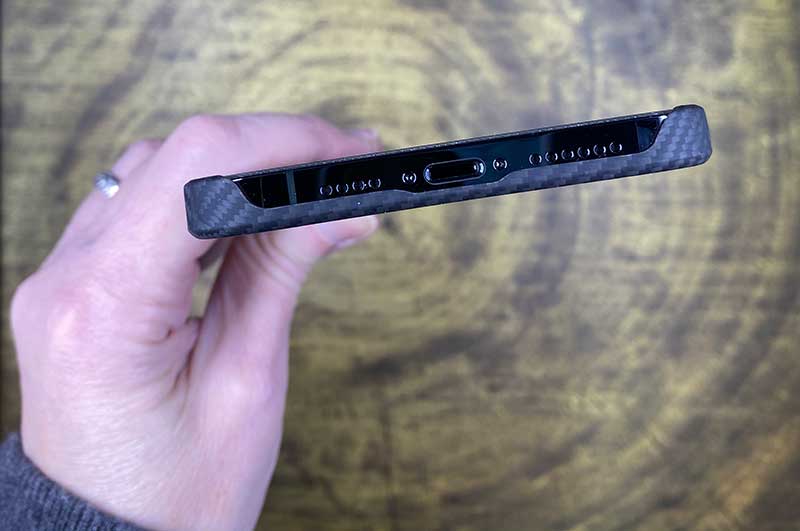 The bottom edge also has a large cutout area for the lightning port and speaker holes.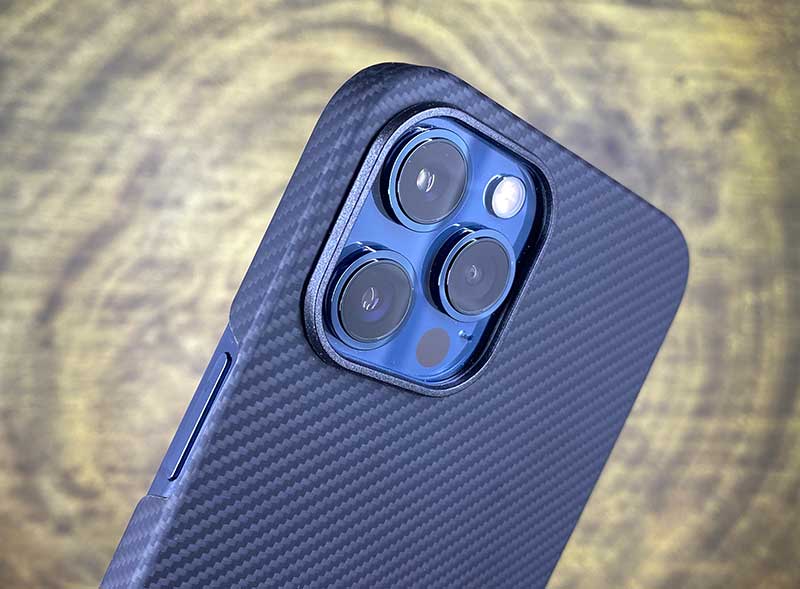 If we look at the back of the phone, we can see that Pitaka has added an extra ring of protection around the camera lens that appears to be slightly taller than the lenses so that it will protect them when you lay the phone on a flat surface.
Pitaka MagEZ case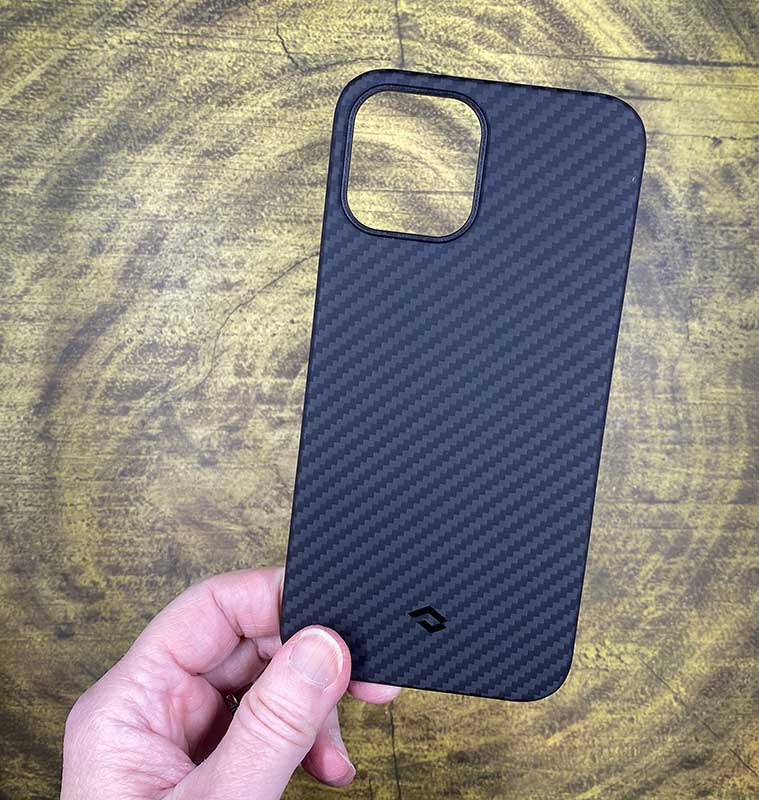 The MagEZ case looks and feels identical to the Air case. There are a couple of notable differences though. First of all, the MagEZ case is slightly thicker at .85mm vs. .65mm of the Air case and slightly heavier at 17.g vs 1og. The difference in thickness is really not noticeable in hand.
Another difference between the cases is that the MagEZ is available in 8 colors.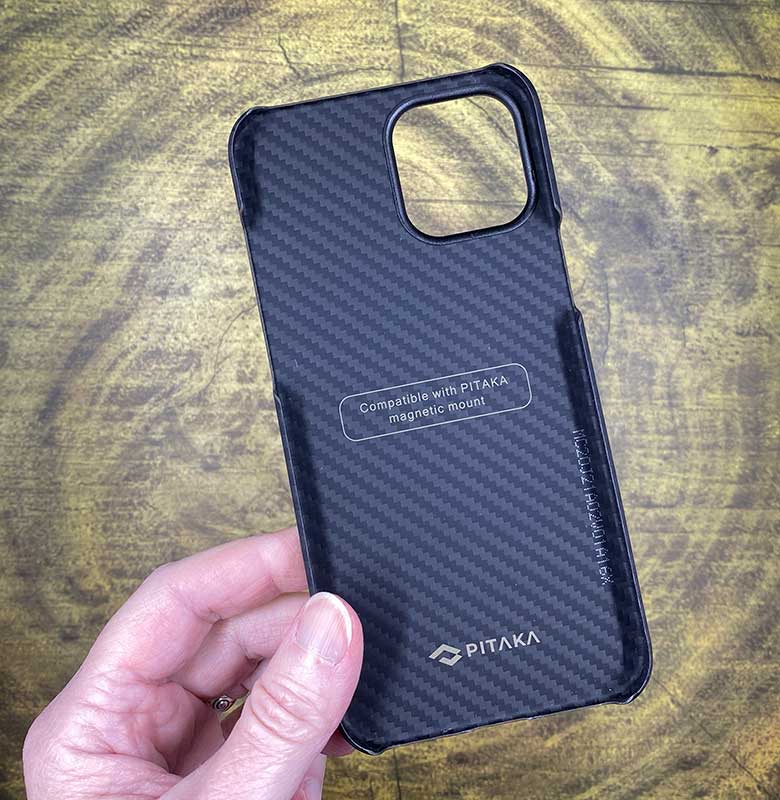 The reason why the MagEZ case is thicker than the Air case is due to the metal plate that is embedded in the case to allow it to be compatible with other Pitaka MagEZ magnetic accessories (see the MagEZ card sleeve below).
Note: Both the Air and MagEZ cases are wireless charging friendly. I've been using the Air case with my KIKR dual charger wireless charger with no issues at all.
Also, both cases do not interfere with your signal strength.
MagEZ Card Sleeve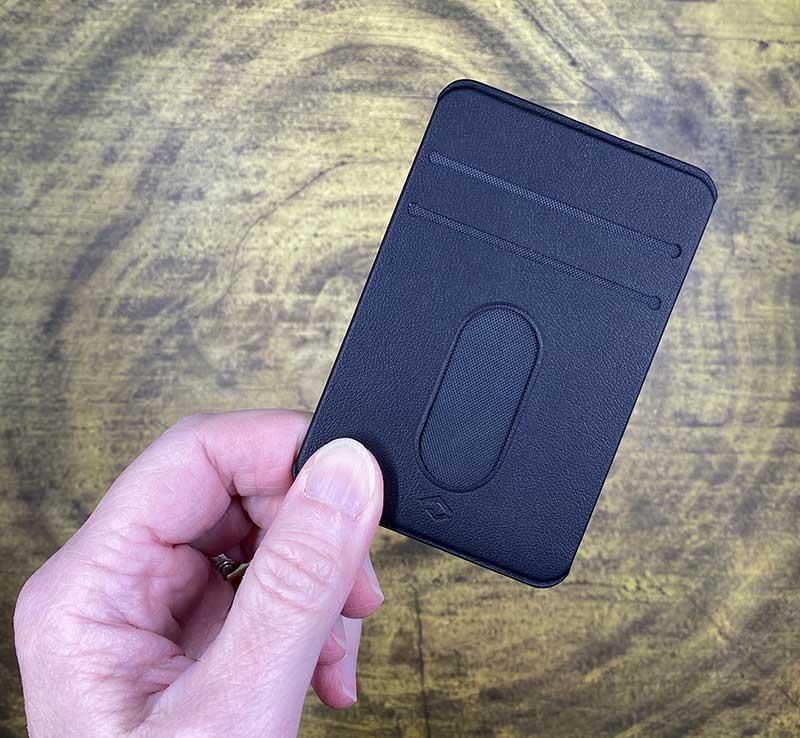 The MagEZ Card Sleeve appears to be Pitaka's take on Apple's new MagSafe compatible wallets.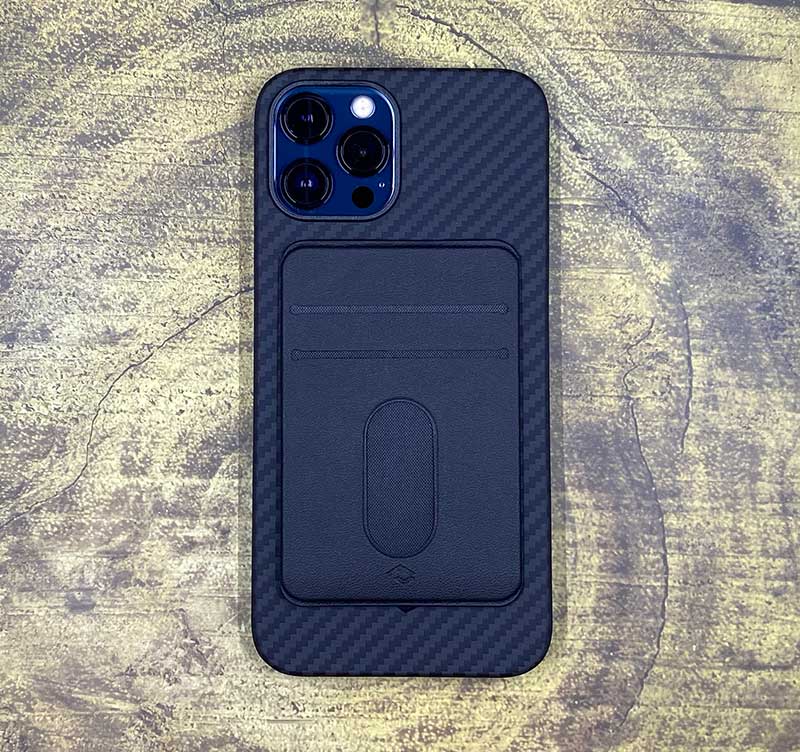 The Card Sleeve is made of PU leather and attaches to the back of the MagEZ case. The "wallet" has 2 slots and is designed to hold 2 credit cards or 4 business cards.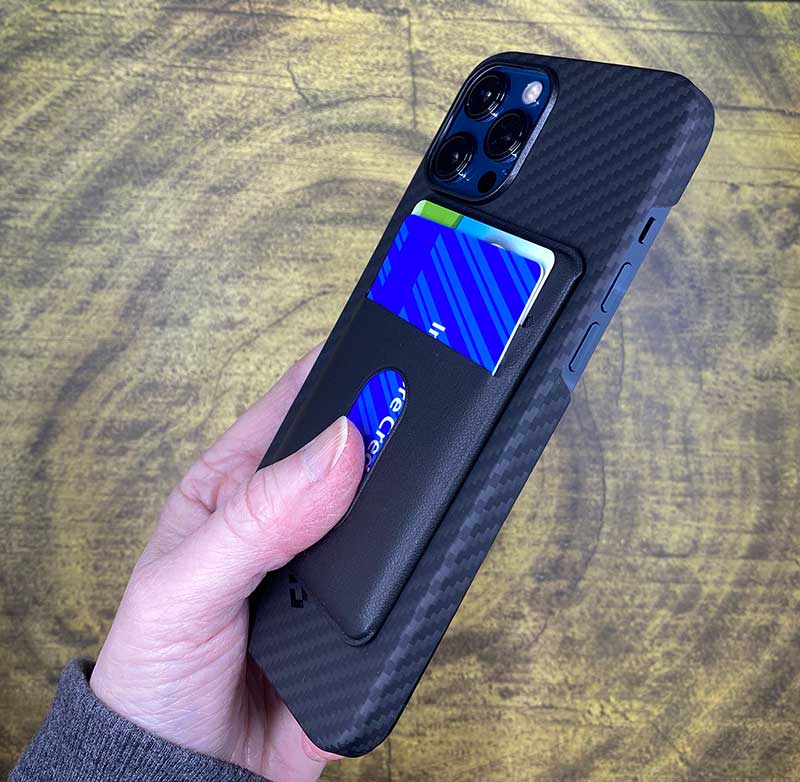 There's a cutout on the top of the sleeve which helps you slide out the top card with your thumb.
Like Apple's wallets, the MagEZ Card Sleeve doesn't attach super securely to the back of the case because the magnet isn't real strong. Depending on how you slide the phone with the sleeve into your pocket, it can dislodge the sleeve. That said, if you do pay attention to how you use it, it does keep your most used cards right where you need them. Just be careful.
What I like
Thin
Lightweight
Adds grip
What I'd change
Cases are expensive
The magnet in the MagEZ Card sleeve could be stronger
Final thoughts
In a perfect world, I wouldn't worry about dropping my phone and nicking it up and knock on wood, I rarely drop it. But after buying a brand new phone, I am more anxious about it than when it's several months old. So I look for a thin cover to protect from everyday wear and tear. The Pitaka Air and MagEZ cases do that wonderfully. These cases might not protect the phone if you drop it from 10 feet to a gravel driveway or concrete sidewalk, but the case will protect the phone from everyday abuse and it will look great while doing it.
Price: $59.99 Air case, $49.99 MagEZ case, $28.99 MagEZ card sleeve
Where to buy: Amazon
Source: The sample for this review was provided by Pitaka.