We use affiliate links. If you buy something through the links on this page, we may earn a commission at no cost to you. Learn more.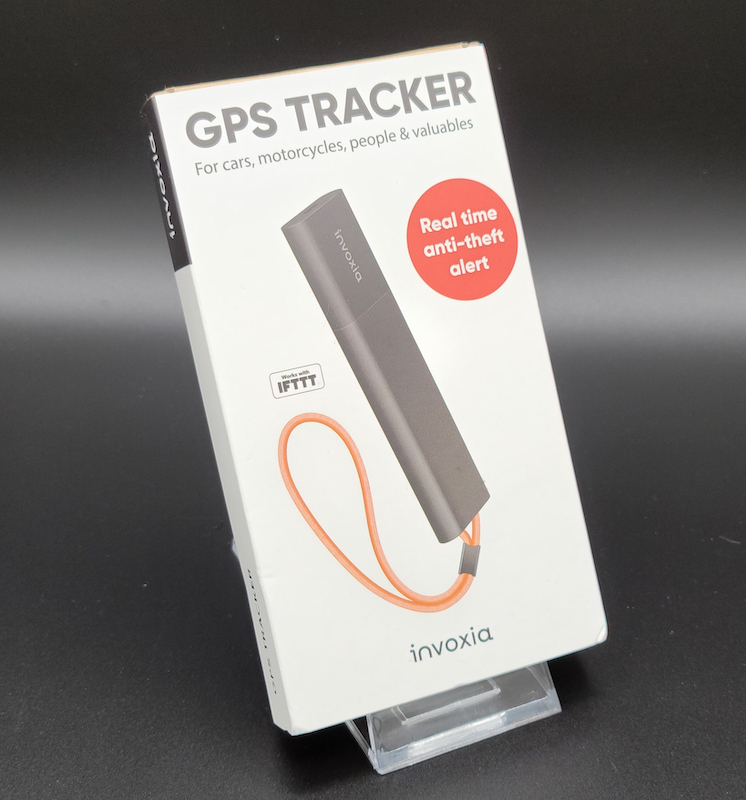 REVIEW – I've always been interested in a GPS tracker for valuables, but haven't gotten one yet for a variety of reasons.  When the offer came to review the Invoxia GPS tracker, I jumped at the opportunity to see if it's worth it.  I recently bought a somewhat-expensive e-bike, so this gave me a great vehicle to test with (our other car already has built in tracking from the manufacturer).  I'll put this thing through it's paces, I'm especially keen on how well I can hide the tracker on the bike, how quickly it alerts me if moved, and what the battery life is like.
What is it?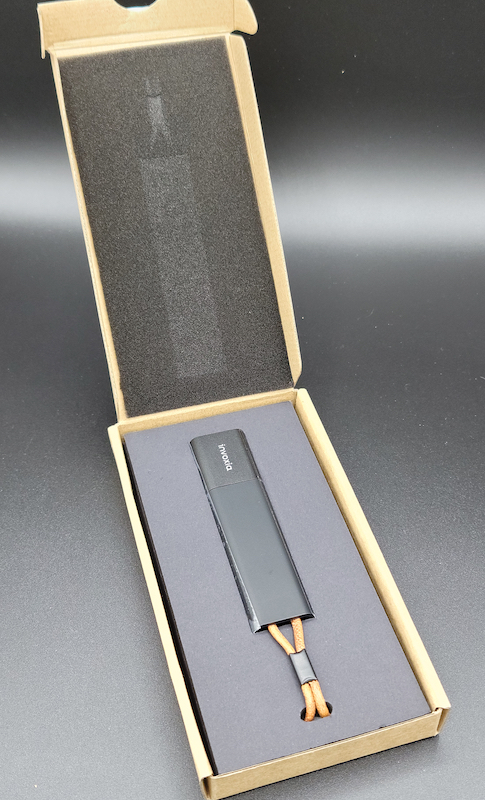 The Invoxia GPS tracker is an electronic location tracker, which uses mobile internet, GPS, and Bluetooth to alert you in case of theft or movement.  It also lets you track the device live using your smartphone, which would be good for lost or stolen items.
What's in the box?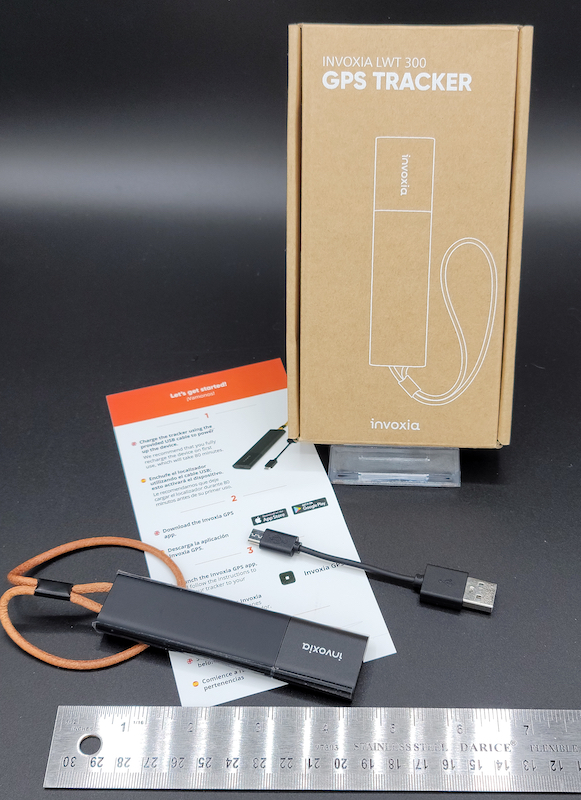 Included in the box is the Invoxia GPS tracker itself, a comically short USB charging cable, and a quick start guide.  The leather strap comes pre-installed (which is nice, sometimes these can be a bit of a pain to loop into an electronic gadget!).
Hardware specs
Size: 4.13 x 1.06 x 0.35 in
Weight: 30 grams
Battery: 250 mAh battery
Battery life: 2-7 weeks depending on tracking frequency, or up to 4 months for on-demand tracking use
Connectivity: Bluetooth and LTE-M 4g wireless networks (works anywhere in the United States)
Materials: Aluminum case with leather cord
Design and features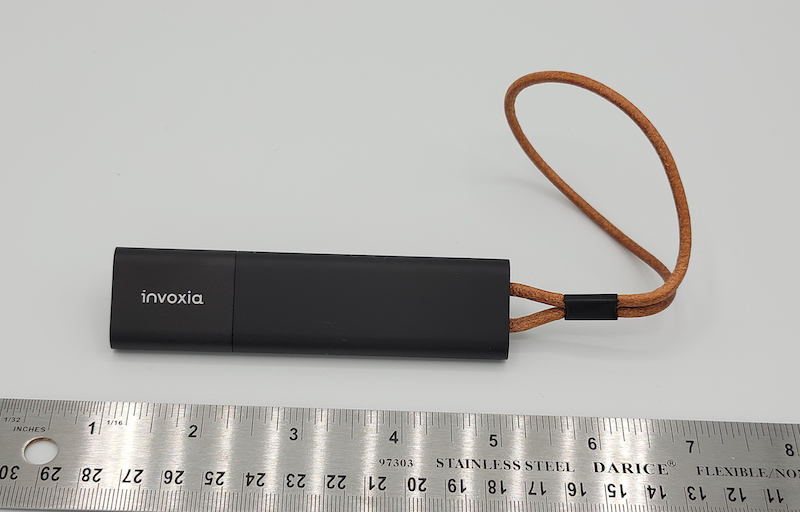 The Invoxia GPS tracker is small, but not tiny.  It's very light and thin, but at just over 4 inches long I couldn't hide it in the ways I originally planned.  Luckily I found a solution (more on this later), but using a GPS tracker to prevent theft isn't particularly effective if the thieves can easily find the tracker (and discard/destroy it).  I'd imagine that this size of device would be easy to hide in most cars/motorcycles/scooters, so if that's your goal then this should be a good option.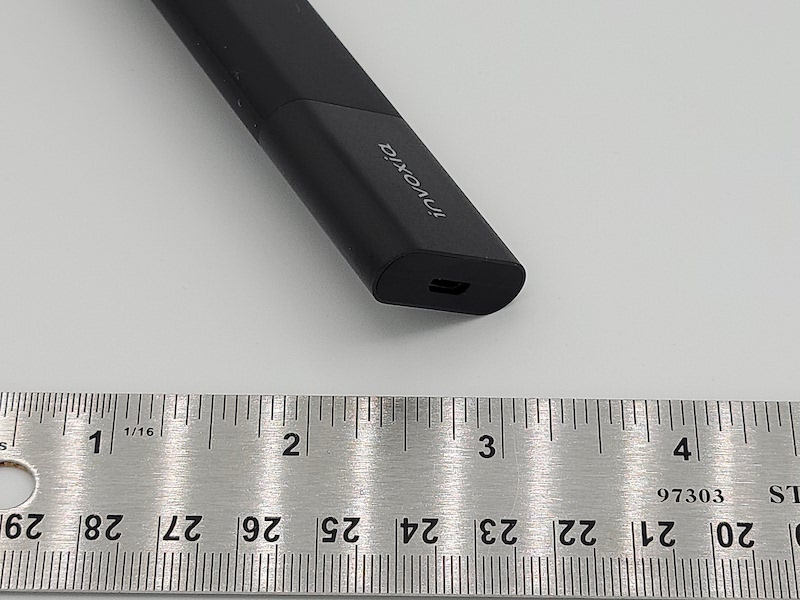 The Micro-USB charging port is on the non-strap end of the device, and is not weather sealed (there is an IP-33 rating listed, but you'd want to be careful of moisture in this port when charging).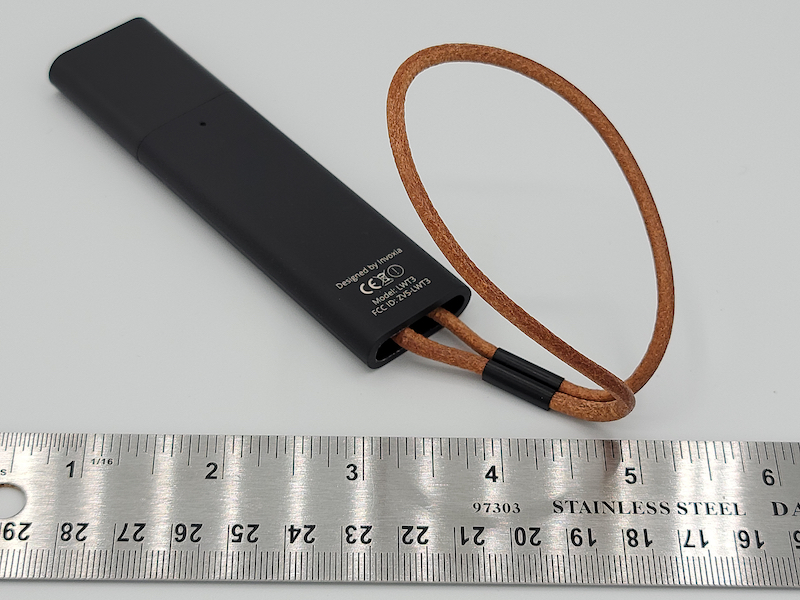 The leather strap is soft and seems to be decent quality (no rawhide-feel or obvious fake leather traits).  I'm not sure how it will hold up over time, but it stayed soft and I didn't notice any cracking or drying in the review period.
Installation and setup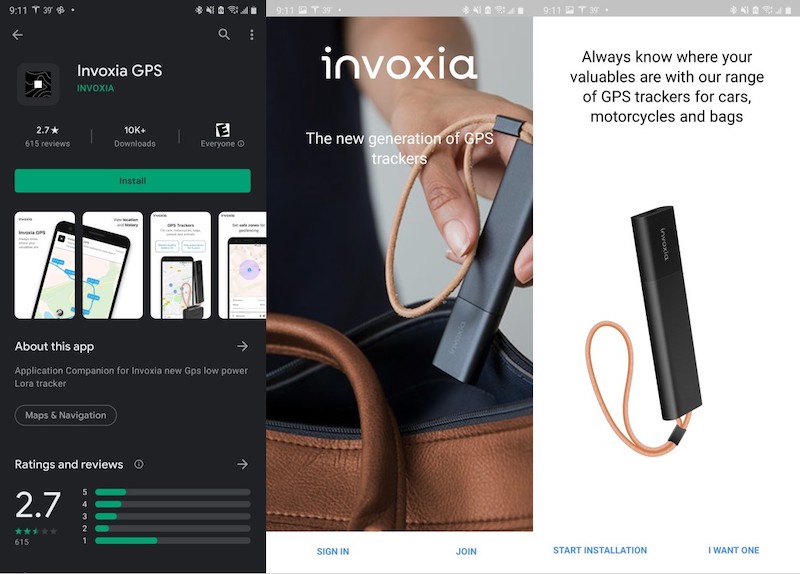 Setup was quite easy, there's a QR code to take you to the App Store (iOS or Android), and the step by step screens were easy and intuitive.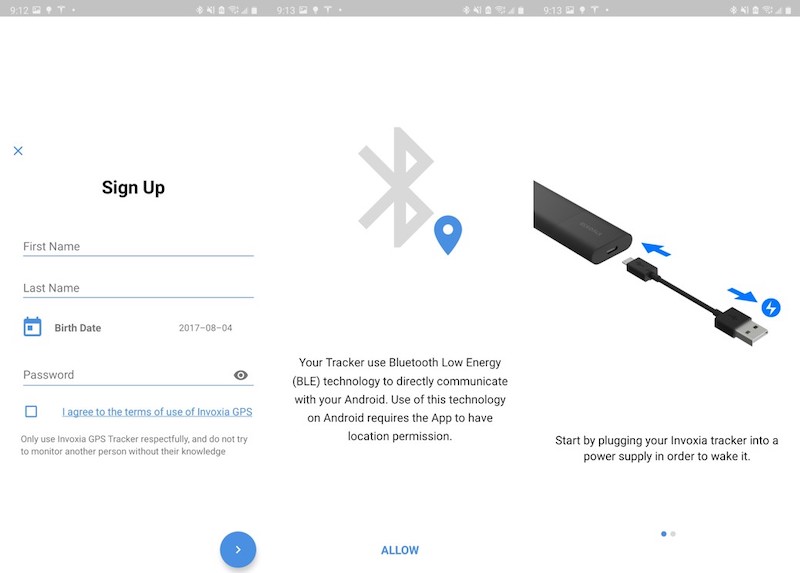 You are required to create an account and give some personal info (privacy terms seem to be pretty standard).  The app guides you through plugging in your device to wake it up (there's no buttons on the tracker at all), and informs you that the tracker uses BLE technology which requires location permission – which is expected for something designed to track locations.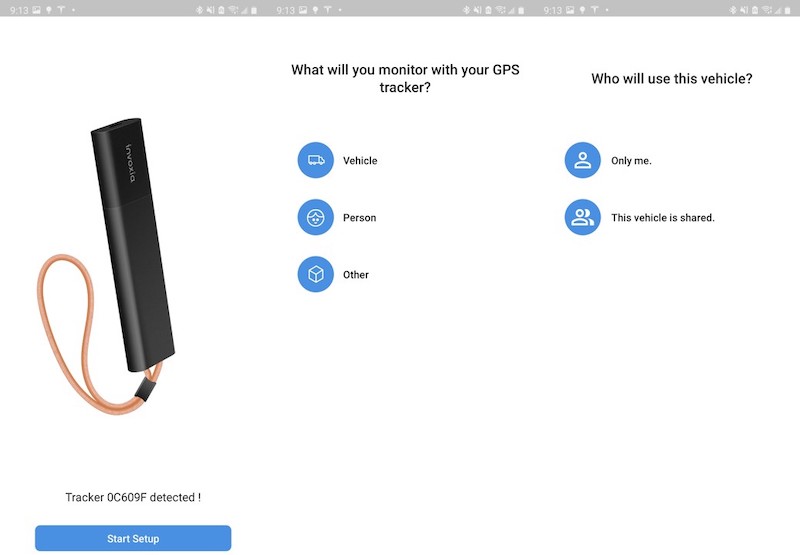 My review unit was immediately detected and setup went on without any hitches.  You choose an icon and name your tracked thing (if you use multiple Invoxia GPS trackers, this will be nice to see which one is alerting you).  All of these screens were well-designed, they were easy to fill out, none were confusing, and there were no bad English translations that plague many modern device companion apps.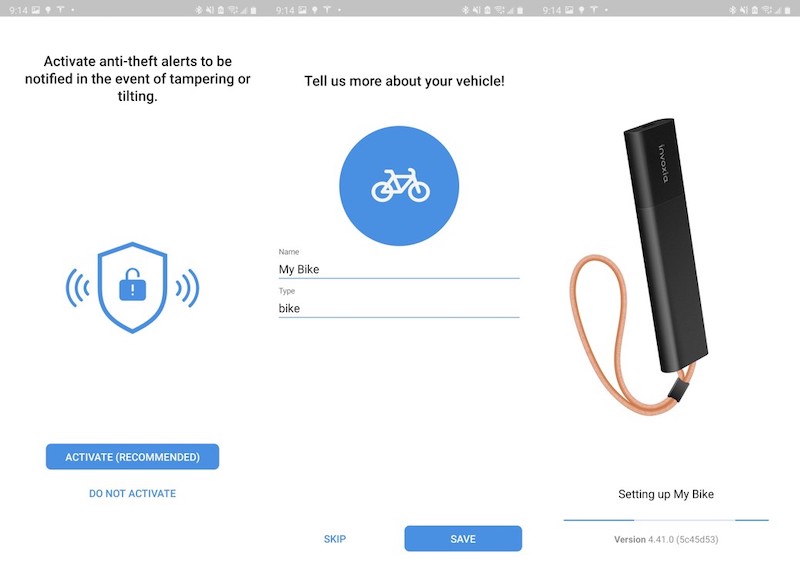 I activated the push notifications for anti-theft alerts, we'll see how those work in a bit.  After saving all this information, the tracker had a small firmware update which went pretty quickly, then was ready to use.  There are options to set up geo-fences as well, which is great to avoid unnecessary notifications at home.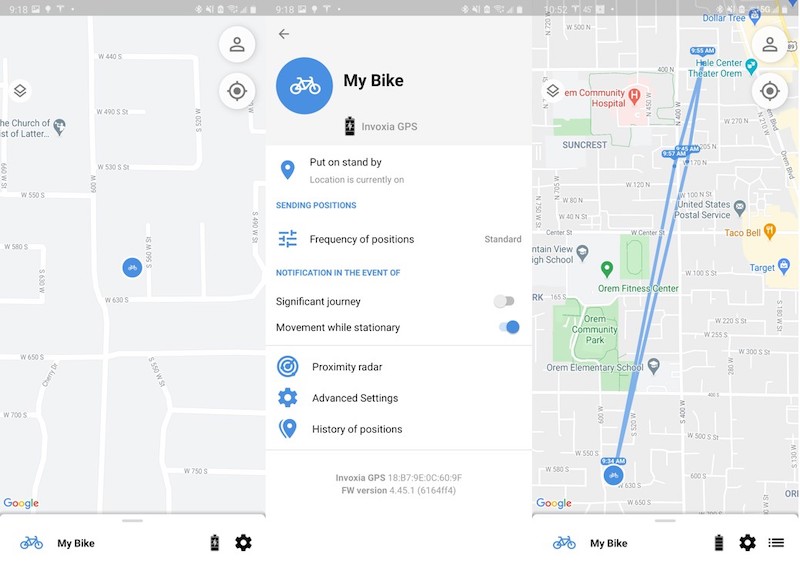 I checked out settings, and liked the extensive customization options.  Frequency of position updates while moving is the largest impact on battery life, so I left that as it was (every 5 minutes). I may change this to update-only-on-demand, as this is supposed to give up to 4 months battery life – and you can still actively track something and get motion alerts, which are the 2 features I would use in case of theft.
The one thing I didn't see at all was management of mobile-data after the included free period (depending on the store listing I saw 1 or 2 years included free with purchase).  I can't find any account management or subscription options in the app or on Invoxia's website to manage a data subscription after that period.  Invoxia's site does list pricing after the free period at $39.90/year, but I couldn't find out how you'd actually pay for additional years nor any assurance that this price would remain consistent.  In fact, a 7-month-old article on their help site lists 3 free years as standard and then 10 Euros / year after, though maybe this varies by country or has changed over time?
Battery life seems fantastic – on default settings the 4-bar battery life indicator (in the app – there's no indicators on the tracker itself) didn't move at all.  If that indicator is accurate, I'll be able to get months out of the tracker which is great news considering my chosen hiding spot – inside the main bike tube.  My particular ebike has a battery that attaches to the main tube, and I can unscrew one end of the mounting hardware and tuck the tracker up into the empty space above this battery area.  A potential thief would need to either follow my articles here on the Gadgeteer, or really go digging into the bike to find it.  Hopefully the active alerts would help me catch said thief long before they were able to remove the tracker.
Theft Test
In order to test out an actual theft scenario, I took my bike to a store, then had an accomplice stage a "theft" while I was shopping.  He sent me a text message the moment he started moving my bike, and the push notification from the Invoxia GPS tracker came to my phone within 5 seconds of receiving this text.  I use a pretty decent bike lock (not used for this test), so I think if I ran the moment I got an alert, I could probably catch thieves in the act.
I had my accomplice ride the bike a couple of blocks in any direction (his choice), and my goal was to see how easy it was to track down.  I pulled up the Invoxia app, and watched it move as he rode.  I did have the default setting where it was only updating every 5 minutes, but from the app you can refresh the location as often as you'd like – this pings the tracker and gets a new location on demand.  Once he stopped moving, the Invoxia app has an easy map icon/shortcut to navigate to the tracker's current location.  I was there within a minute, and the mapping took me to within ~20 feet of where he was standing with my bike in a parking lot.
What I like
Easy setup
Reliable tracking anywhere with AT&T cellular coverage
Long battery life
What I'd change
More information/transparency about long-term subscription options
Final thoughts
The Invoxia GPS tracker did exactly what I was hoping it would, and seemed reliable for the entire multi-week review period.  The app was solid for me – which is probably my biggest worry for this type of device.  If the app crashes or has bugs, this could lead to missed notifications and/or failure to track properly, but nothing during the review period gave me any concerns.  If you're looking for a good tracker with long battery life that can be found even if it goes out of wifi/Bluetooth range, the Invoxia GPS tracker seems like a great pick!
Price: $159
Where to buy: Invoxia  or Amazon
Source: The sample for this review was provided by Invoxia.