We use affiliate links. If you buy something through the links on this page, we may earn a commission at no cost to you. Learn more.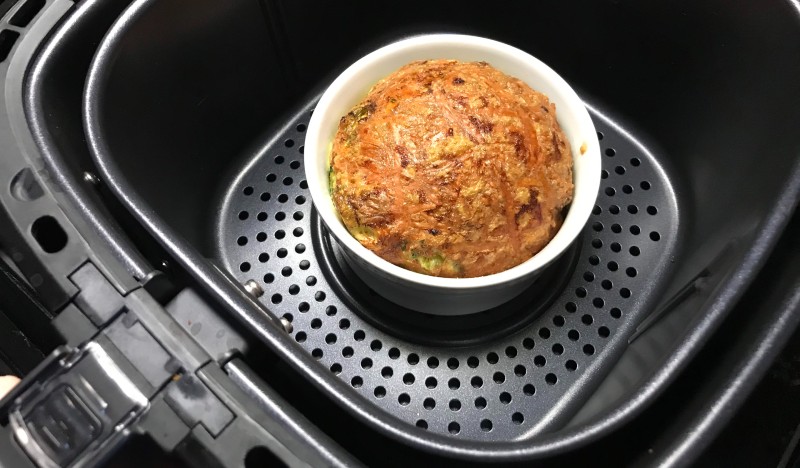 REVIEW – The TaoTronics 6-quart air fryer is a substantial kitchen appliance that roasts, bakes or reheats your food, making it nice and crisp with little or no oil.
What is it?
This 1750-watt air fryer comes with 11 preset menus, touch controls, and is very easy to clean.  It takes up a lot of space on your countertop, but it also can roast an entire chicken. 
What's in the box?
Air fryer

Quick-start guide

User guide

Recipe book

Hardware specs
Package Dimensions: 17.2 x 16.05 x 16.05 inches

Item weight: 18.36 pounds

Manufacturer: TaoTronics

ASIN: B08H5F8KDZ

Voltage: 120V – 60Hz

Power: 1750W

Capacity: 6 quarts

Temperature range: 65-200°C/150-400°F

Cooking time range: 5-60mins
Design and features
Setup
The first thing you'll notice is this air fryer is huge! The picture on the box shows an entire chicken being air fried, and while we didn't test a roasting chicken, I have no doubt that it would fit.
When you open the box, there are stickers reminding you to take the plastic packaging out of the fryer basket. Once you remove the packaging and stickers, your set-up is complete.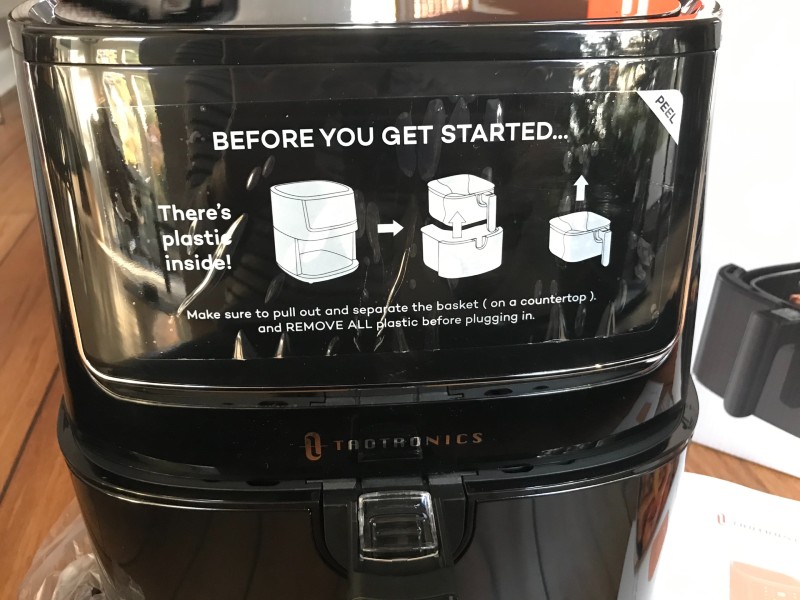 TaoTronics includes a quick-start guide, too. My only slight confusion came when searching for an on/off button. The trick is that it's a digital display, so none of the controls appear until you plug it in.
Once plugged in, all of the controls appear, including preset buttons for french fries, steak, bacon, defrost, bread, chicken, seafood, shrimp, vegetables, root vegetables and desserts. You can also select preheat, cooking mode, power on/off, start/pause and keep warm.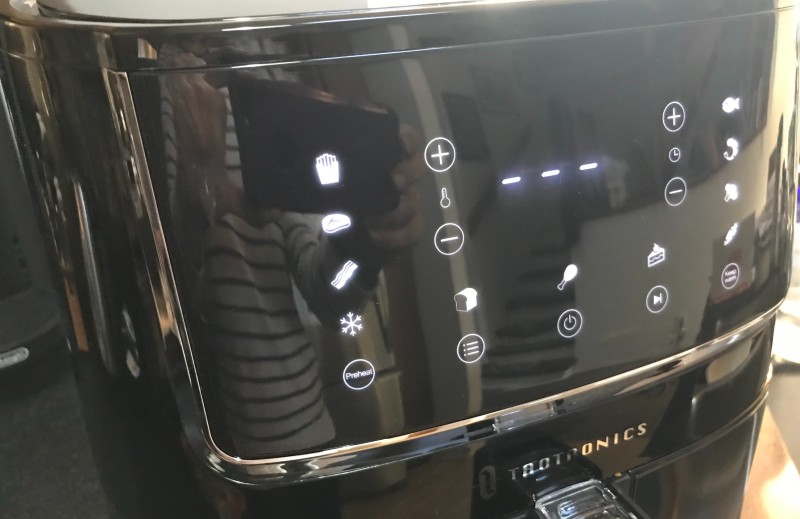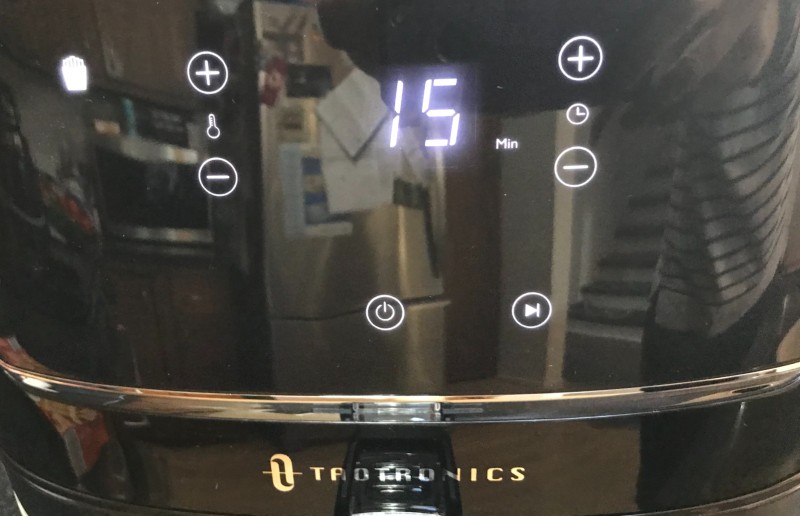 Or, like I mostly do, you can simply select the temperature with the + or – button, with temperatures from 150 to 400F. Similarly, you can select the cooking time with the + or – button from 5 to 60 minutes.
I've added a picture from the manual, which shows the controls a bit more clearly.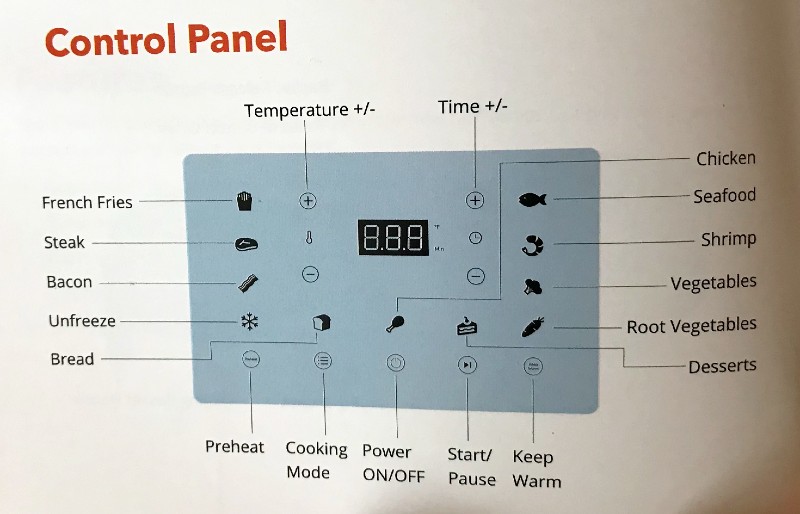 Performance
I was a little leary at first. I'm stingy with my counter space and at almost 20 pounds, it's not the easiest thing to move around. My husband was also very cautious.
Plus, we've had an air fryer before. And we got rid of it because it just wasn't that useful to us. But after hearing from several family members about how much they love theirs, we decided to give it another go.
And, I gotta say, I get it now. My sister gave me a recipe for simple homemade donuts, using pop-up biscuit dough and little cinnamon and sugar: Fabulous! It's rare that I make something every single family member loves, but this hit the mark. And with everyone home with e-school and remote work, a warm yummy breakfast is especially appreciated these days.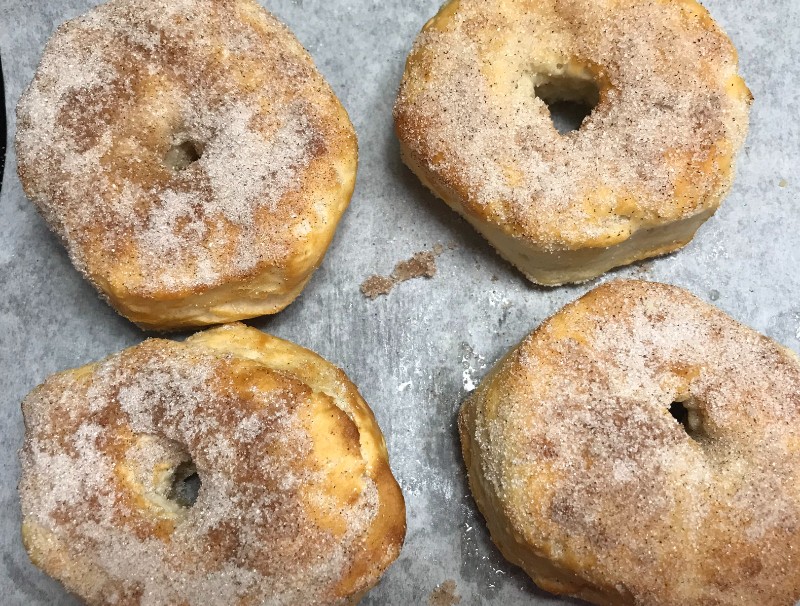 I learned an important lesson: You can't put too much into an air fryer or you won't get the desired result. The hot air needs some room to get around the food and make everything crispy.  Four donuts at a time is the max. I also realized this is why our previous air fryer experience failed. It was simply too small to feed our family of four (with two teen boys!). Even with this 6-quart model, it still often takes two sessions to cook enough food to feed my crew.
We also tested recipes from the booklet included with the fryer, which has a variety of 50 breakfast items, appetizers, entrees, side and desserts. My husband modified the egg frittata recipe, and that won him over completely. It turned out beautifully (photo at the very top of page). We weren't crazy about the feta triangles, but the experience of making those, along with the tofu recipe gave me key insights to modify recipes to our taste. The recipe book also gave me some key insights on what presets to use, as well as cooking temperatures and cook times. 
A lot of recipes have you stop and shake the basket or flip the food halfway through. I'll admit, when I first got this, I popped in some frozen mozzarella sticks and just went with the oven instructions. Don't do that!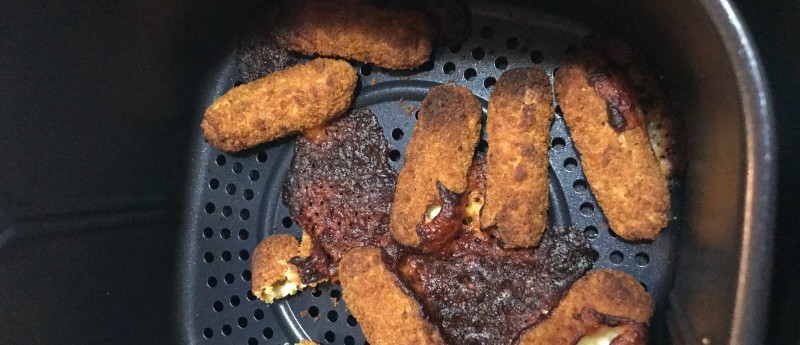 I've also used the air fryer to make hashbrown patties much faster than it would take to preheat and cook them in a traditional oven. Plus, my tofu is nearly restaurant quality for the first time ever. And nuggets are baked faster and crispier than in the oven.
Cleaning
In order to clean this air fryer, you need to separate the frying basket. To do that, you must slide the release cover and then press the basket release button and simply lift the basket up.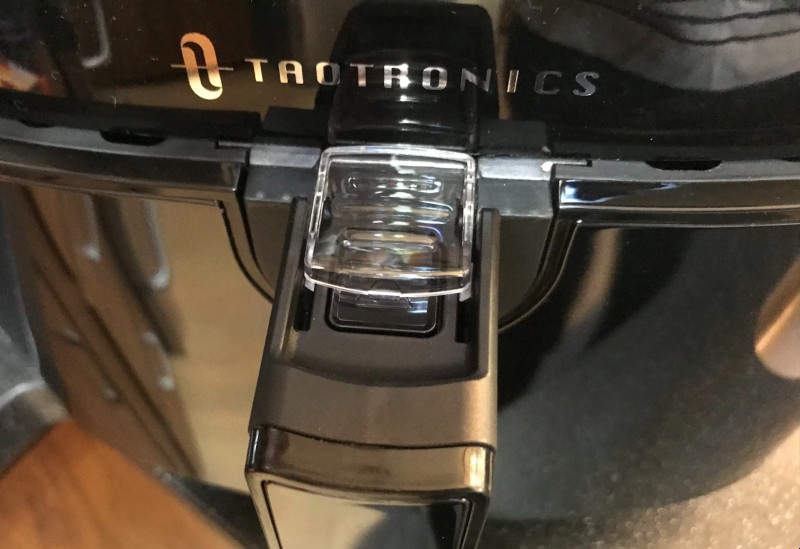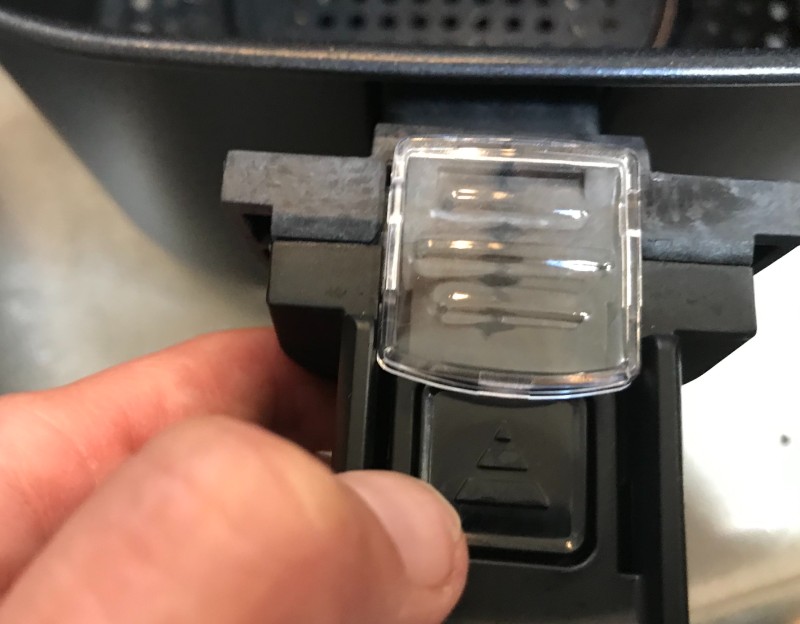 You'll need to clean the basket that holds the food, as well as the pan that catches the grease and crumbs.
Because of the nonstick material, it's easy to wipe it down with a dishwashing sponge, but avoid scouring pads that will scratch the surface.
At first, I was unclear about putting it in the dishwasher. The wording in the manual says, "Never use metal cleaning brush to avoid damaging the non-stick coating. Or put them into dishwasher for cleaning." 
I read that to mean I should never put the basket and frying tray into the dishwasher, but now I see they were offering the dishwasher as an alternative to using a cleaning brush. When I saw on the product's Amazon page that it notes in several places this is dishwasher safe, I went for it. And to my delight, it worked great.
With some trial and error, this has become a welcome tool, especially in my pandemic kitchen where I'm cooking more than I ever imagined. It's well worth the counter space, which is about the highest praise I can give.
Clearly, I'm not the only one who's enjoying their TaoTronics 6-quart air fryer. Right now, of the 90 reviews on Amazon, every single one gave the product a 5-star review.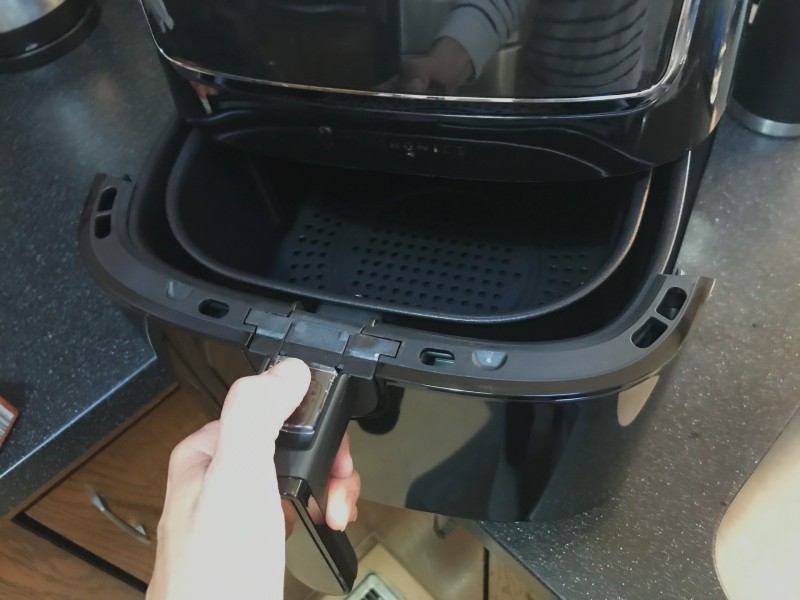 What I like
Cooks fast

Gets food crispy with little or no oil
What I'd change
Nothing! It's perfect for my family, but for a 1-2 person household, it may be a little too large, depending on what you're cooking in it and how often you're using it.
Final thoughts
This is an excellent addition to my kitchen. We use it every single day.
Price: $119.99 (plus, a $10-off coupon was available at the time of reviewing this)
Where to buy: Amazon
Source: The sample of this product was provided by TaoTronics.