We use affiliate links. If you buy something through the links on this page, we may earn a commission at no cost to you. Learn more.

REVIEW – I am a teleworker.  On my desk I have two computers, a 16-inch MacBookPro that is my work computer and a Mac mini that is my personal computer.  To save on space, I want these computers to share a single monitor, keyboard, and mouse; I just need some way for the peripherals to go back and forth between the computers.  I could use a KVM for this, but good ones that support Display Port or USB-C video are expensive, a few hundred dollars.  That's a cost I would like to avoid, so I took an easier route.   My monitor is a Samsung C34J79 that supports multiple monitors.  Using its built-in controller, I can switch back and forth between sources, or I can use its PBP feature and display them side-by-side.  That takes care of the video.  My keyboard is Apple's aluminum full-sized, 109-key wired keyboard, which Apple no longer makes, and my mouse is the Glorious Model D.  To switch them, I picked up a UGREEN 4 port switch selector; with each press of a button, the mouse and keyboard alternate between my computers.  This works, but I am looking for a solution that is wireless, one where I can eliminate the switch selector and all the wires.
Just to make things clear, this picture describes my plan:

The first step in my plan to is replace my old Apple keyboard with a new wireless keyboard from iClever.
What is it?
The iClever Wireless Keyboard (model IC-BK10) is a slim, mid-sized Bluetooth keyboard that can switch between three different sources at the press of a key.
What's in the box?
Keyboard
USB-micro to USB-A cable for charging
Manual with 9 pages of English instructions
Customer care card
Cover
Hardware specs
Bluetooth: 5.1
Dimensions:  14.4 W x 4.9 D x 0.6 H inches
Weight: 1.13 pounds
Charge Time:  Less than 2 hours
Work Time:  90 hours
Lithium Battery Capacity: 280 mAh
Design and features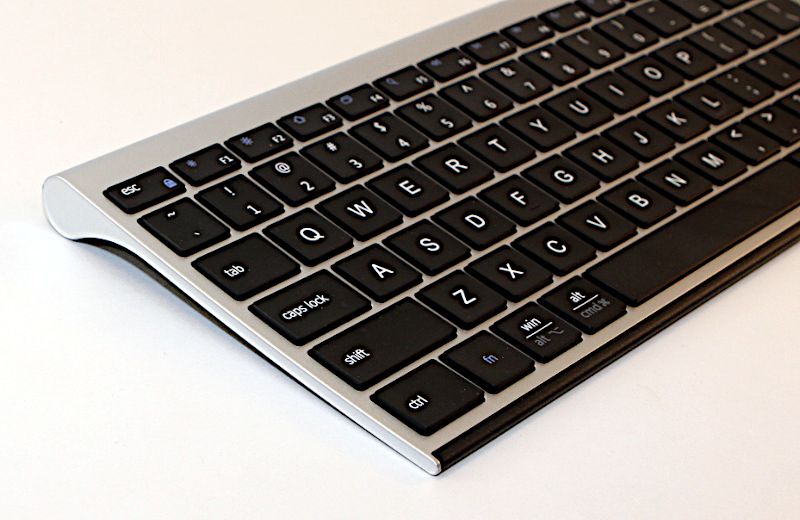 iClever's keyboard is slim and compact, a rather pleasant appearance.  It has a matte silver aluminum look on top with black keys and is completely black underneath; one could almost think it was designed by Apple.  (There are also all silver and all black variations.)  Unfortunately, the top is actually just plastic, and while the bottom is stainless steel, the keyboard is not rigid like one of Apple's aluminum keyboards.  I feel like I could easily twist the ends and cause the whole thing to crack and keys to go flying; even so, it's strong enough for its intended purpose.  I wouldn't throw it in my backpack and haul it around, unless perhaps it was in a protective sleeve.
Despite its name, it is not a full-sized keyboard, like Apple's Magic Keyboard with Numeric Keypad.  On the other hand, it's not as compact as Apple's Magic Keyboard.  It's a medium-sized keyboard that sits somewhere between these other extremes.  It has 99 scissor-switch keys that are very quiet and have minimal vertical movement.  It's definitely not a mechanical keyboard.
Installation and setup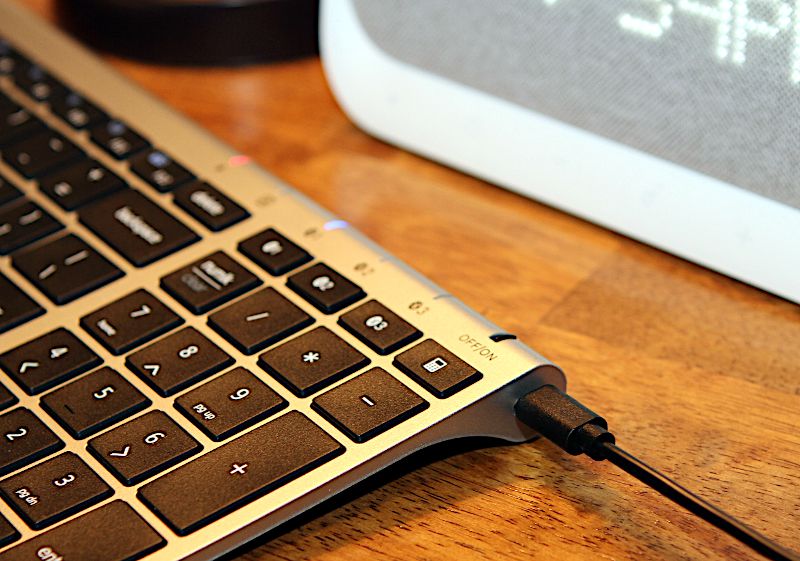 After removing it from its packaging, there are only two steps required to use the keyboard.  First, charge it.  I plugged the micro end of the included charging cable into the right side of the keyboard and the USB-A end into my Wakey.  The charging LED indicator glows red while charging and turns green when fully charged. The manual says that it needs less than 2 hours, and that was my experience.  I put the keyboard on the desk and clicked the small on/off button in the upper right.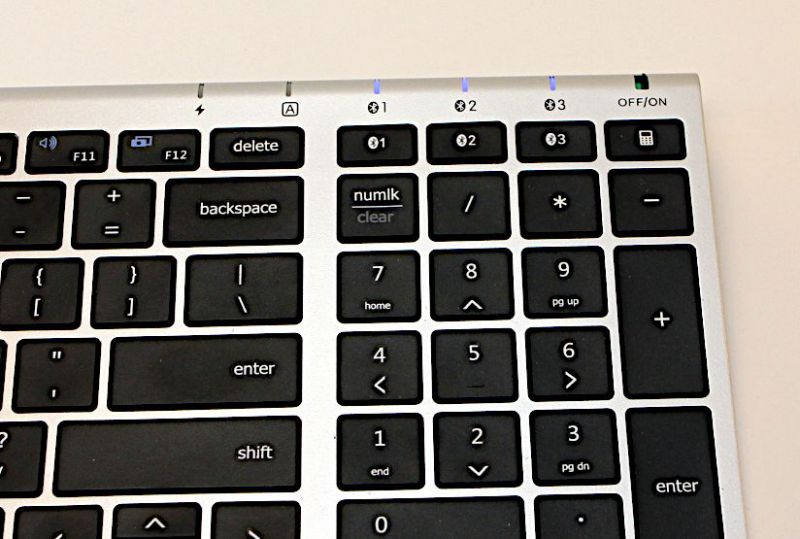 Second, pair it.  I made sure that Bluetooth was enabled on the computer, and then I pressed and held one of the three Bluetooth buttons—you can see them at the top right, those keys with the Bluetooth symbol and the numbers 1 to 3—for five seconds.  I had no problems pairing with my Mac mini, my MacBookPro, my Apple TV, or my iPad.  It's worth noting that the manual says the iClever keyboard works with Windows and Android as well, though I was not able to test those features.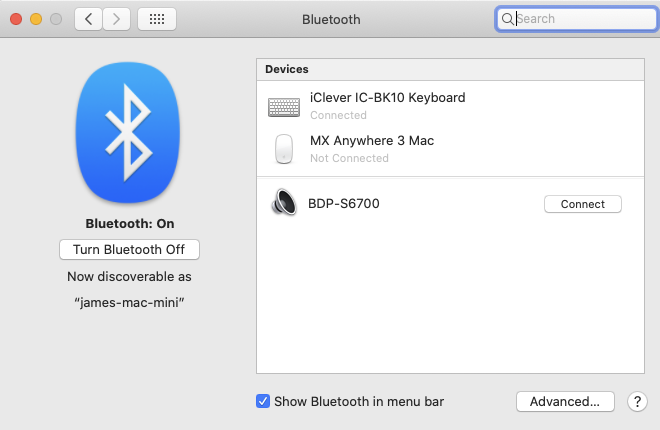 This pairing process and the purposes of these buttons are explained in iClever's wellwritten manual.  It's pleasantly detailed and describes all the various special buttons, how to pair, and how to switch between devices as well as answers several FAQs.  Full credit goes to iClever for the quality of their manual.
Performance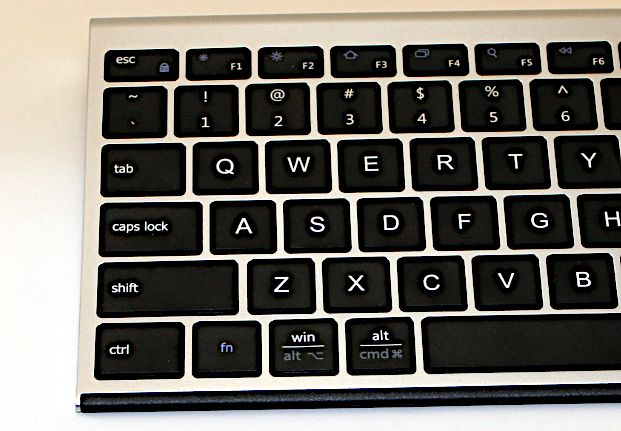 If you're like me and are used to a full-sized keyboard, you'll immediately notice a few differences.  One, iClever's keyboard is missing the set of keys (e.g., page up/down, home, and end) that were traditionally found between the numeric keypad and the rest of the keys.  Two, the arrow keys have been jammed down under the right shift key, and the up/down arrows in particular are quite small.  I find it hard to touch-type with these arrows, though I'll probably get used to them over time; if you're used to working on a laptop, you'll probably be quite comfortable with these keys.  Three, there is a function (fn) key that is inexplicably jammed between the left ctrl and alt keys, which makes the left alt and cmd keys both too small and slightly too far to the right, just enough to make it hard to touch type.  I wish they had put the function key somewhere else.  Overall, however, I'm quite pleased with these keys.  To my eye they appear to be identical in size to those on Apple's keyboard. They do, however, have slightly less vertical travel distance, which means that only a very light touch is necessary to press a key.  Excluding the exceptions I noted above, I was able to continue touch typing within a few minutes of using this keyboard.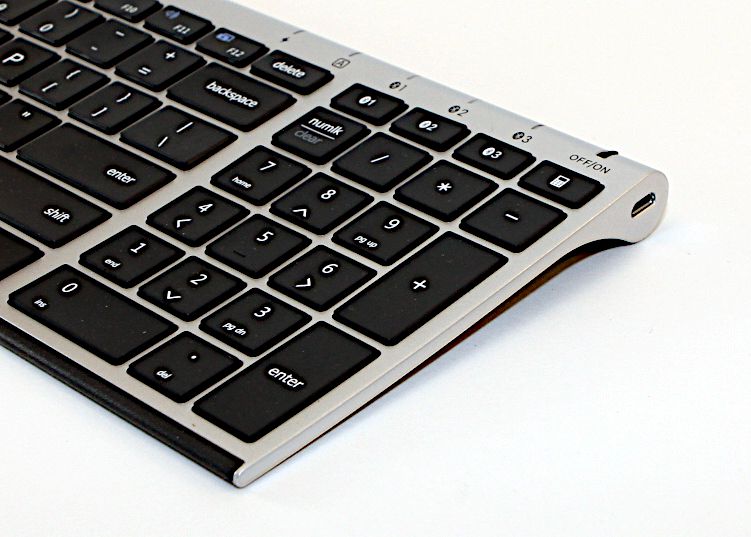 iClever is trying to cater to multiple audiences simultaneously.  This keyboard works with MacOS and Windows, and so its keys are marked correspondingly.  The win key for Windows is also the alt key for MacOS; the alt key is also the cmd key.  The Mac-specific keys across top – volume control, brightness, Spotlight search, etc – all worked fine for me.  I could only find one key setting that didn't work.  Normally I set the right ctrl key as "Show Desktop" in Mission Control.  For whatever reason, that key won't perform that function, so I set it to the left ctrl key instead.  Perhaps the oddest addition is a calculator button.  In the upper righthand corner is a key designed to start the calculator app, but the manual notes that "it can only work for windows PC."  It certainly doesn't work on my Macs.  I think this is a key that should be dropped; ideally the function key would replace it.
Bluetooth devices are never as fast as their wired counterparts, especially when waking from sleep or switching sources; even so, I've found iClever's keyboard to be quite reasonable in this area.  In my experience, it typically wakes from sleep in less than 5 seconds and switches from one source to another in less than 3 seconds.  While that's not as fast as a wired device, it's still really good.
The manual says that this keyboard is powered by a 280 mAh lithium battery, which is pretty small, and that it should last 90 hours of uninterrupted work time.  In my testing, I found that a full charged lasted 7.5 weekdays with the 2 weekend days in between, which I estimate to be 79 hours.  Take that with a grain of salt, as it's a really rough measurement at best.  iClever notes that the keyboard will go to sleep after 30 minutes of inactivity, thus helping to preserve battery life.  One shortcoming regarding battery life is that there's no way to know how much charge is left or how many hours until the battery is drained.  I'll need to either charge it regularly or keep a wired keyboard handy, just in case.  The battery in the keyboard is not replaceable, which is unfortunate.  The manual says it should last for three years; even so, any gadget whose battery is not replaceable should be viewed as disposable.  I'm not sure if this is planned obsolescence on iClever's part, designed to keep you coming back and buying more keyboards, but I wish there was a way to replace it.  The good news is for $36, a new keyboard is very affordable.
Extra Features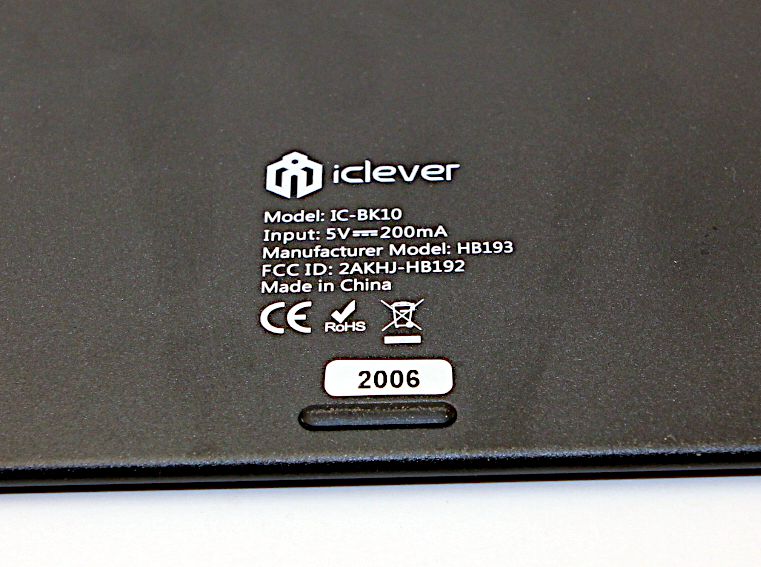 There are five rubber knobs on the bottom of the keyboard that do a nice job of keeping it from slipping around.  Included in the box is a keyboard cover, a thin, rubbery cover that can be placed on top of the keyboard.  I think it would be helpful for keeping dust and dirt out from under the keys, as well as prevent any Coke or coffee spills from ruining the keyboard.  To me, however, it just doesn't feel natural, so I'm not using it.
iClever claims that their keys are "ergonomically designed" and that the keyboard itself has an "ergonomic shape."  The key are flat squares; I don't see anything ergonomic about them.  Apple doesn't make this claim for their keys, which have the same shape.  The keyboard itself is slightly angled upwards, which is better than being flat, but if you have problems with CTS and need a real ergonomic keyboard, you'll want to look elsewhere.
What I like
Slim form factor
Keys similar to an Apple keyboard
Quick response time when waking or switching sources
Separate button for each Bluetooth source
What I'd change
Replace calculator key with function key
Add battery status indicator
Make the battery swappable
Final thoughts
iClever's rechargeable wireless keyboard is a solid buy.  The Bluetooth syncs easily and switches sources quickly.  The board itself is durable enough, so long as you leave it on your desk.  If you're used to typing with Apple's keyboards, you'll find this one to be very similar in feel.  Overall, I am quite happy with this keyboard, and I feel like I have successfully accomplished the first step in my plan.
Price: $35.99
Where to buy:  Amazon
Source: The sample for this review was provided by iClever.