The Gadgeteer is supported by readers like you! If you buy something through links on our site, we may earn an affiliate commission. Thank you! Learn more.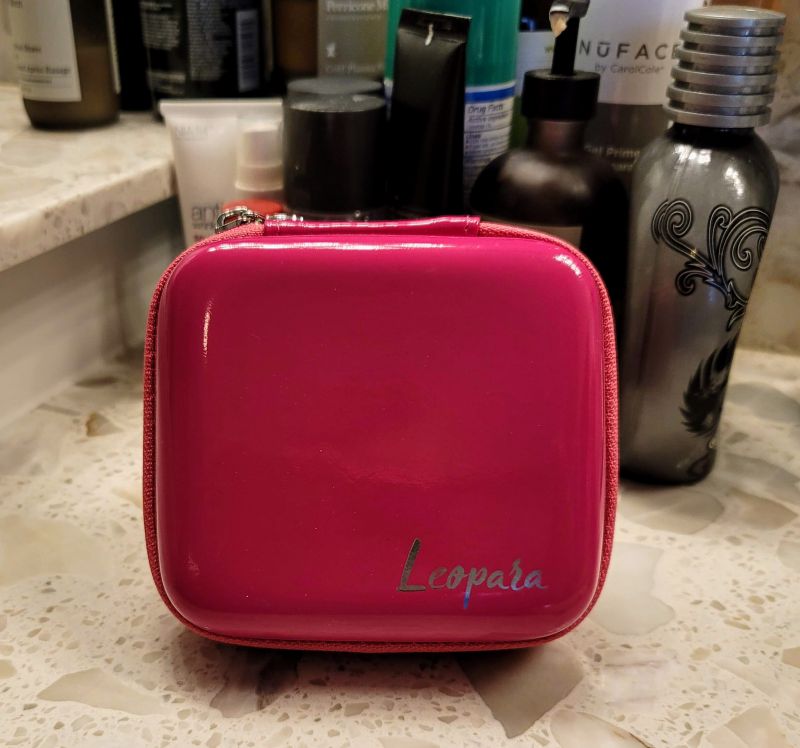 REVIEW – It seems almost weird to be writing about travel gadgets in the world today.  But, to paraphrase Jonathan Coulton, we won't always be this way.  So, with a hopeful eye to the future, we'll look at the Leopara Makeup Lighting System – a grand name for a simple device that'll make you wonder why no one thought of this before.
What is it?
The Leopara Makeup Lights are 4 independent LED light strips that you can attach to a mirror to provide better lighting than you get in most hotel bathrooms.  This is a constant complaint my wife has and I can't blame her.  We've been in some very elegant hotels where the lighting in the bathroom has been on par with your average dungeon.
What's in the box?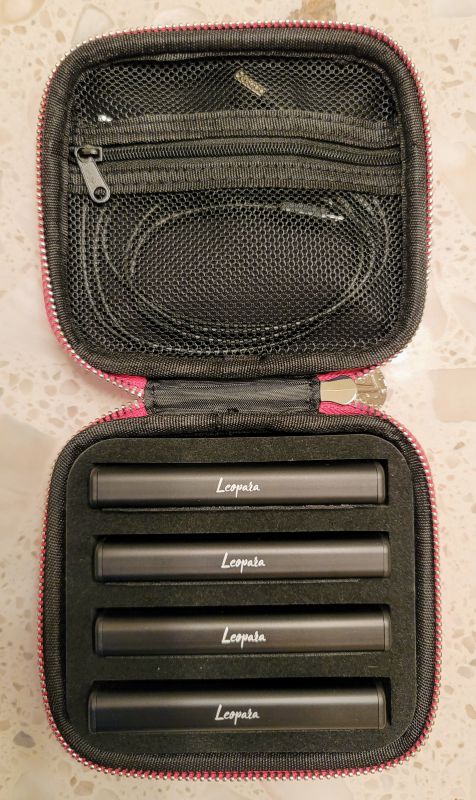 Technically, not a box – the system comes in a nice zippered hard case
Four LED light strips with 6 lights per strip
USB A to four mini USB plugs to charge the lights
Basic instruction card
How does it work?
Charging the four light strips took about an hour, but that was likely because I was using an older wall charger.  You do not get a wall charger in the package, but then with the ubiquity of USB-powered devices that usually isn't a problem.  You probably have a few in your bag already.
Each light strip has a microsuction strip on the back.  On first use, just peel off the protective tape and place the lights on the mirror.  Turn each light on and you are in business.  It is that simple.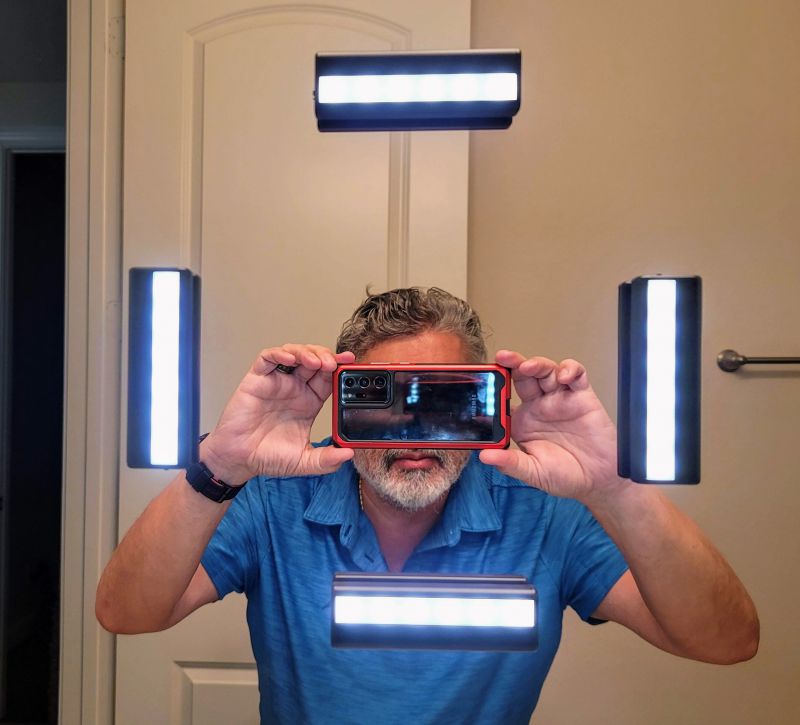 The photo (subject aside) does not do the lights justice.  They are very bright but not in a harsh way and should be more than enough to do whatever it is you need to do.  When you are done (or you are headed home after a week at the beach in Mexico…sigh), simply peel the lights off the mirror and pack them away.  When you are ready to use them again, a quick dab of water on the microsuction strip renews its "stickiness" and they will attach like new.
I wanted to see how long the lights would last on a charge, so I attached them to the mirror in my home office bathroom.  Ignoring the strange glow emanating from that room for 6 hours was tough, but at the end of those hours, the lights were still going strong.  I kind of lost track of them for the rest of the day, but when I returned about 4 hours later two of the lights were very dim.  So about 10+ hours of use.  If you can't get your makeup done in 10 hours, you'll need a different solution.
The system comes in a very nice hard case.  In addition to the Electric Pink version I reviewed, you can also get it in Onyx Chrome (basically, black) or Leopard Lux (leopard print, but you probably knew that).
What I like
Pretty much everything – it solves a problem that you don't think about until you encounter it yet again
What I'd change
Final Thoughts
This is a great little light set for travel.  One thing my wife noted is that often the large mirror in a hotel room is too far back from where you would sit/stand to put on makeup, so the lights might not be that effective.  The solution?  Most hotel rooms have a smaller makeup mirror attached to the wall, and almost to a room, not a hotel has a lighted version.  Leopara to the rescue: just attach the lights to the edge of the makeup mirror and the problem is solved.
At $79.95 for the set, the price is right for what you get.  The lights feel substantial and are very bright, the battery lasts a long time, and the case protects the investment while you travel.  At about 5 inches on each side and 3.5 inches tall, it won't take up a lot of room in your luggage the way a ring light might.  Being able to stick it on almost any surface also gives the lighting system life beyond makeup – for example, I could see putting one of the lights in the hotel safe which is usually in the back of a dark closet.  It would make getting valuables out just a little easier.
If you travel for work or pleasure, the Leopara Makeup Lighting System should be in your suitcase.
Price: $79.95
Where to buy: Directly from Leopara or at Amazon
Source: The sample for this review was provided by Leopara
Support The Gadgeteer
:
The Gadgeteer is supported by readers like you! If you buy something through the links on our site, we may earn a small affiliate commission. Thank you! Learn more.