We use affiliate links. If you buy something through the links on this page, we may earn a commission at no cost to you. Learn more.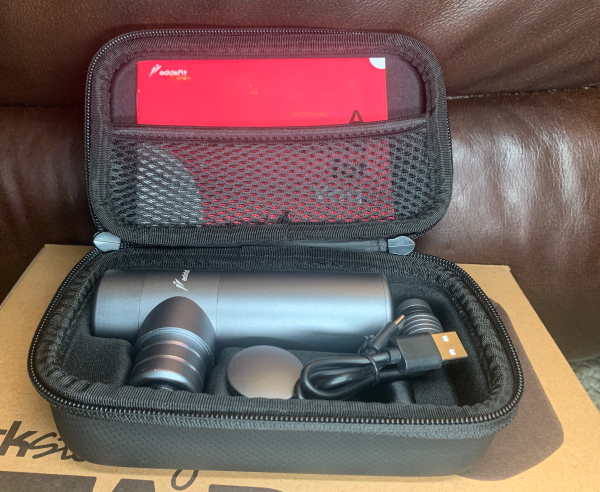 REVIEW – As I get older, I find that many of my daily routines and even regular exercises leave me with an after effect of aches and pains that a simple hand rubbing does not resolve. Sometimes I walk at a fast pace for a mile or 2 with a heavy backpack, and my calves are usually begging for a massage when I get to my destination. This is the sometimes that same scenario after a 45-minute fast-paced treadmill walk at an incline. I usually do not have any type of massager in my backpack because the devices that I have are too big, or sometimes I am just too tired after the treadmill workout to take out one of my bulky massagers. Enter the Addsfit Mini Portable Massage Gun!!
What is it?
The Addsfit Mini Portable Massage Gun is a palm-sized percussion muscle massager that is very quiet. It has a built-in rechargeable battery and also features 3 Speeds, 2 massaging heads, and provides a 27lbs stroke force.
What's in the box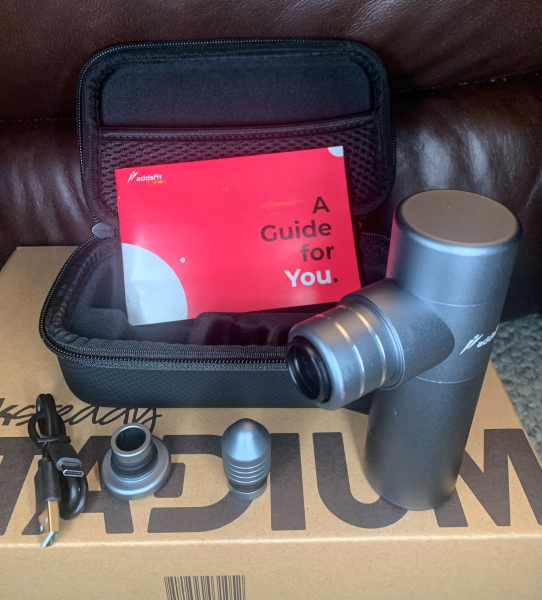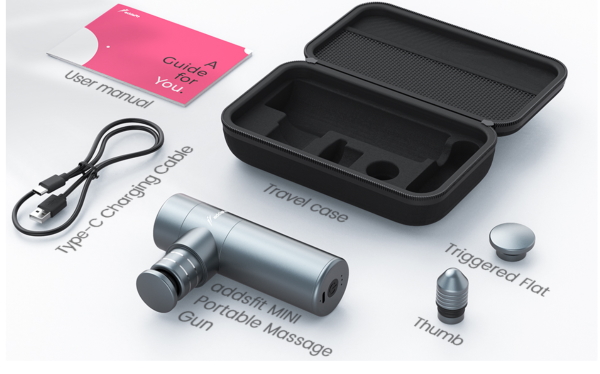 1 x Addsfit Mini Portable Massage Gun
1 x Triggered Flat Massage Head
1 x Massage Thumb Head
I x USB-C Charging Cable
1 x Travel Case
1 x User Manual
Design and features
Specifications
Size & Weight: 12.9cm*4cm*10.4cm, 360g
Amplitude: 6mm
Max Force: 27 lbs
3 Speeds: 1600/2500/3000 RPM
NO. of Massage Heads: 2
Battery Type: Rechargeable
Battery SPEC: 2500mAh, 18.5Wh, Type C IN: 5V==2A
Battery Life: 400 Mins
Features

On-the-go Massager: This is the smallest, most lightweight massage gun on the market so far. It is the perfect piece of fitness equipment for home workouts, yoga, gym, running, and recovery, to name a few!
Extremely Quiet: With less than 40db working noise, the mini massage gun allows you to stay relaxed and undisturbed wherever you are, be it at home, on-the-go, or at work.
Widespread Usage: Designed with a 6mm stroke depth, a 3-speed level, and up to 27lbs stroke force, the mini massage gun can be widely used by people of different ages and strengths.
Outstanding Grip Handle: The palm-sized, ergonomic design makes the handheld massage gun extremely comfortable to hold and easy to use.
Perfect Travel Companion: The massage gun comes in a compact and stylish carry case, making it the perfect travel companion and gift option for anyone.
This portable massager comes in in a nice and compact travel case. All of the components have individually molded sections within the case. There is also a netted pocket for the user manual and the charging cable.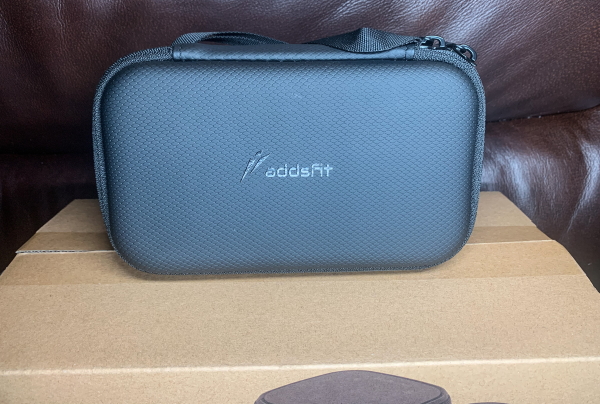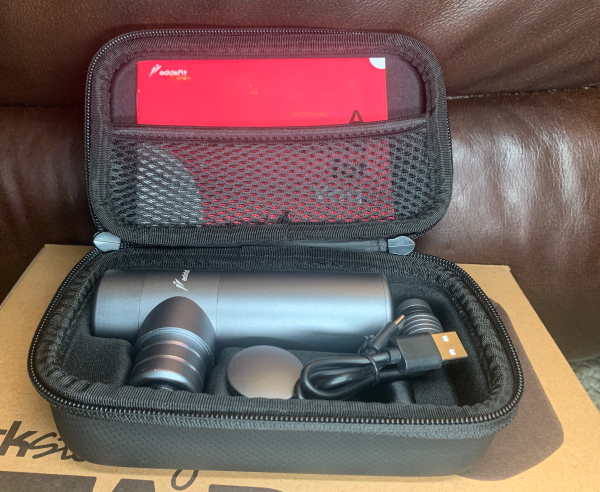 On the massaging end of the gu, there is a plastic socket that allows you to attach the heads. On the bottom of the handle, there are 3 LEDs that show the massaging power level, the power on/off button, the USB-C charging port, and the power LED indicator.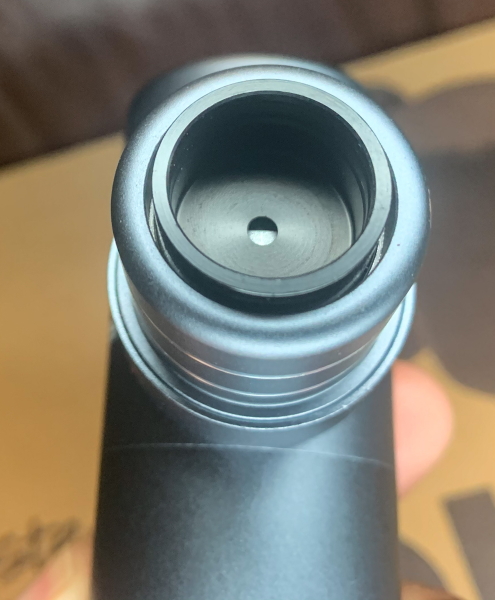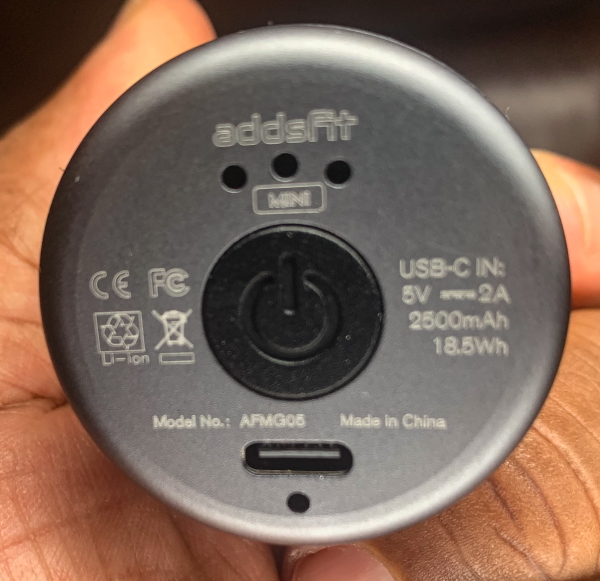 Performance
This mini massager is pretty much plug-n-play. You just charge it, choose the massaging head that you want to use, push it into the gun and you are ready to go.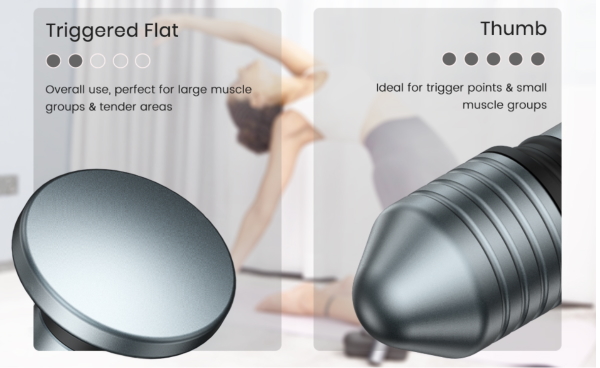 The photo below just shows the gun with the flat head against my aching knee.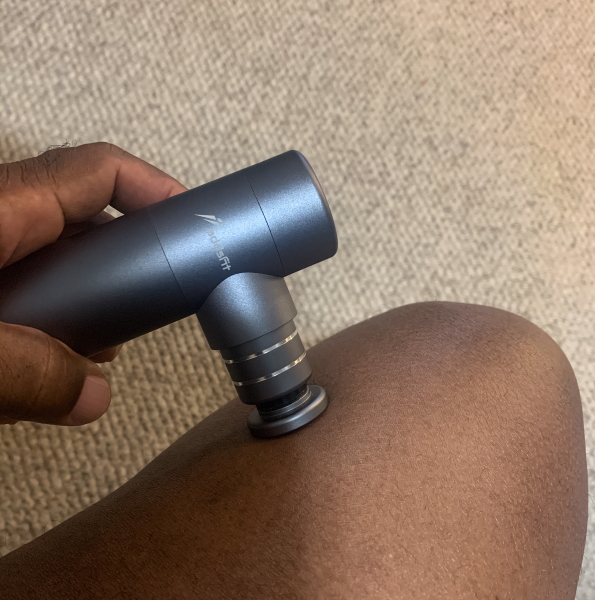 How to Use
Step 1: Insert the massage head into your massage gun.
Step 2: Press the Speed Button for 1.5 seconds to turn on the device.
Step 3: Press the Speed Button to adjust speed, the Speed Indicators shows the corresponding speed.
Step 4: Press the Speed Button for 1.5 seconds to turn off the device.
Step 5: Replace the massage heads while the device is OFF.
Note: The iPhone microphone makes the device sound loud, but it is actually relatively quiet.
The gun charges quite fast and the charge lasts me for several 5 to 10-minute massages.
What I like
Stylish, compact, and portable design
Massage heads change easily
Provides very nice and effective massage
Battery lasts long
Quiet operation
What I'd change
It does what it is designed to do
Final thoughts
I really like this portable massaging gun. It is small and compact, charges relatively quickly and the charges last long enough for several massages. Its travel case allows me to throw it in my bag and take it with me on trips, etc, and even at home, it is very convenient when I just don't feel like pulling out the bigger massager. Well built and well done.
Price: $105
Where to buy: Amazon (15% OFF with code: TGTJP2020 (expires 9/03/2021))
Source: The sample for this review was provided by Addsfit