We use affiliate links. If you buy something through the links on this page, we may earn a commission at no cost to you. Learn more.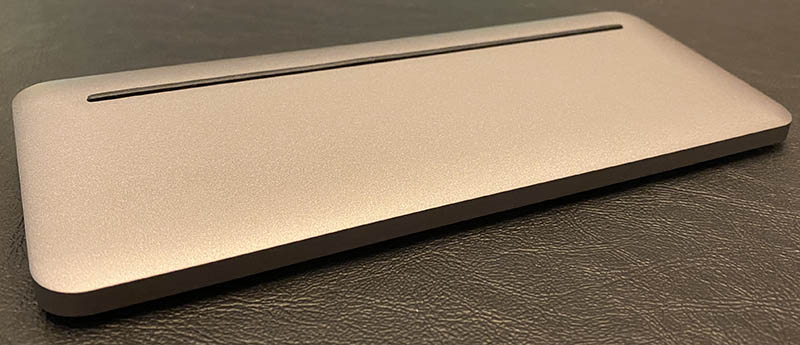 REVIEW – As I have discussed before…dongles, docks, and hubs are a needed reality in today's near port-less world. With a majority of laptop manufactures eliminating many of our classic input and output options, there are still those of us who need something to bridge the gap between them and a single port to rule them all. I guess the minimalist in me agrees with the concept of USB-C/Thunderbolt but my inner realist definitely has issue when I need to connect an optical drive or access a SD card. To help with this disconnect, the folks at Brydge have recently released the Stone Pro Hub that provides you a solid suite of ports with a single cable connection to your Thunderbolt 3 enabled laptop…let's check it out. 

What is it?
The Brydge Stone Pro is a horizontally oriented multi-port dock with power delivery and nearly every type of data ports one could need, all connected to your computer via a single Thunderbolt 3 cable.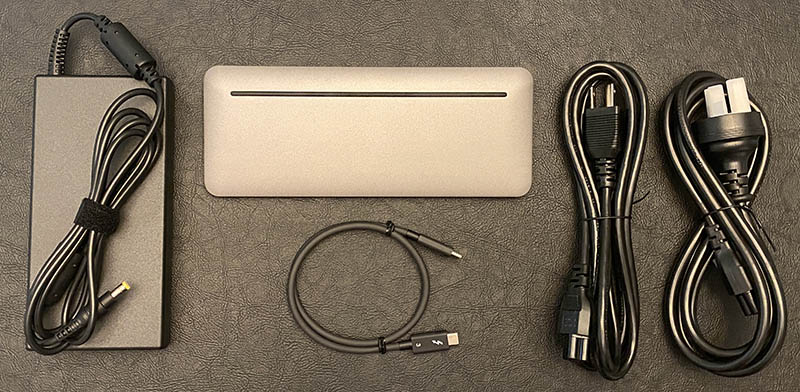 What's in the box?
Stone Pro Multiport Hub
Thunderbolt 3 Cable (18 in/0.5 m) 40 Gb/s
Power Supply (180 W)
Localized Cables (1 x US/CA/MX and 1 x AU/NZ/CN)
User Manual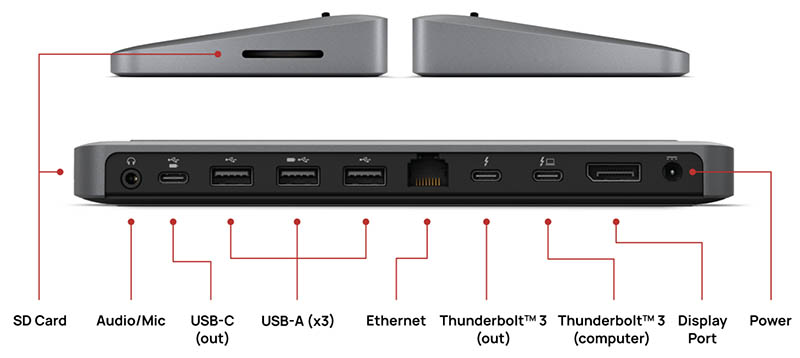 The back of dock has all the ports: two-way audio/microphone, USB-C port, 3 x 3.1 Gen 1 USB-A ports, gigabit Ethernet port, 2 x Thunderbolt 3 ports, standard 4K DisplayPort, and the 180W DC input power port. The right side of the Stone Pro has a full-sized SD card slot. 
Hardware specs
Power: 180W DC Input
Compatible Operating Systems: All Thunderbolt 3 enabled devices
Display support:

Thunderbolt – Single @ 5K/60 Hz& Dual @ 4K/60 Hz
DisplayPort – Single @ 4K/60 Hz & Dual @ 4K/60 Hz

Dimensions: 8.19 in (208 mm) x 3.23 in (82 mm) x 0.71 in (18 mm)
Weight: 0.96 lb (435 g)
Case Material: Zinc, rubber, and plastic

Port Overview:
– 2 x Thunderbolt 3
– 1 x USB-C (3.1 Gen 2: 10 Gb/s)
– 3 x USB-A (3.1 Gen 1: 5 Gb/s)
– 1 x DisplayPort (Dual 4K/60 Hz, Single 4K/60 Hz)
– 1 x SD Card (SDXC UHS-II)
– 1 x Ethernet (Gigabit)
– 1 x Audio/Mic
– 1 x Dock Power

Warranty: One year
Design and features

Never miss one of our posts again. Sent MON, WED, and FRI with the latest gadget reviews and news!
The Stone Pro dock is nicely constructed with a machined zinc housing, rubber on the base, and plastic on the back. The metal has a matte finish and colored space gray to match my MacBook Pro. The dock weighs a pound, giving it a solid quality feel to it. On a funny note: I had just assumed the Stone Pro's casing was aircraft grade aluminum but after diving into the specs discovered it wasn't. Aluminum is typically the standard these days for tech accessories and when manufactures use another material/metal I wonder why.

The Stone Pro has a rubber base that keeps the dock where you place it on your desk. Like the rest of the Stone Pro, the rubber pad also has a well made, quality feel to it.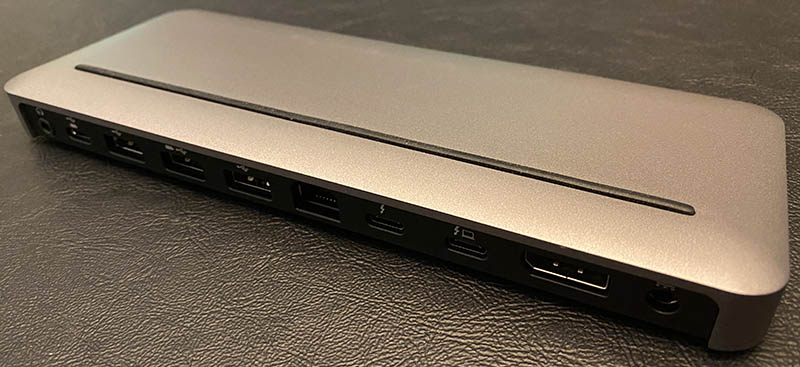 The top of the Stone Pro has a narrow rubber strip/bumper along upper edge that your computer rests on. The strip keeps your laptop from sliding around and the dock & laptop from scratching each other. 

The Stone Pro has a decent angle to its wedge shape allowing your laptop to rest on the rubber strip at the top of the dock. As I mentioned above, the right side of the dock has a full-sized SD card slot. 

Setup
Setting up the Stone Pro is extremely simple and easy. Just connect all your cables, monitors, peripherals, drives, etc to the back of the dock then the Thunderbolt 3 cable to your laptop and you're good to go. 
Performance
The speed performance of the dock was zippy…with any slowdowns being in the infrastructure of my home network than anything else. The WiFi and wired network speeds were equivalent when on the internet or accessing our NAS. Either way, the bottom line is for what I do the Stone Pro dock didn't slow me down at all. I connected the dock to my 34″ 4K USB-C monitor and everything worked as I had hoped. The Thunderbolt connection supports either a single 5K or dual 4K monitor(s) both @60 Hz. The DisplayPort supports up to 2 x 4K monitors @60 Hz. File transfer speeds were what you would expect/hope for. According to Brydge the USB-A has speeds up to 5Gbps, the USB-C is 10Gbps, the Thunderbolt 3 port can support an eyebrow-raising 40Gbps, and ethernet is gigabit…all of which is pretty standard these days.
I was surprised how warm the dock got after extended use. My guess was the power flow thru the dock and MacBook Pro exhaust vents sitting directly on top of the dock added up. Plus the fact the MBPro covers the Stone Pro entirely with a lot of overhang that doesn't allow for much heat dissipation. 
What I like
Excellent construction
Made from quality materials
Wide variety of ports
Full-sized SD card slot
Fast charging/power delivery
Rubber base keeps dock in place
Small compact form factor/hides under your laptop
What needs to be improved
Difficult accessing ports and SD card slot
Dock gets surprisingly warm with a computer sitting on top of it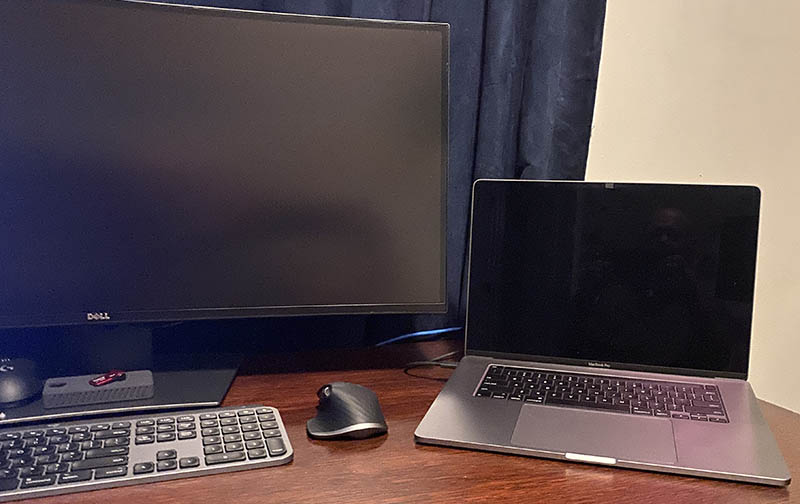 There are a handful of ways you could use the Stone Pro to connect your Thunderbolt 3 enabled laptop in your desk space. Here you can see it with my 16″ MacBook Pro on top of it. This works well but I will most likely Macgyver (at least) the laptop to sit higher to match the height of my monitor. 

You can also use the Stone Pro in conjunction with Brydge's vertical dock or independently connected to various monitors with your laptop elsewhere on your deck. 
Final thoughts
The Stone Pro Thunderbolt 3 Multiport Hub works very well. It's many ports, video options, and full-sized SD card slot give you all (or at least most) of the ports still needed in today's tech world. The docks ability to manage cable cutter and provide a single cable solution for connectivity and power is definitely better than having a handful of cables all connected to your laptop (aka the "good ol' days"). I guess in reality, I prefer the tech-Zen the Stone Pro hub single connection brings to my desk vs the cable clutter of the past.
Price: $329.99 (on sale for $239.99)
Where to buy: The Stone Pro is available on Amazon and directly from Brydge.
Source: The sample of this product was provided by Brydge.