We use affiliate links. If you buy something through the links on this page, we may earn a commission at no cost to you. Learn more.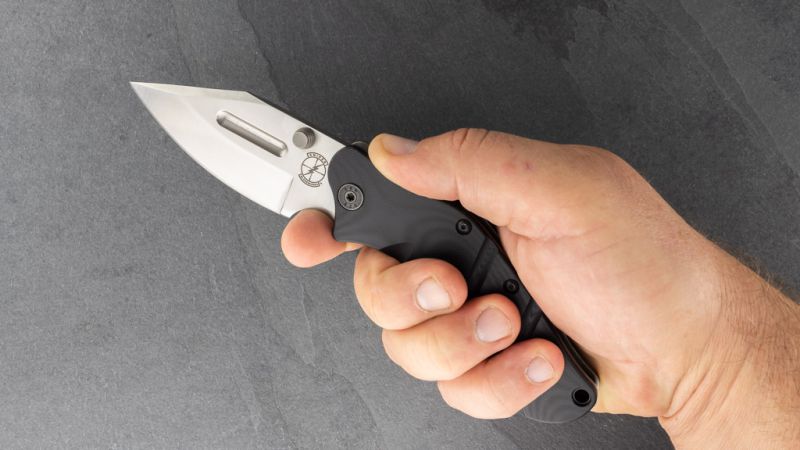 CROWDFUNDING REVIEW – When Sniper Bladeworks invited The-Gadgeteer to participate in their 2020 : Reload campaign, I jumped at the chance even though I had nothing to go on other than a teaser video that showed very little of the product.
What is it?
The Sniper Bladeworks LPC is a premium tactical folding knife.
What's in the box?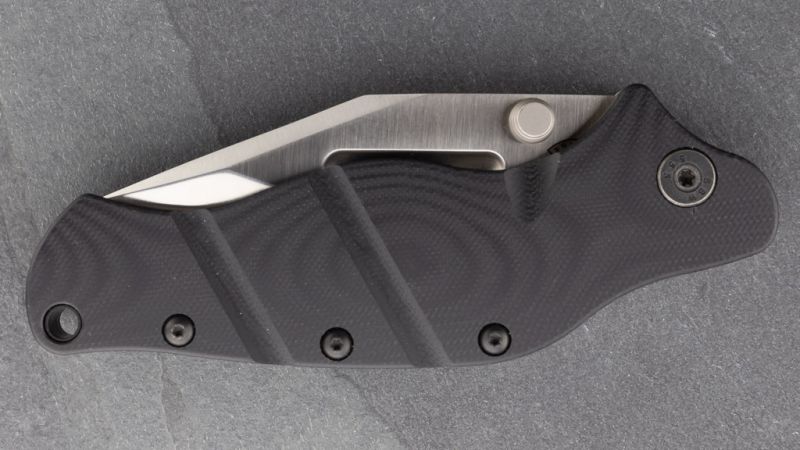 Hardware specs
+ 7.5 oz. / 220.8g / 0.49 lbs
S30V hardened stainless steel blade
Bearing pivot point
Blade Thickness: 5mm / 0.2″
Length Open: 211.5mm / 8.3″
Length Closed: 127.1mm / 5.0″
Handle: Pistol Grip G-10
Frame/Clip: 6AL-4V Titanium
Design and features
The iconic Kansas City knife company Sniper Bladeworks is back with a lineup featuring five of its classic knives. From 2009 to 2016 Sniper Bladeworks (led by designer Lance Abernathy) vaulted to the top of the custom knife world with innovative designs that won critical acclaim in many knife magazines. You may have seen his DMF on the cover of Blade Magazine.
Not unlike many small American businesses, Sniper Bladeworks throttled down in 2017 after falling on challenging times after his dad's passing. Now roaring back, the 2020 : Reload Kickstarter campaign (now fully funded) offers five of its tactical knives at unbeatable prices.
I anxiously awaited the arrival of my knife like a child waiting for Christmas. I was excited, even though I did not know which model I would receive to review. I carry a pocket knife every day. I use it almost every day. I've had cheap knives, and I've had moderately expensive knives, but nothing of this caliber.
The Sniper Bladeworks LPC arrived, and I could not be more impressed. The more I inspected it and operated it, the more I was amazed by this precision tool's craftsmanship. Each knife is hand-inspected by its U.S. quality control team, and it shows.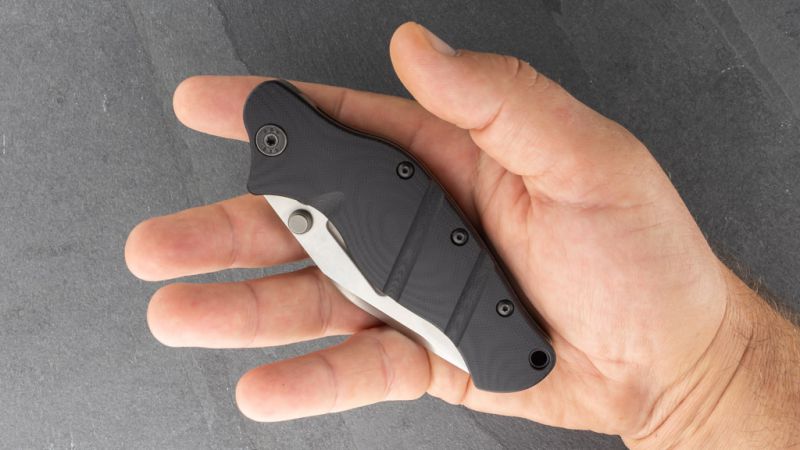 The first thing I noticed was the heft of this knife. At 7.5 ounces (220.8g), it was much heavier than any folding knife that I've owned – but then I saw the blade. At 0.2″ (5mm) thick, this S30V hardened stainless steel blade screams durable. Let's face it, from time-to-time you do things with your knife that you probably shouldn't. Breaking the blade has always been in my mind – until now. This thing is absolutely beefy. Three inches (76.3mm) of cutting edge is just the right amount to get the job done while keeping within the legal limits in most areas.
S30V hardened stainless steel is considered a premium grade knife steel and is often called the best blade steel due to its high performance. It's expensive to make, but it's exceptionally durable. S30V is corrosion and wear-resistant, making it ideal for an EDC knife. The manufacturing process of S30V ensures that there are no weak points that are common with many other stainless steels.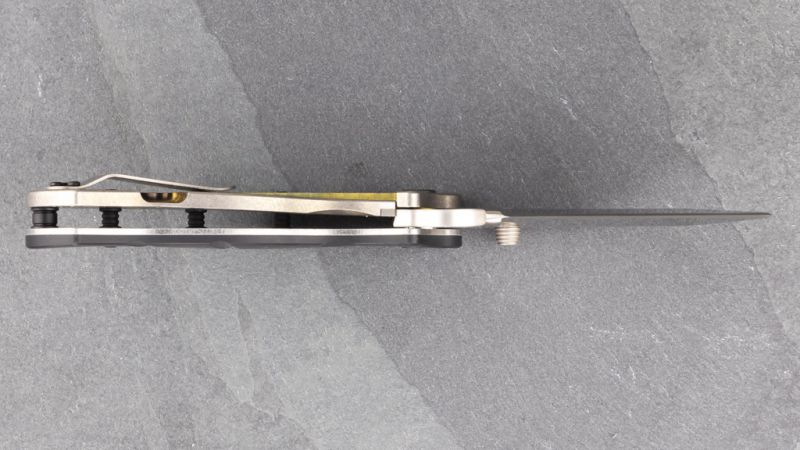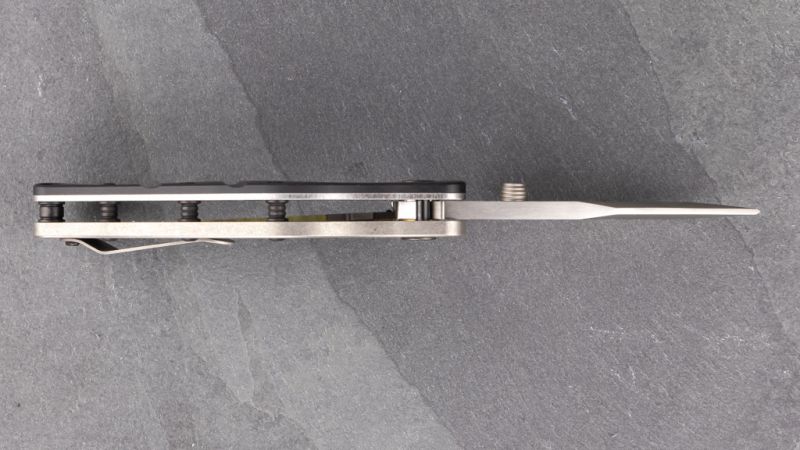 When I first flipped the knife open, I literally said, "Oh, Nice!" The bearing in the joint makes opening and closing the knife smooth and quick. It's not surprising that in 2013, Sniper Bladeworks received the prestigious "Blade Show Tactical Folder Award" for its LPC(™).
The frame and clip are made from 6AL-4V Titanium due to its high strength-to-weight ratio and excellent corrosion resistance. It is also used in the aerospace industry and biomechanical applications (implants and prostheses). I did find that the curve on the end of the clip was a little less aggressive than I prefer, making it somewhat more difficult to clip on my pants pocket. I'm sure that I might be able to bend it slightly to make it work a little better for me.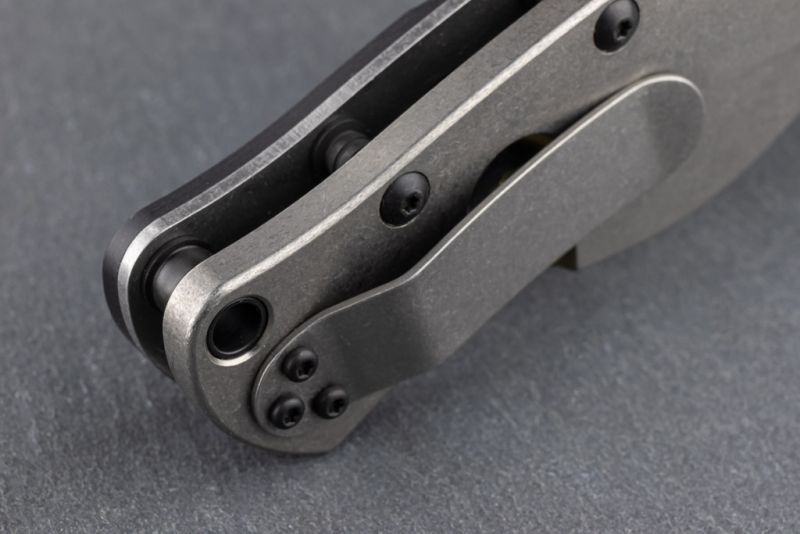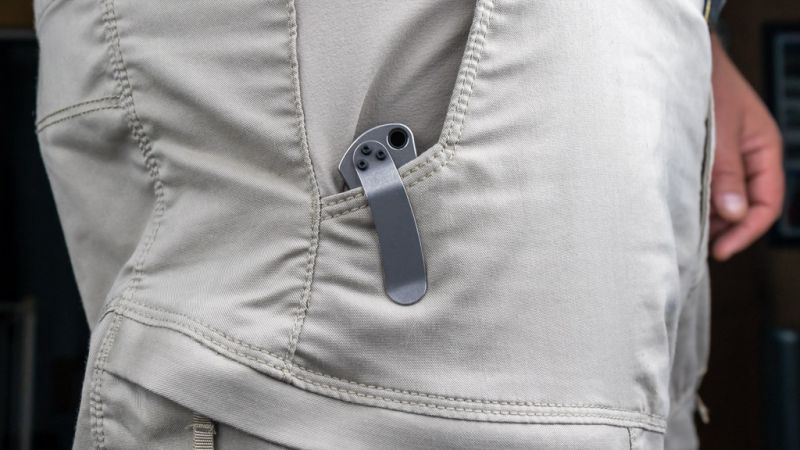 The LPC features Sniper Bladework's signature ergonomic "pistol grip" handle and robust, overbuilt engineering. When you hold it in your hand, you can honestly say that this thing will probably last me the rest of my life.
The little details show the craftsmanship and engineering that went into designing this knife. Unlike many other knives, the LPC has a small piece of hardened steel at the end of the locking mechanism to prevent it from wearing out. The lanyard hole is a nice feature that I was not expecting. The thumb stud sits flush with the knife's width, preventing it from easily catching on clothing.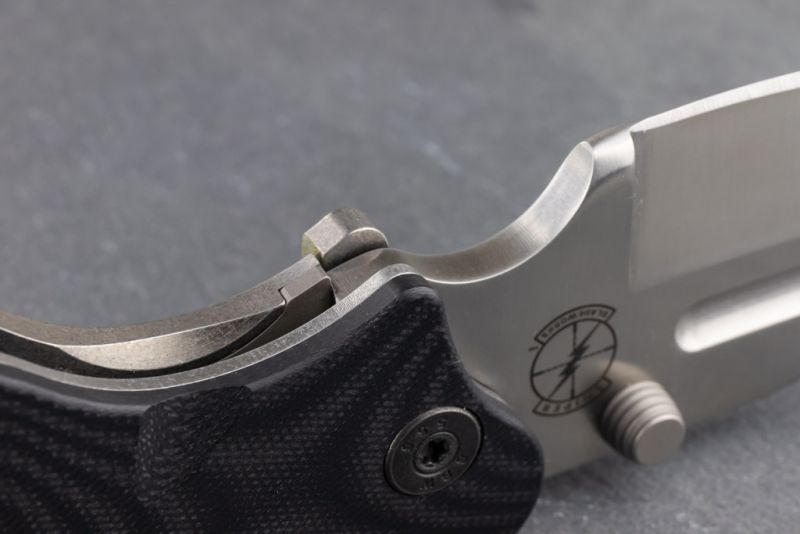 The fit and finish of the LPC is top-notch. There are no sharp edges other than the cutting edge. The frame is stone polished, but not slippery smooth as to provide a smooth surface and easy to grip. Speaking of grip, I wasn't sure I would like the ergonomic "pistol grip" handle. After handling it, though, it's evident that Lance Abernathy is a genius when it comes to knife design because it feels great in hand.
What I like
High-quality materials and workmanship
Smooth opening action
Thick blade
Lack of pinch points
Solid locking mechanism
What I'd change
The belt clip could use a little more curve
Final thoughts
Despite my previous comments on the clip, the Sniper Bladework LPC is a phenomenal piece of engineering. The durable design is sure to last a lifetime of use. It should appeal to Military/Special Ops, Police/SWAT, Fire/EMS, Knife Enthusiasts/Collectors, and everyone that loves the great outdoors and great equipment.
Price: $325 (Kickstarter), 4 other models also available as well as special sets.
Where to buy: Kickstarter
Source: The sample of this product was provided by Sniper Bladeworks.