We use affiliate links. If you buy something through the links on this page, we may earn a commission at no cost to you. Learn more.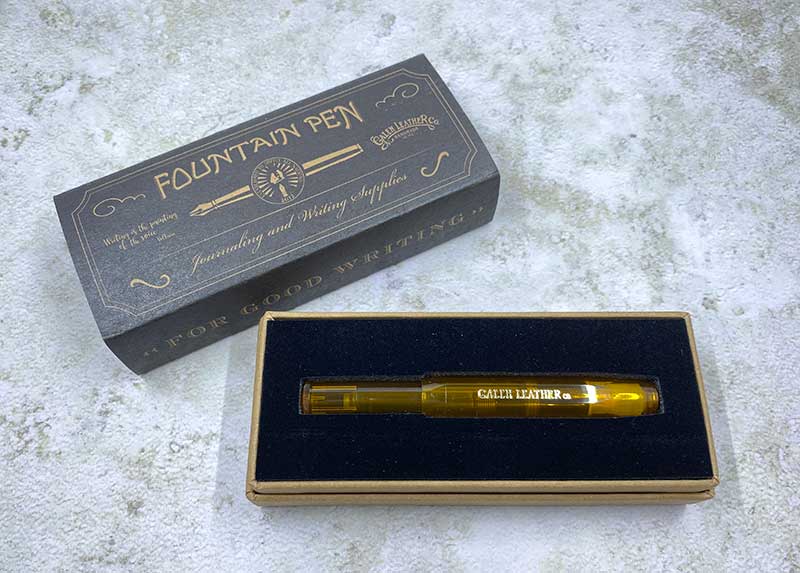 REVIEW – As a fountain pen novice, I have been enjoying testing this style of pen in the past few weeks. Galen Leather Co. is my new teacher by offering me two different fountain pens from their shop. The first one they sent me to test was the Scrkiss 419 fountain pen and more recently I've been testing a Galen Leather Co. branded Kaweco Sport fountain pen. Let's take a look.
What is it?
The Kaweco Sport Fountain Pen Cognac – Galen Leather Co. edition is a popular fountain pen from Kaweco that has been around for a while, but this one also has the Galen Leather Co. brand on it.
Design and features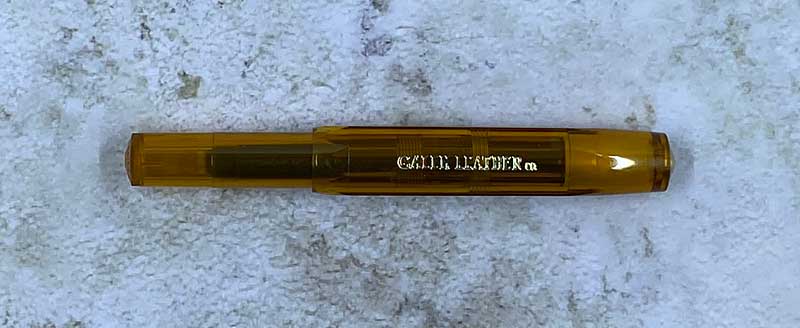 Look at that little guy. First of all, I think the Kaweco Sport Fountain Pen is a good choice for EDC fans because its size allows it to fit easily into a pocket or bag.
I'm familiar with the Kaweco Sport pens as I reviewed the ballpoint pen Kaweco AL Sport rollerball pen a five years ago and still have it in my pen collection. The Sport fountain pen has the same basic design as the rollerball pen that I reviewed except for two major differences.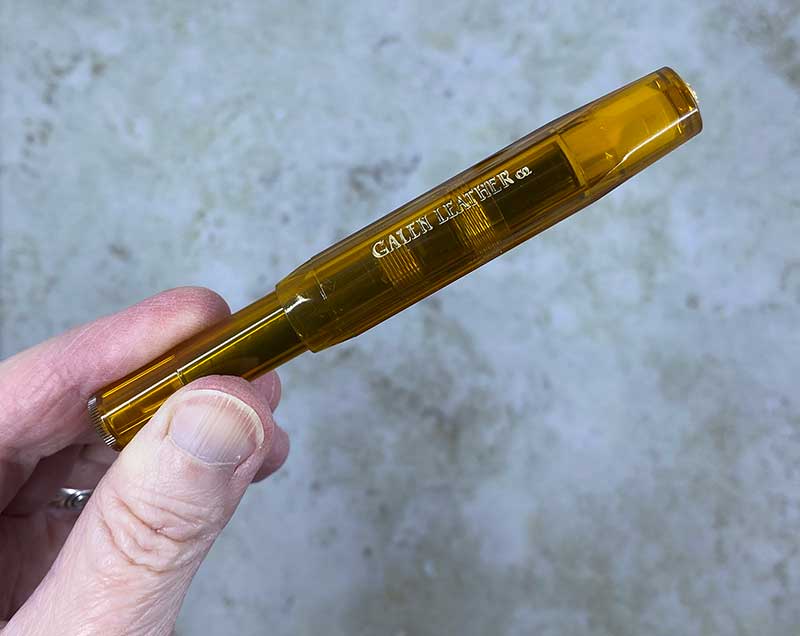 The most obvious difference is that the Sport fountain pen has a cognac-amber tinted lightweight ABS Makrolon plastic body case instead of an aluminum body.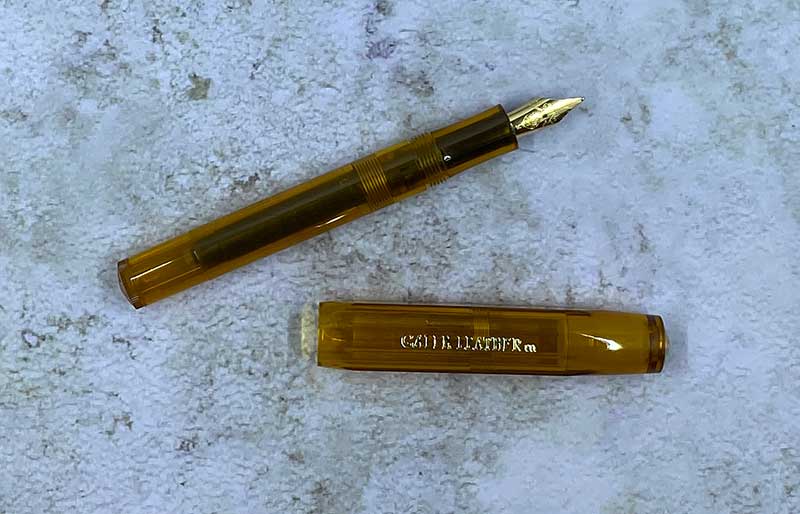 The second major difference between the two pens is of course the fact that the one I'm reviewing is a fountain pen and not a rollerball pen.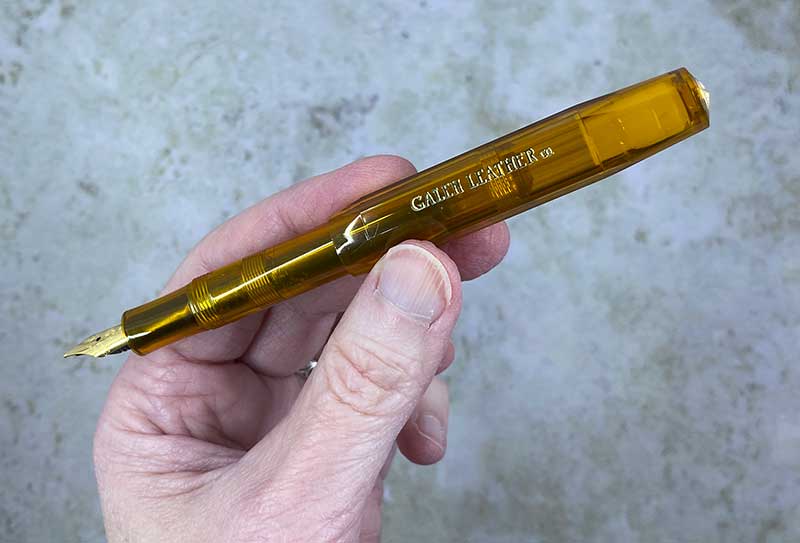 The Sport fountain pen features a screw cap that posts on the back to make the otherwise short pocket-friendly pen have a more traditional length. With the cap in the closed position, the fountain pen is 4.17 inches long (106mm) and with the cap posted on the back, the pen is 5.27 inches long (134mm) long.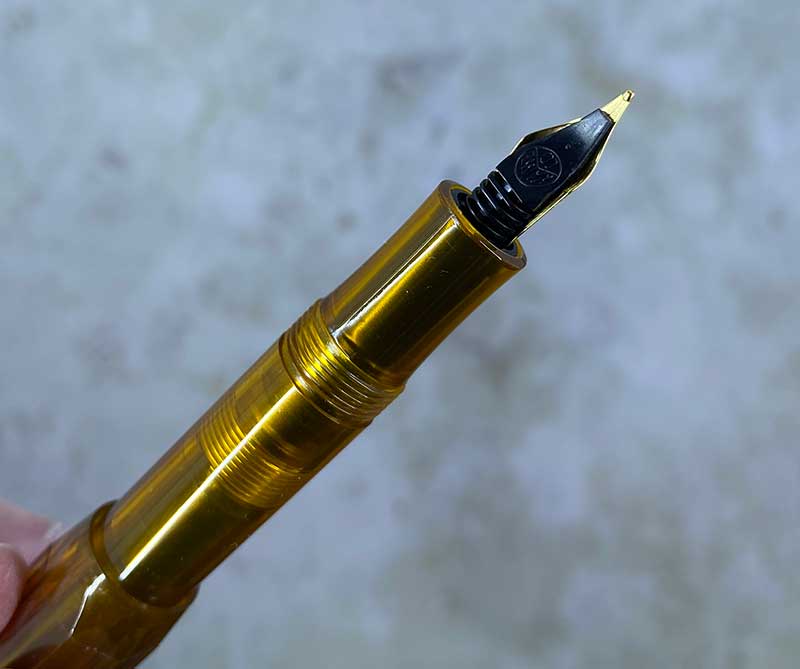 The Kaweco Sport fountain pen is available in a variety of nib sizes. I was sent the Medium nibbed pen, but it's also available in extra-fine, fine, broad, double broad, and 1.1 stub.
The eye-catching polished gold-plated stainless-steel nib is manufactured by Bock of Heidelberg Germany.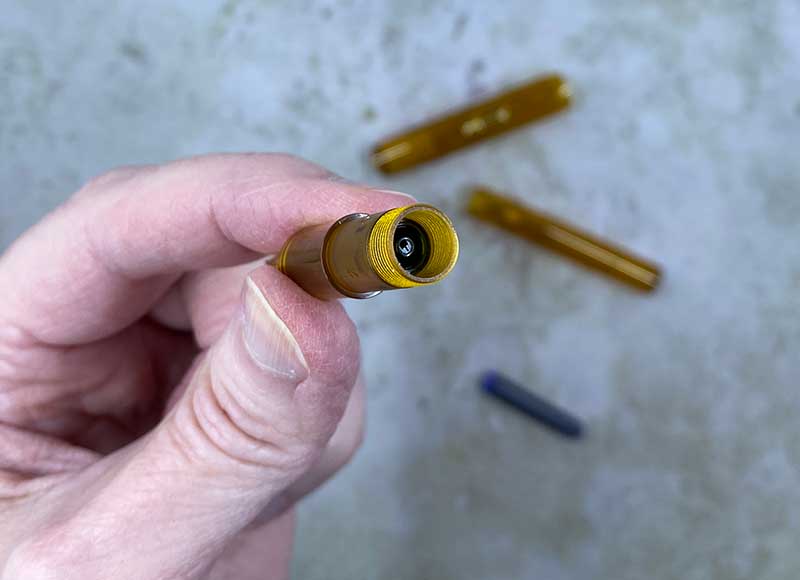 When it comes to ink, the Kaweco Sport fountain pens are refilled with standard-sized international ink cartridges or can be used with a proprietary Kaweco eye dropper converter which is not included.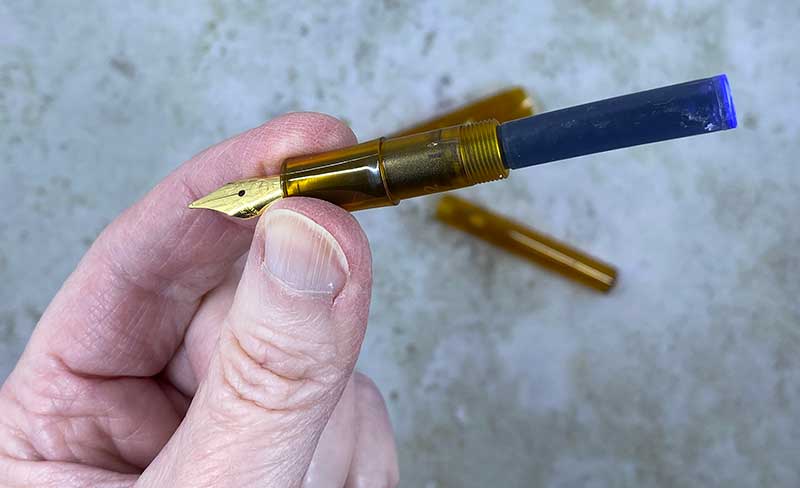 Included with this pen is one international standard-sized blue ink cartridge.
How does it write?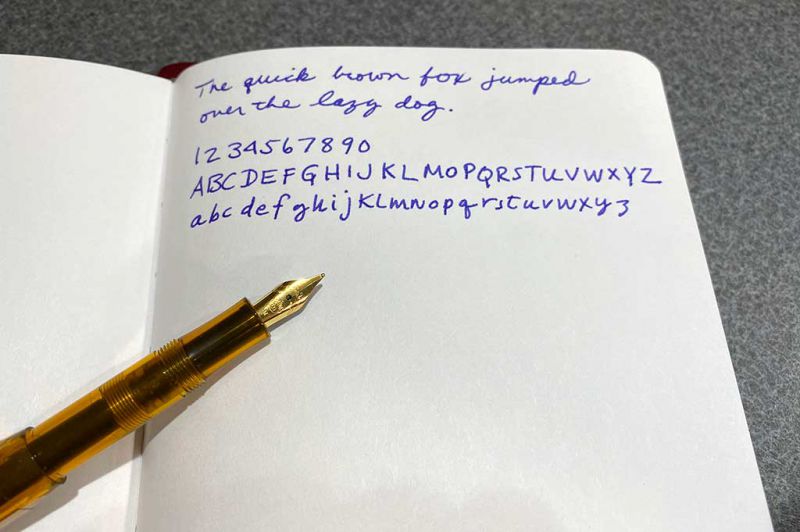 The nib isn't scratching and feels smooth writing on paper. I'm a little more partial to a finer line, so the medium nib lays down a thicker line than I like. The nib is also stiff so it doesn't flex open/closed to create thicker or thinner lines by varying pressure.
What I like
Lightweight
Compatible with standard-sized international ink cartridges or can be converted to eye dropper
Pocket friendly
What I'd change
Final thoughts
Do I have a new found love of fountain pens after reviewing the Kaweco Sport Fountain Pen Cognac – Galen Leather Co. edition? I can't say that the review of this fountain pen has made me want to throw all my Pilot G2 gel pens in the trash. I still prefer them. BUT, using a fountain pen does offer add a little spice to my writing experience. It sort of makes writing on paper and in notebooks feel more important when you write with a fountain pen. 😉
Price: $30.00
Where to buy: Galen Leather Co.
Source: The sample for this review was provided by Galen Leather Co.