We use affiliate links. If you buy something through the links on this page, we may earn a commission at no cost to you. Learn more.

REVIEW – The ONSON A10 Pro cordless vacuum works great for everyday use, especially on hard floors and for light messes, such as crumbs and dog hair. It's very useful for corners, tight spots and stairs. However, on carpet and for larger clean-ups, you'll want something more powerful.
What is it?
A battery-powered cordless vacuum with two levels of suction and three brush head attachments, so it can be used as a handheld vac or a long, lightweight stick vac. The running time is limited (12-30 minutes) but it charges quickly (4-5 hours).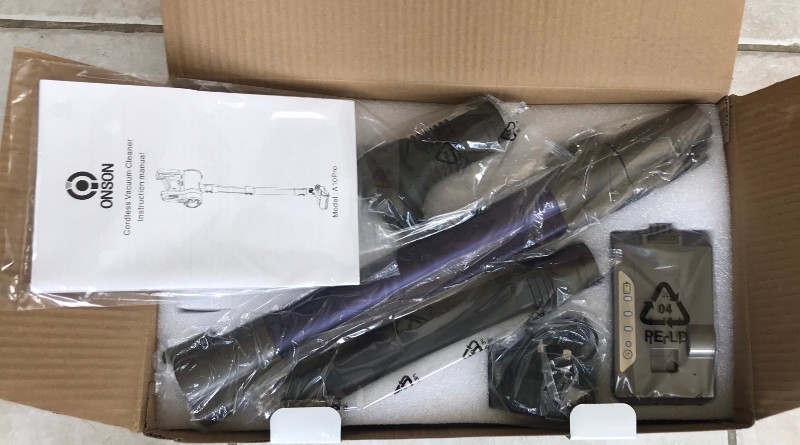 What's in the box?
ONSON A10 Pro cordless vacuum

Battery pack

Stick attachment and cleaning brush

Small brush attachment

Crevice tool attachment

Manual

Power adapter

Cleaning tool

Wall mount and hardware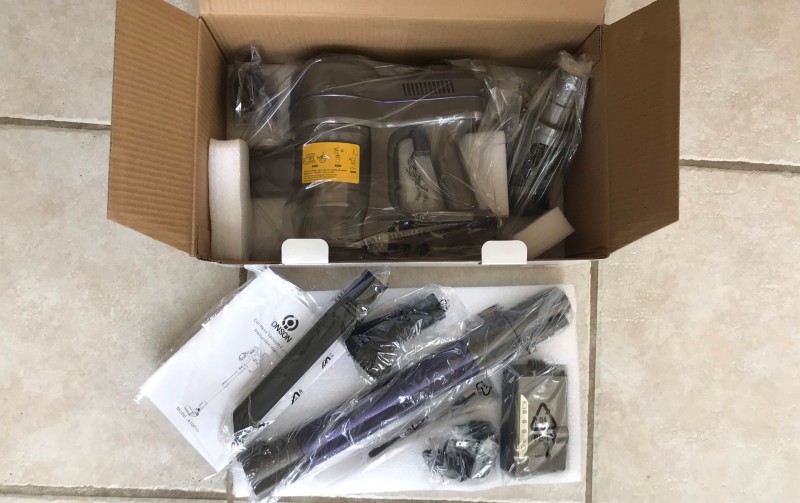 Hardware specs
Item model number: A10 Pro

Item weight: 3.08 pounds

Power: 250 watts

Charging time: 4-5 hours

Running time: Standard mode 7KPa: 30 minutes; High mode 20KPa: 12 minutes

Container volume: 0.8 liters

Battery charger output: 26.5v/500mA

Battery: 22.2v/2200mAh
Design and features
Setup
Once you unpack the vacuum and attachments, it's quite easy to assemble. First, you slide in the battery and click it into place. Ours arrived fully charged.
When the battery light is blinking red, it needs charging or is jammed. Otherwise, there are three blue lights, and when all three are illuminated it's fully charged. The blue lights go dim as it loses charge.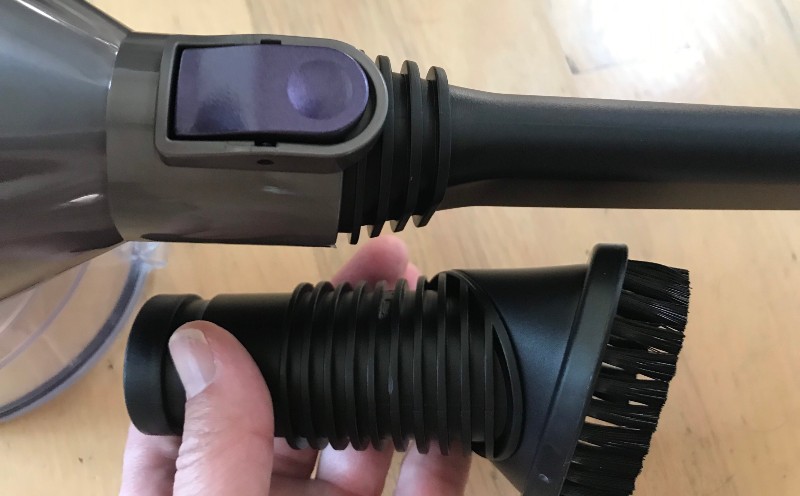 To set up the vacuum, you have three choices of brush heads, which easily come on and off with a purple quick-release button: 
the large cleaning brush that fits onto a stick for a more traditional-sized vacuum

a small, round brush head

a long, narrow crevice attachment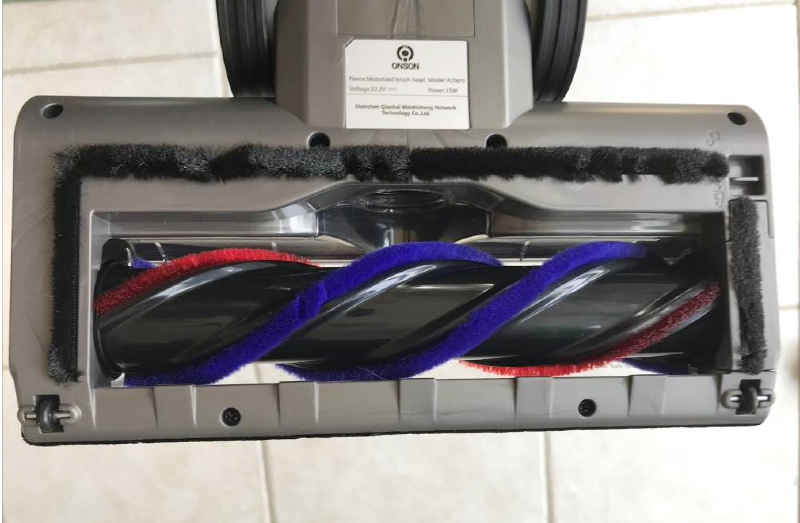 Performance
As someone with light-colored flooring and two black dogs, I'm constantly battling dog hair. I've tried several robot vacuums, but they're not practical with my tri-level house, plus they get stuck a lot and don't clean corners. I love my handheld vacuum but it hurts my back to get the floors and corners, and it also hurts my wrist after a while to constantly be holding down the power button. My canister vacuums work the best of all my vacuums but it's just too heavy to lug around on a daily basis, and the cord can be a pain.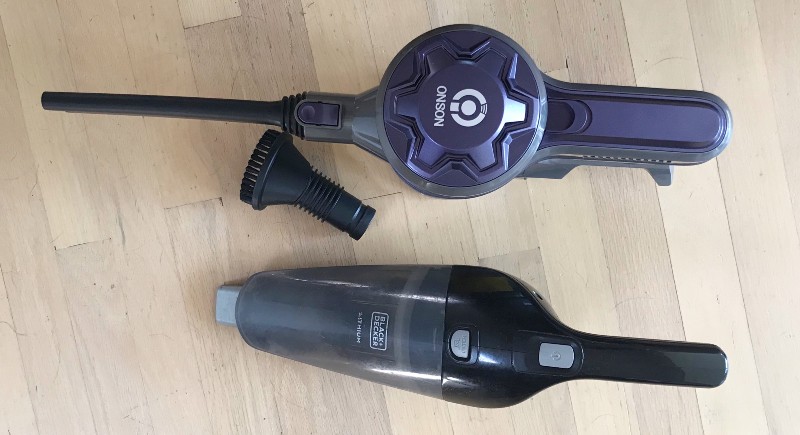 So I've been wanting a cordless stick vacuum like this for a while. And I've concluded that for my daily dog-hair fights, it's my clear favorite. On low suction, it doesn't get all the dust, crumbs, and hair in my messy house, so I nearly always use it on high suction. This also means I'm limited on time because on high suction it only lasts for 12 minutes (on low suction it goes for up to 30 minutes nonstop). 
I love that it's super light at only 3 pounds, and with no cords to restrain my movements, I can easily move around my multi-level home. I also just have to click the button once (or twice for high suction) and don't have to continually hold it down like my other handheld vac. I just have to be quick!
I should also note that I easily fill the canister in my allotted 12 minutes, and sometimes need to empty it before that. This is something to consider if your pets shed heavily.
The long stick attachment is most practical for my purposes because it doesn't hurt my back by requiring me to bend over at all. If you're used to traditional vacuums, it's a bit strange at first because there's a different center of gravity with the weight on the top and the lightweight roller at the bottom. But I adjusted quickly, as long as I reminded myself to let the roller do the work and stop trying to push it but to think more about directing it.
One cool feature is that it lays out completely flat, which is awesome when cleaning under the kitchen table, under sofas or even beds.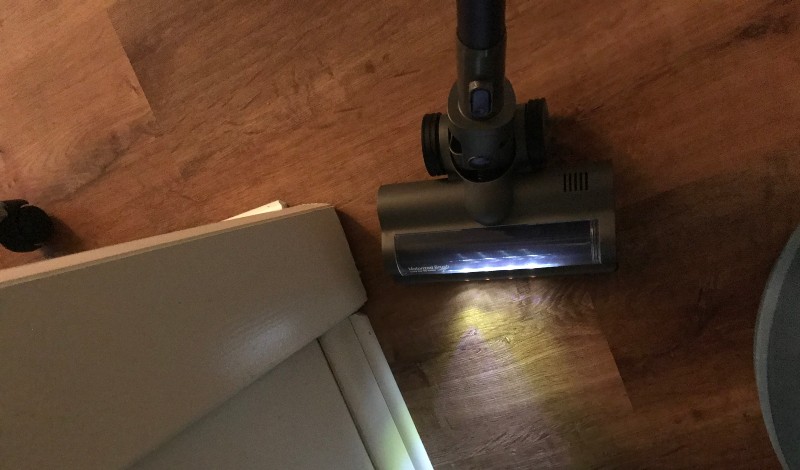 It also has a light strip on the large, roller-brush head, which is nice for cleaning dark corners and closets.
And unlike my robotic vacuums, the roller head didn't get stuck on all the hair and need cleaning out constantly. Nor did it get jammed at all. That's a definite bonus.
It's also very simple and efficient to pop open and empty the canister.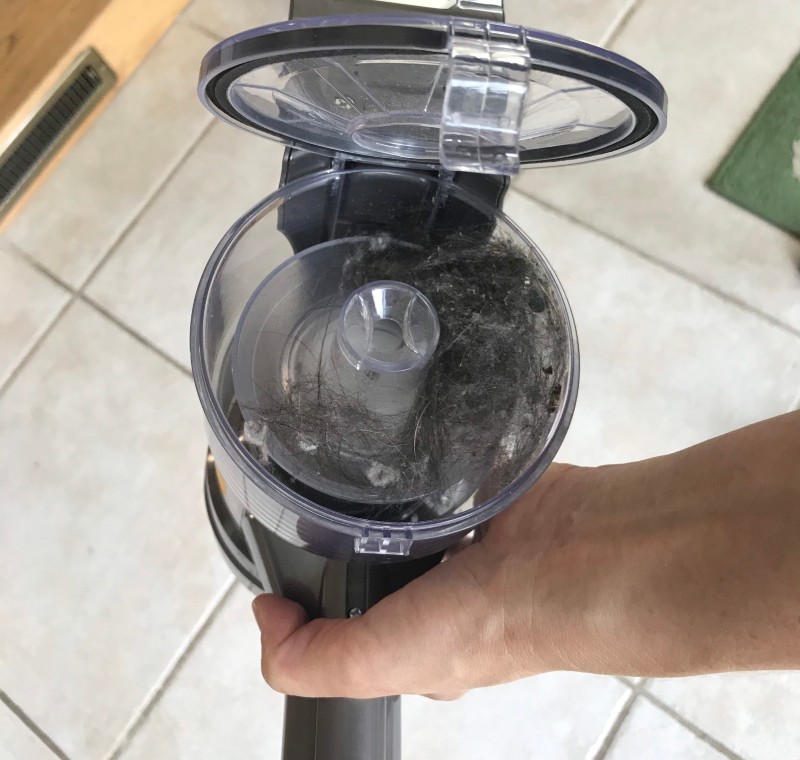 The brush attachment worked great for cleaning stairs, window sills and surface cleaning of my car. 
The crevice attachment is very long and a bit awkward compared to my other handheld vac, but it worked great in the tight spot between my fridge and the wall, as well as around crown molding, corners and bathrooms.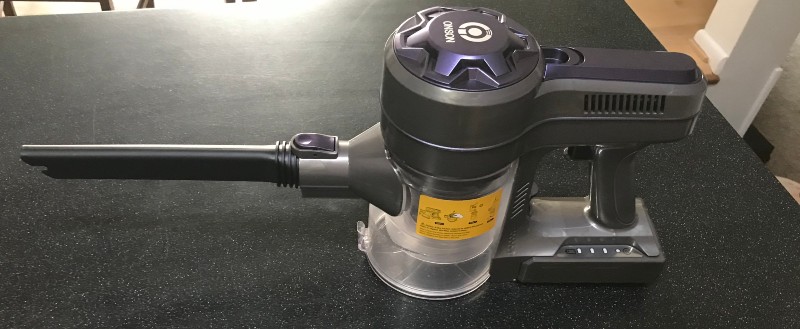 I tested this vacuum when my son dropped half a bag of popcorn in the backseat of my husband's car. For this, it failed. The popcorn was too big for the vacuum to suction up. So for cleaning up after toddlers or anyone who's especially clumsy (like yours truly), you'll need something more heavy-duty.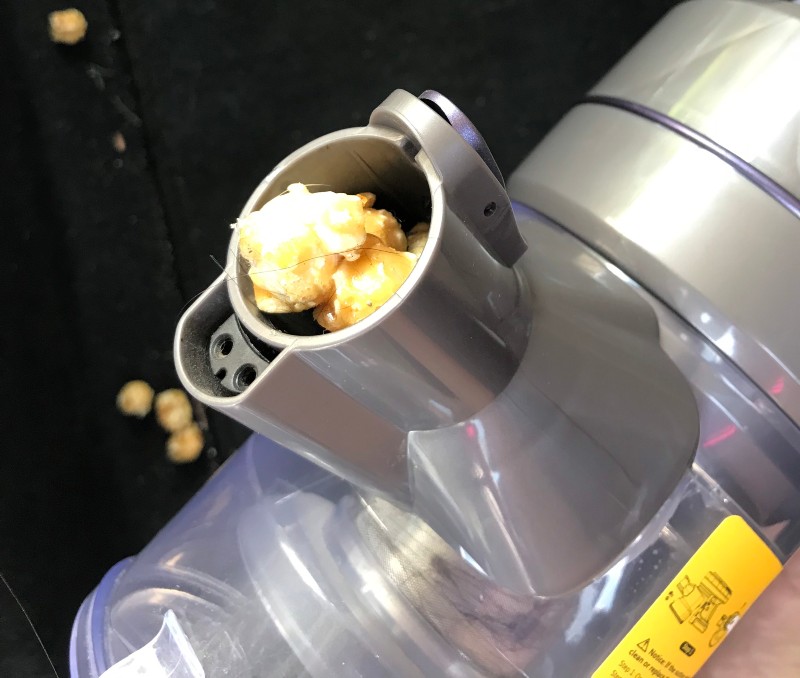 The Onson cordless vac also does a much better job on tile, hardwood and vinyl surfaces than it does on carpet. I can go over rugs and it works in a pinch, but for thoroughly cleaning my carpeted surfaces I would switch to my full-sized canister vacuum.
What I like
Lightweight and cordless for easy maneuvering

Three brush-head options

Impressive range of motion 
What I'd change
Longer running time on high suction

Ability to pick up larger messes
Final thoughts
This is a very lightweight vacuum, so it's great for those with mobility issues and/or multi-level homes. It has a short running time and is less effective on carpet.
Update 6/5/21
In early September, I reviewed the ONSON A10 cordless vacuum. At the time, one of my criticisms was that it only lasted 12 minutes on high suction before the battery died. That was still OK for me, because if I really hustle, I can cruise around the high-traffic areas in my house during that time and collect a day's worth of dog hair.
However, I noticed that it's slowly losing battery life. Now, 8 months later, this cordless vac only lasts 3-5 minutes. Unfortunately, no matter how fast I go, I can only vacuum one room at a time, plus maybe a hallway or couch or staircase, if I'm lucky.
I still use the vacuum daily because it's lightweight, relatively quiet and works well. But I would like it a whole heck of a lot more if it gave me 10 minutes (at the very least!) before needing another 4-hour charge. 
Browsing the other reviews on Amazon, I can see that I'm not alone in having this issue. 
Price: $159.99
Where to buy: ONSON website and Amazon
Source: The sample of this product was provided by ONSON.