We use affiliate links. If you buy something through the links on this page, we may earn a commission at no cost to you. Learn more.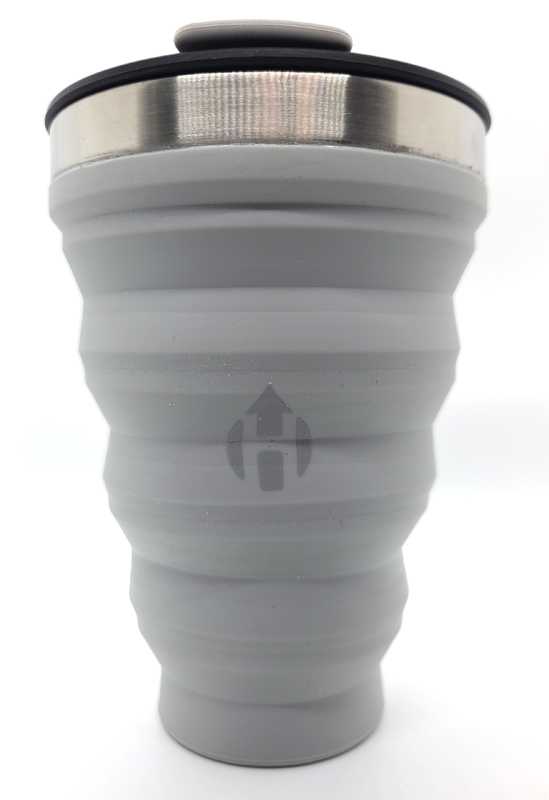 CROWDFUNDING REVIEW – Here at The Gadgeteer, we're all about reusability and environmental friendliness.  In fact, we're all about friendliness in general, but that's for another article.  Hydaway is a maker of reusable, collapsable, portable, water bottles.  In fact, we've reviewed the original Hydaway bottle, their H2.O version, and their 25-ounce model. Hydaway is moving beyond the bottle with a new portable, collapsable, and insulating tumbler debuting via Kickstarter.  Will this project hold water, or just be all wet?
What is it?
The Hydaway tumbler is a portable, collapsable, insulating tumbler. It is designed to help stop the use of single-use drinkware.
What's in the box?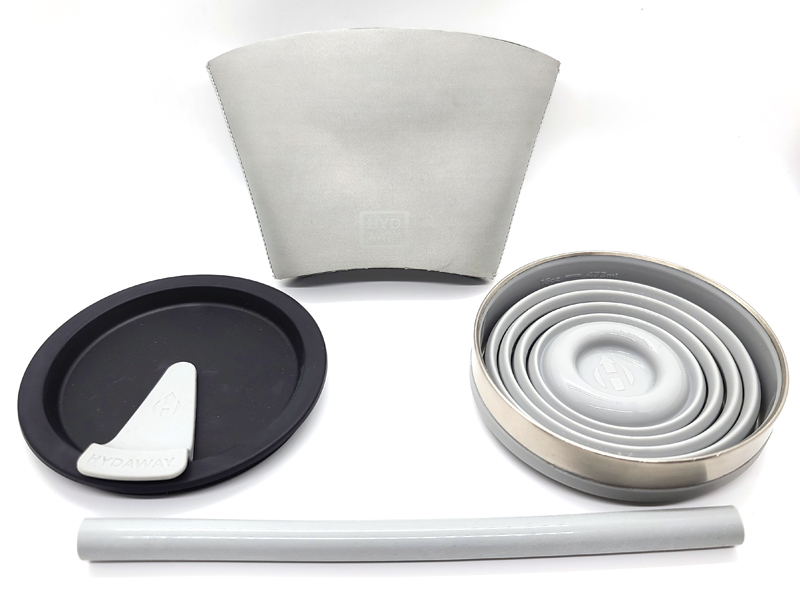 Hydaway tumbler (right)
Sealable lid (left)
Travel sleeve (top)
Reusable straw (bottom)
Hardware specs
Width: 3-7/8″
Height: 1.0″ collapsed, 5.5″ expanded
Weight: 6.1oz
Capacity: 16oz/473ml
Materials: food-grade silicone, stainless steel, and BPA-free bioplastic
Design and features
I was sent the thunder version which is gray.  The tumbler will be offered in multiple colors.
When collapsed, the tumbler makes a nice little disk. The Hydaway logo is molded into the bottom inside the tumbler.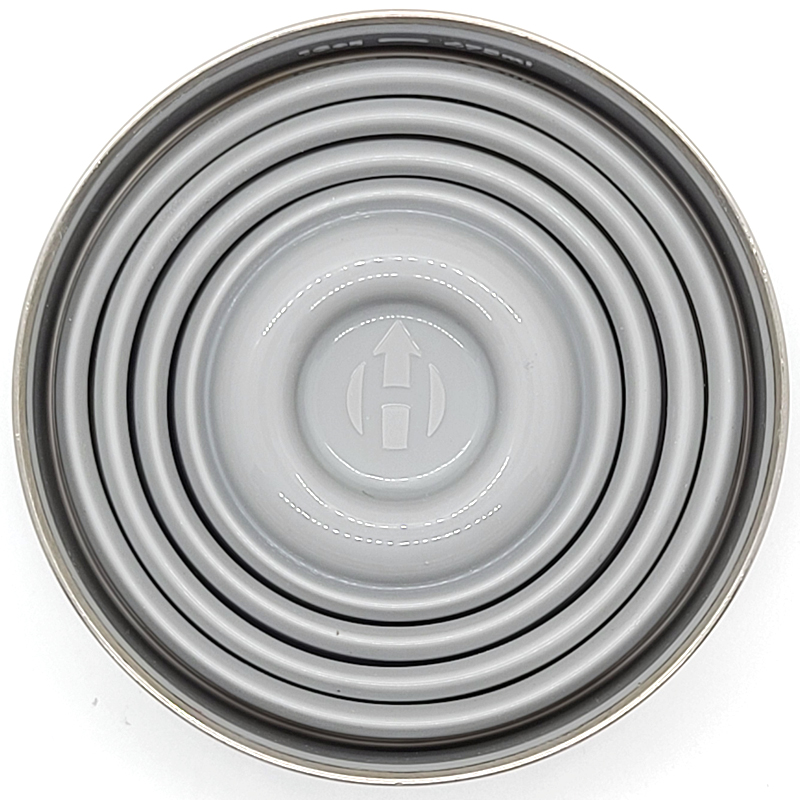 The underside has company information molded into it.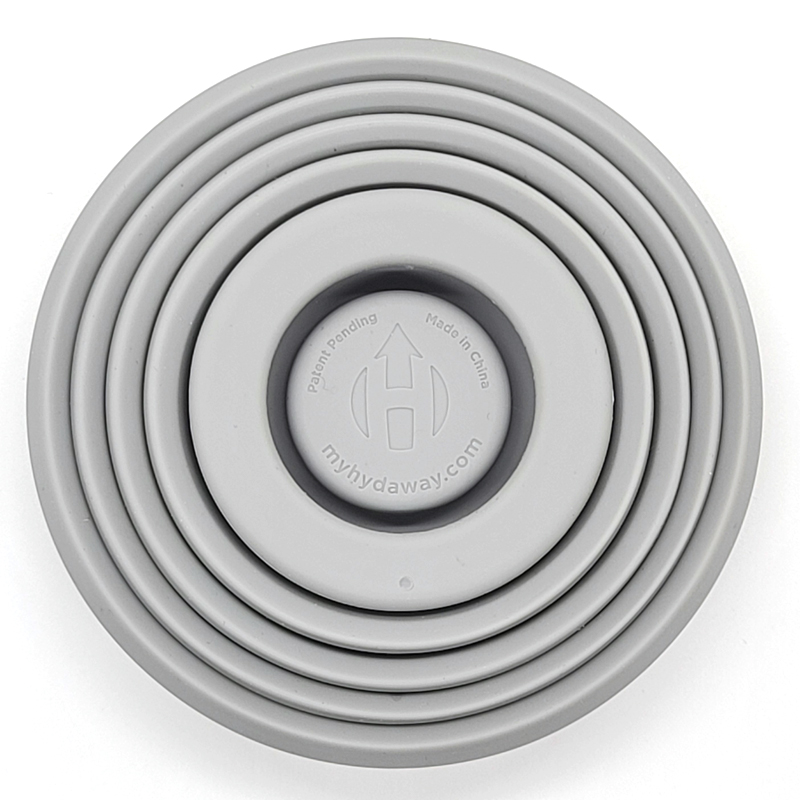 When collapsed, the tumbler is just over an inch thick.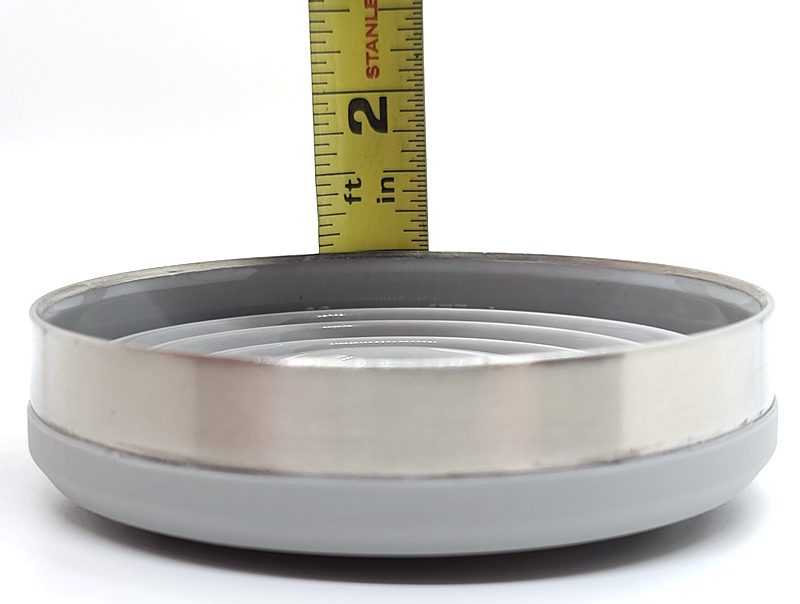 The top of the tumbler features a stainless steel band that gives the tumbler some rigidity.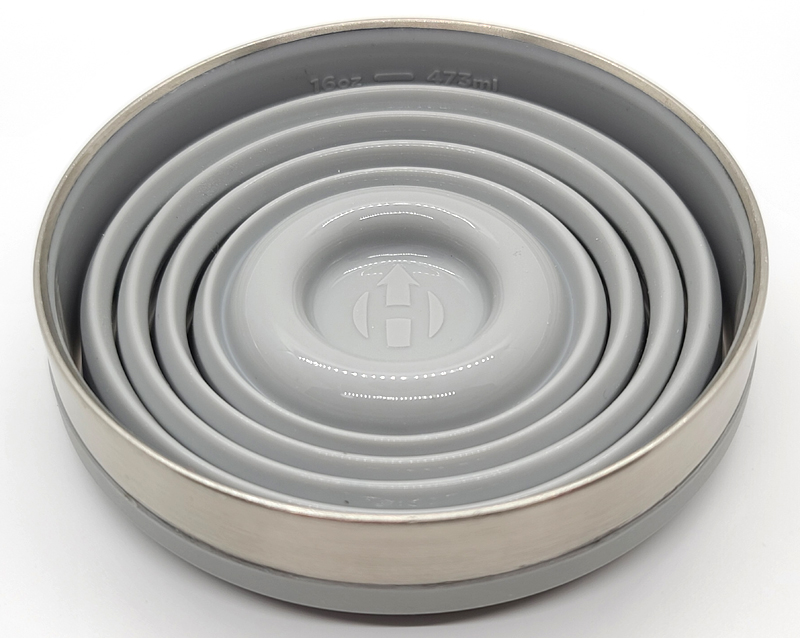 The included neoprene sleeve is designed to hold the tumbler when transporting it.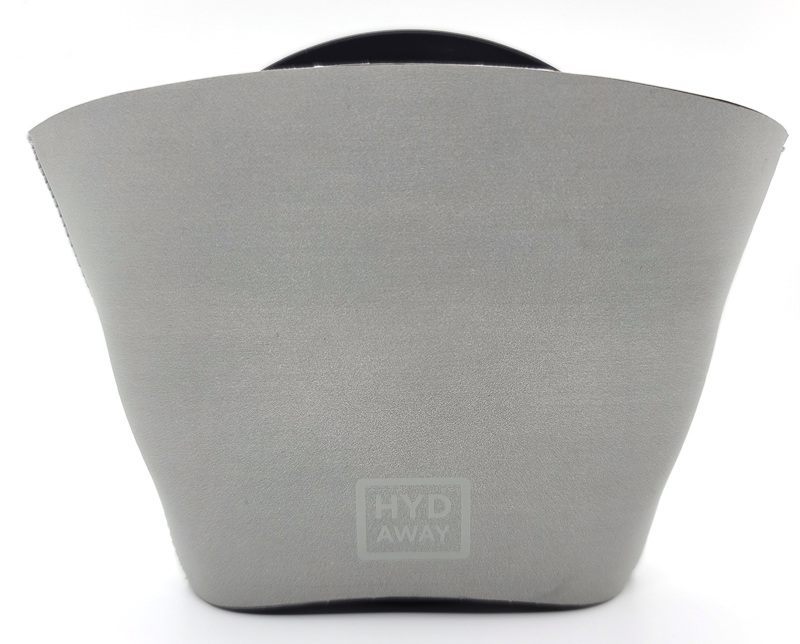 It is a single piece of neoprene, stitched together on the side.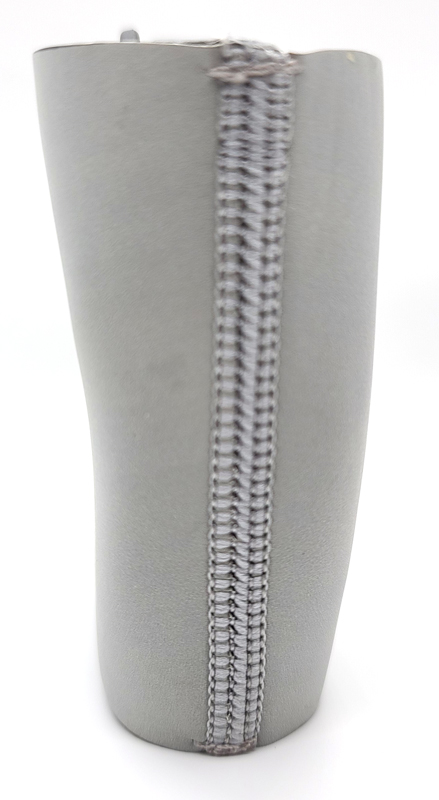 It does add a little bulk to the carry package, adding a fraction of an inch to the overall thickness.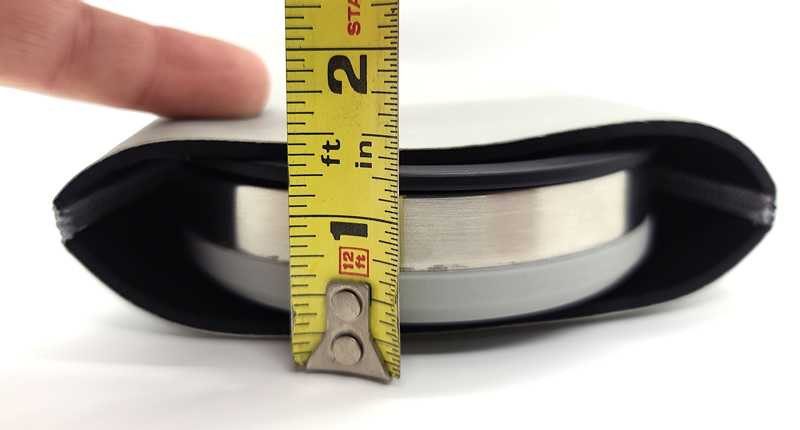 The sleeve is open both top and bottom.  It does protect the lid from accidentally opening, preventing spillage if you have collapsed a tumbler after use when cleaning isn't an option.
When expanded, the tumbler measures about 5.5″ tall. The outside surface is finished with a textured, matte finish that improves your grip.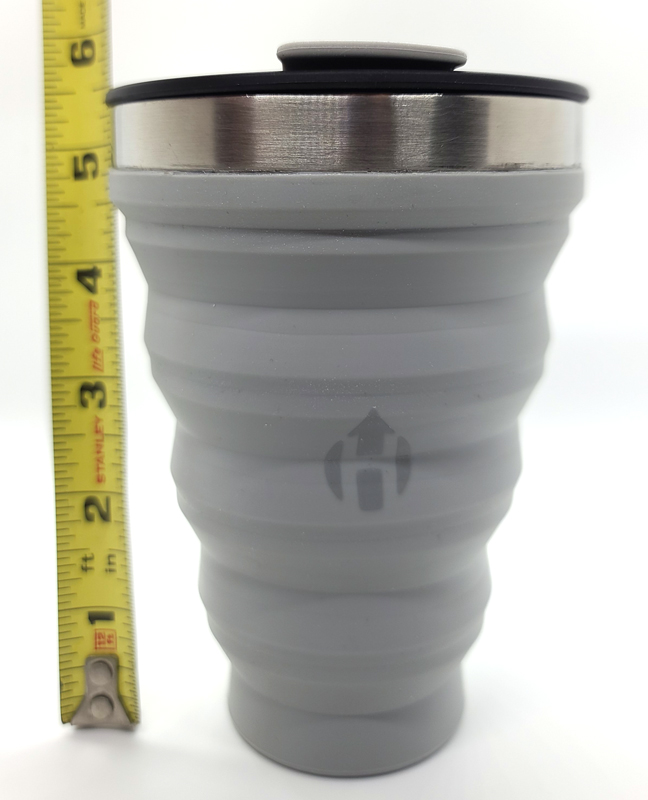 The lid fits snuggly and the flap seals completely.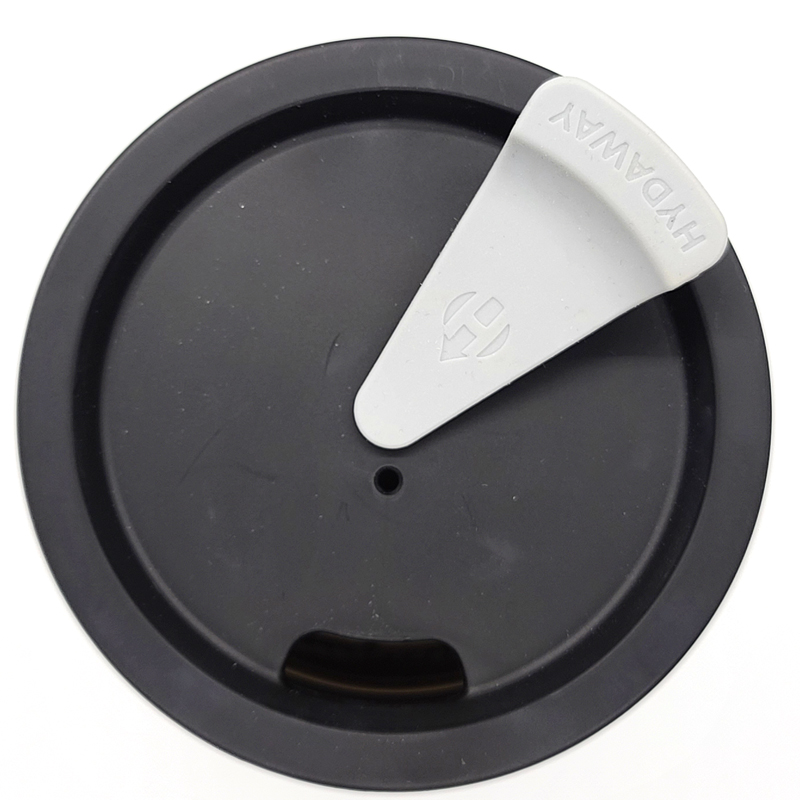 When full of water and sealed, I couldn't get the tumbler to leak. This is a good sign for a portable tumbler, as after using it, you likely will not be able to wash it immediately.  Collapsing it and sealing it up with the lid should make for drama-free and spill-free transportation, especially when inserted into the protective sleeve.
When expanded, the tumbler is nice and deep. The inside has a smooth, shiny finish that should be easy to clean.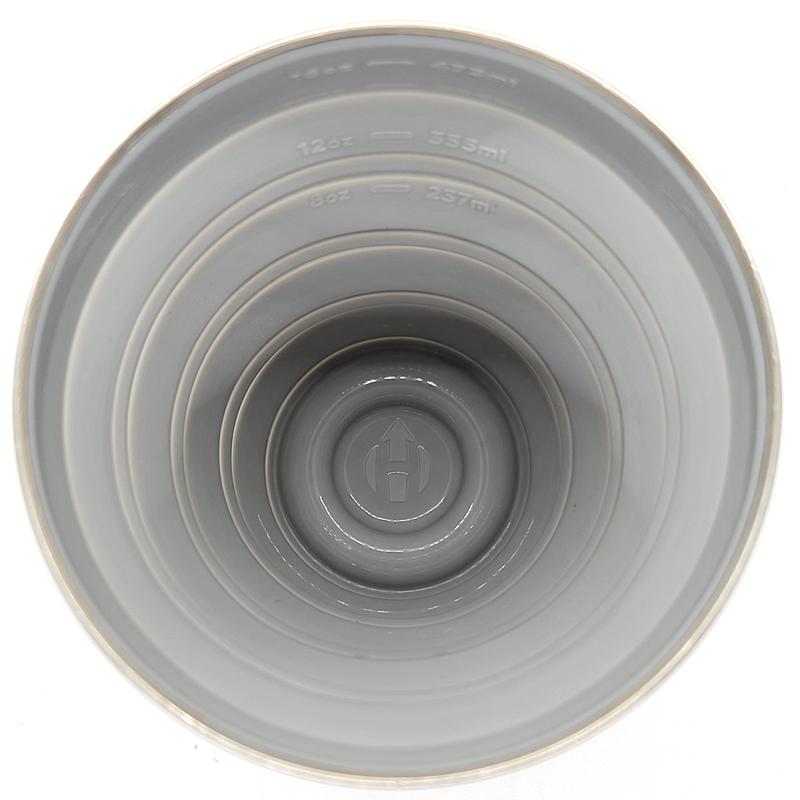 The bottom forms a wide, stable base with a raised center.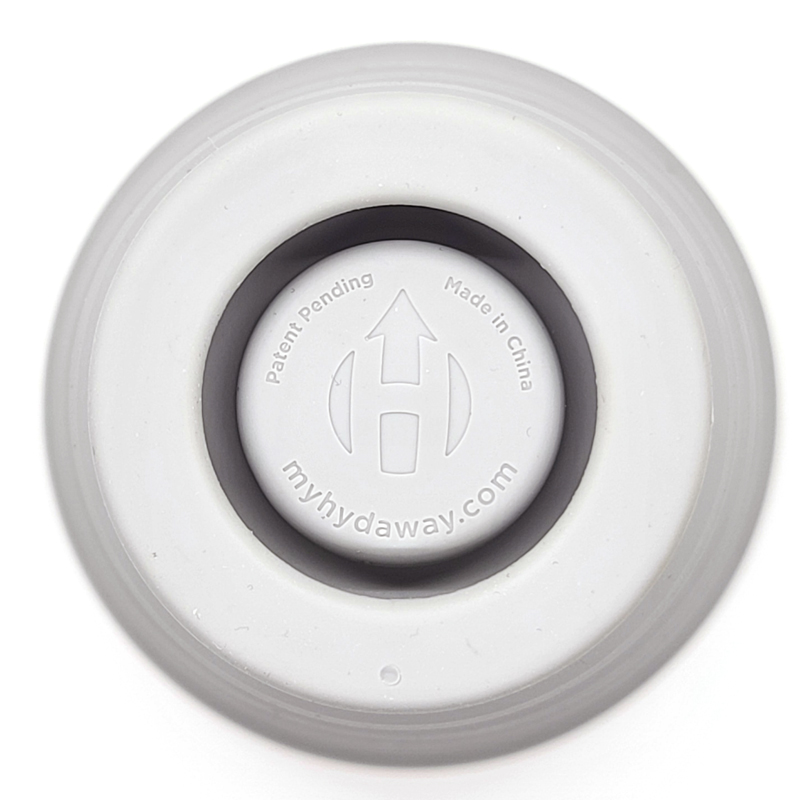 The included drinking straw is very thick and is taller than the tumbler.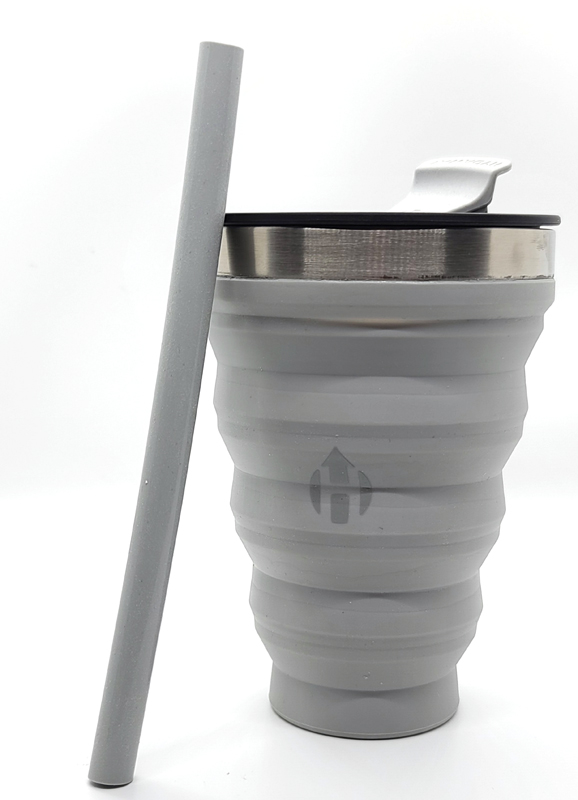 That's important as some solutions don't give you enough straw to get your lips on.  The Hydaway tumbler's straw is nicely sized for effective sipping.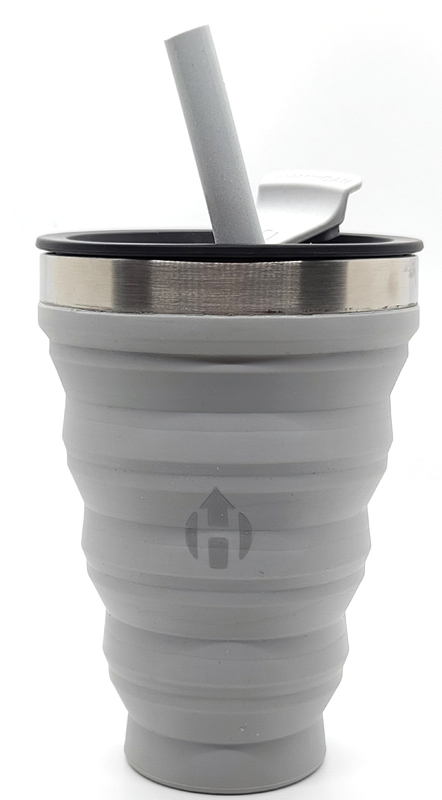 Inside the tumbler, volume markings are molded into the side marking 16, 12, and 8-ounce levels, in case you want to drink a very specific amount, or perhaps are mixing something.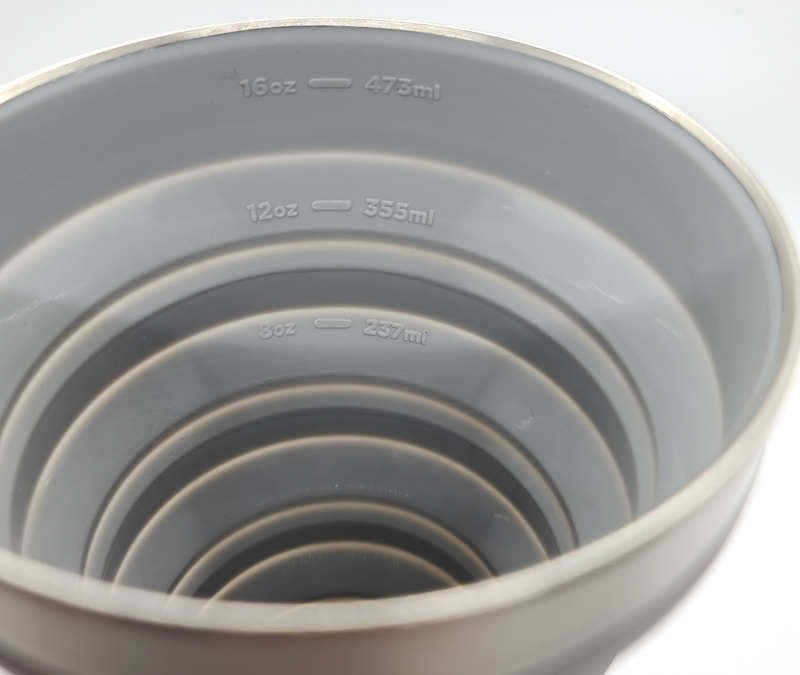 Performance
I filled the tumbler with some chilled water and went to the patio to work on this review.  Sitting outside in the late morning, here in Central Florida, the humidity is palpable. As I am writing this, the dewpoint is 79-degrees Fahrenheit. Since I filled the tumbler with chilled water, that means it is below 79-degrees.  As expected, within about two minutes, dew was forming and the tumbler was sweating.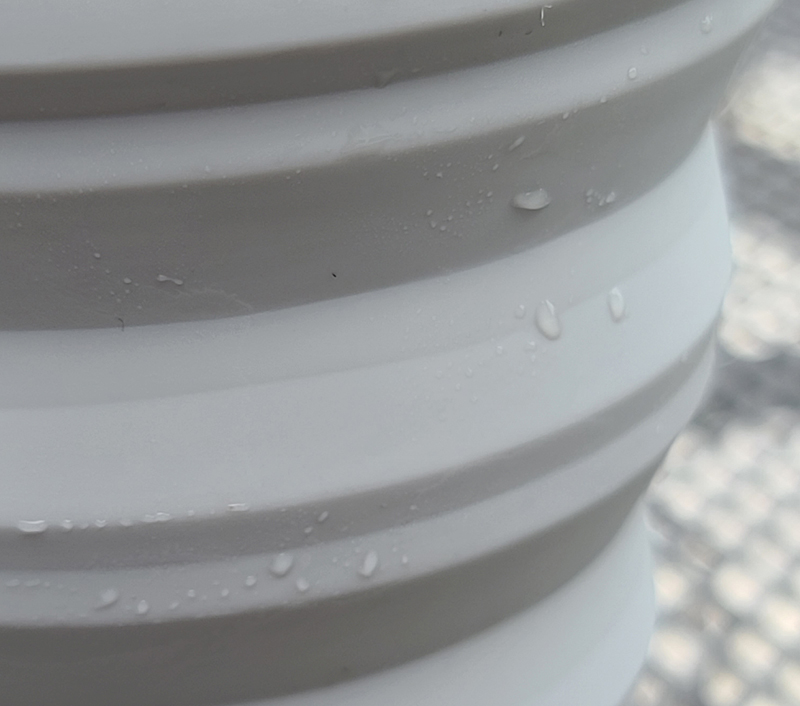 Even the thicker bottom was developing droplets.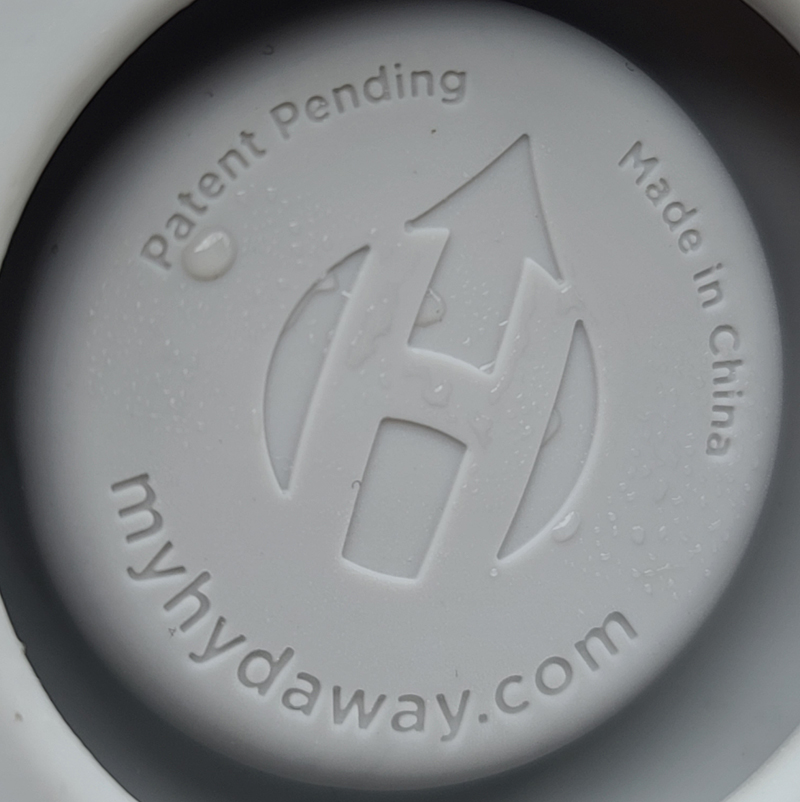 I point this out to note that while it claims to be the most insulating collapsable cup, this is not an insulated tumbler when compared to the vacuum stainless steel tumblers we see all over.  That's not meant to be a knock on the tumbler, just a recognition of the limitations of silicone as an insulator.
To really test the insulating capability, I heating some water to about 160-degreed Fahrenheit and filled three different containers, a standard uncovered ceramic coffee mug, a vacuum double-walled stainless steel mug with a lid, and the Hydaway tumbler with its lid.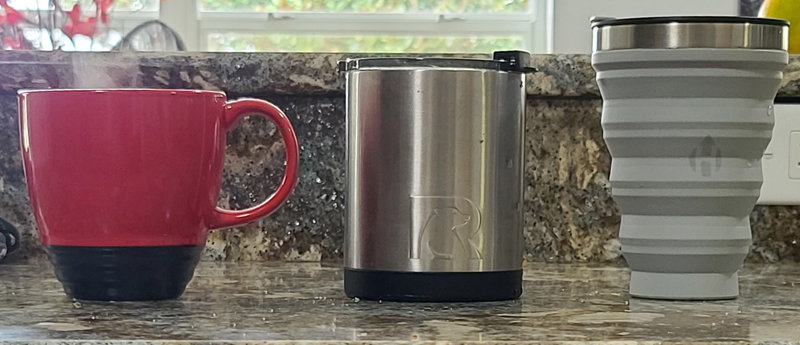 After pouring, all three registered at about 155-degrees. I let them sit for ten minutes and took the temps again.  The ceramic mug registered at 125-degrees, the vacuum mug at 151-degrees, and the Hydaway at 140-degrees. I was surprised at how well the Hydaway kept the water hot. Of course, it was nowhere near as good as the steel mug, but that's not a fair comparison.  It did really well when compared to an open coffee mug. I will note that the Hydaway was a bit uncomfortable to hold for more than a few moments when filled with piping hot liquid.
The great thing about how it is constructed is that you can use it to hold just about any type of beverage you want to.  Hot drinks won't hurt it, cold drinks won't hurt it, adult concoctions won't hurt it.
The straw is very thick with a wide opening. The first thing I thought of was that this straw would rock for milkshakes.  But, the opening in the top and the straw are a little at odds with each other.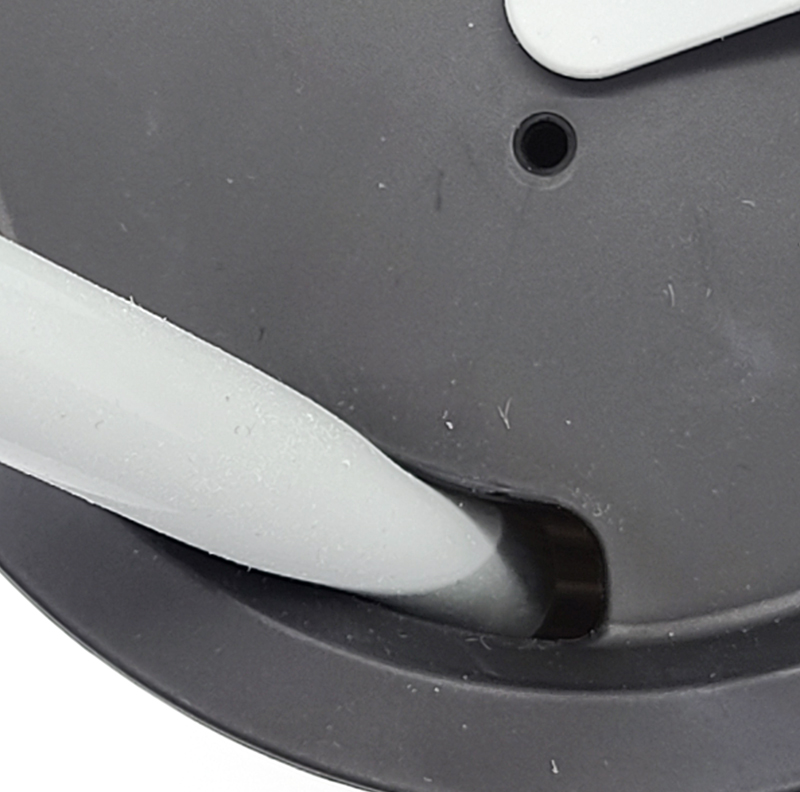 You have to squish the straw to fit through the lid.  But, nothing says you have to use the lid when using the straw, so, problem solved.
One thing about the straw is that it is way bigger than the collapsed tumbler. Plus, after use, there may be some leftovers inside the straw that could spill into whatever you are carrying the straw in.  If I was carrying this for everyday use, I don't think I'd carry the straw.  I would just drink from the tumbler, either with or without the lid.
The other thing I want to note is how the tumbler feels.  I expected it to be squishy and hard to handle.  I was wrong.  The tumbler material is thick enough, without being too thick.  It adds just the right amount of body so that the tumbler feels stable in the hand and steady when set down. It does feel a little more squishy when filled with hot liquid but was still stable and easy to handle.
What I like
Nicely portable
Adds absolutely zero taste to your beverage – you taste what the drink tastes like, not the tumbler
Top seals completely for mess-free transport even when collapsed
Works with both hot and cold drinks
What I'd change
The straw is a little unwieldy although I don't know how I'd fix this
It is a little uncomfortable to hold when filled with a very hot beverage
Final thoughts
I am pretty impressed with the Hydaway tumbler.  It collapses to a very small size, making it great for traveling and insulates better than I expected.  Unlike some previous Hydaway products, this is designed to be able to withstand hot drinks, making it perfect for coffee and tea drinkers. Since it isn't completely insulated, cold drinks will sweat to some degree and hot drinks are a little uncomfortable to hold. If you're a traveler and want something small to tuck into a travel bag that gives you the option of filling it with water at the airport, coffee or tea at the hotel, and perhaps a rum and cola in the evening, the Hydaway tumbler might be the solution you've been looking for.
Price: $20 (early bird)
Where to buy: Kickstarter
Source: The sample of this product was provided by Hydaway.