We use affiliate links. If you buy something through the links on this page, we may earn a commission at no cost to you. Learn more.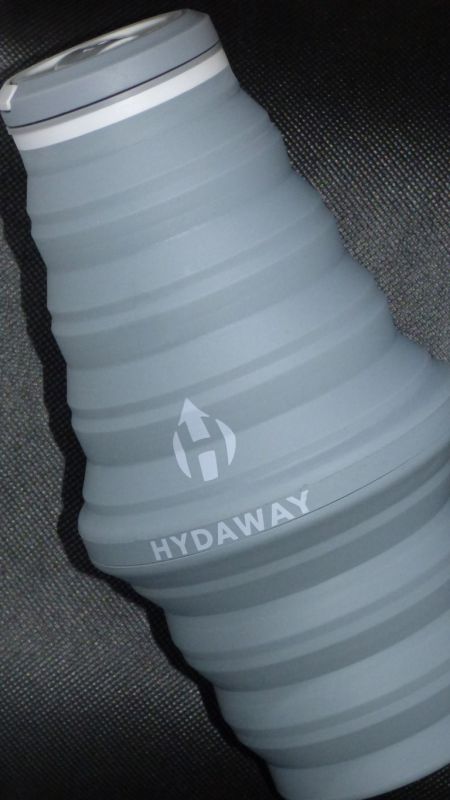 REVIEW –  I'm a big fan of lightweight travel, but hate to "go without" or pay exorbitant prices for water. Hydaway's collapsible bottles solve both issues with Gadgeteer style.
What is it?
Hydaway's collapsible water bottle is a liquid-carrying vessel that has accordion-like bellows that enabling it to be compressed into a space-saving flat disk.
Hardware Specs
8 x 4 inches when expanded, 1 x 4 inches when compressed (1-1/4 inches using the carbon filter lid option)
25-ounce capacity
Weighs 6.2 ounces empty
What's in the Box?
Hydaway bottle
 Cardboard display and information "card"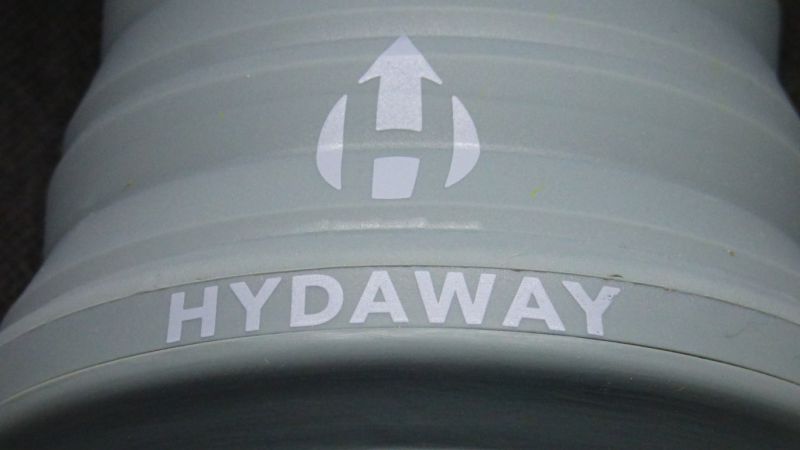 Optional:
Carbon filter flip-type spout lid
Three carbon filters
Instructions
Design and Features
I previously reviewed Hydaway's original bottle and 18-ounce bottles and have been sufficiently pleased with them to make them go-to travel companions. Easy to clean, top-rack dishwasher safe and expertly crafted, I was thrilled to give their largest size 25-ounce bottle a test ride.
The bottle arrived in a sturdy box with plenty of biodegradable packing material.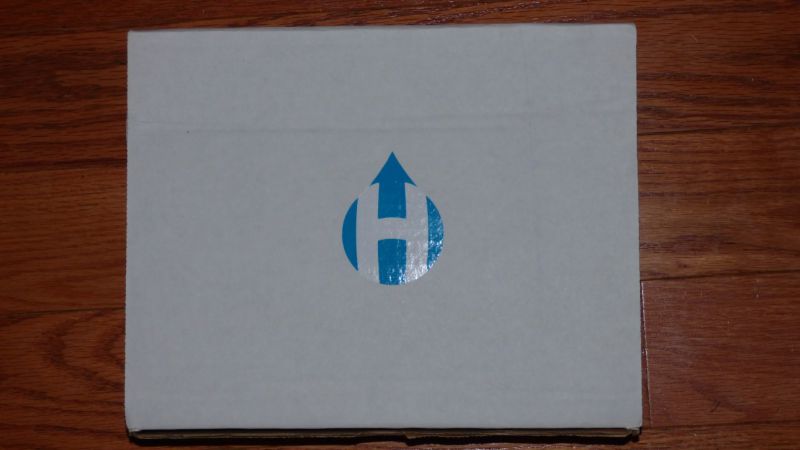 Included was the carbon filter lid pack in a separate box.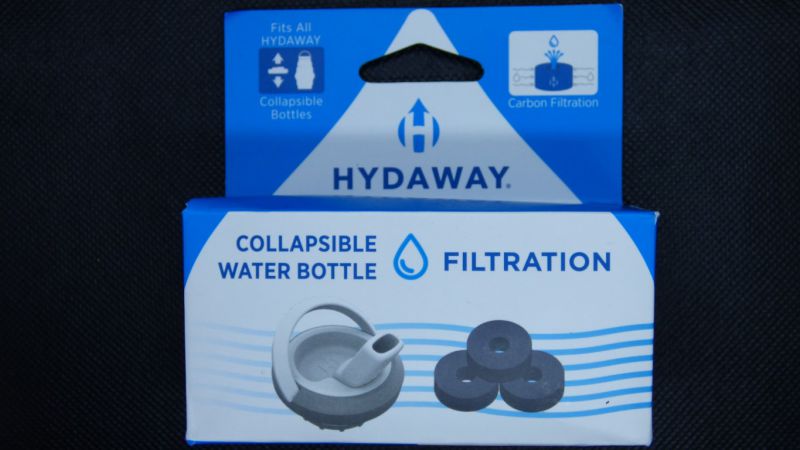 The bottle is sold with just an informational cardboard display.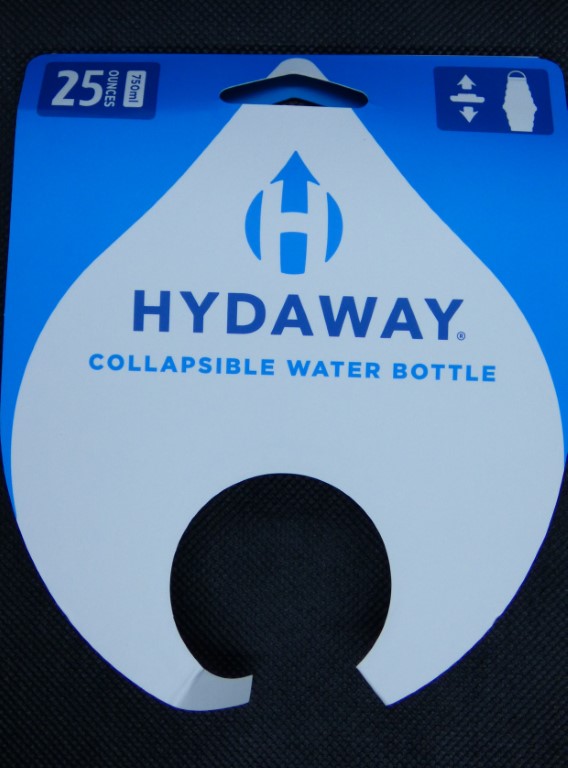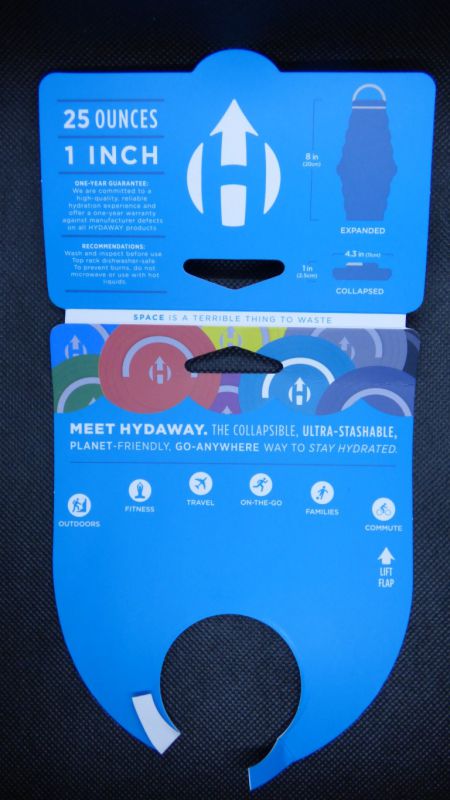 Hydaway's 25-ounce bottle is virtually identical in function to the previous version. Accordion folds in the rubbery body allow the bottle to be compressed into a very compact form.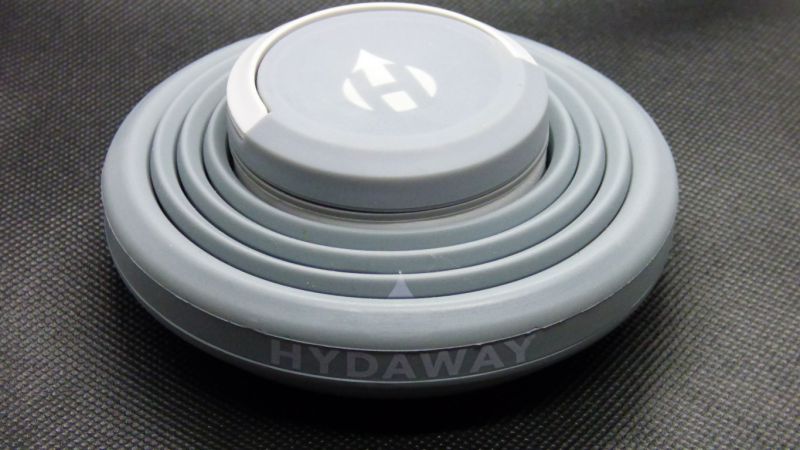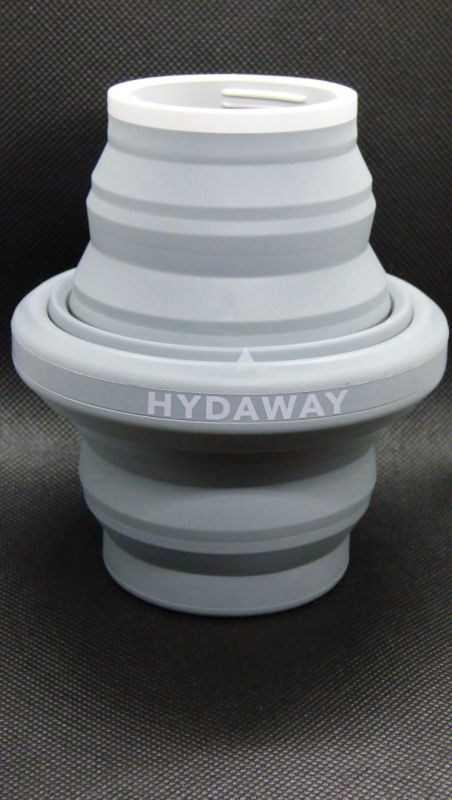 The lid is wide enough to fill the bottle with ice cubes, or alternatively, crackers or snacks, however, Hydaway states the bottle is not designed for hot beverages. The wide-mouth opening makes cleaning easy.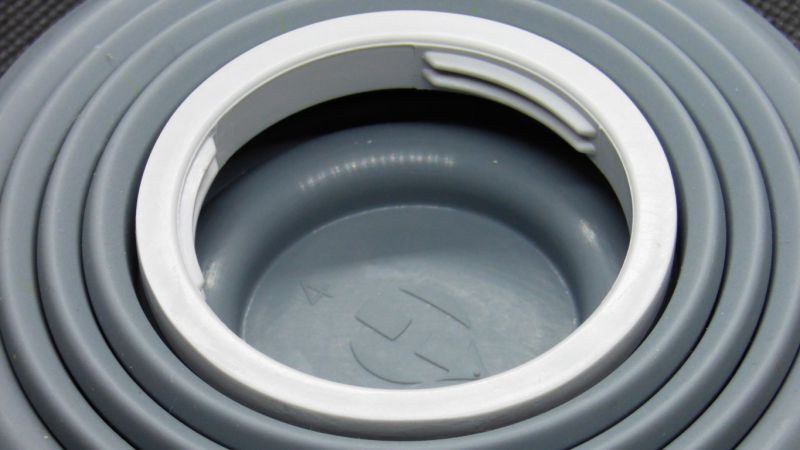 Not being insulated, cold drinks will cause the bottle to form condensation on the outer surfaces.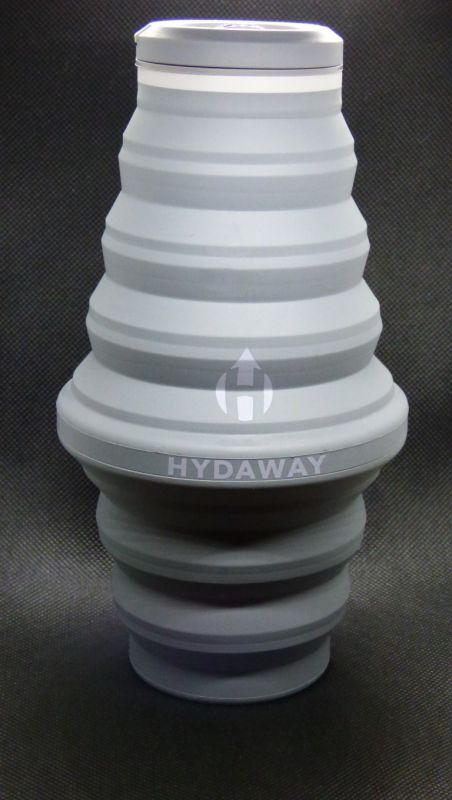 The standard lid has an integrated handle, making it easy to carry, but like the previous versions, a good jolt would separate the handle from the lid so use caution.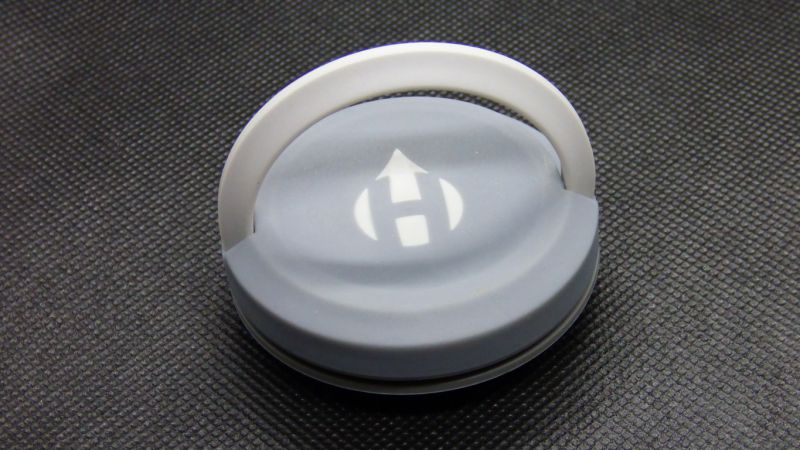 I appreciated the inclusion of the carbon filter lid pack. The lift-up spout is easier to drink from and much more secure than the standard lid.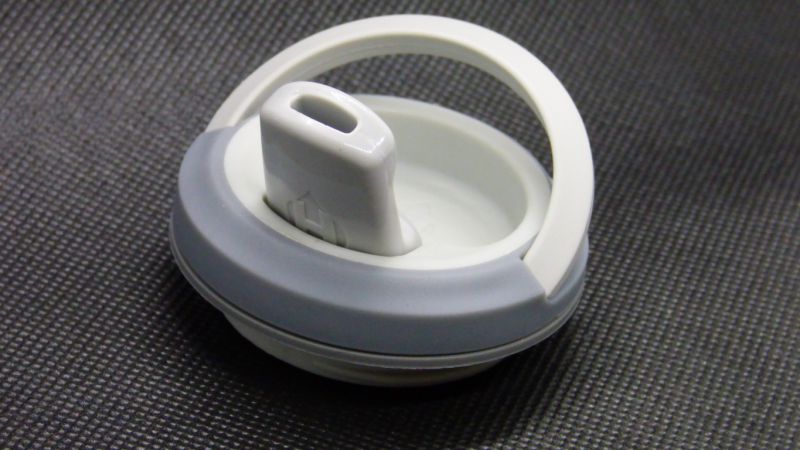 Carbon filters fit into the underside of the lid. They help eliminate funky tastes and odors from water for up to three months. I sometimes travel to exotic locations with questionable water and would be thrilled if Hydaway would offer a bacteria and virus filter option!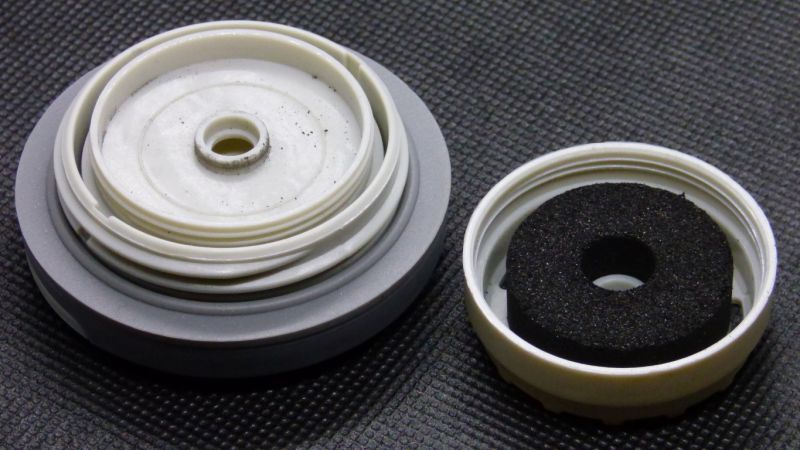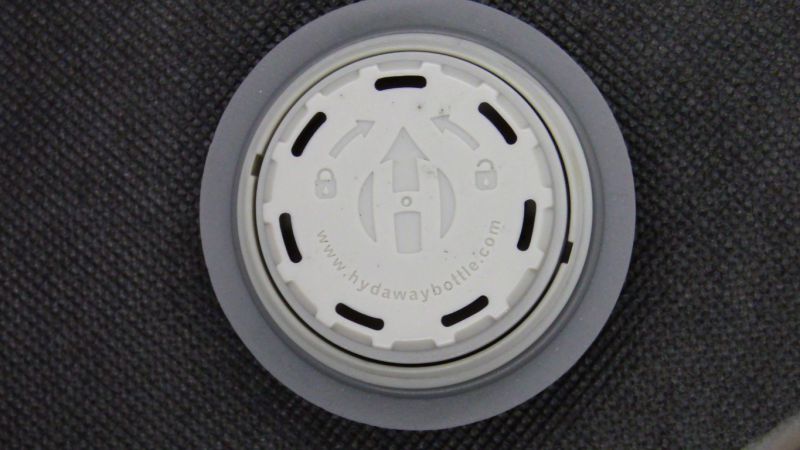 The standard lid has no spout so the lid needs to be loosened or removed to let air in and out to expand or collapse the bottle. For this reason, plus spill prevention, I wholeheartedly recommend the pop-up spout lid.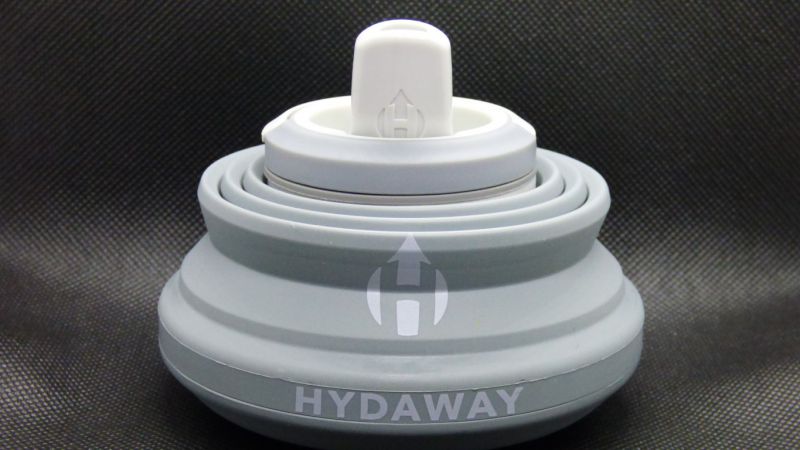 On one occasion, my fast-food soft drink cup was defective, dripping soda as I walked. I was able to transfer my cola into the Hydaway bottle and carry it onboard my flight with no additional mess! If I didn't have the Hydaway bottle with me, I would have needed to discard my beverage.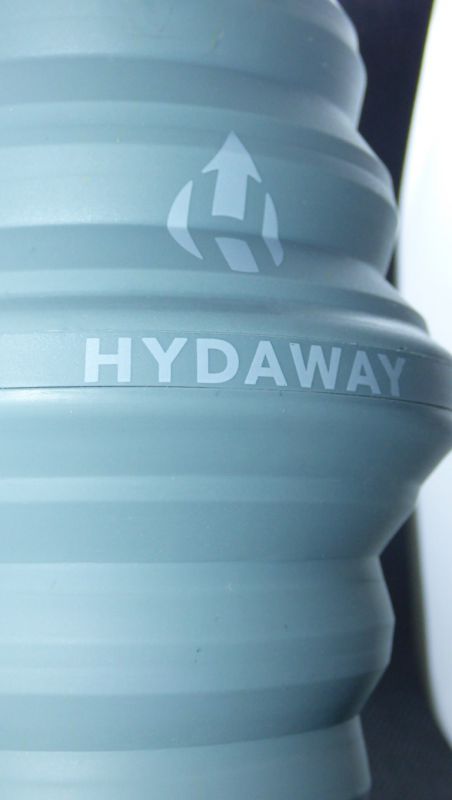 What I Like
Small size
Eliminates the need for disposable bottles
Easy to clean
What I Would Change
Include the pop-up spout as standard equipment
A purification filter would be outstanding!
Final Thoughts
I've included a Hydaway bottle in my backpack since my first review in October 2017 and have probably saved hundreds of dollars.  It's no secret I'm a big fan of Hydaway bottles, particularly the new 25-ounce size. The design is innovative, well-constructed and ideally suited for travel.
Price: Starts at $30
Where to buy: Hydaway Bottle and Amazon
Source: The sample for this review was provided by Hydaway Bottle.