We use affiliate links. If you buy something through the links on this page, we may earn a commission at no cost to you. Learn more.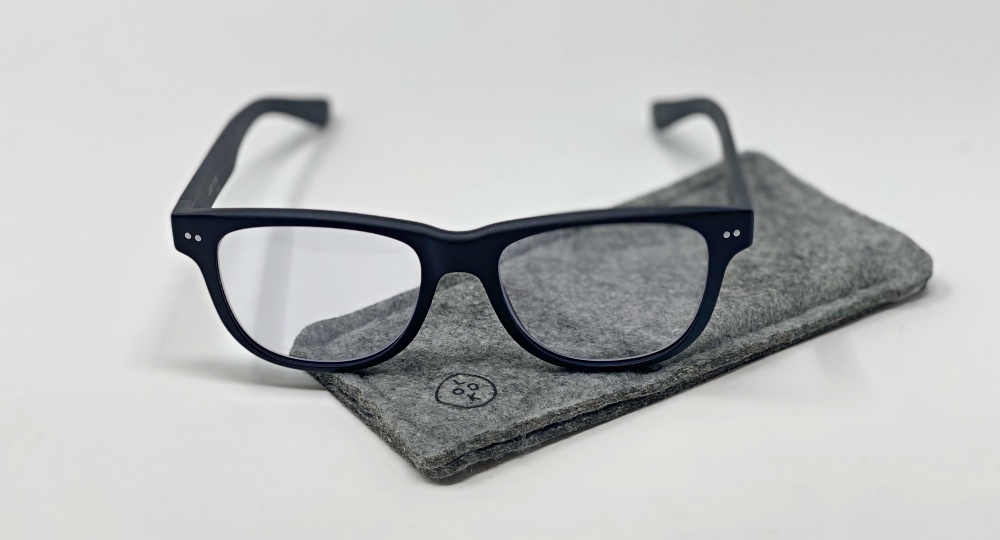 REVIEW – As someone who is just about to hit the half century mark, I started needing reading glasses over the last couple years. I've been near-sighted since 3rd grade and have worn a combination of glasses and contacts ever since. Prior to all this work-from-home business, I would wear contacts every day, relegating my glasses to my waking and winding down hours. Post WFH, I've mostly worn my glasses unless headed out on my mountain bike. I've found that with my contacts in, my phone needs to be at a full arm's length for me to be able to read it, hence reading glasses. The same applies to working at my computer. Look Optic has designed their blue-light lenses specifically for use with digital screens and the havoc they can wreak with your eyes.
What is it?
The Blue-Light series of eyewear from Look Optic are prescription quality frames and specialized lenses with "RetinaShield" that block harmful blue light emitted by digital screens.
What's in the box?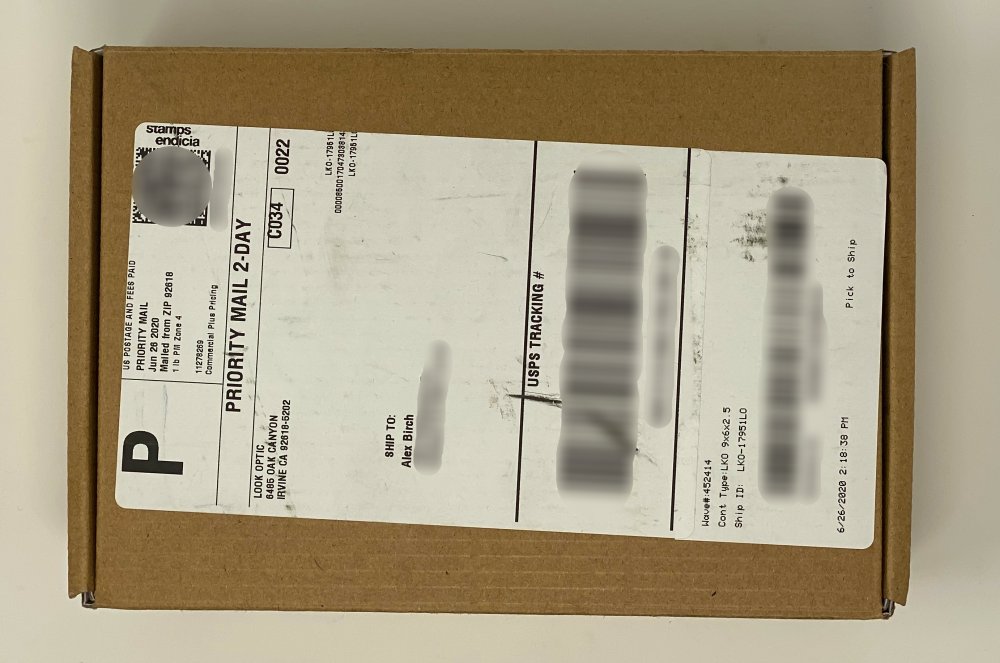 Why am I showing you the shipping box? Well, I love well thought out packaging and this unboxing just made me smile.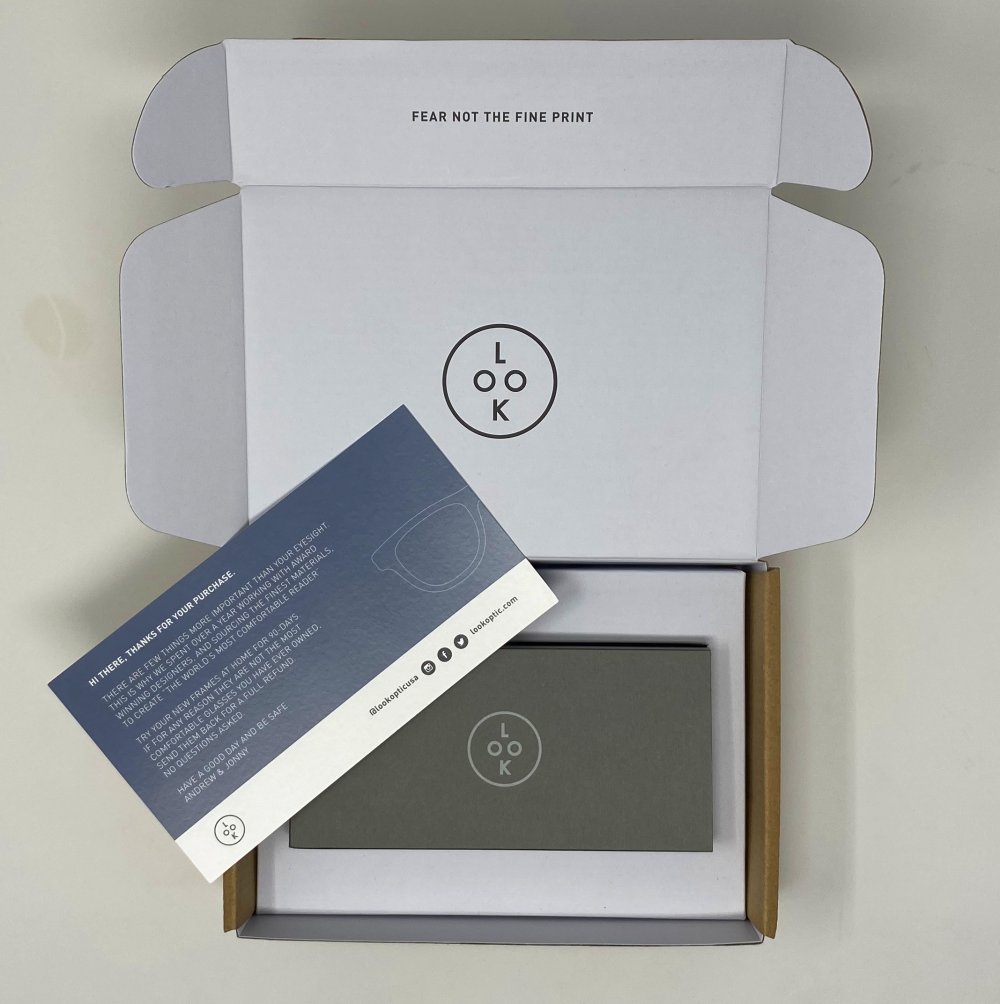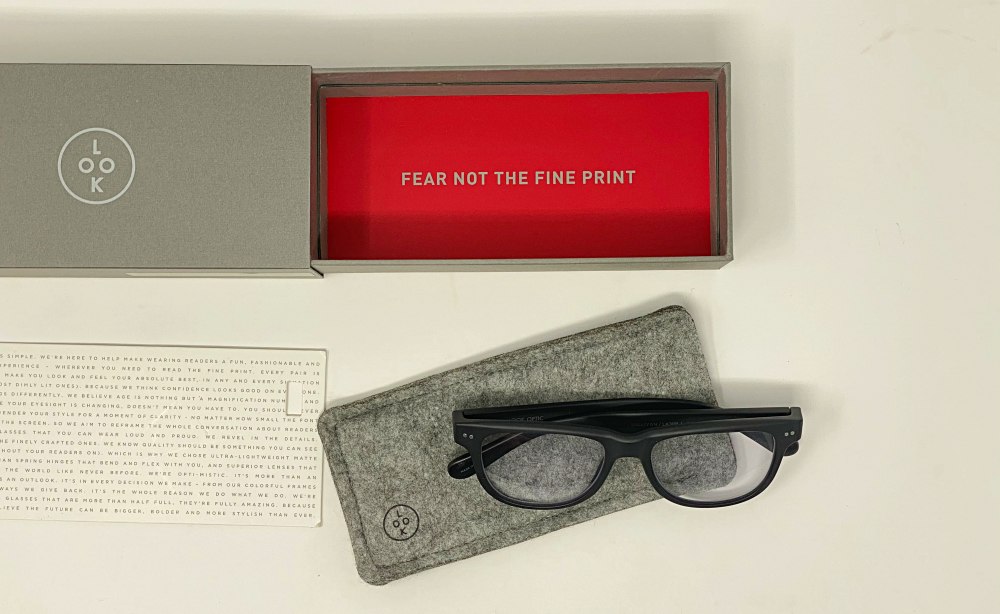 Blue-Light eyewear
Storage sleeve
Thank you card
Hardware specs
Frame Material: TR-90 thermoplastic frame
Hinges: Italian spring hinges
Temples/Arms: Wire core for easy fitting
Lenses: CR-39 scratch-resistant glass with UV400 (blue light) protection
Design and features
Look Optic has five frame styles available with their Blue-Light option. I chose the Sullivan model in Black.

Each are available in as few as two or as many as 11 color options, and they're for anyone (even those with perfect vision) that want blue light protection as they come in neutral 0.0+ as well as magnifications of +1.0, +1.5, +2.0 and +2.5.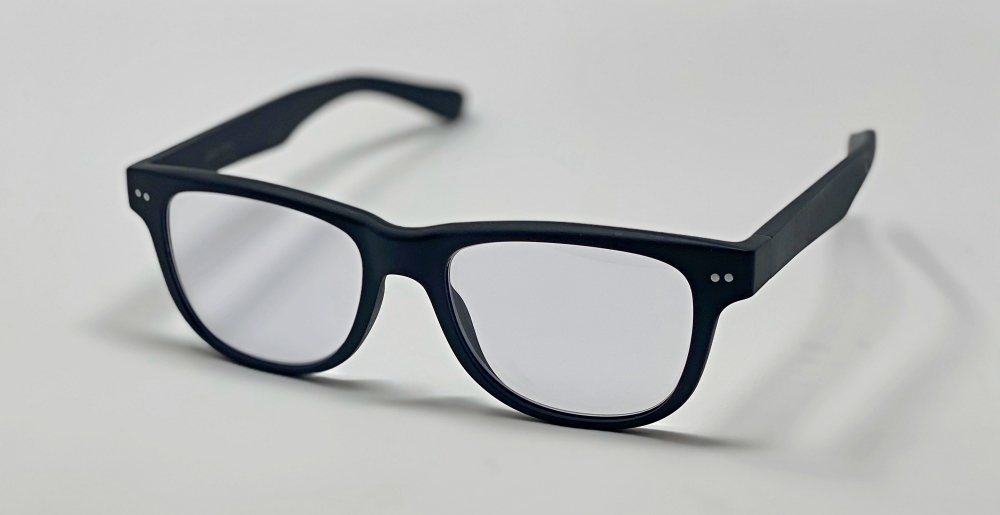 The frame material is a thermoplastic that goes by the code TR-90 which is extra durable, but still flexible. That flexibility comes in handy if you need to bend the arms a bit to fit as there is an embedded wire to hold a new position.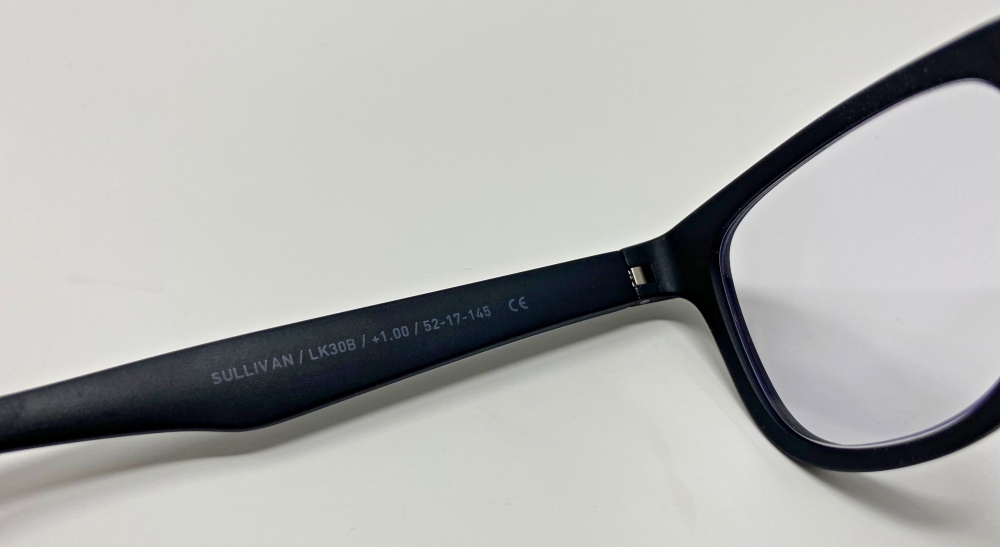 The spring hinges are apparently Italian (ooh, fancy), but they flip open on demand and snap closed with a satisfying "thwack" sound.

The lenses are made from high quality glass and designed to block harmful blue light from all those pesky digital screens we are all fond of staring at. In the above image, you can see a slight difference to the color shown through the lenses. This was the best I was able to capture.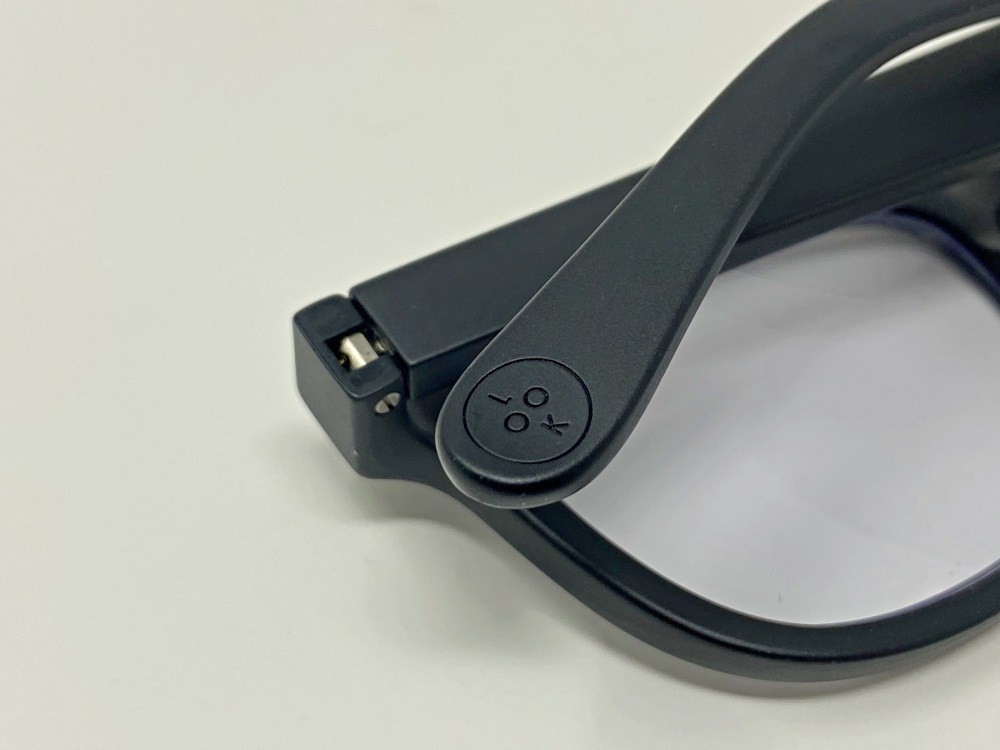 Absolutely digging the subtle branding, and a good reason not to chew on the end of the arms.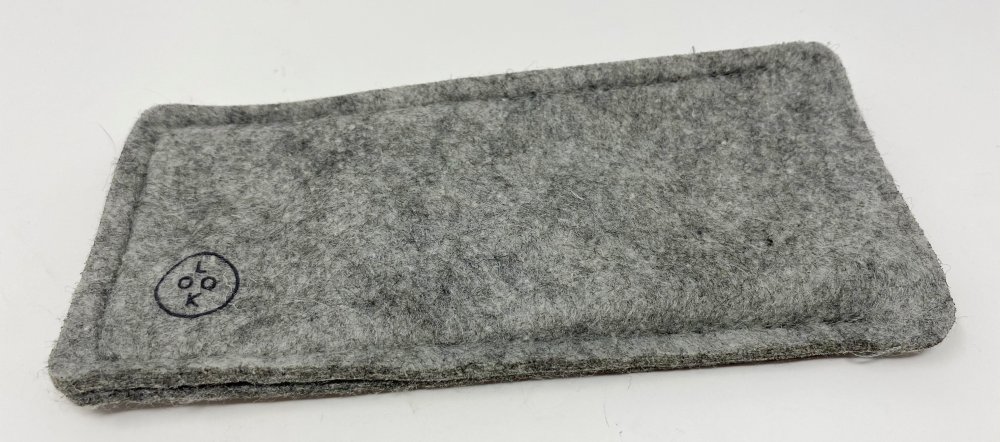 The storage sleeve is a cool felted material that stands out from most surfaces you might set it down on. Inside, they've got a nice microfiber stitched to one side for lens protection, so you'll want to make sure you insert your glasses the correct way.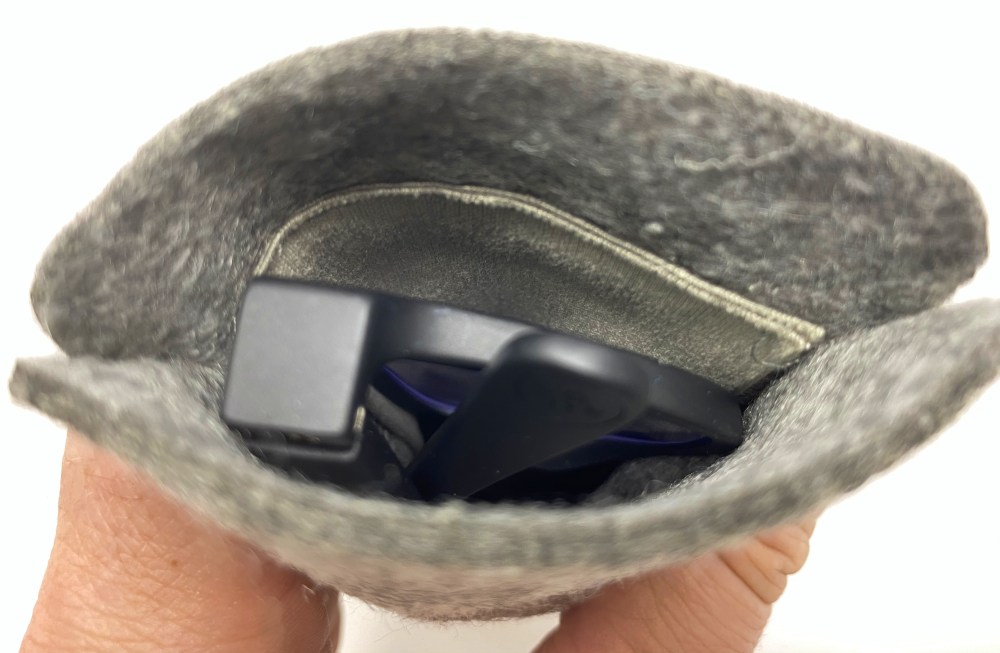 Setup
Unbox them and put them on. I think you'll enjoy that process as I did.
Performance
I chose the Sullivan frame style in Black with a magnification of +1.0; Classic and stylish.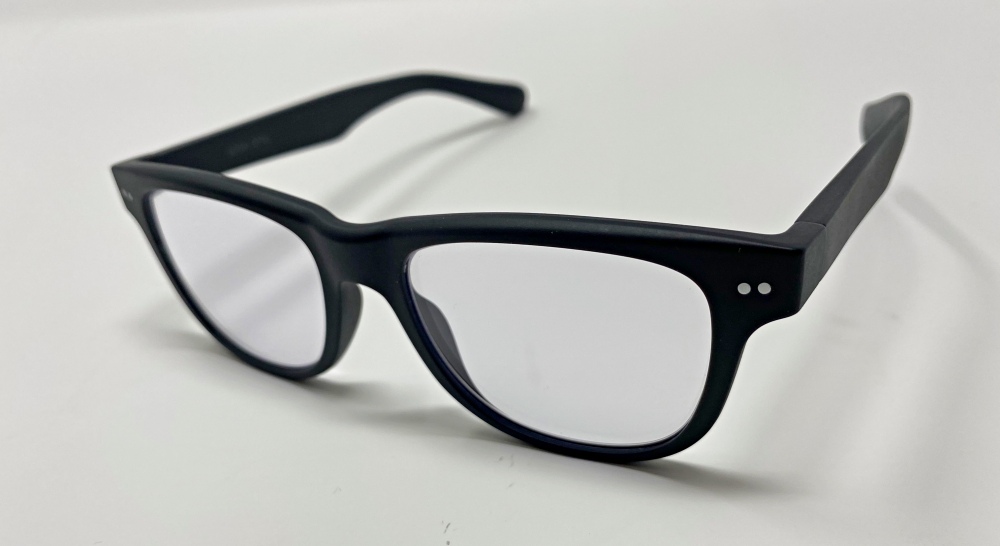 Maybe I should have leaned a bit bolder and tried something more out there given all the colors they offer.

These glasses fit better out of the box than almost anything I've put on lately.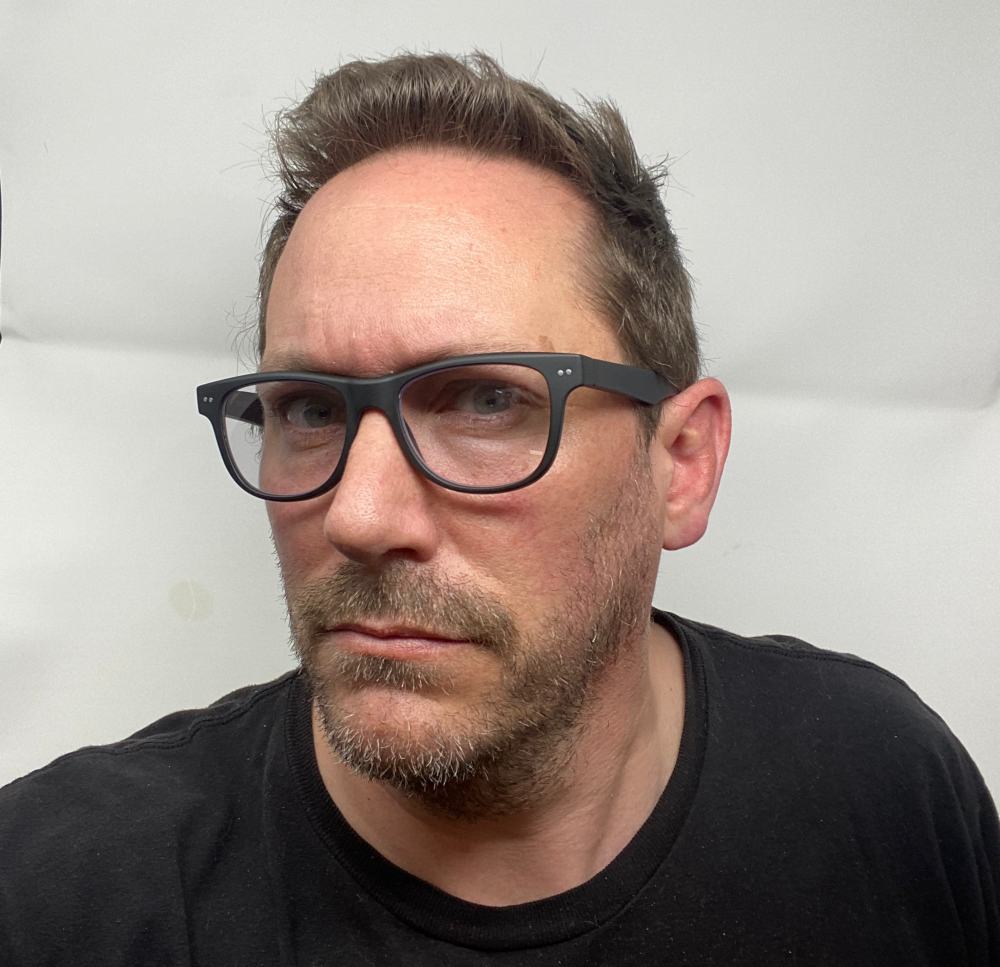 The temples flip open and closed in a way that borders on becoming a fidget toy. They flex a good 15º beyond their neutral position without much change in tension. Here's another awkward photo to show you that flexibility.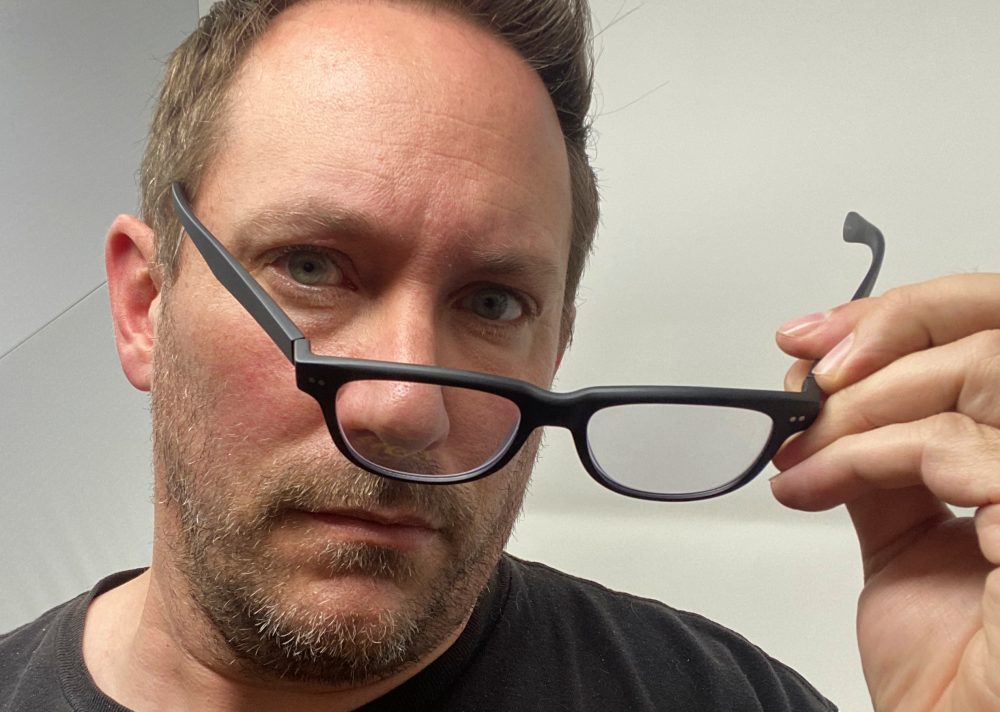 To fit my face, the arms flex slightly into that range. Glasses without this function have to be bent awkwardly or apply a lot of pressure to the side of your head. These fit well, stay put and don't slide down my nose unless I put them there on purpose to multitask between my iPad and watching TV.
I didn't need to bend the arms to fit my face but have done here so to show how that embedded metal wire lets you do just that. The lower photo shows the increased bend.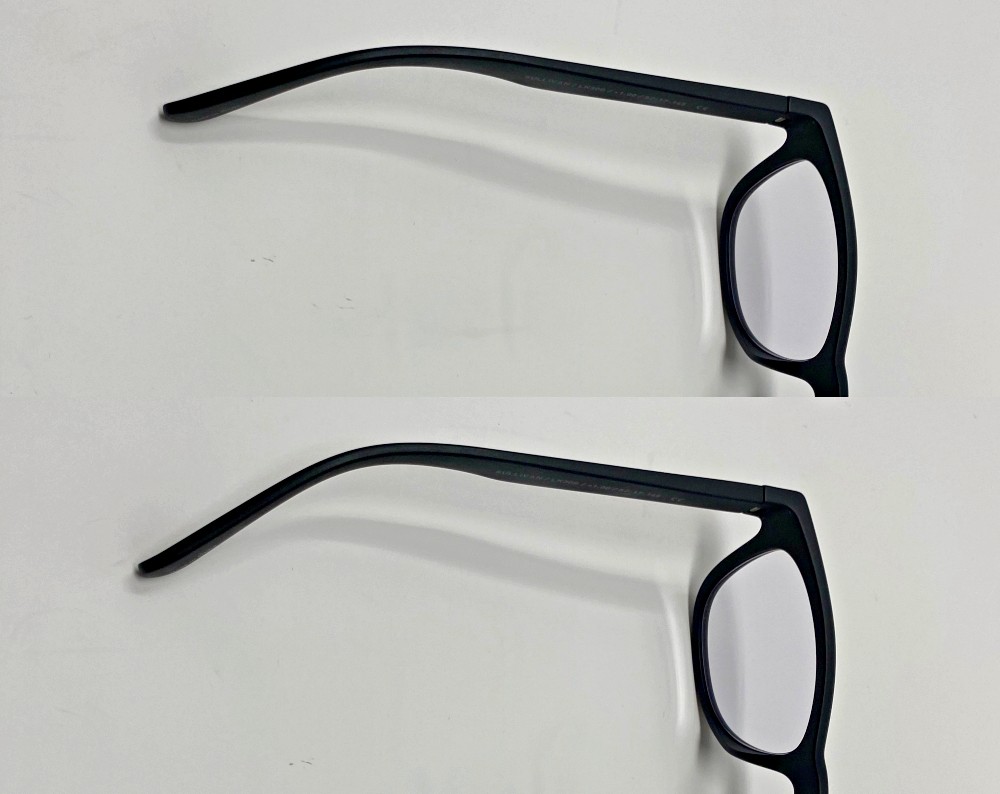 What is blue light? Here's the diagram Look Optic uses to explain it.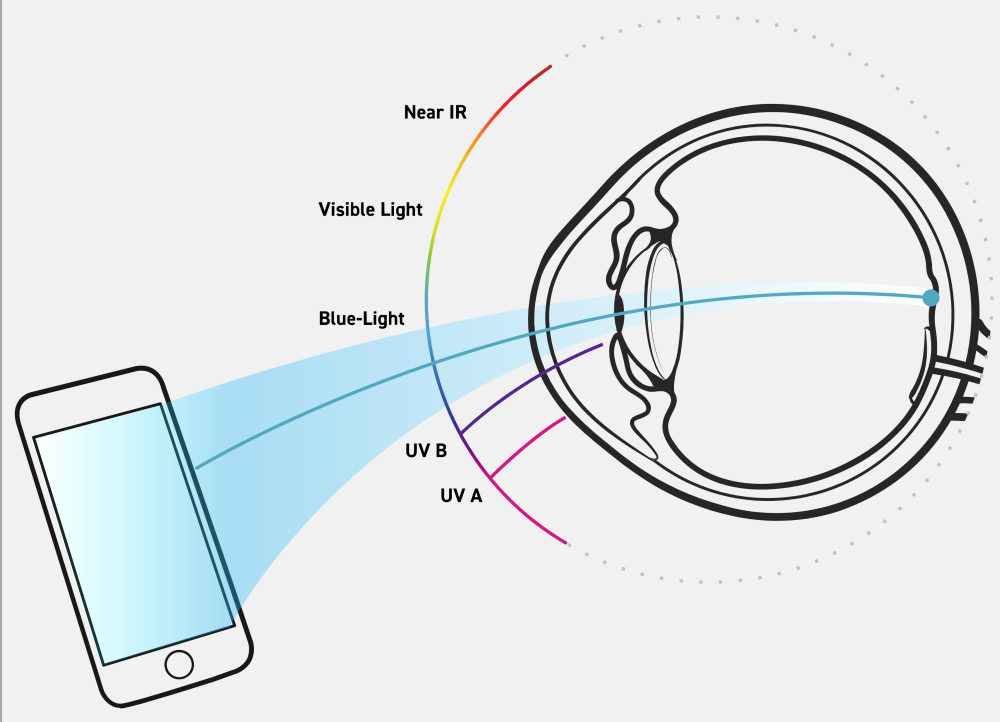 Blue light is visible light in the spectrum shown above and it can reach deeper into the eye causing damage to the retina in addition to suppressing melatonin which can cause issues with good sleep.
The real question is… does one notice a benefit from the blue-light blocking from the lenses? That's a bit of a tough question…
First, I do not notice any color shift to any of my screens, nor would I expect to. Second, I do have the "Night Shift" feature turned on and set to "Sunset to Sunrise" for all my Apple devices. This is a feature that serves the same purpose. Am I double-blocking blue light now? I doubt it.
Lastly, how would you really know if it's helping? Especially with all the other things going on right now affecting normalcy.
I do wear a Fitbit while sleeping and receive a fresh new sleep score every morning. It's hardly concrete data, but I seem to have been routinely scoring slightly better since wearing the Sullivan glasses during work hours. Another data point would be that on days I wear these readers while at my computer, I don't seem to be quite as tired. All of this is very subjective, as each day is different as is my diet and activities or lack thereof.
Here's the best way I've found to look at it. I absolutely need readers. This Sullivan model fits me great and they're either $68 as readers or $78 as readers with blue light protection. I think that feature has been helping and for $10 that's a bet worth taking. Tack on that they have a 90 day trial period, a no questions ask return policy, a one year warranty and that we could all use better sleep; it's a pretty risk free bet.
What I like
Blue light blocking lenses
Style and color options
Fit of the Sullivan model for me specifically
Spring hinges
1% of purchase goes to Charity:Water (An awesome charity)
What I'd change
Add a lens polishing cloth
Final thoughts
We all get old and chances are you're going to need readers at some point. Even if you don't, studies show that blue light is real, it can be harmful and affect your sleep not to mention your eyesight. Either way, there's no reason to wear glasses that don't look good on you. Look Optic is worth checking out if you have the need.
Price: $78
Where to buy: Look Optic
Source: The sample of this product was provided by Look Optic