We use affiliate links. If you buy something through the links on this page, we may earn a commission at no cost to you. Learn more.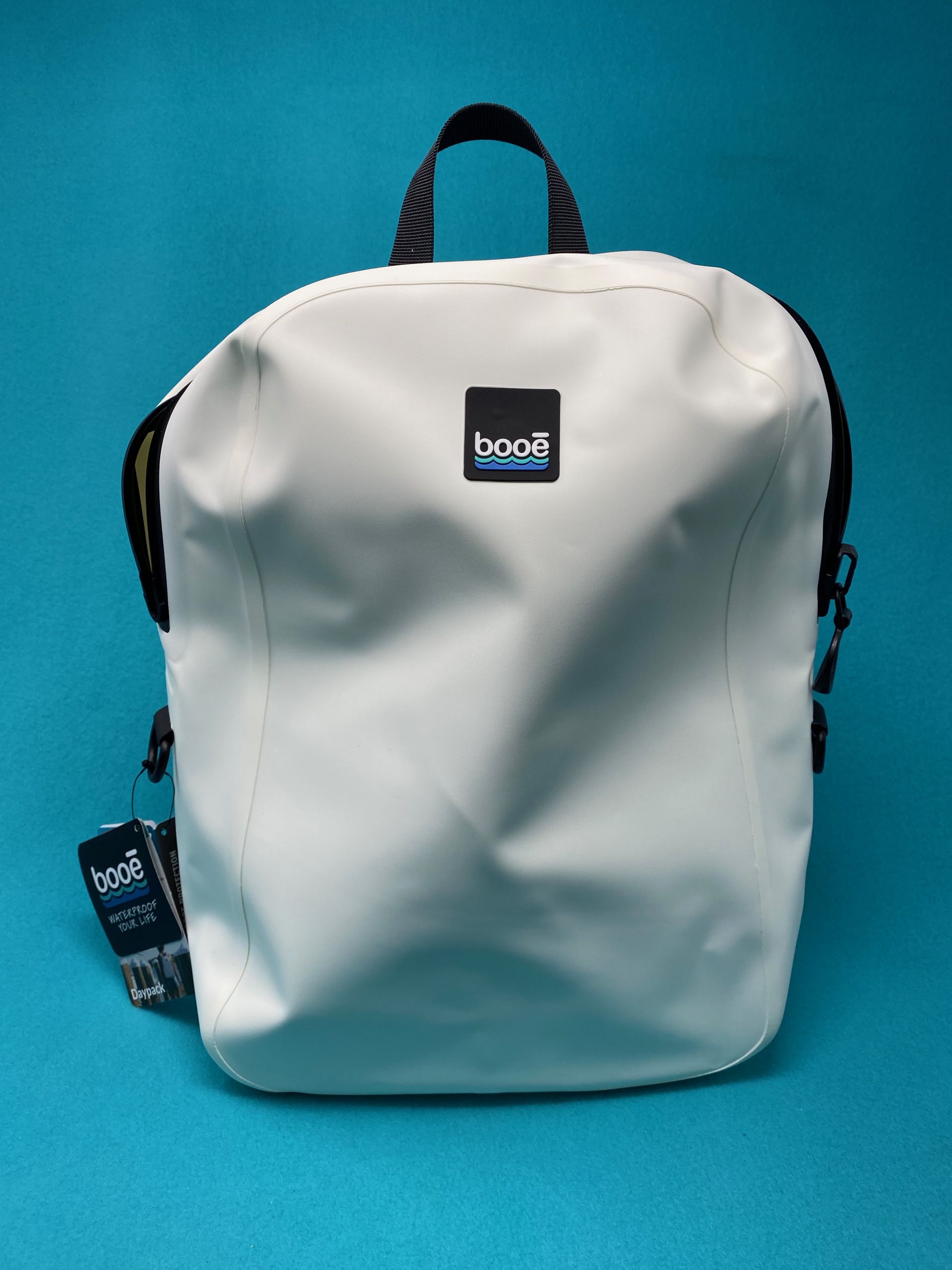 REVIEW – Summertime is here, and with it, trips to traditionally wet and sandy places. But, as Gadgeteers, can we really enjoy the beach, lakeside, or pool without our gadgets? What about the severe reaction to water and sand that electronics are susceptible to? Won't someone think of the gadgets!?!?! Booē (pronounced like the water buoy) has heard the anguished cry of gadgeteers with damp tech everywhere, and released a series of waterproof bags and pouches. I was sent the Daypack in Sail White. It is also available in Jet Black, Marine Blue, and Buoy Orange.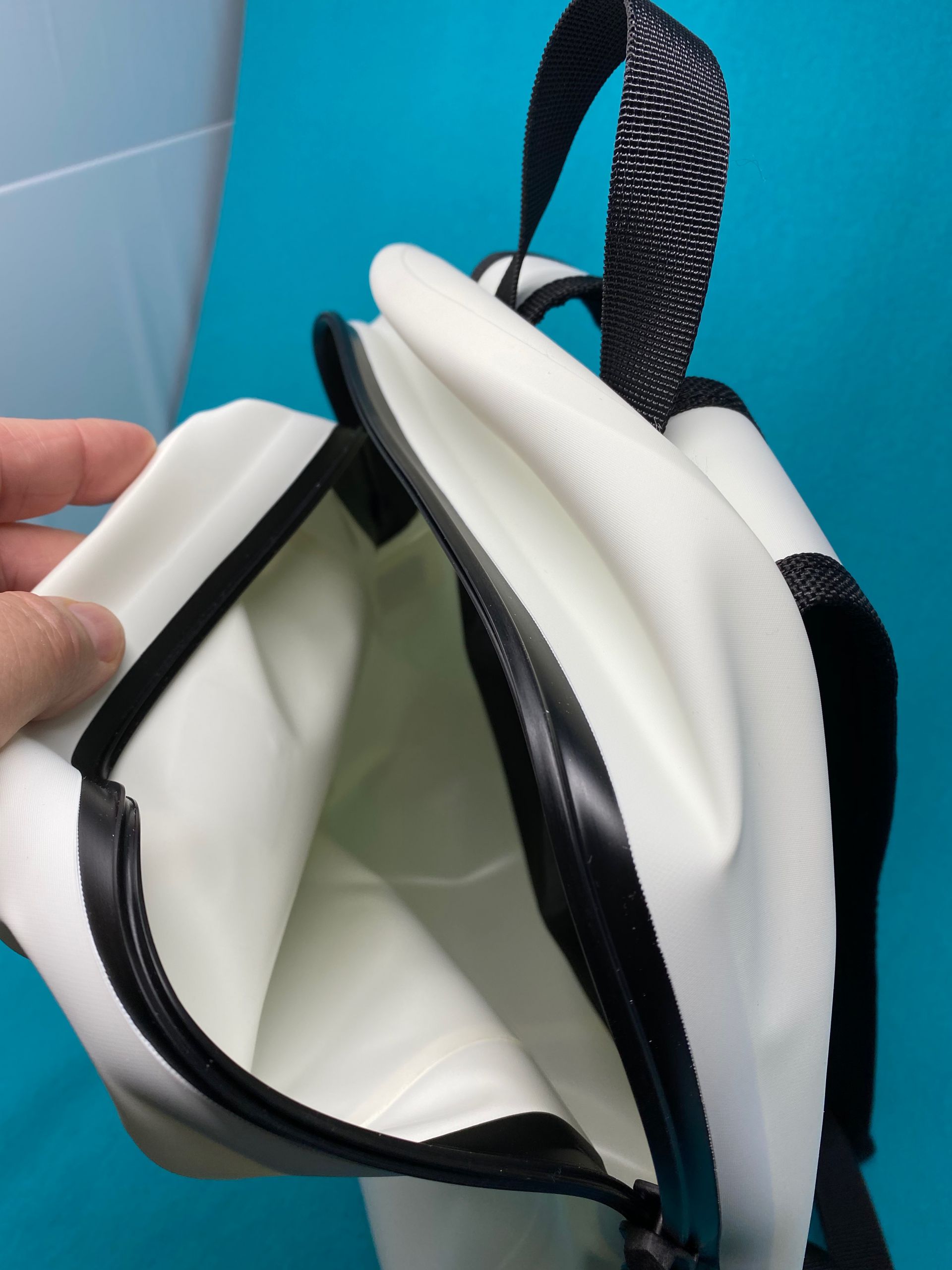 What is it?
A medium-sized daypack made from waterproof materials.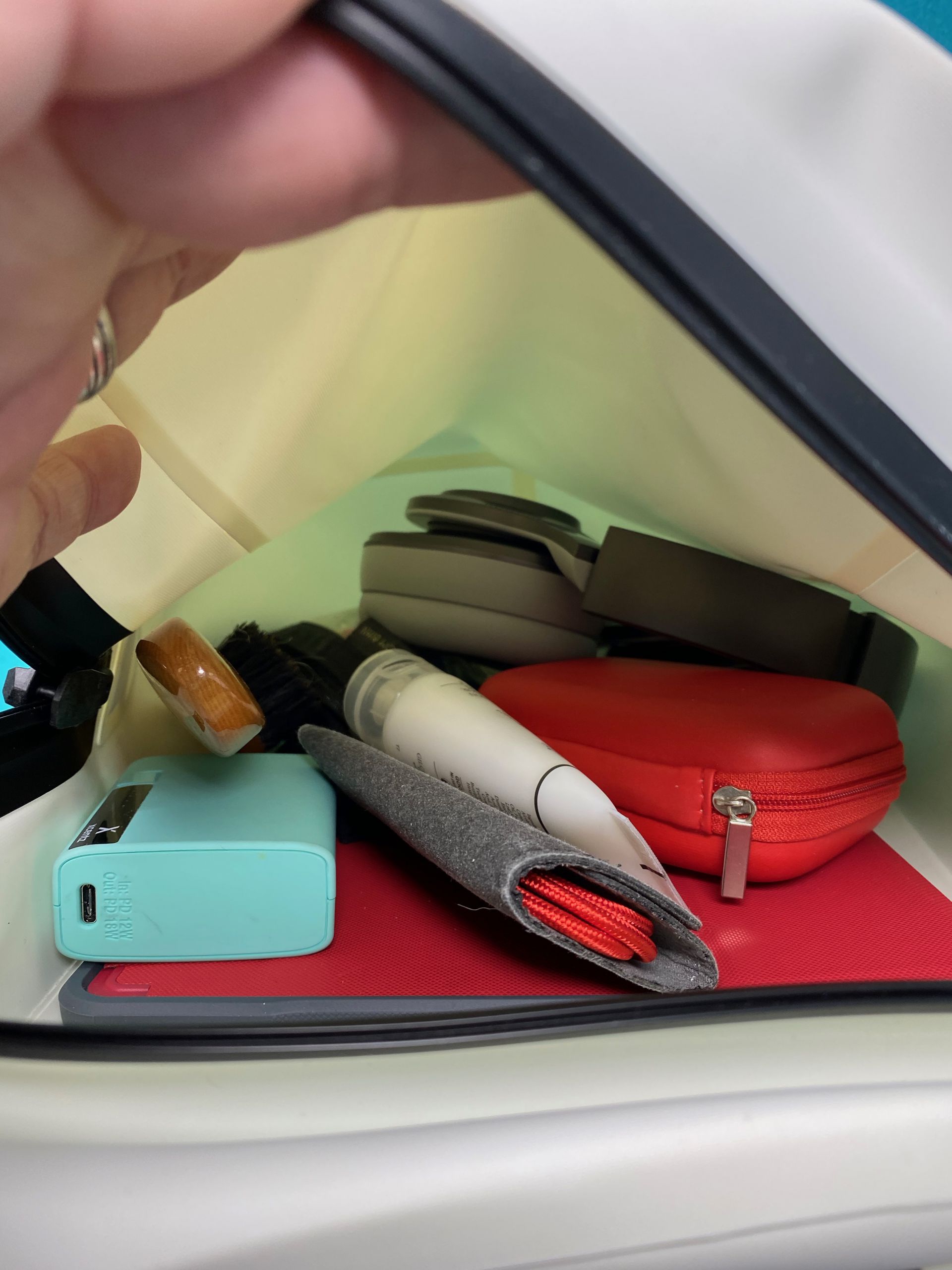 Product specs
(from company website)
WATERPROOF: 100%. Not just water resistant or splash proof.
AIRTIGHT: Completely sealed so nothing gets in or out.
SUBMERSIBLE: IP67 rated = 1 meter underwater for 30 min.
FLOATS: Keep your stuff dry and above the water.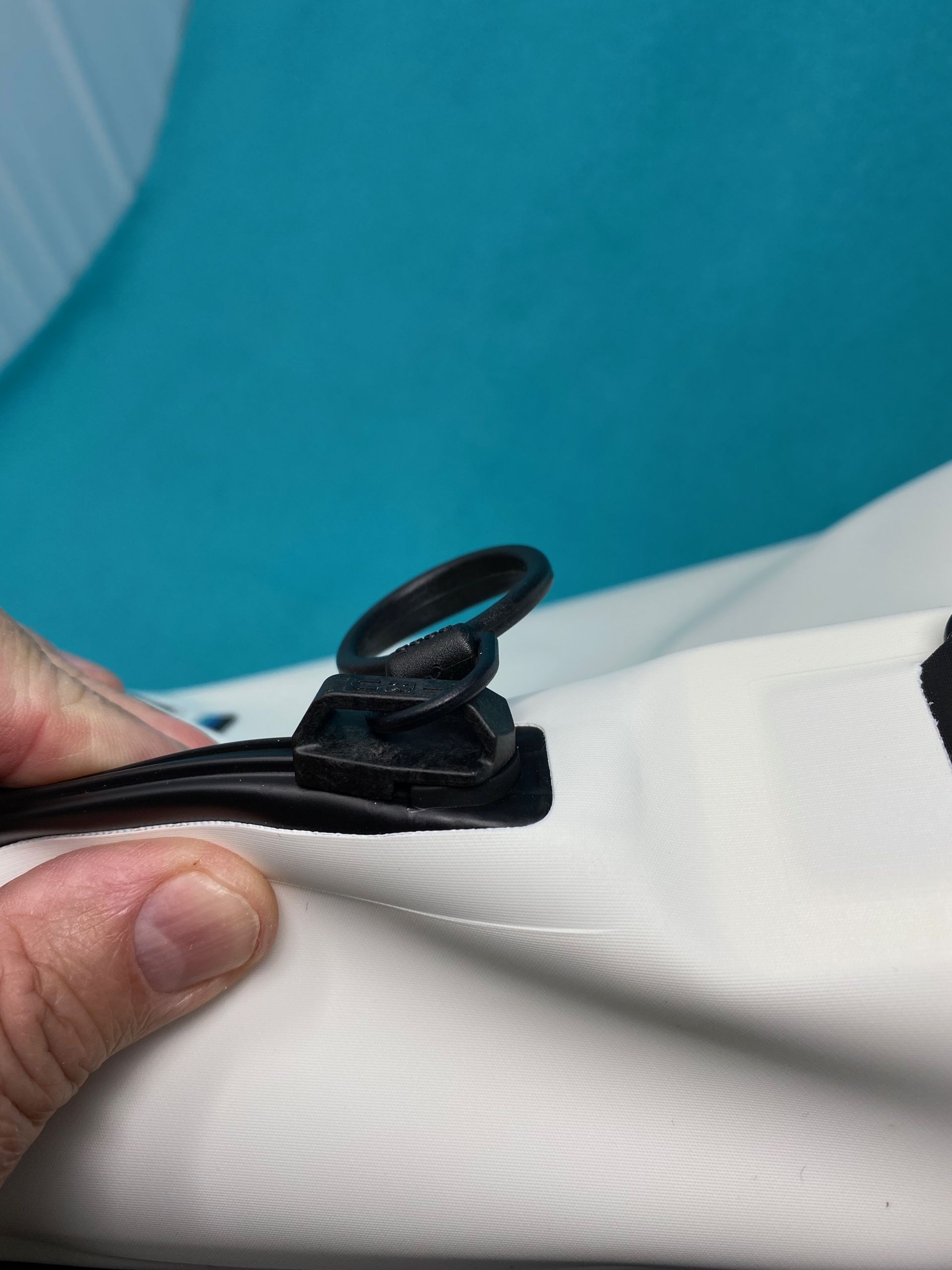 Features
(from company website)
TRU Zip™ waterproof zippers w/ergonomic pull rings
Watertight welded seams
Durable TPU coated waterproof fabric
100% waterproof compartments
Inside open mesh pocket
Side d-rings that double as pull tabs and attachment points
Back + shoulder closed cell foam padding
Elastic bands on straps to control excess length
14.125″ H x 10.125″ W x 6.75″ D
TRU-zip zippers


TRU Zip's patented zipper assembly is fully waterproof, dustproof, and submersible (IP67). Designed for ultimate reliability and ease-of-use, this zipper glides smoothly and secures into an overmolded garage for a confident seal you can feel. Constructed from extruded TPU, this durable zipper allows you to dream bigger (or smaller) than ever before.

Design and Features
The Book Daypack is a 6-liter, single-compartment backpack with a padded backing, a nice haul loop, side D-rings for clipping on additional items, and a webbed mesh interior organization sleeve. It stands about 14.125″ high x 10.125″ wide. The thickness ranges from 3″ at the top to 6.75″ at the bottom. With watertight welded seams on a coated TPU material, there is no leaking. The zipper looks and feels like one for freezer bags, but on steroids.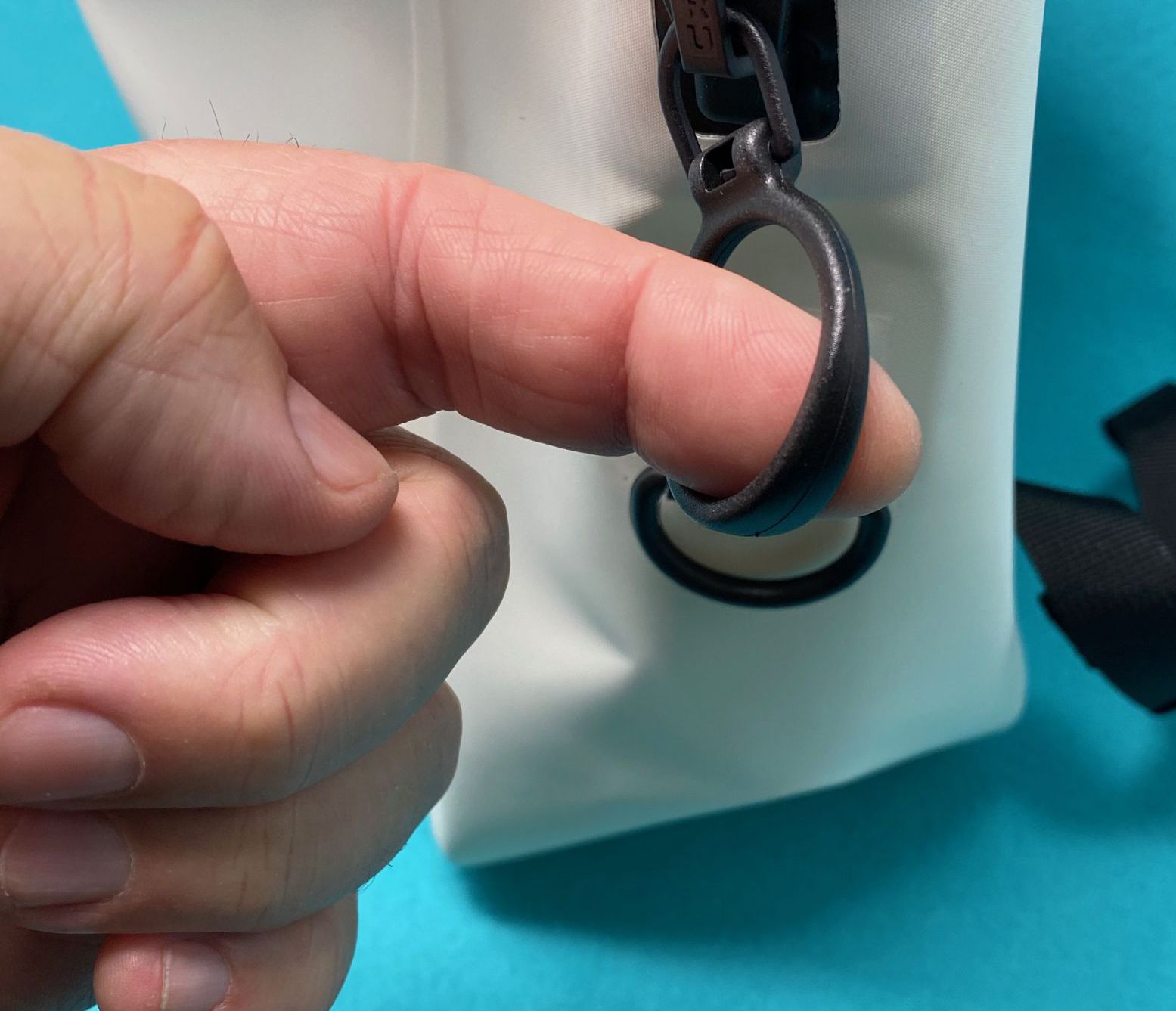 The straps, while a bit short to me, are plenty wide enough for what you'll carry in this bag. You're not going to pack it up with computer gear and hard drives, it's going to carry your passport, phones, lunch, a jacket, a blanket, sandals or water shoes, and a throwing disc or two. Keeping this type stuff dry and free from sand is nearly impossible, but with the Booē, it's just a matter of zipping the Tru-Zip zipper up. If there's air trapped inside, it will make the bag buoyant, so that it falling overboard won't result in a deep dive to get your tech back.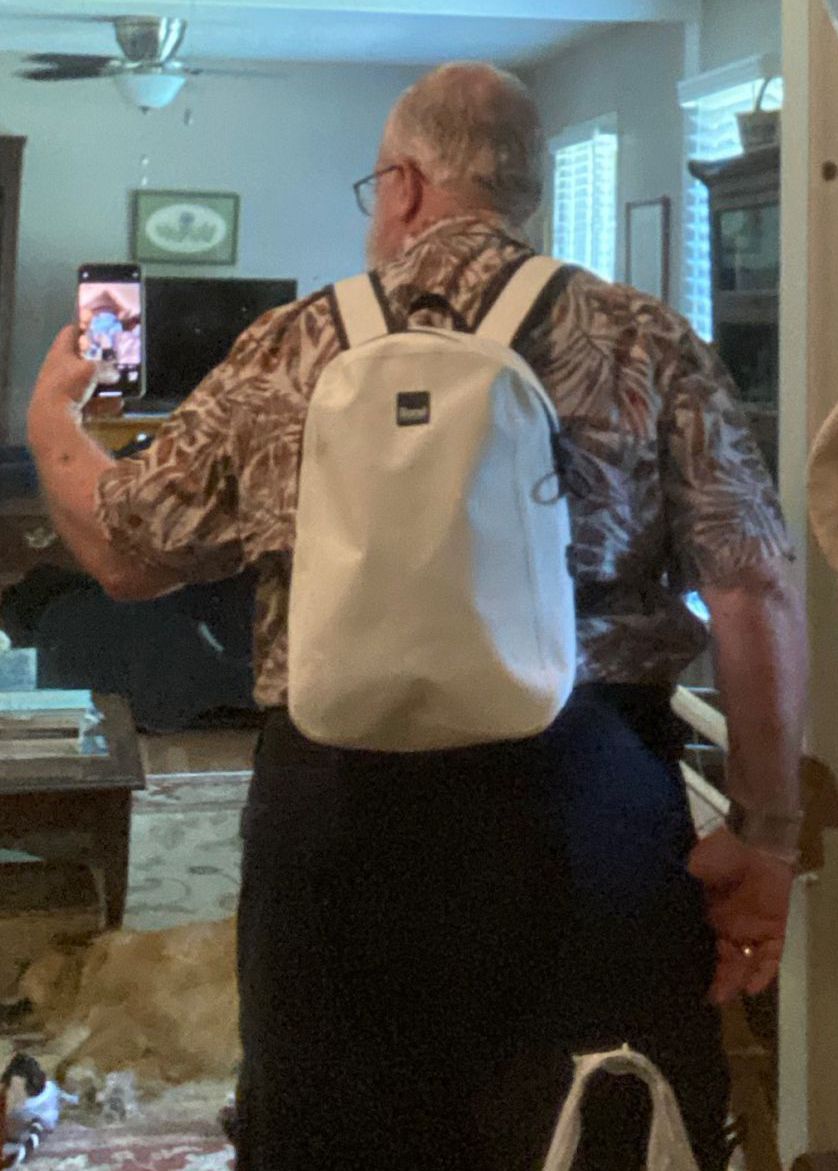 Performance
While I haven't been commuting during the pandemic, I have made my way out into the great outdoors, and through a bit of angry summer thunder storms. Things zippered into the Booē stayed safe and dry. Can't really say the same about me! 😉
What I like
Fully waterproof
Cleans easily
Floats
What I'd change
Not much inside – maybe a second pouch, but zippered?
Final thoughts
Booē has developed an entire line of waterproof carriers for your gear, from a full-on backpack to just a pouch for your smartphone. At 6 liters, it's not going to haul your rations and gear for a month, or perhaps even your daily commute. But if you're heading to someplace where water or sand may pose a danger to items you'd like to carry, this is a great way to pack it in!
Price: $119.99
Where to buy: Company Website
Source: The sample of this product was provided by Booē.