We use affiliate links. If you buy something through the links on this page, we may earn a commission at no cost to you. Learn more.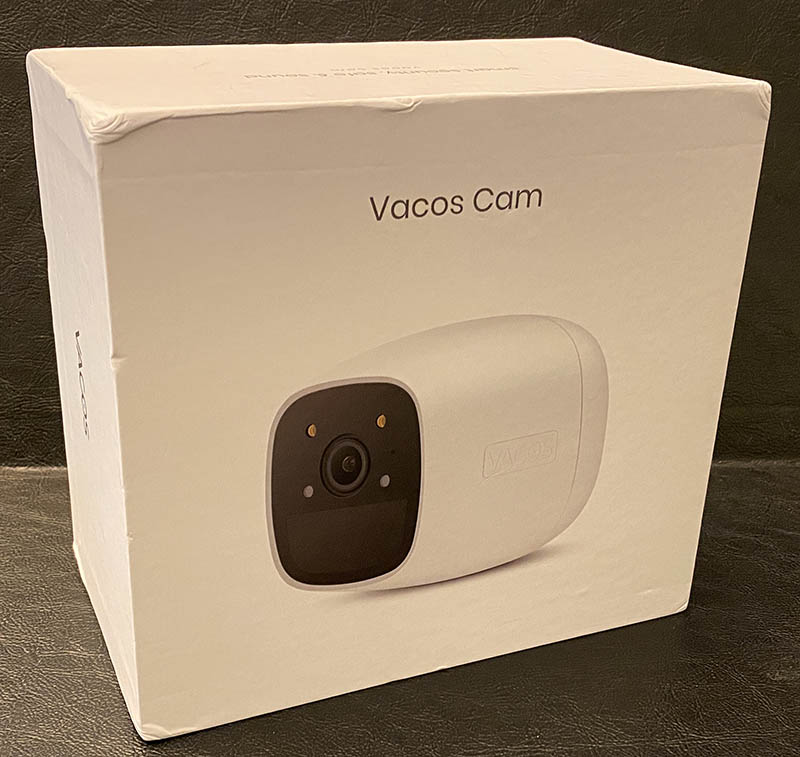 REVIEW – I am a firm believer in surveillance cameras. We live out in the middle of nowhere and having situational awareness while we're away is invaluable. To fill this need, we still use the Swann SWNVK-873004 Professional HD Security System I reviewed 4 yrs ago. And while it continues to get the job done, this old PoE system is getting pretty long in the tooth. The interface is archaic, a camera has died, and another is teetering on the edge. That said, I have been eyeing various wireless options to potentially take its place. So, when Julie offered up the battery powered Vacos Cam, I raised my hand to see if it could replace our aging system…let's check it out.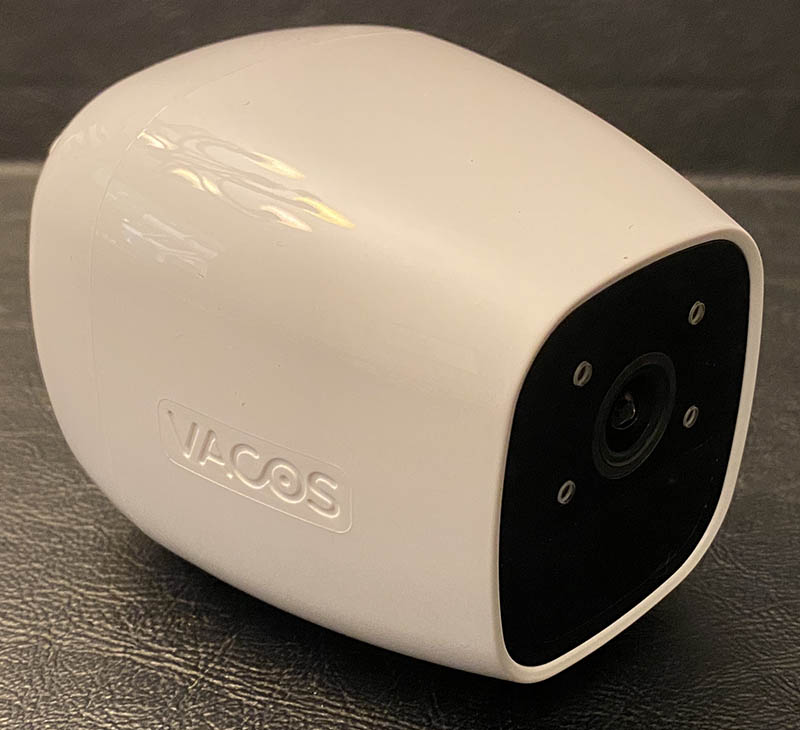 What is it?
The Vacos Cam is a wireless 1080p battery-operated surveillance camera featuring color night vision, smart motion detection, indoor/outdoor use with internal and cloud based storage options.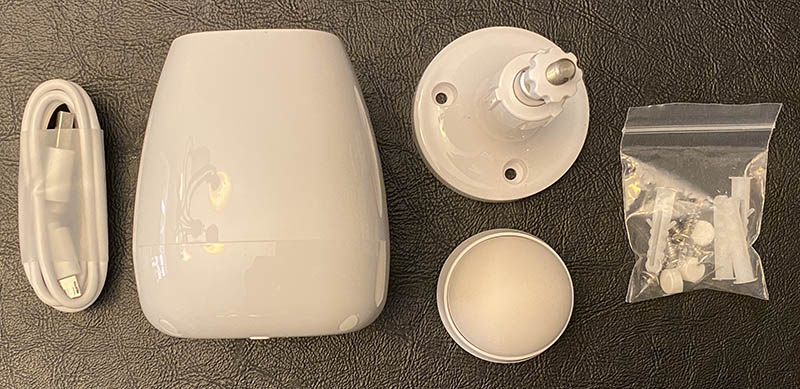 What's in the box
Vacos Cam
3.3 ft/1 m Power Cable
Wall Mount
Screw Mount
Mounting Screw Bag
User Manual

Design and features
As I stated above, the Vacos Cam is a wireless battery-operated 1080p surveillance camera featuring color night vision, smart motion detection, IP65 waterproof rating, a siren, warning light, local and cloud storage options, and support for Amazon Alexa voice control. It is a relatively compact device measuring in at 4″ (L) x 3″ (W) x  3″ (H), made of ABS plastic and polycarbonate with a glossy white finish. It appears to be pretty hardy and engineered to survive the great outdoors.
The front of the Vacos Cam houses a 1080p camera with a 1/2.8" Sony IMX307 CMOS image sensor that provides 130-degree field of view, a PIR (passive infrared) motion sensor, two white LED spotlights, and a pair of infrared LEDs. The camera connects to the internet via your 2.4 GHz WiFi network. You can view/record the video feed at anytime via the smartphone app but the camera only saves footage when human subjects are detected, non-human motion is (for the most part) disregarded.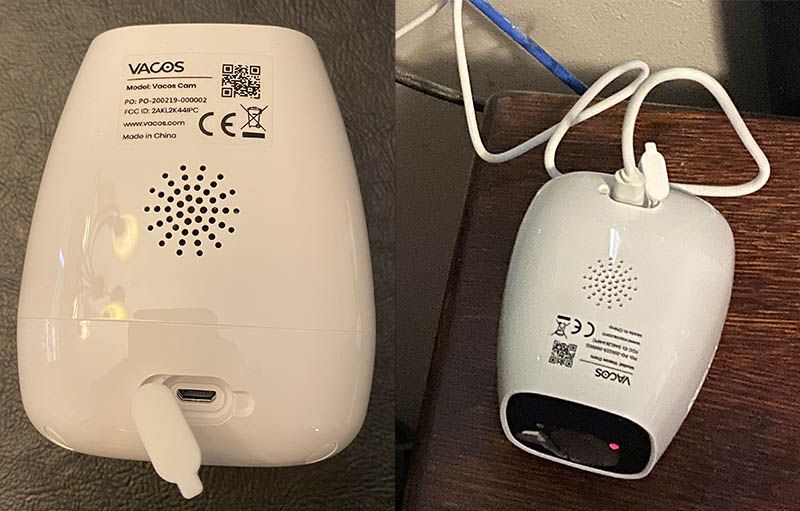 The base of the Vacos Cam has the speaker and micro-USB charging port. The battery is non-removable/built-in and according to Vacos last up to 6 months between recharging (assuming 7 mins of operation per day).
Specifications
Weight: 1.5 oz
Dimensions: 88 (L) x 76 (W) x 76 (H) mm
Night Vision Range: 33 ft (Full Color Night Vision)
Image Sensor: 1/2.8" Sony IMX307 Scan CMOS Sensor
Video Compression: H.264+
Outdoor/Indoor: Both (IP65 Waterproof)
Motion Detection: AI Human and PIR Detection
Battery Life: Up to 6 Months
Network: 2.4 GHz WiFi
Storage: With a 16 GB Built-in Storage Card or Cloud service
Audio: Two-Way Audio
Lens: 2.6 mm @F 1.6/120°
Field of View: 130°
Power: With a Built-in Rechargeable Battery
Supports Solar Power
Working Temperature: -4° F to 122° F (-20° C to 50° C) Humidity < 95%
Material: Durable PC-ABS
Setup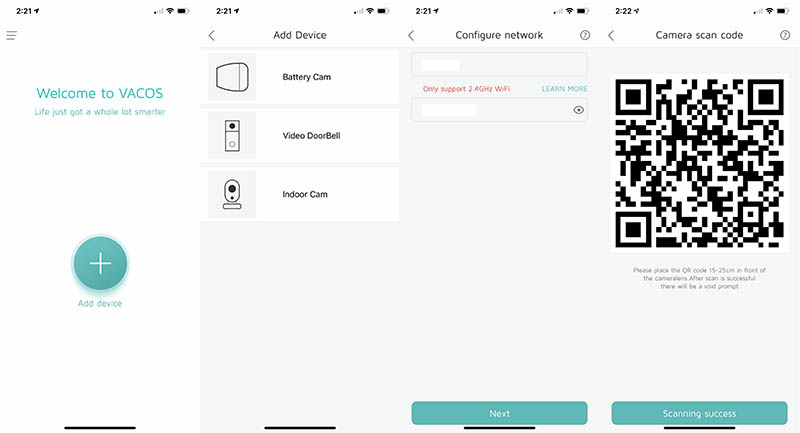 Getting the Vacos account setup and the camera talking to the outside world is simple enough…download the app, provide email/password, and get the camera associated with your account. That said, updating the firmware did take a few tries before making it happen, even had to read thru Vacos Community Support page to try a few suggested tricks. But in the end, I got the camera updated and good to go in less than 30 minutes.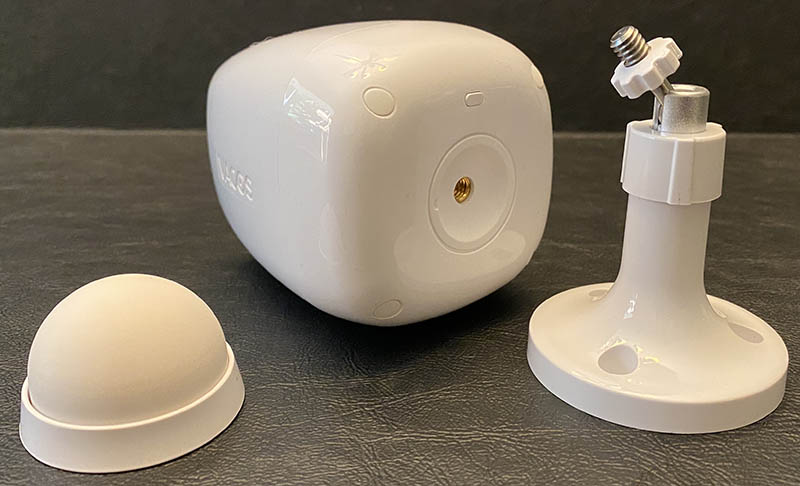 Installing the Vacos Cam is relatively easy. Vacos provides two choices of mounting hardware to make this happen.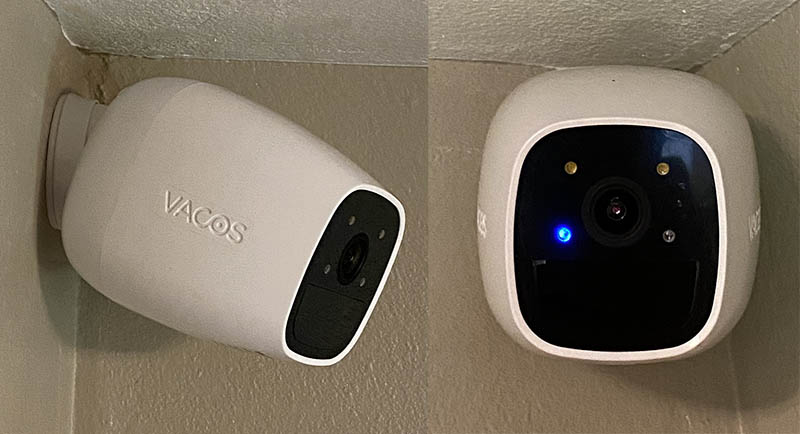 The first being a simple, hemispherical magnetic wall mount. This option is less secure but makes for quick and simple camera removal for charging. And because its hemispherical, it's easy to tilt and swivel your camera for the perfect angle.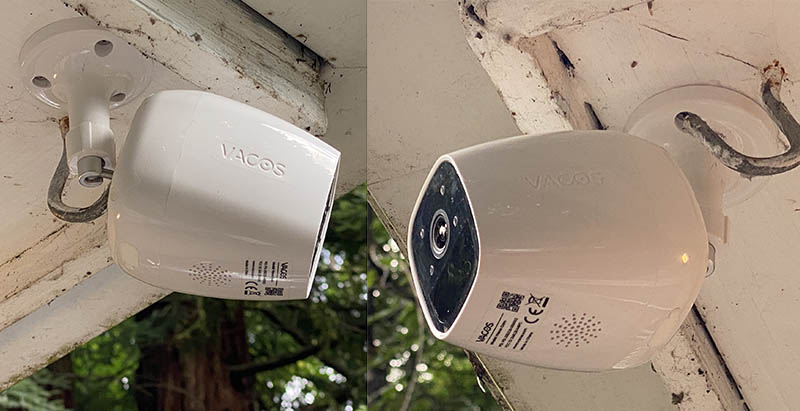 The second option is a standard screw mount that attaches under your roof or exterior wall and the camera screws onto its threaded post. The screw mount provides a more secure attachment but is a bit of additional effort to unmount the camera when you need to charge it.
Performance
Battery Life
The Vacos Cam has a built-in, non-swappable 6700 mAh rechargeable battery, that according to Vacos, enables the wireless security camera to operate up to 6 months on a single charge. Well, let me tell you…based on my real world testing that is definitely a stretch. I charged the camera overnight (approximately 12 hours) before mounting it in our entryway (as seen above). After just 3 days of operation, the app began to notify me that the battery was getting low. I checked the app and the battery indicator showed yellow with 2 bars which made me think it was half drained. By day 4 the battery indicator was red with one bar and the app was nagging me so much I turned off notifications. I wanted to see how long the camera would go before it completely died: 6 days, definitely a far cry from half a year.
After discussing this poor performance with Julie, we agreed that trying it with another use case was in order. So I recharged the camera and mounted it outside with a view of our driveway that has a lot less movement and foot traffic. Battery life did improve a decent amount. It went approximately 3 weeks with the battery indicator showing green, before turning yellow and started nagging me with "low battery" notifications again. It lasted about 5 weeks before the battery indicator turned red…at which point I took it down for recharging.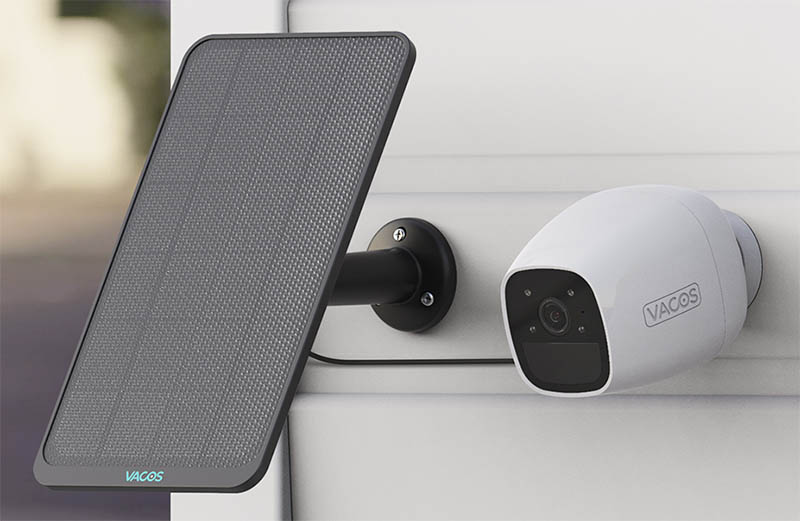 While it isn't 6 months, 6 or so weeks between recharging isn't completely heinous either. Plus if you don't want the hassle of regularly recharging the Vacos Cam, you can hardwire it to an outlet or solar panel.
Pictures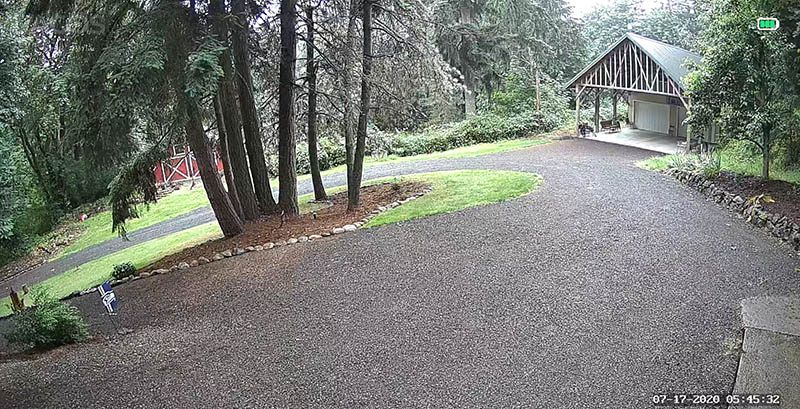 As I mentioned above, the Vacos Cam has a 1/2.8" Sony IMX307 Scan CMOS Sensor with 2.6 mm @F 1.6/120° lens providing 130° viewing angle. For a being a wireless 1080p surveillance camera, I was a bit impressed with both the video feed and still image capture.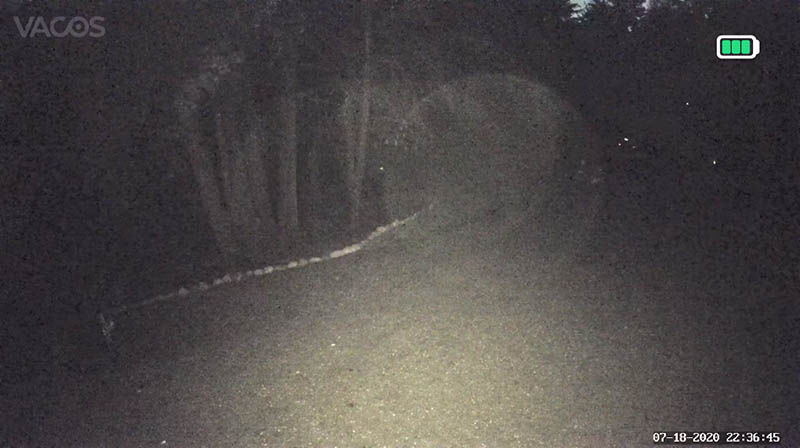 This is the nighttime view using the camera's built-in LED "floodlighting". The quality is fine and lives up to it's promised 33 foot range.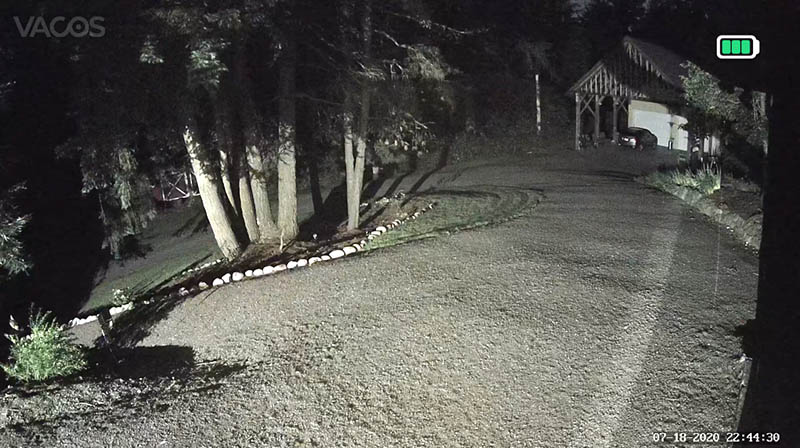 This is the view/what's captured when our motion lights were activated. I was surprised how close to daylight quality this combination is.
Video
The Vacos Cam has two options for recording video. The first option records to an internal 16GB eMMC drive which theoretically offers faster reading & transferring speeds as compared to standard swappable SD cards. This allows for several hours of video before it begins overwriting old footage. Sadly, there's no way to increase this capacity with an SD card for additional storage. The second being Vacos' cloud storage option. Vacos provides a 90-day free trial to all new customers and after that period, continuing to use cloud storage requires a $3 monthly subscription cost for a rolling 7 days of storage.
Like the stills, the Vacos Cam produces solid streaming/live video; its quality and clarity are good for a 1080p wireless surveillance camera. But the recorded video footage is less than worthy (and that's being kind). Though see for yourself…this is taken in ideal conditions recorded to the cameras internal storage, downloaded to my iPhone and airdropped to my MacBook. It is semi usable but definitely not up to today's standards IMO.
Application Interface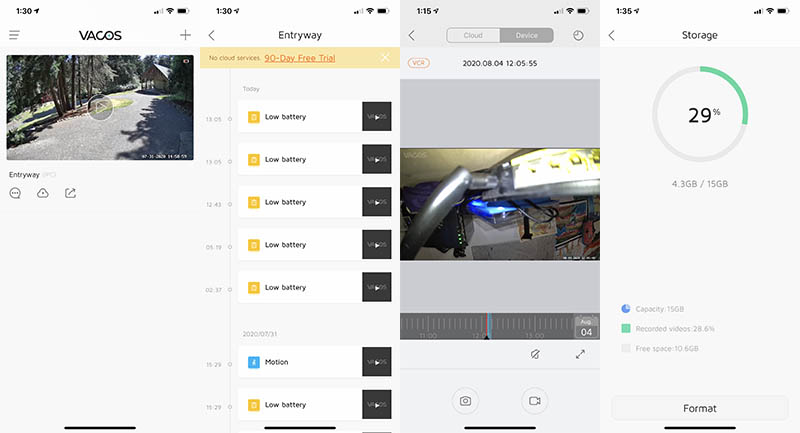 The Vacos App is OK, alright to use and navigate but still felt a beta IMO. As I said, recorded footage looks pretty bad…definitely not wired 4K though you can see what's going on. Getting a license plate number or recognizing an unfamiliar face would be difficult at any distance. Viewing, managing, and downloading video files is also a mediocre experience as well…let's just say, it is less than intuitive. Shame the Vacos Cam can't be plugged directly into your computer for downloading video footage.
Another thing that really got irritating after a while, was the constant (in your face) notice of the Vacos cloud service available as a 90-day free trial…no matter how many times you dismiss it, the banner keeps coming back :-/ .

All that said, the Vacos Cam did a decent job of sensing a moving warm object with the PIR sensor, and the AI algorithm identifies if the object is a human, reducing potential false alarms. In my testing, the Cam did not send notifications when our dog or trees/foliage moved in the wind.
What I like
Solid streaming video and picture quality
Quick and easy installation
100% Wireless
Weatherproof (IP65 rating)
Greatly reduced false alarms/notifications
Can be power via optional solar panel
2 year warranty
What I'd change
Poor recorded video quality
Speaker cracks and pops occasionally
Built-in/non-swappable battery
Mediocre battery life
Non-expandable internal storage (aka micro SD card slot)
No OFF button
Final thoughts
I hate to say it…for many reasons the Vacos Cam won't be replacing my current surveillance system. While its streaming 1080p video quality is surprisingly good, its lack luster recorded video quality, poor/fair battery life, no memory card slot or swappable battery, and mediocre app experience are deal killers for me.
Price: $139.99
Where to buy: The Vacos Cam is available on Amazon or directly from Vacos.
Source: The sample of this product was provided by Vacos.