We use affiliate links. If you buy something through the links on this page, we may earn a commission at no cost to you. Learn more.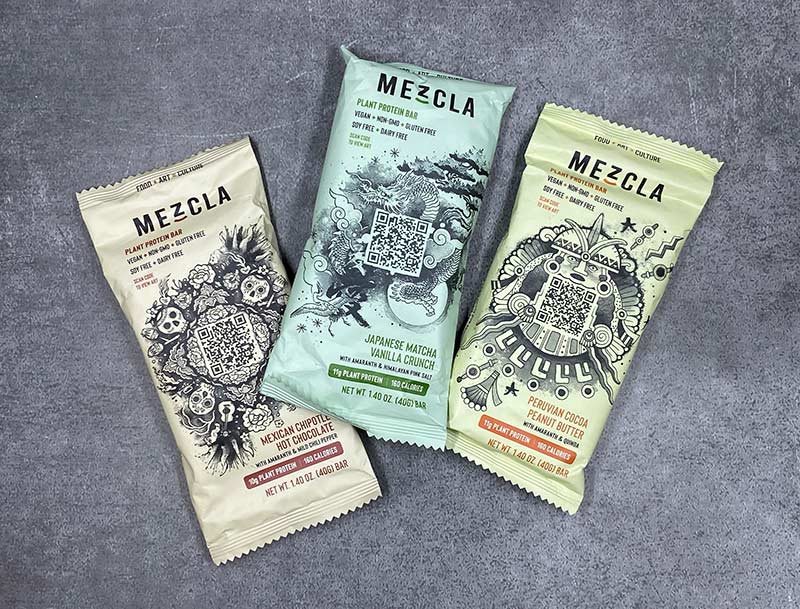 REVIEW – Before COVID-19 and being at home all the time, I liked being able to grab something quick for breakfast that was healthier than a Poptart or a sugary cereal (FYI, a Poptart used to be my breakfast of choice back in the day). These days, a quick breakfast for me is usually a Nature Valley protein bar even though they have some ingredients that I don't like to have that often, like soy. When I was offered the chance to try Mezcla's plant-based protein bars, I was happy to accept. Let's check them out.
What is it?
Mezcla which stands for "mixture" in Spanish are protein bars that were successfully crowdfunded on Kickstarter earlier this year where they earned over $30,000.
Mezcla protein bars are offered in three different flavors: Peruvian Cocoa Peanut Butter, Japanese Matcha Vanilla Crunch, and Mexican Chipotle Hot Chocolate.
All of the bars feature a nutty-tasting grain that you may not have heard of before called Amaranth. It's a grain that was once considered a staple food in the Inca, Maya, and Aztec civilizations and it offers nutrients like manganese, magnesium, phosphorus, and iron, not to mention being high in fiber and protein.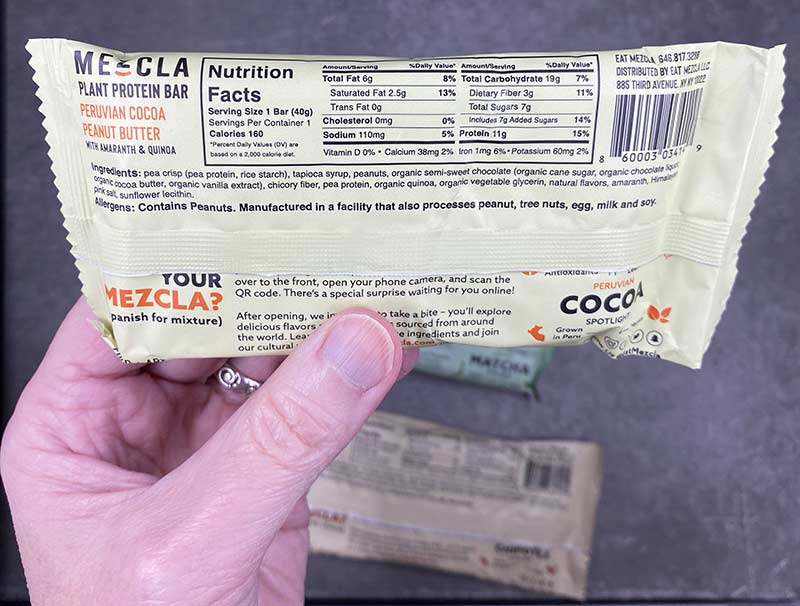 You can check out the nutrition info specific to the Peruvian Cocoa Peanut Butter bars in the image above. Yay for no soy, and no artificial sweeteners! and Yay for 11g of protein without a ton of calories.
But how does it taste? It's peanut butter and chocolate, whaddya think? It tastes yummy! However, it does have a unique texture due to the amaranth which is kinda a cross between chewy and crunchy.
The Japanese Matcha Vanilla Crunch flavor wasn't a flavor I thought I'd like but I was surprised to find that I did although this one is a bit on the sweet side – to me.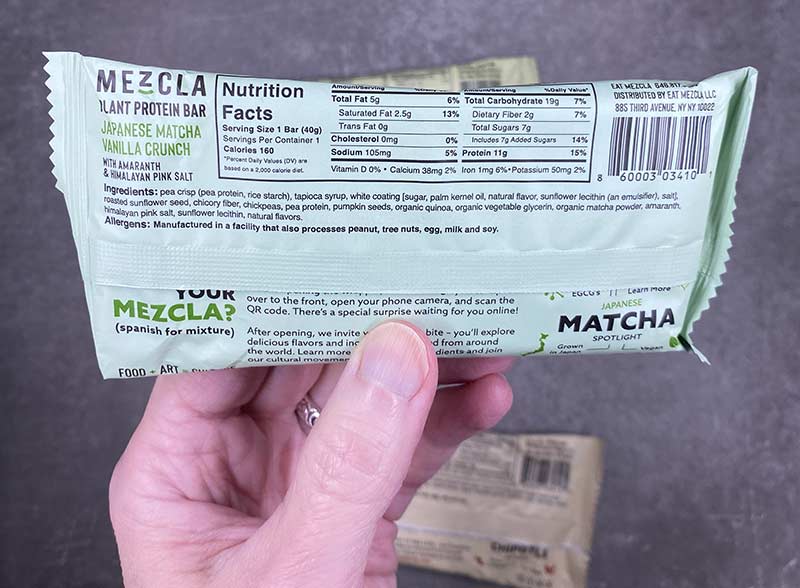 Here are the nutrition facts for your reading pleasure.
Last but not least, we have the Mexican Chipotle Hot Chocolate Mezcla bar. If you like chocolate with some zing, this flavor has you covered.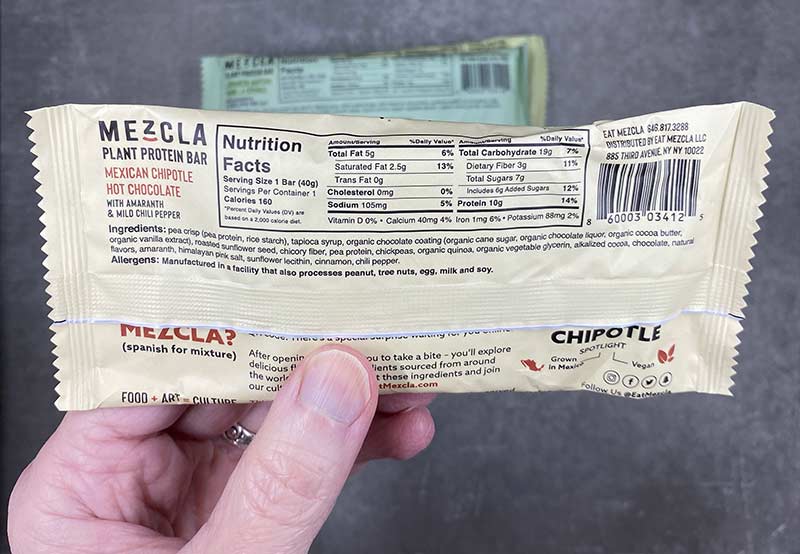 This one is is my 2nd favorite Mezcal flavor with the Peruvian Cocoa Peanut Butter flavor coming in first.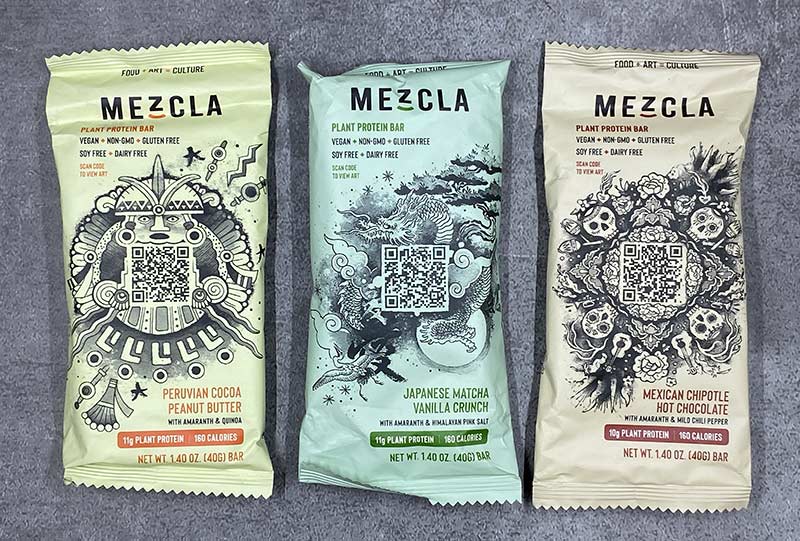 In addition to giving you a vegan, non GMO, gluten-free, soy-free plant-based protein bar of tasty (and nutritious) goodness, Mezcla also brings you unique artwork when you scan the QR code on the wrapper.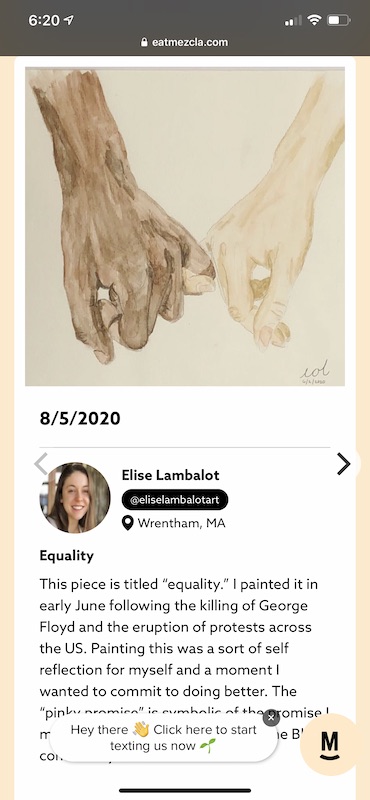 Scanning the QR code allows users to view a daily piece of featured artwork and you can have your own artwork featured by sending them to Mezcla.
Mezcla is socially conscience too
From the Mezcla site:
We are dedicated to giving 2% of our profits to underserved schools in order to fund the vital art programs that so often go unfunded. We recognize the importance of art education in the development of a child's emotional and cognitive well-being, and believe that art plays a fundamental role in keeping us united as humans.

Lastly, to kick-off our launch, we donated to the San Francisco Youth Art Exchange and the Art Activity Fund at Charlottesville High School. This is just the beginning!
What I like
Vegan, soy free, non GMO, gluten free
10-11g of protein for only 160 calories
Tasty
What I'd change
Final thoughts
Finds a protein bar that you can eat as a quick snack or a light meal that isn't full of junk ingredients can be tough. And if you do find one, it's equally tough to find one that doesn't taste like cardboard. But then there are Mezcla protein bars. They are made with premium ingredients that are nutritious while tasting great. I like them a lot and think they are worthing trying.
Price: Free 3-bar sample box (you cover $4.95  shipping), $19.99 box of 8 bars
Where to buy: Mezcla
Source: The sample for this review was provided by Mezcla.