We use affiliate links. If you buy something through the links on this page, we may earn a commission at no cost to you. Learn more.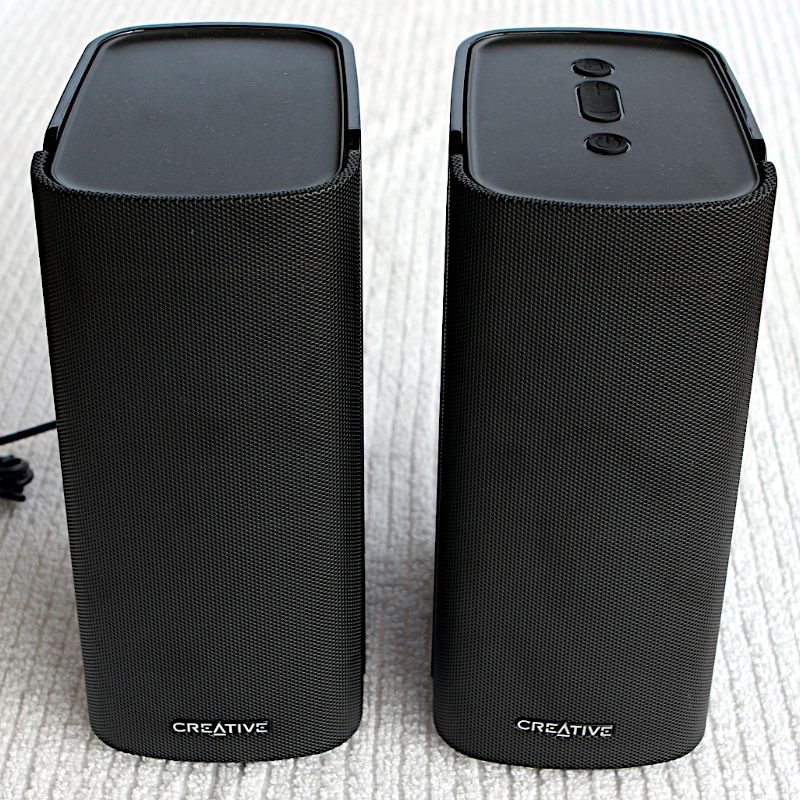 REVIEW – I have a home-built PC on which I do my gaming.  Most of my competitive games are multiplayer games that I play online, and my audio is through a headset.  Some of my casual games, however, are single-player, and for them I prefer to run my audio through speakers.  Unfortunately, I never bought any speakers for this computer, so I've been using my VG5 Bluetooth speaker as a stand-in.  It works, but it's not exactly the right tool for the job.  To fill this void in my gaming setup, I've been testing the T100 desktop speakers, which were recently released by Creative.
What is it?
The T100 are a pair of compact, desktop speakers that support Bluetooth 5.0.
What's in the box?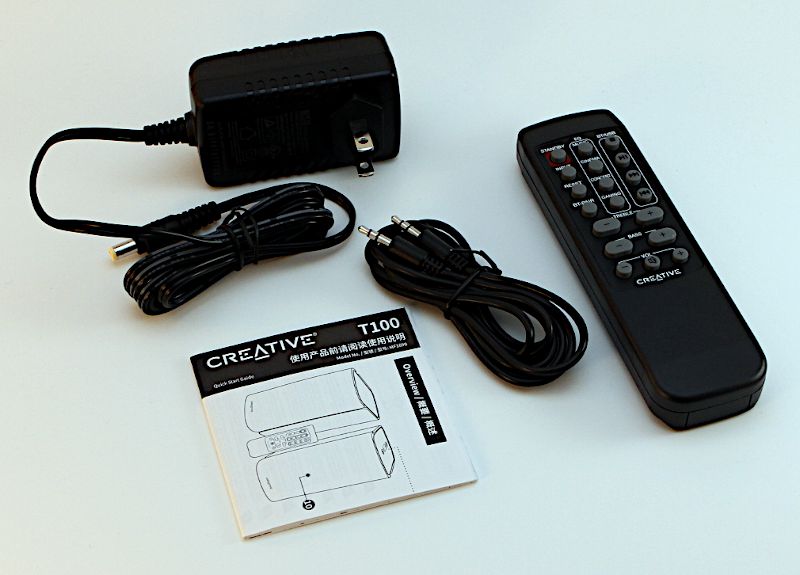 Two speakers
Remote control (AAA batteries not included)
3.5 mm audio cable
DC power adapter
Quick start guide with 5 pages of English-labeled pictures
Hardware specs
Dimensions:  5.1 x 3.7 x 8.2 inches per speaker
Weight:  2.2 pounds per speaker
Inputs:  Bluetooth 5.0, USB, optical-in, aux-in
File formats for USB: FLAC, WAV, MP3
Speaker power: 2 x 20W RMS
Design and features
The speakers are black and have simple, clean lines.  They stand just over 8 inches tall, so they are not very big.  The front is a matte, metallic grill with a small silver, Creative logo near the bottom.  The sides and back are a glossy black plastic that shows all the dust that accumulates over time.  It's a look that is typical for desktop speakers, albeit more minimalistic than some.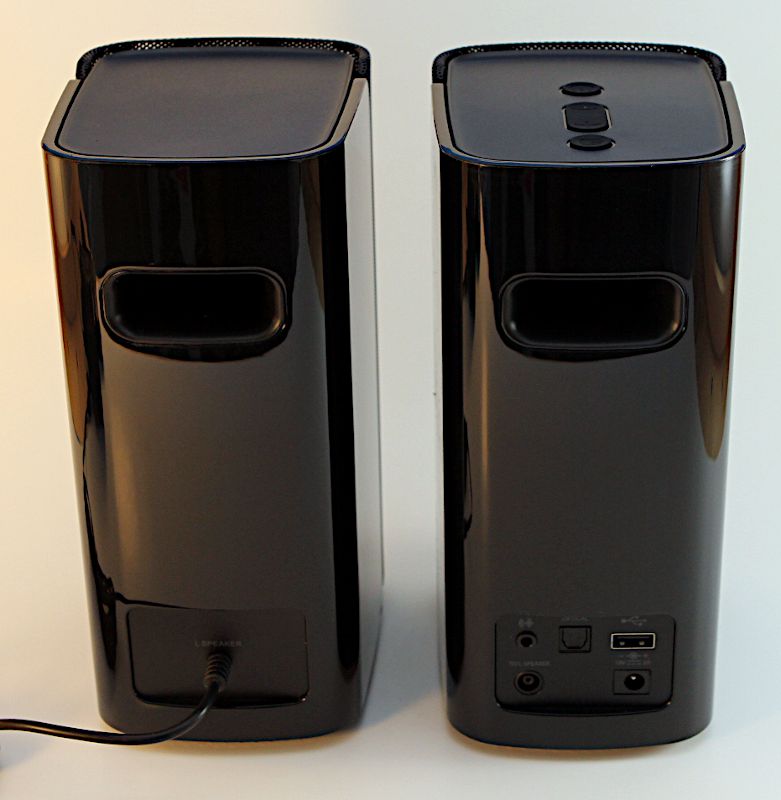 Installation and setup
The left speaker is labeled "L Speaker" on the back, so the right speaker is the one with the inputs on the back and the buttons on top.  Setup for my Windows 10 PC was pretty easy.  I plugged in the DC power adapter, connected the built-in speaker wire from the right speaker to the left, attached the audio cable to the audio out on my sound card, and then pressed the "on" button on top of the speaker.  The speaker chirped at me, but there was no visual indication that it was on.  What followed was several minutes of mild frustration as I tried various combinations of pressing the power button and input source button until the sound finally started working.  It turns out that there is an LED right in the front center of the right speaker, and it changes colors to let you know when it's on and what the input source is.  The problem is that it's very dim, and I never even saw this LED until the next day and that by accident.  I suppose it's a subtle design, one that minimizes the light pollution that is so prevalent among gadgets today, and so in the end I like it.  In the moment of trying to setup the speakers, however, I found it a poor design decision.
The quick start guide that comes with the T100 is rather terse.  It labels things, but doesn't give a clear, ordered illustration of how to setup the speakers or an explanation of what everything does.  The pictures are multi-lingual, which clutters everything.  It's definitely an area where Creative could make improvements.  The silver lining is that you can download an English-only version of the quick start guide, and you can read the knowledgebase, which clarifies a lot of things.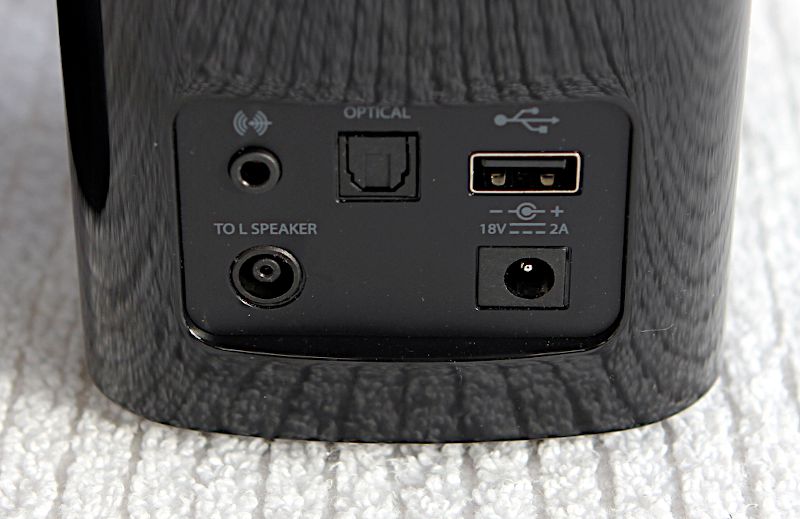 In addition to the standard audio cable, the T100 has three other input sources.  The first is a USB-A port.  I never bothered to test this, because I can't even remotely see the value in this.  When I buy speakers and connect them to my desktop computer, why would I want to play music by loading files onto a thumbdrive and then plugging it into the back of my speakers?  Why wouldn't I just play the music through my computer, using Spotify or whatever app I wanted?  The second is an optical input that appears to be designed for a PS4.  Unfortunately, I don't have a Playstation, so I wasn't able to test.  The third is Bluetooth.  I was able to easily pair the T100 with my iPhone and play music through it.
Performance
When considering these speakers, you have to keep in mind what they are.  They are 2.0 speakers, which means there is only one pair of speakers.  There are no surround sound speakers to give an immersive experience, nor is there a subwoofer to provide a thumping base.  Having said that, I really like these speakers.  When listening to music, the highs are crisp and clear with no hint of tinniness, the mids are rich and warm, and while the bass is not super powerful at least there's no muddy distortion, even when cranked up.  These speakers are not hugely loud—I'd never consider using them as the fronts for my home stereo system—but they are more than capable of filling my home office with sound.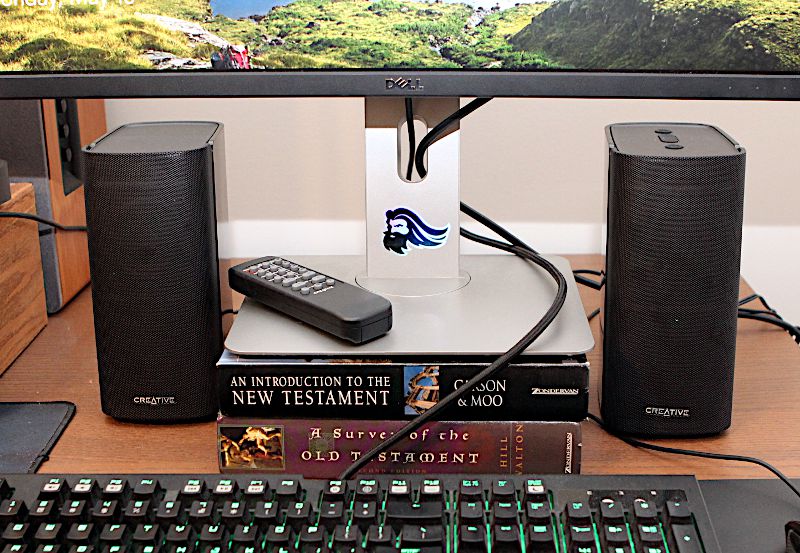 To test Creative's new speakers with video games, I brought out a couple of casual games that I like to play without headphones:  Rimworld and Terraria.  Rimworld is a single-player, sci-fi colony sim that recently released the Royalty DLC, which adds nobles and psionic powers to the game.  Though my meager group of colonists struggled to survive, the audio sounded great.  Whether it was the thumping of my autocannon turrets, the incessant barking of all my huskies, or the crack of lightning during a flashstorm, everything was crystal clear.  Terraria is an action-adventure sandbox game that just released Journey's End, it's final major content update.  As my blue-haired hero dug ever deeper looking for metals and magic items, the retro arcade music, the plink of my pick axe, and the splat of my sword stabbing zombies sounded amazing.  I'm very happy with these speakers for gaming.
Extra Features
Once I got the speakers working, I never used the buttons on top of the right speaker again; instead, I used the included 19-button remote.  I'm glad that they included this, because the way that my desk is setup, where the speakers are behind the monitor, makes pressing buttons on a speaker is a bit more difficult.  Additionally, the remote provides options that aren't available on the speaker itself.  There are 4 preset equalizer settings (music, cinema, concert, and gaming) as well as adjustments for bass and treble.  These settings alter the sound subtly more than drastically, but they are nice options to have. There are also control buttons (pause, play, fast forward, etc.) for using Bluetooth or USB.  Finally, there's a very handy mute button.  The remote takes a pair of AAA batteries that are not included.  This is an infrared remote, so I have to remember to point it at the right speaker when I use it.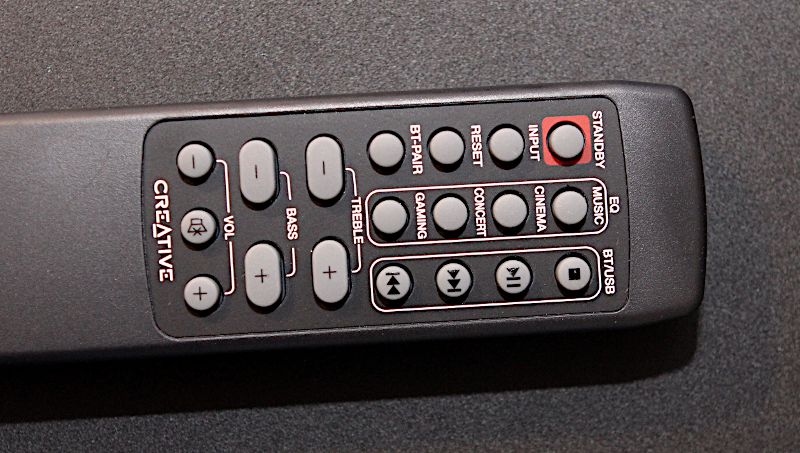 One final feature that I appreciate:  Creative doesn't have any software that I have to download and install.  The speakers just work right out of the box.
What I like
Compact design
Good sound
Full-featured remote
What I'd change
Improve the clarity of the quick start guide
Final thoughts
I'm pleased to say that Creative's T100 speakers have done a fine job of filling the gap in my gaming PC.  They look good and sound even better, both for video games and music, and all for a reasonable price.  I'm happy to have them on my desk.
Price:  $99
Where to buy:  Creative's online store or Amazon
Source: The sample for this review was provided by Creative.