We use affiliate links. If you buy something through the links on this page, we may earn a commission at no cost to you. Learn more.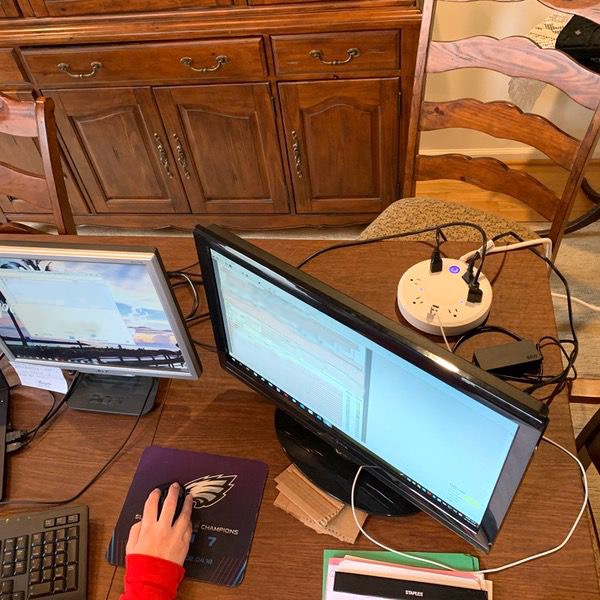 REVIEW – With work from home becoming the new normal, my wife has established base camp in our dining room for the foreseeable future. Fortunately, the ChargeHub PowerStation 360 arrived just in time! This power strip & surge protector uses a unique wheel design that provides plenty of ports for all of her gear. Shelter in place may be frustrating, but we've got all the power! To the review!
What is it?
It's a power strip and surge protector made for connecting all the things.
What's in the box?
You'll get the PowerStation unit, plus a handy mounting guide with 2 screws if you wish to install it on a wall.
Hardware specs
6 AC Outlets (125V / 10A / 60Hz / 1250W)
4 USB Ports (2.4 Amps per port, or 5 Amps overall)
4000 Joules surge protection
6″ power cord
Base unit size: 9.25″ by 2.5″ by 11.25″
2 pounds
Design and features
The boss needs a ton of space for her work from home setup. She's got three monitors along with her laptop, keyboard, mouse, iPhone, papers and notebooks. We converted the dining room to her office space since that's the only place in the house with enough table surface for all that stuff. Here's a rear view of the arrangements, and you'll see the ChargeHub PowerStation 360 parked behind the wall of monitors doin' its thing.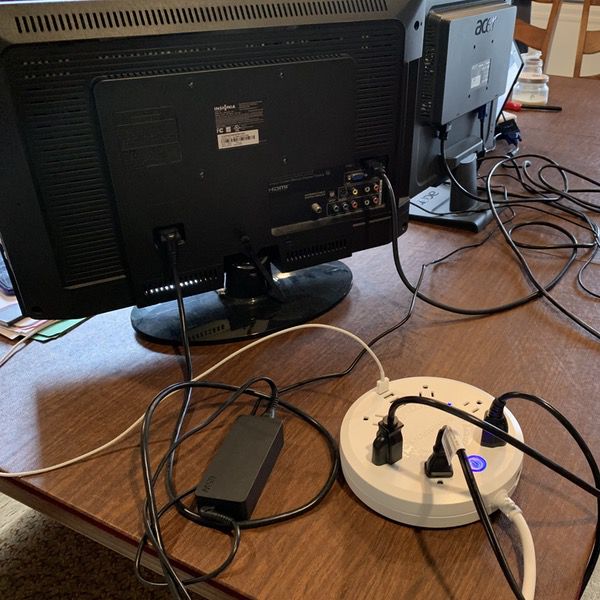 It's a big beast of a power strip and surge protector, and that's a good thing in this case. Check out the close up from the top. You have 6 outlets plus four USB ports to work with. Each outlet has plenty of room, so there's no jamming plugs into spots or fighting to fit big power bricks into the unit. Under normal circumstances, this would be a great meeting room charging base on the conference table. In our case its perfect for getting everything plugged in at once. You can turn the whole unit on or off from the power button, and blue LEDs indicate when it's active.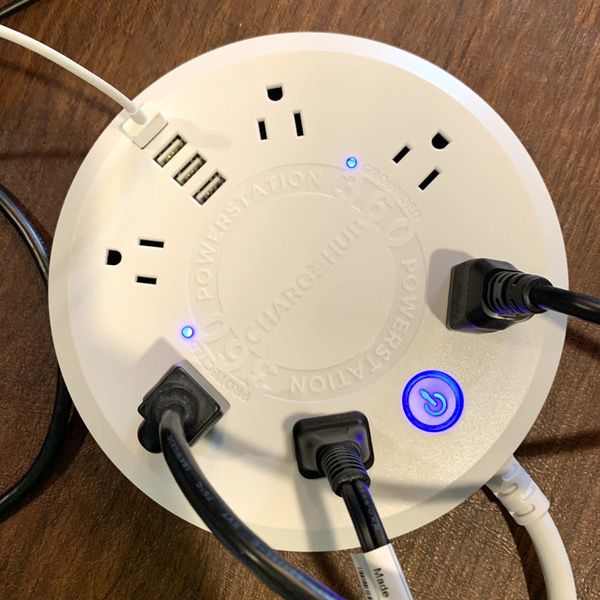 The unit sports a sturdy 6 foot cable, so there are no issues getting from the table to the wall outlet.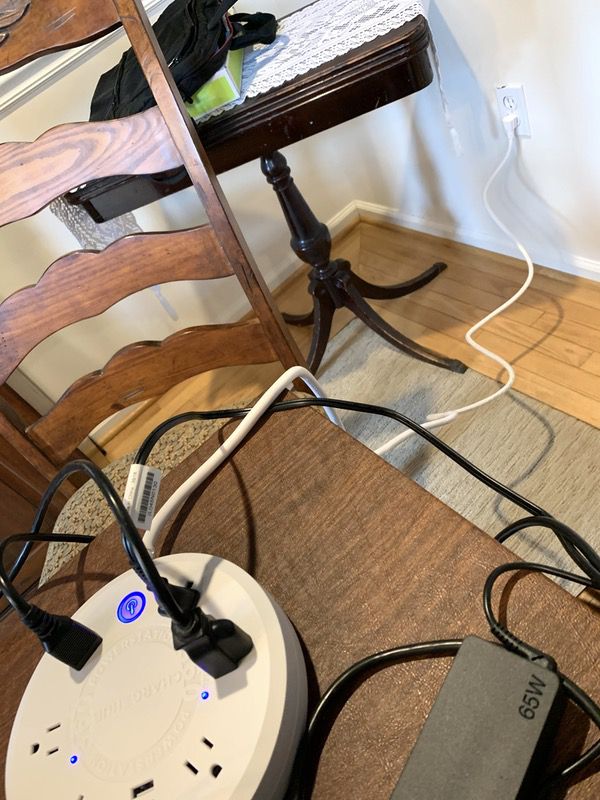 The also love the 90 degree reinforced outlet plug, which makes it ideal for connecting to outlets behind big pieces of furniture.  No bending chords or fighting for space!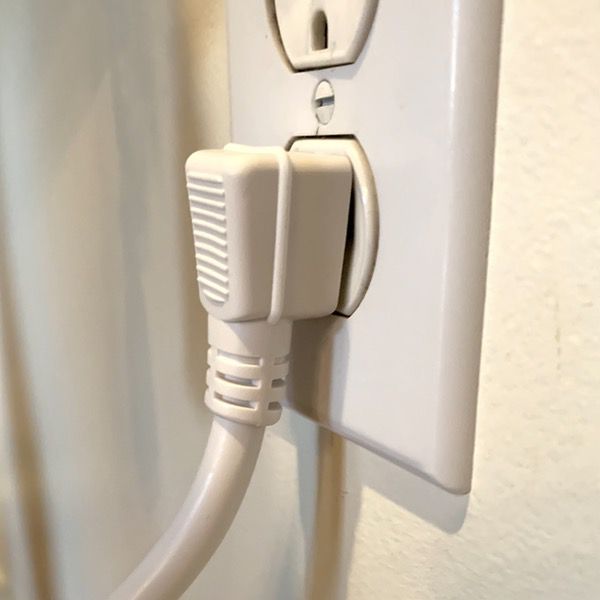 The build is rock solid, with multiple certifications for safety and durability. The unit itself weighs in at about 2 pounds, and rubber pads that prevent sliding as well as protecting table surfaces. It's also got two slots cut into the base for wall mounting if you prefer.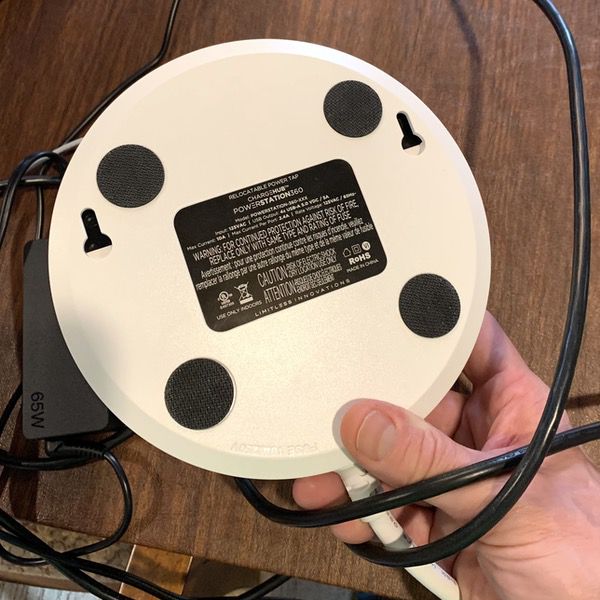 Speaking of wall mounting, the ChargeHub PowerStation 360 also comes with a mounting kit. There's a printed cardboard template that you use to select your wall location. Pre-cut notches allow you to level the position and mark the spots for your screws. It also includes two sturdy screws with spacers so you don't have to guess at how deep to drive your screws! It's a great little detail that eliminates a lot of guesswork and an extra trip to the hardware store.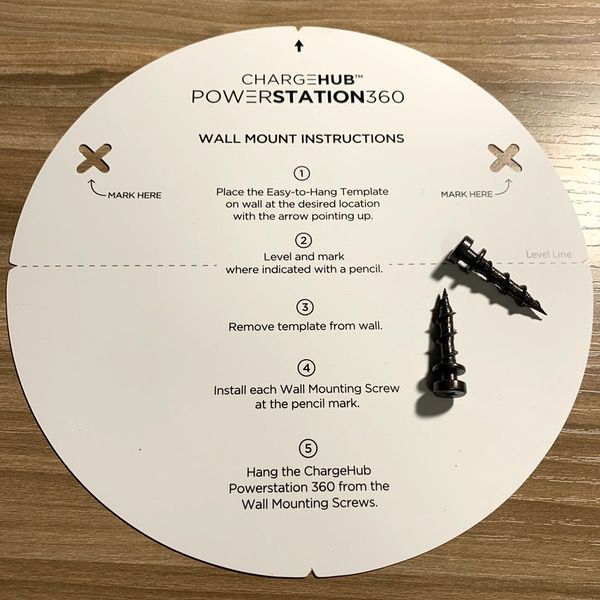 This particular unit also carries a $75,000 lifetime connected equipment warranty. You'll want to check the web site (link below) for details.
As far as performance goes… well, we've had it set up in our home office setup for a month with zero complaints. It's not the most streamlined of surge protectors, but the configuration makes for outstanding usability given all the gear were constantly plugging into the unit. The four USB ports come in very handy when iPhones and iPads need juice. I see this as a great addition to a dorm room, a kids bedroom, or an entertainment area as well. You can never have enough power ports, right?
What I like
Burly construction.
Advanced surge protection features.
Easy to manage multiple plugs, power bricks, and USB cables without fighting for space
6′ extension cord and 90 degree plug make it easy to set up in all sorts of spaces.
What needs to be improved
Might be a bit bulky for some.
Final thoughts
I really like the ChargeHub PowerStation 360 for exactly what it is. If you have a space where you're making heavy use of a power strip to plug in all sorts of different things, this is going to be a winner. The wall mounting option and long power strip make it really versatile for use in dorm rooms, workshops, or office spaces where plugs are at a premium. Like a dining room converted to an office during a quarantine situation. Be safe, everyone!
Price: $59.99
Where to buy: Order it on the PowerStation 360 product page and Amazon
Source: The sample of this product was provided by Limitless Innovations.