We use affiliate links. If you buy something through the links on this page, we may earn a commission at no cost to you. Learn more.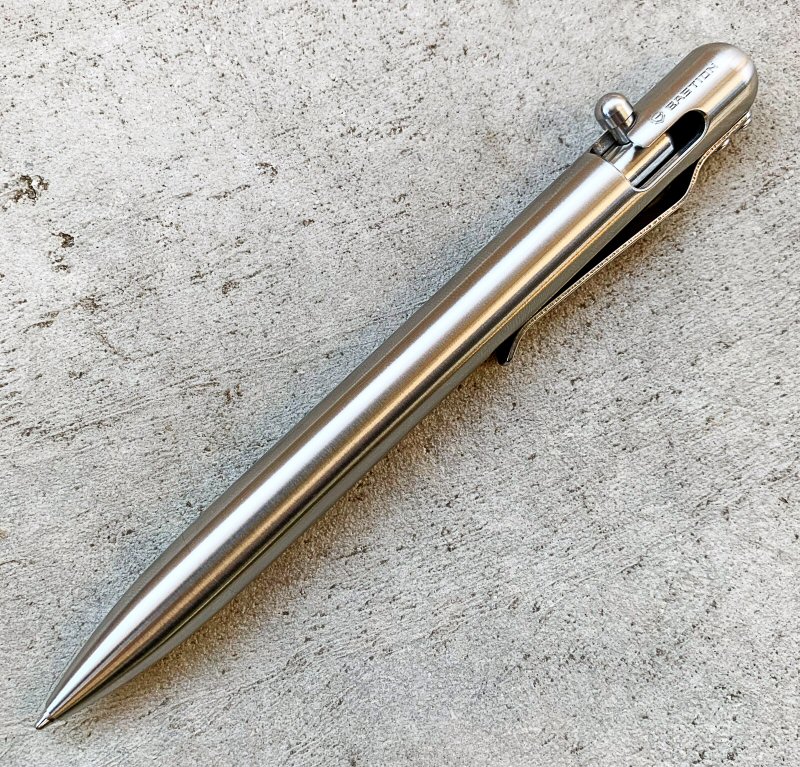 REVIEW – Although in my day job as an engineer I've begun to convert over to digital note-taking out of practicality, I still do take quite a few handwritten notes, and if truth be told, I enjoy it—there's something quite satisfying about writing with a good pen in a good notebook. Over the past several years, I've noticed more and more "bolt action" pens popping up in the market, and the mechanical engineer in me has been quite fascinated with this unique deployment mechanism.  Having reviewed the Bastion Braza Bro EDC folding mini-knife and the Bastion Braza Mini D2 CLEAVER knife and having been impressed with both, I was very interested when given the chance to review the Bastion EDC Bolt Action Pen.
What is it?
The Basion EDC Bolt Action Pen is a stainless steel pen with a bolt-action deployment mechanism.
What's in the box?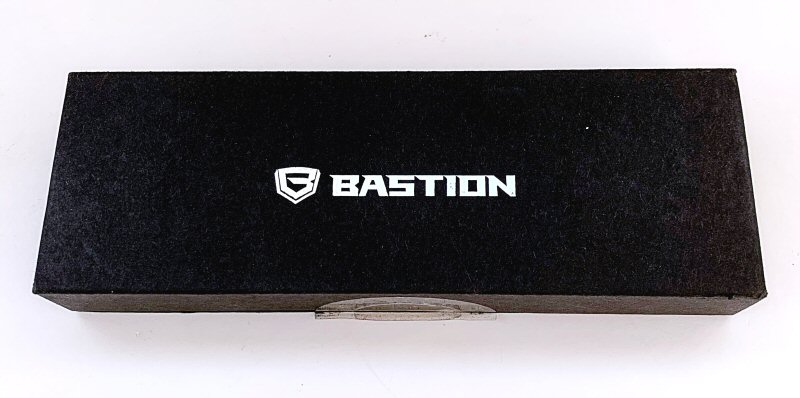 The Bastion EDC Bolt Action Pen arrived in a very sharp-looking box with the Bastion logo atop it.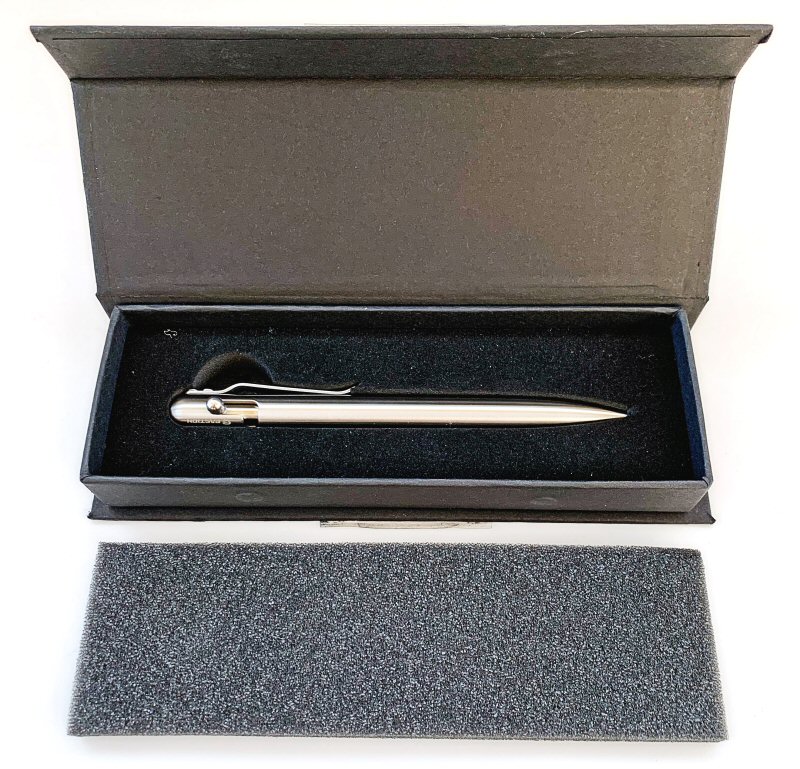 The Bastion EDC Bolt Action Pen comes in a cardboard clamshell-style box with a magnetic closure lid that has a protective foam insert with a cutout specifically for the pen.
Hardware specs
Material = Fully stainless steel
Dimensions = 5.28″ long, 0.45″ diameter
Weight = 2.8 oz
Ink cartridge = Black ballpoint
Options
The Bastion EDC Bolt Action Pen is available in two styles:
Stainless Steel (reviewed here)
Carbon Fiber and Stainless Steel
Background info
Bastion is a company that sells a wide range of EDC and tactical-style gadgets and gear via its main website.  Their Bastion Bolt Action Pen began life as a Kickstarter campaign that successfully reaching its funding goal and it is now available for sale via several different sites that are listed near the bottom of this review page.
Design and features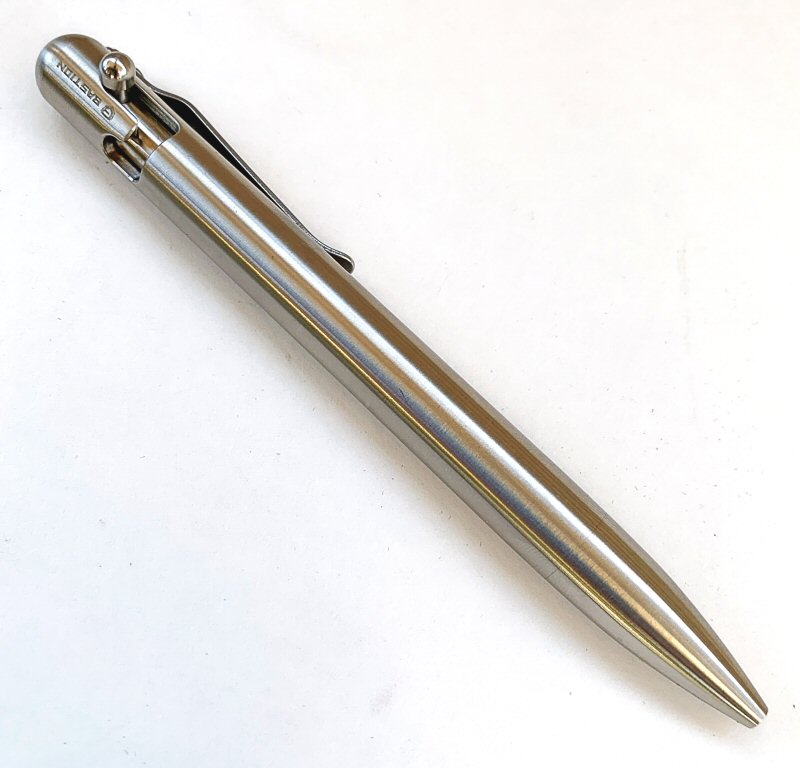 My first impression of the Bastion EDC Bolt Action Pen was that both its look and feel seemed to be of very high quality.  Of course, the first thing I did after pulling it out of its package was to flick its bolt-action mechanism and let me tell you, it felt very satisfying especially after having pined to try a bolt-action pen for some time.  As a first experience with bolt action pens, it was quite nice indeed.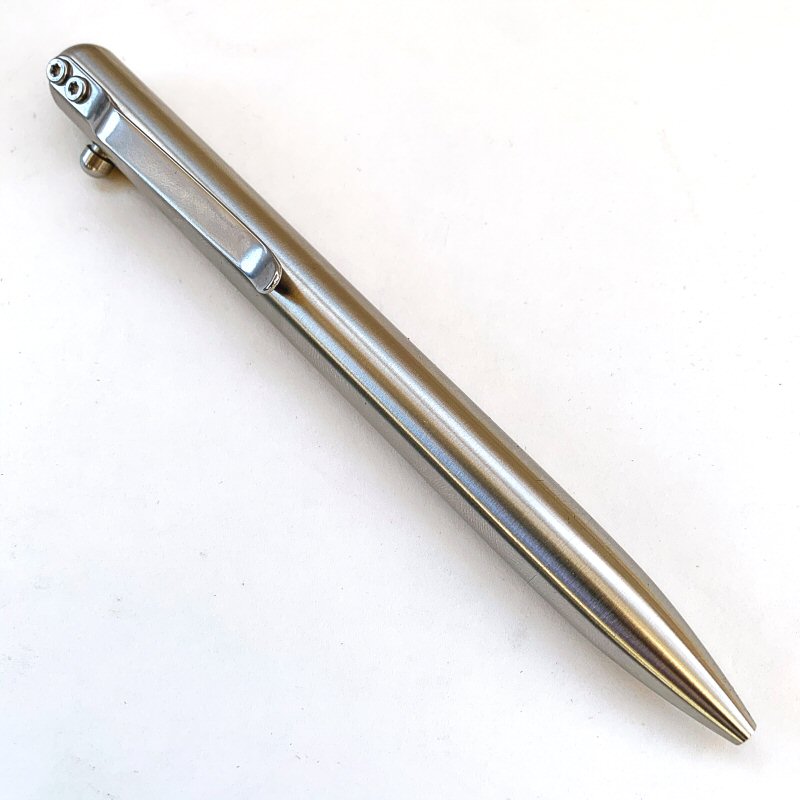 The pen has a very minimalist, sleek look, which I very much appreciate, but it also looks and feels very solid and stout.  Its stainless steel body has a lightly brushed finish.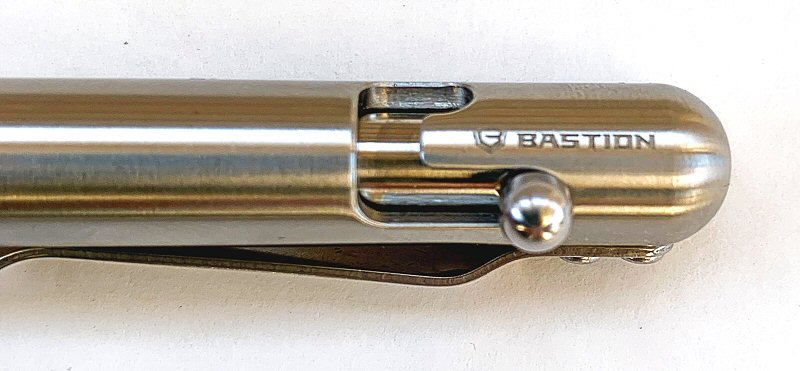 The pen's bolt-action feature, inspired by the mechanism used in bolt action rifles, is simple to operate.  First, apply pressure to the bolt handle (which is essentially a rounded "nub") to overcome the internal spring and slide the bolt down towards the tip of the pen until the bolt bottoms out.  Second, rotate the bolt in its radial slot until it stops.  Third, release the bolt and it snaps back upward toward the top of the pen via its internal spring.  I'd note that it does require a bit of force to actuate the mechanism, but this is exactly how it should be; if it were too easy, then the mechanism would slip in and out of place unintentionally and that is not likely with this mechanism.  The above image also shows the tiny "Bastion" logo that has been subtlely laser-etched into the body near the bolt action mechanism.  I like that Bastion opted to go with this small logo rather than a large, obnoxious one,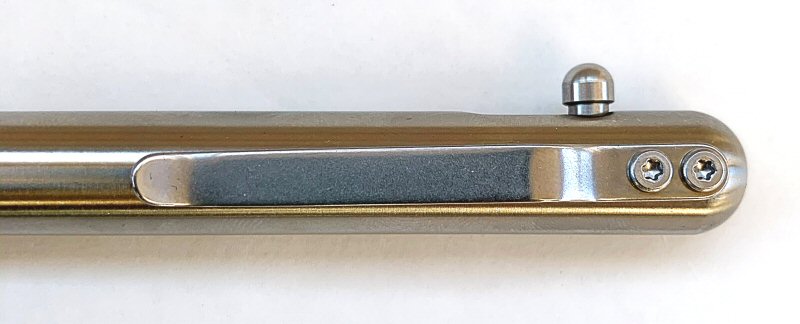 The bolt action mechanism's bolt handle does protrude from the side of the pen a bit, but not overly so, and because the handle's tip is generously rounded, it is much less likely to get caught on.  The pen has a very sturdy pocket clip made from bent, sprung stainless steel attached to its main body with two small star/Torx-head screws, a subtle but cool look that goes well with this pen's styling.  The pocket clip has all of its edges rounded and smoothed and it is polished to an almost mirror-like finish.  It was just a bit crooked when I first took the pen from its box, but I was able to straighten it out by applying a fair amount of force to it.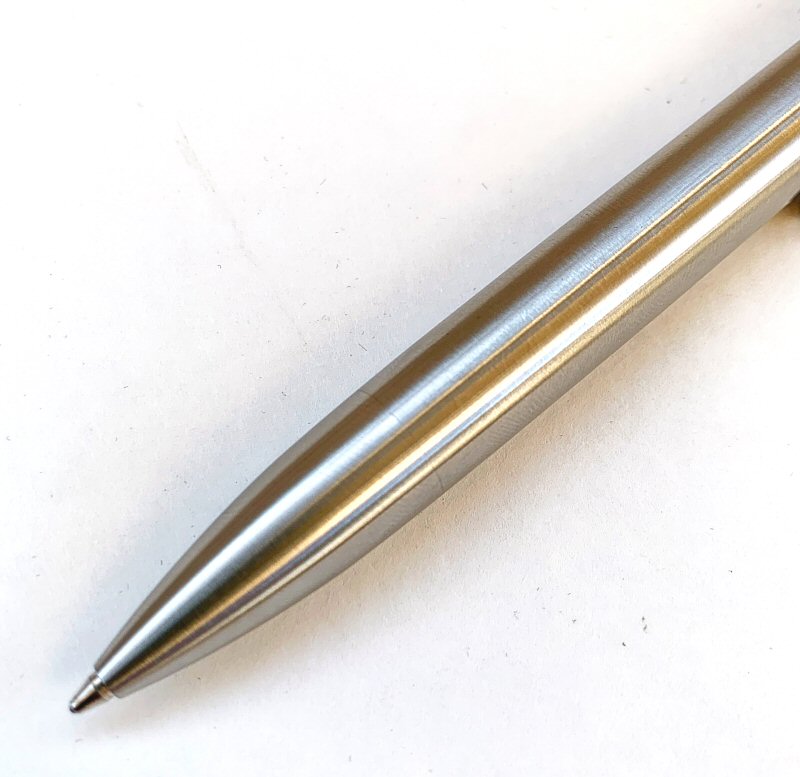 After playing around with the bolt-action mechanism for a bit and straightening out the pocket clip, I wondered how to change the pen's ink cartridge, since at first glance there didn't appear to be any way to access the pen's innards.  I inspected the entire pen very carefully and couldn't seem to find a way to disassemble it—no seams, no component edges, nothing.  Eventually, I thought, "Well, maybe the tip is somehow removable," so I twisted it and lo and behold, it rotated and separated from the rest of the main body.  One of the most impressive features of the Bastion EDC Bolt Action Pen is that its main body is CNC machined from a solid piece of stainless steel, which accounts for why I literally couldn't tell that its tip was removable—it looked and felt like one solid piece of brushed finish stainless steel.  I the image above, I've unthreaded the tip very slightly from the main body to illustrate where it separates, but when the tip is completely threaded to the main body, this seam is virtually undetectable.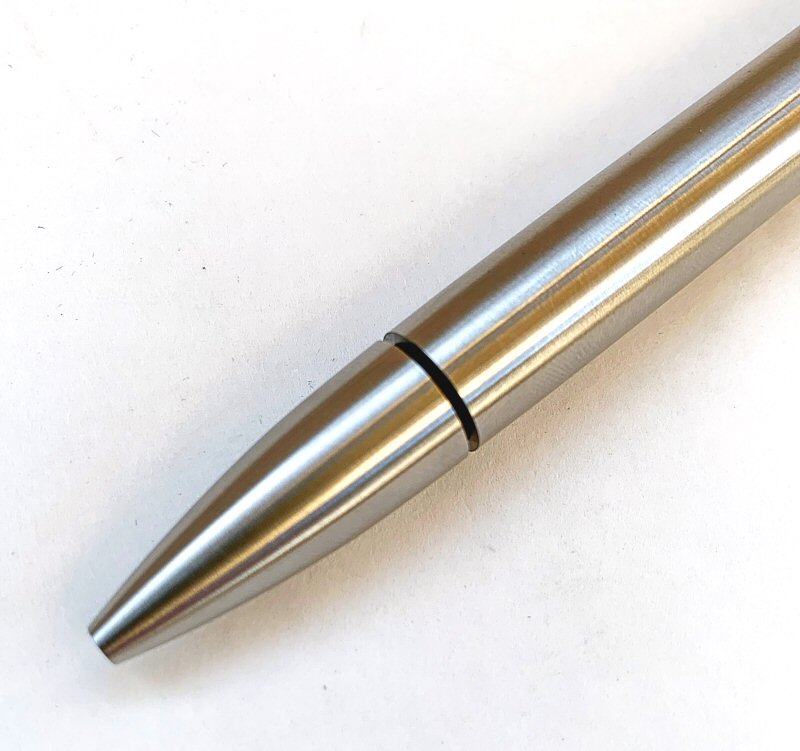 In the image above you can see what the tip looks like once you begin to unthread it from the main body.

The tip has a small, black, rubber O-ring gasket that sits between it and the main body.  Initially, I thought this O-ring gasket might be providing some measure of moisture-resistance to the pen, but I quickly dismissed this thought due to the bolt-action mechanism being a fairly obvious point for moisture to potentially ingress into the pen's interior.  I now think that the O-ring gasket's intent is to help keep the tip and the main body held together by mashing into the seam between the two body components and preventing the two components from working their way apart.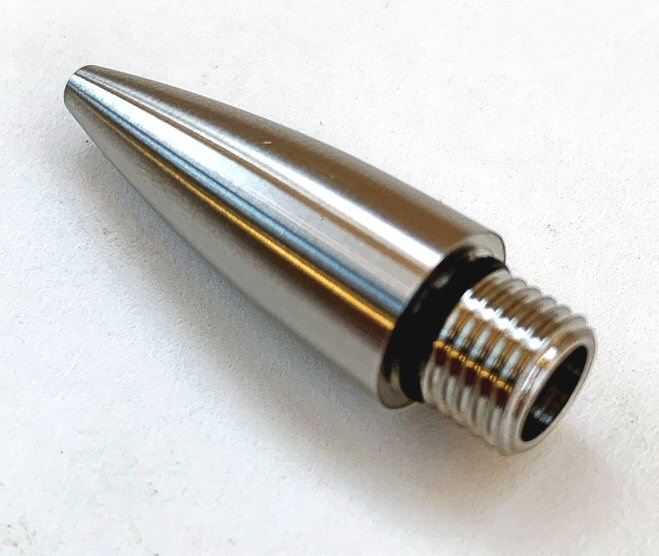 The Bastion EDC Bolt Action Pen has four user-accessible components: main body, tip, O-ring gasket, ink cartridge, and spring.  The Bastion site reports the ink cartridge as "a Parker Style fine tip black ink cartridge that emulates the Quinkflow fine tip style."  Although the ink cartridge that came in the pen had no branding or markings of any kind, I'd concur that it is a Parker-style because writing with this pen from the ink feel and flow standpoint is very similar to writing with my Parker Jotter pen: very smooth and with no blotches or gaps in the ink flow.  The cartridge is also the same dimensions as the one in my Parker Jotter, and my Parker Jotter's cartridge fits and functions perfectly in the Bastion EDC Bolt Action Pen.  For anyone curious, I tried both a Fisher Bullet Space Pen cartridge, which was too short and a Pilot G-2 05 cartridge, which was too long.  I'd also point out that Bastion offers each of these components except the main body for sale individually as replacement parts for the following prices: tip for $6.99, spring for $4.99, O-ring for $4.99, pocket clip and screws for $4.99, and ink cartridge for $5.99.  All of its components and especially its main body and tip are very well made and seem to be fairly indestructible, or at the least would be able to endure a lot of abuse if used as an EDC pen.
Size, feel, and performance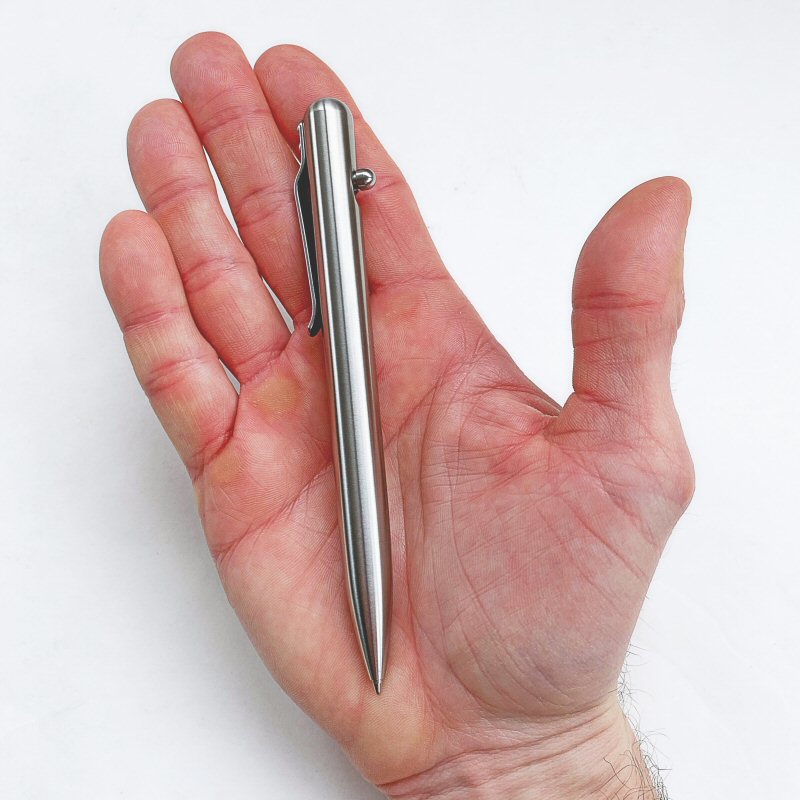 Although the Bastion EDC Bolt Action Pen is of average pen length at 5.28″, its 0.45″ diameter (nearly half an inch) can give it the appearance of being a shorter pen.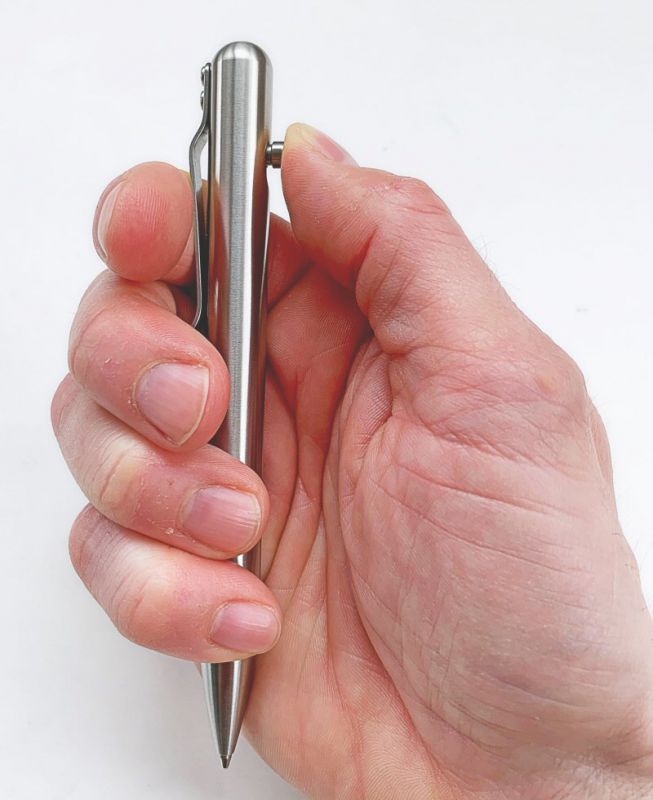 The Bastion EDC Bolt Action Pen is not your average "clicky"-type pen with a pushbutton top. As I described at the outset of this review, its bolt action mechanism is quite fun to use.  Its internal spring allows it to snap into and out of position each with a satisfying "click" sound and feel.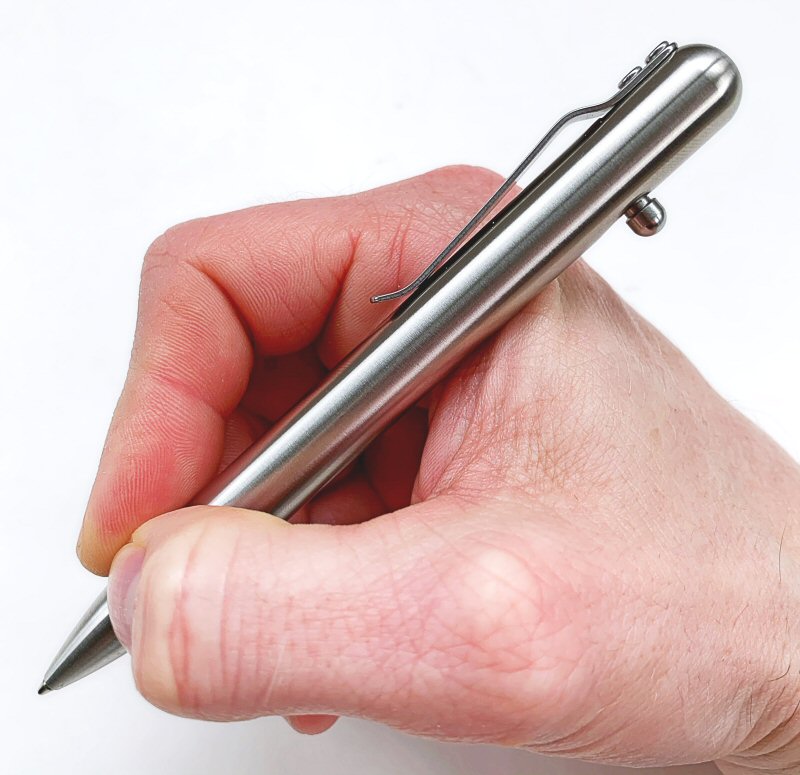 The Bastion EDC Bolt Action Pen also feels comfortable in my hand, with its body slightly wider than most pens at 0.45″ in diameter.  This not only contributes to the pen having a very solid and stout look, but I actually think it makes the pen easier and more comfortable to grip than pens with a smaller diameter.  And make no mistake, this is a heavy pen, and if heavy, metallic pens are not your thing, you may not like this pen.  But to me, it has a good "heft" and feels good in the hand, even for extended writing sessions.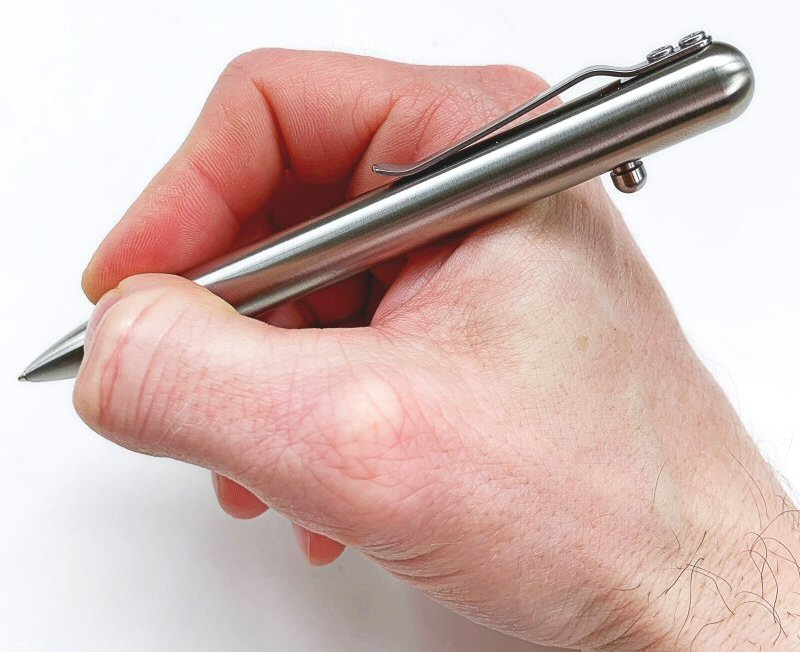 What I like
Bolt action mechanism is easy and fun to use and very solid
Sleek styling aesthetic with a solid, stout appearance
Feels comfortable in the hand
Ink cartridge wites smoothly and can be replaced with affordable Parker refills
What I'd change
Final thoughts
As the first example of a bolt action pen that I've ever tried, I was quite impressed with the Bastion EDC Bolt Action Pen.  Its solid stainless steel body and dimensions give it a sleek yet stout appearance, it feels comfortable in the hand, and its ink cartridge is smooth when writing.  But the best feature is its bolt action mechanism which is just plain easy and fun to use.  For its very affordable price, I'd highly recommend the Basion EDC Bolt Action Pen, especially if you've been thinking about trying out a pen with a bolt action mechanism like this, especially considering that many of the other bolt action pens out there are higher in price.
Price: See below
Where to buy: BastionBoltActionPen.com for $24.99, Amazon ($27.99 for the Stainless Steel version or $29.99 for the Stainless Steel and Carbon Fiber version), or BastionGear.com for $39.99
Source: The sample of this product was provided by Bastion.