We use affiliate links. If you buy something through the links on this page, we may earn a commission at no cost to you. Learn more.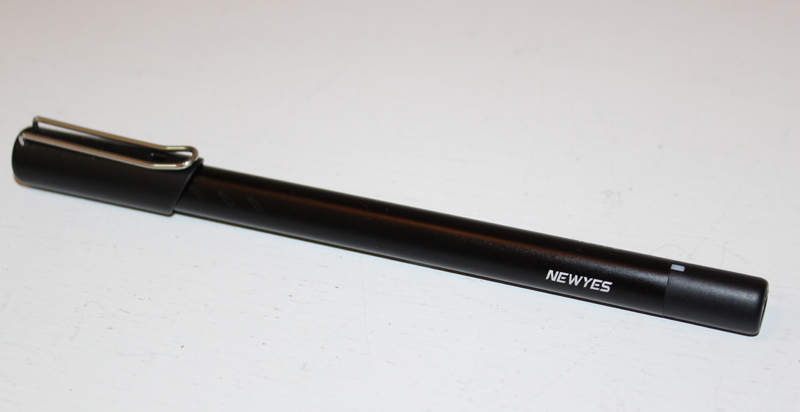 REVIEW – In 2008 I had a unique and magical gadget called the Livescribe pen, which was my first foray into the world of digital handwriting.  It was a huge, fat ink pen that used special paper and a camera built into the pen to capture what you were writing.  It also had a microphone built-in that captured the sound in the room while you were writing. I was working in education at the time and used it almost daily in my teaching.  Fast forward to now and I have the NEWYES Smart Pen that purports to do all that, and more.  So let's find out if this space has evolved!
What is it?
The NEWYES Smart Pen/Stylus allows you to write or draw on the included tablet or special paper and digitize what you write/draw.  It connects to a smartphone app as well to allow you to digitally share your creations and organize them in the cloud.
What's in the box?
NEWYES Smart pen
1 leather 3-ring notebook
1 LCD writing pad
3 ball point pen refills (Zebra 4C-0.7)
3 plastic stylus tip refills
1 micro USB cable
1 user manual
1 piece of test paper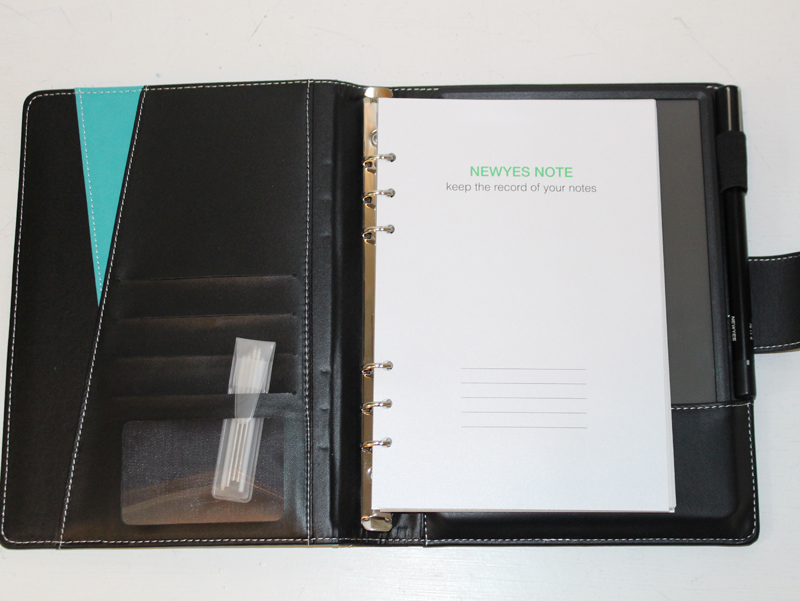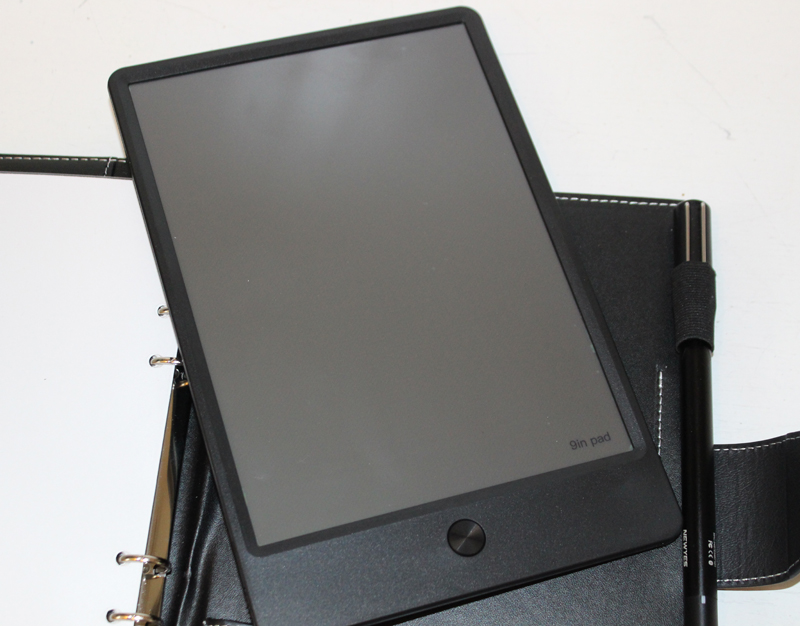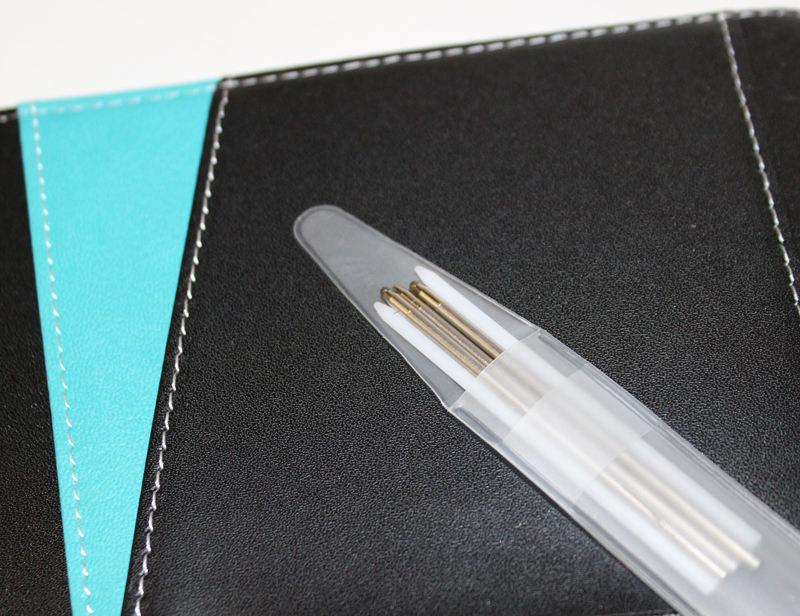 Hardware specs
Smart pen – 6.69"L x 0.39"W x 0.39"H; Net weight – 0.05 lbs.
LCD writing tablet – 8.86"L x 5.79"W x 0.31"H; Net weight – 0.36 lbs.
LCD writing tablet powered by a watch battery.
Notebook – 9.65"L x 7.48"W x 0.98"H; Net weight – 1 lbs.
Smart pen battery lasts up to 8 hours of use.
Smart pen built-in camera captures images at a rate of 200 frames per second.
NEWYES NOTE app will convert your hand-written notes to digital text in 8 different languages: English, Chinese (simplified), Chinese (traditional), Japanese, German, French, Spanish, and Italian.
NEWYES NOTE App supports IOS 9.0+, Android 5.0+ and Bluetooth 4.2+. The APP is compatible with IOS, Android phone, Ipad, and Android tablet, but does NOT work for MAC and Windows systems.
Design and features
When you hold the NEWYES Smart Pen in your hand it feels good.  It feels like metal but it is light.  It is about the size of a sharpie, although about an inch longer so it feels like a regular pen in your hand.
On the pen is a power button that turns it on and an indicator light that shows you the pen is powered on.  The business end of the pen holds the ink pen filler or the plastic stylus tip, depending on what you are using, and they can be swapped out by grabbing it with your fingernails and pulling.  Directly below the pen/stylus tip is the built-in camera.  On the other end of the pen is the micro-USB connection to charge the pen.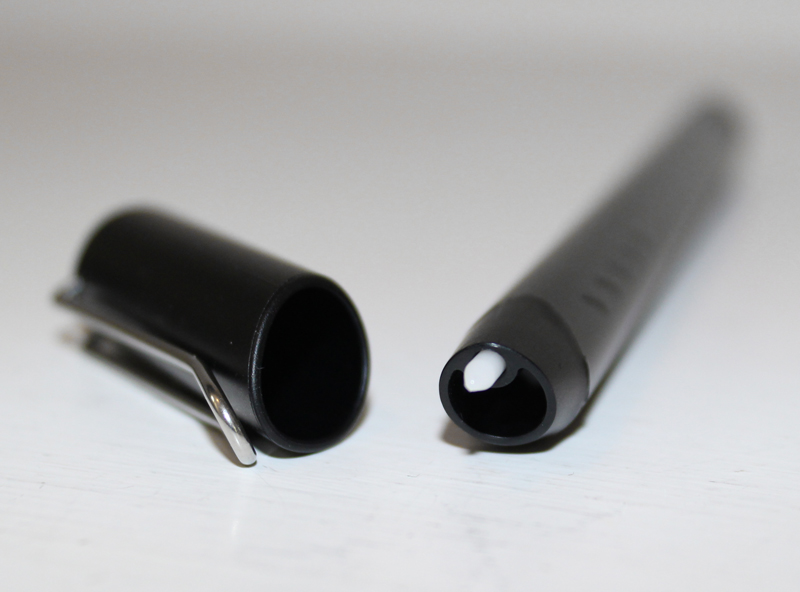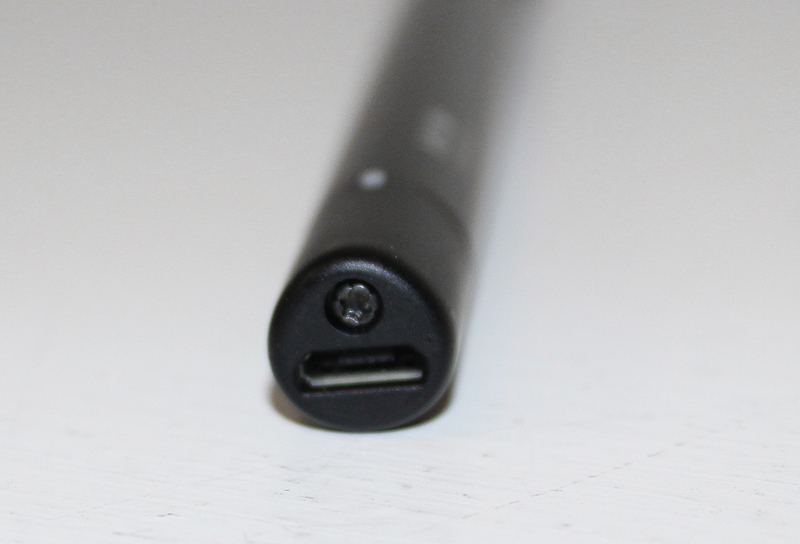 Let me try to explain at a high level what this gadget does, for those who have never tried a device like this.  First, you connect the Smart Pen to the NEWYES app in your smartphone or tablet via Bluetooth.  Then you write in the notebook with the ink tip or draw on the LCD writing pad with the stylus tip and everything is captured LIVE in the smartphone app.  The LCD writing pad has a power switch on the side and is powered by a watch battery, so that will eventually have to be replaced. But you can also just start the Smart Pen and begin writing with the pen even before you connect via Bluetooth and the next time you start up the app and connect via Bluetooth everything you wrote will sync with the app.  Pretty cool and I have found that it does indeed sync, most of the time.  I could also open the NEWYES app on my phone and my tablet and could see everything pretty quickly.  This is because everything you write/draw will be transferred to the NEWYES in the cloud and then when you open up the app on any of your devices everything syncs.  That worked well, most of the time.  More on that later.  I should also mention that it takes special paper for the ink pen feature to work because the camera (which captures frames at 200 per second) has to recognize the special dots on the page.  Here is a closeup look at those dots.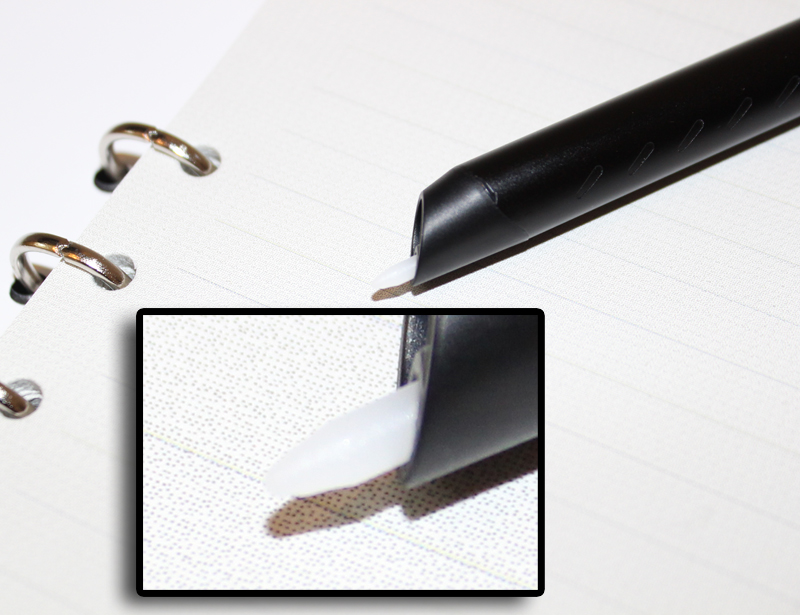 The Good
There are some neat little things that this Smart Pen can do, so I decided to quickly bullet point them here so I could rapidly address them:
The drawing tools are pretty good, enabling you to draw in different colors, use a highlighter, erase, insert images in your drawing, etc. The amount of tools is minimal but sufficient I think for most people taking notes.
You can click a mic button and record audio from the room as you write/draw. This is great for those folks, for example, who want to draw an illustration and explain what they are drawing so that someone else can watch the recording.  If you are a teacher, especially an online teacher, this would be valuable.  You can also watch and listen to the recordings in the app later to review the notes that you wrote and what you heard in the room.  This would be valuable to students, for example, to review class lectures and notes.
You can take your handwritten notes and let the app use OCR on them to create editable text which you can then copy and paste in your email, Word app, etc. You even have a choice of 8 different languages to choose from in the app.
You can share your drawings to several social media sites, email, save as a PDF or picture to your phone/tablet, send as a text message, and more. Basically, click the 'share' option and whatever your phone can share you can probably use to share your drawings.
There is a 'scan' option in the app where you can take a picture of, for example, existing writing on a printed page, and the app will allow you to run OCR on the text. That doesn't have anything to do with the Smart Pen actually, but for what it's worth that feature is in the app.
The so-so
There were a couple of things that bugged me about this Smart Pen.
The writing pad that comes with the Smart Pen is odd. Some people will understand this reference, but back when I was a kid in the 80s there were these things we called "magic pads" that you could buy in the toy section of the store.  They were a sort-of slick, black cardboard thing you drew pictures on and it was covered with a film of clear plastic that you pulled up and cleared out the picture when you wanted to draw something else.  (Search Google for "magic pad, 80s" for a kick!).  It didn't take much to entertain us back then, trust me.  The writing pad that comes with this reminds me of the magic pads way back when.  It feels really light and cheap, the surface is black, and when you draw on it the marks you make are light grayish. (see picture below) The writing pad is not back-lit so it is a little difficult to see in some lighting situations. At the bottom of the pad is a round button similar to an iPad that clears the screen so you can start over drawing.  Whatever you draw on the pad will show up on the app LIVE.  But if you accidentally press that round button it clears the screen but the drawing on the app that you are working on does not clear.  So I made several mistakes when drawing and didn't realize I needed to start a new drawing the app.  I can't say I am a fan of the writing pad.  I mean, it works ok, and I can see where a better quality writing pad would jack the price up, which wouldn't be good for this gadget.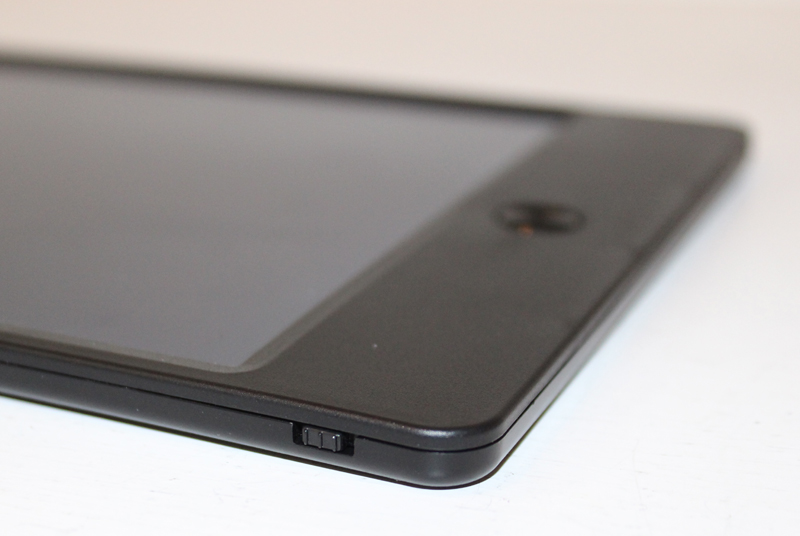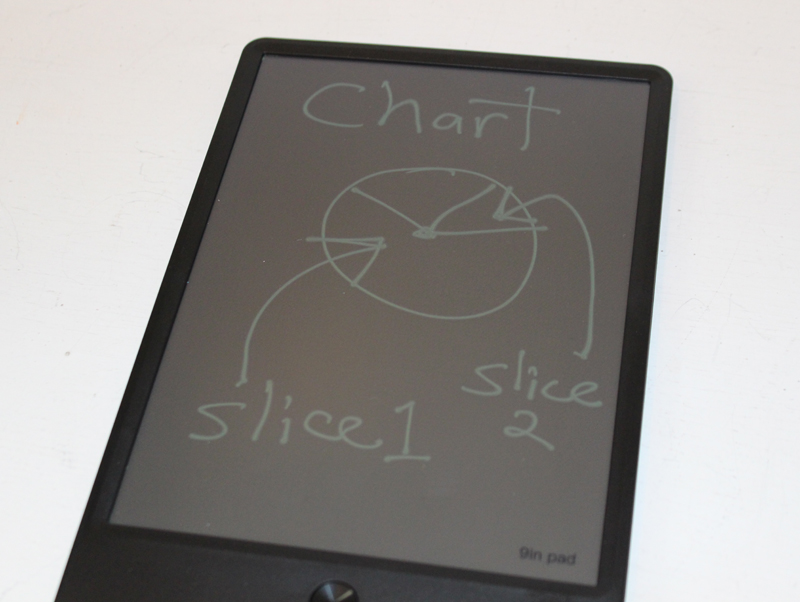 When you turn the Smart Pen on you don't go into your device Bluetooth settings to connect it, you go into the NEWYES app to connect the Smart Pen. Took me a few minutes to figure that one out.
The biggest issue I have with the Smart Pen is the NEWYES app. I have been frustrated more than once because it is a little buggy.  Sometimes when I choose to play back the audio from a recording it won't play.  I then have to close the app and restart it to get the recording to work.  You can make 'notebooks' in the app so that you can organize your notes.  But sometimes when I make some notes it saves them into the wrong notebooks that I created.  I have tried to figure it out to no avail, and there is no user's manual that I can find. I just deleted all the notebooks and only use 1 now.  Also, when you try to sync drawings and recordings between the app on different devices sometimes it takes numerous times of restarting the app before it will actually sync and download your content.  I updated the app 2 days ago to the latest version but honestly think this app just needs some updates.  And I imagine it will get better over time as they fix the issues.
What I like
Recording audio on my drawings/notes
Good quality notebook with storage pockets
Great tool for teachers or students
What needs to be improved
The app is clunky and needs work.
The writing pad is cheap
Swapping the ink tip and stylus tip is awkward.
Final thoughts
I can see how this gadget would be great for teachers who want to create shareable content for students.  And students could really use this to make notes during class and record audio from the teacher.  However, if I were a student I would want a larger size of paper, like a standard sized notebook.  I can see how this notebook would fill up pretty quickly.  The Smart Pen is a high quality product, no doubt.  It feels good in the hand, it lasts a long time on one charge, and you can use it as an ink pen or stylus.  But the writing pad that comes with it feels cheap and not up to the same level.  And the app needs work.  For $178 I think I would get a lot of use from it if I were a teacher or student, but I am not convinced this is ready for prime time for the masses.  Finally, let me put it this way.  I am not nearly as excited about the NEWYES Smart Pen as I was when I got my first Livescribe pen.  That pen seemed like a game-changer.  This one, not so much.
Price: $178.00
Where to buy: NEWYES
Source: The sample of this product was provided by NEWYES.