We use affiliate links. If you buy something through the links on this page, we may earn a commission at no cost to you. Learn more.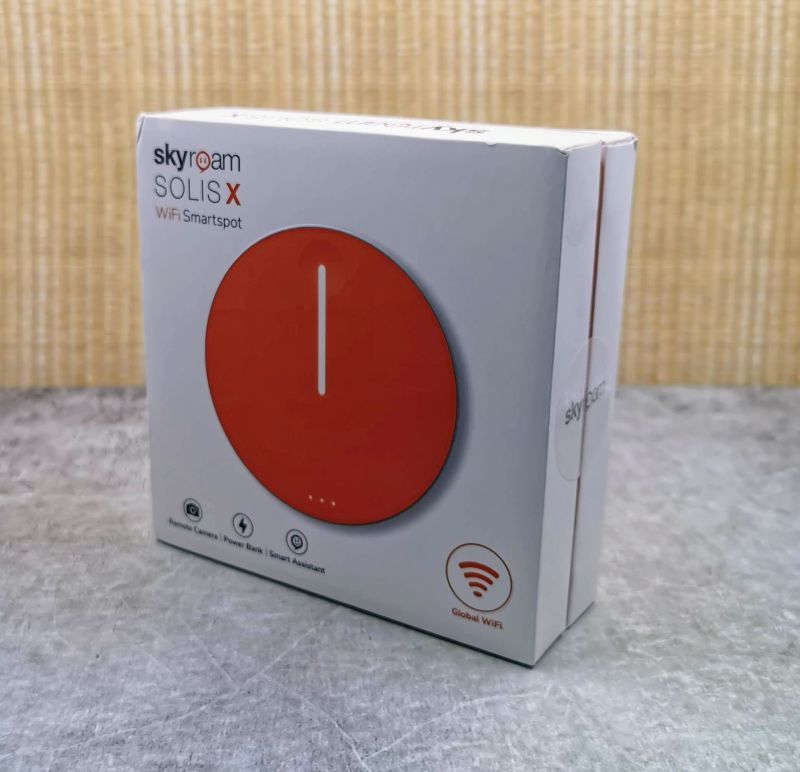 REVIEW – When I travel, one of the criteria that I use to pick a location is that it needs to have some type of internet connectivity. I can't unplug during vacations because that would stress me out and defeat the purpose of the vacation. Nine times out of ten, I at least have cellphone coverage (T-Mobile), but sometimes when we go to places like Kings Canyon National Park in California, I'm lucky to get one bar of signal strength and any type of internet connectivity. That's where the Skyroam Solis X WiFi hotspot (they call it a Smartspot) can come to the rescue. Let's take a look.
What is it?
The Skyroam Solis X is an updated version of the Skyroam hotspot that I reviewed back in 2017. It's a portable global WiFi hotspot that automatically connects to the strongest carrier in the area to provide 4G LTE internet connectivity.
There are several differences between the Solis X and the original Solis that I reviewed. The main differences:
Built-in camera, a speaker, and two microphones in addition to device charging ports
Covers 25 cellular bands, vs the 15 previously
Can share data with 10 devices, vs 5
Smaller than the original, and longer battery life
Hardware specs
Connectivity: 4G LTE in 130+ countries
WiFi Network: Patented vSIM technology;802.11 a/b/g/n (2.4GHz+5GHz)
Power Bank: 4700 mAh
Remote Camera: 8MP 720d
Connect multiple devices: Up to 10 devices
Size: 3.5″ x 0.9″
What's in the box?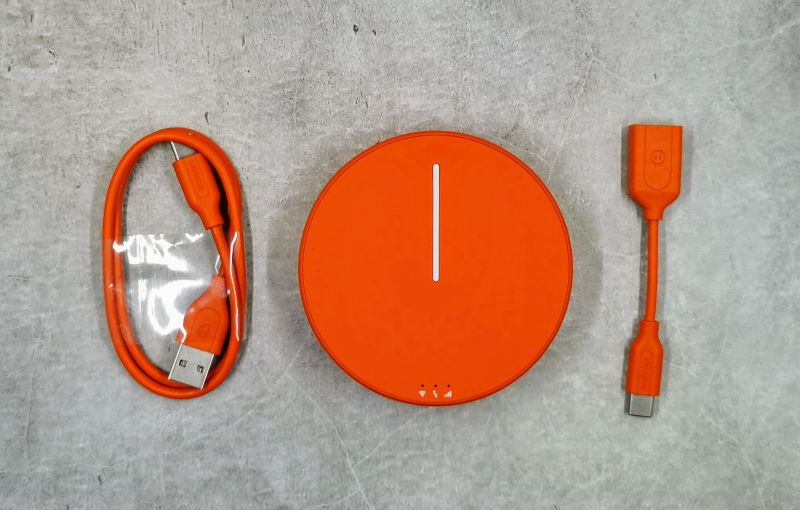 Skyroam Solis X hotspot
USB-C charging cable
USB-C to USB-A dongle
Quick start guide
Design and features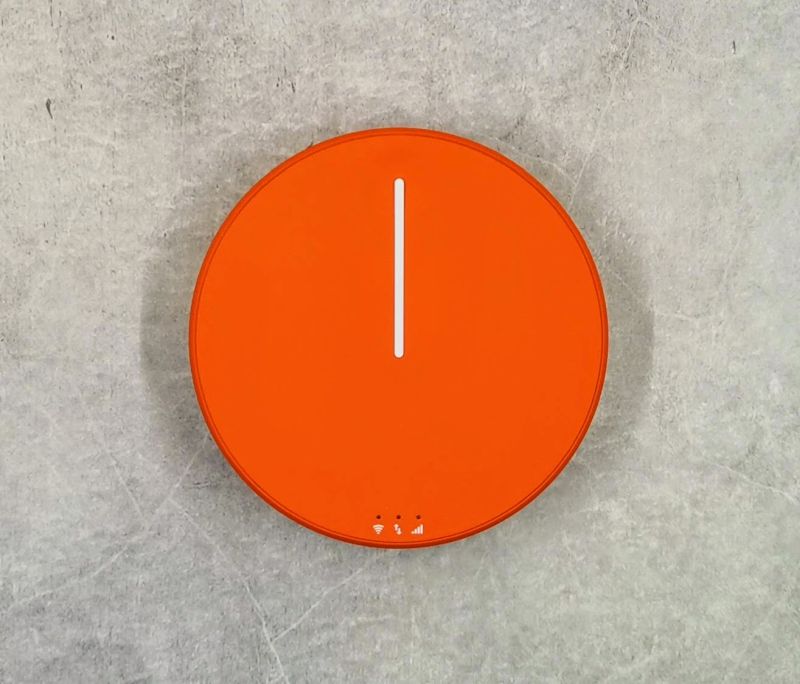 The Skyroam Solis X is a bright orange hockey puck-shaped device with a long narrow power button on top and 3 LEDs that display connectivity status.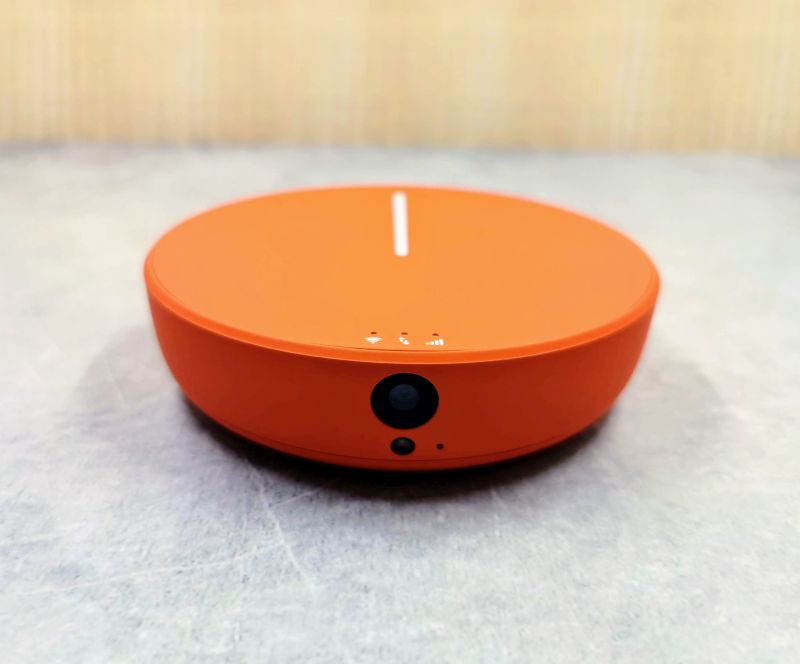 Never miss one of our posts again. Sent MON, WED, and FRI with the latest gadget reviews and news!
On one edge of the device is an 8MP camera with an LED flashlight below the lens. In my opinion, it seems like an odd feature to add a camera to a WiFi hotspot.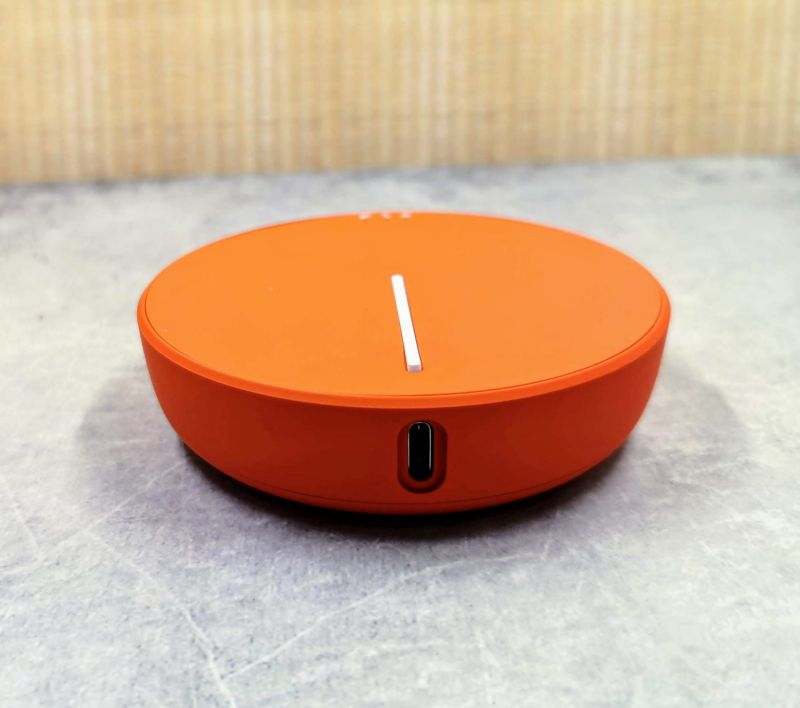 On the opposite edge of the Solis X is a USB-C port for charging the device and connecting it to other devices to use it as a portable backup battery to charge other devices.
The app
The initial setup of the Solis X is simple. All you do is charge up the unit, install the Skyroam Solis app on your phone, power on the Solis X, wait for it to boot, and follow the prompts in the app to get it setup.
Data can be purchased in either monthly passes, day passes, or as a subscription. A monthly pass for 1GB, 5GB, 10GB, or 20GBs of data per month is $9, $45, $90, and $180 respectively.
Day passes of 1 GB are also available for $6-$9 a day (24hrs) depending on your location. US and Europe is $6 per day and a global pass is $9 per day. You can buy multiple passes and use them as you need them.
A subscription is for unlimited data and is priced at $99 for month-to-month, $66/mo. if you buy 3 months at a time, and $49/mo for 6 months at a time. There's no commitment after each purchase and you can cancel at any time.
The Solis X has some other features that you can access with the button on top and integration with IFTTT. Some of the interactions include tweeting your location, tracking your travels, and using the Solis X as an emergency SMS alert. I think these features a little gimmicky…
Hotspot usage and speeds
Using the device is pretty straightforward. You turn it on and once it boots up (it's slow… 3-5 minutes), you can look for the network in your WiFi list and connect using the password on the bottom of the device.
Speeds will depend entirely on your location. If you have no cellular coverage at all in your area, the Solis X will not work for you. But if you have a variety of carriers in your area, it will grab a signal and you'll be able to surf, email, etc.
I tested the Solis X connected to my Huawei P30 Pro and my MacBook 12inch. I tested using Chrome with Gmail, working on reviews through the Gadgeteer dashboard, watching YouTube videos and Netflix videos. As a matter of fact, I'm typing this review on my MacBook while a Netflix movie is streaming in the background with no stuttering even when the signal strength of the Solis X is only showing 1 bar.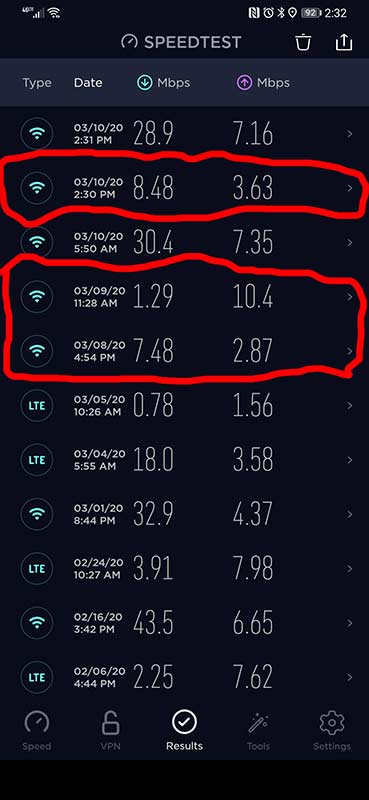 Here are a few Speedtests to show the speed of the Solis X in my area. I don't know what carriers it uses, but in my area, I have coverage for Verizon, AT&T, and T-Mobile. The circled test is my T-Mobile Home Internet speed test and other tests are from the Solis X at my house and at my day job.
What I like
No SIM card needed
No contracts
Works with many carriers worldwide
What I'd change
Improve device boot times
Final thoughts
As long as you have cellular coverage (check here), the Skyroam Solis X is an easy to use hotspot that can provide internet connectivity almost anywhere on the planet. The main issue is that you have to pay quite a bit for the data. $6-$9 a day sounds great in theory, but you only get 1GB of data for that and that really doesn't go that far these days. With 1GB, you can do some web surfing, emailing, and watch around  90mins or so of Netflix before all of your data is consumed, requiring you to buy more. Yes, you can opt for the unlimited option, but ouch, that's pretty spendy too. In my opinion, the Skyroam Solis X can be a useful travel accessory as long as you understand the caveats and data prices.
Update 3/18/20
To help consumers stay connected during these trying times, Skyroam has lowered the prices of its Skyroam GoData USA plan in response to the coronavirus outbreak.
Subscriptions still start at $6 per month for 1 GB, and top up GBs of 5, 10 or 20 GBs are now 50% off to help customers affordably get all their work done from home and stay in touch with family & friends while social distancing with reliable high-speed internet. The Skyroam hotspot is also portable so it can be taken anywhere you need to work – if you're taking a break in a quiet park or drive to a scenic viewpoint for some fresh air. The prices will stay discounted for the foreseeable future, to help customers until the USA outbreak lessens.
Price: $179.99 (data is a separate purchase)
Where to buy: Skyroam and Amazon
Source: The sample for this review was provided by Skyroam.