We use affiliate links. If you buy something through the links on this page, we may earn a commission at no cost to you. Learn more.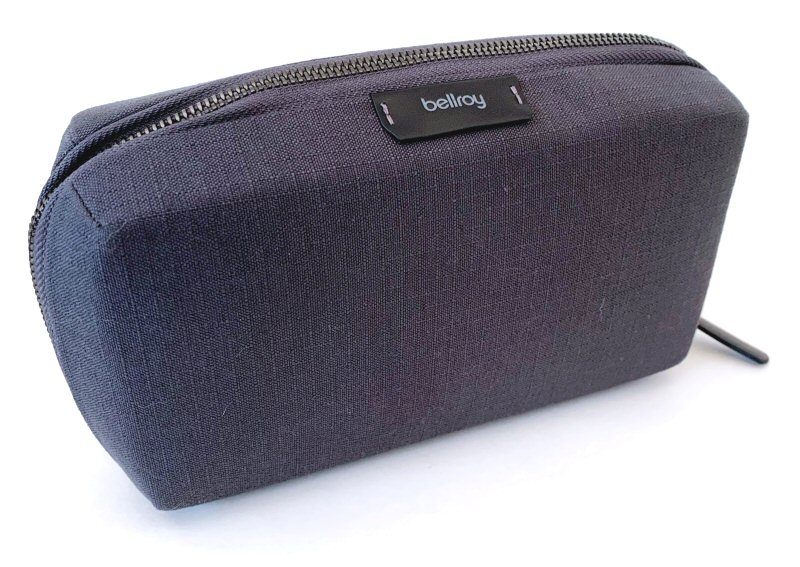 REVIEW – I've reviewed several of Bellroy's wallets here at The Gadgeteer, and I've been very impressed with each of them.  As someone who carries a fair number of small items in my work pack, I became very interested when Bellroy debuted some pouches for the purpose of carrying and protecting those small EDC items that you might find bouncing around loose in your bag.  One of these products is the Bellroy Tech Kit.  Let's check it out.
What is it?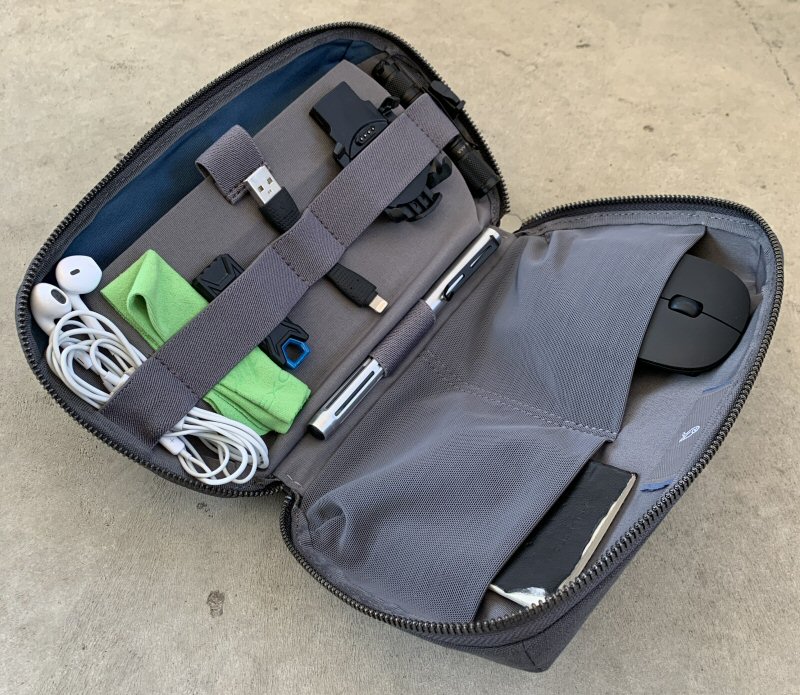 The Bellroy Tech Kit is a clamshell-style pouch made from recycled materials that features multiple pockets and straps for holding small EDC items.
Hardware specs
Materials:
External fabric and lining – Woven polyester ripstop fabric made from recycled water bottles
Trim pieces – environmentally certified leather
Smooth-action zips
Dimensions:
Options:
Black (reviewed here)
Light Grey
Design and features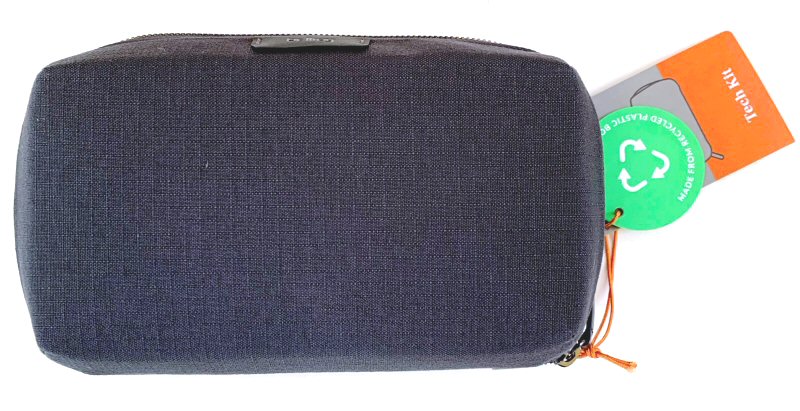 Right out of the package, the Tech Kit's design, materials, and construction made it look and feel very high-quality.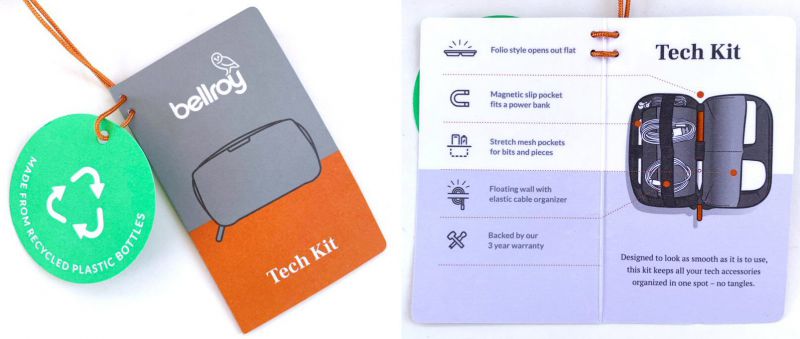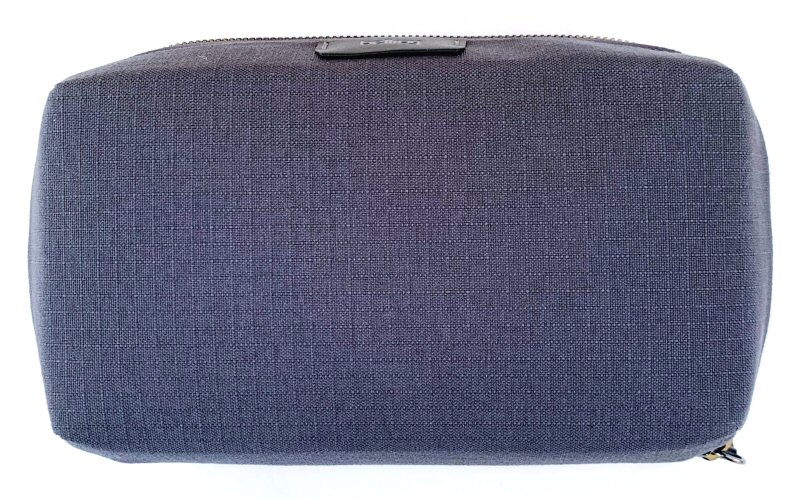 Let's start with the materials.  The Tech Kit's outer shell is made from a woven polyester ripstop fabric that is derived from recycled water bottles.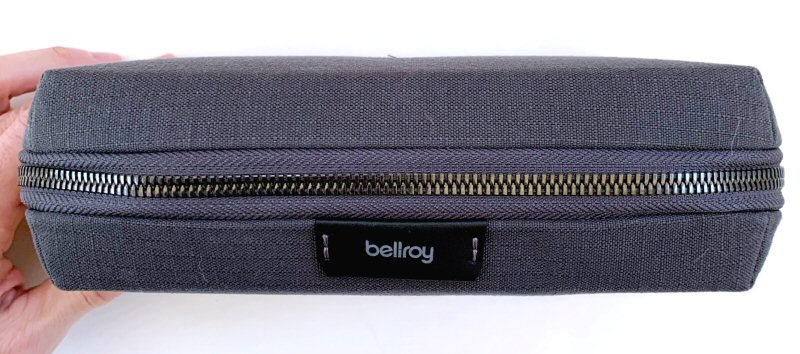 The Tech Kit's interior access is facilitated through what Bellroy refers to as a "smooth-action. zip.  I'm not exactly sure what that means, but the zipper functioned fine, without any catches or hangups, and it has a bit of a high sheen which adds to the Tech Kit's understated but sharp styling.  One additional thing to note in the photo above is the presence of a few dog hairs stuck to the Tech Kit.  While the Tech Kit's exterior woven polyester ripstop fabric has a great look and feel, and I suspect will be quite durable over time, it is, unfortunately, a lint and—even more so—dog hair magnet.  With two pugs in our home, I found myself constantly picking little dog hairs from its exterior.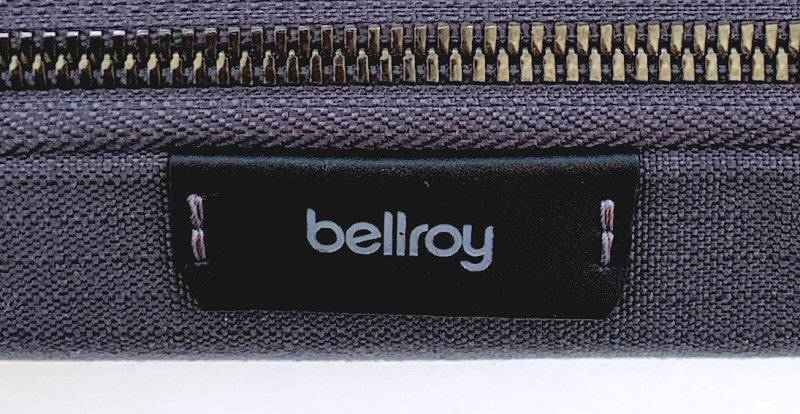 One characteristic that I have found to be common across the Bellroy products that I have reviewed thus far is their choice to use one or two small, understated logos rather than large, eye-catching ones, and I respect this a lot.  It allows their product's designs, construction, and materials to speak for their brand, rather than loud, raucous logos. The above is an example of that, with a small "bellroy" logo imprinted into a black strip of leather near the zipper.   Well played Bellroy team.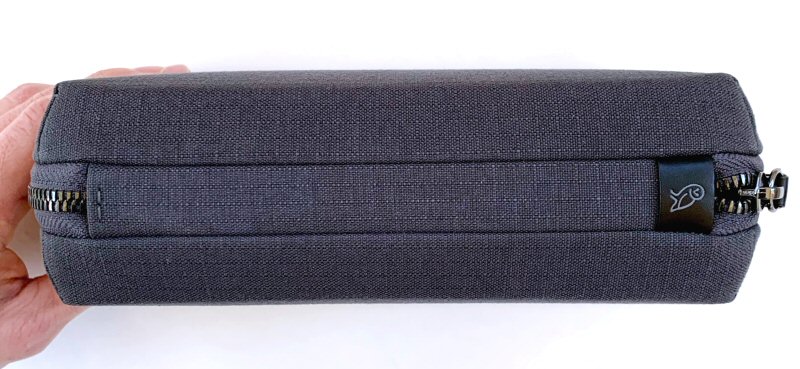 The Tech Kit has a rectangular shape.  I found its form-factor to be acceptable, but I thought it could be a bit thinner, especially if it's going to be shoved into a bag with perhaps lots of other items.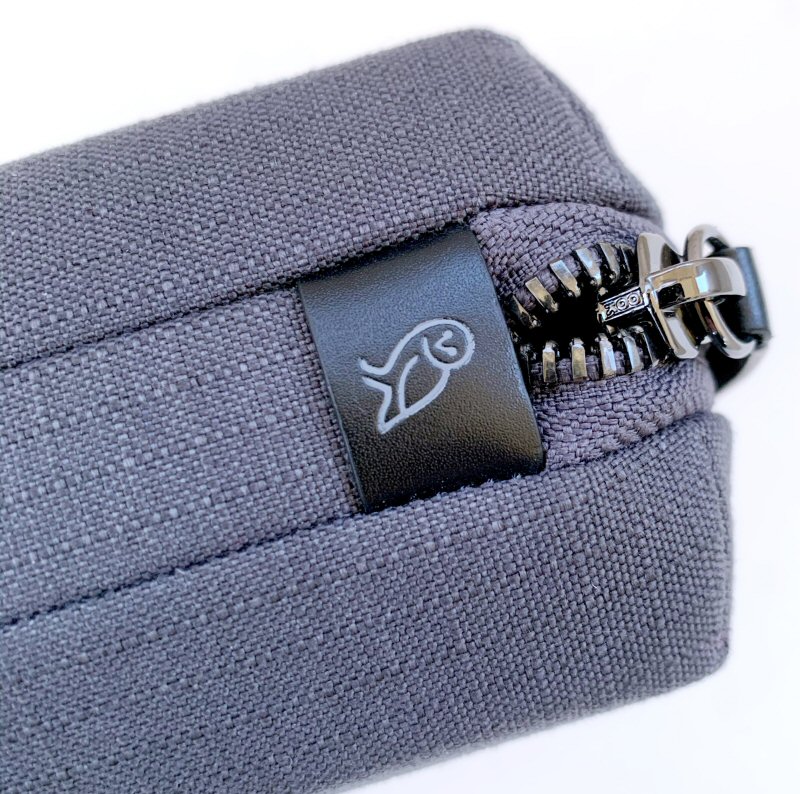 The close-up photo above shows a few details of the Tech Kit worth mentioning.  First, the exterior's recycled polyester grid-like ripstop material.  The ripstop pattern is subtle but gives the Tech Kit a classy look and feel without being overstated.  Second, a tiny Bellroy owl logo imprinted into a small strip of leather that acts as a zipper stop.  Refer to my comments above related to the few small, understated logos that Bellroy employs on their products.  Third, the pic above shows a glimpse of the high-sheen coating on the zipper.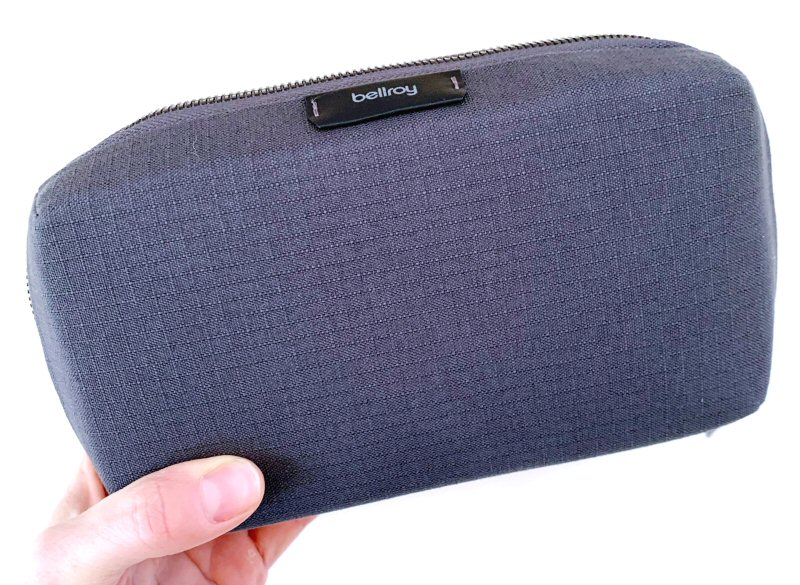 The Tech Kit is a nice size, not too small such that it doesn't hold a sufficient number of items to not be useful, yet not too large such that it takes up too much space in a bag or pack.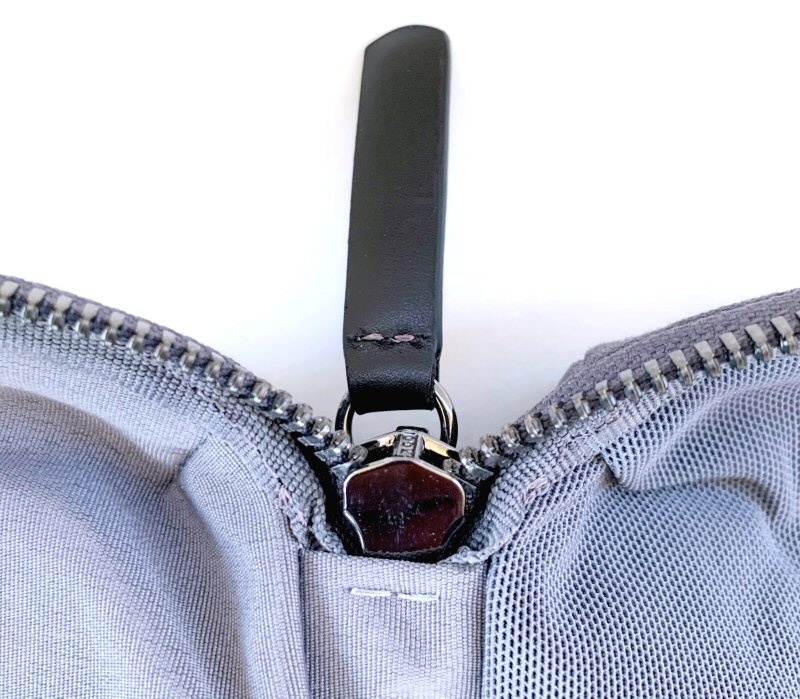 Let's take a look inside the Tech Kit.  Above, a close-up of the zipper pull which is made from a strip of "environmentally certified" leather.  A leather zipper pull that matches the two previously-described small Bellroy logo acceents gives the Tech Kit a classy extra touch, plus a leather pull also avoids the clinking sound that comes with having metal zipper pulls.  Additionally, the photo above shows the fabric from which the Tech Folio's stretch mesh pockets are made on the right.  It is a very fine mesh material and has a generous amount of stretch.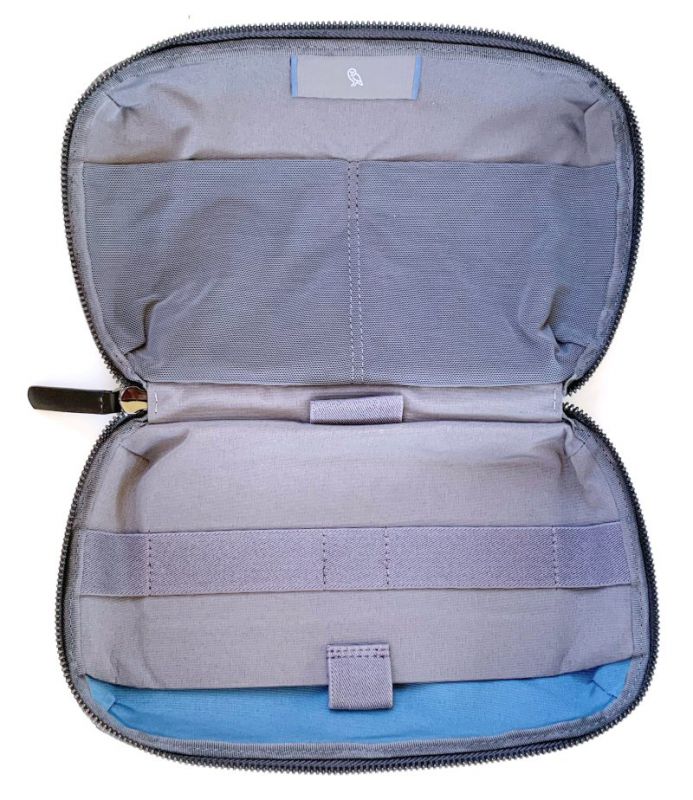 The Tech Folio has a clamshell design that zips around three of its four sides to allow it to open completely flat, which is a great feature that allows it to lie flat on a desk or table and have full access to all of its contents.  The interior of this color scheme has a mix of light gray and light blue fabrics.  Lighter-colored materials inside a bag or pouch are helpful because they make it a bit less difficult to see the items inside in lower-light situations.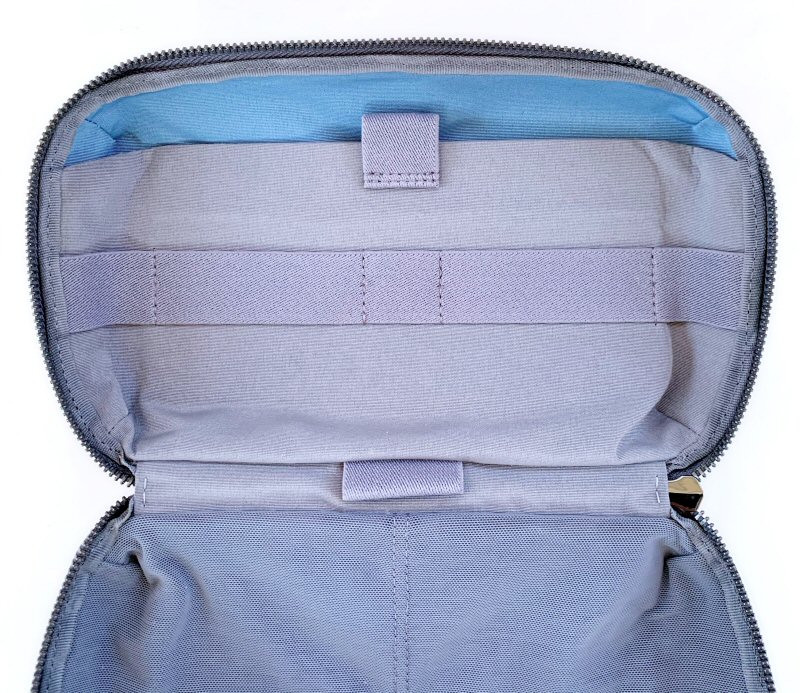 One half of the inside of the Tech Kit has a two-layered set of organization features.  The first layer is a strip of elastic that has stitching to allow it to hold objects of various shapes and sizes.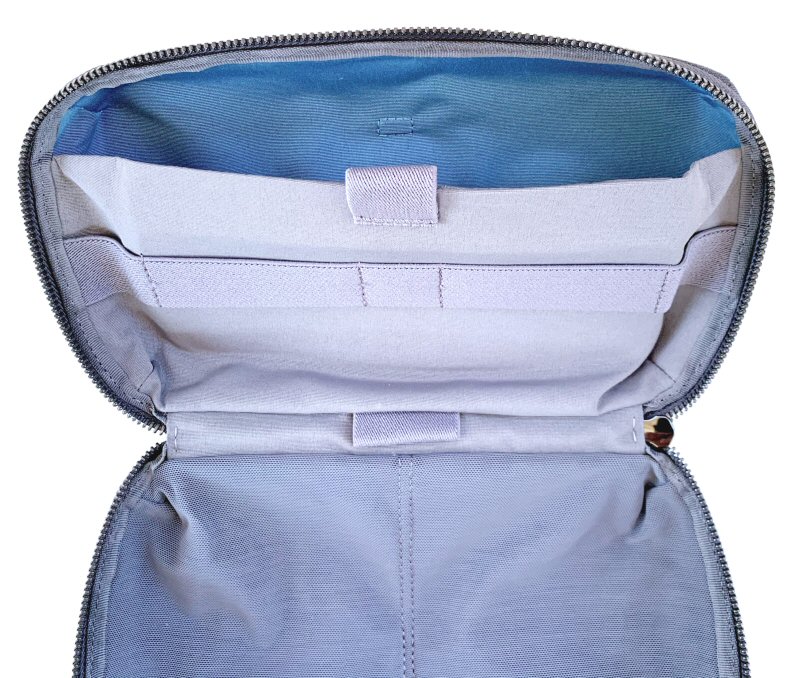 The rear of this side of the interior has a slip pocket that features a magnetic closure. This pocket has elastic at the sides and runs the width of the Tech Kit.  Bellroy refers to this pocket as a "floating wall" because it is semi-rigid and helps divide large items, like a power bank, from smaller items placed inside the Tech Kit.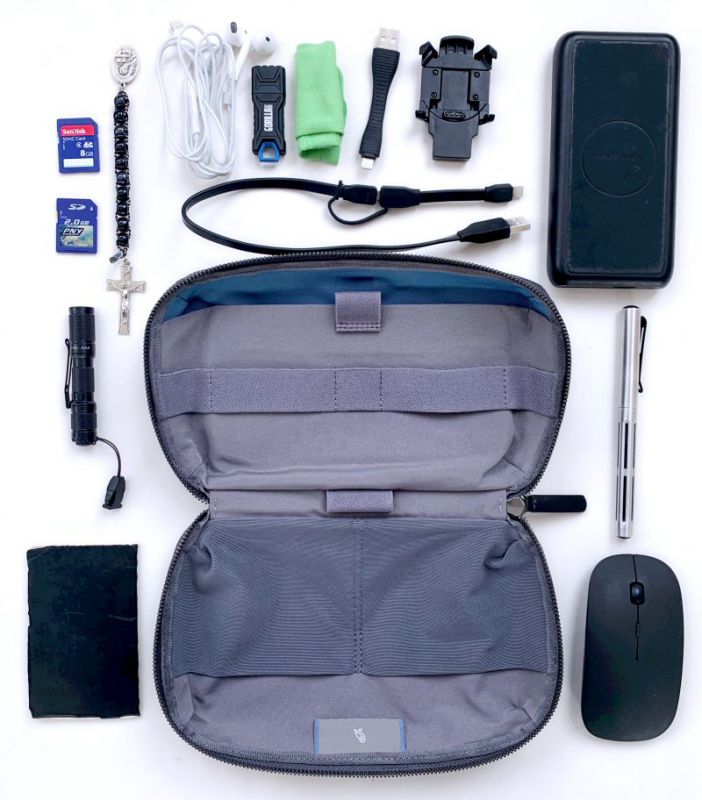 I loaded the Tech Kit with many of the items that I typically carry in my EDC bag, which are shown in the above photo.  Starting from the top left and moving left to right, there are two SD cards (which I don't typically carry; these are included for illustration purposes only), a single-decade Rosary (an aid for prayers in the Catholic tradition), a set of standard Apple iPhone EarPods, a GorillaDrive USB Flash Drive, a microfiber cleaning cloth, a mini Apple Lightning cable, a charging base for my Garmin fenix 3HR watch, a RAVPower 10,000mAh 5W Wireless Portable Charger, a TYLT SYNCABLE-DUO Charge and Sync Cable, a Lumintop Tool AAA flashlight, a Spoke Designs Spoke Pen, a Moleskine Volant Pocket notebook, and a travel mouse.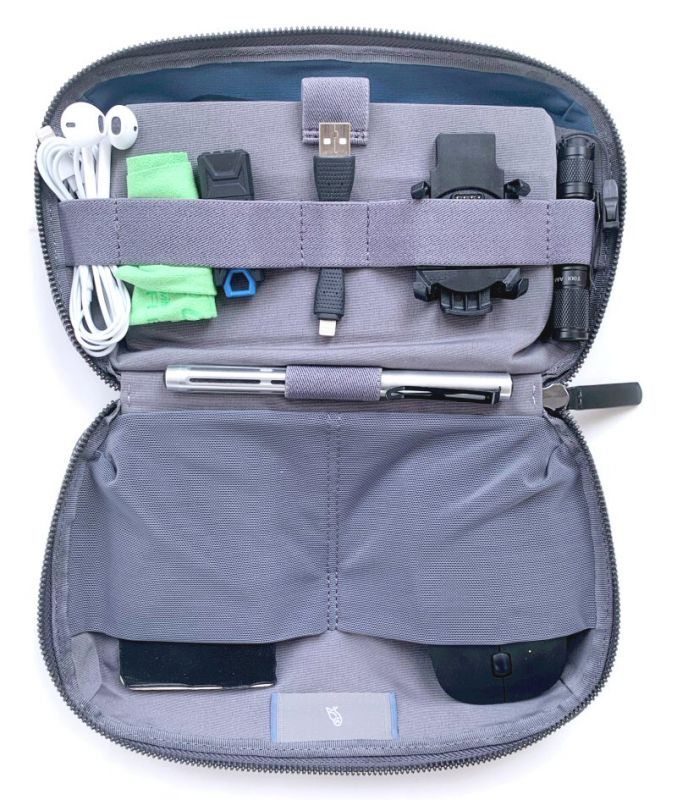 All of the items above fit into various pockets and slots inside the Tech Kit.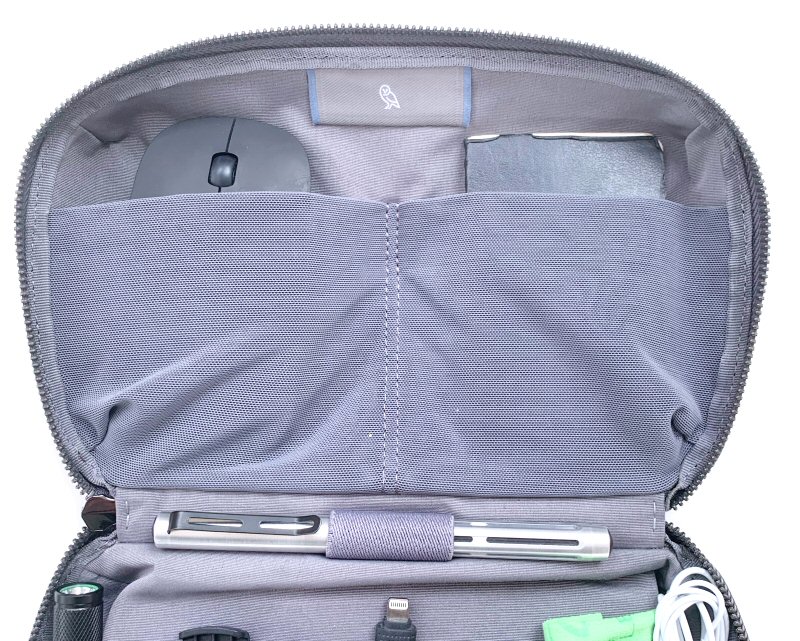 In the photo above, the top half of the Tech Kit's interior features a panel of stretch mech material that is divided down the middle, forming two pockets.  Each pocket has a feature that makes it even more useful: its corners have been sewn in such a way as to have additional folded material.  This, combined with the inherent stretch of the mesh fabric itself means that not only are these pockets useful for holding what I would call medium-sized items like the travel mouse and the Moleskine Volant Pocket Notebook, but one could fairly easily place a few other items into these pockets as well.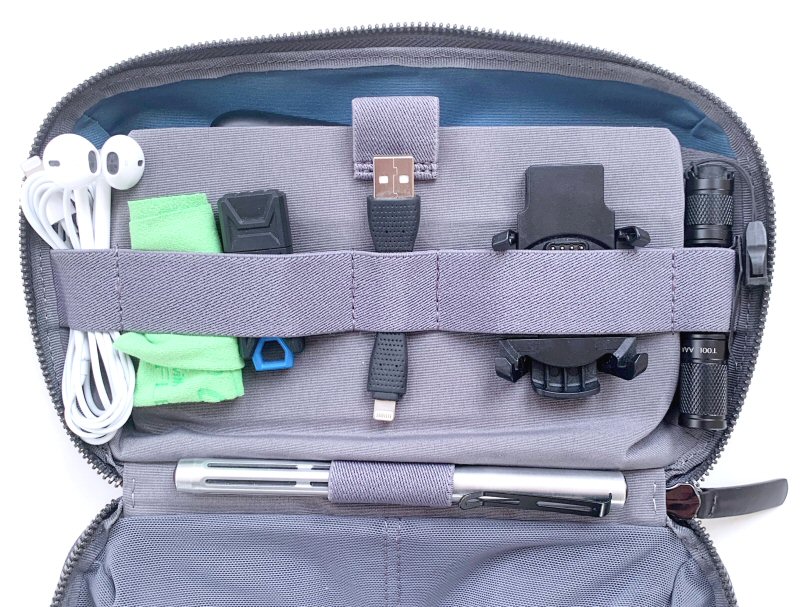 The opposite side of the Tech Kit's interior has the semi-rigid floating wall with an elastic band on its outside and hidden mini pockets inside.  The elastic band is tight enough to hold items in place securely while still allowing them to be easily removable.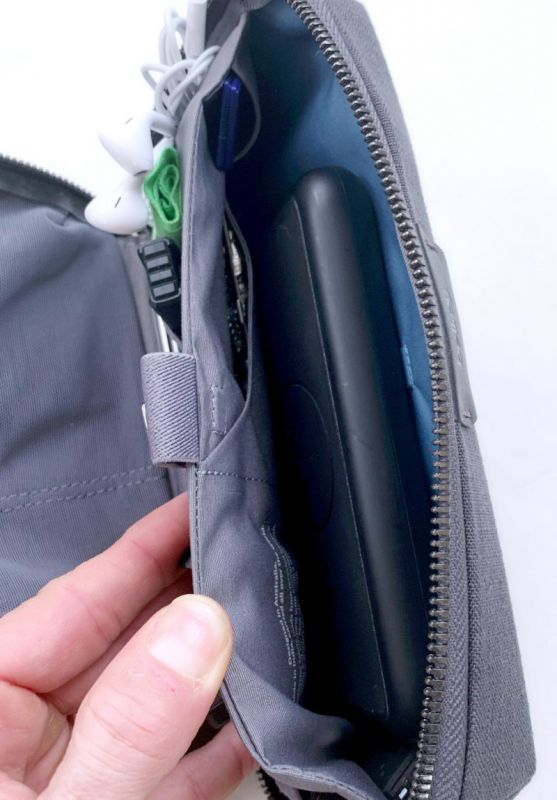 The pocket behind the floating wall runs the length of the Tech Kit, while the ends of the floating wall pocket are stretch mesh.  These features combine to give the floating wall pocket a generous amount of space to hold larger items like a power bank.  Its magnetic closure is also a clever feature that helps it stay closed if it is either empty or contains a smaller or thinner item.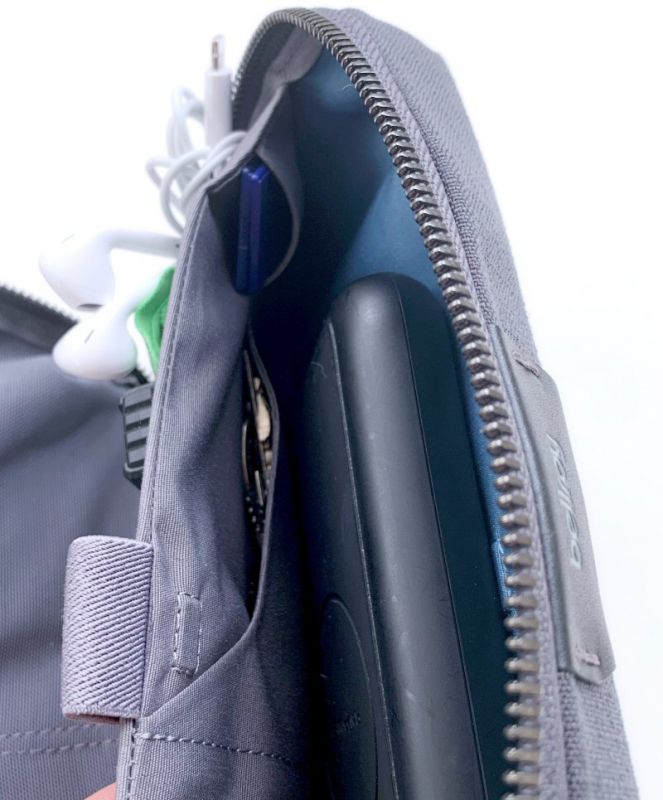 Additionally, the inside of the floating pocket also contains two smaller hidden pockets that can hold very small items securely, but these pockets have cleverly-shaped openings and placements that still allow for quick access to their contents.

One final organization feature is an elastic loop that can hold a stylus or a pen.  I found myself thinking that it would have been useful to have another of these pen loops to be able to hold a second writing instrument.

And then I noticed that there actually was another loop to hold a second writing instrument, but perhaps an unintentional one.  There is a small loop of material that acts as a pull tab to open the floating wall pocket, and this loop can easily accommodate a second pen, pencil, or stylus.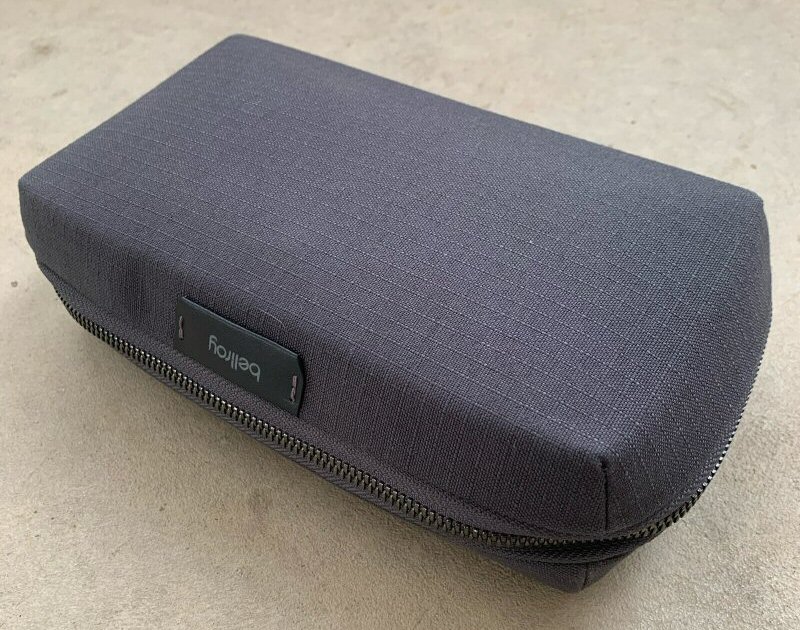 One thing I'd mention here is that the Tech Kit did not stand up on its own whether loaded or empty.  This was a bit annoying, but not a deal-breaker for me.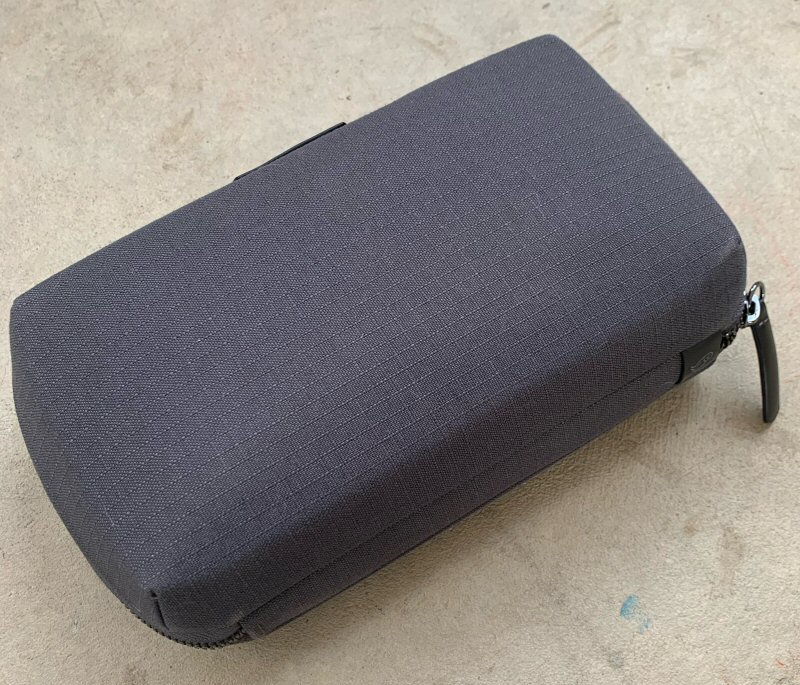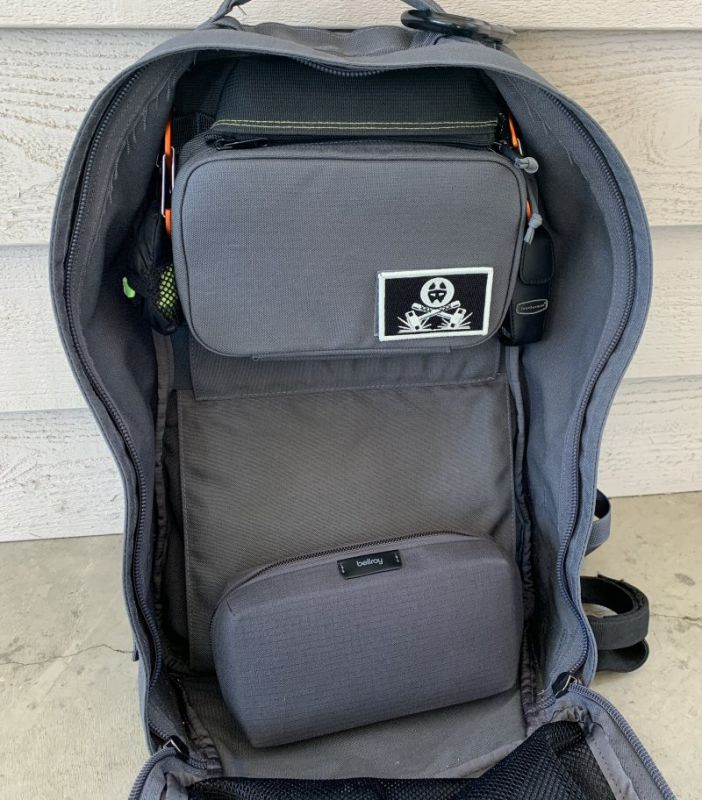 Here I'd mention that although Bellroy calls this color "Black," it is in fact not black, but a very dark grey.  However, although it is not actually black, I like this dark gray color a lot, because it blends in quite nicely with my EDC bag, a GORUCK GR1 26L in Wolf Gray color.
What I like
High-quality materials and construction
Made from recycled materials
Organizational features are very thoughtfully-designed and versatile.
What I'd change
Exterior fabric is a lint and dog hair magnet
Final thoughts
This was the first non-wallet product I have reviewed from Bellroy, and like its other products, the Tech Kit did not disappoint.  It is made from high-quality materials and is well-constructed, but its interior organization is where the Tech Kit shines.  It includes multiple pockets and an elastic band that holds items of multiple sizes and shapes, all of which are easily accessible due to its lay-flat, clamshell design.  I found the Bellroy Tech Kit to be very useful for holding most of my EDC items and it looked great alongside my dark gray EDC bag.  Like all Bellroy products, the Tech Kit is a bit on the pricey side, but in my opinion worth the price due to its thoughtful, useful design and high-quality materials and construction.
Price: $59.00
Where to buy: Bellroy.com or Amazon
Source: The sample for this review was provided by Bellroy.com