We use affiliate links. If you buy something through the links on this page, we may earn a commission at no cost to you. Learn more.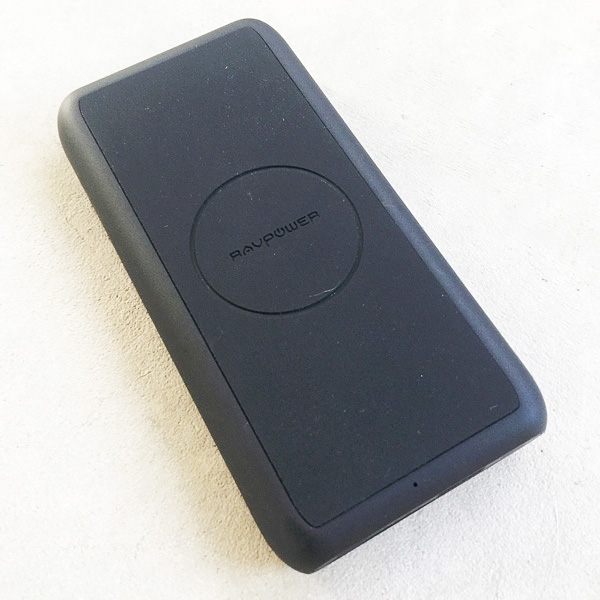 REVIEW – All these personal devices make our lives easier, but they demand the juice, don't they? Enter the portable charger, the market for which has exploded (thankfully figuratively, not literally).  I own and/or have reviewed a handful of portable chargers and I've been fairly happy with most of them, but the RAVPower 10,000mAh 5W Wireless Portable Charger has a fairly unique feature, a built-in wireless charger that can be used to charge Qi-enabled smartphones.  With a couple of the latest wireless charging capable iPhones in our household, I was excited to give the RAVPower 10,000mAh 5W Wireless Portable Charger a try.  Gadget on!
What is it?
The RAVPower 10,000mAh 5W Wireless Portable Charger is a compact portable charger that can charge devices via either wireless or wired means.
Hardware specs
Input: DC 5V/2A max (via Micro USB port)
Wireless Output: 5W max
iSmart 2.0 Output: 5V/2.4A max (via USB port)
Dimensions: 5.7 x 2.9 x 0.8 in / 14.6 x 7.4 x 2 cm
Compatible Models: iPhone X / 8 / 8 Plus, Samsung S9 / S9+ / S8 / S8+ / Note8/ S7/ S7 Edge/ S6 / S6 Edge+, and all Qi-enabled or Qi receiver-equipped devices.
Warranty: 30 Months – Get 18 months out of the box and extra 12 months by simply registering the wireless battery pack
What's in the package?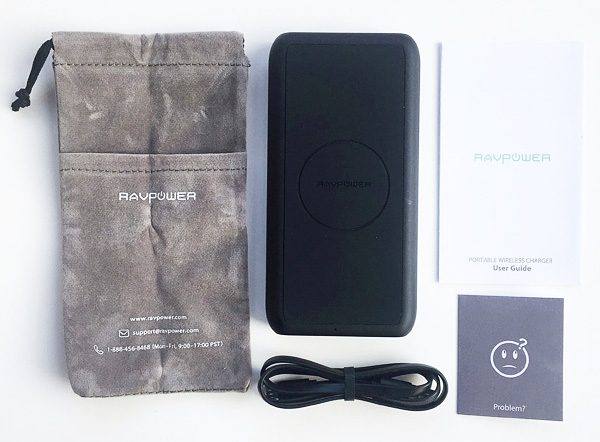 RAVPower Wireless Portable Charger (Model: RP-PB081)
2 ft / 0.6 m Micro USB Cable
Storage Pouch
User Guide
Design and features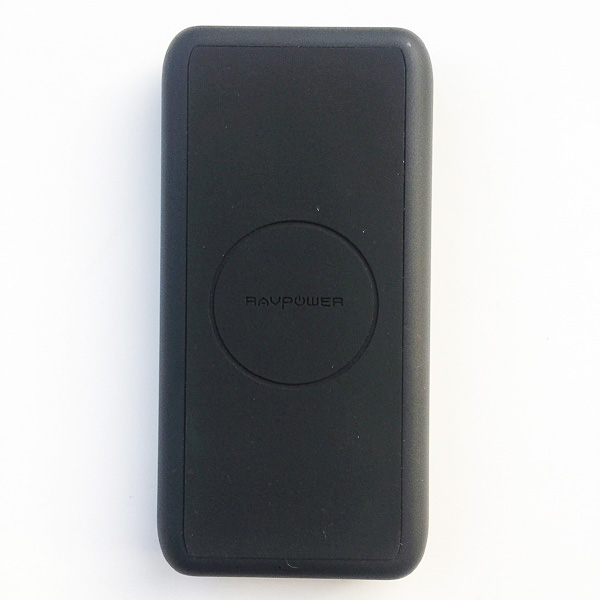 First impressions: Compact size and shape, especially for a battery pack that has a 10,000 mAh capacity and can perform both wireless and wired charging.  The circle on the top dead center of the charger, seen in the image above, is the spot where wireless charging capable phones need to be placed.  More on this below.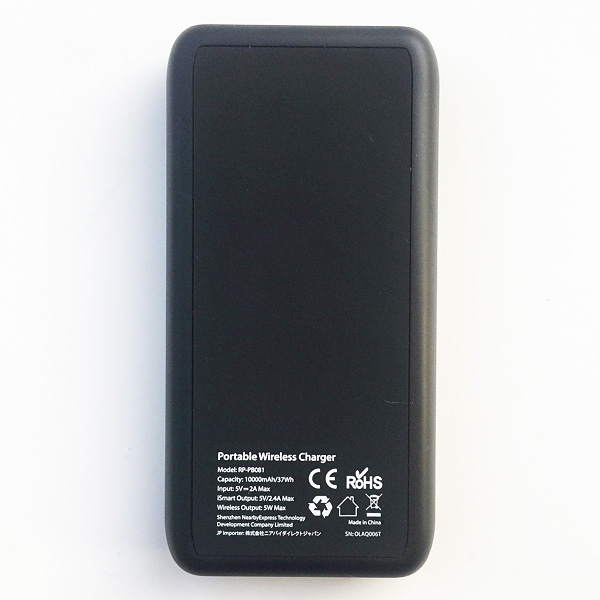 I also like the slightly tacky, matte black look and feel, which looks cool and helps with gripping the device.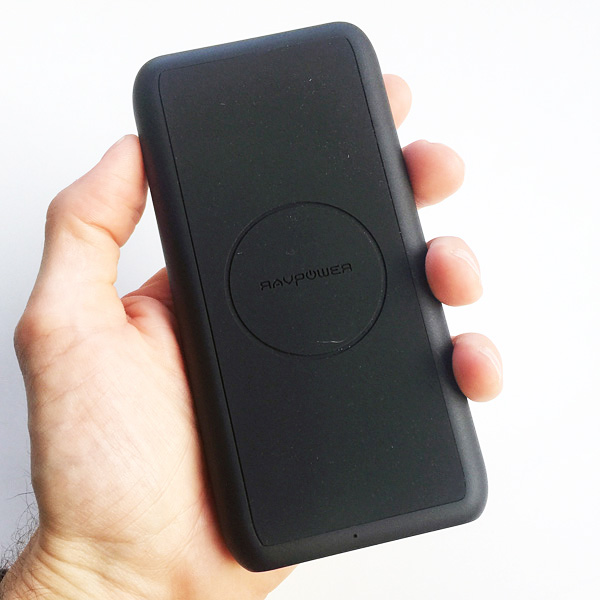 As mentioned above, this charger is a nice size, as seen in the image above.  It can easily be slipped into a backpack or purse, and even a fairly large pocket if need be.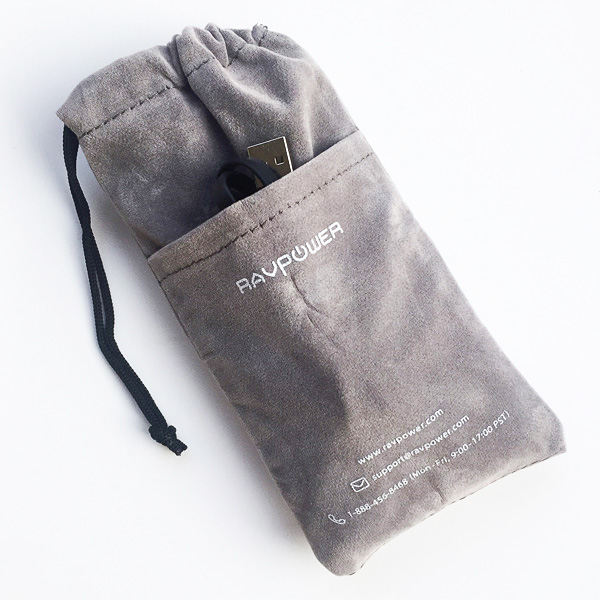 This charger includes a drawstring pouch made of soft cloth for storage.  There is also a small pocket on the outside for cable storage.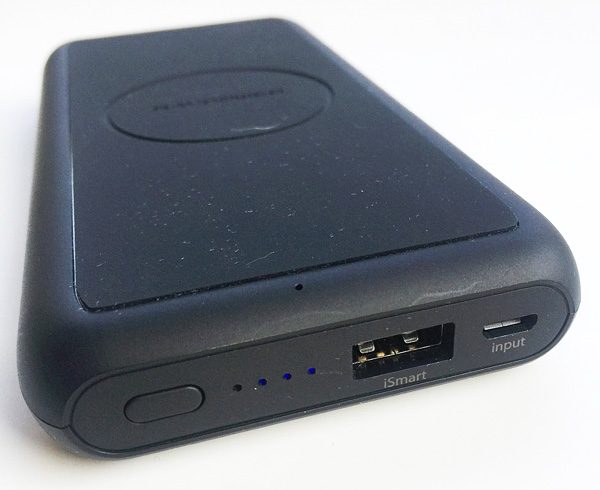 When I removed the charger from its box and pressed the button on its end, two small blue LEDs out of four up.  This indicated the charger already had about half of its full battery capacity.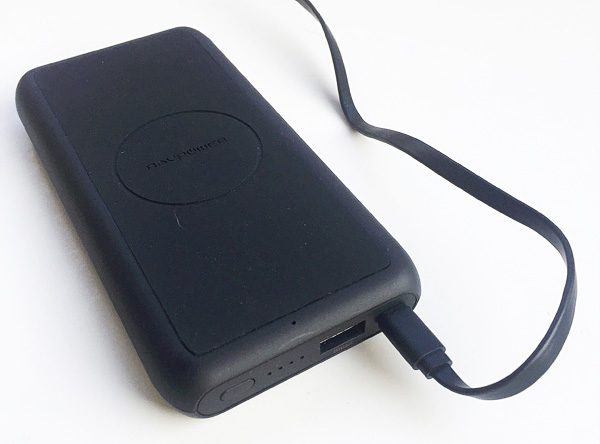 The next thing I did was plug the charger into a wall outlet to top it off to its full battery charge, as shown above.  RAVPower recommends that a 2.4 Amp AC wall charger be used to most quickly charge this device.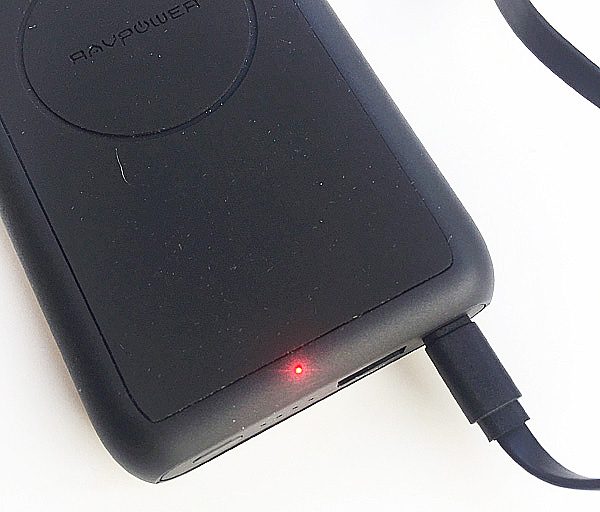 Upon plugging the charger into a 2.4A AC wall charger, a tiny red LED near the end of the charger lit up.  This indicated that the device itself was being charged via its input port, and turned off after 15 seconds.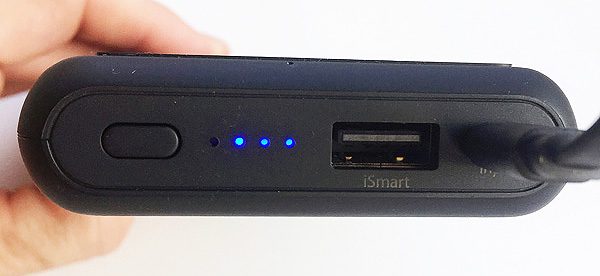 It wasn't long before a third of the four small blue LEDs lit up, indicating that the charger's internal battery was charging.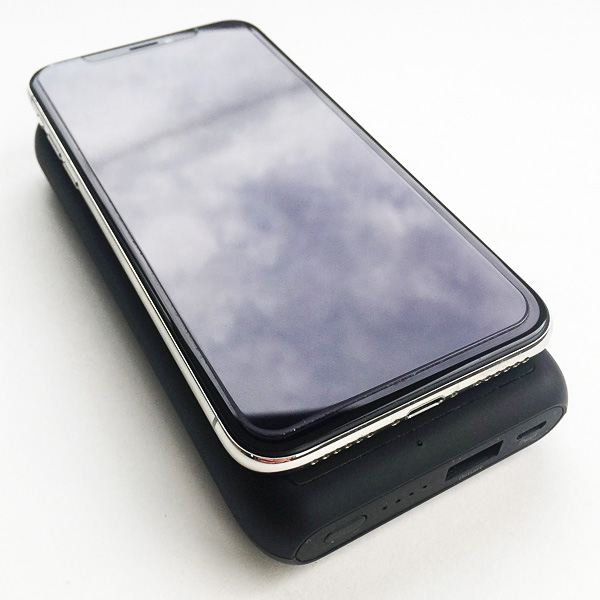 Once I had the charger at full battery charge, the first thing I wanted to try was the wireless charging feature, which I did using my wife's iPhone X.  I simply placed her iPhone X atop the charger.  This charger is compatible with any Qi-enabled wireless charge-capable device.  Its footprint is also roughly the same as an iPhone X's footprint (thought it is also thicker).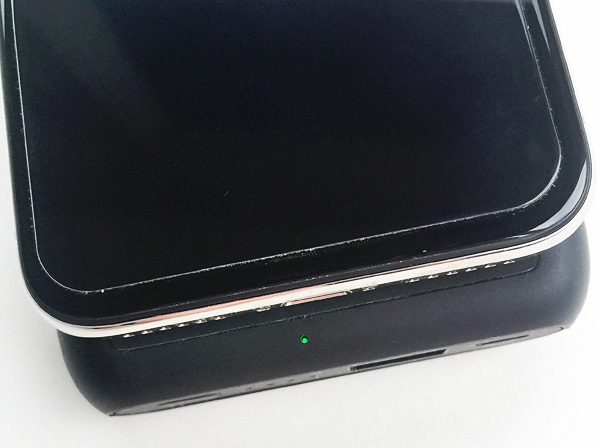 Once I placed the iPhone X atop the charger, another tiny LED lit up and blinked, this one indicating that the charger detected that it was in contact with and charging a wireless-enabled device.  Once the iPhone X was fully charged, the green LED turned off.  Note that this LED flashes red if a non-wireless-charging capable device was placed upon it.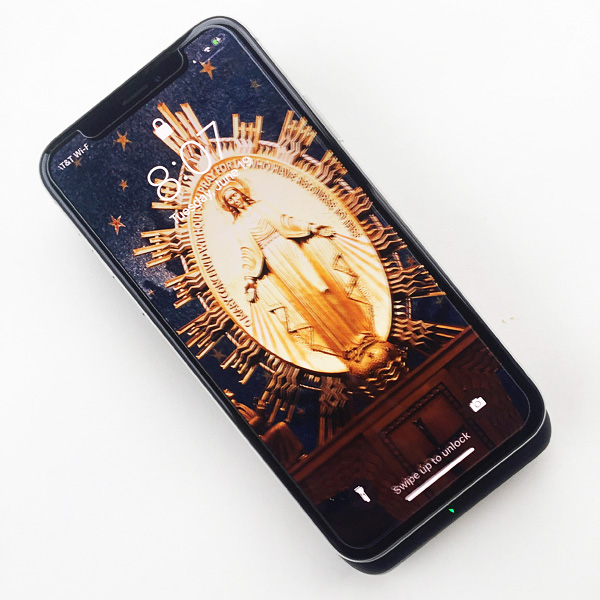 My wife's iPhone X charged without incident atop the charger.  The charging speed wasn't as quick as with a wired charging connection, but from my understanding that is typical with wireless charging.  Also, in these photos I am showing the charger with an iPhone X out of a case, but the charger was able to charge my wife's iPhone X as well as my brother-in-law's iPhone 8, each while within relatively thin, but not super thin cases.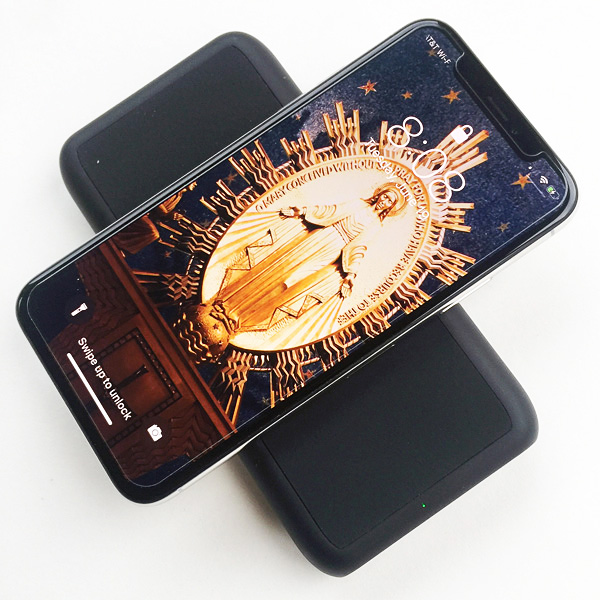 I also rotated the iPhone X 90 degrees on the charger to see if it would still charge, and it did.  As long as the iPhone X's center was fairly centered on the circle on the face of the charge, all was well.  Moving the iPhone X a bit off center would sever the wireless charging connection.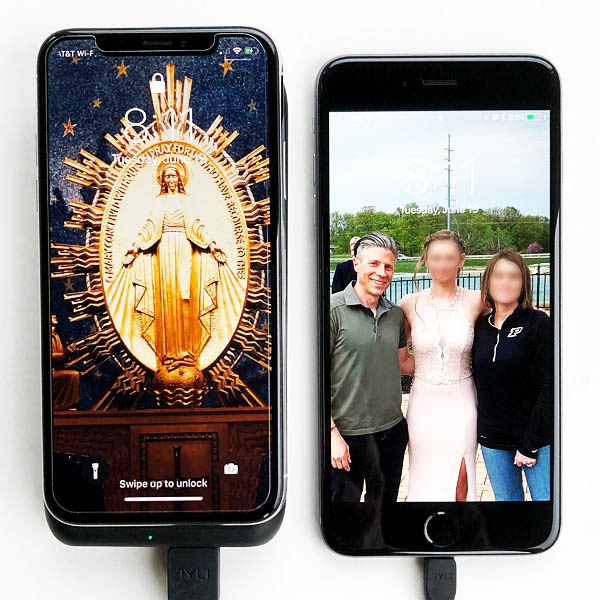 In addition to the wireless charging, I also evaluated the charger's ability to charge two devices simultaneously.  In the image above, I have my wife's iPhone X charging wirelessly atop the charger on the left, and my iPhone 6 Plus charging via cable connection on the right.  The USB output wired charging connection is iSmart 2.0 and can output 5V/2.4A max.  Note that sometimes the button on the charger had to be pressed to initiate charging of the phones, and other time this did not seem to be necessary and the phones began charging automatically as soon as they were sat on tip or plugged into the charger.
EDIT 25 July 2018: In addition to charging two devices simultaneously as shown above, this device can also utilize passthrough charging, meaning that while the charger itself is plugged into the wall and charging, it can also charge up to two devices that are connected to it.  This is a very useful feature that is not included with every portable charger.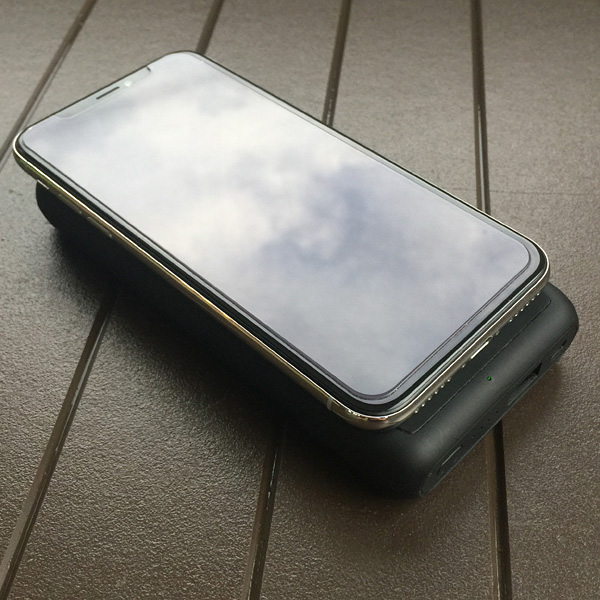 A few weeks prior to posting this review, I brought the RAVPower 10,000mAh 5W Wireless Portable Charger on a 2-week family trip across Europe and it performed well in general.  With long days of sightseeing, including using my iPhone 6 Plus's browser to look up things, apps for directions and recommendations, and snapping hundreds of photos per day, this charger gave the extra boost I needed in the afternoons and evenings to keep my iPhone 6 Plus functioning.  Several times I used it to charge two iPhones at once, one wirelessly and one wired, and with its 10,000 mAh capacity, it continued to charge multiple devices for many hours.  At night, I would just plug in the charger and top off it battery again to be ready to use it the next day.  It also held up well to the abuse of being placed into and out of backpacks, purses, pockets and suitcases.  The one caveat is that once the charger was fully drained, I sometimes had a difficult time getting it to charge again.  It may have been the AC voltage and frequency difference between the USA and Europe, but some places that I tried to charge up the charger's battery just did not work.  However, upon returning to the USA it has charged fine.
What I like
Simultaneous wireless and wired charging of two devices.
10,000 mAh capacity will charge multiple devices for hours
Relatively small and compact size
Passthrough charging
What needs to be improved
Needing to push the button to initiate charging—this was inconsistent and as a result, I sometimes forgot to do it
Final thoughts
The RAVPower 10,000mAh 5W Wireless Portable Charger is a very useful and handy charging device.  It is sturdily built, fairly compact, can charge two devices simultaneously using its wireless and wired charging capabilities, and its 10,000 mAh capacity will charge devices for hours.  This is a nice little portable charger and I found it very useful.
Update 6/26/20
This is a solid charger that I've brought on a few trips to Europe, including a family vacation in which it saw heavy use charging several of our phones when we needed a top-off while out and about. The passthrough charging and wireless charging features make it extra useful.
Price: $41.99
Where to buy: RAVPower or Amazon
Source: The product sample for this review was provided by RAVPower.