We use affiliate links. If you buy something through the links on this page, we may earn a commission at no cost to you. Learn more.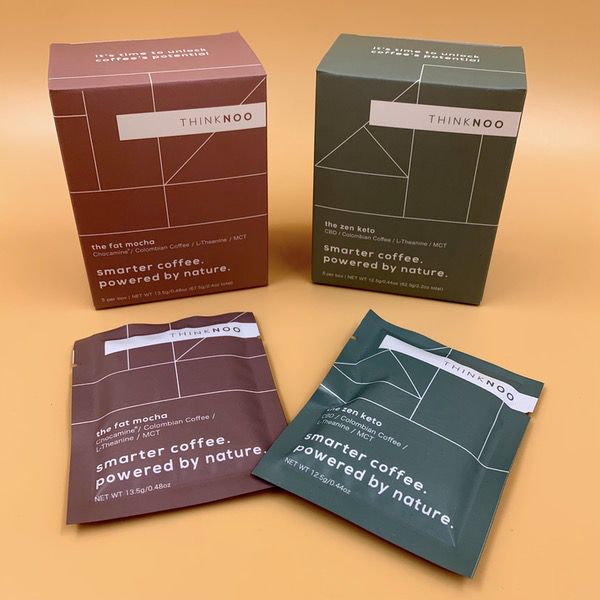 REVIEW – Unlock your coffee's potential! That's the mission of ThinkNoo with their line of instant coffees, which are enhanced with nutrients to give you energy and focus without the caffeine jitters. Do they deliver the goods? Let's drink!
What is it?
They are instant coffee drinks that are nutrient enhanced to provide all-day energy without the caffeine crash.
What's in the box?
I'm testing both variations of the coffee products.
The Zen Keto blend combines soluble Arabica coffee with CBD Hemp Extract, L-Theanine, and MCTs. This blend is intended to to improve focus while reducing anxiety, and utilizes a healthy fat to reduce cravings.
The Fat Mocha  substitutes Chocamine for the CBD extract, and is intended to boost energy while creating a calming state.
Hardware specs
Plant based
Keto friendly
Gluten free
Non GMO
Made in the USA
Design and features
Coffee substitutes and supplements are big right now, seeking to provide alternatives that give you the energy boost with additional health benefits. ThinkNoo's particular style of alchemy combines elements of several of these variants in a plant-based, gluten-free, keto-friendly package. You get real coffee as a base with the benefits of a natural fat. Additional supplements (depending on the style) serve to increase focus, promote calm, and provide a day's worth of energy in a single cup.
I've got two samples to test here. One is called the "Zen Keto" which adds CBD extract and L-Theanine to the coffee and MCT fat base. This one is designed to enhance calm and focus.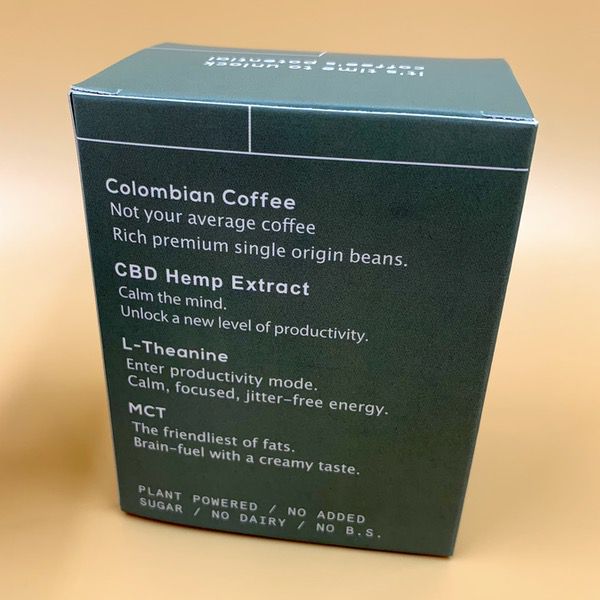 A quick check of the nutrition label shows that there's a pretty high fat content here. The idea is similar to bullet coffee in that you're getting a healthy fat that adds creaminess while curtailing your appetite for snacking throughout the day.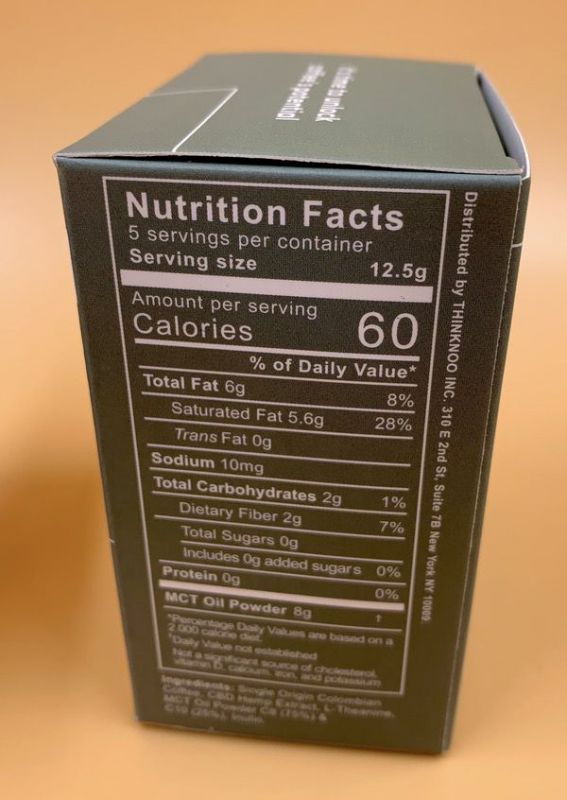 The second blend is called the "Fat Mocha" and adds a cocoa extract to replace the CBD. Think of it like a mocha latte.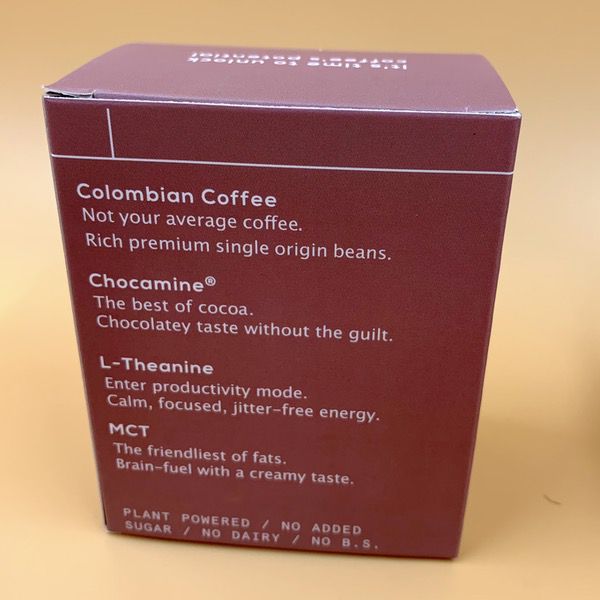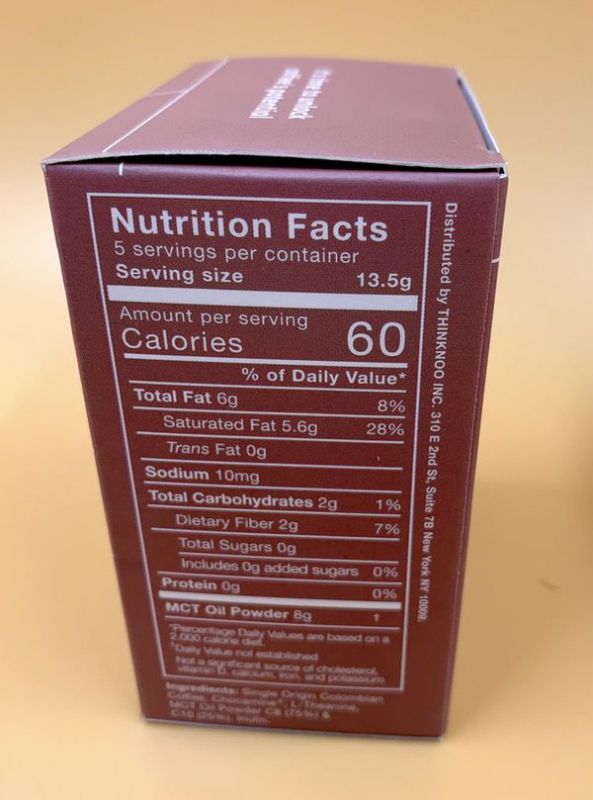 The coffees come in heavy foiled packs, which is nice to prevent accidental spillage in your bag or desk drawer. But it takes some work to open them; I ended up using a pair of scissors to get into the pack.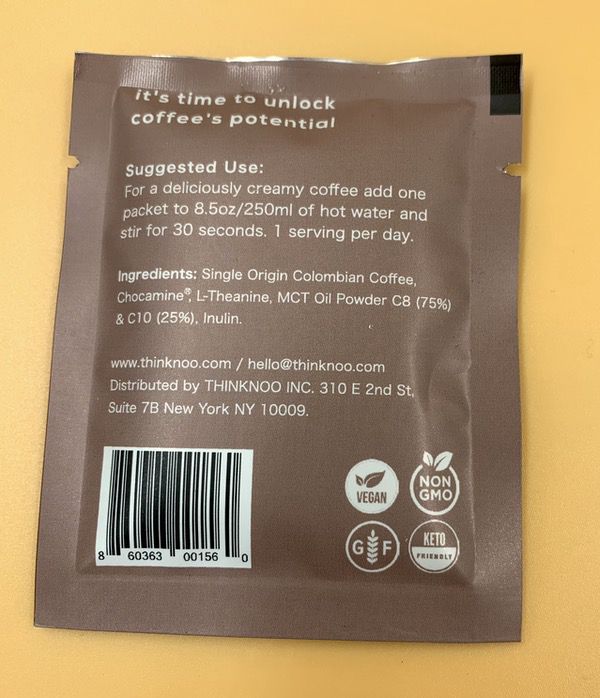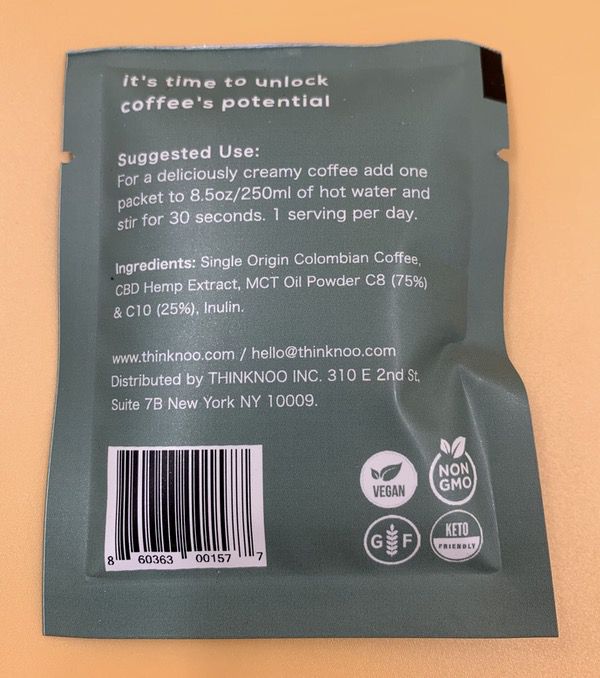 The blends are ground to a very fine powder, which dissolves almost completely in your cup.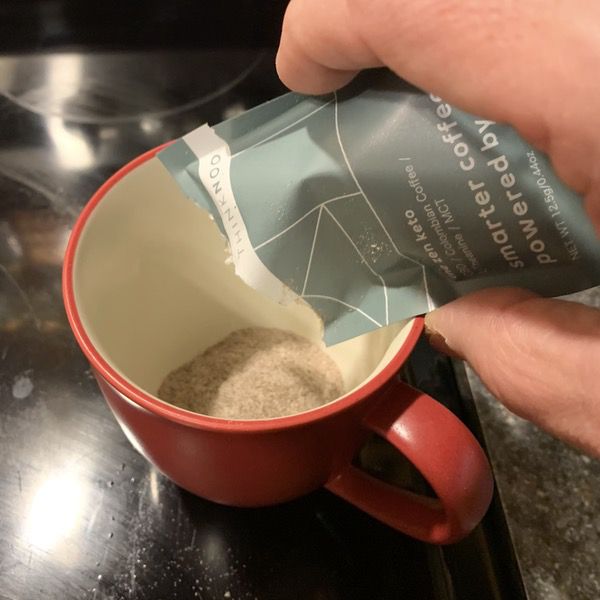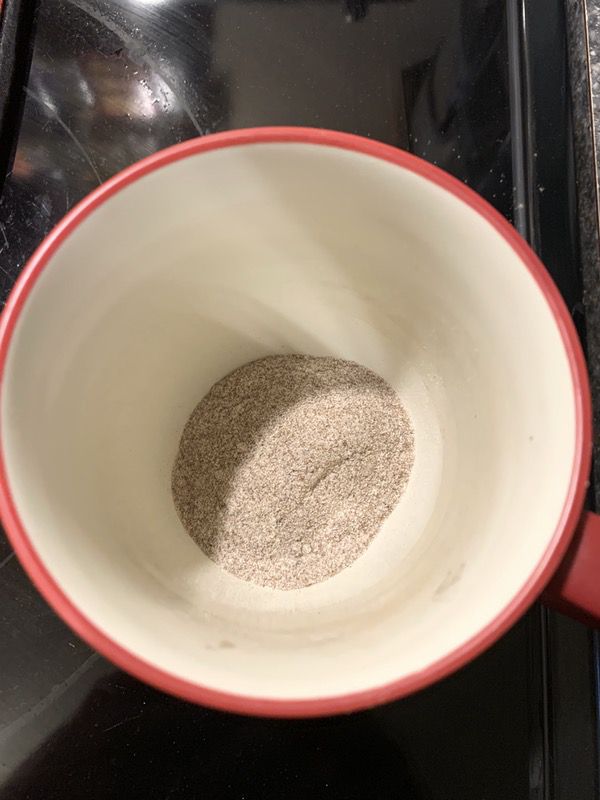 Add 8 ounces of hot water and stir for 30 seconds, and you're good to go.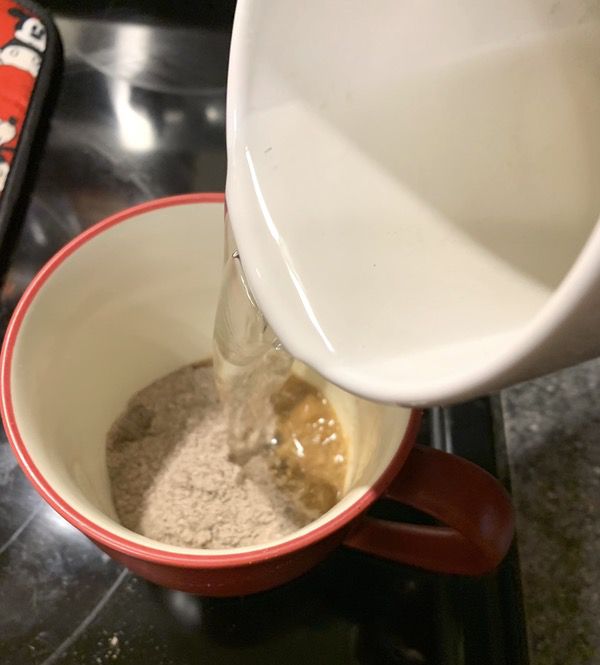 Your finished product looks like a typical latte-style coffee.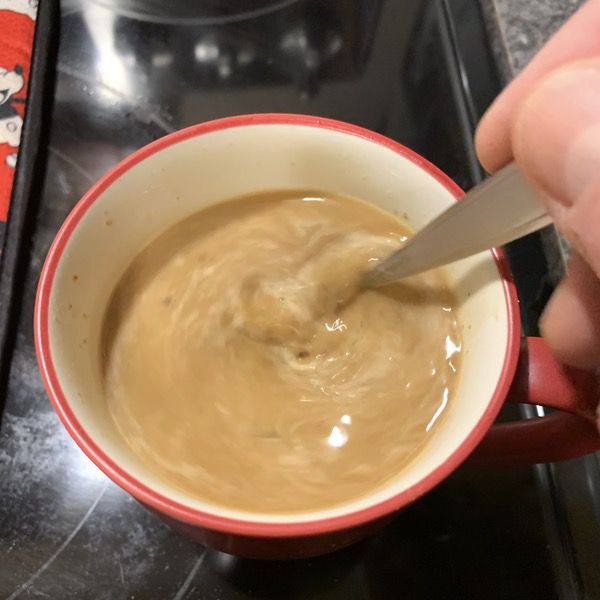 The first pic below is the Zen Keto blend while the second is the Fat Mocha. Other than some of those floating brown flecks, the entire product dissolves completely in the cup with little or no residue after drinking.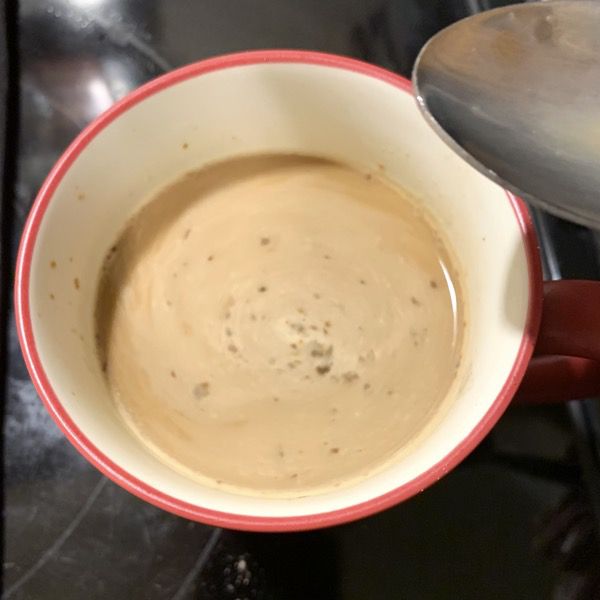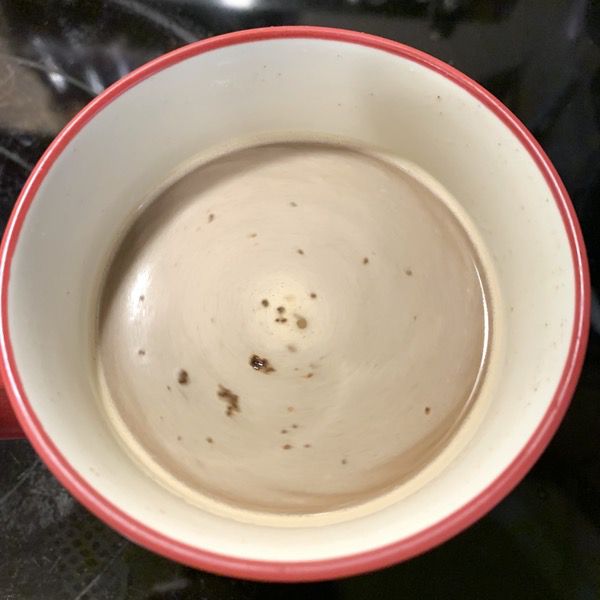 So how do they taste?
You'll be very happy with these blends if you like a light latte-style coffee. The mouth feel is excellent with a smooth & creamy texture. The coffee flavor is present without being overly strong, and there's no bitterness or acidity to be found. There's a hint of an aftertaste from the fats that I noticed, but I'm a black coffee drinker. If you like a heavy dose of cream or a latte this will be right in their wheelhouse.
Compared to the Zen Keto, the Fat Mocha offers a subtle hint of cacao without any extra sweetness. It's a nice alternative that's not heavy on the chocolate, and that's a good thing in my mind.
Considering that these blends are both 100% plant based & gluten free, they've done a nice job providing a nice tasting product.
And how do they work?
It's going to be hard for me to comment on the performance of the ThinkNOO products as I was only provided one packet of each coffee for my testing. I can tell you that in my brief sampling they worked just fine as a morning coffee replacement and kept me going through the morning. I'm also a regular coffee drinker, however, and found myself looking for a second cup around lunchtime.
They do taste good, however! I'd like to be able to test them for a full week to see if there's a difference over the long term.
What I like
Good flavor with nice creamy consistency
Portable & easy to make if you have access to hot water
What needs to be improved
Unable to test the performance benefits for an extended period
Final thoughts
I know several friends who have high praise for products like the ThinkNoo nutrient-enhanced coffees. Unfortunately, I'm not able to provide a full performance review given the limited samples I was provided. But I can tell you that they taste good, and work well as an instant coffee alternative. You'll need to experiment yourself to see if they offer the additional performance benefits.
Price: $12.50 for a pack of 5, currently on sale for $9.30.
Where to buy: You can purchase them at the ThinkNOO web site.
Source: The sample of this product was provided by ThinkNOO.