We use affiliate links. If you buy something through the links on this page, we may earn a commission at no cost to you. Learn more.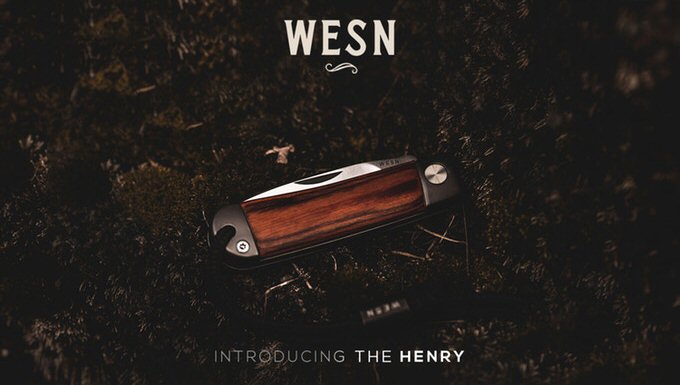 CROWDFUNDING NEWS – Not long after we posted our review of the WESN Allman Titanium Knife, the folks as WESN went live with their latest Kickstarter campaign for their WESN Henry Slip-Joint Knife.  I like their Allman so much that I took a closer look at their upcoming Henry, and I liked what I saw.  It's a more traditional-looking pocket knife, but with some subtle modern styling and features.
What is it?
The WESN Henry Slip-Joint Knife is a non-locking slip-joint pocket knife intended for everyday use.  It is available with either Titanium scales or Cherrywood inlays.
Why do I like it?

I've been a fan of folding blade pocket knives for as long as I can remember, in fact, my first memory of what we now call EDC is of my grandfather carrying a small folding blade knife in his front pocket.  These little "pocket knives" we ubiquitous in the time and place of my formative years, and nearly all had a similar look to them, with a single folding blade and wooden or similar material for their handle grips.  My first impression of the WESN Henry Slip-Joint Knife was that it reminded me of that knife that Grandpa carried.  But The Henry, named for someone special in the life of its creator, Billy Chester, has some modern upgrades.  Its 2.35-inch long Sandvik 14C28N Swedish steel blade has a spear point and a slip joint mechanism, a design from the late 1800s in northern Sweden which features a "backspring" that biases the blade toward either the fully open or fully closed position as a sort of assist mechanism.  The WESN Henry is available in two models, a Full Titanium and a Cherry Wood, both of which include a through-hole at the end opposed the blade to attach paracord lanyard, a carabiner, or another item.  This is a traditionally-styled folding knife with 21st-century modernization, a knife that very much appears to be one that you might hand down to someone special to you.
Where can I find more info?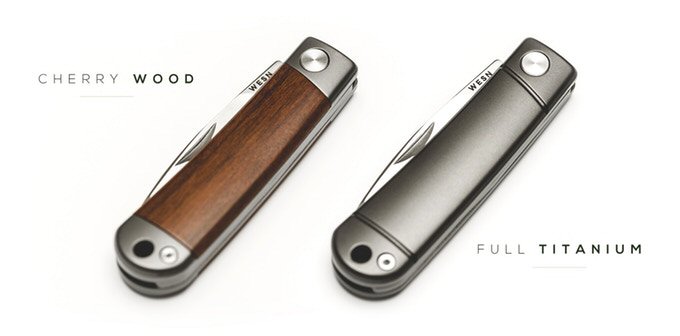 The WESN Henry Slip-Joint Knife campaign ends in 35 days on March 23, 2020, and has already far surpassed its funding goal of $20,000. Pledge packages start at $80 for a single Henry Cherry Wood and increase from there depending on the options selected.  After the end of the campaign period, rewards are expected to start shipping in August 2020. Visit the WESN Henry Slip-Joint Knife campaign site for more information or to become a backer.