We use affiliate links. If you buy something through the links on this page, we may earn a commission at no cost to you. Learn more.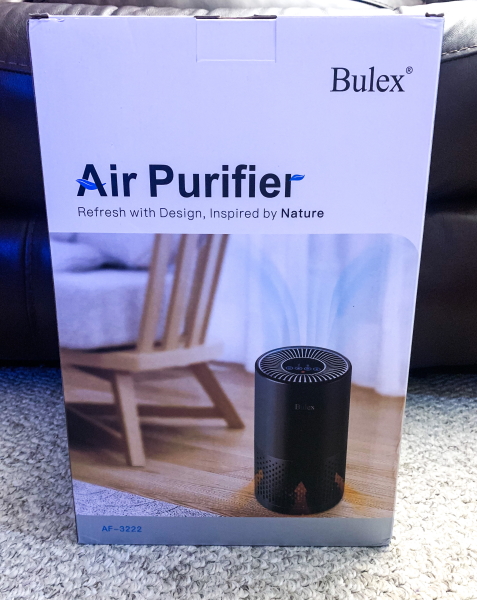 REVIEW – During the past 2 years, I have reviewed several air purifiers, some with great results and others not so great. What I have found is that the good ones have made my home a truly comfortable place to live by reducing the effects of allergies for my entire family and especially so for my kids who used to experience frequent asthmatic episodes as the advanced stage of their allergies. Now that my home is taken care of, I have turned my attention to my office and the horrible air quality. I would like to reduce my allergy symptoms in that space as well as maybe reduce the germs in my immediate surrounding area. Let's see if this Bulex Air Purifier can make a difference.
What is it?
The Bulex Air Purifier is a medium-sized air purifier that is made of black plastic in a cylindrical form. It is designed with the air outlet on the top and the air intake around the base. It features 4-stage filtration (including carbon filter), touch panel controls, 4 fan speeds, and a sleep mode and is optimized for a room as large as 202 square feet.
What's in the box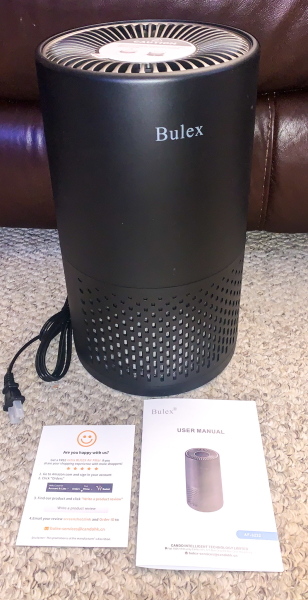 1 x Bulex Air Purifier
1 x HEPA Filter (Pre-Installed)
1 x User Manual
Design and features
Specifications
Model: AF-3222
Rated Voltage: AC120 V, 60 Hz
Rated Power: 45W Noise Level(dB): Sleep Mod≤32dB, High Speed Mode≤50dB
Coverage Area: 202ft²
Dimensions: 8.27″(L) x 8.27″(W) x 13.58″(H)
Weight: 5.57lb
Features
4 Stage Filtration System: The Bulex HEPA Air Purifier has an extra stage of filtration. It can filter particles as small as 0.01 mil, as large as pet dander, dust, pollen, and allergens. Additionally, it can capture smoke particles and activated carbons to get rid of the odor as well as help reduce lingering food smell
Fully and quickly purify: The Bulex Air Purifier is designed according to aerodynamic principles to deliver high performance.

Pure Copper Motor – higher torque and smaller resistance than brushless motors, promote energy efficiency.
Centrifugal Blower – fresh air spirals up towards the ceiling, circulating 320° in all directions to fill the room before being drawn back into the purifier. Effectively pumps clean air into every corner of your home with a 202 sq ft coverage range

Safe material construction: Bulex always puts safety as a priority. To prevent accidental injuries, the Bulex Air Purifier is a full obtuse design and made by ABS harmless material. It has a compact size and 5.57lb lightweight, but no energy loss, whisper-quiet sleep mode with 32dB lowest noise, and a lagoon blue LED night light
Aesthetics and Aerodynamics: The purification process begins with 355 inlets which increase air intake while keeping an elegant profile. The lagoon blue LED light has been optimized to provide the most easeful feeling, and the bright red filter replacement reminder clearly reminds you to replace the filter. Also, the customized 4-speed fan and 3 timer setting maximized energy efficiency. It blends seamlessly into any living space.
Around the sides of the filter there is the permanent power cord and below it the air intake grill.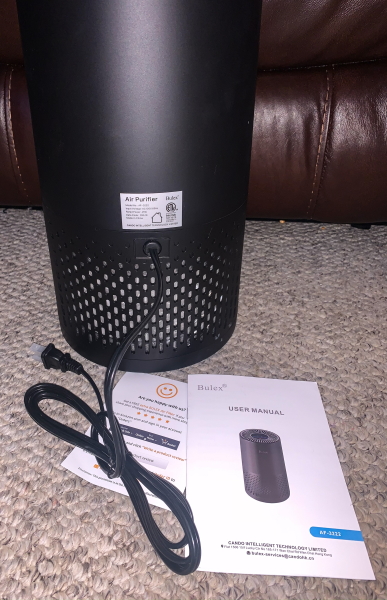 On top of the filter, there is a control panel surrounded by the air outlet. The controls as shown below from left to right are the on/off control, the fan speed control, the timer control, and the night light control. Below these controls, is the LED filter reset indicator. Directly surrounding the control panel is a blue LED night light.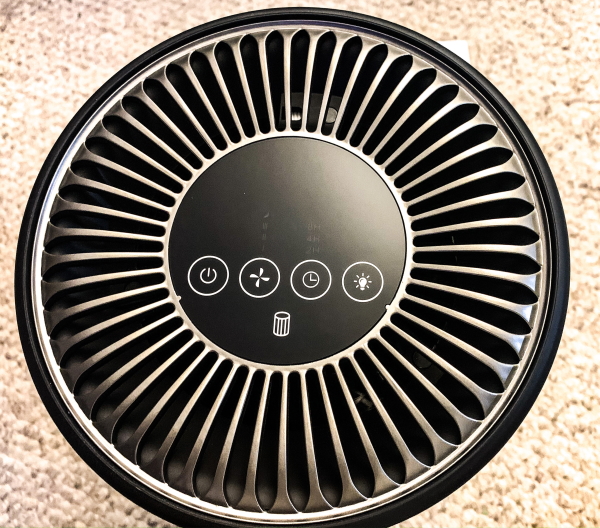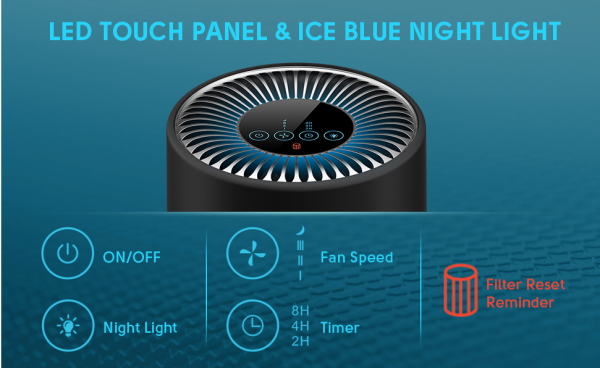 Underneath the filter, there is a plastic cover with a handle that you turn to reveal the removable Hepa filter which is installed over the air filtration system.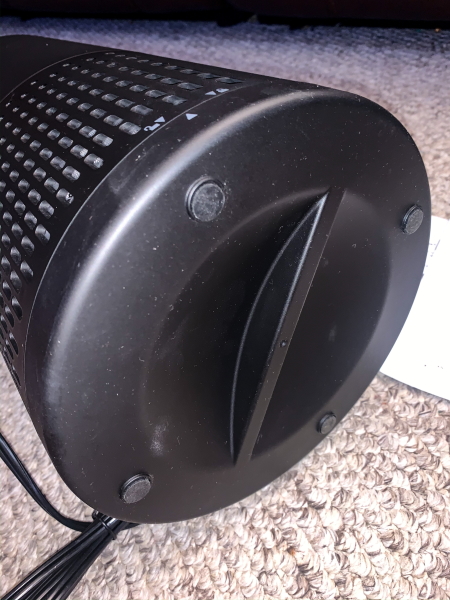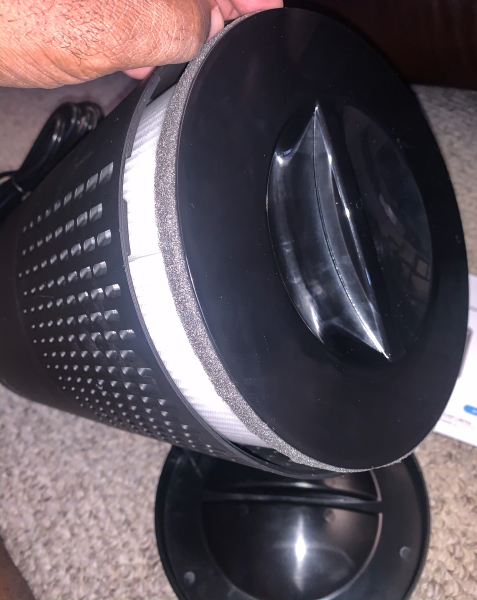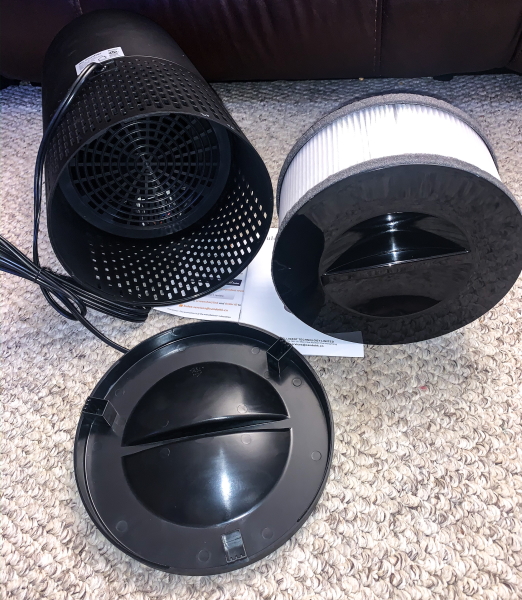 Performance
The Bulex Air Purifier is basically plug-n-play. The control panel is responsive and the noise level is quite acceptable and blends in with the ambient sound. The night light feature is great, but for my use not necessary. The following is a demonstration of the controls:
What I like
Nice build quality
Easy to replace the filter
Easy to use
The night light
What I'd change
Maybe add App and Bluetooth capability
Final thoughts
This Bulex Air Filter is nicely designed and easily fits into the design of any room. It has enough modes to be quiet enough and the night light feature is great. I have found that without air quality testing equipment, it takes some time for me to discern the effectiveness of these types of devices. However, for my small office, I would say that in the month of use so far, I do seem to have fewer allergy irritant episodes than before. So for now, I will give it a positive review for all-around looks, functionality, and performance.
Price: $129.99
Where to buy: Amazon
Source: The sample for this review was provided by Bulex.