We use affiliate links. If you buy something through the links on this page, we may earn a commission at no cost to you. Learn more.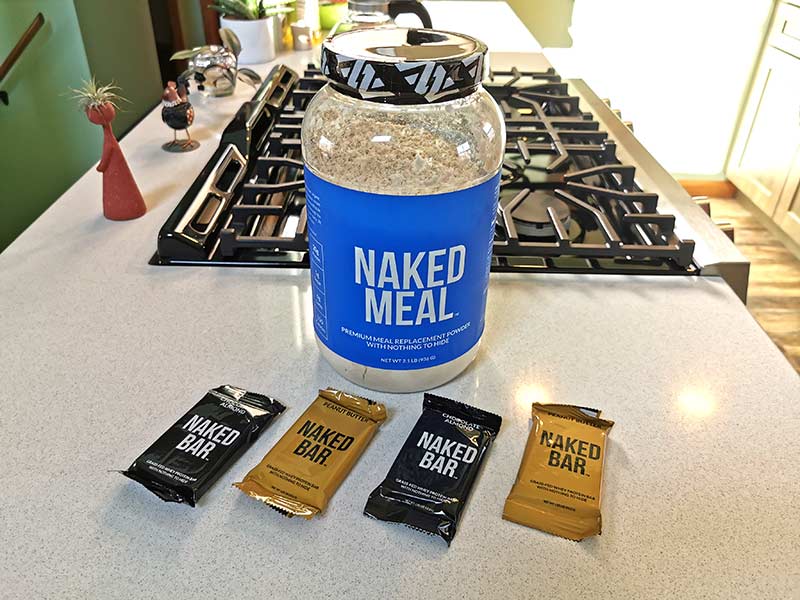 REVIEW – I'm on a roll lately with all these meal replacement drinks and bars. Yes, I know they aren't gadgets, but geeks and other busy people, sometimes forget to eat meals and/or make bad food choices when they do eat. Instead of grabbing a cheeseburger, fries, and a shake from my favorite fast food joint, I prefer something healthier, cheaper, and more convenient to fix. That's where meal replacement products come in like the latest one I'm going to tell you about today – Naked Meal.
What is it?
Naked Meal comes from the same company that sells Naked Protein powder. They pride themselves on offering a premium product that has a relatively short list of ingredients that don't include questionable ones like artificial sweeteners and fillers.
Nutrition info
When it comes to ingredients and nutrition, the Naked Meal shake powder is surprisingly impressive. For only 150 calories and 6g of carbs, you get 20g of protein (grass fed whey) and only 1g of sugar. The powder also includes 2-100% the daily recommended allowance of a variety of vitamins and minerals including iron, vitamin A, C, E, B6, and more. I'm also happy to say that this powder does not include any artificial sweeteners.
Shake prep, taste, and texture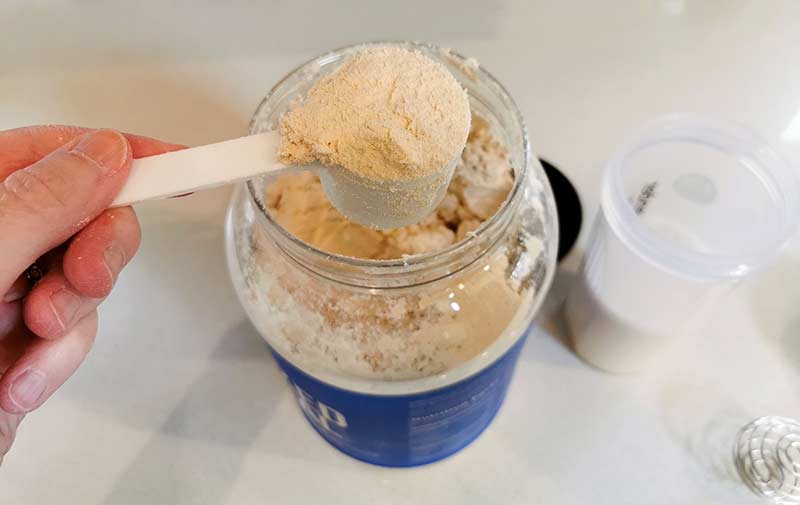 The Naked Meal powder mix is a fine cream-colored powder that packs easily into the included plastic scoop that comes in each container. The instructions say to add 2 scoops of the powder to 6-12 fl oz of water or other beverage (there are 26 servings per container). I like to use almond milk with my meal shakes so that's what I used to mix with the Naked Meal powder.
Using a shaker bottle, I added the milk first and then the powder and the shaker ball. I made sure to shake it vigorously for 30 secs and then took my first sip. I immediately noticed little hard/dry clumps in the sip. Ick. So I shook it again and put it in the fridge for an hour so it would hopefully dissolve and mix better. After an hour I shook it again and took a bigger sip. This time the clumps seemed to be gone but the taste of the shake was…well…honestly, it was bad. It had a non-sweet bland taste with a slight hint of a coconut aftertaste. I would have to say that by itself, I would never drink it as a real replacement. I couldn't even manage more than a couple of small sips, because to me it tasted that bad.
I tried doctoring it up by adding a couple of packets of stevia sweetener. Now it just tasted like a sweeter bland drink. I then tried adding some cocoa powder to it. At this point, I could probably stomach drinking it but it still didn't taste very good to me. Of the many meal replacement shake mixes that I've tried in the last year or so, the Naked Meal shake tastes the worst to me when just used by itself.
I'm sure you can doctor up this mix by adding fruits and other things to it, but that's way too much trouble in my opinion. I seek out a quick meal replacement option. If I have to get a bunch of ingredients, blend them up, etc. I'd probably just skip it because I'm lazy. I realize that's just me though, so you might feel differently about the taste of this product.
I should also mention that I don't think a 150 calorie shake can be considered a real meal. That's not enough calories for a meal. You would not want to use this powder to replace 3 meals a day for any length of time. If you did, you would starve yourself.
Don't like meal replacement drinks? How about bars?
Ok, I didn't like the Naked Meal shakes, so maybe I'd feel differently about the Naked Bars.  Available in peanut butter or chocolate almond (two of my favorite flavors), I was excited to try them.
For nutrition, the bars provide 15g of protein, 21g of carbs, and 210 calories. Like the powder, the protein comes from grass-fed whey and there are no weird ingredients or artificial sweeteners.
Taste and texture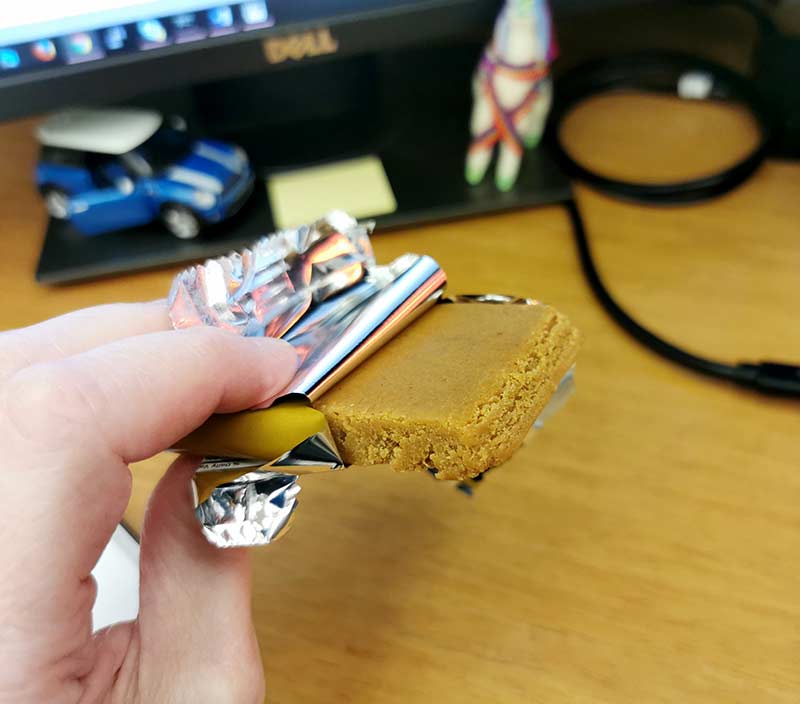 I tried the peanut butter Naked Bar first. The bar has the consistency of a dry dense chewy peanut butter fudge. The bar kept sticking to my front teeth which I found annoying. The taste wasn't horrible, but I wouldn't call it yummy either.
A few days later I tried the almond chocolate bar and I couldn't get more than two nibbles before it went right in the trash. It had a very strong/sharp flavor that didn't taste like chocolate at all to me. I thought maybe my taste buds were screwed up so I gave the other chocolate almond bar to Jeanne to see what she thought of the taste and she felt the same way about it.
Bottom line is that the only way I'd eat these bars was if there were no other choices available to me.
What I like
No artificial junk ingredients.
Low in calories and carbs
What I'd change
Drink mix doesn't taste good by itself, needs sweetener and other flavors added
Chocolate almond bar tastes horrible – to me
Peanut butter bar stuck to my teeth but tasted ok
Drinks and bars don't offer enough calories for a real meal replacement
Final thoughts
I feel bad giving the Naked Nutrition products a bad review because the ingredients and the prices for the drink mix and the bars are good. But the taste of both canceled out the value of nutrition and cost.
Price: $39.99 for Naked Meal, $5.99 for a sample pack of the Naked Bars (1 of each flavor)
Where to buy: Amazon
Source: The sample for this review was provided by Naked Nutrition.